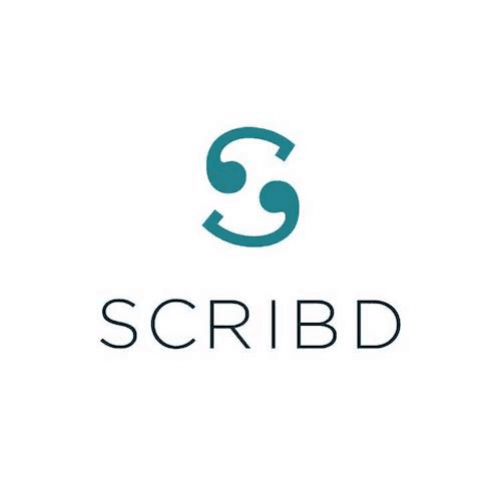 $9.99/month
The best value for your money membership plan
Unlimited listening subscription
Good for people that also want ebooks & magazines
Simple to use audiobook app
A wide variety of different genres
Scribd – Specialists in ebooks and audiobooks
Scribd, the (almost) unlimited audiobook service has been around for quite some time now. Since 2007 in fact. Their service isn't limited to only offering audiobooks they also offer ebooks, magazines, documents and sheet music.
In our Scribd review, we will primarily focus on their audiobook offering which was launched back in late 2014. We will be mentioning their ebooks library too, as these services combined is what makes them more cost beneficial when compared to Audible.
Scribd are sometimes referred to as the Netflix of books and audiobooks due to their unlimited audiobooks per month subscription. Fortunately, you can get a 1-month free trial which grants you access to audiobooks, ebooks and the rest of what we mentioned above.
If you are already eager to know what we think of Scribd, we would highly recommend it as a product for reading ebooks and listening to audiobooks. Their price point is super attractive, you'll enjoy the service and your wallet won't get burned.
However, if you want to learn the ins-and-outs of their product make sure to keep reading to the end of our Scribd review.
URL – https://www.scribd.com
Device Compatibility – iOS, Android
Support for Offline Listening – Yes
Free Trial – Yes
Keep Books After Cancelling – No
Monthly Cost – $9.99
Contact – Use the contact form on their website
Scribd Free Trial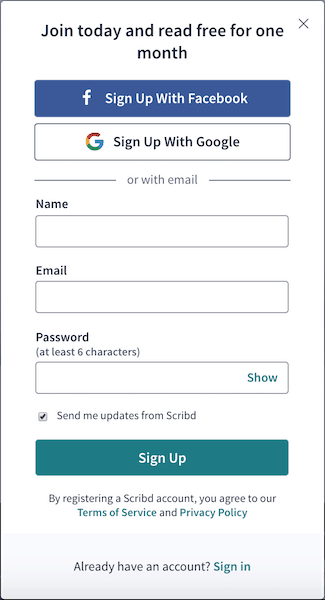 Generously, Scribd offers the same 30-day free trial that most of it's competitors do. This enables you to give their product a decent test before committing to a monthly subscription cost. The Scribd free trial includes audiobooks, ebooks and all other media offered from them.
With a constantly growing library, now is the perfect time to sign-up for a free trial. In order to sign up to start reading and listening to new and popular books follow this step by step guide below.
How to use the Scribd free trial:
Go to the Scribd website or app
Click on the 'Read Free For 30 Days' button
Register with Facebook, Google or Email (full name, email and a password for your account)
Enter your payment details (don't worry you won't be charged)
Select interests to get recommendations (1 or more need to be selected)
Now you can listen to audiobooks for free for 30 days!
Scribd requires you to enter card details for verification reasons. You won't be charged. This is in order to continue listening without being interrupted after the 1-month free trial has ended.
If you have any trouble with this process then you can contact their help team or comment at the bottom of this page.
Subscription Plans
Scribd have changed their subscription options twice now! They started out as an unlimited reading and listening service for a monthly fee, then they changed to a credit-based system like Audible. Then, in 2018 Scribd has reverted back to its unlimited approach. At $9.99 for Scribd's subscription we see them as one of the best audiobook services on the market. We'd directly compare them with Playster as they offer more than just audiobooks. Their subscription model is also the same, as you don't need use credits.
This main Scribd membership plan allows you to benefit from all of their offered media. Unfortuantely, the way that their service is advertised as unlimited isn't exactly true. It is known that they may restrict a users reading or listening to a smaller selected library, until your month's subscription has been renewed. This has never happened to me, but that is because I listen on Scribd, Audible, Audiobooks.com and also still enjoy reading paperback books.
Gift Cards
Maybe you've already fallen in love with Scribd and want to share your experience with a family member, friend or colleague. They actually allow you to purchase gift cards for this reason. Scribd gift cards come in 3 different packages, starting at 3 months, then 6 months and finally a 12-month deal. We've added an easy to read table below.
| Subscription Plan | Cost |
| --- | --- |
| 3 Months | $25 |
| 6 Months | $50 |
| 12 Months | $100 |
Scribd Library
As Scribd's audiobook service has been around since late 2014 their library isn't as extensive as Audiobooks.com or Audible. However, they still host over 125,000 audiobook titles and over 500,000 ebooks to read! This can vary depending on which country you are from.
In the Scribd library, it is categorised by best sellers and separate genres that they call "interests". Once you have started listening to one or two audiobooks you will then start to get recommendations from Scribd. This is nice as you can check to see if any of their picks interest you. Being unlimited (almost) and not having to use credits means that you can change book at any time. This is great because if you don't enjoy an audiobook after the first 20 minutes you can stop listening and start another book.
Genres/Categories
Career & Money
Personal Growth
Politics & Current Affairs
Science & Tech
Health & Fitness
Lifestyle
Biographies & History
Fiction
Entertainment
Scribd doesn't have as many categories as other audiobook apps. However, we kind of like that, as you can then drill down into best sellers or new releases rather than another big subcategory. As we've already mentioned you will receive personalised recommendations once you have selected your interests in the app.
For people that enjoy business or biography audiobooks we highly recommend Scribd's membership.
Ebook Offering
When Scribd was founded ebooks were their main focus, and still is. Their ebook library contains over 500,000 books that you can read on your favourite device. That's a lot of choice!
Ebook categories are exactly the same as their audiobook offering. Meaning that you can easily drilldown to the specific subcategories that interest you the most.
There is also a section named "EDITORS' PICKS", this is a list of the editors' most popular books for the week. Be sure to check back each week to see if there is anything new that takes your fancy.
It is known that if you consume multiple ebooks and audiobooks then your account will be throttled, meaning that you will see a smaller collection until your membership renews the following month.
As already mentioned, this has never happened to my account as I do not use Scribd to read books. My preference is audiobooks with them, and then I read paperback books. Call me old fashioned, but to me there is still something special about having the physical book in hand.
Snapshots
Scribd have recently added another new feature to their already vast offering, they've named it "Snapshots".
Scribd snapshots are summaries of books that you can either read or listen to. These summaries will generally last from anywhere between 8 and 12 minutes. There are currently 4 categories offered and they are as followed:
Arts & Languages
Career & Money
Leadership & Mentoring
Lifestyle
Knowing Scribd they'll probably be expanding these categories further in the future too.
The fact that this extra service is now included in their overall membership is great, still for the low fee of $9.99.
Obviously their offering isn't as extensive as Blinkist, but this can potentially push Blinkist to advance their product. Also, who doesn't like an extra feature with no price rise?
Magazines
Scribd's magazine section has been around much longer than Snapshots. If you were a magazine lover that is adapting the digital world then Scribd can offer you this every month for $9.99.
They offer a wide range of magazines like Bloomberg Businessweek, The Atlantic, even Farmer's Weekly. You'll be able to find something that suits your interests.
The current magazine genres from Scribd are:
Politics & Current Affairs
Science & Technology
Career & Money
Lifestyle
Sports & Recreation
Entertainment
Health & Fitness
As we mentioned when discussing Snapshots, Scribd are bound to keep adding more magazine and genres to this list.
You are able to follow your favorite magazines so that you will be notified when there is a new issue released. There's no need to pick it up from the store or wait for the delivery boy anymore!
Documents
Users of Scribd are able to upload documents to share with the rest of the users. A lot of these documents also don't require users to be registered meaning that they can be shared across social media for viewing.
There are three sections to their documents offering, these focuses are:
Business templates
Court filings
Academic papers
These categories are pretty self-explanatory.
If you are looking for a business plan template for inspiration you can find it here, but then you can also see academic papers that can be used as sources if your own writing. Scribd isn't just ebooks and audiobooks!
Sheet Music
This next section is for the music lovers. Although, a lot of sheet music can be found anywhere online it's a nice extra that Scribd offer.
Maybe you want to play Tiny Dancer on piano by Elton John or discover the sheet music for your favorite musicals. Once again, Scribd offer great variety in each product category that they offer.
Top Audiobooks on Scribd
You may think that Scribd doesn't offer much when looking at their categories. We decided to compile 10 of the best audiobooks on Scribd in this list below. It was hard to decide which audiobooks to include as they have a strong offering.
Unbroken
The Hard Thing About Hard Things
A Game of Thrones
Shoe Dog
The Alice Network
The Hunger Games
The Hobbit
The Subtle Art of Not Giving a F*ck
The Name of the Wind
Eleanor Oliphant is Completely Fine
Feel free to add any extra audiobook additions that you have enjoyed when using Scribd in the comments section below. We love to know what our reader's top titles are.
Top Ebooks on Scribd
You've seen our list of the best audiobooks on Scribd, now it's time for out top 10 list of our favourite books that they offer.
The Alchemist
Elon Musk: Tesla, SpaceX and the Quest for a Fantastic Future
Principles: Life and Work
Sapiens: A Brief History of Humankind
Girl, Stop Apologizing
American Gods
America's First Daughter: A Novel
The Hate U Give
Band of Brothers
Stardust
There are enough ebooks available to keep you busy for some time!
Device compatibility
Scribd can be used across many different devices. You can listen on any internet browser on desktop and then on mobile you have the easy-to-use app.
On any device, you can browse their library, listen to audiobook samples or read ebook excerpts without having to sign up. If you like what you see, you can go one step further and sign-up using their 30-day free trial.
Scribd App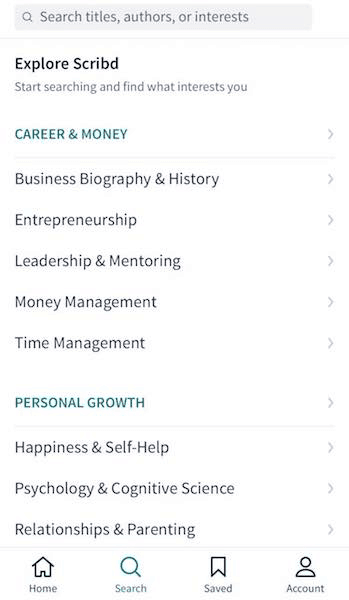 Next, it's time to see how the Scribd app compares to the other audiobooks apps on the market. First of all their app can be downloaded on all iOS and Android devices. It isn't limited to just those devices, which is great. If you have a Kindle Fire you can also benefit from the Scribd app as long as it runs Fire OS 4 or later.
Scribd's app has a really simple, professional looking layout. Due to this we actually preferred it to some of the other audiobook apps, like Audible.
Scribd's search function makes it easy to find what you are looking for. You can search for specific titles and authors. If you are unsure of what you want to listen to, you can type in your favourite genre and then decide from a long list. The Scribd app syncs with the website version so you won't lose your bookmark if you switch between the two devices.
Downloading audiobooks and ebooks is easy to do using the app. In order to download your next book choice make sure you are connected WiFi, then hit download.
It's important to download your titles so you don't eat into your phone data. In the Account tab go to 'audiobook preferences', there you will see that you can turn 'use cellular data' on and off. I suggest that you keep this off at all times.
Help & Support
The Scribd help center is full of general information, relevant updates, customer queries, and tutorials. You have a handy search bar if you want to save time sifting through the different categories.
Scribd's customer service team has a quick email response rate, so if you want to get in touch with them we'd suggest using that method. Their support email address is [email protected]. They don't actually offer telephone support, so you email is the only way of getting in touch.
How to cancel your subscription
In order to cancel your subscription, you have to log in and go to your Account Settings page.
Here you will see your general account information, then scroll down until you see your Membership Plan section.
You should see two options to choose from:
Pause membership
End my membership
If you are certain that you want to cancel your subscription then go ahead and choose the 2nd option. After that you'll be asked if you're sure that you want to continue.
By confirming on the next screen your account will be cancelled, billing will stop, and you'll have access to your membership until the last day of your month's subscription.
Scribd vs Playster
Before wrapping up, I wanted to put a special focus on Scribd and Playster. As they are the two top services when it comes to unlimited memberships.
With Scribd's subscription, you get access to audiobooks, ebooks, music notes and magazines. Playster's membership offers you ebooks, audiobooks, music, and video games.
The final difference is the price. Scribd's monthly membership costs $9.99 per month and allows you to access all sections of their library. Whereas Playster starts at $14.95 and can quickly rise if you decice to add on extras like music, video games and the audiobook premium package.
When it comes to the pairs audiobook offering it is basically even stevens, having around 150,000 in their libraries.
That's it for our granular look at Scribd and Playster. If you'd like to see a full comparison between Scribd and Audile then you can do so by checking out our Scribd vs Audible post.
New Scribd Perks
Scribd have started to team about with other companies to offer you access to these services if you are a Scribd active customer. They have named this special treatment "Scribd Perks".
Here is a list of the services currently available:
Headspace
Peak Pro
MUBI
CuriosityStream
ConTV + Comics
FarFaria
Someone mentioned that Blinkist was included as one of the perks, however, I can't see it as an option when logged in. Only the services that I listed above are present.
Either way, this is a nice extra on top of your monthly subscription.
Any of the services that you sign-up for using the redemption codes will remain active until you cancel your membership with Scribd.
Finally – Is Scribd Worth it?
Is Scribd worth it? That is the ultimate questions at the end of our Scribd review. In short, yes, we believe that Scribd is worth it!
Their main competitor is Playster due to both of them offering unlimited membership plans. Scribd definitely comes out on top here as their monthly fee is almost half. They also make it easy to download your favourite ebooks and audiobooks on any mobile device. Unlike with Audible, where you have to purchase your chosen book first on your computer before being able to download it on your mobile phone.
We think that Scribd is perfect for people that love listening to audiobooks as well as reading. Whilst their library isn't as big as some other audiobook apps, at just $9.99 a month it really is a steal.
We recommend testing Scribd for yourselves first before going ahead with paying each month. To get access to their free trial, you can sign up here.
FAQs
How can I cancel my Scribd membership?
Similar to all of audiobook services you have to go to Scribd on your desktop to cancel. Once logged in, go to the account settings page, there you will see a button saying 'end my membership'. You will see confirmation pages and receive an email noting that your Scribd subscription has been cancelled.
Obviously you won't get to keep your downloaded audiobooks if you do cancel your membership, like you do with Audiobooks.com. That's not what the Scribd unlimited subscription is designed for though.
Is Scribd's membership actually unlimited?
To answer this shortly, no their membership isn't unlimited. They can choose to throttle accounts if they deem that you have overused your monthly quota of listening/reading.
The monthly quota isn't defined by them, so it's hard to know if you are close to exceeding it not.