A reading light is one that can be used for reading, writing, sketching, working on a computer, craftwork, and other detail-oriented activities. Reading lights illuminate a small area over a close distance so that you can get a better focus on your activity.
Picking the right light for reading can be tricky, as reading lights vary vastly in their designs, functions, and features.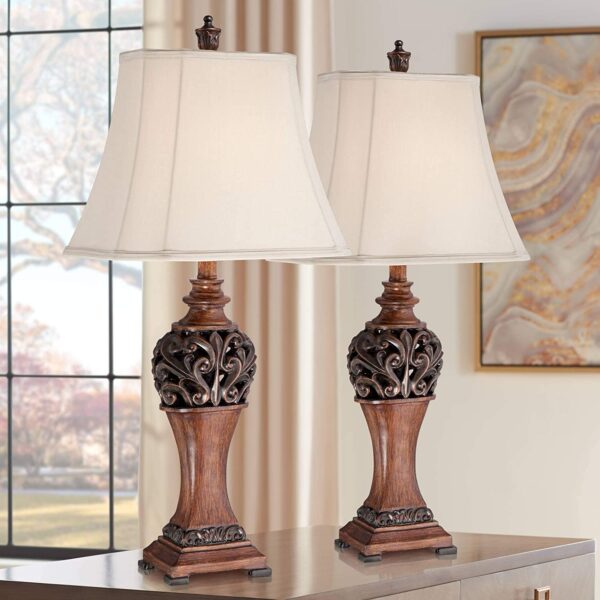 Our Top Recommendation for Reading Lights!
This charming pair of traditional style corded table lamps feature solid and sturdy carved leaf bases with bronze accents which are guaranteed to add a touch of elegance to any room.
*We earn a commission if you make a purchase, at no additional cost to you.
You surely don't have to be an expert or a lighting engineer to be able to buy a good reading light, but some basic knowledge wouldn't hurt.
This article covers the most important criteria for a good reading light in the bedroom, the home office, and the reading nook.
It also includes a detailed review of the best reading lights on the market.
For bedrooms, you'll want to make sure there will be no light of extreme brightness levels. This is because light with high intensity can confuse your brain, tricking it into the false recognition that it is daylight. Before you realize it, your body will have already reacted by producing serotonin, causing you difficulty falling asleep.
Thus, a good lighting source for the bedroom should have luminous flux somewhere between 1,500 to 4,000 Lumens.
Be it reading, cuddling to watch a romantic movie, or playing chess before you sleep, a soft, warm shade is best for creating a relaxing and intimate environment in your bedroom. The maximum color temperature is 3000k, and as it is a light for reading, it should not be under 2700k so as not to create extreme emotions or anxiety.
Every of us is unique, and our visuals and preferences are different. But it is worth taking those factors into consideration when you buy a reading light, to make sure the lighting condition is adequate and supportive to your activities.
10 Best Reading Lights
To save your time searching around a plethora of products, we have made this review of the best reading lights for various rooms in your house.
Click on a product to see a more detailed description and review. You will surely find the right light for your bedroom, home office, and reading corner here.
1. Regency Hill Table Lamp – Best Bedside Table Reading Lamp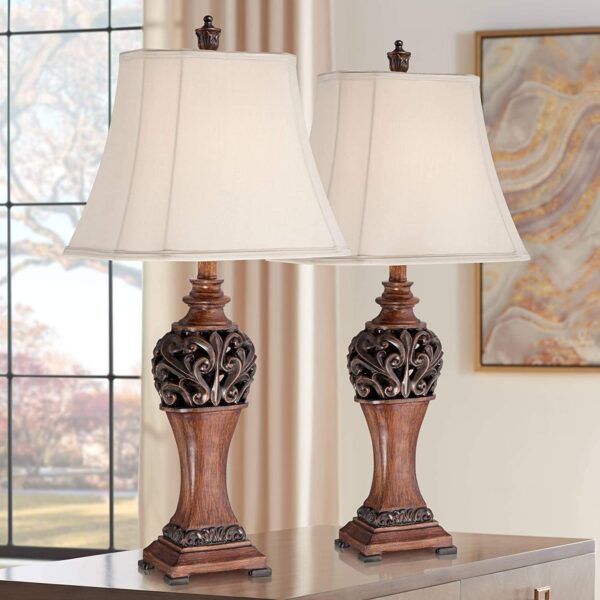 Bedside reading lamps, apart from providing light to read by, are items that help fine-tune the look and atmosphere of the room.
For a set of lamps that shine efficiently on your book, and convey a high taste of decors, we recommend these Regency Hills.
Each of the lamps comes in a curvy body with decorative carved leaves in wood finish, creating a bold, traditional feel. Its deep bronze color and a brownish, ivory shade match beautifully with other wooden furniture in your bedroom.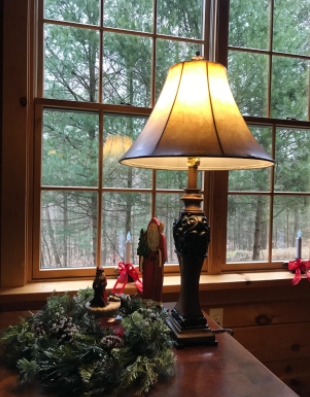 Each lamp has a shade to direct the light to more focused areas above and under it. The creme shade, meanwhile, creates a soft romantic glow. Lit together on both sides of the bed, you will feel like the entire room is full of moonlight.
As the lamp is high (30″ or 76cm), you can now enjoy your book in bed in the most comfortable position. The light is always sufficient regardless of you sitting upright or reclining, or lying straight down. No need to adjust your position all the time to catch a beam like when you're with smaller lamps.
Despite being tall, the lamp stays sturdy on your table without taking much space. That is thanks to its considerate design with a thin profile on both the body and the shade.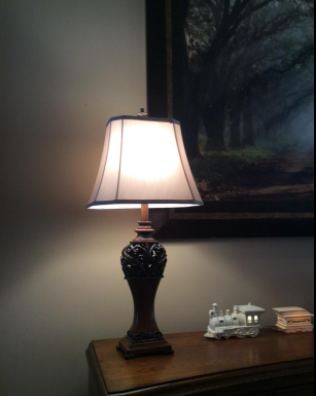 Your small bedside tables or petite nightstands can easily accommodate the lamp, together with your books and a chocolate cup.
To enhance coziness and intimate feelings in your bedroom, choose 72-watt halogen bulbs that produce a warm white or amber glow. The ones with a temperature of 2700 to 3500K will do the trick.
---
2. Rosslyn Swing Arm Lamps – Best Wall Mounted Reading Light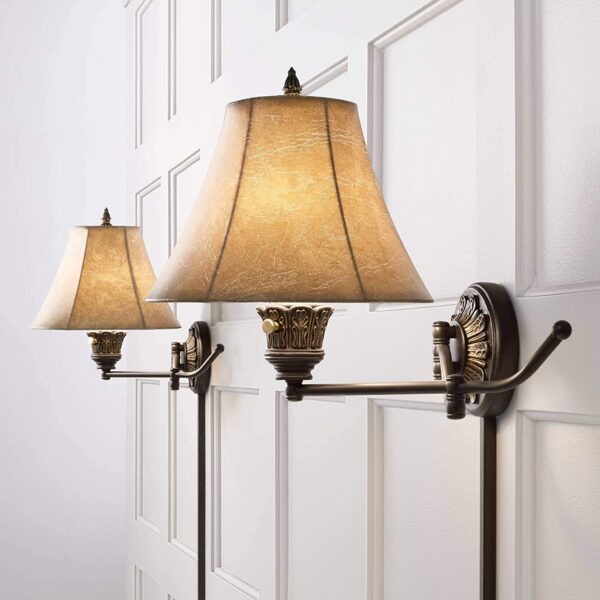 Nothing adds more style and coziness to a bedroom than a classic wall mounted reading light with a warm shade.
The thing with normal bedroom lamps is, however, that if they look good in the room, they are often the case too dim for a read.
This set of two Barnes and Ivy Rosslyn lamps stand out for both function and design.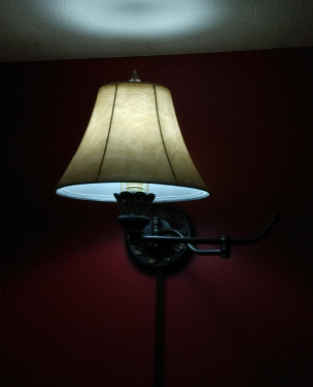 Each lamp comes with a metal body engraved with nature patterns, nicely covered in a bronze finish. Its graceful arm is adjustable, reaching out and sliding back to where you please to ensure sufficient space and light focus for your bedtime activities.
Joining the lamp to finish the traditional French country look is a faux leather shade. The shade is slightly brownish in color, promising to deliver a warm, pleasant light. The shade pairs perfectly with the metal parts to create an intimate, but classic and luxurious feeling in the room.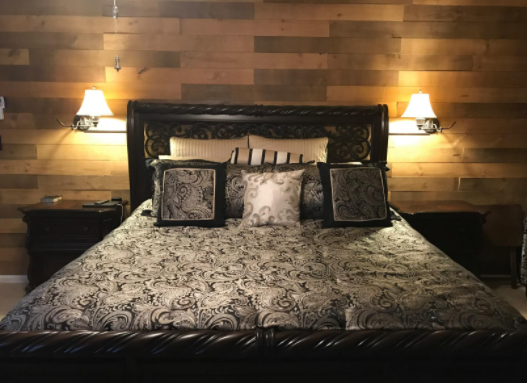 Each of the lamp requires a 43-watt halogen bulb to produce efficient brightness to read your novels and papers. To ensure the light is warm and pleasant to your eyes, choose bulbs with a temperature somewhere between 2700 to 3500K.
When you prefer a softer, gentler glow for a movie or a cuddle in bed, turn the lamp to a dimmer mode, as its intensity is fully adjustable.
For a perfect neat look, the lamp can be hard-wired inside the wall. But if you opt for an easier option, simply plug it into a socket close to your bed.
---
3. Newhouse Lighting Clamp Light – Best Clip-on Headboard Reading Light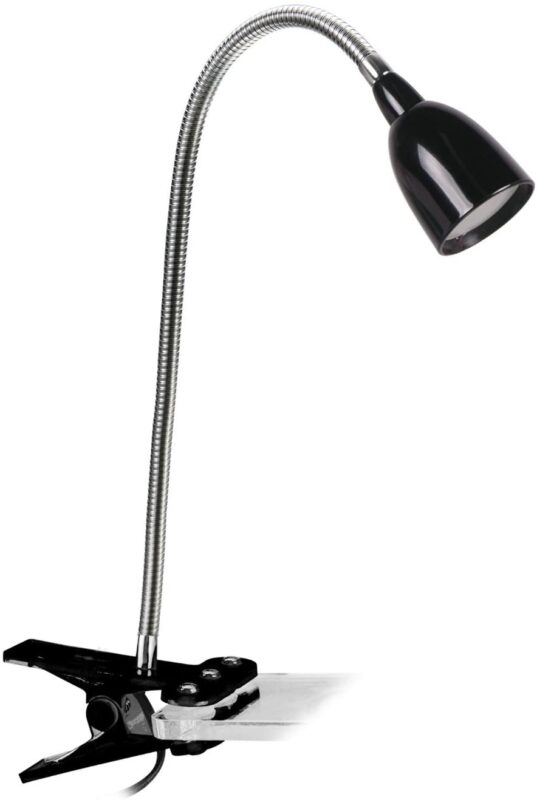 The best reading light on your headboard is one that is portable, produces warm gentle light, but at the same time has a focused area so you don't have to widen your eyes to be able to read. This Newhouse is such one.
At 300 lm, the light is sufficient for reading in a dimmer lit environment. As it is very soft, your eyes do not have to adjust themselves between pauses of your read, when they drift off the lit pages into darker areas in the room.
Designed for "stress-free productivity and enjoyment", the Newhouse produces an adequate glow at 3000K. It is pleasant to the eye, warm enough to not mess with your melatonin (the sleep hormone), but bright enough to not lure you to sleep 3 minutes into your book.
The light comes with a sturdy clamp that opens to approximately 2 inches. To protect the gripped surface from the strong grip, 6 suction cups are added inside it. If you have had clamp reading lights that scratch or peel off the paint on your reading table or headboard, you're gonna appreciate this.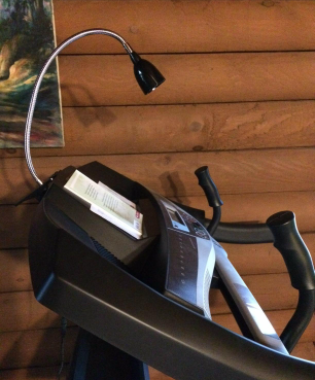 In terms of design, the cutie has a sleek, shiny appearance. It comes in 3 colors: black, purple, and bright blue. Personally, I can see it matching better with modern designs and decors.
The light would be perfect if it had a dimmable function for those who want a fast read to lure themselves to sleep.
---
4. Regency Hill Exeter Table Lamps – The Best His and Hers Reading Lights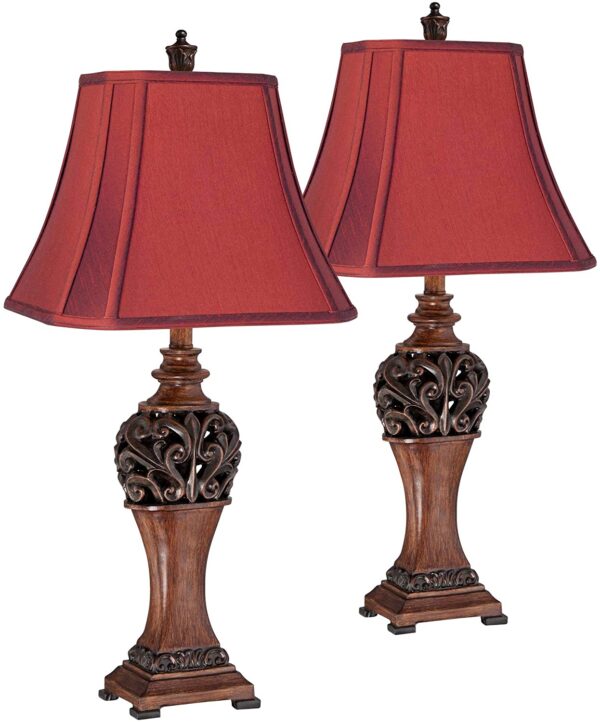 These Regency Hill Exeter lamps look as classical and stylish as an expensive antique, yet they cost just a fraction of the price. If your bedroom décor airs towards elegance, then the crimson red shades and deep mahogany-tone bases will blend in seamlessly. Moreover, it will add a bold pop of color and warmth to your surroundings.
Speaking of warmth, this pair of lamps emit a beautifully soft, warm glow that adds a romantic feel to the room, whether one of both is illuminated. And the rectangular crimson shades cast the light downwards in the perfect direction for reading in bed, whether you sat upright, lying down, or somewhere in between.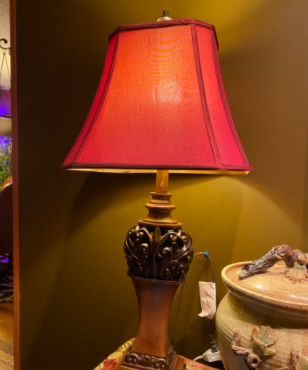 At 30″ high, the lamps themselves are fairly tall for a nightstand light, but that doesn't mean they take up too much space. The compact bases measure just 5 3/4″ wide x 4 3/8″ deep, so there's plenty of room left for your books or your e-reader too.
But, while the bases are fairly small, they are still super solid and sturdy. It means your lamps will stay put exactly where they should be, even if you accidentally brush past them.
The only downside to these Regency Hill lamps is that you have to buy the bulbs separately. That being said, some people would prefer to choose their own, and they can find the exact wattage and glow for them. You can use bulbs up to a maximum of 100 watts, so you have plenty of scopes to choose from.
---
5. WaterDrake Headboard Light — Best Reading Light for Bed Headboard
As expected for a bed light, the lamp has a folded ivory shade, which creates a warm, gentle white light where it is placed, and prevents glare. The material and color come in a retro simple design, making it match easily with most bedroom styles and decors.
The lamp has a half-moon shape with one flat surface to stay intact on your bed headboard. This allows the light to shine evenly over your shoulders, without unintended swinging.
The lamp is hung by two bendable wire-coated hooks, which can fit with 1.5 inches thick boards.
As a side sleeper, I really appreciate this movability. When I change the side of the bed every now and then to make sure I'm sleeping on both sides for my body to retain a balance, I can just simply slide the lamp along.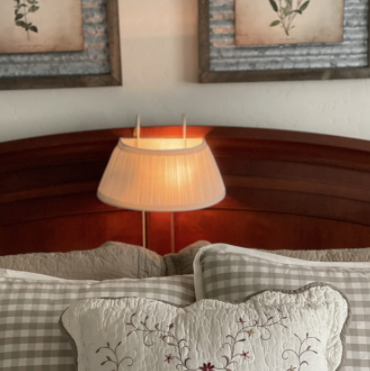 No need to buy 2 lamps for each side, and no hassles of plugging/unplugging or worse, drilling new holes on the wall to place it.
As the hooks are covered in a smooth material, they won't create any scratch or peeling on the headboard.
As it is made for the lazy bed readers, the lamp can be switched using a pull chain. Once you're done with your book, reach over, pull down, and you're good to sleep.
Overall, this is an item of great value and usefulness. One thing to check before you buy it, however, that your headboard is not too much thicker than 1.5 inches, and is tall enough so that the lamp won't touch your head when you sit or lie in bed.
Recommended bulb: 40-watt equivalent, 2700K
---
6. BenQ Genie eReading — Best Table Reading Lamp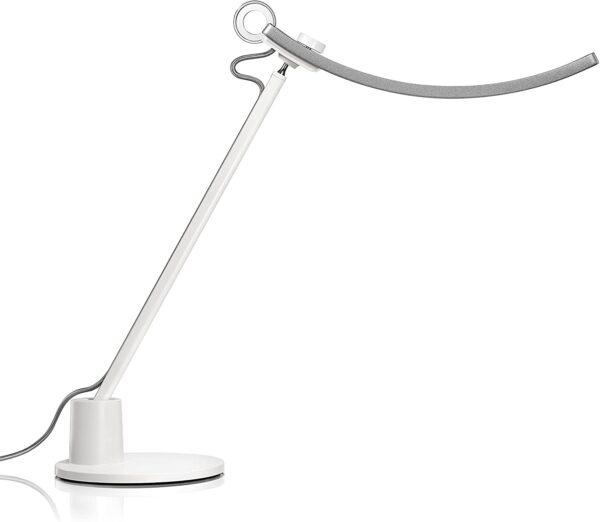 A table light, especially one in your bedroom, is not only for reading and studying. It also shines on your sketch board, on the pages of the family album you're turning, on that scarf you're knitting for your beloved niece.
Your mood and mind alter for different activities in the bedroom, and you need a light that can accommodate different atmospheres. With a knob that you can twist to change both the brightness and the color temperature, the BenQ Genie is the perfect table reading lamp thanks to its versatility.
Unlike most other LED lamps, the Genie has a crescent head, making it look "softer" and much more graceful than just a straight plate. More than aesthetic functions, the bend also increases the illuminated area, allowing the light to cover a wider part of your table.
At one end of the head is a beautiful ring, which you turn the lamp on and off with. It's also where you activate the Smart Lighting mode, in which a sensor will detect the room ambient and adjust the light accordingly.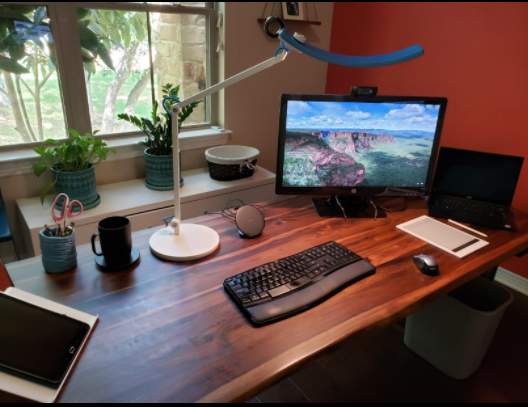 Designed for working with electronic devices, the light is distributed with more brightness to the sides and less in the center, thus minimizing glare on the screen.
To get the exact light angle for your work, you can twist the head around and bend it up and down. You can also adjust the illuminating distance by bending the arm where it meets with the base.
While the head is all artsy and beautiful, the arm and the base both have a rather plain shell. They are function-oriented: simple, sturdy, and incredibly heavy (the lamp weighs 5.3 lbs). The cord is nicely covered with braided fabric, making it even a safer item to put in your bedroom.
While these lamps aren't the cheapest reading lights on this list, they add a luxurious touch to your bedroom for a very reasonable price.
Read more: Top 7 Best LED Desk Lamps
---
Want your reading room to be a place of peace, coziness, and imagination? Find a special reading light.
It doesn't always have to be a fancy chandelier with loads of sparkling crystals to bring you to the beautiful adventures. However, the light should have a design that promotes privacy and reflects your personality.
In addition, you will need a light with a soft color, such as blue, white, or light green to enhance tranquility in your reading corner. It should help you to release all the stress and lose yourself into the world of fiction books.
For the desired effect, a temperature of 2700 to 4000k (warm white) will be ideal.
1. Brightech Arc Lamp — Best Floor Lamp for Reading Nooks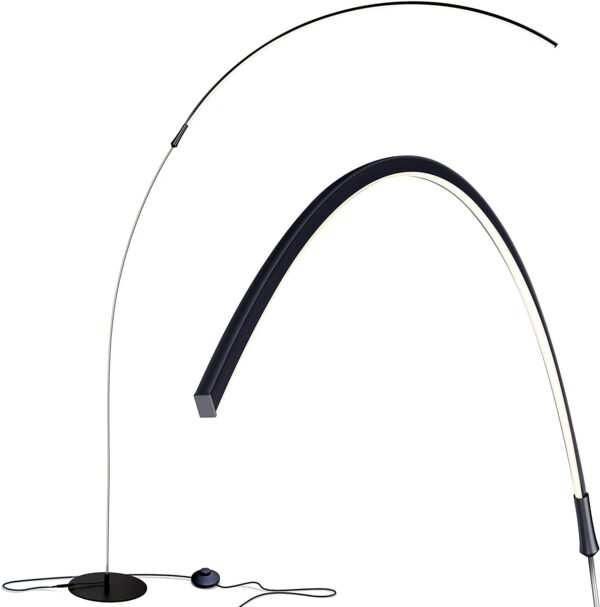 Nothing in the world sounds more heavenly to book lovers than a snuggle in their comfy chaise lounge with a soft blanket, two fluffy pillows, and a good, good book.
A reading light for those moments is one you can only read by, but can also inspire your imagination and set a cozy, tranquil atmosphere.
The Brightech floor lamp comes in a unique crescent shape, which arches over to shine evenly over your shoulders to the open pages. At 2000 Lumens, it allows you to read even small printed lines and see the steam on your cup of hot tea. The glow is, however, soft, warm, and pleasant to the eye at 3000K in temperature.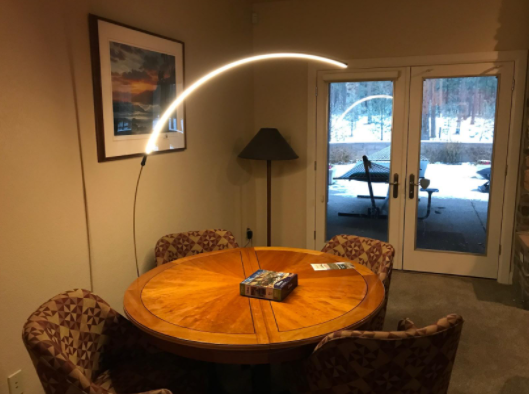 As it has a slender arm and head, the lamp takes a humble space in your small cozy corner or reading nook. The simple design allows it to match easily with the surrounding furniture and decors wherever you place it.
The lamp's simple on/off switch is conveniently placed in the middle of the cord, and is within your feet's reach. There is no dimmable function, but this light is designed to set the mood for reading, and glare is the last thing you should worry about.
Read more: Top 10 Best Floor Lamps of 2023
---
2. CLAXY® Pendant Light — Best Pendant Light for Reading Nooks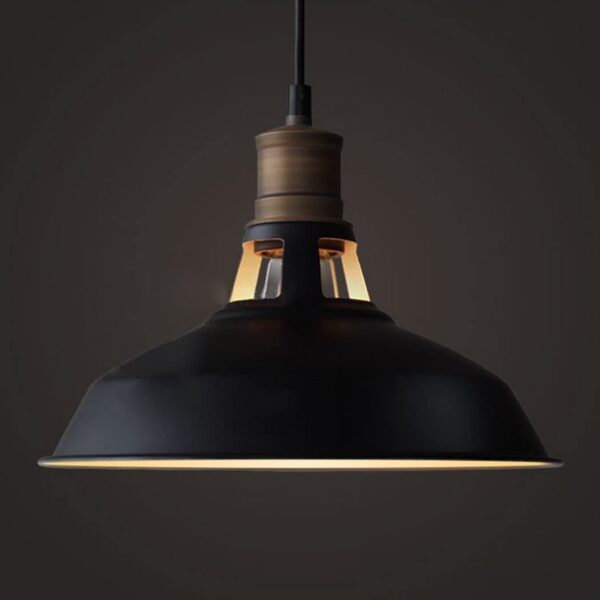 Do you know the fasted and easiest way to make your reading corner a balmy, cozy corner for retreat? Install this warm classic pendant light there. Boom!
This Claxy Ecopower barn pendant lamp comes with a black cord, a metal shade with an ivory finish inside, and black paint outside.
The top part, meanwhile, has a fine bronze finish. Around it is some cut-outs, which allow the light to go through and shine up to avoid dark shadowing.
The paint on the whole item is made very fine and shabby instead of sleek. That somehow gives off a feeling of calmness and humility.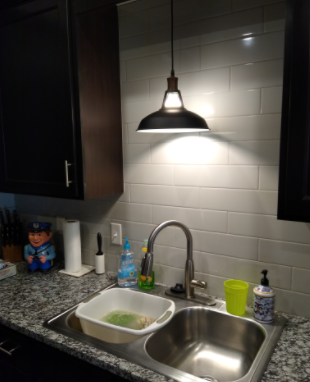 Installed with a 60 – 100-watt bulb (or equivalent) at a warm temperature (2700 to 3500K), the lamp can create a homey and secure atmosphere.
It offers that gentle glow that makes you feel safe and relaxed, allows you to forget all of your daily stress, and lose your mind and heart in the beautiful world of books.
At a diameter of 13.1", the lamp fits very well with the confined space of your reading corner. As it looks simple and classic in style and color, it matches easily with both modern and antique decors.
Your work in the home office requires energy and concentration, and you need to be sharp and alert for the challenging tasks. That is why a specifically designed item with bright, cool white light will be of great usefulness.
A reading light should be bright (with a brightness level of at least 3,000 and up to 6,000 Lumens) enough to stimulate your aspiration and creativity, without creating glare on your computer screen or fatigue on your eyes after a brief drift.
The temperature should be at least 4100, and up to 6000k, which represents the neat, bright feeling of direct sunlight or light on a cloudy day.
1. Brightech Reading Lamp — Best Floor Lamp for Home Office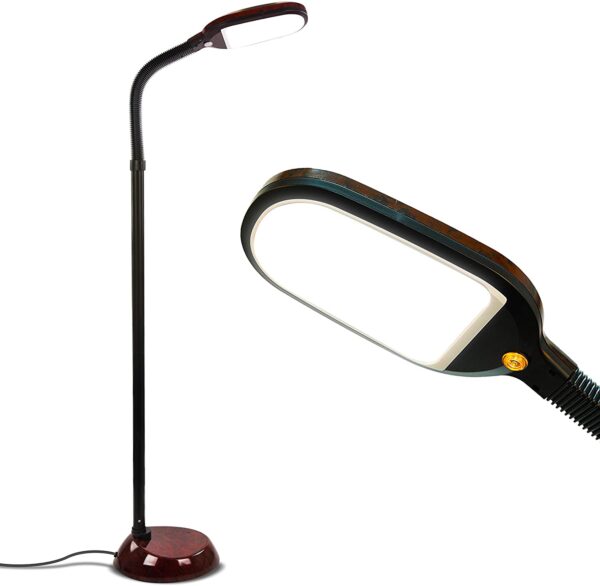 If you're working at home and want a setting that enhances your concentration and productivity, putting this Brightech floor lamp next to your desk would be a good move.
Created to boost up working efficiency, the light emitted has a temperature of 6,000K. This is the same as the cool crisp light you usually see on a sunny day that makes you feel energetic, and ready to get work done.
At 2,000 lumens in brightness, the lamp is more than sufficient to light up the smallest details of what you're working on. You don't have to bend down closer to see a table of figures or that delicate flower petal on your embroidery frame.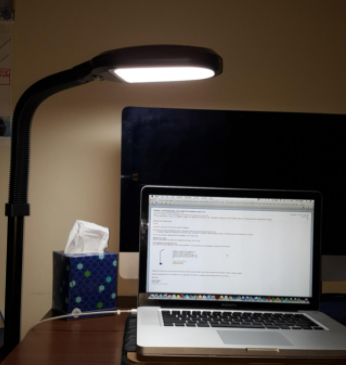 If you want a softer glow for a convo or to watch cat videos on Youtube, the lamp can always be adjusted to a dimmer mode. Simply touch the power button until it reaches your preferred level. The next time you turn the lamp on, it will still remember it!
As a task lamp, the lamp's light focuses on an area as large as your desk. To make sure you don't have to move the whole thing when your position changes, the neck is made flexible. You can always bend, twist, and customize to your favorite lighting angle.
Coming in a simplistic, space-efficient style and with 5 shell colors, the lamp can match easily with both traditional wood flooring and more modern spaces.
---
2. Taotronics Metal Desk Lamp – Best Desk Lamp for Home Office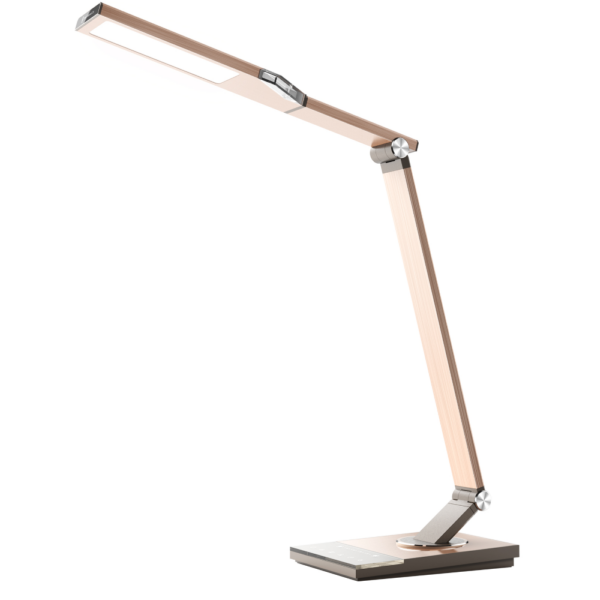 Bright, sleek and having multiple brightness and colors, this TaoTronics item is the best choice for a table reading lamp in your office. Not every item gets such a near-perfect review score on Amazon.
What's so special about this lamp? It offers 30 settings for warmth and brightness levels.
For a crisp, bright light to boost your energy and determination in the home office, choose the coolest color and the brightest intensity mode. The next time you turn the lamp on, it's shining your favorite shade!
To minimize shadows when you read and write, and avoid that glare on your screen when the light is at 1200 lux, the lamp comes with a bendable and rotatable arm. You can easily adjust the arm to get the exact light angle you need.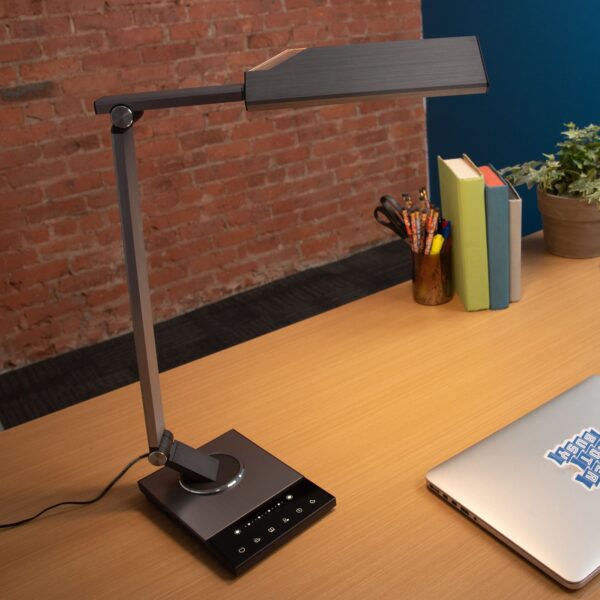 The base is neat and sleek. As it is heavy (4.4 pounds or almost 2 kilos), it can stay firm when you accidentally push it.
Apart from the various lighting options, the light also has a one-hour timer. Set the light to turn off if you want to take a short break for a coffee or a walk to relax your eyes and back muscles.
As a table lamp, the item is designed to maximize your convenience. It has a USB charger port on the base, saving you that reach when your phone or tablet needs charging.
Finally, the light's sleek black metal shell and modern design will bring about professional look to your desk.