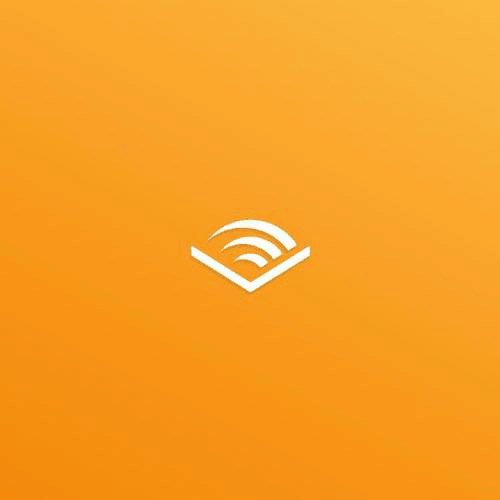 $14.95/month
Access Audible exclusives
Largest audiobook offering, over 400,000 titles
Swap any audiobook for any reason
30-day free trial
Cancel anytime
Are you currently debating whether audiobooks are right for you? I was in the same situation before I actually gave them a go.
Thoughts like, is listening to an audiobook as beneficial as reading a book are common for anyone that hasn't experienced listening to an audiobook.
Enter Audible…
Carry on reading our Audible review to learn if we think their service is worth it. We will highlight the best and worst parts of this online audiobook service. Enjoy!
About Audible
Established in 1995, Audible was the first digital audiobook service on the market. In 2008, Audible's founder, Don Katz, sold the company to Amazon for $300m.
Even before Amazon acquired Audible, they were the standout operator in this emerging industry.
Due to Audible's lengthy history, it has handsdown been one of the most popular audiobook providers on the market.
Does the history make the product offered by Amazon Audible worth it?
In short, it definitely does. Great pricing, exclusive listens and an easy-to-use website and app are three key selling points to mention this early on in our Audible review.
Another way they have managed this is by producing their own content, through Audible Studios. I feel that this is what sets Audible apart from their competitors.
Later, I'll even offer you a list of my favourite Audible Originals (audiobooks exclusive to Audible).
URL – Audible.co.uk or Audible.com
Device Compatibility – iOS, Android & Windows
Support for Offline Listening – Yes
Free Trial – Yes
Keep Books After Cancelling – Yes
Monthly Cost – £7.99 or $14.95
Contact – Use the contact form on their website
How does Audible work?
What's great about Audible is that it is simple to use. That is one reason customers choose them.
To get started with Audible sign-in with your Amazon account details, or create a new account if you don't have one (who doesn't have an Amazon account nowadays).
Upon registration, you get a free audiobook of your choice. This is part of Audible's 30-day free trial.
When registering you will have to enter on of your credit card details in order to keep your subscription running after the trial period has ended.
Audible credits will appear each month in your account should you continue your membership, and the number of credits will vary depending on your chosen subscription (1 or 2). Each credit is worth one audiobook, simple!
If during your trial month you are unhappy with Audible's service you can cancel at any point for free.
On the other hand, if you finish your introductory audiobook in less than a month you can start your chosen package early in your Audible account settings.
Audible Free Trial
Our Audible review would be incomplete if we didn't mention the Audible free trial.
This introductory offer is a great way to get started with the most popular audiobook service out there.
All you have to do is sign-up and you will instantly receive one audible free credit, which entitles you to one free audiobook.
Your chosen audiobook is yours forever!
The Audible free trial also allows your access two Audible Originals during the trial month period.
Make sure that your audiobook pick is a good one, as you may want to listen to it more than once.
Audible Subscription Plans
So, you know what an Audible credit will get you. But how many credits come with each Audible subcription plan.
We've created a handy table below so that you can easily see how many credits you will get each month.
It is easy to start with one monthly package and then change in the futre if you want more or less credits.
Only you know how many audiobooks you can consume in one month.
| Subscription Plan | Cost | Audible Credits |
| --- | --- | --- |
| 1 Audiobook Per Month Plan | £7.99/month | 1 credit a month |
| 2 Audiobooks Per Month Plan | £14.99/month | 2 credits a month |
| 12 Audiobooks Annual Plan | £69.99/year | 12 credits package |
| 24 Audiobooks Annual Plan | £109.99/year | 24 credits package |
Gift Vouchers
Audible gift vouchers are a great present for friends or family.
If it is someone's birthday or maybe a prize for an employee of the month, why not look at gifting an Audible voucher?
There are four separate gift plans that you can purchase, these are:
1 month – $15
3 months – $45
6 months – $90
12 months – $150
Audible Store
As we mentioned earlier in our review, Audible's audiobook offering is what sets them apart from their competitors.
They have the largest library out there when it comes to audiobooks, and for all genres.
It may not be the cheapest audiobook service, but access to the Audible library is worth that extra $1 per month.
Audible offer slightly over 425,000 audiobooks. You definitely won't struggle to find something to listen to.
Easily browseable, the Audible store contains new releases, bestsellers, timeless classics and a whole load more.
Not only that, they also create exclusive audible books that you won't find elsewhere, go to their Audible Originals section to check these out.
When we used our free trial we took full advantage of downloading an Audible exclusive. Can you guess what we chose?
None other than, Sherlock Holmes: The Definitive Collection.
This audiobook is beautifully narrated by Stephen Fry. Almost 72 hours of detective delight. All for free, thanks, Audible!
Listed Categories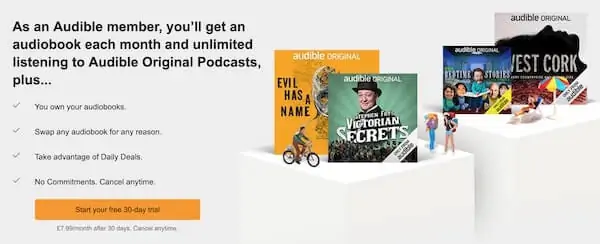 Action & Adventure
Arts & Entertainment
Biographies & Memoirs
Business
Children
Classics
Travel & Adventure
Young Adults
Comedy
Crime & Thrillers
Education
Erotica
Fiction
Film, Radio & TV
Sci-Fi & Fantasy
Health & Personal Development
History
Languages
Newspapers & Magazines
Non-fiction
Religion & Spirituality
Sport
So, here you have the main Audible categories. You can then dive into each one to explore their titles and further subcategories.
To make browsing in the Audible store even easier they have the 'more to explore' section, this is where you can find Audible Originals, coming soon audiobooks and much more!
Device compatibility
As Audible is an Amazon product you have the opportunity to listen to your favourite audiobooks on multiple devices.
You can download the Audible app for your mobile or tablet device, or even listen on your computer or laptop.
Best of all, Audible is also fully compatible with the Amazon Echo and Alexa. This is great for all of the people that want to absorb an audiobook whilst performing a daily task.
The fact that you can listen to your stored library on different devices makes using Audible very practical.
Audible App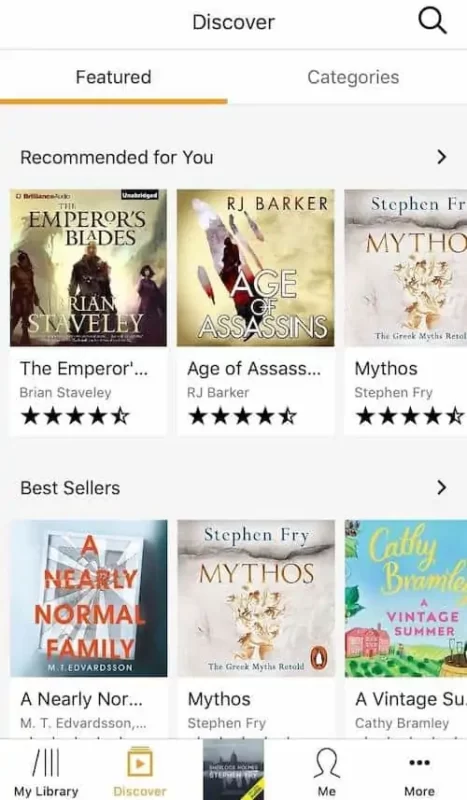 As already mentioned you can download the Audible app on any handheld device. Not many other audiobook apps are compatible with iOS, Android and Windows phones.
Our Audible review was produced using an iPhone, as well as an Android tablet. We're pleased to say that the Audible app worked seamlessly on both devices.
There are customisable settings in the app to increase or reduce the speed of the narrator. It is also flawless to skip to the next chapter, or rewind and fast forward should you need to.
Another nice feature in the Audible app is the ability to bookmark certain points.
Also, if you are enoying to a business audiobook you can easily make annotations whislt you are listening.
We highly recommend Audible's app, and you can fully test it by signing up for their free trial.
Help & support
We wanted to dedicate part of our Audible review to new and existing Audible users that require support.
What we love about the Audible customer service team is that they are available 24/7 via phone, email and live chat. It doesn't matter which country you reside in these hours are applicable to all.
They also have a great help center that contains frequently asked questions, like how to exchange an audiobook with Audible.
One pro of being a customer with Audible is the fact that they offer free exchanges if you aren't satisfied with your selection.
WhisperSync
Audible introduced Whispersync for customers that want to switch between reading on their Kindle and listening on any device with internet.
If both of your devices are connected to the internet then you can pick up where you left off on a different device. This is very handy for the situation or mood that you are in.
For WhisperSync to work though you need to have the audiobook version and Kindle version downloaded otherwise it won't work.
The following devices are the ones that WhisperSync is compatible with:
Kindle App for iPhone
Kindle App for Android
Kindle Touch
Kindle Keyboard
Kindle Voyage
Amazon Echo
Fire Tablets and Phone
Kindle Keyboard
Audible for iPhone
Audible for Android
Audible for Windows
Review Conclusion – Is Audible worth it?
That is almost all for our Audible review. Let us give you our final verdict on the question, is Audible worth it?
Straight to the point, Audible definitely is worth the monthly subscription.
Audible have the largest audiobook library in comparison to all of their competitors. Trust us, we've reviewed all of the top audiobook websites.
History shouldn't be a factor, but as they've been around since 1995 they definitely know what their customers want.
We love the fact that they have the Audible originals section, you won't find these exclusive audiobooks anywhere else! That's a reason in itself to sign up!
The price of each audiobook can be expensive with Audible if you aren't registered to one of their monthly memberships.
If you listen to one or two audiobooks a month then their subscriptions are perfect. However, if you steam through audiobooks at an alarming rate then we would suggest that you check out Scribd audiobooks.
If you thought that sounds like me after reading that sentence, then definitely see our Audible vs Scribd guide. We compare the finer details of both of these services.
That's it from us on our Audible review, we'll leave you with this final sentence.
With so much variety on offer for all types of listeners, Audible is a one-stop-shop for audiobooks.
FAQs
Can I return audiobooks with Audible?
Audible also make it easy for you to return audiobooks that you didn't enjoy. Obviously, if you've listened to the whole book or even half then they will question you for the reason of why to want to return it.
If you bought an audiobook by mistake or genuinely don't like the one that you purchased you can easily exchange it.
You must go on to Audible on your computer or laptop, as you can't process the return via the app.
In your account details find your purchase history and the book that you want to return. You will then be asked to select a reason for your return, select that and click return! It's as simple as that. It's really great that they give you this option through their Good Listening Guarantee contract.
How can I cancel my Audible membership?
Some people reading our Audible review might just be in it for the free trial. Therefore, you will get your free credit and cancel. There is nothing wrong with that, you will soon realise that Audible is one of the best audiobook apps on the market though. Remember they boast a load of Audible originals.
Like with returning a book you can't cancel your audible membership via their app or mobile website. You will have to log in on your computer and find the account details section. In front of you will be your membership details, with the options to change the subscription plan or cancel completely.
Please note that if you have unused Audible credits and then cancel your subscription it will result in you losing them.