Here are at UseAudiobooks.com, we have discovered that two of the top audiobook services are Scribd and Audible. You can trust us as we've reviewed all audiobook providers over the past few years. In fact, you can read both our in-depth Scribd review and Audible review if you would like to learn more about either product.
This article is going to focus solely on the offerings from Audible and Scribd. The gloves are off, find out who will take first place in this battle for the best audiobook subscription.
Scribd vs Audible – Which is Better for Audiobooks?
Scribd and Audible have a different approach in the way that they offer audiobooks to their customers. This is important to keep in mind.
Scribd offer an unlimited audiobooks per month subscription, well not entirely unlimited but more on that later.
Counter to this, Audible's monthly audiobook subscription entitles listeners to a set number of audiobook credits, which are used for redeeming titles. The standard membership entitles users to one audiobook per month, otherwise the next plan gives you two audiobooks per month.
Scribd vs Audible Cost Comparison
Next up in our comparison is the cost of both of these services, is Scribd cheaper than Audible?
As we mentioned already their audiobook offering is slightly different. Starting by looking at Scribd, with their monthly subscription you will be charged just $9.99 and this will allow you to listen to 4-5 audiobooks per month.
Yes, that's right Scribd isn't truly unlimited. Their membership may not fit your needs if you want to listen to 5+ audiobooks per month.
Audible's monthly pricing is easy, for 1 Audible credit (1 audiobook) you will pay $14.95 per month. If you are after 2 audiobooks per month you will then be paying $22.95, which works out to be $11.50 per audiobook.
On top of the monthly credits, you can also listen to 2 Audible Originals from the Audible Studios. More great exclusive titles are getting added each month, giving users another reason to choose Audible.
With Scribd, obviously you don't get to keep your audiobooks if you one day decide to cancel your subscription.
However, if you have a membership with Audible and cancel you keep your audiobooks, they will still be available in your library.
For some people, this can be seen as a pro or a con. You may want to listen to an audiobook again, whilst others want to listen just the once.
Scribd and Audible Audiobook Libraries
When it comes to looking at which service has the better audiobook offering, it's not hard to see which comes out on top.
We go on and on about how extensive Audible's offering is that it is now boring to repeat it again. Although, it is important for new audiobook customers to know.
Currently Audible are offering over 400,000 audiobooks, this is including all of their Audible Originals. If you are searching for a specific audiobook the one place you are most likely to find it is at Audible.
Scribd's audiobook offering definitely isn't small, in fact they still offer over 150,000 audiobooks and are constantly adding new additions.
One thing to note about Scribd is the fact that your monthly subscription also includes access to their ebooks library. At $9.99 per month, Scribd is the cheapest audiobook service on the market.
Free Trial Offers
Fortunately for us, the customers, both of these audiobook services offer a one month free trial. What this means is that you can test both services before you have to decide on which one to go with for your paid subscription.
Scribd's free trial gives you 30-days of access to listen to as many audiobooks as you would like. Whilst Audible give you one free audiobook (take your pick of any in their store) and access to two Audible Originals. The Audible free trial will also end after 30-days, and will automatically renew unless you cancel it.
There is no real winner here in the Scribd vs Audible battle, both services are giving you a generous free trial. To test each service for yourself just click the links below.
Who has the Better app?
One important thing to take into consideration when choosing which audiobook service to go with is how well the mobile app functions. To be honest, both Scribd and Audible have best mobile audiobook apps so there shouldn't be too much of an issue. But let's take a look at them a bit closer.
Scribd app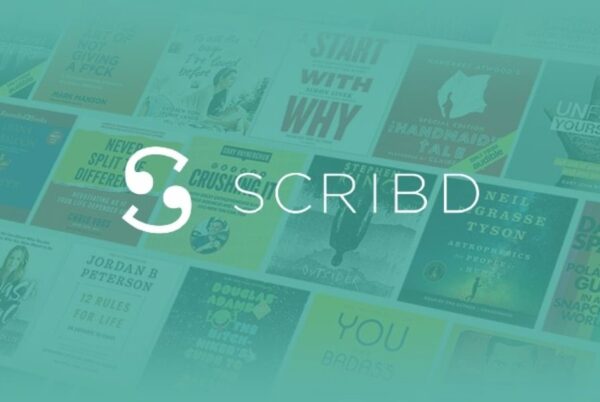 Listening to audiobooks while on-the-go is one of the best ways to enjoy them. Scribd's app is very simple to use, they allow you to save audiobooks that you want to listen to, so you can have a constant queue waiting.
The search function along the bottom of the Scribd app makes it easy to find your chosen audiobooks, or even search for a certain genre. You can pick any audiobook and start downloading it if you have a WiFi connection. Then, once downloaded you can listen on-the-go and not consume all of your mobile data.
Audible app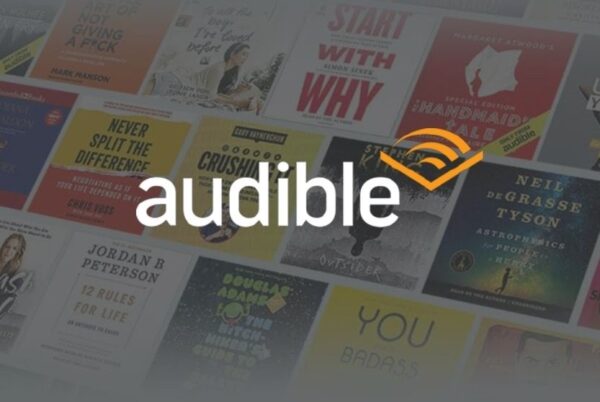 Time to look at the Audible app, it is equally as straightforward to use as the app offered from Scribd.
The Audible app has an easy to navigate interface. One pro is that you have the ability to contact their customer service team from within the app, as well as being able to browse their entire store!
One thing we aren't keen on though is that you cannot purchase an audiobook from within the Audible app.
You can add the audiobook to your wishlist and listen to a 5-minute sample, but you can't purchase the book and start listening straight away…you first have to buy your chosen audiobook on your PC/laptop or through your mobile browser.
If someone working at Audible reads this, please add this buy-in-app function! You'll be making a lot of customers happy.
As we said at the start both apps are easy to use, for us the main priority is what audiobooks they offer in their respective stores.
Scribd vs Audible Summary
That brings us to the end of our Scribd vs Audible comparison. Have you made your mind up on which service is best suited for you?
If you haven't, don't worry.
As we mentioned in the free trial section, both of these audiobook services offer their new customers a free 30-day trial upon registration. Make sure not to miss out on both of those.
Our final thoughts on both of these products are as follows. Scribd is great for regular audiobook listeners, their library is big enough for you not to get stuck on what to listen to next.
If you enjoy non-fiction audiobooks, including business audiobooks then you can spend weeks, even months listening to these genres with Scribd. For people that love both audiobooks and ebooks, Scribd really is a match made in heaven.
Audible is more of an all-round option due to its extremely vast store. The fact that they are a publisher themselves gives them more content than their competitors.
Audible is more expensive than Scribd, but it is worth it when you are looking for a specific audiobook.
Sorry for not giving a definitive answer to who won our Scribd vs Audible battle. We suggest that you test both services yourself using their free trials and then make your final decision. 2-months of audiobook free trials, result!

Scribd
Scribd allows you to listen to as much as you want for the cheapest price on the market. No credits needed. Included in the membership are ebooks too. See if Scribd is the right choice for you with their 30-days free subscription!

Audible
Audible boasts the largest audiobook store. With a simple mobile and tablet app it's difficult to look elsewhere. Amazing Audible exclusives are the cherry on the cake! New Audible users will receive a 30-days free trial for the best audiobook service on the market!