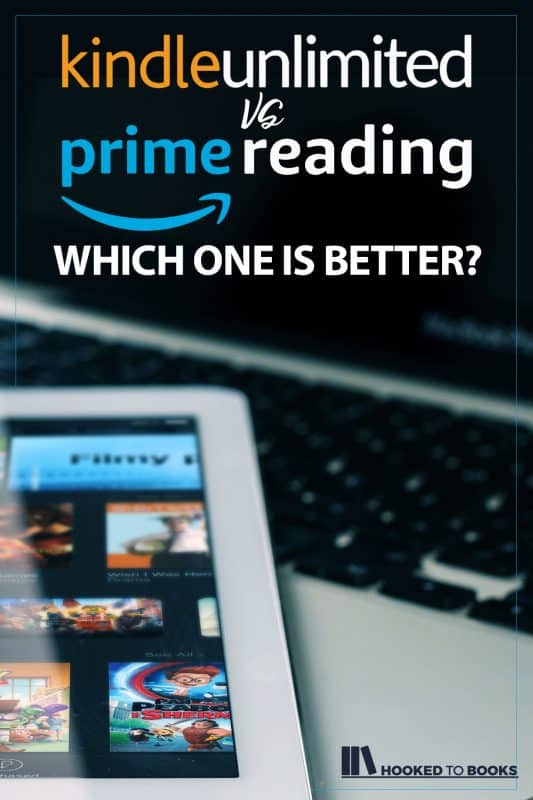 If you've been reading books from Amazon, you'd probably have heard both about the Kindle Unlimited program and Prime Reading.
Both programs boast to offer "unlimited reading" on a vast choice of books and mags for their members at a surprisingly low monthly fee. But how do the two programs differ from each other? And which would benefit you more, Kindle Unlimited or Prime Reading? Or would you be better off with neither?
Let's answer the questions one by one.
What's Kindle Unlimited?
Kindle Unlimited is a subscription service offered by Amazon since July 2014. In a nutshell, the service is like Spotify for music, or Netflix for movies.
It allows unlimited access to, at the time of writing, more than 1.5 millions of titles, including hundreds of thousands of titles in various foreign languages. That includes not only books, but also comics and current magazines (think Outdoor Life, Parents, Popular Science!).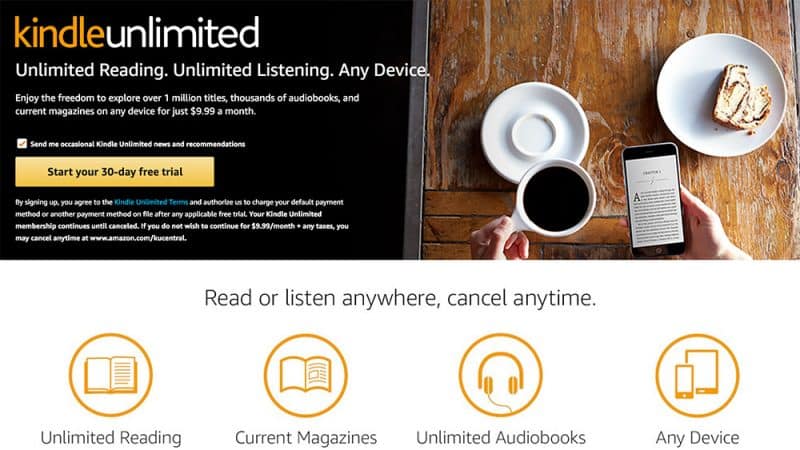 The books offered belong to various genres, from romance to finance and science. Thousands of them come with narrated Audible audiobook. This means you can make use of Whispersync for Voice to continue reading a book right at the page you were listening to and vice versa.
Kindle Unlimited also covers 500 public domain titles, all of which are synched with their free audiobook companion.
What's Prime Reading?
Prime Reading is a benefit available for free trial or paid Amazon Prime members, including those joining in the Prime Student program. It allows the members to browse and read more than a thousand books, magazines, comics, and more.

Similar to Kindle Unlimited, Prime Reading includes books with Audible narration. Thanks to that, you can enjoy switching between listening to an audiobook and reading it on your device seamlessly.
Basically, it is "Kindle Limited" – it offers a pared down catalog of the content of the Unlimited program.
What selections of books do they offer?
Both Prime Reading and Kindle Unlimited have a great variation of books of different topics for you to discover. However, there are differences in the size and the quality of the content offered.
As earlier discussed, with Kindle Unlimited, you can discover more than 1 million titles of books, magazines, comics, among others. However, a majority of the titles are self-published by new writers and authors. Also, there is a lack of titles from the big five publishing companies, including Penguin Random House and Macmillan. It means chances are you may have difficulties looking for some best-sellers or high-quality books from your favorite authors.
Prime Reading, meanwhile, looks more like a subset of the selection from Kindle Unlimited. However, it is known for the quality of the content offered. All the titles available to Prime Reading members are handpicked by editors. They include best-sellers, popular and highly recommended books from trusted publishing houses. The number of books you can keep at one time is also 10, similar to the Unlimited program.
On which devices?
Both the Kindle unlimited program and Prime reading program allow you to read on the Kindle app from any device. You can download the app for free from your App Store and immediately start using it.
So you don't even need a Kindle ereader or a Fire for either of the two programs.
What are the costs?
The Kindle Unlimited costs you $9.99 a month. With this membership, you can read any book you want that is available, but you can only keep a maximum of 10 books at once in your account. Of course you can always return and read other books at all time and no additional cost!
Amazon Reading, meanwhile, comes free if you're already an Amazon Prime member. The Prime program costs $10.99 a month. If you choose to go on an annual plan, the price is $99 per year, which goes down to about $8.25 per month.
The Verdict – which program is better for whom?
Overall, the Kindle Unlimited program is ideal for voracious readers who want to explore new authors and experience the newest trends of literacy. If you're reading about 4 or 5 new books a month, and you don't care about shopping or watching movies or listening to music, it is probably worth it.
Probably, because a majority of books offered in the selection have very affordable prices, mostly ranging from $.99 to $4.99. If the books you read are in the lower range, you'll have to read 7 or 8 books a month for the subscription to make sense economically.
Prime Reading, meanwhile, is better for readers that want a more "mainstream" bookish experience with better-known books and authors.
The thing is, as part of Amazon Prime, it comes with Prime Video (free instant access to video streaming), Prime Music, free unlimited photo storage, and free two-hour, one-day, and two-day delivery. You can save on Netflix and Spotify! So, if you also shop on Amazon, and/or even just occasionally watch music and movies, the Prime program is still a better deal.
Since both programs offer a free 30 days trial period, you can register each for a month and see for yourself which one is more suitable for your needs. Another choice is to go on and off the membership depending on your needs. If you're on vacation, for example, it's a good time to try on Kindle Unlimited.
No worries about the risks, because it's free to cancel any time.
Links to sign up
Kindle Unlimited: 30-day Free Trial
Amazon Prime: 30-day Prime free trial