If you've been reading books from Amazon, you've probably heard about the Kindle Unlimited and Prime Reading programs.
Both programs boast of offering "unlimited reading" on a vast choice of books and popular magazines for their members, at a surprisingly low monthly fee.
But how do the two programs differ from each other?
And which would benefit you more, Kindle Unlimited or Prime Reading? Or would you be better off with neither?
Let's answer the questions one by one.
What Is Kindle Unlimited?
Kindle Unlimited is a subscription service offered by Amazon and has been available since July 2014. In a nutshell, the service is like Spotify for music or Netflix for movies.
It allows unlimited access to, at the time of writing, more than 1.5 million titles, including hundreds of thousands of titles in various foreign languages.
That includes not only books, but also comic books, audiobooks, and current popular magazines (think Outdoor Life, Parents, Popular Science!)
Comic Books
Audiobooks
Popular Magazines
and.. of course… regular Books
The books being offered belong to various genres, from romance, to finance and science.
Thousands of them come with a narrated Audible audiobook. This means you can make use of Whispersync for Voice to continue reading a book right at the page you were listening to and vice versa.
Kindle Unlimited also covers 500 public 
domain
titles, all of which are synched with their free audiobook companion.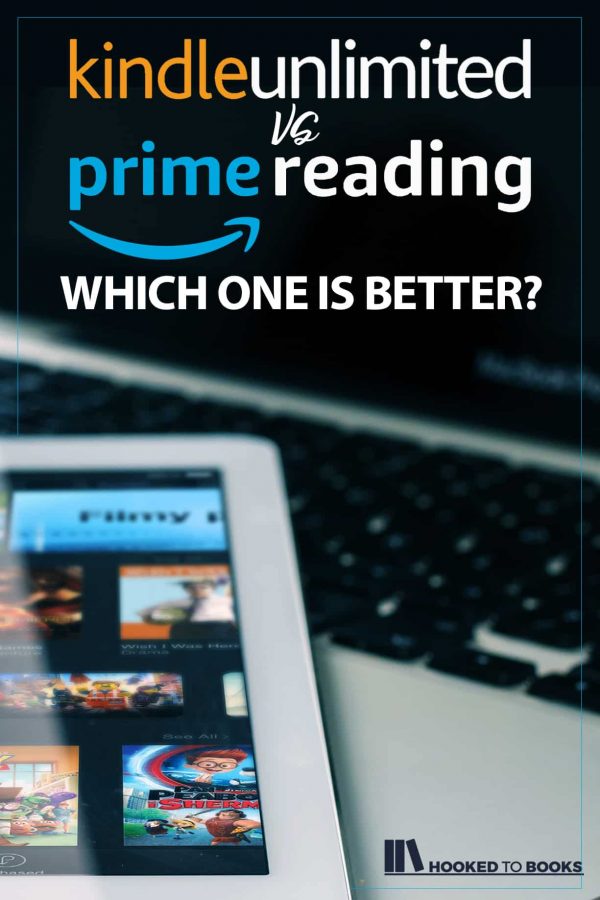 What Is Prime Reading?
Prime Reading is a benefit available as a free trial or for paid Amazon Prime members, including those joining the Prime Student program.
It allows Amazon Prime members to browse and read more than a thousand eBooks, magazines, comic books, and more.
Similar to Kindle Unlimited, Prime Reading includes books to borrow for free with Audible narration.
Thanks to that, you can enjoy switching between listening to an audiobook and reading it on your device seamlessly.
Basically, it is "Kindle Limited." It offers a pared-down catalog of the content of the Unlimited program.
What Selections of Books Do Each Offer?
Both Prime Reading and
Kindle Unlimited
have a great variation of books on different topics for you to discover.
However, there are differences in the size and the quality of the content offered with each program.
As earlier discussed, with Kindle Unlimited, you can discover more than 1 million titles of books, magazines, comics, among others.
However, a majority of the titles are self-published by new writers and authors.
Also, there is a lack of titles from the big five publishing companies, including Penguin Random House and Macmillan.
It means you may have difficulties looking for some best-sellers or high-quality books from your favorite authors.
Prime Reading, meanwhile, looks more like a subset of the selection from Kindle Unlimited. However, it is known for the quality of the content offered.
All the titles available to Prime Reading members are handpicked by editors.
They include best-sellers and popular and highly recommended books from trusted publishing houses.
The number of books you can keep at one time is also 10, similar to the Unlimited program.
On Which Devices?
Both the Kindle Unlimited program and the Prime Reading program allow you to read on the Amazon Kindle app from any mobile device.
You can download the app for free from your App Store or Play Store and immediately start using it.
So you don't even need a Kindle e-reader or a Fire for either of the two programs.
What Are the Costs of Each Program?
The Kindle Unlimited eBook subscription costs $9.99 a month. With this membership, you can read any book you want that is available, but you can only keep a maximum of 10 books at once in your account.
Of course, you can always return and read other books at all times and at no additional cost!
Amazon Prime Reading, on the other hand, comes free if you're already an Amazon Prime member.
The Prime program costs $12.99 a month. If you choose to go on an annual plan, the price is $119 per year.
The Verdict – Which Program Is Better?
Overall, the Kindle Unlimited program is ideal for voracious readers who want to explore new authors and experience the newest trends of literacy.
If you're reading about 4 or 5 new books a month, and you don't care about shopping or watching movies or listening to music, it is probably worth it.
On the other hand, because a majority of the eBooks offered in the selection have very affordable prices, mostly ranging from $.99 to $4.99 — if the books you read are in the lower range, you'll have to read 7 or 8 books a month for the eBook subscription to make sense economically.
Prime Reading, meanwhile, is better for readers that want a more "mainstream" bookish experience with better-known books and authors.
As part of Amazon Prime, it comes with Prime Video (free instant access to video streaming), Prime Music, free unlimited photo storage, and free two-hour, one-day, and two-day delivery. You can save on Netflix and Spotify!
So, if you also shop on Amazon, and/or even just occasionally watch music and movies, the Prime program is still a better deal.
Since both programs offer a free 30 day trial period, you can register each for a month and see for yourself which one is more suitable for your needs.
Another choice is to go on and off the membership depending on your needs. If you're on vacation, for example, it's a good time to try Kindle Unlimited.
No worries about the risks, because it's free to cancel any time.
FAQ Section
The following are a few of the more commonly asked questions regarding these subscription programs and a summary of other pertinent information.
How does Kindle Unlimited work and what are the limits of Kindle Unlimited?
When you subscribe to Kindle Unlimited, you are gaining access to over a million Kindle titles including eBooks, audiobooks, and magazines.
You can then read these titles on any Amazon device or the Kindle app and borrow titles as often as you wish with no due dates. Ten titles can be kept at a time.
Kindle Unlimited is separate from Amazon Prime and the Kindle Owners' Lending Library. Instead, it is a service that stands apart and comes with a monthly fee of $9.99 with no limit on how many books you read in a month. The only limitation is having ten titles at one given time.
What are the best Kindle Unlimited Books 2020?
The best Kindle Unlimited books of 2020 come from several genres, so there is plenty to choose from.
The following are just a few of the best titles taken from genres like biographies and memoirs, business and money, graphic novels, romance, mystery, thriller, and suspense, literary fiction, and young adult.
How does Kindle Unlimited work on the app?
When you download Kindle Unlimited for your mobile device (iPhone or Android), it is almost the same as having an actual Kindle in your hands.
You can read the books you purchase on Amazon, have access to over a thousand titles that are included with Prime. And you can read and listen to titles with audible narration. It is a way to carry all of your Kindle eBooks with you wherever you go.
All of the titles you purchase on Amazon will automatically appear in the app. If you are a Kindle Unlimited or Prime member, you can also select and download eBooks from the app directly.
You also gain the advantage of sampling any eBook for free, discover what other readers are interested in via the newsfeed, and have a much more customizable reading experience right from your mobile device.
What is included in Kindle Unlimited?
With a Kindle Unlimited subscription, you will have access to over one million titles in the Kindle store.
Among these titles, you will find books, audiobooks, and magazines.
You can keep up to ten titles at one time, but you have unlimited access with your subscription to any other titles you want for the duration of the year.

What is the difference between Kindle Unlimited and Amazon Prime?
While Kindle Unlimited and Amazon Prime are both programs currently available on Amazon that are primarily geared toward people who love to read.
When you look at what these two programs do and how to use them, you will find that they are very similar.
You can access a variety of titles and can get them on an Amazon device or through the Kindle app.
There are also no due dates. Amazon's program, Prime Reading, is just one of the many benefits Amazon Prime offers.
It is included in the annual Amazon Prime membership. Kindle Unlimited, on the other hand, is a standalone subscription service that is separate from Amazon Prime.
Also, you can also purchase a Kindle Unlimited subscription even if you do not have an Amazon Prime membership.
The next biggest difference is what titles are available for each of these programs.
With Prime Reading, you only have access to around 1000 titles, and they are rotated in and out.
With Kindle Unlimited, you have access to over one million titles.

Can I give Kindle Unlimited as a gift?
Yes, you can purchase a Kindle Unlimited Gift.
Simply go to Amazon's Kindle Unlimited Gift landing page, select the membership duration you desire − either 6, 12, or 24 months − and ensure that you check "this is a gift" at the bottom.
You can then click the orange button to add this gift to your cart. There is also an area that allows you to personalize a message to go alongside the gift.
Once they receive the gift, they can load up the Kindle Unlimited months they were gifted onto the Amazon account, or they can refuse the Kindle Unlimited gift and instead obtain a gift card with the purchase price and have the gift card directly added to their Amazon account.
What are the best Kindle Unlimited books of all time?
Several Kindle Unlimited books have made it on top Kindle bestseller lists, and we have a few of those titles to share with you today.
When you acquire a Kindle Unlimited subscription, you will want to see how many eligible titles there are that are worth reading.
All three books in the Hunger Games Trilogy written by Suzanne Collins are on the list of the top fifteen Kindle Unlimited books of all time.
On this list, you can also find A Shade of Vampire by Bella Forrest and Harry Potter and the Sorcerer's Stone by J.K. Rowling under the young adult category.
You will also find The Hangman's Daughter by Oliver Potzsch and The Handmaid's Tale by Margaret Atwood under literature and fiction as well as The Complete User's Guide to the Amazing Amazon Kindle by Stephen Windwalker listed under the reference genre.
Can you keep Kindle Unlimited books?
You are only able to keep up to ten titles from Kindle Unlimited in your account at all times. Therefore, you can't plan on building an extensive collection of eBooks, audiobooks, and magazines from them.

Is Kindle Unlimited a free program for Prime members?
Kindle Unlimited is a standalone subscription service and must be purchased separately from your Amazon Prime subscription. It has a monthly fee of $9.99 per month.
With this subscription, you can read an unlimited number of books each month, but keep in mind you can only hold onto ten titles at a time.