Let's face it — the best book stands make reading more enjoyable.
Reading is a huge part of our lives. Virtually everything we need and want to do is tied to reading.
Whether it's an important email from a friend or a novel you just cannot put down, reading enriches us and helps us reach the goals we have set for ourselves.
It helps us escape to another world and feel captivated or immersed in another culture.
For those of you who regularly visit our site, you know that we are all about book reviews and reading gadgets.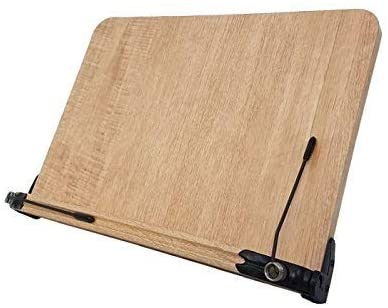 INP-101-O Patented Ergonomic Premium Book Stand
Our Recommendation for Book Stand
This heavy duty wooden book stand can hold the largest of books. The ergonomic design helps to improve posture and relieve pressure on your spine, and with fifteen different levels of adjustment, it's easy to find the perfect position for any task.
*We earn a commission if you make a purchase, at no additional cost to you.
We embrace the reader who loves to read and even the reluctant reader who comes to us in search of inspiration.
We love writers and readers and try to provide some of the best possible resources for them that are available today.
We love books, and we want our readers to have the best reading experiences possible. That's why we've created this comprehensive buyer's guide to the best book stands.
Why You Need the Best Book Stand?
One of the problems with reading is the inconvenience of holding a book or ebook reader while trying to do other things.
Let's face it, who does one thing at a time these days? Sometimes we read while also engaged in other activities such as:
Studying
Taking notes
Singing
Cooking
Doing artwork
Playing music
In these cases, the activity that you are involved in takes precedence over the reading process.
In other words, at the heart of it is the reading process. But you need to focus on specific activities such as singing, cooking, or studying, rather than the other physical activities attached to reading such as turning pages and holding a book.
For these activity-oriented reading pursuits, you need a particular type of bookstand that lets you keep your hands free while holding up your books and materials.
There is also some research showing that holding a book at an incorrect angle can lead to neck pain and posture problems.
The Best Book Stands of 2023
If you're looking for the best devices to hold your books, you've come to the right place.
This is a comprehensive 2023 guide to finding the great book stands for your bedside table, as well as the best music stands, inexpensive book stands, and other kinds of book stands.
We provide the information you need to enjoy reading the materials you wish to enjoy while enjoying the comfort of having an appropriate bookstand.
Read through these sections and browse the information about the best bookstands.
No matter what category of a book stand you are looking for, whether for reading, music, studying, or reading in bed, you'll find some great recommendations here.
You're sure to find something that intrigues you and makes your reading more enjoyable and convenient.
1. Nice Production INP-101-O – 2023 Best Book Stand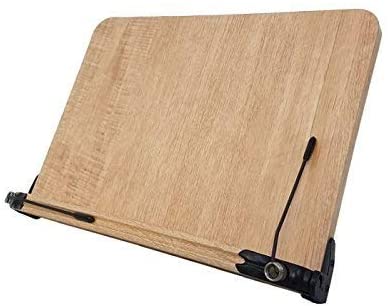 If you're looking for a bookstand that promotes good posture while also holding your essential recipe cookbooks and other books nicely, try this Nice Production INP-101-O Book Stand.
The larger size allows for better stability, and it can withstand even the bulkiest of books. No more worries about books falling off and getting damaged when you use this book stand.
This bookstand is excellent for cooking or reading large books and materials so it would be ideal for educational purposes as well as for cooking where the user has to stand while looking through information.
Freedom for Hands-free Reading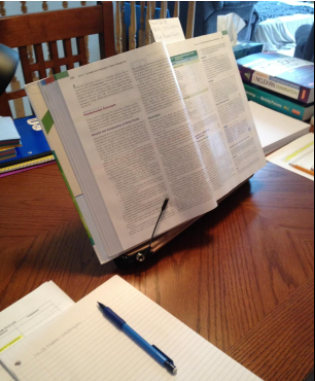 When doing something like baking and cooking, you need to be able to keep your hands free while reading the relevant instructions. This book stand serves the purpose for cooks and chefs nicely.
You can also use it for smaller books, or for holding anything you need it to while you keep your work hands-free.
When you are shopping for the best book holder or stand, you will want to consider this cookbook stand to save your hands for the more important activities of cooking.
Customer Reviews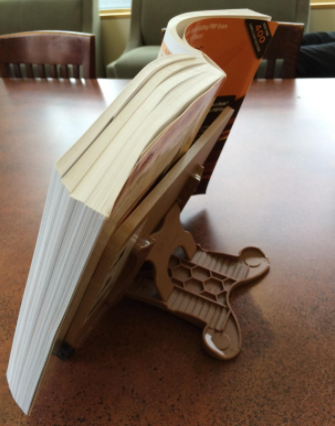 This item has over 1700+ customer reviews on Amazon and many positive comments about the large size and reasonable price of this bookstand.
---
2. Actto BST-09 Reading Stand – Best Affordable Book Stand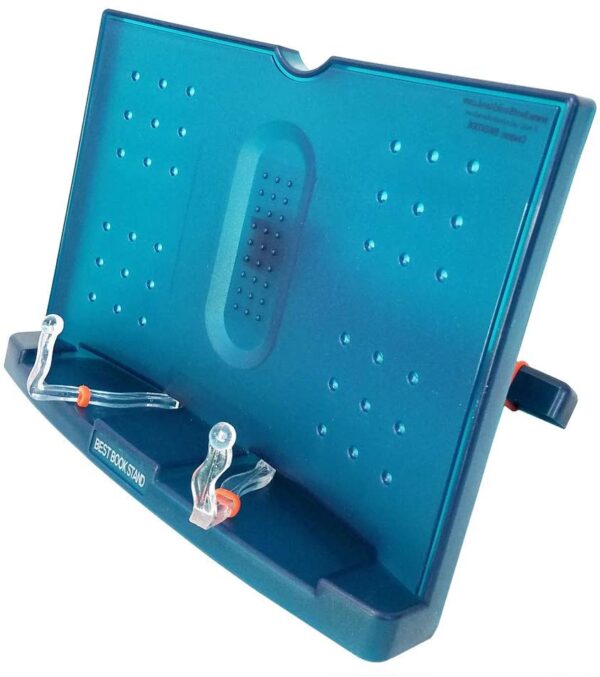 If you are looking for the best affordable book stand available, try the Actto BST-09 Adjustable Portable Stand and Document Holder.
This All-in-One media display lets you use it with books, cookbooks, magazines, sheet music, and any other sort of taller type media. This book stand is a large model with clips to hold pages in place. If you are outside and need something to keep the wind from blowing your pages out of place, this is a good one to use.
Customer Reviews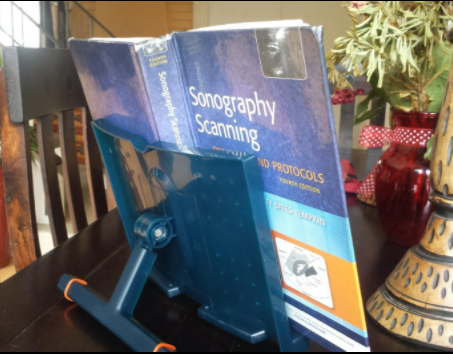 Customer reviews topped over 5,600 at the time of this writing and most customers commented about the large size and versatility for larger books.
Many customers liked using it for studying and taking notes for college classes or using it for presentations and documents.
It received a 4.7-star review at the time of this writing on Amazon's site.
Other Uses for This Book Stand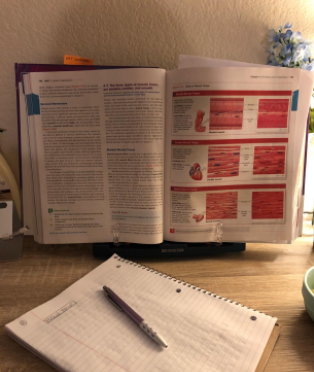 You can use this stand for artwork or do presentations from this reading stand and customize the viewing angle.
It's light and portable but can hold up to 10 pounds of weight, making it the ideal but economically-priced bookstand.
---
3. Hog Wild Peeramid Bookrest – Best Book Stand for Reading in Bed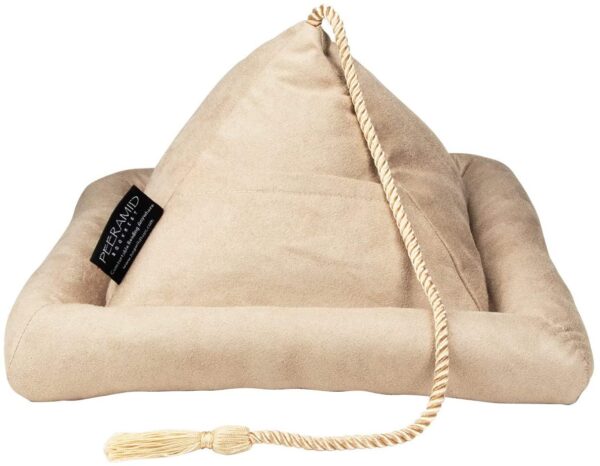 Do you like to read in bed but get tired of holding onto a book while doing so? The Hog Wild Peeramid Bookrest offers a unique and interesting solution to this problem.
A Lesson from the Gods
Experience comfortable reading that was inspired by the Great Pyramids of Egypt. It's an artistically-designed pillow with a bookmark that allows you to prop your Kindle reader or book at the best angle for reading. It comes in a multiplicity of colors and can be purchased to accent any decor.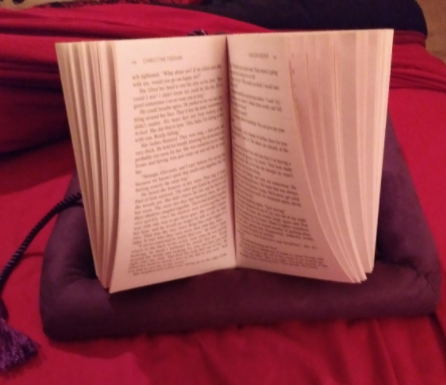 The softness and versatility of this item allow you to take it with you anywhere and use it in a variety of situations. It will hold Kindle ereaders and tablets just as easily as traditional hard-cover books.
You can place the spine of your book into the ledge of the Peeramid to allow you to use your other hand to take notes, eat, or write.
This item is ideal for college students who need to take notes on a class but have trouble balancing their book with their notepads.
You can also use your mobile phone while reading with your free hand if you choose.
Customer Reviews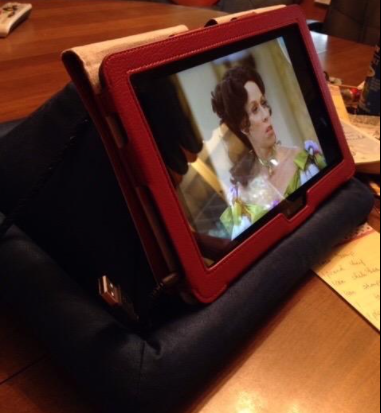 The Peeramind Bookrest has a 4.1 rating on Amazon with 120+ customer reviews at the time of this writing, and some users reported that they loved the softness and versatility of this item and that it increased their level of convenience when reading in bed.
The Peeramid Bookrest is made of soft material that resists stains, making it an even better choice for a reading stand.
---
4. Manhasset Model Music Stand – Best Music Stand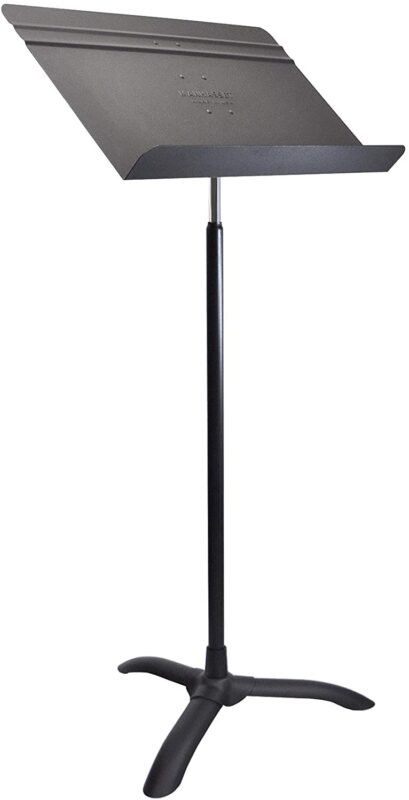 The Manhasset Model 48 Sheet Music Stand is a great solution for music teachers and band students looking for the perfect music stand.
It is a long-lasting, durable stand that is easy to tilt and move to any position. The Solid-brass bearings and construction provide excellent support, and you no longer have to worry about it falling over and dumping your sheet music while you play.
Ideal for Musicians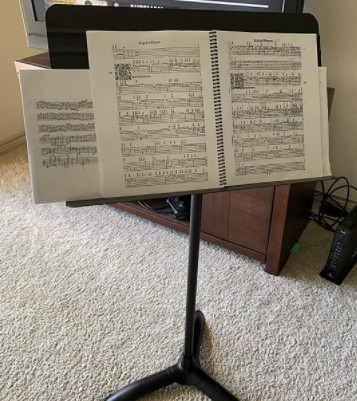 Imagine being in an important concert and placing your music on your stand with an unstable music stand. If you are a serious musician, you need to have a reliable stand that you can count on.
The Heavy-gauge, all-steel welding provides stability and requires minimum space when placing it on stage risers or storage.
Band directors and musicians alike will enjoy the stability, versatility, and exceptional craftsmanship in the Manhasset Music Stand.
This stand would also be perfect for windy days when bands perform outside, and the wind can toss pages out of place and make musicians lose their places.
Customer Reviews
Customers who purchased this item reported that it is "a great music stand for a great price," and that "assembly is fast and easy."
Over 1,390 customers reviewed the item after purchasing, and it currently has a 4.7-star rating on Amazon.
---
5. SYITCUN Adjustable Book Stand – Best Cookbook Holder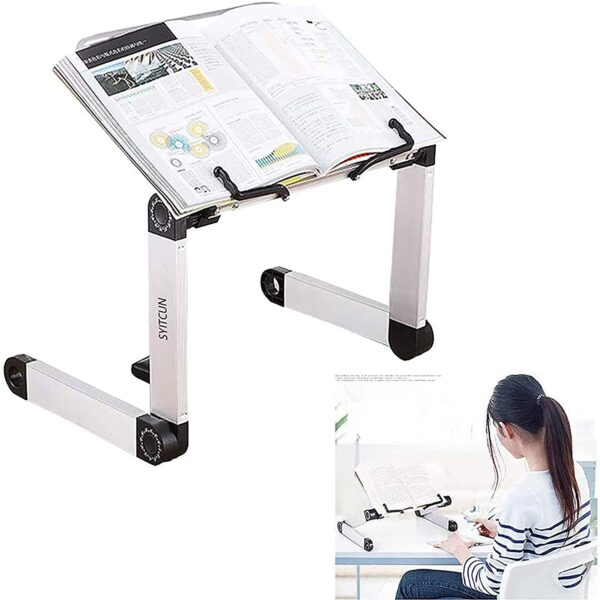 This multipurpose bookstand from SYITCUN is made from premium aluminum alloy that makes it lightweight, yet super sturdy.
You can adjust both the height and the angle of this stand, making it suitable for pretty much any situation where you want comfortable, hands-free reading. Yet the easy-to-clean surface and adjustability make it particularly well suited to the kitchen.
Hands-Free Cooking
Cookbooks can often be heavy and bulky, and this stand holds up well to weighty, hardbacked, and oversized books.
It's a good option for smaller kitchens, where your work surface area might be limited. The open leg design means you don't lose precious counter space beneath the stand. And as a bonus, you can fold it down when it's not in use and pop it away into a drawer until the next time you need it.
The stand has two flexible and strong clips to securely hold the book in an open position while still making it easy to turn the pages when you need to. Plus, the clips have a soft rubber coating that prevents your pages from being torn or damaged.
Customer Reviews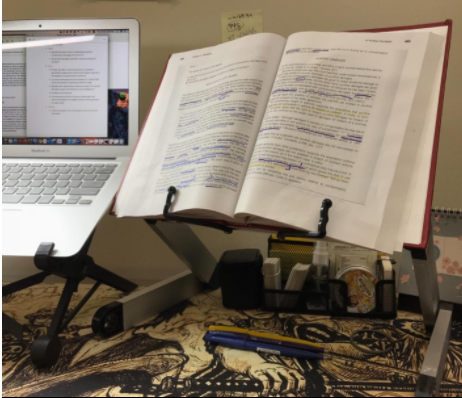 Customers use this book stand for all kinds of books, not just cookbooks. Many reviewers have commented on how easy it is to adjust, and they love the convenience of using the space beneath the stand even when it's in use.
One customer said…
"I love this stand because I can set it on the kitchen counter holding a recipe, and I still have counter space to use underneath it. It also adjusts to any height so my 6′ husband can extend it up to his desired level. Easy to use and very durable!"
---
How to Choose the Best Book Stand?
To ensure you choose the best book stand for you, consider these factors:
Purpose: When shopping for a book stand, consider the purpose of the bookstand. Do you need a small support for a Kindle Reader or a smaller book? Try the Hogwild Peeramid Bookrest. It is soft and perfect for reading in bed. For heavier books such as cookbooks or art books, look at the Deluxe Large Cookbook Holder. It holds large cookbooks and other heavy books and allows you to keep your hands free while you work.
Materials: The materials that your bookstand is made of is important to the durability and stability of the item. Many bookstands feature highly-durable materials such as cherry wood, reinforced metal, and well-constructed units that will not let you down. Durability and stability are important aspects when searching for a bookstand. You also want it to look attractive if you will be using it in public where others will see it.
Convenience: Bookstands make your reading experience more convenient by offering you a way to secure your reading materials while focusing your efforts on your activities. The smaller book holders are convenient for in-bed reading, reading in a chair, or other contexts. The large book holders are larger stands that serve the purpose of holding up heavy cookbooks or other books that it would be impossible to hold while working. Whatever the purpose, convenience is an important aspect of a bookstand so purchase the one that best serves your needs and makes life more convenient for you.
Price: All of the bookstands that we have featured in our buying guide are priced quite reasonably. Only you know how much you can budget to pay for a bookstand. But we have gathered some of the most economically-sound bookstands in our guide to help you make your decision.
Availability: The best way to be sure you get the type of book stand you need is to shop around. Click on our links to the various book stand models and read the client testimonials and reviews to get an idea of how other buyers liked the item.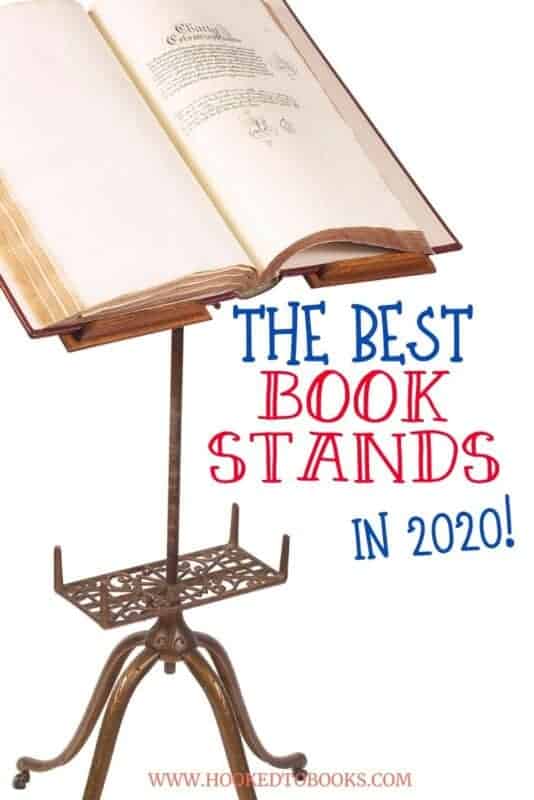 ---