Even with healthy eyes, 20/20 vision, and excellent lighting… reading text in a small font size strains the eyes. Written and printed letters still circulate (occasionally) and reading glasses can help with that too, but particularly for small, printed text, some of us can hardly read without glasses.
But as technology advances, there are now glasses that also reduce blue light from your computer screen to help you have better sleep at night.
Then there are ones that block the harmful UV from damaging your eyes when you're reading in the outdoors.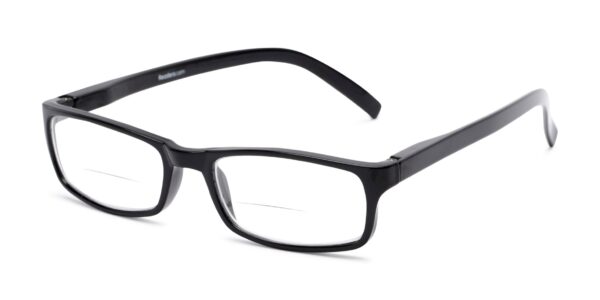 Our #1 Recommendation for Reading Glasses
The Vancouver Bifocals are classic style rectangular readers which are suitable for both women and men. The bifocal lenses are kind to your eyes and reduce strain, even when worn for long periods of time.
*We earn a commission if you make a purchase, at no additional cost to you.
All the while making you look cool and stylish as you wear them.
Finding the proper glasses tailored to your specific needs and fitting perfectly with your face type can be quite tricky.
To save you the time, we have done the research to narrow down top recommendations for the best readers.
---
Best Reading Glasses of 2023
Are you looking for a pair of reading glasses but unsure where to start your search? The first step is to get familiar with the characteristics of good reading glasses.
What Makes Good Reading Glasses?

Reading glasses should at least be:


Sturdy – never ever buy cheap glasses which become loose or break apart after a month or two of use – they always end up costing you more!
Flexible – so you can bend, adjust, and fold them whenever necessary.
Lightweight – they should fit firmly to the ridge of your nose without slipping down or leaving marks on your skin.
Clear – you should see with no obstruction while wearing them.
Most Common Type of Lens: Bifocal vs. Non-bifocal

Bifocal lenses are split into two different parts, each part responsible for different lengths of focus. The top half of a bifocal lens is for distance vision, while the bottom half helps you read and see things that are up close.

Before bifocal readers are invented, avid readers, especially those with Presbyopia or farsightedness, always had to carry two pairs of glasses with them everywhere.

They needed one for distance and another one for reading. Fortunately, a pair of bifocals will now solve the problem!

Non-bifocal lenses, meanwhile, are normally magnified reading glasses. The entire lens has the same magnification, with no separate section for distance vision.
---
1. The Vancouver Bifocal — Best Bifocal Reading Glasses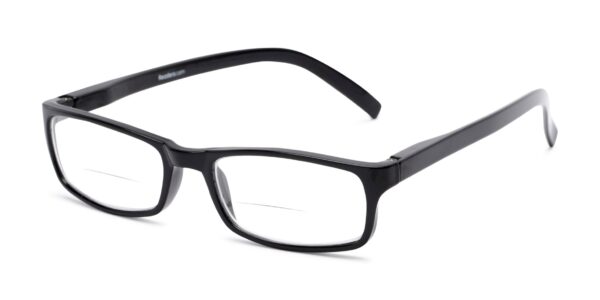 The Vancouver Bifocal features a simple frame that, while looking bold, is extremely lightweight.
They fit pretty well and won't slide off your nose even when you bend your head down.
The bifocal glasses come with very clear lenses, with the bottom section offering powers from +1 to +4. The magnification is extremely accurate – you won't tell a difference from your prescribed glasses at all!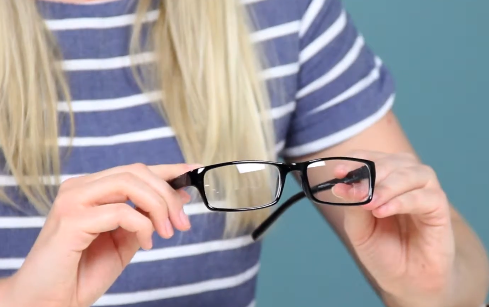 With a dark-colored frame, the reading glasses feature a simple, professional look, allowing you to wear them at multiple functions and locations without looking out of place.
While the glasses won't discriminate against your age, gender, skin color, or profession, they don't compliment every face shape.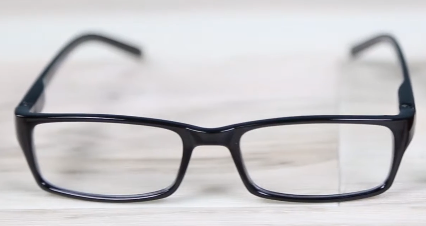 If your face is square-shaped, wearing a square frame might create too many angles.
If your face is round, oval, or heart-shaped, however, definitely put them on. You will look so much sharper!
Pros
Fair, affordable price
Unisex
Spring hinges offer form fit to wearer's head
Clear lenses
Lightweight frame
Accurate magnification
Cons
Plastic frame not durable for long years
Unideal for square shaped face
---
2. The Anderson — Best Non-bifocal Reading Glasses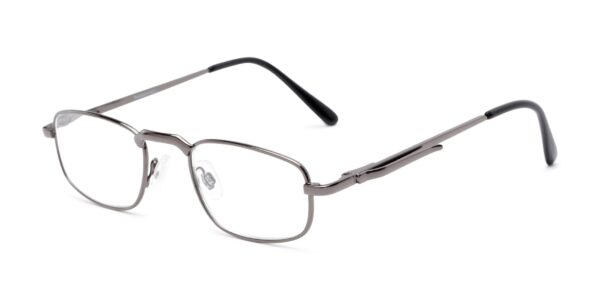 The Anderson non-bifocal reading glasses come in a sturdy metal frame with sleek metal coats.
They feature lenses that cover the whole eye areas, eliminating the unpleasant obstruction you usually feel with glasses of smaller sizes.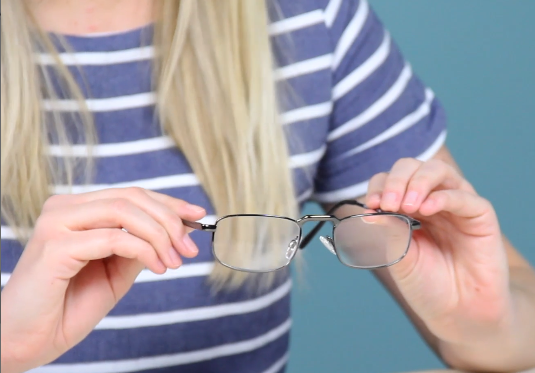 With adjustable temples and nose pieces, the Anderson easily fit and stay firm on your face. Looking at the frame carefully, you will notice that there is a clip on one of its arms.
The smart designers have made it a built-in feature so you can hang your glasses beautifully and firmly on your shirt or in your pocket. Never lose them as they fall out again!
The Anderson non-bifocal readers come in 3 color choices and 12 power options.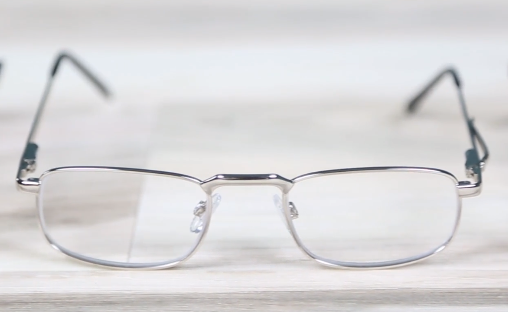 They actually look much cooler in person than in the photos. Check the video below the description and you'll see how beautiful they are.
This is a pair of readers that is not only highly functional, but also looking sleek and professional.
Pros
Large lenses
Durable metal frame
Spring hinge, adjustable nose pieces
Built-in clip
Good readers for both men and women
---
3. Thin OPTICS Stick Anywhere — Best Bendable Reading Glasses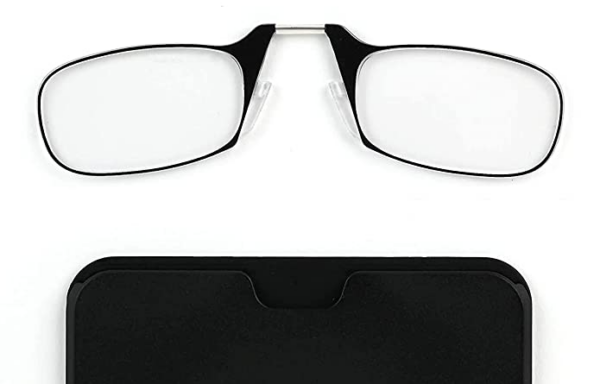 These ThinOPTICS bendable reading glasses are the best option for readers who are always on the go.

The glasses come in an extremely minimalist design, with 2 clear lenses, nose pads, a thin rim, and a bridge to connect them.
No hinges, no temples, no earpieces. Thanks to the thin design and polycarbonate as the main material, these ThinOPTICs feel as light as a feather.
And yet they stay so firm on your nose. The innovative flex-grip technology keeps them gripped to any part of the nose, based on how you like to wear them. This offers extreme comfort in addition to versatile wearing options.
If you're forgetful and often find yourself without your glasses, there's a thing about the Thin OPTICS that I'm sure you will love.
They come with a durable pod that sticks directly to flat surfaces. Put them into the case, and place them at the back of your phone. With your phone and glasses in the same spot, it's unlikely that you'll misplace both.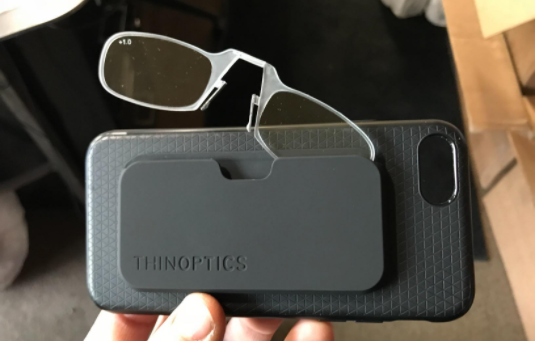 No, these ThinOPTICS are obviously not designed to read a long novel with. Nevertheless, they are without a doubt the perfect emergency readers for when you need to read that menu in a dark resto, or the small printed letters on a label in the supermarket.
Pros
Small, thin, lightweight
Flexible, bendable
Easy to fit in pocket/bag
Stick to most everyday objects and flat surfaces
Practical, convenient for regular usage
Cons
Minimalist frame not ideal for outdoor events
Small lenses, not flattering for larger faces
---
4. Eyekepper Titanium — Best Rimless Reading Glasses

On the hunt for a pair of rimless reading glasses, one that helps enhance your vision while maintaining your fresh, airy look? Take a look at this FDA-registered Eyekeeper pair.
The Eyekepper readers have large clear lenses, which are aspheric, thin and flat.
They cover the whole area of your eyes. Since there is no rim to limit the lenses, you can look towards various directions with a broader view.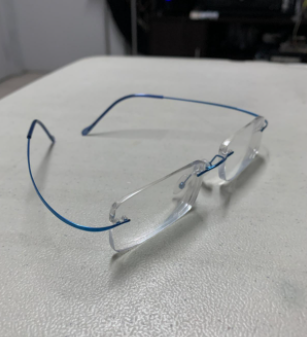 The glasses have no hinge, but feature bent wires on the sides that go towards your ears.
The wires look extremely thin, sleek and delicate. However, they are super durable titanium and can be bent easily and put into a small case without damages.
Thanks to the minimalist design and the smart choice of materials, this pair of reading glasses is extremely lightweight. You would almost forget you're wearing them at times.
The simple design also makes them suitable for both men and women. They're not too picky with face shapes either.
If your head is narrow or medium-sized, these rimless reading glasses will compliment your overall look very well.
The Eyekeeper comes in over 20 colors and 12 power levels, so you have plenty of options to find the perfect combination for your needs.
Pros
Lightweight design, comfy for everyday use
Titanium offers durability
Minimal design fit the most face and head shapes
Bendable wire frame, comfy to wear
Comes with microfiber cleaning cloth and hard zipper case
Cons
No hinge, cannot hang like regular glasses
---
5. ThinOptics Frontpage Brooklyn: The Best Reading Glasses For Comfort and Portability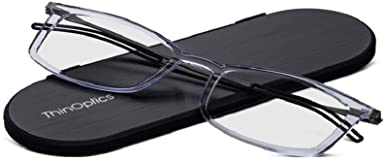 You already love the convenience and portability of the Thin OPTICS Stick Anywhere reading glasses. And, if you are looking for something even more comfortable for longer reading sessions, then the ThinOptics Frontpage Brooklyn pair is a great choice.
These ThinOPTICS Frontpage Brooklyn readers come in a variety of colors, including red, black, blue, tortoise, and brown.
The 15 mm bridge provides a gentle grip that can be moved up and down your nose easily while never accidentally slipping out of place. They're also incredibly lightweight, weighing less than two sheets of paper, making these some of the most comfortable reading glasses on the market and perfect for long periods of reading.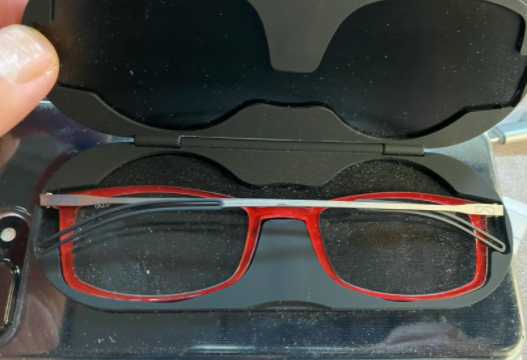 But despite their ultrathin lightweight design, the Frontpage Brooklyn readers are super durable. The lenses are crafted from the same shatterproof, thermo-injection, optical-grade polycarbonate used to make high-end prescription glasses.
These readers come with a sleek, slimline 4mm aluminum Milano case that's lined with a soft, luxurious felt to protect your lenses from scratches or damage. The case is also magnetic and can stick to almost any flat surface, including the back of your phone, so they don't need to take up space in your pockets or purse. Plus, there's a keychain attachment so you can keep them handy and accessible at all times.
These ThinOPTICs Frontpage Brooklyn readers are a little pricier than the low-cost Stick Anywhere's. Nevertheless, they are a solid choice if you're after something comfortable and durable enough to wear for more extended reading.
Pros
Full Frame readers
Super thin and lightweight
Slips easily into your pocket
Extra strong polycarbonate lenses
Felt-lined 4mm brushed aluminum case
Durable carry pod which sticks to any flat surface
Cons
Slimline frame doesn't suit larger faces
More expensive
---
Best Sunglasses Readers
Reading sunglasses are widely used among avid outdoor readers. If your ideal place to enjoy a book is under the sun, in the garden, or on a beach, a pair of sunglass readers would be very handy.
Here are a few things you may want to know before buying one.
First, your sun readers should be able to block a majority of UVB and UVA light. Look for the ones with UV400 Protection — they block 99 to 100 percent of the harmful rays.
Second, they should fit well, so sunlight won't get in from the top of the eyebrow ridge or the sides of the frames. The lenses should cover your eyes completely to minimize sun exposure.
---
When you're in the outdoors, chances are you will walk here and there, and enjoy other activities besides reading.
Your sunglasses, therefore, should be firm, sturdy and durable to withstand the activities.
As sand, water, or other outdoor subjects can reflect a lot of sunlight, your readers should offer anti-reflective properties.
That would help minimize eye strain and give you a better vision in settings with strong light.
---
1. The Lovin Maui Wrap — Best Sunglasses with Bifocal Reading Lens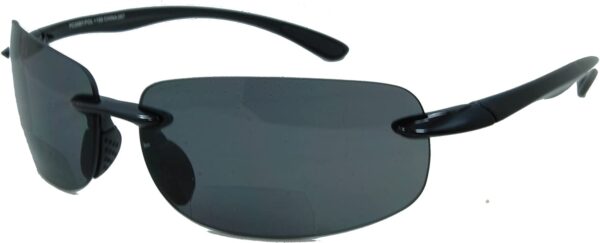 The Lovin Maui Wrap is a pair of bifocal sunreaders that have large lenses that fully cover your eyes and block sunlight from them.
They are also large enough to cover the surrounding skin, helping to reduce wrinkles from excess sun exposure.
The glasses come with polarized lenses. These lenses can reduce glare, limit harmful lights from reaching your eye, and improve the contrast and perception of your line of vision.
They are also anti-reflective, so any strain on your eyes is limited and overall vision is improved.
For additional defense, the Maui Wrap has full UV 400 protection. You can't really find better glasses for reading on a sparkling white sand beach or next to the window when the snow is glaring outside!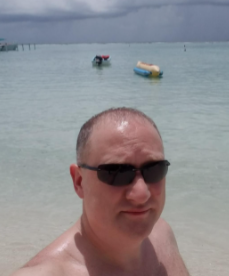 Another thing that makes these glasses stay among the top of the heap is the bifocal lenses.
They look so subtle to the point they're nearly invisible, so they look like regular sunglasses to anyone you encounter.
The Lovin Maui Wrap has an extremely lightweight plastic frame. You can feel comfortable wearing these for long hours in outdoor events and activities.
They come in fashionable Italian designs and are available in 2 color choices.
Pros
Strong, durable for outdoor activities
UV 400 protection against harmful light
Anti-reflective properties
Discreet bifocal line
Cons
Not recommended for small/square faces
---
Save 15% on reading glasses!
Use code SAVE15 at checkout on Readers.com.
2. The Topaz Sun Reader — Best Non-Bifocal Reading Sunglasses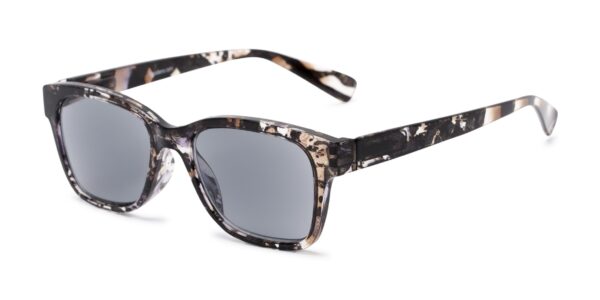 The Topaz Sun Reader comes in a strong, durable plastic frame. And it looks way too cool and spunky for a pair of non-bifocal reading glasses!
As its name suggests, the Topaz features jewel-like patterns with various color choices. It has spring hinges to keep the whole frame fit snug to your head while remaining comfortable.
If you're seeking a young and contemporary look, these glasses are made for you.
But the Topaz does not only promise you coolness. It stands out as one of the best rated reading glasses too.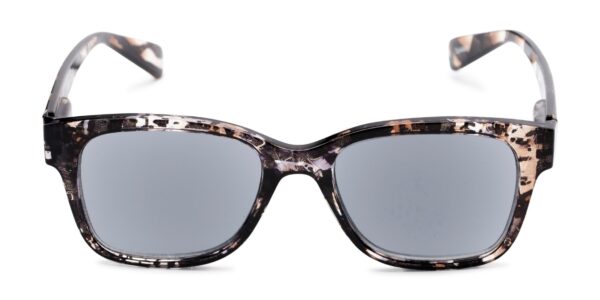 In addition to its fashionable qualities, the Topaz Sun Reader also claims to protect you from 99% of the harmful UVA and UVB rays.
While it's not the biggest sunglasses ever made, the Topaz Sun Reader has an incredible width of 5.31 inches.
That should be much more than efficient to cover and protect your delicate eyes from sun damage.
Pros
Strong, durable for outdoor activities
UV 400 protection against harmful light
Anti-reflective properties
Discreet bifocal line
Cons
Not recommended for small/square faces
---
---
Best Eye Protective Computer Glasses
Computer readers are the best friends for white-collar professionals as well as gamers, who spend a lot of time working with a computer screen every day.
As you may have known, electronic devices and screens, or even reading lights with high color temperatures, emit a great amount of blue light.
Long hours of exposure to the light, especially at the end of the day, can be very harmful to your health. It does not only cause eye strain and headaches but also messes with your biological clock, potentially causing insomnia and other cardiovascular problems.
Thankfully, advanced computer glasses are now able to block most of the blue light from entering your eyes as you wear them.
Good computer readers also help to prevent glare, soften the light, and magnify the screen.
That significantly reduces the burden on your eyes, and help you sleep better to wake up refreshed and energetic.
---
1. Swanwick Eye Protective — Best Computer Glasses to Block Blue Light

Here's a pair of computer readers that are FDA registered for increasing sleep quality among computer users.
If you're an online marketer, graphic designer, office worker, data manager, gamer, or if you do any work that involves looking at a screen for long hours, seriously try this.
The Swannies readers feature high-quality orange polycarbonate lenses that work perfectly to block blue light.
For enhanced comfort, the lenses are coated with materials that help eliminate annoying glares and reflections from the screen.
Your eyes will have never felt so relaxed after a long day of work!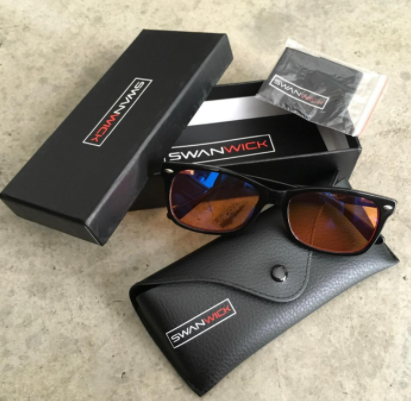 The lenses are large (48 – 53mm), promising to cover the entire area of your eyes. As you naturally turn your head to adjust or move while looking at a computer or TV screen, the light won't sneak in through the sides of the lenses.
But that's not all about these powerful computer reading glasses.
They come in a pretty cool acetate frame with 3 sizes for your choice.
The frame can even be shaped to fit perfectly with your face. It's sturdy but lightweight and has spring hinges to maximize flexibility. And more importantly, the simple design looks good on men and women alike!
One thing to note, however, that once you're are used to wearing the Swannies, it can be hard for you to stare at the screen with naked eyes again.
Pros
Strong, durable for outdoor activities
UV 400 protection against harmful light
Anti-reflective properties
Discreet bifocal line
Cons
Not recommended for small/square faces
---
2. Spektrum Eyecare Readers — Best Clear Lens Computer Glasses for the Eyes

Most computer readers have an orange tint on the lenses, which effectively helps to block blue light from entering your eyes.
But if you're a designer, an illustrator, or if you do any job that requires clear, accurate perception of colors, however, the tint could be a nuisance.

You need reading glasses with crystal clear lenses. But can they still protect your eyes from the harmful light?
The answer is yes. At least it's the case with these Premium Computer Glasses.
The Spektrum lenses have the ability to block 50% of the blue light emitted from TV and computer screens while keeping the colors undistorted. They're anti-reflective, anti-glare, which helps you to get a better-focused vision without eyestrain and headache.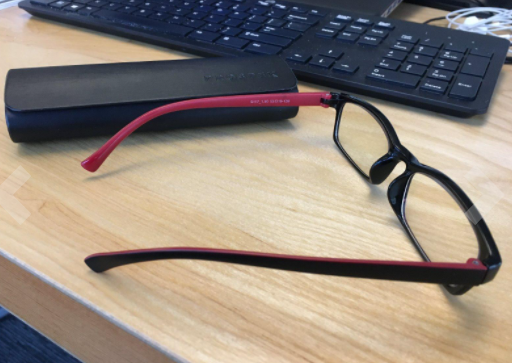 The versatility of these computer readers doesn't end there. They also boast to screen 100% of the harmful UVA and UVB rays. That's much more than many of the fancy sunglasses on the market.
In addition, the glasses are scratch-resistant, fog-resistant, and fingerprint resistant. The easy maintenance is truly the icing on the cake!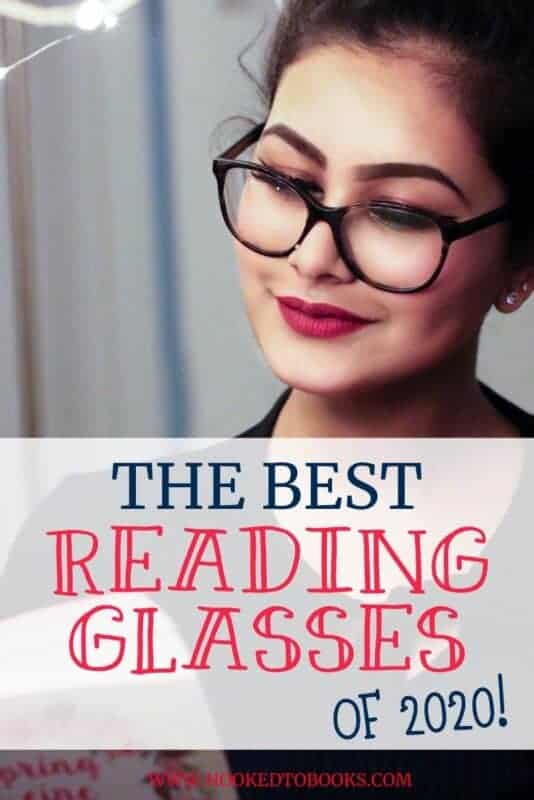 You can wear these glasses at all time: as you walk from the sunny street into the office and sit down to work on your computer.
Never have to constantly change between several different pairs of glasses to maintain your vision health and professional look anymore!
Pros
Strong, durable for outdoor activities
UV 400 protection against harmful light
Anti-reflective properties
Discreet bifocal line
Cons
Not recommended for small/square faces
---