There's a lot of buzz around the innovative Blinkist app right now, but what exactly is it, what does it do, and is it worth the subscription fee?
Blinkest is a book summarizing app developed in Germany that is now used by more than 18 million people worldwide. The audiobook app is tailored to "curious people who love to learn, busy people who don't have time to read, and even people who aren't into reading."
The main goal of Blinkist is to provide short summaries of non-fiction books by condensing them into approximately 15-minute reads. This allows users to understand the key points of any text in a fraction of the time that it would usually take. Essentially, this is an app designed to help make you smarter without having to set aside hours every day to consume new books. Pretty cool, right!?
But does Blinkist really deserve all the hype, is it actually useful, and is it worth the subscription fee? In this review, I'll be peering under the hood of the Blinkist app to answer these questions and explore the pros and cons of its features so that you can decide if it's right for you.
Let's start by looking at the main purpose of Blinkist book summaries app.
If you've never read a book summary before, you might be wondering how effective they are. Sure, summaries are supposed to save you tons of time, but do you really get all the information you need from such a short read?
Book summaries aren't unique to the Blinkist app; there are quite a few book summary services out there (however, Blinkist is arguably the most popular one worldwide right now).
Below, I'll break down the advantages and disadvantages of book summaries in general, which apply to any app you might use.
The Advantages of Book Summaries
You'll save time. This is the main plus point that most people think of when they think of book summaries. Rather than working your way through pages and pages of unnecessary information, you can skip straight to the critical points of a book, the stuff you really want to know, which saves you time and energy.
You'll become smarter. If you love exploring new concepts in books, then book summarizing apps help you do much more of that. Rather than spending weeks plowing through a single book about the solar system, you can extract the juicy stuff in one short session and move onto the next one straight away. You'll consume much more information and become an expert on the cosmos considerably quicker than traditional reading methods.
You'll retain more information. When you read an entire book, your brain has to sort through a lot of filler information to pick out the important stuff, which makes recalling facts and concepts more difficult. With book summaries, you only read the crucial details, so it's much easier to memorize things for when you need them later.
The Disadvantages of Book Summaries
Some books lose their charm. Book summaries can be fantastic tools to help you digest more information in a shorter timeframe, but sometimes you just want to read for the fun of it. A lot of the pleasure we derive from reading is in the subtle nuances and small details that add up to make the book what it is. When you read a summary, you'll miss these details, and a title can lose its charm.
It's easier to misinterpret facts. Context is everything, and sometimes book summaries can lose a lot of the context that the original author intended. This can sometimes lead to us misunderstanding or struggling to grasp ideas, especially if they're complex.
A summary doesn't catch everything. The best writers know how to pack value into every sentence, skip the fluff and impart knowledge on every page. This is great, but a 15-minute book summary often doesn't do a book like this justice. No matter how well the summary was written, you'll inevitably miss out on some valuable insights.

The quality varies. All book summaries are written and put together by human beings, and just like you can have a bad author, you can also have a bad summary writer. By reading low-quality book summaries, you could be cheating yourself out of a good book.
Blinkist Review: Features of the Blinkist App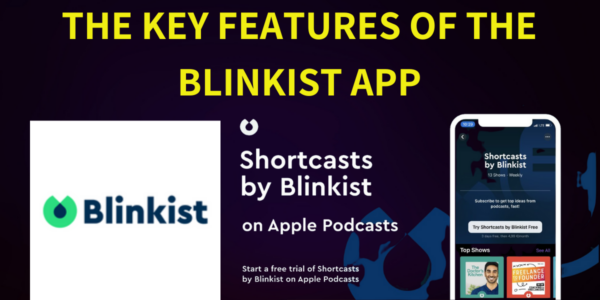 So now we've looked at book summaries as a whole, let's get into the details of what Blinkist has to offer.
The Basics
Blinkist is free to download and available for both Android and iOS. You can sign up either via your email address or through your Facebook account. Once you've registered, the app will lead you through a short tutorial that will show you the key features of Blinkist and help you get started.
What are Blinks?
Blinkist books are broken down into "blinks," which are key insights from the original text. A blink is usually around 200- 300 words which summarise and condense memorable ideas so that you can digest them in a fraction of the time.
The Blinkist Library
Blinkest claim to have the most comprehensive library of book summaries in the world. Right now, there are over 4,500 non-fiction books available in the library, and every month, they add around 40 new titles.
The library contains summaries of best-selling titles on pretty much every subject you can imagine, from personal development, mindfulness, and growth hacking, to history, biology, and engineering, and everything in between.
To give you an idea of the caliber of books on offer, here's a list of 10 of their all-time most popular titles. All of these bok summaries are available as both read-only and audio versions.
The 7 Habits of Highly Effective People by Stephen R. Covey – 19 minute read the time.
Getting Things Done: The Art of Stress-Free Productivity by David Allen – 19 minute read time.
The Power of Habit: Why We Do What We Do in Life and Business by Charles Duhigg – 15 minute read time
The 4-Hour Workweek: Escape 9–5, Live Anywhere and Join the New Rich by Tim Ferriss – 19 minute read the time.
The 80/20 Principle: The Secret to Achieving More with Less by Richard Koch – 16 minute read time
Drive: The Surprising Truth About What Motivates Us by Daniel Pink – 13 minutes read time
A Brief History of Time: From the Big Bang to Black Holes by Stephen Hawking – 21 minute read time.
How to Win Friends And Influence People by Dale Carnegie – 18 minute reading time
Flow by Mihaly Csikszentmihalyi – 18 minute read time
Mindset by Carol Dweck – 13 minute read time
These are just a small selection of Blinkist's massive library of bestselling, influential titles that have made a huge impact on the world.
If you're anything like me, you'll have a ton of books like this on your to-read list, but after years of telling yourself you'll get round to it, you still haven't. Since I started using Blinkist, I've finally completed some of these bucket list books, and it hasn't felt like hard work for a second.
Read or Listen
When you select a book from the library, you'll see two tabs; Read, and Listen.
The Read Tab
Click on "read," and you'll be directed to the first page of the book summary, which gives you an overview of what the title is about and what you can expect to learn from reading it.
From here, you can swipe along with each blink in summary and keep track of where you're up to using the progress bar at the bottom of the screen. You'll also see a table of contents that breaks the contents down into sections and allows you to skip ahead or go back wherever you are in the book.
The read feature lets you adjust the font size, and you can also switch between black on white (the default mode) to white on black if you prefer.
The Listen Tab
You can switch from reading mode to listen mode at any point during the book, or you can also select the audio version of a summary directly from the library or the book's overview. When you click on the "listen" tab, the audio player will automatically load, and the book's blinks will play in sequence. You can also pick out individual blinks from the contents table.
Plus, just like most music and podcast players, you can skip 15 seconds forwards or backward at any point.
Another helpful feature of the audio player is the speed controls, which let you slow down to half speed or crank it up twice as fast. There's also a handy autoplay option that plays through every book in your library one after the other. You can change the order of your library queue by swiping left
Whether you are reading or listening to a book on Blinkest, the final blink will summarise what you've consumed and often provide some actionable tips to help you utilize the new information.
Podcasts
Blinkist doesn't just summarise books; they also have a huge selection of top podcast summaries too, called Short casts. Short casts are specially developed alongside the podcast creators themselves, and just like the book summaries, they last around 15 minutes. The audio format highlights the key takeaways from the podcast, and hosts will chime in with valuable context throughout so you don't miss a thing.
On top of books and podcasts, Blinkist also has a pretty expansive selection of full-length non-fiction audiobooks. So if you've read or listened to a book summary and you're keen to take a deeper dive, check to see if the full-length version is in the audiobook library.
The Highlighter Tool
Sometimes when you're reading, a piece of text really stands out and makes an impression on you. That's when the highlighter tool comes in handy. Simply use your cursor to select the text you want to save, and select "Highlight" from the pop-up menu. The passage will now have a yellow background and will be saved as a highlight.
This menu also gives you the option to share the highlighted text with others on either Facebook or Twitter.
Just like highlighting in a textbook in real life, this handy annotation tool helps you remember key bits of information. For more in-depth advice about how highlighting and annotation can help you become smarter, check out my guide to annotating a book
Syncing to Kindle and Evernote
Premium members can connect their Evernote and Kindle accounts to their Blinkist libraries.
When you sync to your Evernote account, all of your Blinkist highlights are curated into an Evernote notebook, so you can easily access and edit them whenever you need to.
And when you connect your Kindle account to your Blinkist library, the app will automatically convert your book summaries into the correct file format, so you can enjoy them on your Kindle device anywhere and everywhere, even if you're offline.
To sync up with Evernote or Kindle, go to your settings and select "Connected services."
Offline Mode
Paid Blinkist subscribers can download text and audio versions of any book in the library. You can even set your account to do this automatically so you can listen to or read book summaries even when you don't have an internet connection. The same also applies to Short casts.
Languages
Blinkist is a German company, and so all summaries are available in both English and German. The company says that they're looking into adding other major languages in the not-so-distant future.
How Much Does Blinkist Cost?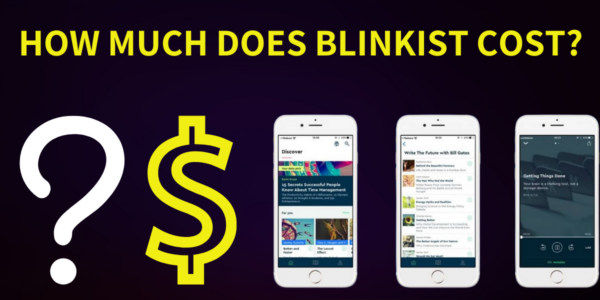 As I mentioned earlier, Blinkist is a paid subscription app, but there is also a free membership option too. You won't be charged anything to download and install the app, but as a non-paying user, you'll only be able to access one book a day. These books are randomly chosen for you by Blinkist and could be about any topic under the sun.
If you want to make the most of Blinkist and consume the material you want to read, then you'll have to sign up for a paid subscription.
There are two subscription options to choose from, a monthly and an annual plan.
Monthly:
At the time of publishing this article, the Blinkist subscription fee is $12.99 per month. With this, you'll receive unlimited access to all Blinkist's content, including their library of over 4500 book summaries as well as Short casts. You can download any of the books you choose and read or listen to them offline.
Annual:
Currently, if you sign up for the annual plan, you'll pay $80 upfront for a one-year subscription. That's the exact same service for less than $7 per month, which is less than half the price of a monthly plan. But of course, you're going to want to be sure that Blinkist is for you before you commit.
The 7-day free trial:
Blinkist offers new members a 7-day free trial. During the trial, you'll have access to everything that a fully subscribed member would. So before you decide on which subscription to go for, it makes sense to take advantage of this offer. Just remember, if you don't plan on continuing your subscription, be sure you cancel before the trial ends, or you'll end up being charged.
The Overall User Experience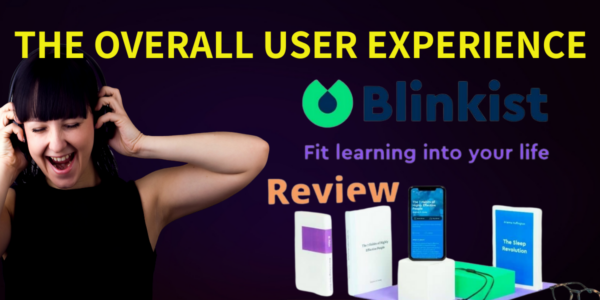 Blinkist is all about making reading as quick and simple as possible, and this ethos is reflected in the app's interface.
The overall design is minimalistic, uncluttered, and concise, with no unnecessary fancy details to distract from the app's primary purpose. The search functions are intuitive, and navigating around the menu, tools, and features is easy.
The lack of unnecessary clutter and easy-to-use design helps you stay focused on the task at hand: reading and listening to books to expand your knowledge.
The Pros and Cons of Blinkist
Now that we've looked at what Blinkist is, what it has to offer, and how it works, let's examine some of the pros and cons of the app so you can decide whether or not to subscribe.
Blinkist Pros
Learning in fast forward
Blinkist makes it easy to consume a large amount of material in a short amount of time. Plus, the audio speed adjuster can speed up your learning even further.
Blinkist is the self-proclaimed largest library of book summaries in the world. They have over 4,500 non-fiction titles to choose from, including plenty of major bestsellers.
Blinkist only offers high-quality book summaries that cover the most important key takeaways from their full-length counterparts.
If you like to listen to, rather than read, book summaries, you're in luck. The Blinkist audio player is the most simple and seamless audio player I've come across so far.
Blinkist breaks down information into easy-to-digest bite-sized chunks (blinks), which make memorizing information much more manageable. Plus, the highlighter tool is really helpful for remembering particular facts or concepts.
The Blinkist app is simple, uncluttered, easy to use, and intuitive. There's no frustrating user experience, just seamless reading, and listening
Blinkist Cons
Reading can feel like work.
If you start consuming several Blinkist books a day, day after day, reading can start to feel more like a chore than a pleasure. When you read a full-length book, there's often a story with natural pauses and elements of intrigue that guide you from fact to fact, but Blinkist summaries present you with only the cold hard information.
Some books lose their essence.
Blinkist is a fantastic tool for books with a lot of facts and concepts to unpack, but titles with more emotion, humor, and other human elements can suffer at the hands of a summary. Often, books lose their overall essence when they are stripped back too much, and there are some titles on Blinkist that would be better read in full.
This is my only major bugbear when it comes to Blinkist. The lack of rankings and critiques makes it hard to assess how well a summary has captured the essence of a book until you've actually read or listened to it
Conclusion: Is Blinkist Worth the Subscription Fee?
For me personally, the answer is yes. I've always been a fan of non-fiction, specifically self-development and personal growth books. Since I've had the Blinkist app, I've learned more about these topics than I could've ever done in the same period without it.
I've consumed titles that I've wanted to read for years, and I've even gone out and purchased a hard copy of a book after reading the summarized version on Blinkist because I loved it so much.
I think Blinkist is a fantastic tool for anyone who loves learning new things but doesn't have the time to read full-length versions of every non-fiction book that appeals to them.
That being said, if you prefer to just dip into non fiction books occasionally, and don't mind reading Blinkist's free daily pick, then the unpaid membership option might be a better choice for you.
And, of course, you might want to skip Blinkist entirely if you have plenty of time on your hands and you love the process of reading full-length titles, even if it takes longer