If you love manga, there's a good chance you'll love light novels too.
These page-turning Japanese exports are seeing a huge surge in popularity right now, meaning more and more original titles are being translated into English for readers around the globe.
While nothing beats a physical copy, light novels can be expensive to own, just like any book. And if you're an avid reader, your light novel addiction could soon start to burn a hole in your pocket.
But worry not, there are plenty of places on the internet where you can read digital versions of light novels, and the best part is, many of them are completely free!
Where Can I Read Light Novels For Free?
In this post, I'll give you a list of the best six websites where you can read light novels in English without paying a penny.
But first, for the uninitiated, let's take a quick look at what light novels are all about.
What Are Light Novels?
Light novels are a Japanese sensation that first hit the scene in the 1990s. But since then, various other Asian countries, including China and Korea, have joined in the craze.
These books feature the same stylized illustrations as manga, but unlike manga, light novels are almost exclusively aimed at a young adult audience.
In the past couple of decades, these popular stories have become all the rage with Japanese teens. The interesting plots and immersive storytelling grab young readers and keep them hooked, and the eye-catching artwork only adds to the appeal.
Light novels usually have a minimum of 50,000 words, and unlike manga, most are originally published as a whole book rather than serialized in monthly magazines (although there are some exceptions).
On the whole, they're not too dissimilar to most English language YA novels, but the key difference is that light novels feature the classic manga-style illustrations that have become an icon of Japan.
The 6 Best Websites to Read Light Novels For Free!
Your light novel addiction doesn't have to break the bank! Here are six places to read them in English for free.
1. Novel Archive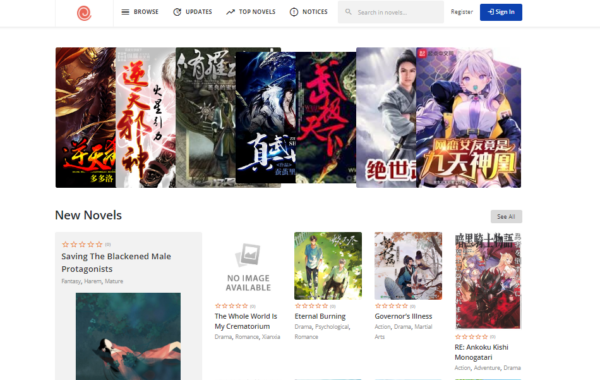 Novel Archive is one of the most popular sites on the internet to find free light novels, especially for English language readers.
And unlike some of the less sophisticated websites out there, the English translations here are seamless. Plus, if you're multilingual, several other languages are available, too.
There's a huge library of famous titles to explore, from early 90s classics to the latest releases. In fact, if you're looking for a brand-new publication, then Novel Archive should be your first port of call, as they update their catalog with fresh releases every single day.
Novel Archive also scores bonus points for its user-friendly interface. You can search by title or description tags, browse through the latest releases, or, if you're not sure what to read next, choose from the week's 100 most popular novels.
Plus, reading is just as convenient as browsing. You can change the font style and size, and if you're a fan of multitasking, step away from your phone and listen to any title by pressing the audio tab.
2. WuxiaWorld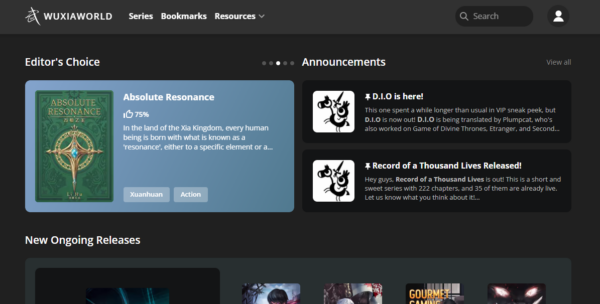 The WuxiaWorld community hasn't been around for all that long, but they've already gained a huge readership thanks to their extensive library of light novels.
The community's mission is to bring the most popular Asian fiction titles to the Western world and make these stories accessible for all.
But unlike many of the sites on this list, Wuxiaworld is dedicated to Chinese and Korean light novels, so if you've never branched out into other Asian offerings outside of Japan, this is a great place to start.
The website offers the world's largest library of Chinese-to-English translations, but it's not just about quantity; Wuxia prides itself on the quality of its translations, too, so you can expect a pretty seamless reading experience, whichever title you choose.
The user interface is super slick and intuitive, making it easy to find what you're looking for, and a pleasure to browse.
But if you don't have a particular title in mind, you'll find plenty of inspiration for your next read. You can search the catalog by genre and language and even filter results by status, for example, ongoing works with unpublished chapters or completed stories.
3. Armaell's Library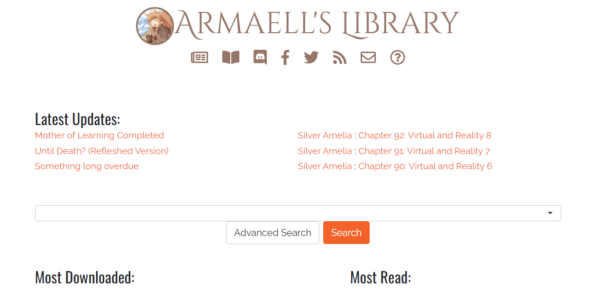 Armaell's Library is another relatively new site, but already it's gathered a vast selection of free light novels that you can read online or download onto your device to enjoy at a later date.
So, if you prefer using an e-reader, Armaell's is a great choice. Most of the titles on offer come in multiple file formats, including EPUB, Mobi, or PDF, so there's always something compatible with your device.
The website itself is easy to navigate, and the search feature lets you type in the author's name or the book's title to quickly find what you're looking for.
But if you need some inspiration, you'll also discover some great recommendations based on your previous choices. For every novel you download, they'll recommend three related titles that you might also enjoy, taking the guesswork out of what to read next.
Another bonus is the super detailed descriptions and plot synopses, which give you a good idea of what each story is about before you commit to reading.
But bear in mind that you won't find official release translations here. Instead, all the titles are either fan translations of famous light novels or original stories from online authors.
So, while there are better options out there for official, mainstream light novels, Armaell's Library is perfect if you're looking for undiscovered talent or you can't find an existing title in English elsewhere.
4. Novel Updates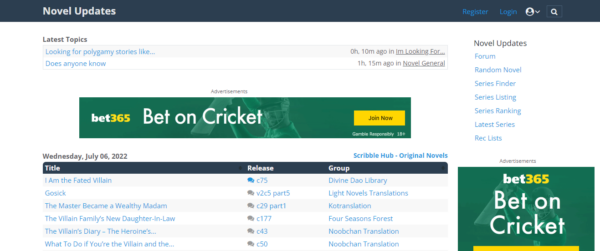 Novel Updates differs from the rest of the websites on this list as it's not a direct provider of light novels. Instead, it offers an extensive directory of your favourite titles with links to other sites where you can read them online or download them to enjoy at a later date.
If you're an avid reader, it's well worth registering (it's free!) and downloading the app, as it allows you to bookmark your favourite titles and track your personal reading list, so you can organize your light novel adventures all in one place.
The website lets you browse by series, rankings, and release dates, and, if you don't know what to read next, the 'random novel' search function can decide for you.
Plus, there's a dedicated fan forum where readers can share thoughts, questions, and opinions and bond over their shared love of light novels and other Asian fiction.
5. Baka-Tsuki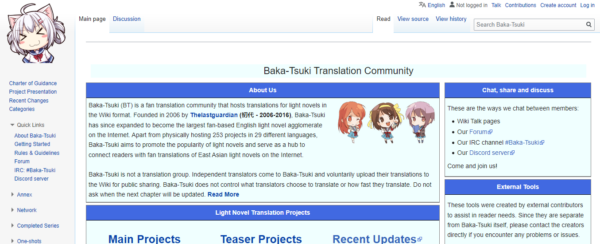 Baka Tsuki is one of the internet's oldest and most established light novel communities for English speakers.
These days, it's still one of the biggest light novel translation libraries around, and the catalog is updated with brand new offerings every day.
There are countless titles from Japan, including famous classics and newer releases, as well as works from other Asian countries, so there's plenty to explore. Baka-Tsuki doesn't just provide translations in English; you can read light novels in multiple languages, including French, Spanish, German, Norwegian, and Czech!
Baka Tsuki offers so many famous and classic titles for free because community members do all their translations for them. In fact, you can even submit your own translation if you're feeling up to the challenge.
Each light novel is presented in WIKI format, where it's updated and edited by the community. So, if you're a light novel uberfan with editorial skills to offer, Baka-Tsuki is the perfect place to start.
6. LightNovels.me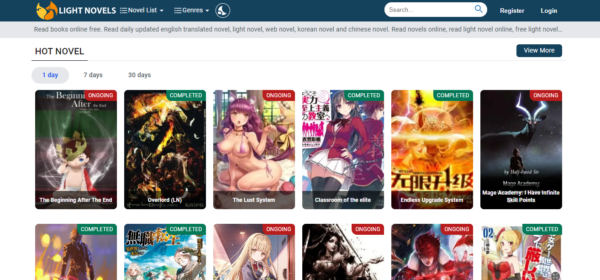 The LightNovels.me library began as a small collection of Asian fiction translated into English, but now, it's one of the biggest light novel libraries on the internet.
The website's primary focus is on Japanese, Chinese, and Korean titles, with extensive works from both famous and undiscovered authors.
Search functions are simple, intuitive, and easy to navigate. Choose between trending 'hot novels' from the last day, week, or month, browse through the recommended reading lists, or if you're looking for something specific, simply type the author's name or the book's title into the search bar and see what comes up.
Plus, you can also explore the detailed fan reviews section, which is a little like Good Reads for light novels.
Also Read: How To Write A Novel In A Month?
Conclusion
If you love light novels, you'll love the websites on this list where you can find all your favorite reads for free.
But of course, the internet is vast, and as light novels continue to catch on around the globe, new sites are popping up all the time.
So, if you know of any other great online resources that I've missed, I'd love to hear from you. Drop me a comment in the box below!