The best floor lamp can offer a strong natural ambiance to light up an entire living room, a bright light for the home office, or a soft amber glow to set the mood in your bedroom.
Floor lamps are so versatile: they can fit easily in any corner of the room, modestly behind a sofa or proudly in the middle of a foyer.
While much it is much easier to install than a wired lighting system, a good floor lamp can make amazing changes to a room.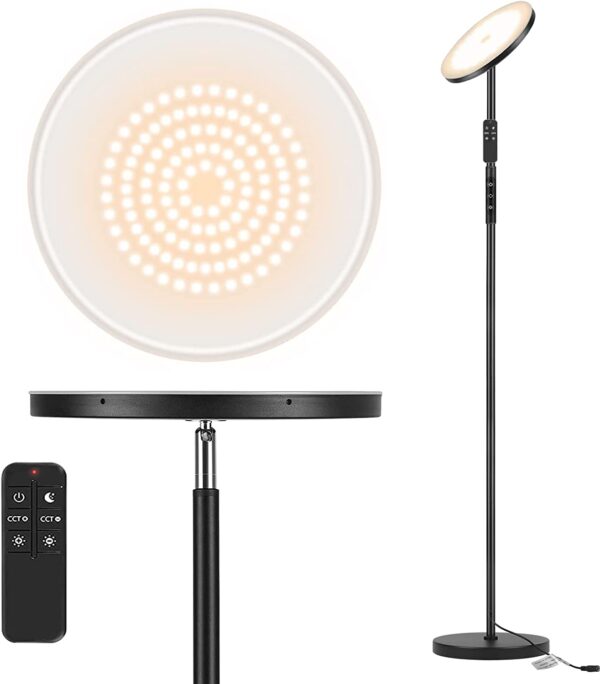 Yikuneng LED– Best LED Torchiere Floor Lamp
Our Top Recommendation for Floor Lamp
With four color temperatures, ten levels of brightness, and step-less dimming, this ultra-chic energy-saving floor lamp offers a cozy ambiance or ultra illumination for every room in your house. The pivoting head lets you angle the light in any direction, and the long-range remote lets you control the light from up to 50 ft away.
*We earn a commission if you make a purchase, at no additional cost to you.
Its design, as well as the quality of light it illuminates, can make a total upgrade to your space and create a whole new atmosphere in your home.
How to Find The Best Floor Lamp?
It is important that you get the floor lamps with the right brightness and color temperature to create the desired effects. This article will help you find the best ones to match with your interior decors and augment your room.
For the Living Room

The living room is the heart of a house. It's where you rewind, play with your kids and dogs, and welcome your friends. Therefore, most people want their living room to look bright and inviting.

For that effect, a floor lamp for the living room should be able to light up the space with a pleasant illumination. Combined with other light sources, it should produce a total light output of 2000 lumens or higher.

If you want a bright, energetic atmosphere in the living room, the ideal light color temperature for your light bulbs should be higher than 3500K (the cooler spectrum of white). To make it warm, cozy and intimate, a temperature somewhere between 2700K to 3500K will do.
For the Bedroom

For the bedroom, you won't want light of high intensity (bright) and high color temperature ("cold" color). The reason is that bright blue light triggers your brain to produce hormones that keep you stay alert and awake. While this is useful during the day, at night, such light keeps you from falling asleep.

Therefore, it's important that you have light of lower intensity (dim) and lower color temperature (warm). The total light output in the bedroom should not exceed 4000 lumens. The light color temperature, meanwhile, is ideally between 2700K and 3000K (light yellow – warm white).

A soft, warm ambiance in the bedroom will create a homey, trusting, intimate atmosphere, making you feel relaxed and ready to have a sound sleep.
For the Reading Nook

A reading nook should be bright, cozy, and imagination stimulating. It's where you lose yourself into the bookly adventures!

A good floor lamp for your reading nook is one that provides efficient light for you to read the small-printed letters. At the same time, it should set the mood for reading, and elevate the unique personality of the nook or the corner while not taking too much space.

For this reason, a light with color temperature of 2700K (light yellow) to 4000K (white) will be ideal for your reading space.
For Task Lighting

For detailed tasks like data inputting, crafting, or hand embroidery, the best lamp is one that allows you to see every single small detail of what you're looking at. It should be extremely function-oriented in design so as to help you focus on your work.

Efficient brightness is thus the ultimate criteria of a good task floor lamp. The light it gives off should be strong enough to stimulate your aspiration and creativity.

In terms of light color temperature, it should ideally be at least 4000K (cool white), and up to 6000K (crisp cool white with tint of blue). Light in this range has the similar effect on your brain as daylight. It triggers the alert, energetic feeling you have on a bright sunny day, making you motivated to get your work done.
Best Floor Lamps of 2023
Below is our handpicked collection of the best floor lamps for the living room, bedroom, reading nook, and the ones designed for task lighting. Click on each item to check out the detailed review!
1. Yikuneng LED– Best LED Torchiere Floor Lamp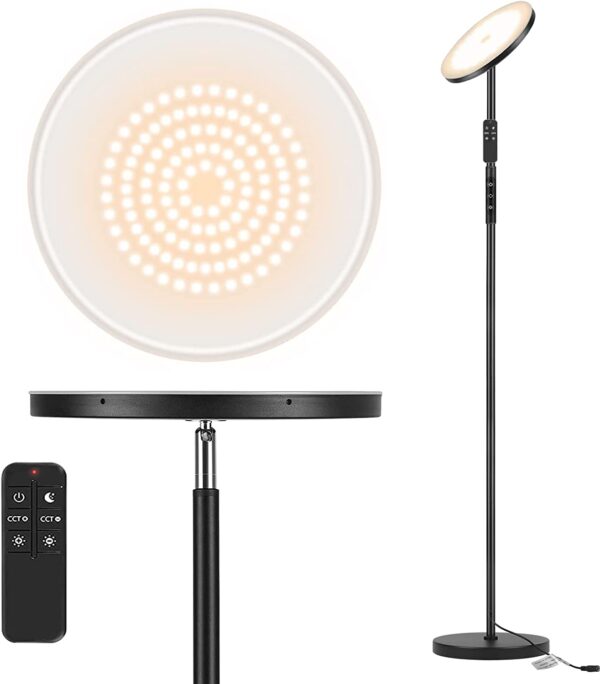 With its natural, soft, and ultrawide light exposure, this chic LED torchiere from Yikuneng makes any room in your home feel more atmospheric and harmonious.
This lamp is all about versatility. With four preset color temperatures, ten levels of brightness, and a step-less dimming feature, you choose the tone and mood for your space.
Up the ambiance for an evening soiree with friends, create a cozy glow for movie night, or illuminate the entire home office with no need for additional light. Do it all from the comfort of your couch with an ultra-long-range remote that works from up to 50 ft away.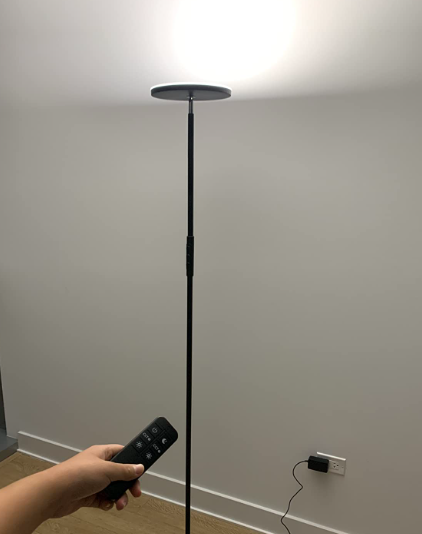 With its 350° right to left and 180° up and down adjustable rotation, you can also tailor the angle to suit your mood and transform any room of the house.
The uplight design kicks light towards the ceiling and diffuses it evenly downwards, giving the illusion of space. If space is something you're short of, the Yikuneng has got you covered.
Despite being a powerful illuminator, this modern floor lamp is surprisingly compact and slimline, meaning you can tuck it away into the tiniest corner of the room. Plus, its lightweight design makes it one of the easiest lamps to move around.
Yet lightweight doesn't have to mean fragile. The solid base of this lamp makes it a super sturdy option that can survive even the fiercest catfights without moving an inch.
If you're into minimalist design, you'll most likely love this lamp. Even the light head, the center of attention, looks so simple.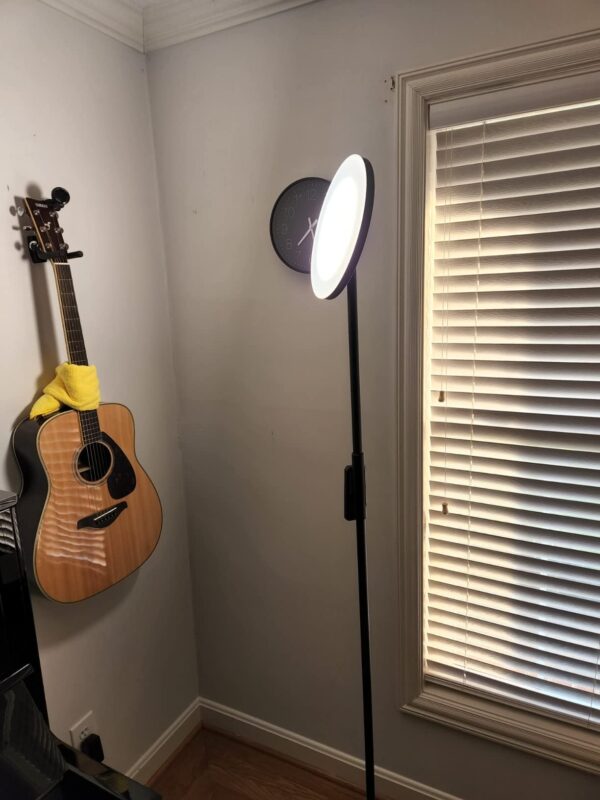 It's a slim, round-shaped disk with a metal finish on the lower side and 132 LEDs on the upper side. With this many LEDs, it kicks out the equivalent of a 250W incandescent lamp. So, at full intensity, it's the only light source needed in even the darkest of rooms. And thanks to the optimized optical structure design and LED energy-saving technology, it costs a fraction of the price to run.
Pros
Four pre-set color temperatures
Ten levels of brightness
Stepless dimming
Long range remote
Slender takes up very little space
Adjustable angle
Cons
Some customers experienced a slight 2-second delay when plugging in a wall socket.
---
2. Brightech SKY — Best LED Torchiere Floor Lamp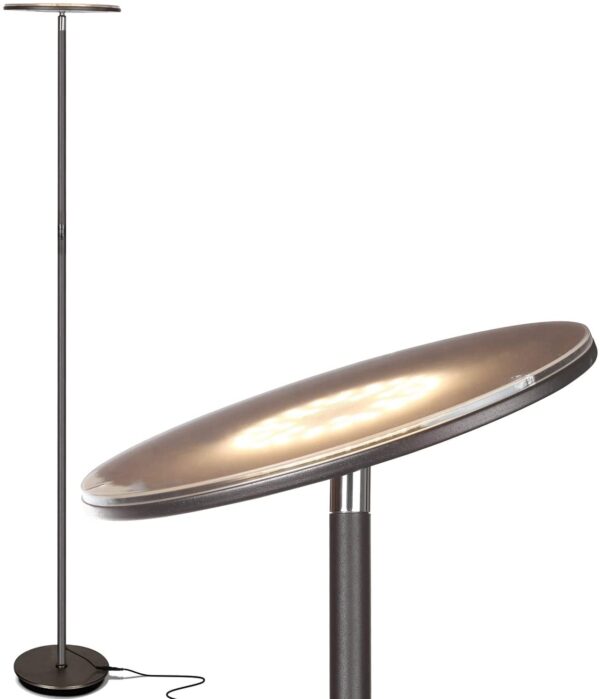 With its bright, pleasant glow, dimmability feature, and versatility, this Brightech torchiere is the best floor lamp for any of the rooms in your house.
First impression: the lamp is much more sturdy and solid than it looks in the picture. It's well-balanced, with a simple top and a very heavy base. This slim lamp is by no means a fragile baby. It will survive even the fiercest cat fights.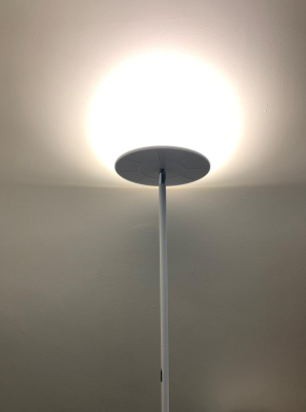 If you're into minimalist design, you will most likely love this floor lamp. Even the light head, the center of attention, looks so simple. It is a thin round-shaped disk with rounds of LEDs on the upper side, and a metal finish on the lower side.
The lamp is dimmable with 3 light intensity levels. At full intensity, the head illuminate light of 3000 lumens, making it the brightest floor lamp in the collection. That is strong enough to light up an entire home office – no additional lighting will be needed. And to put a glare into your eyes when you happen to glance at it.
What to do about the glare, a very common problem among torchieres? Thanks to it being super slim, the lamp can sneak in the smallest corner of the room. Pick a place that you don't usually gaze at. No worries either if you're planning to put it in the middle of the room. The light head is smart – it's tiltable by 45 degree and you can adjust it so the light pivots to exactly where you want it and avoid your direction.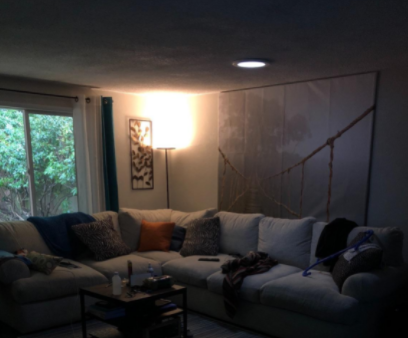 If it's your bedroom, dining room, or a small reading nook, reduce the brightness for a softer glow. The lamp offers a pleasant warm white light at 3000K – the perfect temperature for any of the rooms for your house.
With a minimalist design, the lamp matches easily with both classic and temporary design. You just need to get the right color among the five given options (Brushed Nickel, Dark Bronze, Jet Black, Platinum Silver, and Sleek White Finish).
Pros
Bright focused white light for tasks/reading
Dimmable
Slender, takes little space
Adjustable neck
Long lifespan
5 color choices
Cons
Single light color temperature
---
3. Revel Trinity Arc — Best For Lighting Up Your Living Room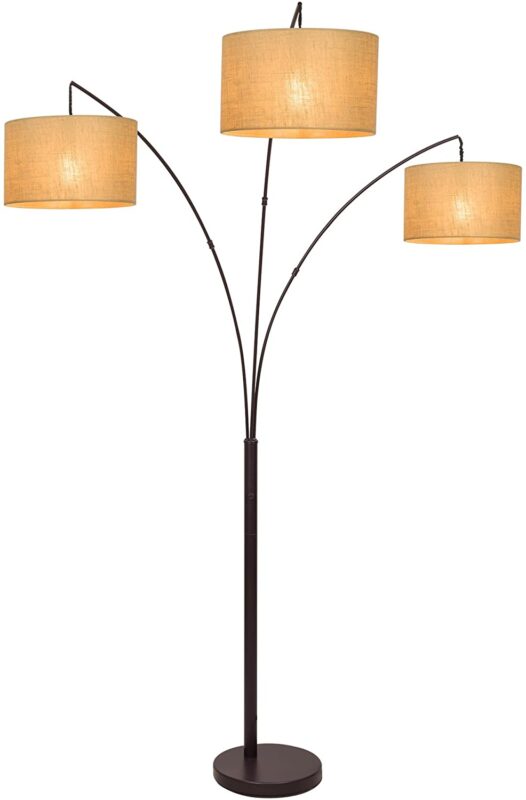 Seeking a floor lamp big enough to brighten up your whole big living room, but all the while looking airy, classy, and aesthetic? We found one like that, and it's this lamp by Revel.
This beautiful lamp comes with 3 lights, each nicely covered by a woven beige burlap shade. The shades are thick just enough to soften the beams and minimize glare.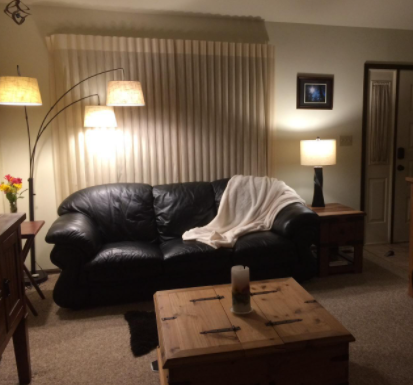 They allow light to come out with the highest intensity from the top and the bottom, bouncing from the floor and the ceiling to other areas of the room. That is how the lamp offers such a strong but pleasant ambience.
For ultimate brightness, you can turn the 3 lights on at the same time. With long arms growing from the same stem into opposite directions, reaching the height of 80", the lamp can cover a large area and easily light up a whole room on its full intensity. When a dimmer environment is preferred, you can turn off one or two of the lights.
Due to the special design, the lamp takes some space. Therefore, it would look best in a large living room or bedroom rather than a confined space. With a heavy but small base, it's prone to tipping over, and is best placed next to, or behind an armchair or a sofa, or in a corner of the room.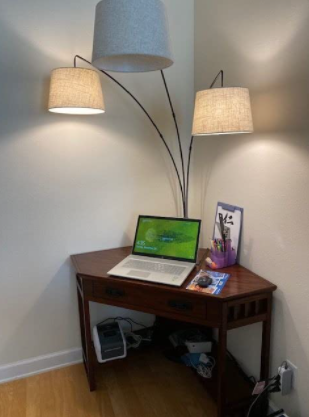 The Revel is compatible with various types of bulbs. Nevertheless, the shades look best when complemented by warm white lights. Bulbs that have color temperatures of 2700K to 3500K are ideal to go with this lamp if you want to create a warm, cozy atmosphere.
Thanks to its simple design and neutral color, it can match easily with both contemporary and traditional furnishings.
Pros
Matches with all decors
Soft, gentle glow
Reasonable price
Neutral colors
Bulb included
Cons
Cord runs in the middle of the legs
---
4. Brightech Sparq — Best Floor Lamp For Reading Nook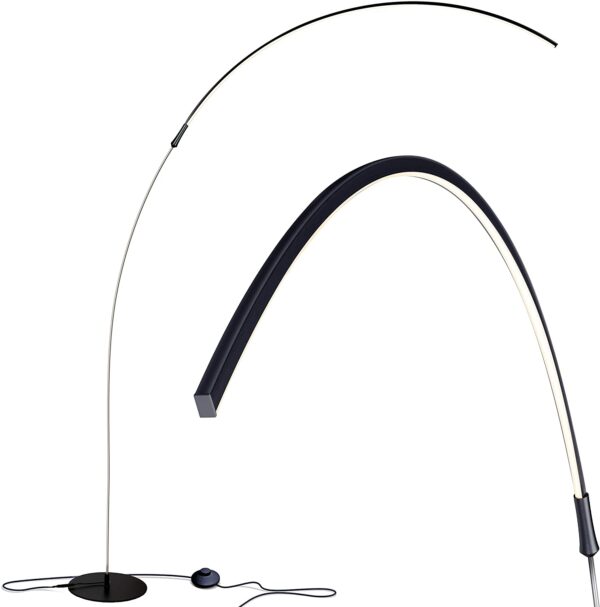 Nothing in the world sounds more heavenly to book lovers than a snuggle in their comfy chaise lounge with a soft blanket, two fluffy pillows, and a good, good book.
A reading light for those moments is one you can only read by, but can also inspire your imagination and set a cozy, tranquil atmosphere.
The Brightech Sparq lamp comes in a unique crescent shape, which arches over to shine evenly over your shoulders to the open pages. You can adjust its height somewhere between 47 and 66 inches until it reaches the desired distance for your activity.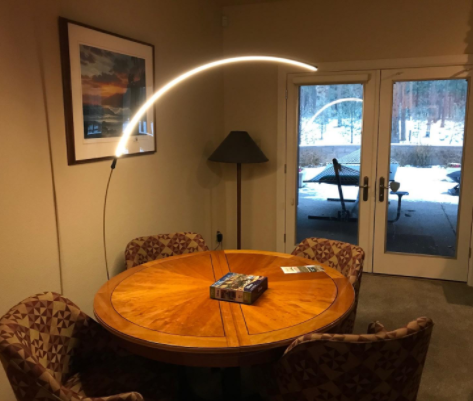 At an intensity of 2000 Lumens, it allows you to read even small printed lines and see the steam on your cup of hot tea. No worries about the life span of the bulb or increased electricity bills – the lamp is made with LEDs that are extremely energy efficient and can last a decade or two.
Although strong in intensity, the light produced is very natural and pleasant to the eye at 3000K in temperature. That's the warm white spectrum that promotes a soft, calm, and relaxing atmosphere to wherever it shines too.
As it has a slender stem and a weighted but compact metal base, the lamp takes a humble space in your small cozy corner or reading nook. The lamp's simple on/off switch is conveniently placed in the middle of the cord, and is within your feet's reach.
The simple and delicate design allows it to blend in and match easily with any decors. You won't even notice it's there – that is, until it is on and add a great luxe look to the room.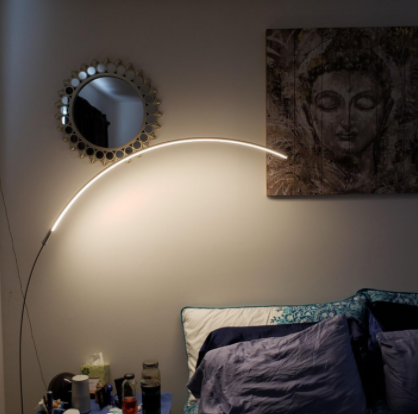 The only thing that I wish to add to this crescent moon is the dimmability. If you're simply in the mood for a TV show and want to add some soft ambiance to your dark room, this lamp could be too bright.
The best solution is to buy an extra LED dimmer with remote control. That would make it extremely handy. I just kind of wish Brightech made it a built-in feature.
Pros
Gentle warm light
Adjustable height
Matchy matchy design
Space-efficient
Durable and heat-free LEDs
Easy to resemble
Update (Jan. 2021): There is now a new version of the Arc lamp with a 3-step dimmer. The dimming function is incorporated into the pedal switch. Kudos to Brightech!
---
5. Brightech Madison — Best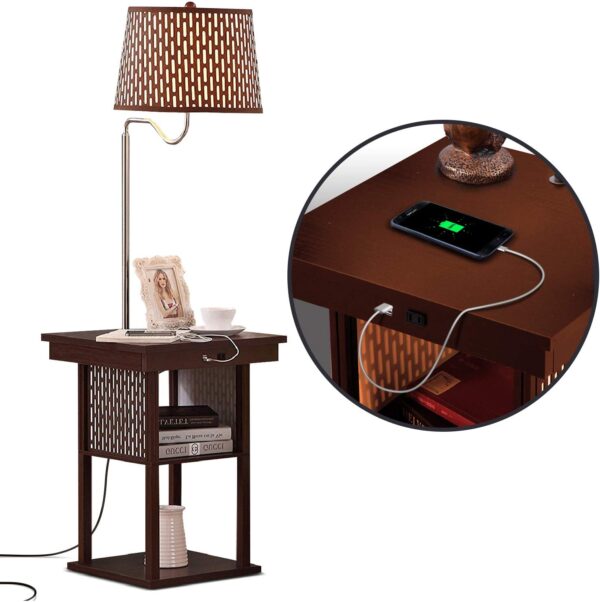 For a stable and reliable floor lamp, look no further than this table-lamp from Madison.
I'm not really sure if this is a table with a lamp, or a lamp with a table, but the two coordinate with each other so perfectly.
The lamp has a simple traditional styled shade with two color choices: creamy white for soft, calm feelings, or black and white for an impressive modern look. The shade is held by a metal arm which bends artfully before running straight down to meet the "base".
The base is a two-tiered table that features black wood. Its two levels provide an awesome space for you to keep your books, magazines, and CDs.
The open-air surfaces could also serve as a place to display your antique vase, tea cups, or other objets d'art.
A brilliant feature of the table-lamp is that it has 2 USB ports and an outlet so you can charge your electronic devices at any time while or while not using the lamp.
Apparently, it is made with your convenience in mind. Thumps up for the engineers totally understood the frustration when you're in bed and have to get up to get your charger and plug it into a socket somewhere on the wall!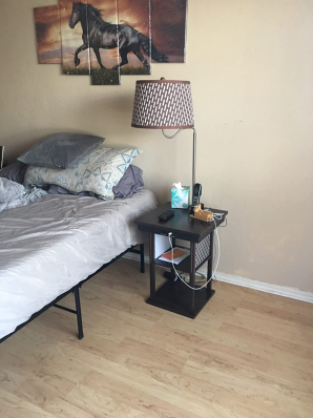 With the table being modest in size (14"x14" and standing at 4.7 feet), you can leave it to stand next to your armchair, lounge, or as a bedside lamp.
The package already includes a 9.5watt LED bulb, which is 3000K in light temperature (warm white). When you want to change the bulb, one with temperature between 3000K and 4000K would be perfect for reading and other task-oriented activities in the living room.
Meanwhile, one between 2700K and 3000K – or the warm white spectrum – would be more suitable for the harmonious, intimate, and relaxing atmosphere in the bedroom.
Pros
Firm wooden table included
Goes with both traditional/modern setting
USB ports and outlet included
Reasonable price
Bulb included
Cons
Takes more space than normal lamps
---
6. Brightech Maxwell — Best Wooden Shelf Floor Lamp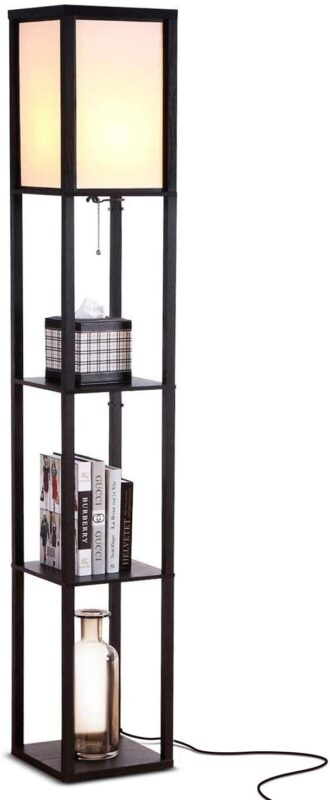 If you're wondering what to put in your living room or office to add style and soften the look, give this Brightech Maxwell a try.
The lamp consists of a three-level shelf and a shade. It's very easy to assemble – most users get the work done within 30 minutes without even having to look at the manual.
Standing at 63 inches tall and taking a surface of 10 ¼ square inches, the Japanese style influenced shelf lamp looks pleasantly slender. You can't customize the height of the shelf.
However, the 15-inch height should be more than sufficient for your books or even a vase of tall flowers.
The lamp stays neat in a corner or next to your armchair in a confined space, its delicate vertical structure and the open-air shelf generously offering breathiness to the room.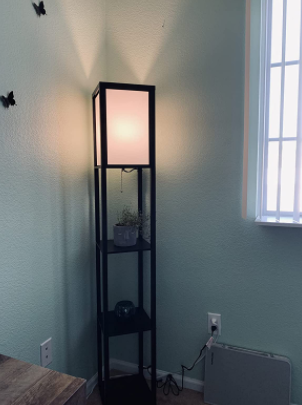 In a large living room or a foyer, the shelf is where you can display your books and coffee mug and artsy objects to create a cozy, inviting atmosphere.
Beware if you have a toddler or some big furry friends though: at 12 pounds, the lamp is not too difficult to be pushed off. It's by no mean a tumbler doll.
However, due to its height, the lamp looks safer when standing next to a wall or a table/chair.
For turning the light on and off with convenience while you're in bed or in your armchair, the lamp is designed with a pull chain switch.
The lamp comes with a creamy white shade. It's thick and firm, working perfectly to prevent glare and diffuse the light to give a soft, even illumination in the whole room. There are four choices of color of the shelf to match with your other furniture.
To create a warm, cozy mood, use a bulb with a warm white light (2500K – 3500K).
Pros
Slender, delicate look
Thick shade ensures pleasant light
Matches with modern/traditional décor
Offers space for other objects
Cons
Not suitable for room with small kids
---
7. Brightech Litespan — Best Bright Light For Task Lighting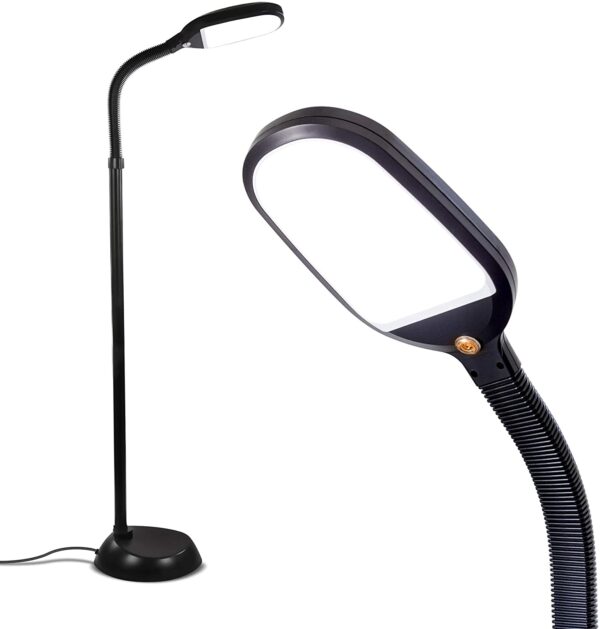 You won't find a better item on the market than this baby from Brightech when it comes to reading and crafting floor lamp.
At a color temperature of 6000K, this light produces the same light color as the sun on a cloudless noon.
Its blue and white color helps you to stay alert, fresh, and 100 percent focused on your task, be it reading, crocheting, or coding.
At the maximum output of 2000 Lumens, it promises to beam on every details of what you have in hand. In fact, many people buy the lamp for their elderly parents who need extremely bright light to be able to read with ease.
The bonus point is that you have full control of the light intensity. When you need a soft white glow, decrease the intensity by touching the button that lies between the bulb and the neck. You will surely find a brightness level just right for your activity.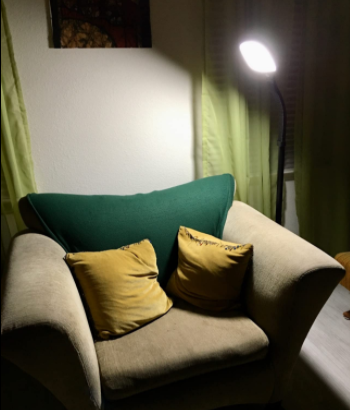 While shining like a star, the light head emits no heat at all, thanks to the energy-efficient and heat-free LEDs on its head. These LEDs have a lifespan of up to 20 years – you never have to change the bulb at all!
The lamp comes with a flexible neck, which allows you to pivot the light to wherever you want. It's held with a long slender arm and a heavy weighted base to prevent any subtle shaking when you move it.
The modesty in the size of the whole item allows it to stay anywhere in the room, be it next to a sofa or at your office table. It barely takes any noticeable space.
With 5 choices of color, you will surely find a shade to match with your home decor. The lamp doesn't look sparkling and won't add much luxe into your glorious living room like a chandelier, but if the light of high quality is what you're looking for, totally go for it.
Pros
Bright focused white light for tasks/reading
Dimmable
Slender, takes little space
Adjustable neck
Long lifespan
5 color choices
Cons
Single light color temperature
---
8. Brightech Emma — Best Tripod Wooden Floor Lamp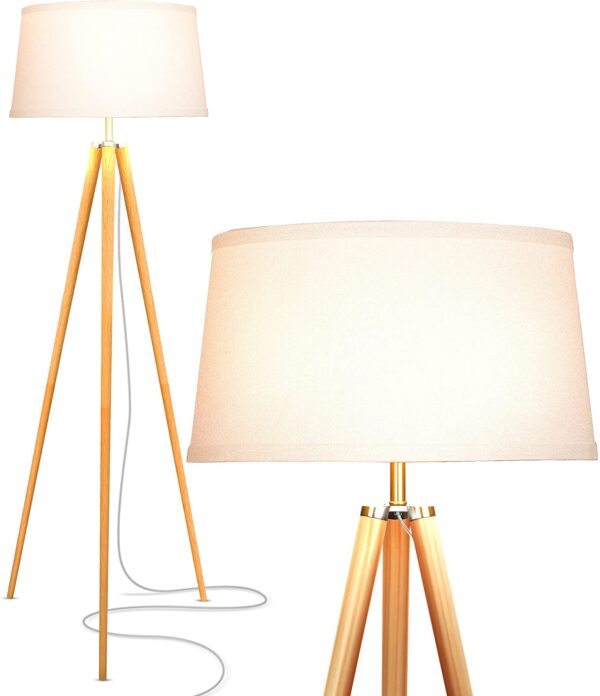 Simple and elegant, this Brightech wooden floor lamp quietly complements your room with its delicate appearance.
The lamp features 3 thin and long wooden legs that rise to approximately 5 feet from the floor. A metal neck combines the legs together at the top to make a sturdy tripod.
This neck then goes up to support a thick creamy white cloth shade, which softens the light to a pleasant, gentle glow.
Thanks to its simplistic design and the neutral colors (soft brown legs and off-white shade), the lamp can match very well with any room decors, contemporary or traditional.
It blends in naturally and harmonically with both eastern and western-style furniture. The tripod creates the impressions of balance and placidity, while the creamy white shade offers complimentary coordination with its surrounding environment.
Whether you want to neutralize a hot color schemed room, or add some subtle warmth to a cool neutral space, this lamp will accommodate your needs.
You can leave it in a room overpacked with furniture of a thousand different shapes, sizes, and colors, and it will only bring calmness and breathiness there.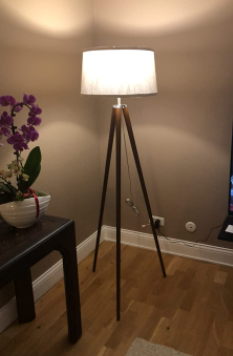 The lamp goes with an LED or a 3-way incandescent bulb of lower than 150 watt. If you're planning to have it in your living room, a bulb with temperature of 3000K to 3500K would be ideal.
For the bedroom, a slightly lower temperature range (2500K – 3000K) is perfect to create a warm, trusting, relaxing mood. In fact, a bulb of 800 lumens and 3000K is included in the package.
The lamp can be switched on and off at the socket. No worries if you're planning to place it in the middle of a room — it has a very long cord (10 feet) that runs down from the shade center.
Tip: tie the cord so it runs along one of the legs, and enjoy the neat, aesthetic look.
Pros
Matches with all decors
Soft, gentle glow
Reasonable price
Neutral colors
Bulb included
Cons
Cord runs in the middle of the legs
---
9. Brightech LightView Pro — Best Bright Task Floor Lamp With Magnifier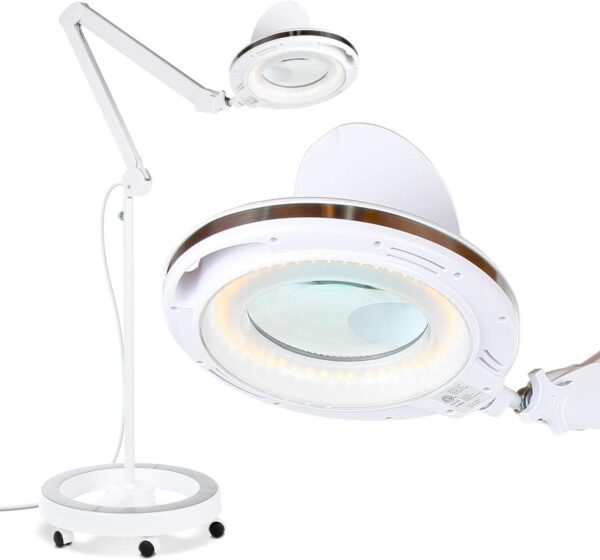 Looking for a good task floor lamp to do knitting, sewing, or other highly detailed work in your scrap room?
Beware of this Brightech LightView Magnifier baby. Because once you've tried it out, you may ever want to do your work without it again.
The Brightech LightView Magnifier comes in a design that makes it extremely functional in every single detail.
To ensure the accuracy of your work, the lamp has 90 LEDs, which offer focused light of 800 lumens.
That's a very high intensity even for a task light! In fact, it can be too bright if you eyes are sensitive, in which case, the dimmable feature comes into play.
The dimming touch is conveniently placed on the lamp head. Place the tip of your finger on either of the arrows until you are happy with the intensity.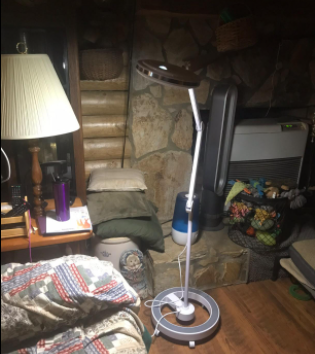 Next to it is the color temperature touchpoints, which allow you to change the color of the light.
For a crisp, bright light to boost your concentration and alertness, touch to increase the temperature. It can get to as high as 6000K, a temperature that imitates the bright daylight on a cloudless sky.
If you're working late into the night and are bound to go to bed in an hour or two, lower it to a warm white at 3000K.
Play with the lamp for a while and you will surely find the shade most pleasant to your eyes.
The LEDs of this lamp are distributed in 2 rounds around a lens made of high-quality glass. The lens is a 3-diopter with a diameter of 3 inches.
The magnifying function is extremely handy for works that are detailed-oriented, such as knitting, embroidery, gemology, or other craft activities. When not in use, you can cover it with the attached lid to avoid dust.
To maximize the versatility, the neck and the arm of the lamp are easily adjustable. The base, meanwhile, has six wheels under it for enhanced mobility. It promises to always direct the light to exactly where you want it.
The lamp comes in a white shell. It looks simple and neat, apparently no gorgeous beauty that would elevate the fanciness of your room.
However, if light accuracy and work productivity is your priority, this lamp will never let you down.
Pros
Multi brightness levels
Adjustable light color
Rolling wheel on base
Adjustable arm and neck
High quality magnifier
Cons
Task-oriented, does not serve to decorate
---
10. Brightech Eclipse — Best Creative Floor Lamp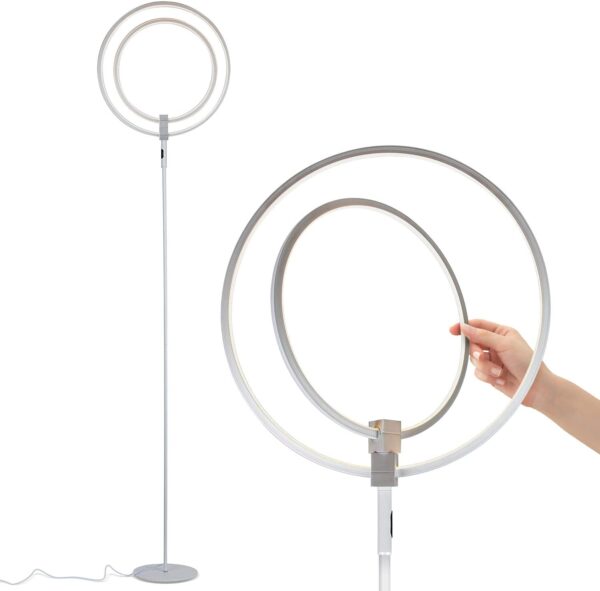 Brightech again stands out for its uniqueness and productivity in design with this double-ring torchiere lamp.
The lamp features a black shell, with a thin but wide, heavy weighted base and a black pole. If you like it brighter in appearance, however, go with the sleek silver-finished version.
The beauty of this lamp comes from its unique rings. There are two of them: the outer one with a diameter of 18 inches, and an inner ring, 14 inches. The two rings contain dozens of LEDs with a total light output of 2000 lumens all together.
Thanks to the LEDs, the lamp never heats up itself nor the air around it, despite the strong intensity. It does, however, have a warm color temperature at 3000K, which promises to create a trusting, inviting atmosphere where it stays.
When you rather want a soft sweet ambiance for an intimate, welcoming atmosphere, you can always dim the light.
Touch the dimmer at its neck and choose between 3 levels of light intensity – not every floor lamp comes with a built-in dimmer like this one.
The most remarkable feature of this lamp, and it's what makes it a beloved item in the users' homes, is the flexible rings.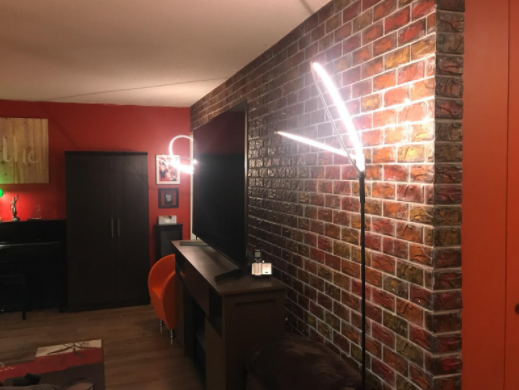 You can spin and turn each of the rings left and right, upward and downward, putting them in 1001 different positions to create your desired "shape" and shade of light.
As it is simple in color and shape, the lamp can match easily with any fixture in your home, especially ones that have a contemporary style.
You can place it anywhere in the house and never worry about not having enough space for other furniture.
Due to the delicate look, however, it feels more secure in a corner or next to something that has a bold figure, say a sofa or a bookshelf.
Pros
Colorful, artistic, fancy look
Tall, doesn't give glare
Stands out to complement the room
Firm base
Cons
Doesn't look like real glass

Doesn't support reading
---
11. NUÜR Circle Standing Lamp – The Best Floor Lamp for Contemporary Decor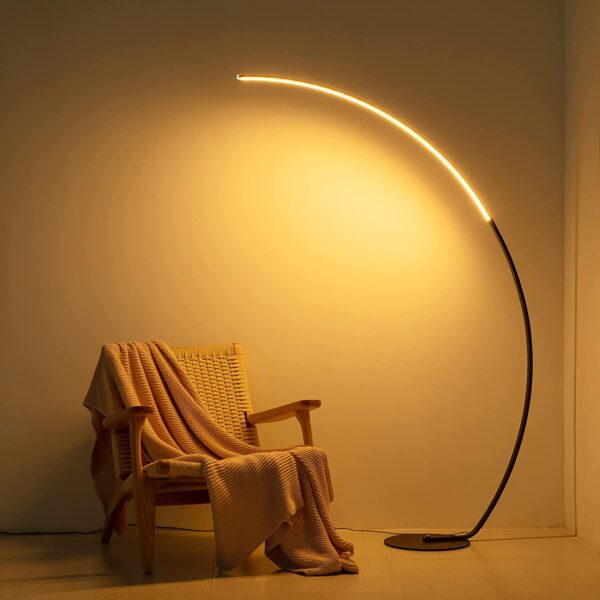 The NUÜR Circle Standing Lamp has a slender, arching stem that sweeps over your shoulders, illuminating the pages of your book in a soft, warm glow. The crescent shape adds a modern yet cozy and inviting feel to your living room or bedroom and is bound to attract compliments from your guests.
This sleek and stylish NUÜR floor lamp features a similar design to the Brightech Sparq, yet this one is dimmable via a handy remote control. And not only can you adjust the brightness, but you can also alter the tone too, switching between a cool bright light or a softer, warmer glow for those cozy evenings in.
Whatever setting you choose, the NUÜR creates a soothing arch of light for you to sit comfortably underneath while you sail away into a good book.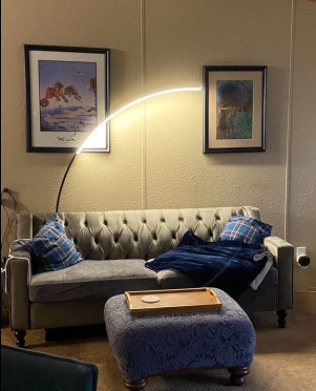 Its contemporary design adds a unique focal point to any room and looks particularly stylish against a more minimalist décor.
The arc shape naturally takes up a little more space than a standard vertical floor lamp, but the small yet solid base means you won't lose out on floor space. The weighted base also makes this floor lamp sturdy enough to hold up to small kids and pets, too.
The NUÜR circle lamp is a particularly eco-friendly option, as it's powered exclusively by A++ energy-saving LED bulbs, saving both the planet and your electricity bill. Plus, the cool-to-the-touch bulbs last an incredible 20,000 hours, which is the equivalent of around 20 years of average use, so you'll never have to buy a new bulb again.
Pros
Soft, warm light.
Stylish and contemporary design.
Eco-friendly LED bulbs included.
Dimmable.
Remote control adjusts brightness and warmth
Cons
Takes up more space than some vertical floor lamps.
---
Resource
---