What makes a special gift for a book lover?
You want to find the best book gifts for your bookworms to let them know how much they are loved and appreciated?
It doesn't always have to be a book to be a meaningful present – you can bring nice surprises to them with your creativity!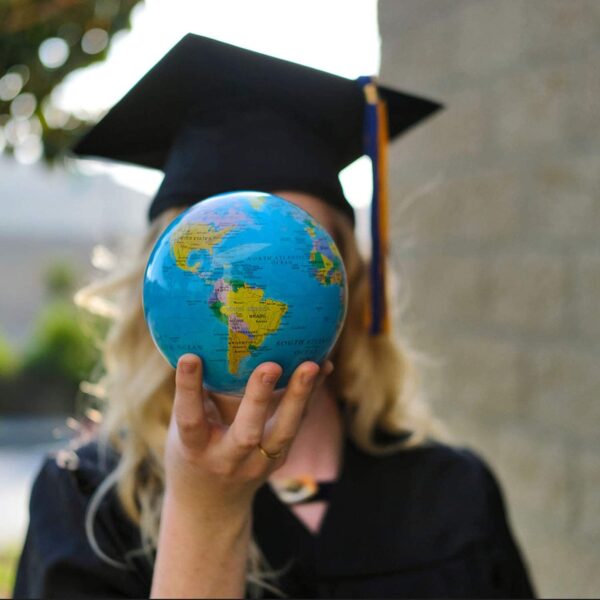 MOVA 4.5″ Blue with Political Map Globe
Our #1 Recommended Gift for Book Lovers
This MOVA political map globe is just slightly bigger than a softball, so it fits comfortably in the palm of your hand. Using solar technology, the globe rotates with no batteries necessary!
*We earn a commission if you make a purchase, at no additional cost to you.
All of these gift ideas for book lovers make wonderful Valentine's Day Gifts, Easter Presents, Birthday Gifts, and Christmas Gifts too!
Here are 30+ best gift ideas for book lovers, or future book lovers that you can never go wrong with.
Unique and Useful Gifts for Book Lover
1. Shredded Foam Reading Pillow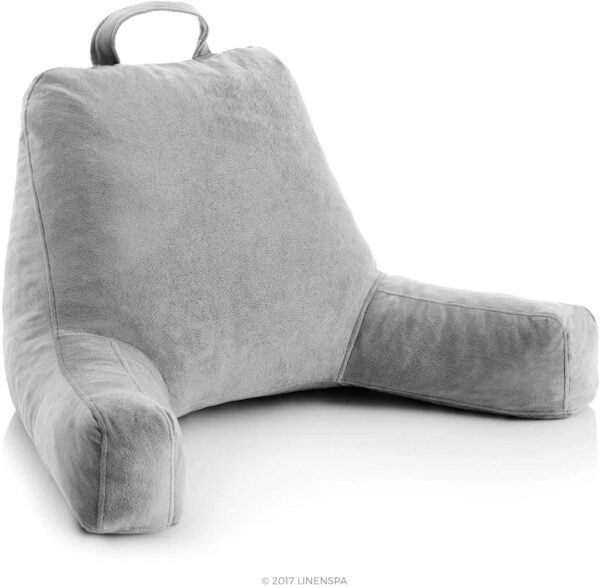 This is our pick for the best gift for a comfort-loving reader. Nothing can substitute your hug, but when you're not around, let your cherished person feel the warmth of your love with this pillow.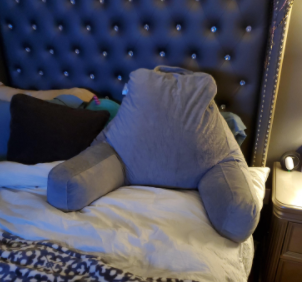 Designed for readers, the pillow supports their neck and back, and arms, making it comfortable to sit upright or halfway to read. Its cover is as soft as a gentle caress.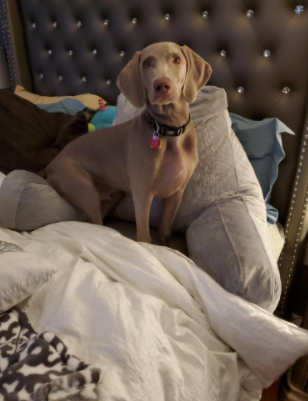 It's a gift from you for them to lean on to find safety, comfort, and backing when they open their books to begin the adventures.
2. Eye Care Book Light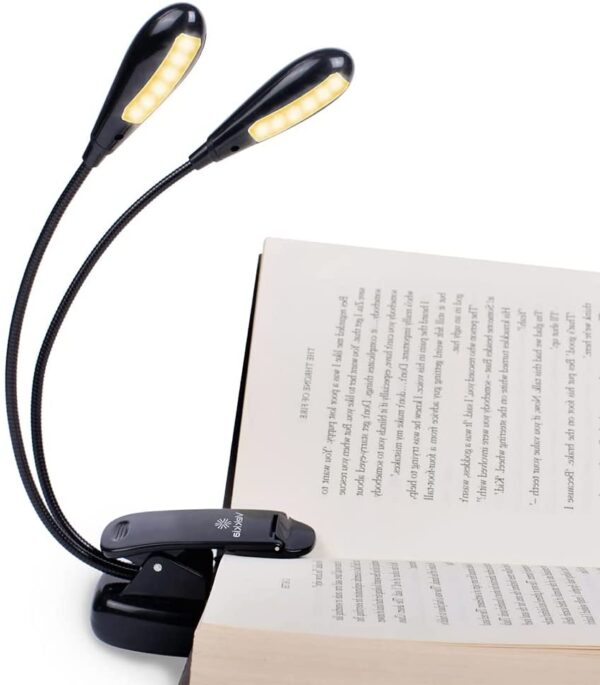 A book light is a perfect gift for a late-night book reader, especially if they are keeping you up late!
This Ecologic Mart's Eye Care book light with two heads producing a soft, eye-friendly amber light will be a gift much appreciated by a night owl reader.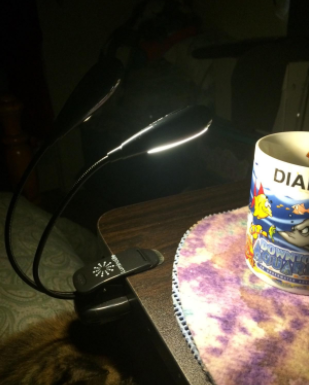 Every night when they get turn the light on to read before calling it a day, the pleasant glow on their book will remind them of the gentle, caring love you have for them.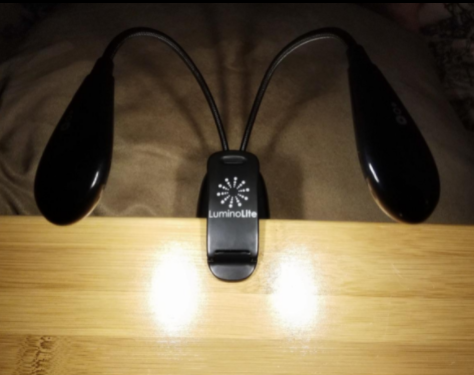 The thoughts of you will warm their heart in the last moments of the day.
3. Lightweight Tote Bag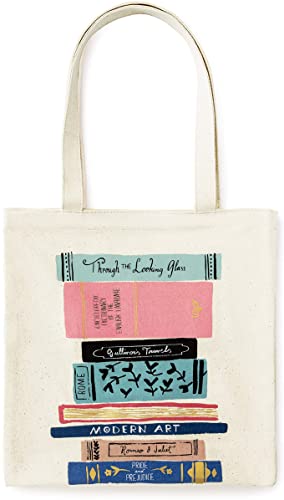 It's very easy to point out immediately the frequent customers of a library or a bookstore – they don't use toxic plastic bags to carry the books. Nor do they carry fancy but heavy leather items. Instead, every one of them has a fabric or paper bag.
This is our pick for the best gift for the busybody book reader.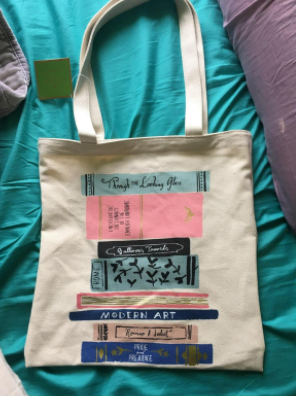 This tote bag is handsewn in America with poly poplin fabric and a sturdy cotton webbing strap. Thanks to the material and the simple design, the bag is extremely light. And that's the selling point – it can hold several heavy hardbacks without adding its own weight to the package.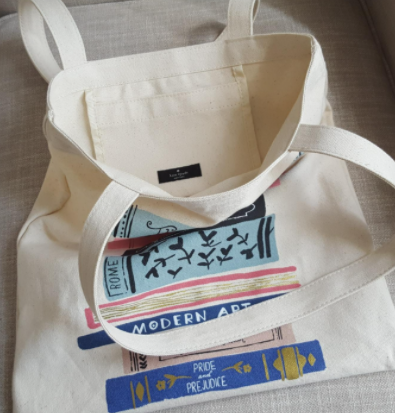 As it's durable, washable, and reusable, the bag is a great choice for your eco-friendly book lover. Plus point: it has a cute artwork. A bookworm will love this gift.
You won't find a more useful gift for your beloved library goer than this.
4. Amazon Kid's Bundle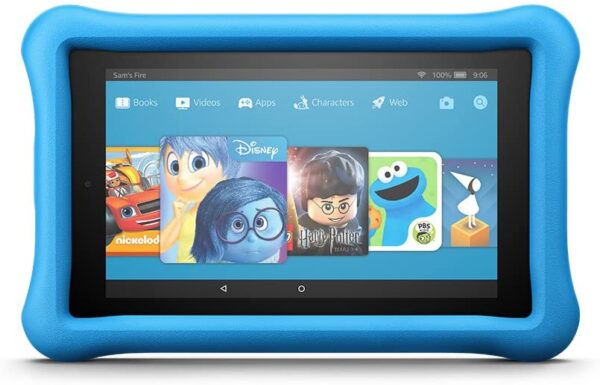 Best gift for kids who love books.
Making sure books are always available for them is a way to nurture your children's curiosity, to encourage them to master languages, and to learn about the nature and cultures of the world.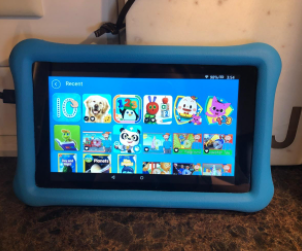 This Kid Bundle from Amazon comes with books that you can handpick for your child's young mind in an eye-friendly Kindle Basic e-reader. All distractions blocked – you never have to worry about your child getting access to improper content or accidental purchases.
The Kindle is featured with Vocabulary Builder. Don't be surprised the next time you hear your child talk with beautiful complex words!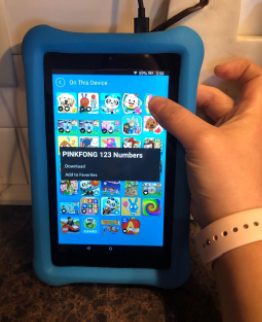 For when your very active child accidentally drops the e-reader or spills some milk on it, the device is guaranteed against damages for a good two years.
5. The Supershelf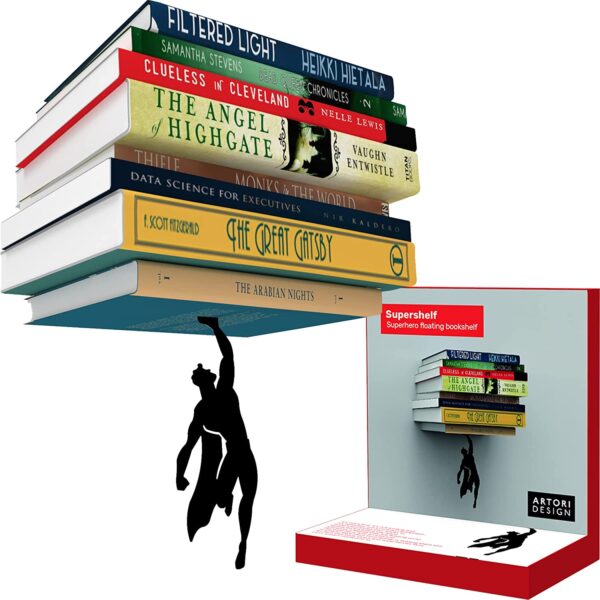 Best Gift for the creative decorator AND Best Gift Under $25.
A unique gift that promises to bring at least a delighted smile to the recipient.
The shelf consists of a metal part that can be installed on the wall. Then a superman magnet that seems to be pushing up from underneath, saving the books from falling onto the floor.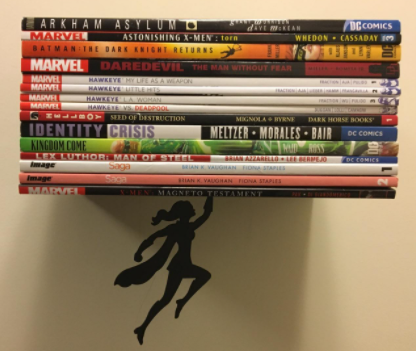 It looks simple, cool, and lively. You can't not notice it. And once you've noticed it, you can't help but start a conversation about it.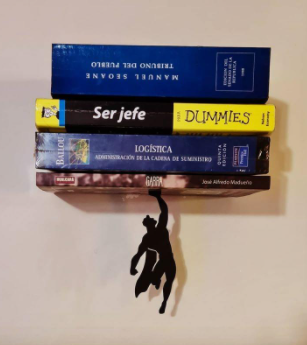 This Supershelf may not be the most expensive gift you can give, but it surely will be one of the most cherished. Be the receiver a little superman fan, a teenage schoolgirl, your nerdy colleague, or your young-minded grandma.
6. MOVA 4.5″ Blue with Political Map Globe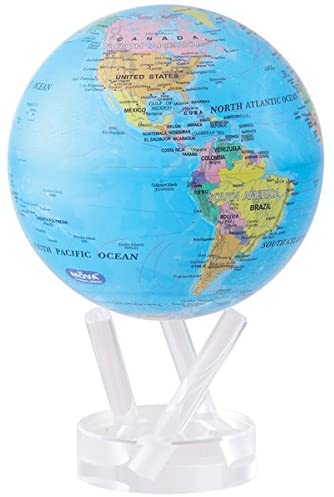 The Best Gift For Well-Traveled Book Worms
As bibliophiles, we regularly travel the world through the pages of a book without ever leaving our front door. That's why a globe is a great gift for book lovers who love to read about far-flung destinations.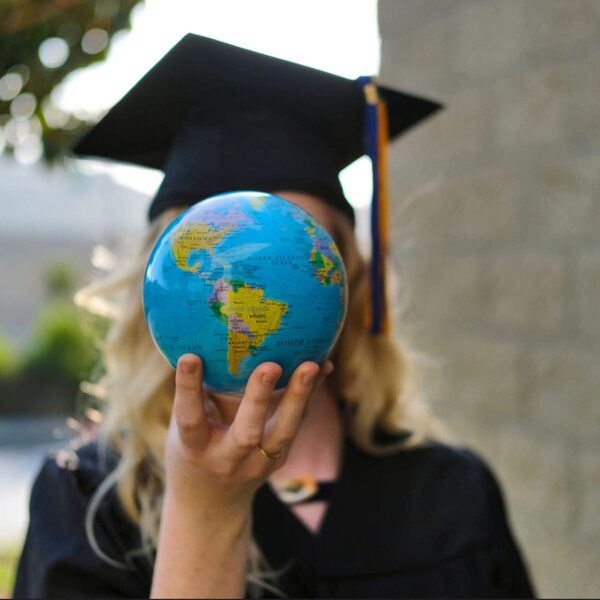 This handmade MOVA globe is a miniature world, just bigger than a softball, that fits right in the palm of your hand.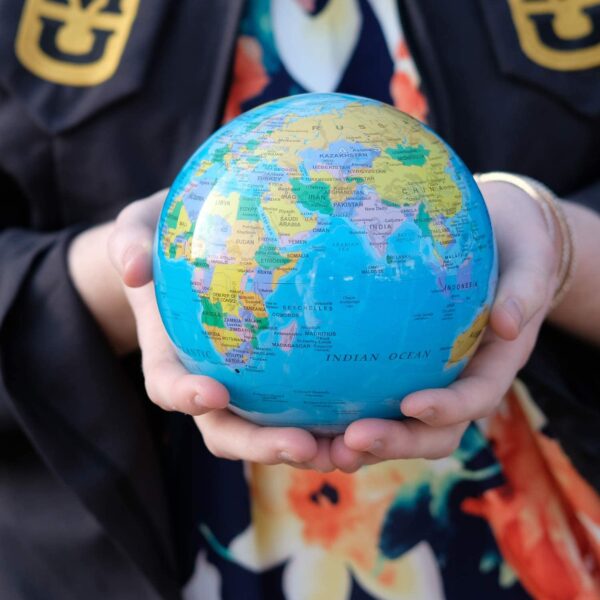 Using nothing but solar power technology, it rotates silently on its base without the need for batteries or wires, showing off its distinctive graphics and vivid, contrasting colors. It's easy to assemble and a perfect, one-of-a-kind addition to any book lover's mantlepiece or home office.
7. Haru Homie Luxurious 100% Cotton Duvet Cover (Marvel Theme)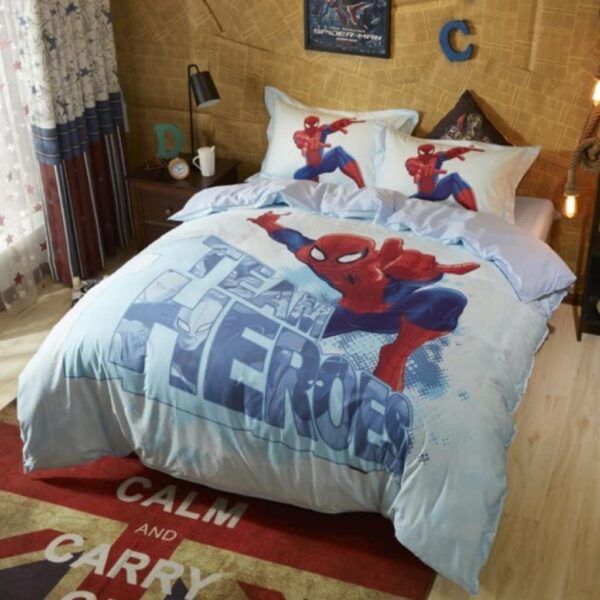 The Best Gift For Comic-Book Loving Kids
If you know a kid who loves reading about their favorite superheroes, why not encourage their love of literature with this reversible 3D Spiderman bedding set?!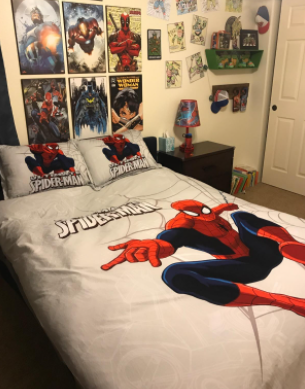 Marvel fans can take their comic book adventures along with them, even as they sleep, with this super soft 250 thread count duvet cover with matching pillowcases.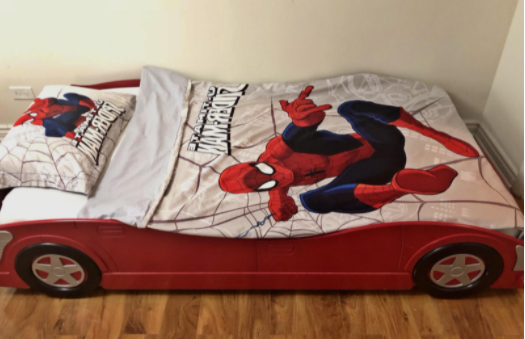 Parents will enjoy the hidden zipper for easy removal. Plus, there are four handy interior ties in each corner to ensure the duvet stays firmly in place.
8. Portable Foaky LED Letter Lights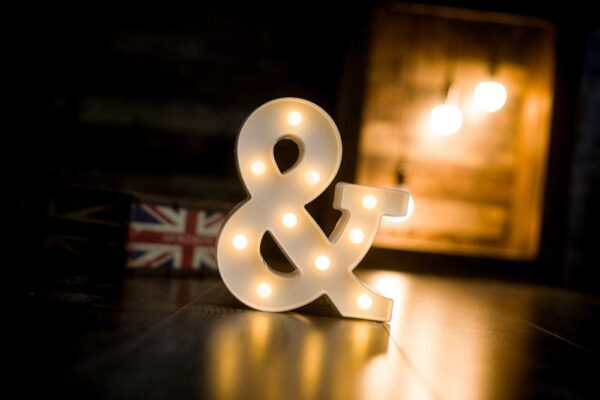 Our recommendation for an interesting book gift.
Nothing can be a cuter gift for book lovers than this adorable heart-shaped book light in a lovely gift bag.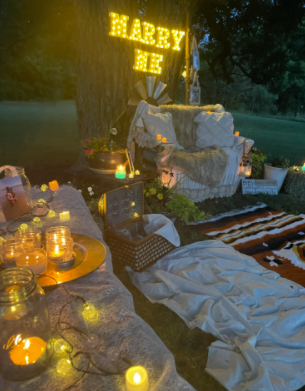 But the light is even more than looking interesting – it is multi-functional too. It produces a warm, restful, eye-friendly light in 3 intensity modes. The light can easily wrap over the reader's shoulders to stream on their pages, or stay firm on their table to serve as a lamp.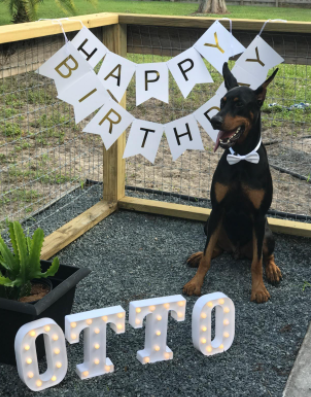 As it is very portable, they can bring the letter light with them to use wherever they need it. It can work continuously for up to 30 hours!
9. Marble Bookends To Store Your Book Collection In Style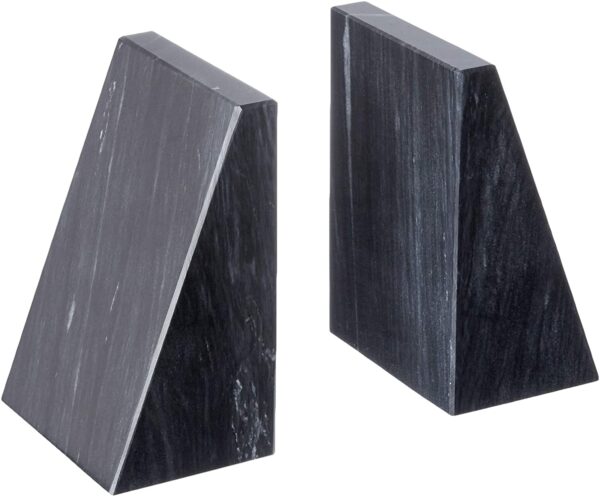 The Best Gift For A Stylish Home Library
Bookends keep your books neat, tidy, and secure, but this pair will add some serious style points to your home library, too.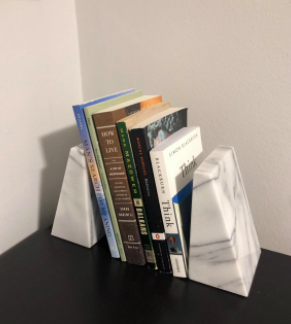 These Fox Run bookends are made from 100% natural, highly polished black marble and weigh in at a hefty 8lbs, so they can hold up even the most out-of-control book collection. Plus, the classic, sleek design complements any space, including a living room, bedroom, or home office.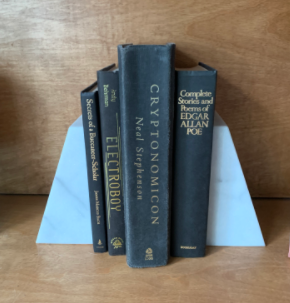 10. Book Lover's iPhone Case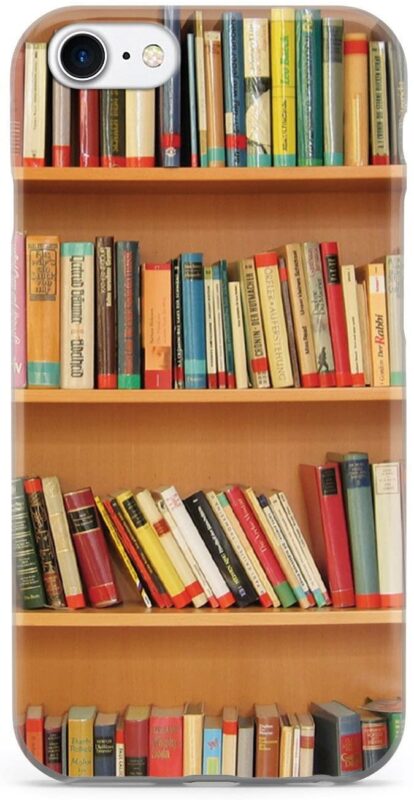 Our gift recommendation for the #bookstagrammer
This iPhone case is 2-in-1: books overload, and cuteness overload.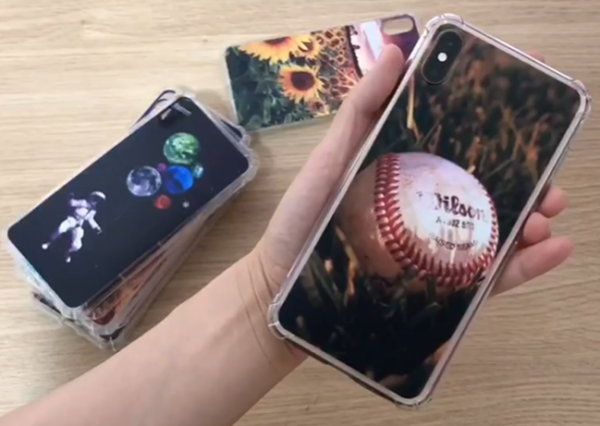 Give this to a book lover. Let them know how cute you think they are.
Tell them how their smile brightens your day.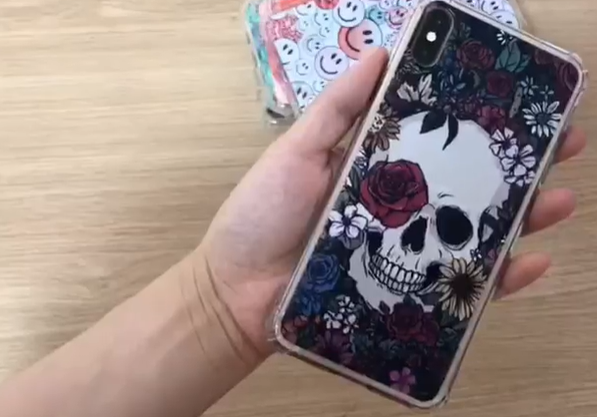 It's something that they'll bring it with them everywhere. Something that reminds them of themselves, and of you.
11. Crescent Floor Lamp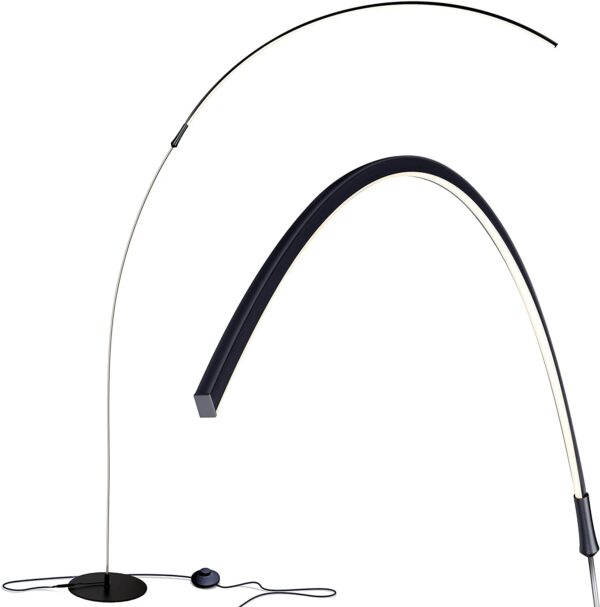 Let this crescent moon add coziness to the moment when your beloved book lover snuggles in their comfy chaise lounge with a good book.
This is actually a reading light that produces a soft, warm, and pleasant light. It's not only enough to read by, but also to set a safe, tranquil atmosphere in your bookworm's retreat corner.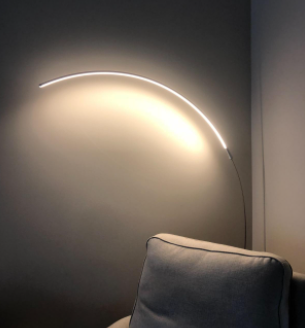 Simple and delicate in design, the lamp can match easily with both vintage and modern decors in a living room or reading room.
12. Multi-intensity Eye-friendly Reading Lamp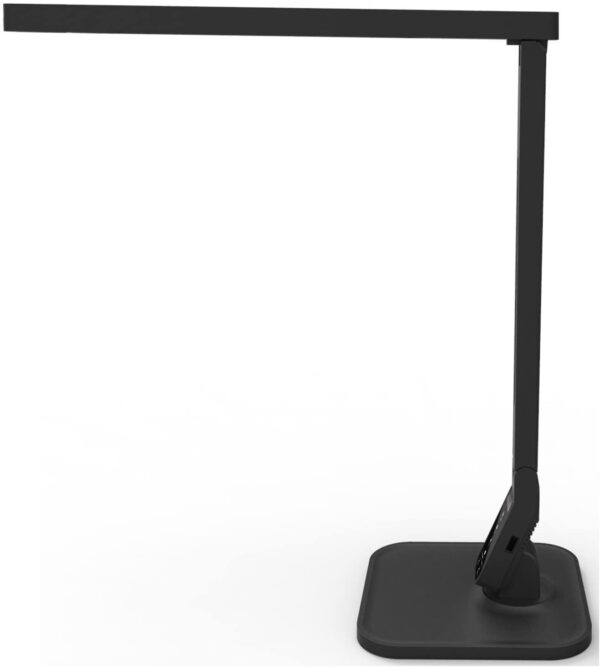 You know what gift will always be appreciated by a diligent reader, or someone who works constantly at a desk?
A good table lamp.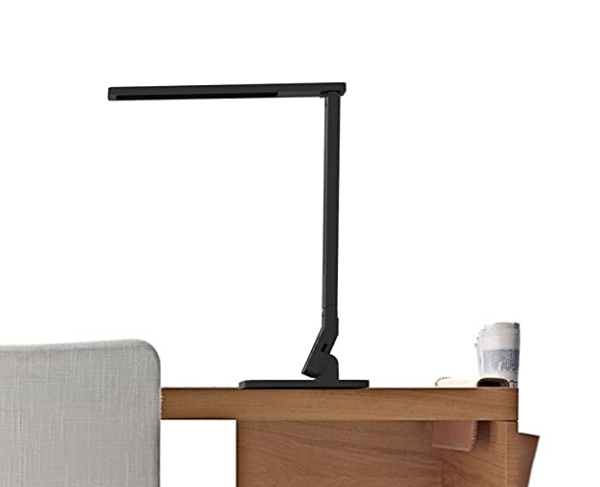 One that brightens up when they want it bright, dims when they need it dim, and has a light color and an angle that they can adjust to get the desired level.
One that stays firm and stable on their table without taking much space. One that can remind them to stand up for an eye break or some muscle stretch. One that looks cool and professional.
This TaoTronics item is exactly that. They will use it. And they will love it.
13. Mini bookshelf
There can never be enough space for beloved bookworm's plethora of books.
But you can help save some room for their coffee cup on the table with this mini bookshelf.
The shelf comes to the rescue in a sleek appearance – with decorative swirls and a bright white finish.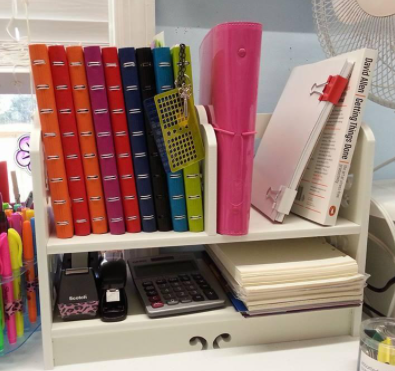 Despite the small size, it's sturdy and can hold quite a lot of books, plus some other office items.
The shelf can also work as a cosmetic holder at their dressing table. Or, if they put some pots of flowers and small plants on it, it will become a very catchy mini garden on their countertop.
This is a gift you can never go wrong with.
14. The Kindle Paperwhite e-reader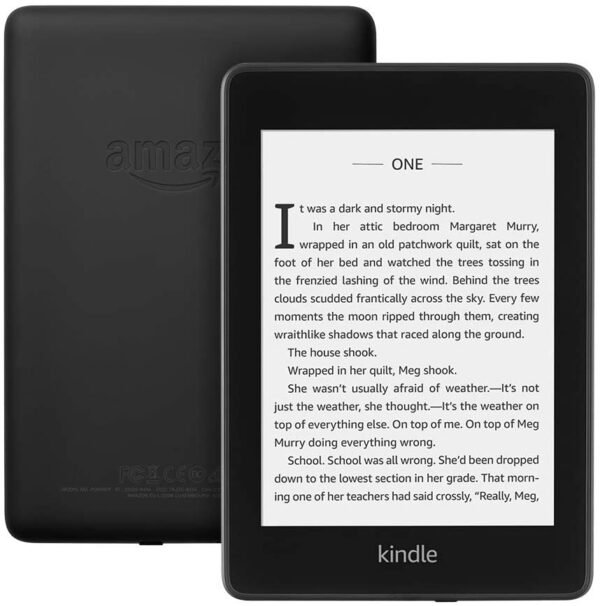 The perfect gift for avid readers of all ages.
This Kindle Paperwhite is one of the best e-reading devices on the market. It has a glare-free screen with high resolution and built-in front lights that allow the user to read at night worries-free. Extremely easy on the eye even when your cherished person reads for long hours.
The device comes with a massive Amazon Library that can be shared with a reading partner. Its battery lasts for weeks – they don't have to worry about charging it every day.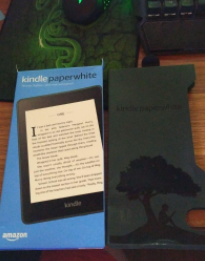 For a complete set of gifts for your bookworm, get them the Kindle Paperwhite Bundle with a Paperwhite in an Onyx black cover, and an adapter.
Let your bookworm know that you care about their passions and hobbies and that you are happy to support them.
Check this link for a full review of the device. You may end up giving yourself one after all.
15. Portable Peeramid Bookrest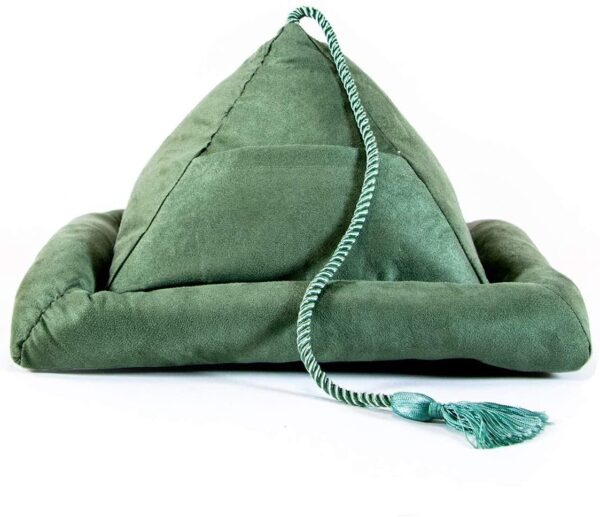 Best comfort gift for readers.
A thoughtful gift for avid readers who hate holding a book or an e-reader in their hands for a long time (who doesn't anyway?).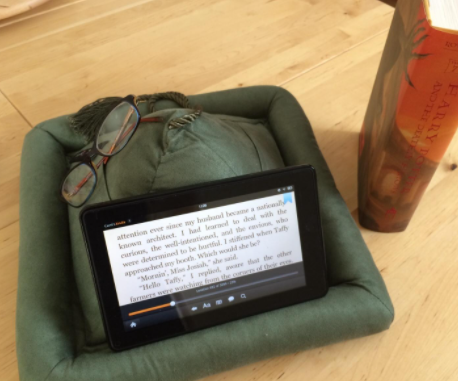 This soft, fluffy bookrest helps support a book where they put it, freeing their hands from unnecessary straining. The pyramid top creates a perfect angle to read their book or Kindle, while the "lip" at the base keeps it in place.
If your beloved person likes to read in lying positions, they will definitely love this! It can make a total release for their neck and hands.
16. Thumb Thing Book Page Holder and Bookmark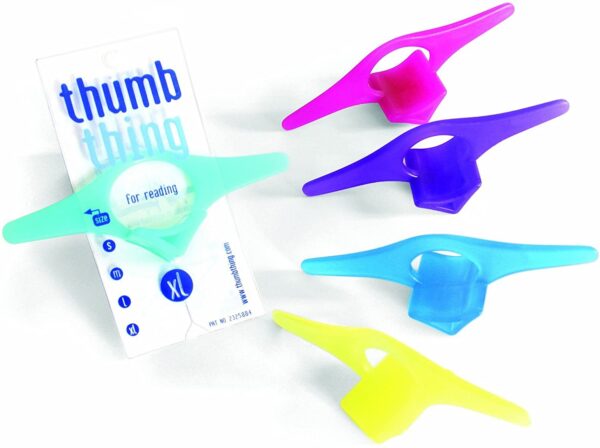 Fun, simple, and useful product perfect when you're into paperbacks. The Thumb Thing comes in different sizes and makes reading in one hand easier as well.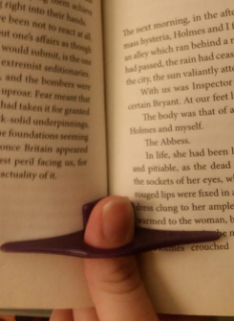 Reading outdoors where the wind blows the pages of your book will no longer be a problem.
You can enjoy reading in the garden, in bed, bath, or at the beach, and this Thumb Thing Book Page Holder and Bookmark will hold the pages for you.
17. Book Lover Pencils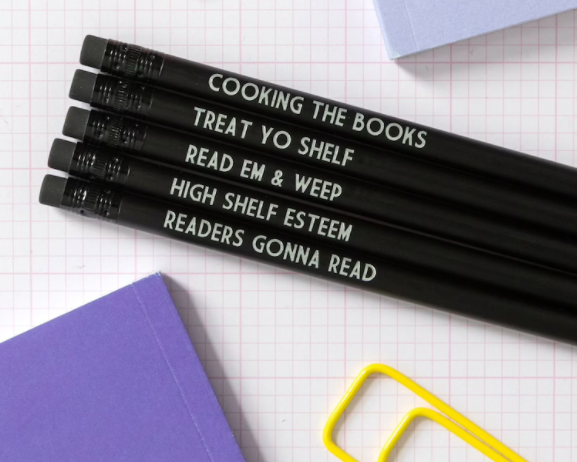 A memorable and understated writing tool, these Book Lover Pencils are perfect for bibliophiles. Each pencil is printed with funny and witty quotes that will surely put a smile on anyone's face.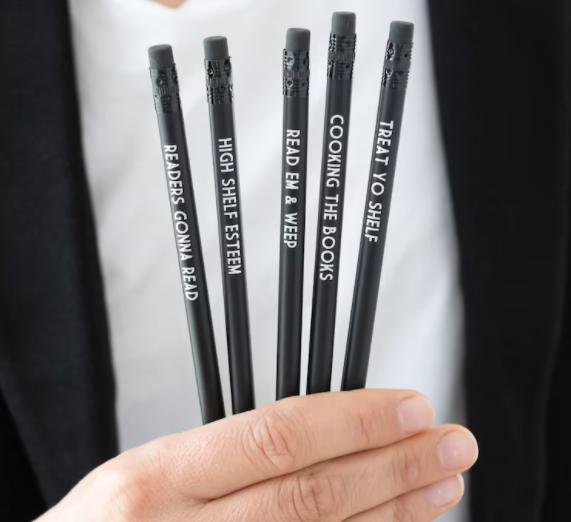 These pencils are great for drawing, taking notes in class or in a meeting or if you have another fantastic idea that you don't want to forget.
After all, inspiration usually comes from the simplest and unexpected events.
18. Bookish AF Decal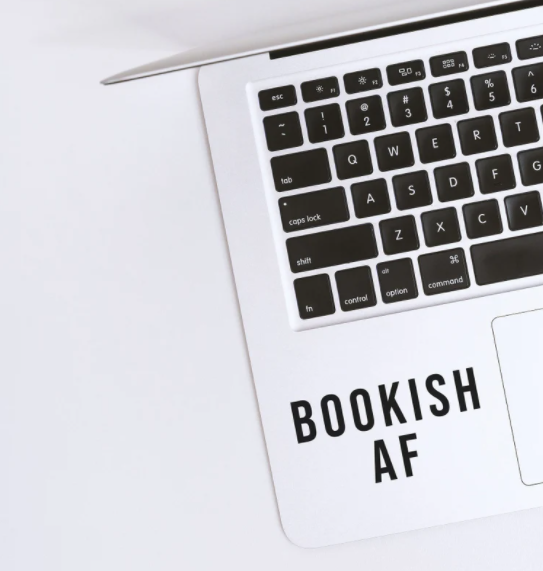 Book lovers can get distracted with a lot of things. This Bookish AF sticker is a great reminder to stop, grab one of your newest books, and wander in its world.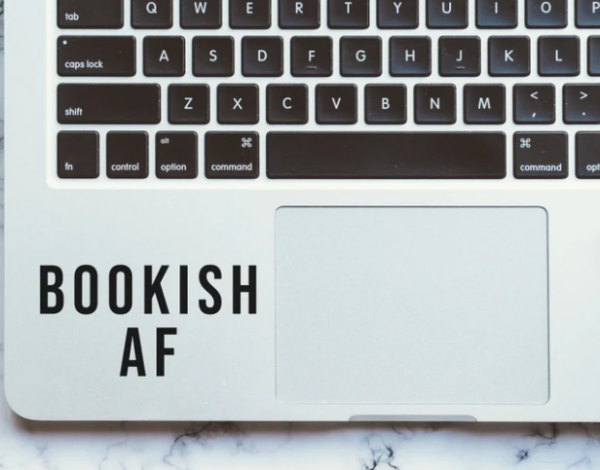 The decal is made from high-quality vinyl making it safe to apply on your laptop, Macbook, wall and pretty much any clean, flat surface you want to put the sticker on.
19. Knock Knock Personal Library Kit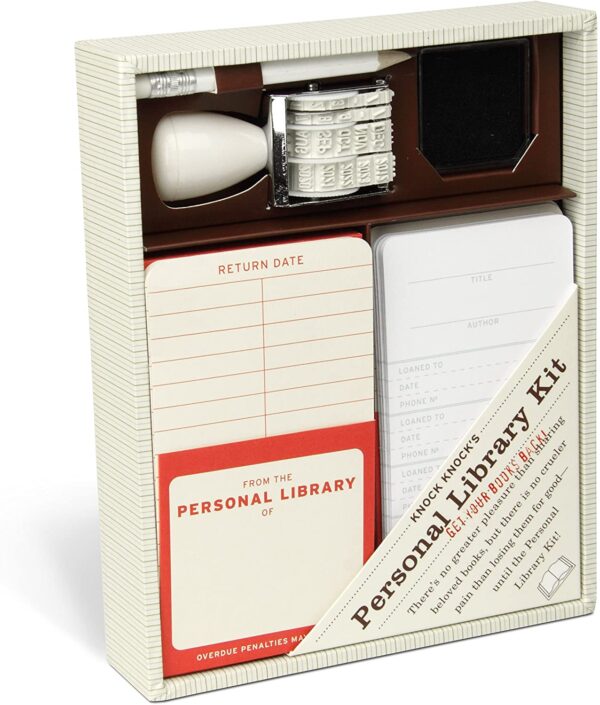 This lovely Library Kit will surely make every book lover happy.
It will remind you of the classic library circulation technique and use this method to keep track of your precious collections.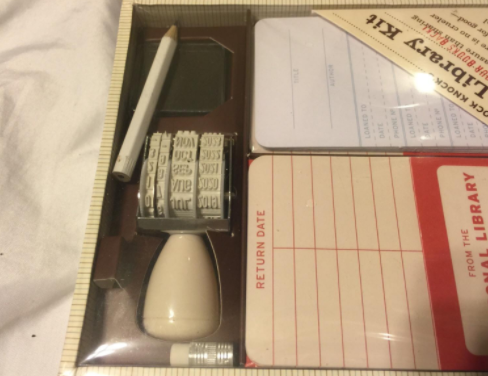 The Library Kit comes with card stamps and pen.
Just fill out the circulation cards and note what is missing from your shelves.
No need to be worried about anyone borrowing your book and forgetting about it. Use the stamp, add the date, and let the borrowers know when your book is due for return.
20. Wooden Page Spreader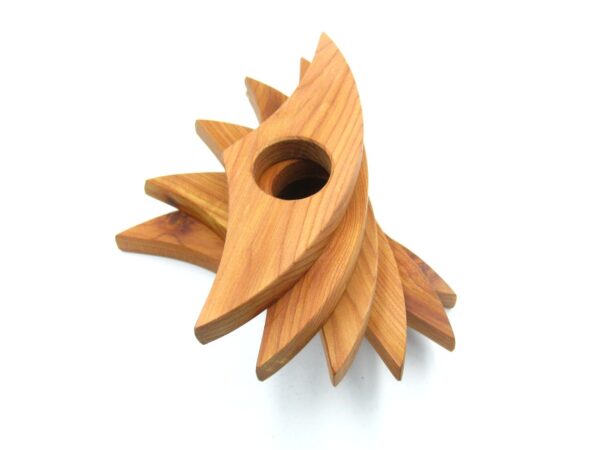 Simple and easy to use book holder. This little tool is perfect if you are holding a book in one hand. It holds the book perfectly and doesn't even leave some marks on.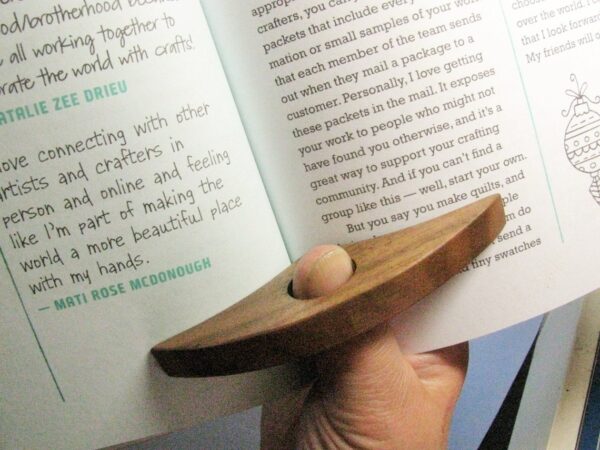 The wooden page spreader is also useful for people with carpal tunnel, arthritis, or other problems holding a book.
21. Book Lovers Casual Shoes

These cute comfy shoes will surely delight any book lovers. You will love walking around in this pair of lightweight shoes with adorable prints.
The shoes have full wrap canvas print that is made from high-quality materials making sure that they are durable for everyday use.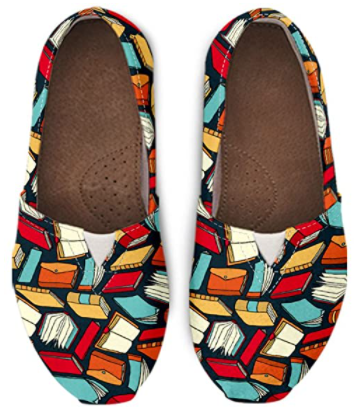 The shoes are easy to put on and off as well, which is perfect for a book lover who is always on the go.
22. Purrrfect Books Wallet Phone Case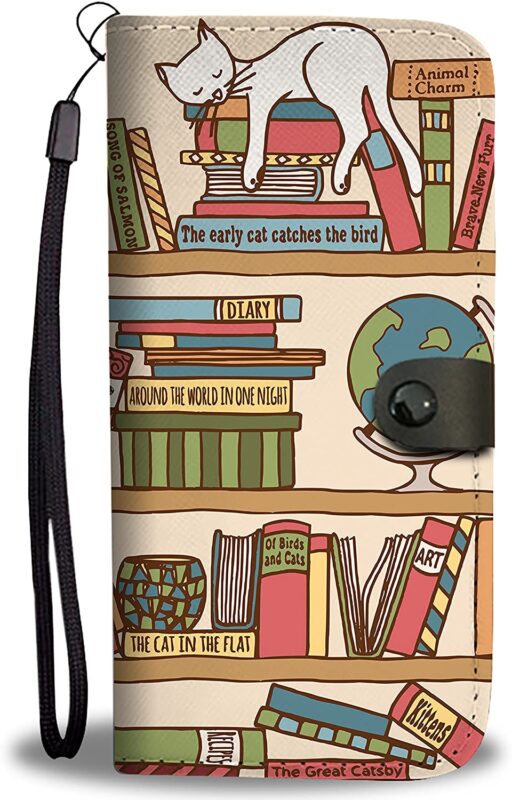 This wallet phone case is the answer to every book lover's problem.
This sure is one of the best gifts for book lovers.
Keep your money, cards, and mobile phone in one place and leave the remaining space in your bag for your books!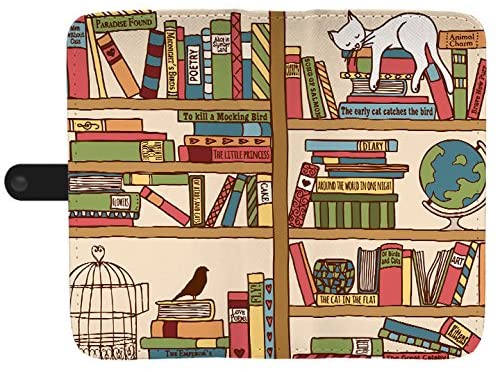 No one can say no to the cute vintage style prints plus, each wallet is made from environmental-friendly materials. No need to worry about your security either as the wallet has RFID protection as well.
23. Library Nook Car Seat Covers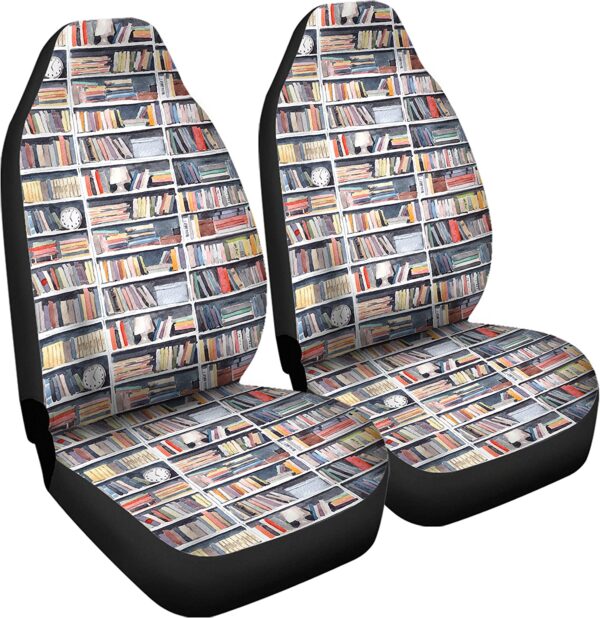 No one can limit a book lover from extending the reading nook to… his car!
A great gift for any occasion that will surely give your book lover friend or family a huge smile on their faces!
The car seat is made with high-quality polyester micro-fiber fabric that is designed to protect your car seat from spills and fading. Each seat is made to provide comfort and long-lasting durability.
Library Nook Car Seat Covers Are easy to install without the help of any special tool.
24. Floating Book Shelf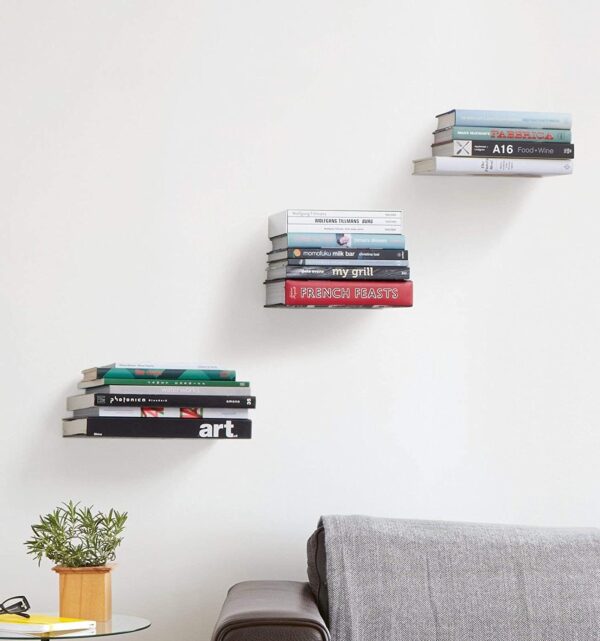 It always feels great to see your beloved books neatly arranged in a bookshelf.
For most people, the classic bookshelf is probably one of the best ways to go to keep their prized possessions safe, but if you don't want to keep your books in a space that looks boring, you can add a bit of magic and redecorate a little.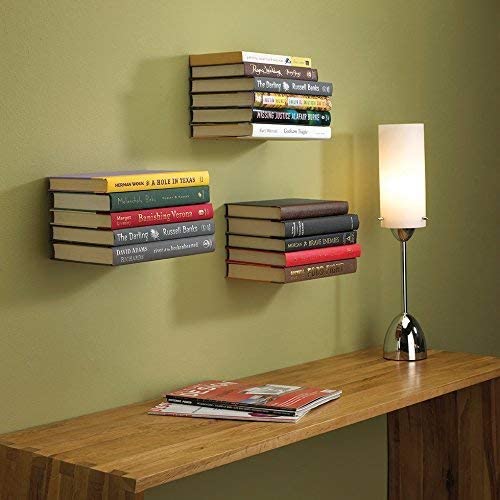 Get yourself some Floating Book Shelves and add some life into the wall like how those books make your life colorful. Your books will be safe others will surely envy your creative style.
25. Book Rest Lamp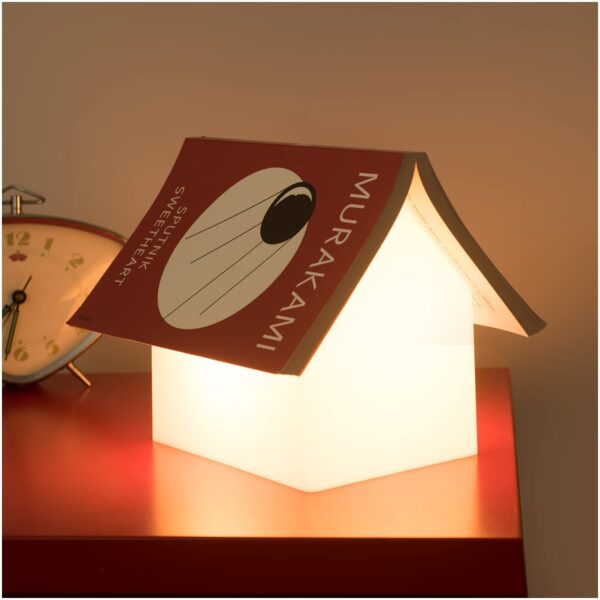 Love reading before you sleep? This Book Rest Lamp is your perfect companion.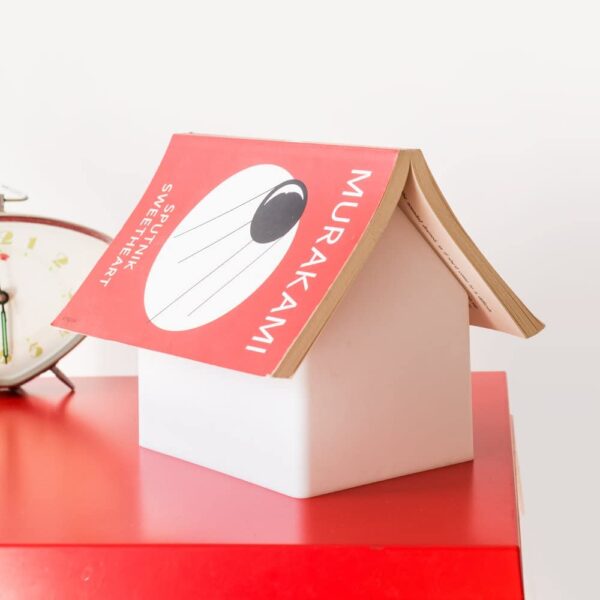 The lamp has good lighting enough not to disturb your partner's deep sleep at night. It is designed to double as a book rest keeping you from losing your page.
26. Skin for Kindle 4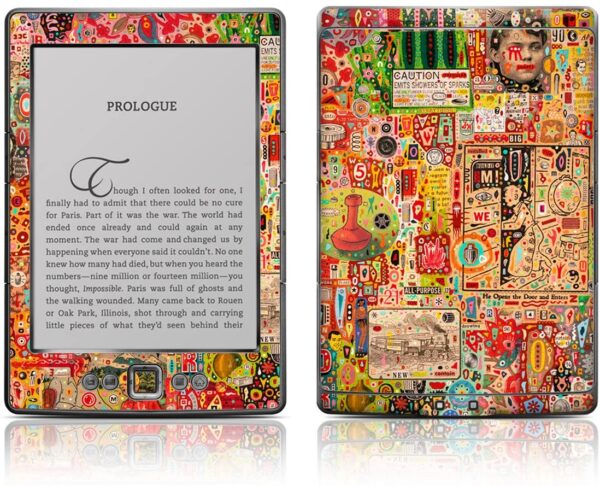 Give your Kindle a lovely makeover and put on a dreamy Kindle skin.
Kindle skins or covers are stickers made from high-quality vinyl. They are not hard cases but they can protect your reading device from scratches.
27. Beanbag Stand for eBook Readers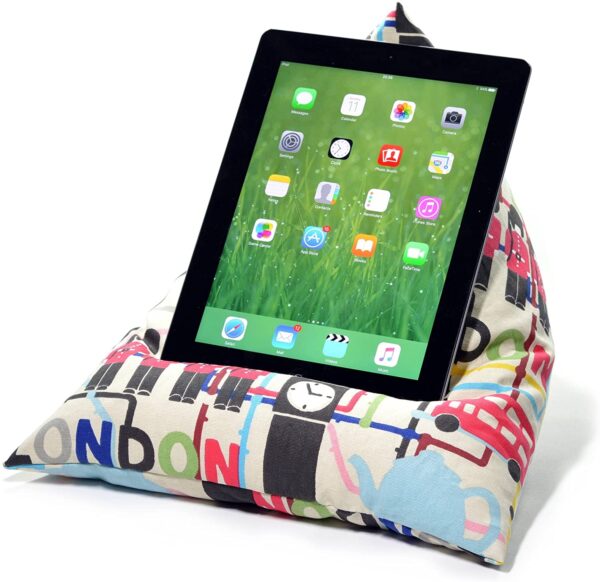 Here's a unique gift for your friends or family who prefer to read ebooks. This soft beanbag cushion is a perfect stand for e-readers, iPad and tablets.
The beanbag shape allows you to properly position your device and set it to an angle where you can read well from the device.
The beanbag stand is also helpful for video calling, typing, and browsing. It prevents pains and aches that can be associated with holding devices and gadgets for a long period of time.
28. Shakespearean Insults Poster, Art Print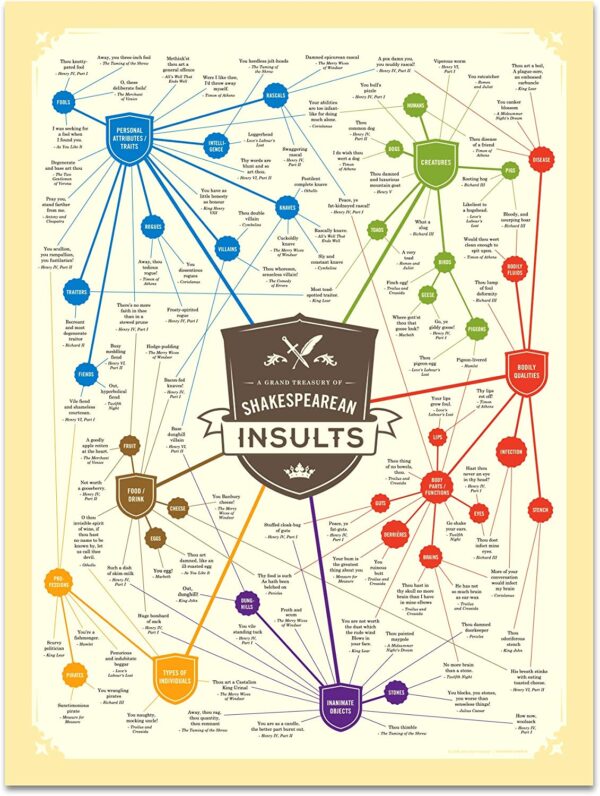 Fascinated by Shakespeare's wit?
This Shakespearean Insults poster makes a wonderful gift for any occasion. It features 100 of his greatest zingers!
The poster is made with high-quality materials with readable prints that you will enjoy reading. The poster is a good decoration for your bedroom, living room, or reading nook.
29. Fred & Friends THE END Dramatic Bookend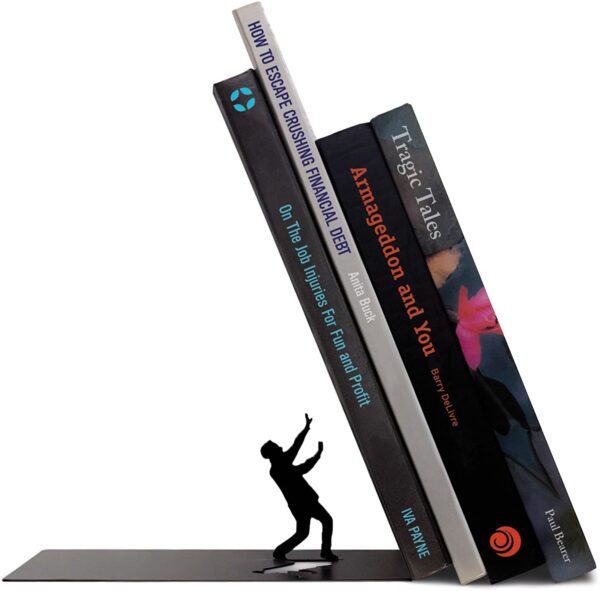 Know anyone who loves decorating with their book collection?
Fred & Friends THE END Dramatic Bookend is a cool decoration and a perfect gift for your friends!
The bookend is made from quality powder-coated steel that is durable and capable of holding your books.
It is designed to make the books lean a little bit making them look like falling with a silhouette of a man trying to catch the books.
30. Jane Austen Coffee Mug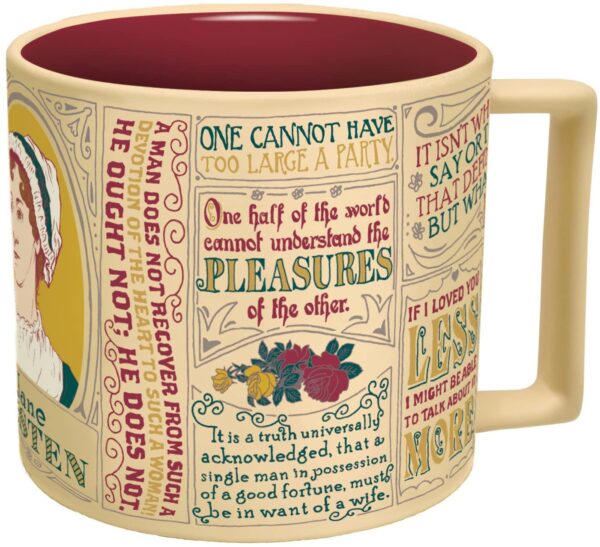 "It is a truth universally acknowledged, that a single man in possession of a good fortune, must be in want of a wife." – Jane Austen
Familiar with strong quotes like this? This Jane Austen Coffee Mug has a lovely print of her picture along with a collection of memorable quotes from Jane Austen.
It makes a lovely coffee mug or an awesome collectible item for a book lover.
31. Non-Slip Book Weight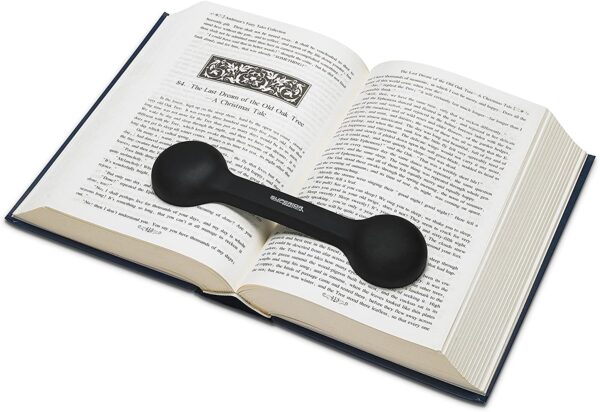 Enjoy hands-free reading? This Non-Slip Book Weight is the answer.
This bookmark has weighted ends that keep it in place. Unlike other bookmarks that slide and fall, this book weight has a non-slip coating and a matte finish at the top to prevent dirt build-up.
You can use this book weight in the kitchen for your cookbook and even outdoors if you like reading under the sun. It is waterproof and washable so it's very easy to clean.
32. Book Lover Reading Books Club Libra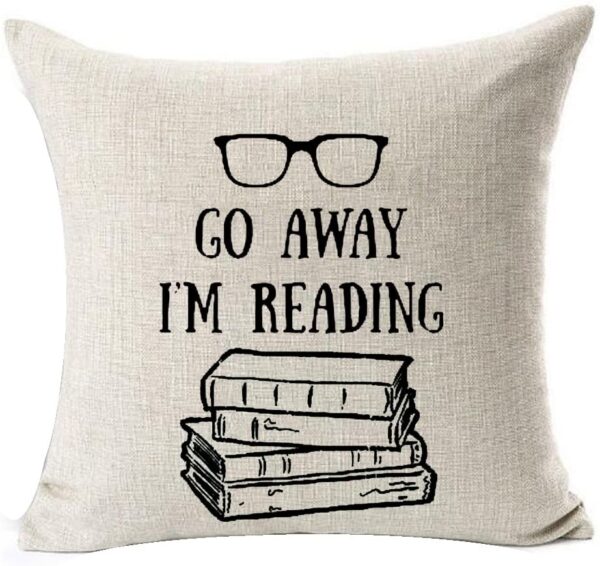 The Book Lover Reading Books Club Librarian Black Glasses has a collection of lovely cushion cover that matches any design or room decor. This makes decorating your room super easy.
Each pillow cover has a printed quote for book lovers. It's made from environmental-friendly materials as well.
The zippers are hidden and it's safe to machine wash.
33. Asymmetrical Bookcase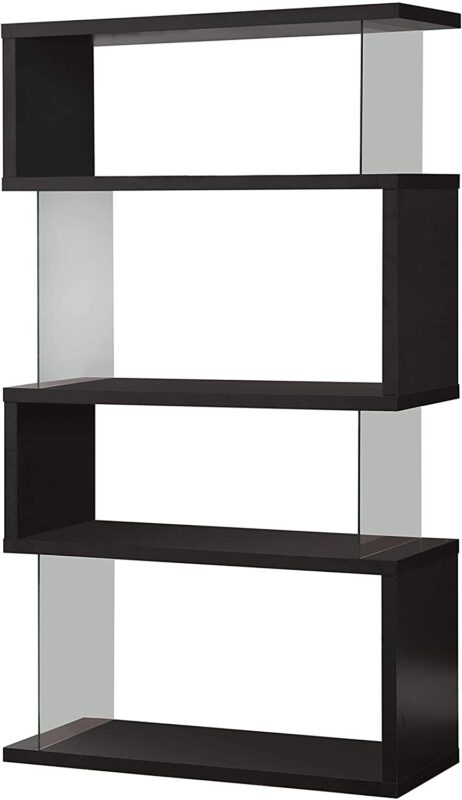 This modern bookcase is great if you are into modern designs or if you want to maximize the small space of your room.
The bookcase has a weight limit of 11lbs per shelf and has a total of four shelves. Each shelf is sturdy enough to hold some books allowing you to put in other room decorations as well.
34. Alice in Wonderland Book Scarf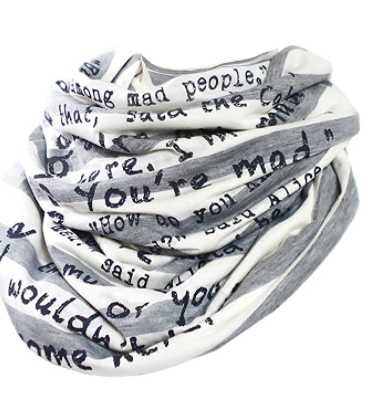 A scarf is a fashionable piece of clothing for any occasion and this Alice in Wonderland Book Scarf makes a wonderful gift!