We've already reviewed Audible and Playster individually. Now we think it's time to pit them against each other in a winner takes all battle, Playster vs Audible! We are going to give a thorough breakdown of the pros and, of course, the cons of each of these two audiobook services. Once you have this information, you can then make a good call on which service to use. Let the Playster vs Audible battle commence!
Audible Pros
Where do we start with the pros for Audible, they are the giant in the audiobook listening world. That's not to say other audiobooks services aren't great too.
For all the people reading this that don't currently use Audible the biggest advantage for you is the fact that you will receive a free audiobook when signing up! In fact, US-based customers get two free audiobooks, whilst people in the U.K. and other countries receive one.
Firstly, the Audible audiobook store is by far the biggest of them all. When comparing this with Playster they definitely have more than 250,000 more audiobooks available. The options really are endless.
On to the next pro, Audible create exclusive audiobooks that you can't find elsewhere. An example of this is Sherlock Holmes: The Definitive Collection read by Stephen Fry. This doesn't mean that you can't listen to the great Sherlock Holmes novels read by another narrator, but the only place where you can hear Stephen Fry read them is at Audible. With thousands of Audible Exclusives available it is hard to look elsewhere for your daily listening.
Next on the list of why Audible beats Playster is the fact that if you are a subscribing member you get the rights to Audible Originals, more exclusive content! Audible Originals are like TV shows according to Audible who describe them as audio shows.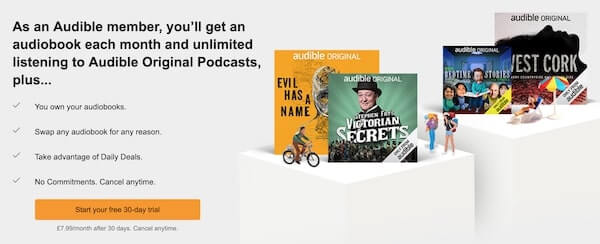 Audible Originals are made up of multiple episodes, but you don't have to wait until the next episode is released, you can listen to them continuously. We're certainly not going to stop you from binge-listening!
Some of the most popular Audible Originals titles are West Cork, Stephen Fry's Victorian Secrets, The Butterfly Effect and Audrey, The Girl Before The Girl.
Playster Pros
Time then for Playster audiobooks to put on the boxing gloves! Let's get straight back to the Playster vs Audible comparison.
Playster is different from Audible when it comes to the subscription model, they actually offer unlimited audiobook listening per month. This is great, you can finish an audiobook and then press play on another without having to worry about monthly credits like with Amazon's Audible.
The number of audiobooks offered by Playster isn't close to the amount that Audible offers, however, they do hold over 120,000 audiobooks for listening. This is still a pro, even if it is less than Audible.
Another pro in Playster's favour is the fact that they also offer access to TV shows, games, and music if you pay for their biggest package. It's always nice to have the all-in-one option available.
Our last pro for Playster is the fact that you can receive a 1-month free trial in order to see if you like the service. If you aren't keen during the first 30 days you can cancel at any point and you won't be charged.
Audible Cons
It's hard to find flaws in Audible's offering, however, no audiobook service is perfect!
When using the Audible mobile app you cannot purchase a new audiobook through it. This is a pain as you have two options to buy your next audiobook, use your laptop or computer or go through Audible.com on your mobile phone's web browser. Whereas with Playster's unlimited listening you can switch between books in the app all the time.
One final point is that the layout of the Audible shop could be better laid out, other than these two points we are extremely happy with what Audible has to offer!
Playster Cons
Starting with what we have already stated, Playster's library selection isn't anywhere near as vast as Audible's, this is one of the main drawbacks. They don't have a production team in order to create awesome exclusives like Audible.
Playster's mobile app feels quite slow and clunky when compared to using Audible's. It's quite frustrating when an app doesn't feel free-flowing.
If you become a Playster subscriber and then decide to cancel in the future, unfortunately, you don't get to keep any of the audiobooks. This is kind of obvious as their service is unlimited. If you are an audiobook hoarder like me you'll definitely prefer to use Audible.
The final con for us when analysing Playster and Audible is the cost of their premium audiobooks package. We will touch on this more in the next paragraph. But to quickly mention it here, Playster has two audiobook packages, one that costs $14.95/month that gives you access to 100,000+ audiobooks. However, for this to include premium audiobooks you'll need to pay $29.95/month.
It's quite frustrating when you sign up for their lower package and then realise you can't listen to all the audiobooks that you'd like to. Premium audiobooks are marked with a gold star in the library. Truly, only their premium package is truly unlimited.
Playster vs Audible Cost Comparison
One key factor when choosing an audiobook service is the monthly price point. Who wins this fight? Playster or Audible?
Audible Pricing
Audible monthly and yearly prices differ depending on which country you are from. Below we have outlined a table for users in the United States and the United Kingdom.
You can choose any audiobook that you'd like to listen to with all of Audible's packages. On top of that, as we already mentioned you will also get access to all of the Audible Originals series. Plenty of listening for you to enjoy.
If you know that you're going to be using Audible a lot, why not browse their annual packages too.
Audible US package prices
| Subscription Plan | Cost | Audible Credits |
| --- | --- | --- |
| 1 Audiobook Per Month Plan | $14.95/month | 1 credit a month |
| 2 Audiobooks Per Month Plan | $22.95/month | 2 credits a month |
| 12 Audiobooks Annual Plan | $149.50/year | 12 credits package |
| 24 Audiobooks Annual Plan | $229.50/year | 24 credits package |
Audible U.K. package prices
| Subscription Plan | Cost | Audible Credits |
| --- | --- | --- |
| 1 Audiobook Per Month Plan | £7.99/month | 1 credit a month |
| 2 Audiobooks Per Month Plan | £14.99/month | 2 credits a month |
| 12 Audiobooks Annual Plan | £69.99/year | 12 credits package |
| 24 Audiobooks Annual Plan | £109.99/year | 24 credits package |
Also, don't forget that when you sign up as a new customer with Audible you will receive 1 or even 2 free audiobooks! Take your pick from their gigantic store, you really can choose whatever you fancy!
Playster Pricing
We already touched on Playster's pricing structure, but let's give you the full breakdown again. A one-month subscription on their basic package will cost you $14.95/month which gives you access to over 100,000 audiobooks. Their premium deal though gives you even more titles but that is basically double the price at $29.95/month. You can listen to as many audiobooks as you like with these two packages.
Playster vs Audible Summary
So, we've reached the end of our Playster vs Audible battle! Hopefully, this deep-dive into two of the top audiobook websites has given you more knowledge on what to expect from their offered services.
Overall, I think you can tell which is our preferred audiobook app, you guessed it, Audible! The sheer size of their offering, great customer service and affordable price point makes them the best on the market. Click here to register today!
If you have any questions about the two services, please feel free to comment below.

Audible
Audible boasts the largest audiobook store. With a simple mobile and tablet app it's difficult to look elsewhere. Amazing Audible exclusives are the cherry on the cake! New Audible users will receive a 30-days free trial for the best audiobook service on the market!