The best Ebook readers — also known as E-Readers — have distinct advantages.
If you're an avid book reader, you know how tiresome it is to have a pile of books lying around. Fortunately, the ebook reader solves this problem.
Since their introduction, e-readers have been continuously improved to cover every book lover's needs.
The most recent ebook readers are waterproof, light, and easy to use!
Today's models have come a long way, and we're sharing the best e-readers available today in this comprehensive guide.
Are you ready to cross over into the world of ebook readers? Read on!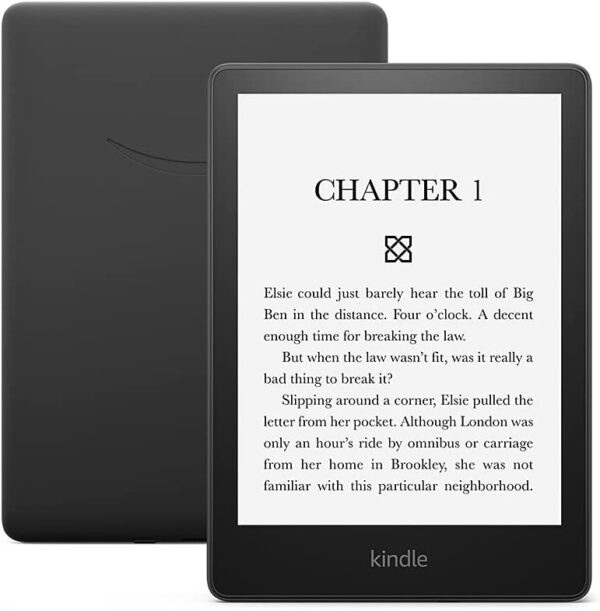 The All-New 11th Generation Kindle Paperwhite
Our #1 Recommended E-Reader
The new Kindle Paperwhite features thinner borders to maximise display, adding almost an inch of screen size onto the previous generation. Other upgrades include an adjustable warm light, faster page turns, and an impressive 10 weeks of battery life.
*We earn a commission if you make a purchase, at no additional cost to you.
What is the Best eBook Reader of 2023?
People are different in many ways, so they might expect different experiences from an e-reader.
But when it comes to the best ebook reader, the most important features you should look for are usability, pixels, screen size, battery life, sharing support, connectivity, and adjustable brightness.
The best ebook reader for you depends on what features you are most interested in.
If you came to this post solely wondering if you should buy a Kobo vs. Kindle, you're in for a treat. And, we have detailed information on more ebook readers than just these two.
Check out our comparisons between the most popular e-readers, with detailed information on each kind, and why you should (or should not!) buy them.
For a quick overview, this table features the very fundamental differences among the devices. Click on a product name to see the detailed review and find out why it secures a place in our list of the best ereaders 2023.
---
1. The All-New 11th Generation Kindle Paperwhite – 2023 Best E-Reader to Buy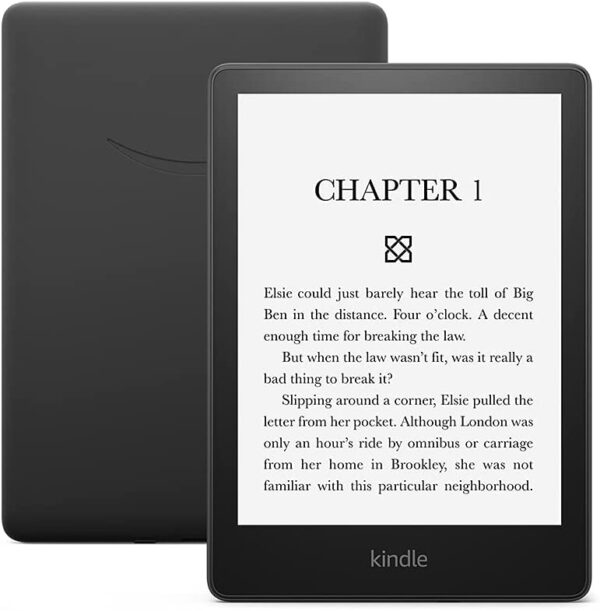 The Kindle Paperwhite is by far the most popular version of all Kindle ebook readers.
There's a reason for that, as the device offers a remarkable upgrade in terms of reading experience when compared to the Kindle Basic.
The Paperwhite is also the thinnest among the Kindle e-reader series. This eBook reader has been designed in a way that allows you to use it for a long time without experiencing any eye strain whatsoever. For these reasons and more, the 11th generation Kindle Paperwhite is our choice for the best Ebook Reader of 2023.
Technical features of the Kindle Ereader family
Designed for reading
A partner for the learner
Barrierless for the sightless
A perfect gift for the kids
Kindle Paperwhite vs. Kindle Basic
| Factor's | Kindle Paperwhite 11th Generation (2021 Release) | Kindle Basic |
| --- | --- | --- |
| Screen | 6.8" glare-free touchscreen | 6" glare-free touchscreen |
| Display | Built-in light and adjustable warmth | Built-in light |
| Resolution | 300 ppi (pixels per inch) | 167 ppi (pixels per inch) |
| Weight | 7.23 oz | 6.1 oz |
| Battery life | 10 weeks (wifi off) | 4 weeks (wifi off) |
300 ppi vs. 167 ppi: What the Resolution Difference Means
The most noticeable enhancement in the Kindle Paperwhite, as opposed to the Basic, is its excellent resolution.
A higher pixel density translates to much sharper, finer text and cleaner lines.
You can visualize the difference in the crispness of the text displayed in the Paperwhite and the Basic as that between a modern magazine and an old textbook.
The LED Difference
Oh, to be able to read in the dark without disturbing our partners with the glare of a lamp or the sound and motion of turning pages!
The Paperwhite has Kindle's much-loved signature glare-free screen for reading in strong light, plus seventeen built-in LEDs. The Kindle Basic has four.
An important feature of the built-in lights is that they shine evenly onto the page instead of your eyes, as most smartphone and tablet screens do.
This frees you for eyestrain, even after hours and hours of reading. When the lighting environment changes, you can manually adjust your screen brightness — there are 24 levels.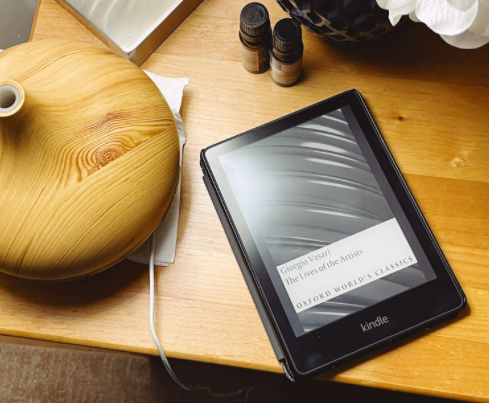 More points for the Kindle Paperwhite: its lighting minimizes the disturbance to those sharing the same space with you.
You know how annoying it is when you're asleep in a dim or dark room, and out of the blue, a phone screen flashes on.
With its pleasant glow, this e-reader ensures you can sneak a read without getting busted for waking your bedmate.
The Difference in Battery Life
With seventeen LEDs and a higher resolution screen, the 11th generation Paperwhite weighs more than the Basic. However, the larger size doesn't mean that it has a shorter battery life.
In fact, it's the opposite. Used 30 minutes a day with wireless off and the light setting at 13, its battery lasts for up to 10 weeks.
That's a whole six weeks longer than the Basic version!
Overall, the Paperwhite retains all of the Basic's advantages of an Amazon ebook reader.
It's made with the same material, with a similar design, and also uses e-ink technology to feel like paper to the eyes.
The library is also much the same, and both the latest Paperwhite and the latest Basic have wifi. But while the 10th generation Paperwhite had a 3G version, allowing you to download books without a Wi-Fi connection, Kindle has done away with cellular technology altogether for its latest releases.
Nevertheless, the Paperwhite is a total upgrade in terms of screen resolution, lighting, and battery life. Plus, it's sold at a very reasonable price. This is by far the best Kindle e-reader.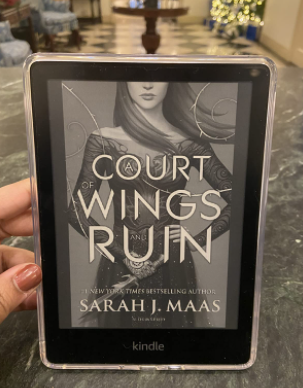 The Best Ever Paperwhite
It's clear that Kindle Paperwhite outperforms Kindle Basic, but the all-new 11th generation release has made some big improvements on its 2018 10th generation predecessor, too.
To begin with, it's done away with the somewhat unnecessary bezel. This thinner border adds almost a full inch onto the screen display, taking it from 6″ to 6.8″ without sacrificing compactness.
Reading feels more organic than ever with the roomier screen, almost like picking up a real, albeit very lightweight, book.
Page turns are now 20% faster than previous incarnations, and the screen is 10% brighter on the maximum setting than the previous 2018 release, so reading in full sunlight is easier than ever. Plus, for the first time, it features an adjustable warm light that shifts between white and amber tones depending on your environment.
And thankfully, Kindle has finally listened to the pleas of many digital readers, and the all-new Paperwhite features a USB-C port.
Pros
Adjustable brightness, easy to read in the dark
All-new adjustable warm light that shifts between white and amber tones
Sleek design and a 300 PPI glare-free display
6.8" touchscreen
Long lasting battery life (lasts up to ten weeks!)
Waterproof
USB-C port
Cons
No page turn buttons
Does not support EPUB or MOBI file formats
Verdict: If you're a book lover who reads often in various environments, and wants a screen display that is pleasant to the eyes, go with the all-new Kindle Paperwhite. There's a reason it gets the best votes among all Kindles.
Read more: Kindle Paperwhite: Best Kindle Ebook Reader to Buy in 2023
---
2. Kindle Oasis – With adjustable warm light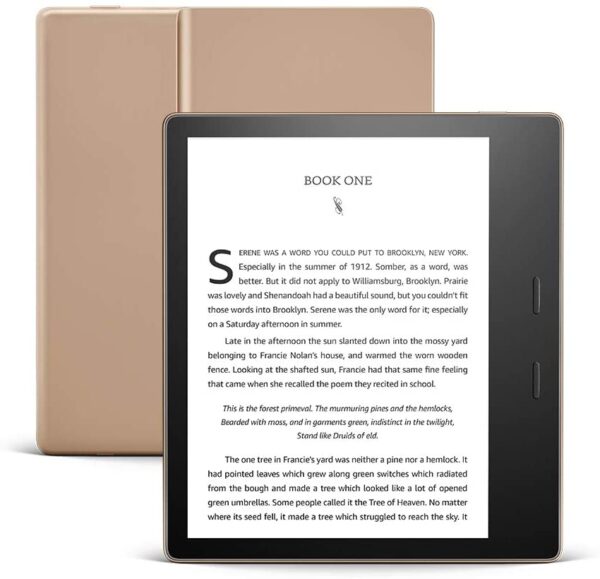 If you're shocked at the cost of the All-new Kindle Oasis, you're not alone.
We had to look twice at the price tag to make sure Amazon is really selling the 32GB version for $279.99 (without ads, and without special offers). Especially considering the Paperwhite is only $129.99!
But we went immediately from "seriously?" to 100% convinced after trying the Oasis out.
The reading experience this device offers is of excellent quality. This is an e-reader for readers who want to invest in the highest-quality device from Amazon, regardless of the price.
Best Ereader with a Grip
Have you ever attempted to read with an iPad or an older ebook reading device held in one hand?
Unless it perfectly fits in your palm, which is rarely the case, you will most likely agree with me in this: it feels a little awkward.
Fun fact: the thinner the device, the harder it is to hold it with four fingers and move your thumb while reading.
This is because our fingers' natural position is to curl up, as when you're asleep. Our fingers are not happy having to grip a surface while stretching straight over a long period of time.
Hence the emergence of a handgrip on the Oasis. The grip helps to shift the center of gravity to your hand, its thickness allowing your fingers to curve to their natural position.
Thanks to this, your hand will be at its comfy resting stage most of the time. Even a read of several hours won't tire it out.
The grip serves a visual purpose as well – it simulates the spine of a paperback. This is the closest to a real book an electronic device can get.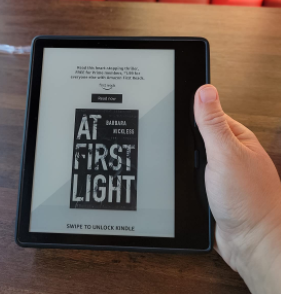 The Only Kindle with an Auto-rotating Screen
You may have noticed from the pictures that the page-turn buttons are only on one side of the device. What if you're left-handed or want to use your other hand to hold the e-reader?
Here comes another distinguishing feature of the Oasis — an automatically rotating screen.
Whenever you flip the device, the book will spin itself to match with the direction your eyes are reading.
This is the only Kindle model that supports rotation, making it the best to be held in either hand.
The Lightest and Thinnest of All Kindles
Thanks to its smart design and square-like shape, the Oasis is by far the lightest and thinnest Kindle on the market.
Without cover, it is 28% lighter and 56% thinner than the now-discontinued Voyage. It's designed to feel the closest to a sheet of paper, Amazon says.
25 Built-in LEDs
When it comes to lighting, the Oasis is brightest and most evenly lit of all Kindles.
It has 25 built-in LEDs. As bright as it is, it retains Kindle's magic front-light feature: the lights shine onto the 'paper' instead of your eyes.
The All-new Kindle Oasis also comes with auto-adjusting light sensors and adjustable warm light.
Additional Features
The Kindle Oasis is available in 8GB and 32GB. It also has an internet connection for both Wi-Fi and Wi-Fi + Free Cellular Connectivity.
Unfortunately, there's no port for headphones, but you can listen to audiobooks through Bluetooth. The page turn buttons make it easier to navigate the Oasis when reading in the pool or tub.
The Oasis also supports additional ebook formats outside of Kindle such as TXT, MOBI, and PDF.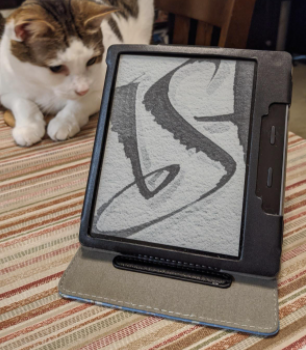 Pros
Adjustable built-in light, easy to read in the dark
Sleek design and a glare-free display
Good typography
Long lasting battery life (last up to two weeks)
Waterproof
Cons
Doesn't include charger
Doesn't have an adjustable warm light
No page turn buttons
Does not support EPUB or MOBI file formats
Verdict: To sum up, the Oasis is one of the best ereaders available on the market. It has all of Kindle's traditional best features –— a lightweight device made thoroughly for reading, an eye-friendly glare-free screen, and space for thousands upon thousands of books.
Yet, its game-changer features bring ebook readers to a whole new level. It feels so close to a paperback, takes so long to discharge, and looks so smart in your hand, reading has never felt classier.
The Oasis is made for people who seek a first-class reading experience. If money is not that big of a concern, this is the ebook reader for you.
---
3. Kobo Clara HD | eReader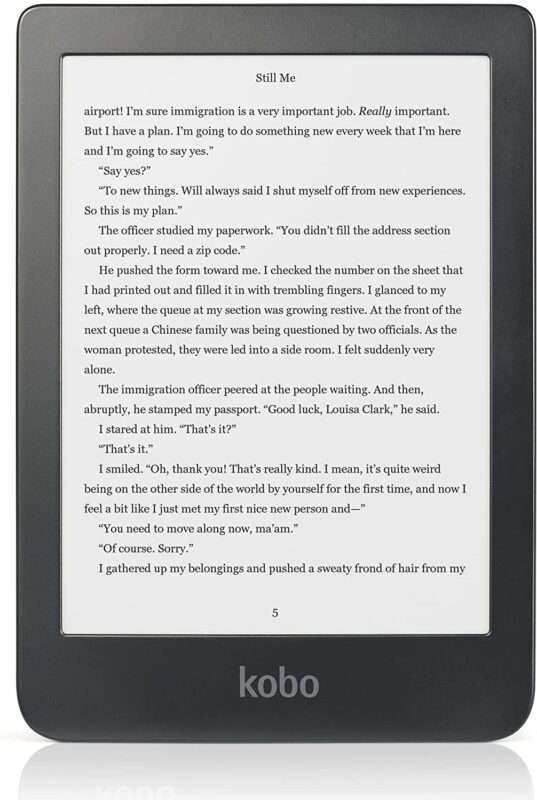 We are a little obsessed with the Kobos, and for a good reason. Rakuten Kobo develops some of the best e-readers out there today — as long as your e-books aren't from Amazon.
The new Paperwhite has caught up to many of the features originally offered only by Kobo devices.
However, the Kobo Clara HD is still a top choice for readers looking for a non-Amazon product.
Besides supporting many different formats, the Kobo Clara HD lets readers borrow books from any U.S.-based library.
Front Lighting That Can't be Beat 
While the Paperwhite has caught up to the Clara HD in many ways, the Kobo ebook reader continues to best the Kindle with its color-changing front light.
The Clara HD's ComfortLight PRO feature provides an orange-tinted front lighting display that makes it easy for readers to wind down before bed.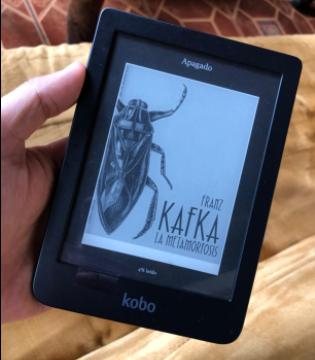 Light as a Feather
The Kobo Clara is also the lightest ereader on our list, weighing only 5.85 ounces (166 g).
The fact that it is so lightweight makes it a perfect ereader for travel. Easily store the Kobo Clara HD in your backpack, purse, or carry-on.
With a 6-inch screen size, it's large enough for easy reading but not too big to be difficult to carry.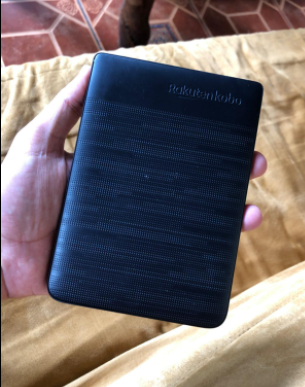 Additional Features of the Kobo Clara HD
You can connect to the internet through Wi-Fi (2.4 GHz) and download books of your choice.
The reading experience is at another level. You can organize books by title, highlight and annotate text, get definitions from the dictionary, and bookmark your favorite reads.
Pros
Extra bright, dimmable
Strong, wide clip opening
Can stand independently
Rechargeable built-in battery
Lifetime warranty
Cons
Can be too large for clipping on small books
Verdict: If you're a bookaholic who does a lot of reading at night, the Kobo Clara HD is the best device for you.
---
4. Apple iPad Mini – Best Tablet and Ebook Reader Combined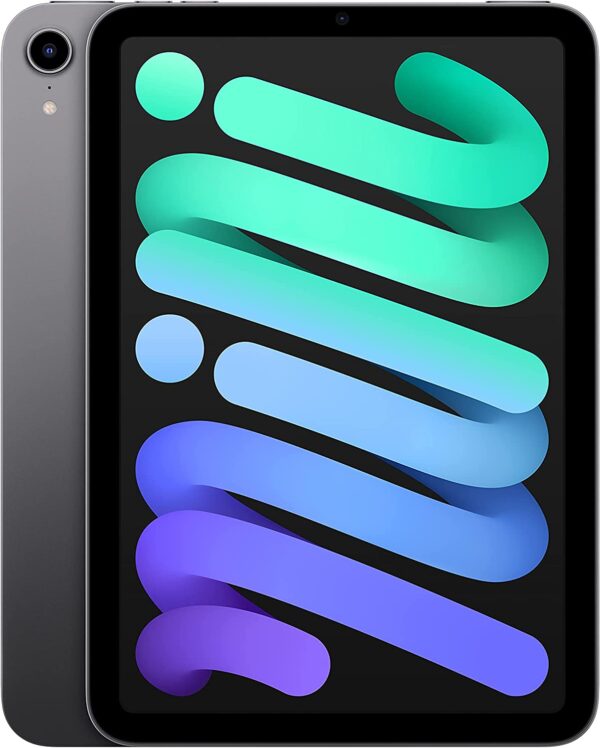 At a hefty $599, it's clear that the Apple iPad Mini is much more than a basic eReader. But, if you've got a bigger budget to play with and you're looking for an all-in-one device that acts as both a powerful tablet and an Ebook reader, then you'll be hard-pressed to find a better option.
Do it all on One Device
Apple's latest iPad mini does everything the standard iPad does, in a smaller, more portable size. You can:
browse the internet
video chat with friends
catch up on your favorite Netflix shows
play graphics-intensive games
take high-resolution photos and videos
and read Ebooks to heart's content.
The 8.3-inch screen is spacious enough to view Ebooks and documents with ease. Moreover, the liquid retina display with True Tone and wide color provides a more vivid and crisp display than any dedicated Ereader ever could.
Plus, Apple's A15 Bionic chip with Neural Engine means this tablet performs faster than every Ebook reader on this list, and the majority of comparable tablets on the market, too.
Download Unlimited Ebooks
The latest iPad Mini comes with an impressive 256GB of storage. It has more than enough room for every Ebook you've ever owned, plus all your apps, photos, videos, and more.
Although the iPad Mini isn't a dedicated Ebook reader, you can access all your favorite Ebooks and audiobooks and start reading straight away using countless compatible apps. And with superfast Wi-Fi 6 and 5G connectivity, uploads and downloads happen at lightning speeds, even when you're on the road.
USB-C Connected
Unlike most dedicated EBook readers out there, the iPad Mini features USB-C connectivity, so you can charge all your devices with one single cable, and transfer files from your tablet to another device with ease.
It's also Bluetooth compatible, so you can sync up your wireless headphones and listen to music and audiobooks too.
If you enjoy the note-taking features of many EReaders on this list, the iPad Mini won't disappoint. It's compatible with the celebrated 2nd generation Apple Pencil, so you can annotate and take notes just like you would with a regular pen and paper.
Plus, you can turn this iPad Mini into a fully functioning compact workstation by connecting a Bluetooth keyboard and upgrading to the Apple Smart Folio case.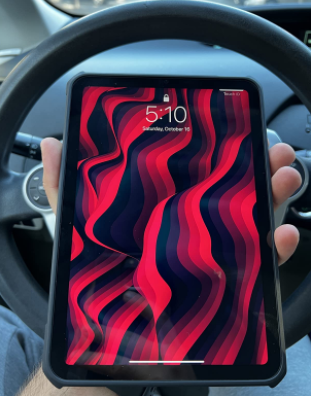 Battery Life
This super-powerful device is in an entirely different league to the other Ebook readers on this list, but unfortunately, all that power comes at a price (and we're not just talking about $$). The latest iPad Mini lasts just 10 hours on a single charge; pretty good for such a powerful tablet, but a fraction of the battery life of a regular Ereader.
Pros
8.3 inch liquid retina display
Powerful tablet and Ebook reader combined
256 GB of storage
A15 Bionic chip with Neural Engine
Ultrafast Wi-Fi 6 and 5G connectivity
USB-C connector
Cons
Expensive
Shorter battery life than standard Ebook readers
Verdict: If you're looking for a tablet and Ebook reader all rolled into one powerful little machine, the Apple iPad Mini is a solid choice. Yes, it's expensive, and yes, the battery life is much lower
---
5. Kobo Libra 2 | Best Value Mid Range ebook Reader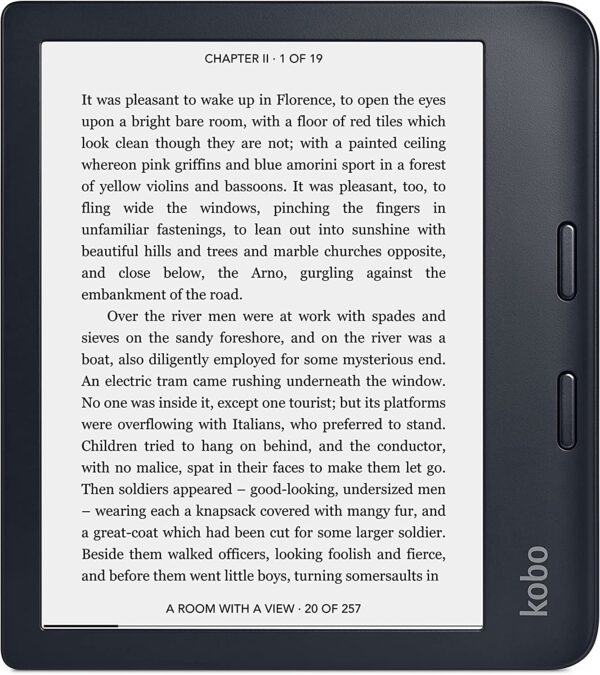 The Kobo Libra 2 boasts all of the best features of the Kobo Libra H20 with a few very important and desirable updates. There are:
tons more storage space
a USB-C charging port
built-in Bluetooth support so you can listen to audiobooks on your wireless headphones or speaker whenever, wherever.
Plus, it's only $10 more expensive than the H20!
A Welcome Upgrade
If you love the Kobo Libra H20 but were disappointed by the relatively puny 8G storage, the all-new Kobo Libra 2 is a great choice. With 32GB to play with, you never have to worry about filling your device with too many Ebooks again.
Kobo's newest Libra offering also comes with a USB-C connection, so you can charge your device using the same cable as your smartphone. Further, you can move files to and from your Ereader quickly and easily.
But the most remarkable upgrade of the Kobo Libra 2 compared with its H20 predecessor is the addition of Bluetooth connectivity. Before, listening to audiobooks via wireless headphones was impossible, but thankfully, those days are gone.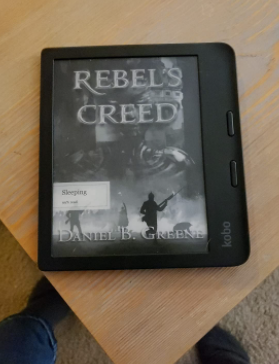 Read in the Bath, On the Beach, or by the Pool
Just like the Kobo Libra H20, the Libra 2 is fully waterproof, allowing you to relax in the bath, chill by the pool, and hang by the shore reading your favorite ebooks without worrying about dunking your device.
And for those sunny days spent outside, the 7″ glare-free display with E ink technology makes it easy to read in even the brightest natural light. Plus, the ComfortLight PRO adjusts the brightness of your screen depending on your environment and reduces harmful blue light that can keep you up at night and damage your eyes.
Pros
32 GB storage
USB-C charging port
7″ HD E Ink Carta 1200 touchscreen
Waterproof
Easy to handle asymmetric design
Bluetooth connectivity
Cons
Doesn't support Kindle books
Verdict: Overall, the Kobo Libra 2 is a great value device that retains all the best features of its predecessor and adds some cool new ones too. At just $10 more than the old H20 model, it's well worth the upgrade.
---
6. Kindle Paperwhite Kids – Best Ereader For Kids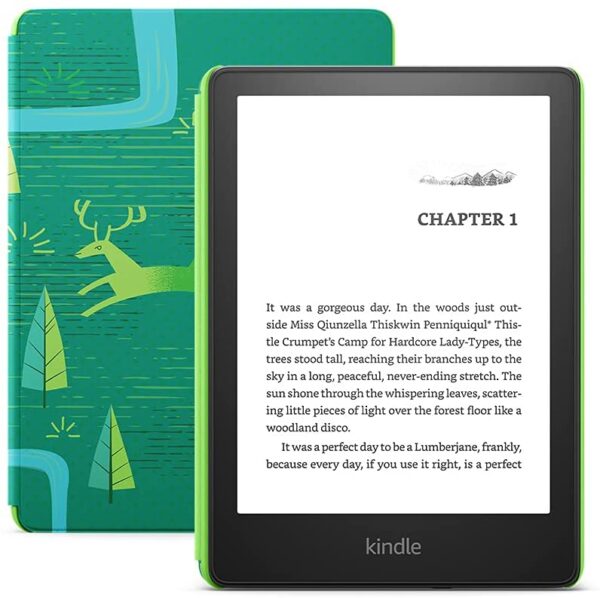 The Paperwhite Kids is Kindle's latest and greatest offering for younger digital readers. It boasts all the same features as the basic Kindle Kids model, but with some pretty impressive extras and the superior specs that only a Paperwhite can provide.
Strictly for Reading
When your child is using this device, you can rest assured that they're not wasting time on social media. The Paperwhite Kids is intentionally designed with no internet access, no games, no apps, and no annoying notifications. It's a distraction-free zone where kids can immerse themselves in the joy of reading.
1 Year of Amazon Kids+ for FREE
When you buy the Kindle Paperwhite Kids Edition, you automatically receive one year of Amazon Kids+ thrown in for free. This gives kids access to thousands of books across all reading levels, plus 1000+ Audible books too.
There are all the top titles you'd expect, like the complete Harry Potter Series, and classics like The Hobbit, along with most major modern publications. You can also add new titles from the Kindle Store.
Parental Controls Dashboard
It's easy to stay in control of what your children read with the parental controls dashboard. You can set age filters, add and remove books to your child's library, set educational goals, and even monitor their reading progress.
Builds Reading Skills
This Ebook reader has some innovative tools for younger bookworms who want to challenge their reading skills.
The Word Wise feature found on most titles for younger readers gives quick and easy definitions above more complicated and unfamiliar words to help kids build their vocabulary and keep reading seamlessly, even if they're faced with a new word.
The Vocabulary Builder then automatically stores these words and creates a flashcard giving the definition and how it can be used.
A Step Above Kindle Kids Edition
If your children already own a Kindle Kids Edition Ereader, you might be wondering if the Paperwhite Kids is worth the extra $50. The short answer is yes. The Paperwhite version has all the same kid-friendly features as the basic model and some impressive extras.
There's an additional 0.8″ on the screen size, making larger pages of text easier to read and removing the need to frequently zoom in and out. Plus, the Paperwhite's 300 PPI offers almost double the clarity of the regular Kindle Kids Edition.
The Paperwhite Kids also has 17 built-in LED front lights, compared with the basic version's 4, plus it's waterproof and has an adjustable warm light for reading inside and outside, day and night.
Pros
Access thousands of books with a free subscription to Amazon Kids+
Designed for reading with no distractions
Parental controls dashboard
Tools to develop reading skills
Adjustable warm light
Verdict: If you're looking for an e-reader specifically designed for children, then the Kindle Paperwhite Kids is your best bet. It's a little more expensive than the basic Kindle Kids Edition, but the upgraded specs and features make it well worth the extra cost.
---
7. Barnes & Noble Nook GlowLight Plus 7.8″ eReader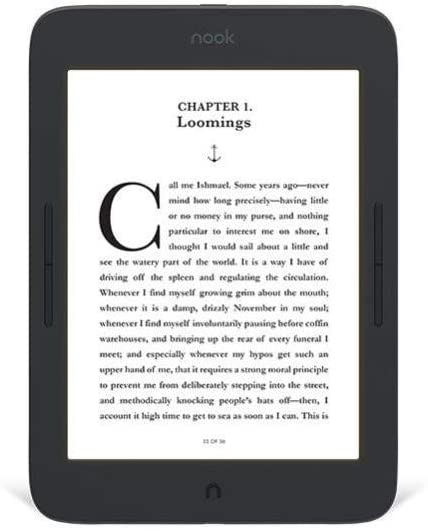 At the same price range as the Kindle Paperwhite, this Android-based Nook Glowlight 3 from Barnes and Noble has features that are really irresistible to many ebook fans.
Bright, Crisp Screen with Soft Glow
The Nook Glowlight Plus features a 7.8-inch screen size, making it competitive with other larger ebook readers.
What's more — the screen resolution is 300 dpi – the same as other high-end e-reading devices.
With the GlowLight® Illumination feature, the screen emits an ambient light that can be adjusted manually to match with the surrounding environment.
However, the light sometimes seems uneven around the edge of the screen. It won't affect your reading, but this is something that could be improved.
Glare-free, scratch-resistant and fingerprint-resistant, the Glowlight Plus screen promises to bring the same experience to the eye as any other fancy ebook readers.
Perfect Ereader for Poolside Bookworms
The Nook Glowlight Plus obtained an IP rating of IP67. It means the device can be immersed in up to 3.28 feet of water with no damages within 30 minutes.
The rating also indicates that the Nook is dust-tight — no dust can get inside!
This allows you to read in a variety of environments. Reading in the bathroom and on the beach is much safer with the device.
You never have to worry about it getting damaged while you read with wet fingertips, or if you drop it onto a sandcastle.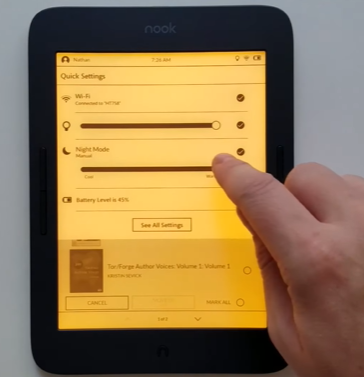 Supports PDF and EPUB
The Nook GlowLight Plus supports Adobe DRM ePub and PDF files, which most Kindles do not. This makes it handier for when you want to read your papers in PDF at times.
Unfortunately, while supporting PDF, the Nook doesn't welcome many other popular text formats. It cannot read .doc, .docx, MOBI, or PRC — the common format of many new ebooks.
But that's when the Android platform comes in hand.
Android OS for Third-party Apps
Most PC users are very happy with the fact that the device operates on Android.
This allows you to install third-party apps on the device via a USB cord. It has 6.4GB of storage that you can access, too!
So while the device cannot read PRC and other formats by itself, you can download apps to solve the problem.
If you buy books often from Amazon, install Kindle. You can install other apps and launchers to read other file formats, too!
Hold on Tight!
One negative aspect of the Nook Glowlight Plus is the shell. While the smooth shell gives it a sleek, fancy appearance, it also makes it easier to slip and drop.
It feels pretty insecure when you hold it in one hand. In addition, the Nook ecosystem is not comparable to Amazon.
Then again the Android compatibility easily makes up for that.
Pros
Supports PDF and EPUB
Runs on Android
Can install third-party apps
Big Barnes and Nobles library
Waterproof and dustproof
Page turn buttons
Blue-light reduction
Light, soft-touch plastic
Cons
Slippery shell, easy to drop
Uneven lighting
Doesn't support audiobooks
Verdict: If you're a casual reader and Android enthusiast, you'll most likely be happy with the Nook Glowlight Plus.
---
8. Kobo Forma | eReader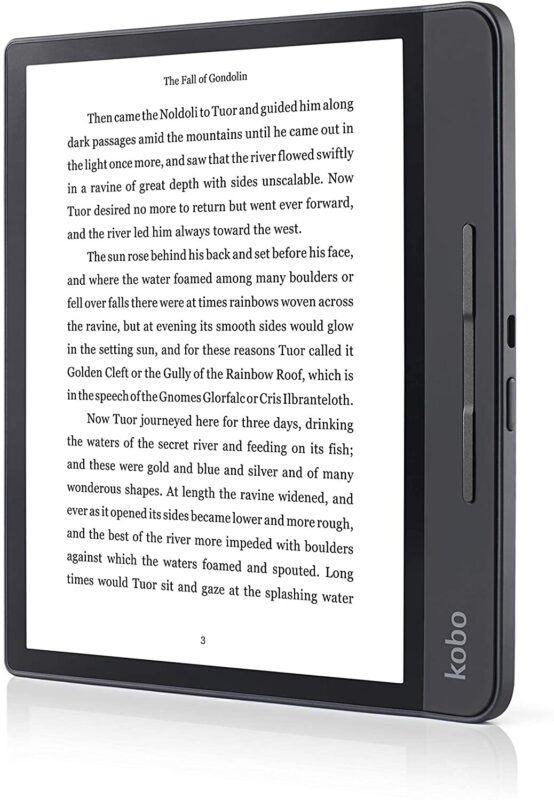 Until recently, the most premium Kobo device was the Kobo Aura H2O, which was last updated in 2017. However, Kobo released the Kobo Forma in 2018, which has several upgrades compared to the Aura H2O.
The Kobo Forma is lighter than the Aura H2O and has a plastic screen that is more durable.
And while the Kindle Paperwhite is now waterproof, we still prefer the Kobo Forma for reading at the beach, waterpark, or in the bathtub.
Read on to find out why this is our top choice for the best waterproof ereader.
Waterproof: Read in the Bathtub
The Kobo Forma comes with HZO Protection™ technology.
It's coated with an extremely thin layer of special material, which protects it against damages when dipped in water for an entire hour. No more blow-drying the damp pages of a paperback!
So, stock up on Mr. Bubble, and if you happen to be outdoors and there's a sudden rain or your spill your latte in your lap, your Kobo is the last thing you have to worry about.
And it's also dust-proof, so it's safe to tote it to the beach.
This tough performer is obviously kid-friendly. Juicebox spills and trips to the sandbox won't hurt it.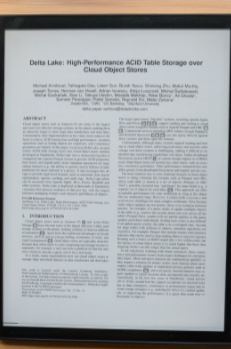 8-inch Screen and 300 ppi
Many book lovers prefer the Kobo Forma for its screen size.
Much bigger than the Kindle screen (which is 6"), the increase in width and length makes the Forma look more like an actual paperback.
Despite the bigger size, the Forma is surprisingly lightweight. It's lighter than the Aura H2O at 6.9 oz or 197 g.
Like its older sibling, the Kobo Forma has a glare-free screen for reading in strong sunlight. Its resolution is an improvement at 300 PPI, which is the same as the Kindle Paperwhite.
Incredible Storage Space
The now-discontinued Kobo Aura H2O featured an on-board memory of 8GB and held up to 6,000 eBooks at once.
However, the Kobo Forma can hold up to 32GB of storage if you purchase the 32GB option, which is only $50 more than the 8GB device.
This gives the Forma the ability to hold more than 20,000 ebooks!
Customize to please your eyes
One of the factors that make the Kobo Forma a very desirable reader is its customizability.
Depending on what looks the most pleasant to your eyes, you can choose among 11 different font types and 50 font sizes. Furthermore, it allows you to adjust the font weight and sharpness.
Pros
Waterproof and dustproof
Auto blue light reduction
Lightweight
Long battery life
Page turn buttons
Large, 8″ touchscreen
Large storage space
Cons
More expensive than other Kobo e-readers

Ecosystem not as smooth as Kindle's
Verdict: The Kobo Forma is your best bet for a waterproof e-reader.
---
9. Kobo Libra H2O | 7″ HD E Ink Touchscreen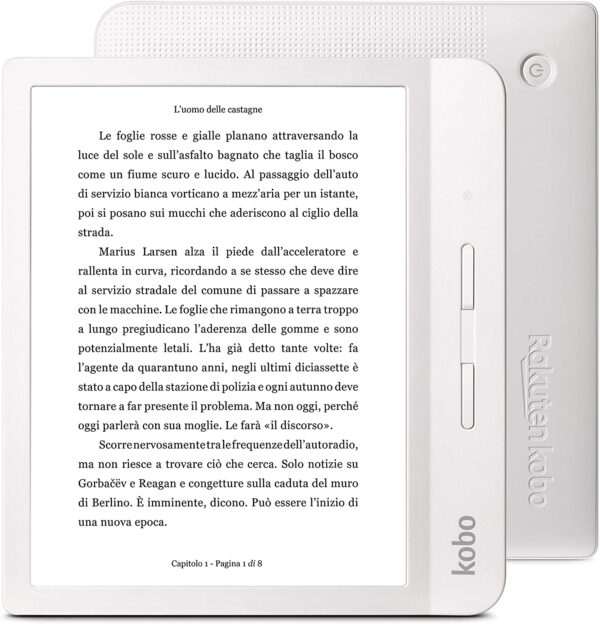 The Kobo Libra H2O is smaller in size and weight than the Kobo Forma, but this great ebook reader comes with many of the beloved features also available in other Kobo devices.
The lower price point, the variety of supported ebook formats, and the updated interface design all make this ebook reader our top pick for students.
Like the Forma, the Kobo Libra provides an excellent reading experience. And like the other Kobo series eBook readers, the Libra is light and waterproof.
Plus, this e-reader has several public library options available.
Read on to learn more about why the Kobo Libra H2O is our pick for the top ereader for students.
Not Too Big, Not Too Small 
The Kobo Libra is smaller in size compared to the Kobo Forma. With a 7" screen it is somewhat easier to carry around, but the difference is not big enough to impact the readability.
Student-friendly Design 
Amazon devices mainly read eBooks bought through Kindle. You can convert other files using Calibre to use on a Kindle device, but this process isn't very promising.
However, Kobo devices can read documents in many different formats, including EPUB, EPUB3, PDF, MOBI, JPEG, GIF, PNG, BMP, TIFF, TXT, HTML, RTF, CBZ, and CBR.
This feature comes in handy for students or readers who need to review textbooks, study guides, and documents in PDF or other file types.
Kobo recently updated its interface to make the device more suitable for studying. The Libra H2O makes it easy to view all your annotations in a single menu. You can quickly and easily jump to bookmarked pages.
While Amazon Kindle devices still reign as top picks when it comes to reading for pleasure, Kobo aims to be the best choice when it comes to "reading for understanding." The features in the Libra H2O prove that the company is serious in fulfilling this ambitious mission.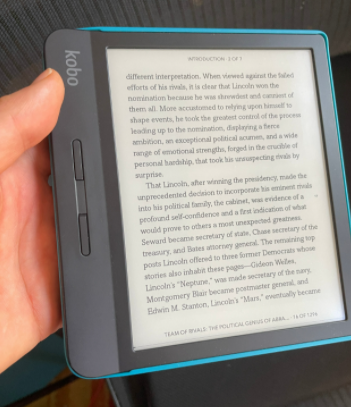 Students also have an option to browse public library collections on the Libra H2O.
Less Storage, Lower Price
The Libra doesn't have the 32GB storage option like the Forma. And you can only connect to the internet through Wi-Fi at 2.4GHZ speed. The cellular connection is not available yet.
Verdict: For its price, the Kobo Libra H2O has nearly everything a student could ask for in an ebook reader.
Pros
Waterproof
Front-lights with color-changing capabilities
Cons
Doesn't support Kindle eBooks

The audiobooks feature is not yet available

Less storage space than the Forma
---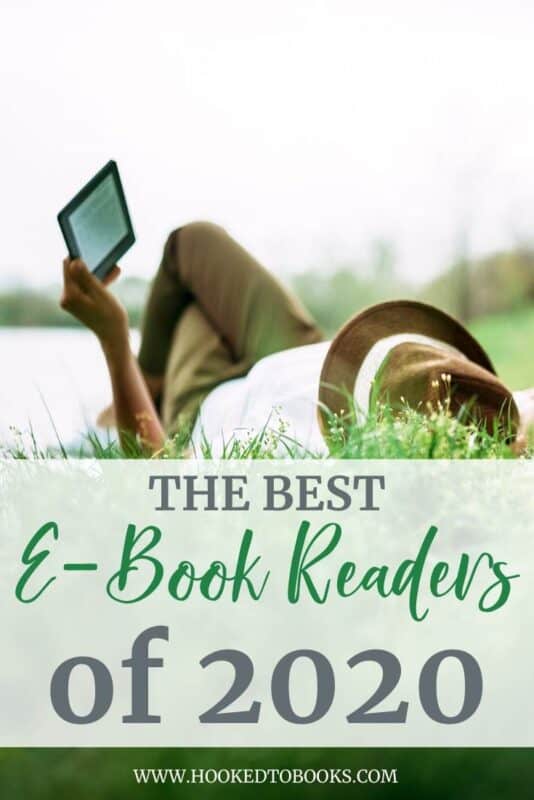 FAQs (Frequently Asked Questions)
Why are modern e-readers made with e-ink?

Most modern e-readers are made with e-ink. E-ink is a paper-like display technology that saves your eyes from strain, and at the same time minimizes the use of the battery.

An e-ink screen is bistable, which means it keeps an image even when power is off. Such a screen uses power only when something is changing, such as when you're turning pages.

This technology also allows light to be reflected from the screen back to your eyes, much like normal paper does.

Meanwhile, an LCD screen uses a backlight, which emits light directly to your eyes and strains them. This is why you need a separate reader, and not a phone or tablet to read your ebooks.

Thanks to the screen being bistable reflectivity, it works on very little energy. This is the reason your Kindle lasts for weeks if not months on a single charge.

However, a not-so-welcomed feature of the e-ink technology is that flashes appear when turning page. In particular, there will be a "ghosting" image of the old page on the new one.

This flashing has significantly improved in the new versions, but if you're new to e-Ink, you may find it somewhat annoying at first. Keep in mind, though, that your eyes and brain will get used to it after a while and the flashes will be barely noticeable at all.

Electronic ink is a complex technology, and you can learn more about it on Wikipedia.
What is it about the 3G version?

With the Kindle Basic being the only exception, all Kindles comes in two versions: Wi-Fi only, and Wi-Fi plus 3G connection. The 3G connection allows you to download books from places where Wi-Fi is not available.

The cool thing is, although the version with 3G is more expensive, you only pay for it once. No monthly fees or commitments needed, Amazon will pay the connection fee when you download books.
Which ebook reader supports the most formats?

Kobo ebook readers support the most file formats. The devices support 14 file formats, including: EPUB, EPUB3, PDF, MOBI, JPEG, GIF, TIFF, TXT, PNG, HTML, BMP, RTF, CBZ, and CBR.

However, Kindle files and Apple iBooks are not supported.
Who should buy the 3G version?

The 3G connection is built-in Kindles with the idea that a Wi-Fi hotspot connection is not always available, especially remote places like on a mountain or at a beach far away from the busy city.

This feature is of great usefulness for travelers, and for readers who spend a lot of time in places without a Wi-Fi connection. It makes sure you can still enjoy your favorite books on your way trotting the globe.

If you spend most of your time where there is a high-speed wireless connection, you should be fine with a Wi-Fi Kindle.

You can always download and store the books you want in the Kindle to read later.
What is ppi?

PPI is a term used very often to describe the screen resolution of e-readers and other electronic devices such as computer monitors, smartphones, or cameras. Sometimes, the term "dots per inch" is used instead.

PPI stands for "pixels per inch", or the number of illuminated points on a display screen. The higher the ppi number is, the higher the pixel density should be.

Generally, on two e-reader screens of the same size, the one with greater ppi will produce crisper text, sharper images, and clearer lines, and is thus considered better.

However, most human eyes cannot tell the difference when the resolution is higher than 300 ppi. Therefore, producers of ereaders rarely make screens with more than 300 ppi.

But how much ppi should an ereader screen have for the ebooks to be readable? About 150.

Newspapers usually have a resolution of 170 ppi. At a normal reading distance, human eyes can recognize images, words and letters printed on a newspaper with no difficulty.

As e-readers are usually viewed from the same distance, a screen resolution of about 150 to 300 ppi should be efficient.
What are Special Offers?

Special Offers are sponsored ads, product recommendations, and deals that appear on your screen when you are not using the device. Kindles free from those ads cost slightly more than the ones with special offers.
Will Special Offers affect my reading experience in any way?

Not likely. As mentioned earlier, the ads will show only as screensavers when the device is in sleep mode, and won't show during your read.
Should I pay to opt out of Special Offers?

Personally, I wouldn't pay an additional $20 to opt-out of something that doesn't affect my reading.

In fact, I like to look at the ads sometimes to see if there's a chance I can buy books at cheaper prices than normal, or if there are discounts for the latest music shows.

Then again it's a matter of personal preference, and if you really don't like any ads on your device, it's not too high of a price to get rid of them.