Ebook Readers have distinct advantages
Tired of lugging around a stack of books — but reluctant to embrace the convenience of an ebook reader due to concerns about eye strain? Those days are finally over. Today's models have come a long way, and we've created a comprehensive guide of the best ereaders for our blog that we're thrilled about.
If you're finally ready to "cross over" into the world of ebook readers, read on:
Light and handy, today's e-readers come to your rescue with thousands of book stored in a few ounces, while retaining the visual appeal and feel of a real paper page to your eyes. Even better? The latest models have a battery that lasts for weeks.
But which ebook reader should you buy?
You've come to the right place for the answer. But the best ebook reader for you depends on what features you are most interested in.
If you came to this post solely wondering if you should buy a Nook vs. Kindle, you're in for a treat. We have detailed information on more ebook readers than just these two.
Check out our comparisons between the most popular e-readers, with detailed information on each kind, and why you should (or should not!) buy them.
Top 7 Best Ebook Readers 2019
For a quick overview, this table features the very fundamental differences among the devices. Click on a product name to see the detailed review and find out why it secures a place in our list of the best ereaders 2019.
Per our observation, the Paperwhite is by far the most popular version of all Kindles. There's a reason for that, as the device offers a remarkable upgrade in terms of reading experience when compared to the Basic.
Pros
Adjustable built-in light, easy to read in darkness
High resolution, crisper lines
Good typography
Long lasting battery
Cons
Doesn't include charger
Not waterproof
Technical features of the Kindle Ereader family
The Kindle Paperwhite in comparison with the Kindle Basic
Paperwhite
Basic
Display
Paperwhite Built-in light
E Ink Pearl (No Built in Light)
Resolution
300 ppi*
167 ppi*
Weight
Wi-Fi only: 7.2oz (204g)
Wi-Fi + 3G: 7.6oz (215g)
5.7oz (162g)
Battery life
6 weeks (wifi off)
4 weeks (wifi off)
Screen
6" glare-free touchscreen
6" glare-free touchscreen
*ppi stands for pixels per inch. Learn more about ppi in FAQs
300 ppi vs. 167 ppi – what the difference in resolution means
The most noticeable enhancement in the Kindle Paperwhite, as opposed to the Basic, is its excellent resolution. A higher pixel density translates to much sharper, finer text, and cleaner lines. You can visualize the difference in the crispness of the text displayed in the Paperwhite and the Basic as that between a modern magazine and an old textbook.
4 built-in LEDs vs. none – reading in the dark
Oh, to be able to read in the dark without disturbing our partners with the glare of a lamp or the sound and motion of turning pages! This is where the Basic is really outperformed by the Paperwhite.
The Paperwhite has Kindle's much-loved signature glare-free screen for reading in strong light, plus four built-in LEDs.
An important distinguishing feature of the built-in lights is that they shine evenly onto the page instead of your eyes, as most smartphone and tablet screens do. This frees you for eyestrain, even after hours and hours of reading. When the lighting environment changes, you can manually adjust your screen brightness — there are 24 levels.
More points for the Kindle Paperwhite: its lighting minimizes the disturbance to those sharing the same space with you. You know how annoying it is when you're asleep in a dim or dark room, and out of the blue, a phone screen flashes on. With its pleasant glow, this e-reader ensures you can sneak a read without getting busted for waking your bedmate.
An increase of 30% in battery life
With four additional LEDs and a screen of much higher resolution to support, the Paperwhite weighs just over an ounce more than the Basic. I had thought that it would be inferior when it comes to battery life. In fact, it's quite the opposite. Used 30 minutes a day with wireless off, its battery lasts for 6 weeks.
That's 2 weeks, or more than 30 percent, longer than the Basic version.
Overall, the Paperwhite retains all of the Basic's advantages of an Amazon's ebook reader. It's made with the same material, same design, and also uses e-ink technology to feel like paper to the eyes. The library is much the same, except that you now have a Wifi plus free 3G version, which allows you to download books from where wifi connection is not available.
Nevertheless, it is a total upgrade in terms of screen resolution, lighting, and battery life. All the improvements and it is sold at a price that can't be any more reasonable. This is by far the cheapest Kindle with high resolution and adjustable front light.
If you're a book lover who reads often in various environments, and wants a screen display that is pleasant to the eyes, go with the Kindle Paperwhite. There's a reason it gets the best votes among all Kindles.
2. Kobo Aura H2O – Best Waterproof Ereader
Since the launching of its first version in 2014, the Kobo Aura H2O has been attracting great attention from ereader fans. A waterproof ereader, finally!
And just currently, Kobo announced the New Kobo Aura H2O. It comes with loads of updates. It's stronger waterproof, lighter, more pleasant on the eye, has more font styles, has more onboard memory than the old version. And yet the price stays just the same!
Pros
Waterproof + dustproof
Auto blue light reduction
Excessive storage capability
Long battery life
Flexi customization
Cons
Ecosystem not as smooth as Kindle's
Let's take a look at a rough comparison: the Kobo Aura H2O 2017 vs. the Kobo Aura H2O 2014

| Feature | Kobo Aura H2O 2017 | Kobo Aura H2O 2014 |
| --- | --- | --- |
| Screen | 6.8" touchscreen | 6.8" touchscreen |
| Resolution | 265 ppi | 265 ppi |
| Waterproofness | 60 min in 2 m of water | 30 min in 1 m of water |
| Blue light reduction | Yes | No |
| Weight | 7.3 oz (207 g) | 8.2 oz (233 g) |
| Storage | 8 GB | 4 GB |
| Number of font sizes | 50 | 24 |
| Price | $179 | $159 |
Waterproof – read in your bathtub
The New Kobo Aura H2O comes with HZO Protection™technology. It is coated with an extremely thin layer of special material, which protects it against damages when dipped water for an entire hour. That's double the depth and double the duration it can stay safe against liquid submersion compared to the older version. Plus, no more blow-drying the damp pages of a paperback, right?
SO stock up on Mr. Bubble, and if you happen to be outdoors and there's a sudden rain or your spill your latte in your lap, your Kobo is the last thing you should worry about. And it's also dust-proof, so it's safe to tote it to the beach.
This tough performer is obviously kid friendly. Juicebox spills and trips to the sandbox won't hurt it.
6.8″ screen
Many book lovers prefer the Kobo Aura H2O for its screen size.
In fact, it's not too much bigger than the Kindle, a difference of 0.8 inch in particular. Yet the small increase in width and length makes it look closer to an actual paperback. Despite the bigger size, the New Aura H2O is surprisingly lightweight. It's lighter than the old one at 7.3 oz or 207 g, and weighs almost the same as the Wifi-only Paperwhite (7.2 oz).
Like its elder sibling, the Kobo Aura has a glare-free screen for reading in strong sunlight. Its supported number of pixels per inch is still 265, slightly lower than the Kindle Voyage (300). However, the difference of a few dozens of ppi is barely noticeable, and the New H2O has an awesome feature to make it up anyway…
Less blue light when you read at night
A feature that significantly distinguishes the New KoBo H2O from the older version as well as all Kindle ereaders is the ComfortLight Pro. The device automatically increases the amount of blue light emitted by its screen as the sun's up, and decreases it as the night comes.
For the night owl readers, this is icing on the cake! You can now read in bed at night without worries about your sleep quality. As the screen brightness is adjustable, you can dim the device to make it more pleasant looking in the dark.
Doubled on board memory, removed microSD
The older version of the Kobo Aura H2O comes with a microSD card reader. This allows the user to expand its memory to several dozens GB. While the idea sounds interesting, not too many readers find it practical, especially when most use the device to only read and download ebooks.
In the new Kobo Aura H2O, the reader is removed, and it instead features an incredible on-board memory of 8GB. It can hold up to 6000 eBooks at once, a larger capacity than any Kindle can currently offer.
Customize to please your eyes
One of the factors that make the New Aura H2O a very desirable reader is its customizability. Depending on what looks the most pleasant to your eyes, you can choose among 11 different font types, and 50 font sizes. Furthermore, it allows you to adjust the font weight and sharpness. This is a feature paperbacks can never offer, and even on the best Kindle, the range of choices has never been so broad!
Verdict: The Kobo Aura H2O 2017 is the best bet for a waterproof ereader that is easy on both the eyes and the wallet.
3. Kindle Voyage – Ereader for the Professional
After its release in 2014, the Kindle Voyage was praised by Engadget as the best e-ink reader that Amazon had ever crafted. Today, Amazon sells it at a price equal to that of the Paperwhite plus a Basic. Wondering if the higher price tag translates into significant superiority in quality?
Pros
Designed to be held in either hand
Better visual effect with high resolution + self-adjusting lighting
Modern design with real book feeling
Long lasting battery
Cons
High price tag
Doesn't include charger
Not waterproof
Read singlehandedly
The Kindle Voyage is one of the easiest e-readers to be used with one hand. It's not the smallest nor the lightest, mind you, but its smart functions truly make a difference.
In other models, you have to touch the right side of the screen to page forward and the left side to page back. Even when the buttons are re-introduced on the fancy Oasis, they stay only on one side. You'll have to flip the device when you want to change your hand.
Meanwhile, the Voyage comes with a pressure-sensitive line and dot on each side of the screen, which allows paging forward and backward with a subtle press of the thumb. You can set feedback to confirm the turning, which clears worries about accidental multiple flipping.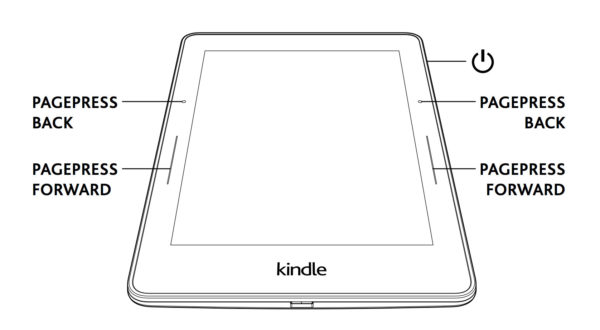 As a bed-reader who loves to enjoy books while lying on one side, I particularly appreciate this function. It minimizes movements on the lower hand, with which I hold the device, and eliminates the need to use my upper hand to turn a page.
Smartest lit Kindle with light sensor
The Voyage is by far the most enhanced version of Kindle in terms of lighting. Not only because it has 6 LEDs, 2 more than the Paperwhite does, but also because it's the only Kindle equipped with a light sensor. Basically, the e-reader takes the burden off your eyes by adjusting itself in accordance with the surrounding environment.
Another cool thing is, some time after you start reading, the front light automatically lowers screen brightness. This matches the way the eye responds to darkness, and saves your eyes from strain. I see it as a very impressive feature of this device.
Magnesium + glass vs. plastic – enhanced classiness
Honestly speaking, the Paperwhite and the Basic do not look like fancy items. The Voyage, meanwhile, has a durable magnesium back with raised angular edges, and a specially-reinforced glass front. This gives it a sleeker and more modern appearance compared to the other two. The glass screen, despite looking shiny, has been micro-etched, which means it stays glare-free in the brightest sunlight. Put inside its origami leather case, the gadget looks even classier than the more expensive Oasis.
Compared to the Paperwhite, the Kindle Voyage is with no doubts a much more desirable ebook reader. It has a smart design for reading with one hand, flexible lighting options, and sleek and fashionable appearance. Whether those factors are worth a surge in the price, however, is a matter of personal preference.
If you're a professional reader who opts for a higher-end reading experience but doesn't want to break the bank, it is the device we highly recommend using.
4. Kobo Aura One – Best Ereader For the Eye
This. Kobo made it: A waterproof ebook reader with big screen and warm screen light for reading in bed at night!
Pros
Big screen size, close to real book
Adaptive front lighting
Reduces blue light emission at night
Waterproof, dust proof
Can connect to local library
Various font size (11 different fonts and over 50 font styles)
Cons
Heavier (8.1 oz or 230g) than most Kindles
Does not have Amazon's ebook system
Real book feeling
The Kobo Aura H2O has a giant screen: it's a 7.8" HD Carta E Ink touchscreen with a resolution of 300 dpi, the same as the latest Kindle ebook reading device. It's pretty thin, however, at 6.9 mm, and is lightweight for its size at 8.1oz, around the weight of the Kindle Oasis in its charging cover.
To many people, the exceptionally big e-ink screen is a huge selling point. It is closer to the size of a physical book, but has all the convenience and portability of an ereader. For those who read a lot of PDFs and textbooks, it is by no doubt much more accommodative than Amazon Kindle's 6" screen. In addition, the larger screen is also more supportive to people that read in large font sizes – it significantly reduces the need to turn page after every 3 lines!
As someone with tiny hands and short fingers, however, I'm not particularly excited about the screen size. The large but thin device makes me feel out of proportion when I hold it. I feel much better holding the Kindle Oasis in one hand. In addition, I prefer a smaller screen size because it means I don't have to dart my eyes left and right in order to finish a line.
However, there's another feature of the device that I'm totally sold on…
Warm glow for the night owl
The Kobo Aura One comes with nine white LEDs and eight RGB LEDs around the frame. It's one of the very rare ebook readers on the market with RGB LEDs. And they are truly the icing on the cake!
These LEDs can combine together to yield different color temperature of the screen light. Kobo takes a great advantage of this, and set up an automatic brightness and hue change on the Kobo Aura One screen.
If you set the automatic mode on, during the day, your screen will be bright, white, and cool with a tint of blue. As the day advances into the late afternoon, the screen light starts to become softer, and the color temperature drops into a warmer shade. This mimics the changes of light in nature during a day, and minimizes disturbances on your circadian rhythms. The warm glow it emits at night helps you to get to sleep easier than normal white LED screen.
Waterproof!
Like its sibling Aura H2O, the Kobo Aura One features HZO Protection™ technology. And it's even more advanced: it can stay safe in the water at 2 meter deep in an entire hour.
Not that I know of anyone who likes to read under water, but the waterproofness can be extremely useful when you read at the beach or a swimming pool.
We wouldn't recommend washing it with your bath milk, but if you accidentally drop it into your bathtub while enjoying your books, just pick it up, wipe it, and it'll work like a charm.
Overdrive – Get free books from your local library
While many consider the Kobo's ecosystem and library as not as great as that of Amazon Kindle's, it has another great feature: the built-in Overdrive.
This Overdrive allows you to browse ebooks directly from your local library. All you have to do is to enter your library card number, and poof! You can now borrow, return, reborrow, and download free ebooks from the library!
While you cannot add multiple libraries to your account, there's a workaround to it. Just keep logging in and out using different library cards, and you should be able to browse books from the libraries you want!
Sold at about $220, the Kobo Aura One is in the same price range as the Kindle Voyage. While it doesn't have the page turn sensor or Amazon's ecosystem, it is superior in many ways. It is waterproof and dustproof, has a larger screen, has adjustable light color temperature, and more font sizes to choose from.
If you're a bookaholist who does a lot of reading at night, this is the best device for you.
5. Kindle Oasis – Best High-end Ereader
If you're shocked at the cost of the Kindle Oasis, you're not alone.
I had to look twice at the price tag to make sure Amazon is really selling it for $289.99. In their defence, it's not that expensive for an electronic device, but still… We are all used to Kindles being incredibly cheap, aren't we?
But I went immediately from "seriously?" to 100% convinced after trying it out on (a friend's) device. The reading experience this device offers is of excellent quality. This is an e-reader for the top one-percent customers of Amazon.
Pros
Smart design, friendly to the fingers
Auto-rotate screen
Bright lit
Thin and light
Battery lasts for months
Cons
The most expensive of all Kindles
Not waterproof
The only Kindle with grip – Read with your fingers rest
Have you ever attempted to read with an iPad or an older ebook reading device held in one hand? Unless it perfectly fits in your palm, which is rarely the case, you will most likely agree with me in this: it feels a little awkward.
Fun fact: the thinner the device, the harder it is to hold it with four fingers and move your thumb while reading. This is because our fingers's natural position is to curl up, as when you're asleep. They are not happy having to grip a surface while stretching straight over a long period of time.
Hence the emergence of a handgrip on the Oasis. The grip helps shifting the center of gravity to your hand, its thickness allowing your fingers to curve to their natural position. Thanks to this, your hand will be at its comfy resting stage for most of the time. Even a read of several hours won't tire it out. The grip serves a visual purpose as well – it simulates the spine of a paperback. This is the closest to a real book an electronic device can get.
The only new Kindle with buttons – Feeling classic
Though the touchscreen is a revolution on Kindles, many loyal users can't help but feeling nostalgic about the buttons on the first generations of the ebook reader line. They miss the feelings of the real physical buttons on the tip of their thumb. They miss the old days when accidental multiple page turn was never an issue.
I don't know if Amazon had that in mind when they designed the Oasis, but the re-introduction of the buttons on this device is a great move. Only this time, the buttons are longer, more dedicated, and feel better on the thumb.
The only Kindle with a rotating screen – Choose which side you're keen
You may have noticed from the pictures that the buttons and grip are only on one side of the device. Wondering what if you're left-handed or want to use your other hand to hold the e-reader sometimes?
Here comes another distinguishing feature of the Oasis: an automatically rotating screen. Whenever you flip the device, the book will spin itself to match with the direction your eyes are reading with. This is the only Kindle model that supports the rotation, making it the best to be held in either hand.
The lightest and thinnest of all Kindles
Thanks to its smart design and square-like shape, the Oasis is by far the lightest and thinnest Kindle on the market. Without cover, it is 28% lighter and 56% thinner than the Voyage. It is designed to feel the closest to a sheet of paper, Amazon says.
10 built-in LEDs – adjust them as you please
When it comes to lighting, the Oasis is brightest and most evenly lit of all Kindles. It has 10 built-in LEDs, 60% more than the Voyage, the version closest to its price range. As bright as it is, it retains Kindle's magic front-light feature: the lights shine onto the 'paper' instead of your eyes.
Users who have had experience with the Voyage, especially those reading in a constantly changing lighting conditions, however, may miss the self-adaptiveness of the screen brightness. We are not sure of the exact reason, but light sensor is not a feature in the Oasis. Nevertheless, you can always adjust the brightness manually. There should be at least a few among the 24 levels to please your eyes.
Charging cover – never worry about the battery
The included leather cover is definitely a bonus point for the Kindle Oasis. In fact, it's part of the reason why the price tag is so high up. It is a power source itself, which combines with the battery of the device to top the using time up to months.
Even if you don't fancy the cover, you can always take it off and the naked device can still last for weeks. That is thanks to the newly-introduced hibernation mode, which puts the slim ebook reader to a nap to save energy when inactive. For this feature, the Oasis the smartest device when it comes to battery.
To sum up, the Oasis is the best ereader available on the market. It has a traditional Kindle's best features – a lightweight device made thoroughly for reading, an eye-friendly glareless screen, a space for thousands of books. Yet, its game-changer features bring ebook readers to a whole new level. It feels so close to a paperback, takes so long to discharge, and looks so smart in your hand, reading has never felt classier.
The Oasis is made for people who seek a first class reading experience. If money is not that big of a concern to you, this is the ereader for you.
6. NOOK Glowlight Plus – Best Android Ebook Reading Device
At the same price range with the Kindle Paperwhite, this Android based Nook Glowlight Plus from Barnes and Noble has features that are really irresistible to many ebook fans.
Pros
Supports PDF
Runs on Android
Can install third-party apps
Big Bernes and Barn library
Waterproof, dustproof
Cons
Slippery shell, easy to drop
Uneven lighting
Bright, crisp screen with soft glow
The Nook Glowlight Plus features a 6 inches screen similar to that of a typical ereader you can find on the market today. The screen resolution is 300 dpi – the same as other high-end ereading devices. It even has crisper display than the Kobo Aura H2O!
With the GlowLight® Illumination feature, the screen emits an ambient light that can be adjusted manually to match with the surrounding environment. However, the light sometimes seems uneven around the edge of the screen. It won't affect your reading, but this is something that could be improved.
Glare-free, scratch resistant and fingerprint – resistant, the Glowlight Plus screen promises to bring the same experience to the eye as any other fancy ebook readers.
If only they made it with warm screen light to read in the dark carefree too!
Perfect Ereader for poolside bookworms
The Nook Glowlight Plus obtained an IP rating of IP67. It means the device can be immersed in up to 3.28 feet of water with no damages within 30 minutes. The rating also indicates that the Nook is dust tight – no dust can enter it.
This allows you to read in more environments than the Paperwhite. Reading in the bathroom and on the beach is much safer with the device. You never have to worry about it getting damaged while you read with wet fingertips, or if you drop it onto a sandcastle.
In this respect, the Nook wins hands down over the Kindle Paperwhite!
Supports PDF
The Nook GlowLight Plus supports Adobe DRM ePub and PDF files, which most Kindles do not. This makes it more handy if you want to read your papers in PDF at times.
However, given the small screen size, I wouldn't recommend the Nook for those whose materials are mostly in PDF format. Use a tablet instead, or if you want to stick to e-ink, the Nonyx Boox Max or the Kobo Aura One would do the job in much more appropriate manners.
Unfortunately, while supporting PDF, the Nook doesn't welcome many other popular text formats. It cannot read doc, docx, MOBI, or PRC – the common format of many recent ebooks.
But it is now that the Android platform comes in handy.
Android OS for third party apps
The Nook GlowLight Plus runs with a RAM of 512MB. (I feel so old writing this. Remember when 512MB used to be the norm for PC RAM?)
Most PC users are very happy with the fact that the device operates on Android 4.4. This allows you to install third party apps on the device via a USB cord. It has 2.8GB of storage that you can access too!
So while the device cannot read PRC and other formats by itself, you can download apps to solve the problem. If you buy books often from Amazon, install Kindle. You can install other apps and launchers to read other file formats too!
The Nook is in the same price range with the Kindle Paperwhite. In fact, since it comes in ads-free, it is slightly cheaper than the Paperwhite. And it comes with high quality screen and it's waterproof!
One thing I don't like that much about it is the shell. While the smooth shell gives it a sleek, fancy appearance, it also makes it easier to slip and drop. It feels pretty insecure when you hold it in one hand. In addition, the Nook ecosystem is not comparable to Amazon. Then again the Android compatibility easily makes up for that.
If you're a casual reader and Android enthusiast, you'll most likely be happy with the Nook Glowlight Plus.
7. Onyx BOOX Max – Best Large Ereader for Scientific and Technical Books
(Currently Unavailable– check back soon for updates)
I am not sure it is appropriate for the Onyx BOOX Max to be in this list of ereaders. It uses e-ink, yes, and it reads ebooks, but it is just so… out of the range.
Pros
Screen size close to actual A4 paper
Allows handwritten notes, audio recording
Can listen to audiobooks
Allows third-party apps
Cons
Backlit
Not pocket portable
High price tag
Exceptional screen – When size does matter
At 13.3 inches, which easily larger than a MacBook Air, the Max easily stands out among a plethora of e-ink readers on the market. It's this size to serve one purpose: to read scientific papers and other academic materials in PDF.
If you have ever tried reading a PDF file on a Kindle or any other 6" screen devices, you're gonna agree with me in this: it sucks. You can't really adjust the font size, and even when you zoom the page, it won't fit into the screen. The reading experience is most of the time so poor it makes better sense to opt for the physical book.
Small ereaders are cool and portable, and they are great for reading other formats, but they are simply not designed for PDF.
Therefore, if you're a students with lots of heavy textbooks to read, or a professionals who have to work on tons of big-sized PDF technical books, you will definitely get a kick out of this Onyx BOOX Max. It displays PDF files in a perfect way – crisp, clear, properly-sized, almost the same as the way real A4 paper does. No zooming necessary.
The only thing about the screen is that it is backlit. This means the light comes from the back of the screen into your eyes, as opposed to front-lit ereaders where the light is reflected back in a softer glow. It potentially cause more strain on your eyes than a Kindle, but on the other hand, it provides more even light on the screen.
Read an ebook and take notes on it
While you read, especially when reading in a foreign language or a scientific book, there's always this need to jot down some notes. Sometimes to elaborate a term or to rephrase it, other times to add a remark. As for me, I like to draw in the book when I'm bored.
Anyway, the Onyx BOOX Max comes with an electromagnetic panel and stylus pen. This allows you to take notes or sketch directly on your ebook. Apply gentle pressure for a thin sketch and greater pressure for thicker lines, and there you go, your own handwritings and drawings on the book. This makes the ereader feel like a real textbook.
The screen does not respond to finger touch, which prevents marks from accidental brushings of your palm or fingers on the book. While this is a great feature that many appreciate, I'd certainly like to be able to use the pen and my fingertip alternatively. I'd love to be able to zoom small printed letters sometimes, without having to go to the Menu.
Additional features
Built-in Audio System
You don't pay $700 for a device only to read some books and sketch some notes on it. Onyx knows this and they integrate in the device a speaker and a microphone. You can listen to audiobooks, record your voice, and listen to music while you read.
Android Apps Friendly
The Max runs on a modified Android operating system. This translates to its compatibility with various Android apps, including apps for emails and other essential office tasks. Don't expect things to look as beautiful compared to when they're displayed on a normal tablet, though. The apps stay more functional than aesthetic, but handy enough to allow you to access and share information while you're at it.
Overall, with its incredible screen size and the ability to take notes and leave handwritten remarks, the Onyx Boox Max is currently the best ereader available for people who read a lot of technical and scientific books, especially those in PDF.