How do you choose the best reading chair? Well, it depends on what you value in a piece of furniture.
At A Glance: Our Top 5 Picks for Reading Chairs
There are lots of important aspects to look at in each reading chair. These include:
The type of fabric,
Level of quality,
The material of chair base (wood or metal),
Reclining or not,
Comfortability, and
Back support.
The best reading chairs typically have cushioned armrests, they recline slightly or swivel, and have some sort of adjustable leg rest that is either attached or detached.
Most people want to be relaxed but slightly sitting up at an angle so that they can see their book but also be comfortable.
Each of the reading chairs below is best for a particular aspect, like for comfort, affordability, or back support.
Our top pick for the best reading chair overall, is the Mid Century Lounge Chair with Ottoman. Read on for a comprehensive review of the best reading chairs of 2021.
Best Reading Chairs of 2021
If you're having trouble deciding which kind to get, think about what the perfect reading chair would have and then go from there.
1. 2021 Best Reading Chair to Buy —
Mid Century Lounge Chair with Ottoman
This is the designer chair you've been looking for. (Conveniently sold at Amazon!)
You've seen fancy leather chairs in the mall, as you walk by those designer stores… but did you know that there are models that do fit in a lower budget?
Now, this chair isn't cheap.
But it's much less expensive than the higher-end models at designer stores.
So if you're looking for aesthetic appeal to go in a reading nook, or library, this Mid Century Lounge Chair with Ottoman may be your best bet.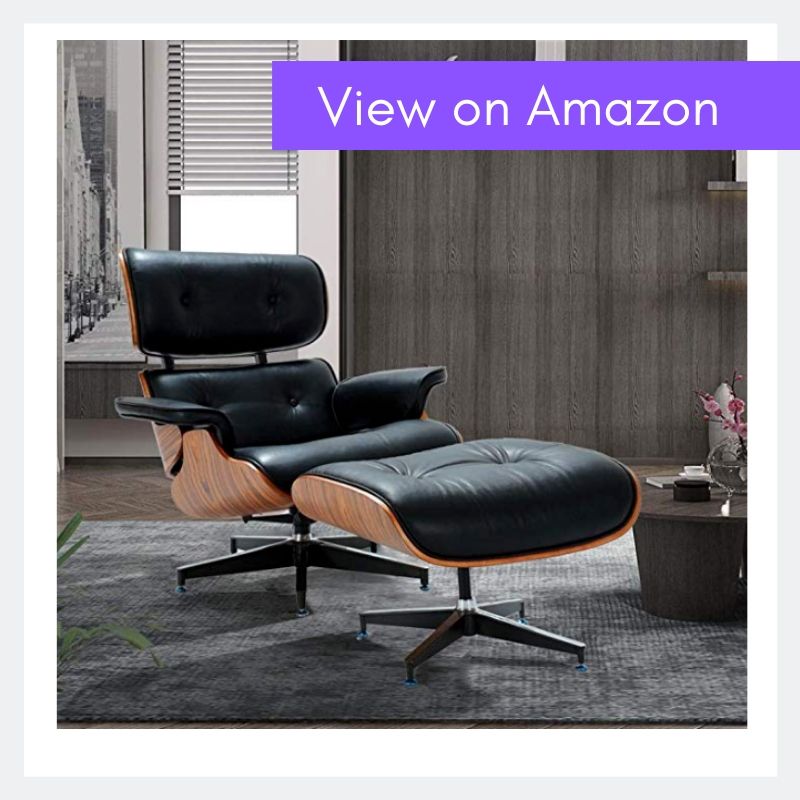 2. Best Affordable Reading Chair – Urban Shop Saucer Chair
Sometimes it doesn't take a lot of money to provide the right amount of comfort you need for a good reading chair. And not everybody has two grand to throw at a new recliner, let alone wants to.
This Urban Shop Faux Fur Saucer Chair is going to be much more affordable than most of your other options for reading chairs, with the same seamless look.
Although some similarly designed folding saucer chairs are cheaply made and don't last a long time, this chair is much better quality and a lot more comfortable.
It's even rated on Amazon as "Amazon's Choice" and has a 4 out of 5-star rating by customers.
This will be a good chair to have if you don't have a lot of space available or if you will need to put it in storage since it folds up easily.
If you don't like the gray color, there are lots of other color choices. You can get one in black, blue, blush, brown, light blue, navy, mint, silver, pink, purple, red or white.
So, lots of options to choose from to match any room.
The size of it fits most adults and young adults. It's not children's sized.
However, there are children sized chairs similar to this available if that is what you are looking for.
3. Best Reading Chair for Bad Back – Giantex Lazy Sofa Chair
Looks aren't always the most important thing when it comes to buying furniture. Of course, you want whatever you buy to match the pre-existing setup in your house.
But when it comes down to it, you probably don't want a chair that is super stylish if it means sacrificing comfort.
If you have chronic back pain, it can be hard to find a piece of furniture that has suitable back and neck support.
This Lazy Sofa Chair made by Giantex provides both the support and comfort that you need along with a clean look that will match almost anything.
The chair and matching ottoman that it comes with are covered in a coffee brown colored fabric, and both have long, sturdy wooden legs.
Most living room chairs have at most two or three positions that you can put the backrest in. That's why this sofa chair is so great, because the backrest has four different adjustment angles and the headrest has six.
This way, you are more likely to find a position to sit in that won't cause any additional pain to your back.
You can rely on this chair to last you a long time. Inside, it has a reinforced steel frame. On the outside, its linen slipcover is wear-resistant and easy to clean.
It is more than worth the cost, which isn't very high. There's no reason why this chair shouldn't last you a lifetime.
4. Best Leather Reading Chair – Flash Furniture Contemporary Leather Recliner
Leather is always a good choice for material because of how easy it is to clean spills. When other types of fabric would quickly absorb liquids, leather does the opposite by expelling them.
Something that is spilled on high-quality and water-resistant leather simply sits on top of the fabric until it is wiped off, leaving no trace behind. This also reduces the likelihood of a stain developing.
The chair comes in an attractive beige color. Other color options include black, brown, and palomino.
It will look nice with any other furniture you have around it, especially because of the dark wood base that it stands on.
The base of the main chair swivels smoothly in a circle; the matching ottoman, however, does not, it is stationary.
Once you buy this chair from Flash Furniture and it is delivered, there is very little assembly required to get it set up.
It's always a pain when you buy new furniture and then find out that it's going to take hours to build.
It has a decent price point for the quality and is a really nice reading chair. Not all reading chairs can perfectly combine looks with practicality.
5. Best Comfortable Reading Chair – Merax Chaise Floor Chair Sofa
This reading chair is amazing. It is immensely comfortable; you can even tell just by looking at the picture. It sits directly on the floor, with a little lift from the thickness of the base of the chair.
The entire chair is made with polyester fiber filling for padding and is wrapped in linen fabric. Even though it is very padded, it still has support.
The structure of the chair consists of an adjustable steel frame. You can sit in it in an upright position or lay the backrest down flat for more of a daybed function.
The armrests lay flat with the chair. You also have the option to unfold the part of the cushion that you sit on, which will make the base twice as long for extra leg comfort. You can expect to be very relaxed and comfortable while reading.
This chair is reasonably priced and not too expensive.
6. Best Outdoor Chair for Reading – FDW Hanging Chaise Lounger Chair
This outdoor reading chair is one of a kind. It has a uniquely shaped lounge chair that hangs from an arched base made of powder coated steel.
It is much larger and sturdier than you might think it is at a glance. The hanging chair is 26.7" wide, and the entire assembly is 86.6" tall. It can hold a grown adult easily without any chance of breaking or falling.
You won't find any other outdoor chair like this; it's definitely one of a kind. You probably won't need to clean it often because it's meant for the outdoors, but if you need to take it apart for cleaning, it's super easy to remove the cushion.
On the very top is a canopy made from a material that is the same color as the cushion. This canopy is important to have because it will keep your book dry in the case of a sudden onset of rain or other weather.
7. Best Reclining Reading Chair – Mcombo Leather Swiveling Recliner Chair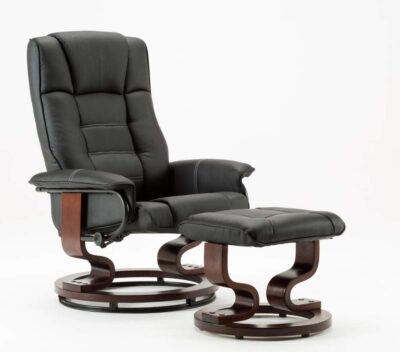 This lounge chair is extremely high quality. It's made by Mcombo, a furniture company that specializes in creating the best quality furniture for your home.
This chair would work well as a reading chair because it reclines, is extremely comfortable, and comes with a matching ottoman to prop your feet up on. Another positive aspect is the sloped armrests.
When you're relaxing and reading, nothing's worse than when your arms start getting tired from holding the book you're reading, and it causes you to have a less enjoyable reading experience.
The armrests of this reading chair with ottoman are also cushioned, rather than being made out of an uncomfortable flat wood as some other recliners have.
Not only do the armrests create an enormous amount of comfort, the shape, and angle of the headrest provides even more. It props your head up but doesn't sit too straight causing your neck to get tired.
The picture above shows the Black color, but you can also pick from their other two colors that are available: dark brown or tan.
This is one of the pricier options, but the quality alone is worth the buy. Not to mention it will look good in any type of living space.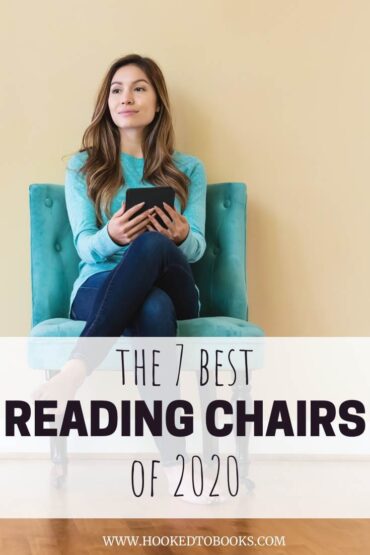 Find a Reading Chair That Suits You
There are all different types of reading chairs to choose from. You can buy one that is more for looks, one that is super comfortable, or one that provides lots of back and neck support. Or maybe you just want something that looks nice with your favorite floor lamp for reading.
Pay a little more, and you can have a chair that provides all of these features, and more.
Never settle when it comes to purchasing a beautiful and cozy reading chair. Comfort is essential!