E-readers allow you to take thousands of books with you at a single time. Plus, they provide you access to a library of millions of other books on a single device that is often smaller than a paperback book, can last weeks with a single charge, and gives you a better reading experience than a phone or tablet. Kobo e-readers have become widely accepted by many book lovers because of how convenient they are and because of how cheap books are to purchase from online book retailers.
Since e-readers have come to the market, companies are trying to find a balance between battery life, screen resolution, weight, size, and other features.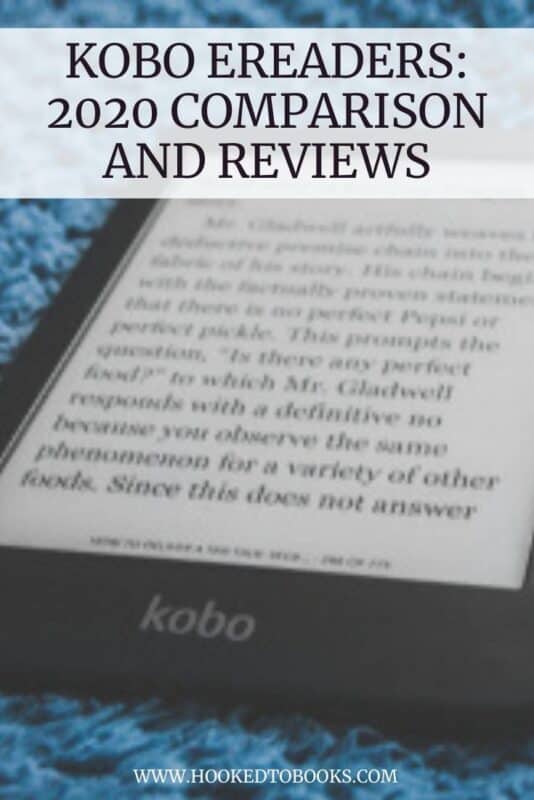 Some companies have found a balance between these elements well, while other companies haven't quite figured it out.
Because of this, there are so many e-readers on the market today, but not every single one is worth the money you spend on it.

Kobo e-readers are one of the brands that figured out how to create this balance. Because of this, they're one of the best e-readers to purchase.
Kobo e-readers are created by Toronto-based Kobo Inc. The name of the company is an anagram for the word "book".
The company has been producing e-readers since 2010 and was marketed as a minimalist alternative to a more expensive e-readers available at the time.
Kobo E-readers Comparision and Reviews
Let's get started on this Kobo e-reader review. Below you'll find a table that will compare Kobo e-readers to help you gain a better understanding of which is right for you.
| Ereader | Storage | Resolution | Display | Weight (ounces) | Dimensions (inches) |
| --- | --- | --- | --- | --- | --- |
| Kobo Clara HD | 8.0 GB | 1072p/300 ppi | 6.0" | 5.76 | 6.3 x 4.3 x 0.3 |
| Kobo Forma | 8.0 GB | 1080p/300 ppi | 8.0" | 6.88 | 7 x 0.3 x 6.3 |
| Kobo Aura One | 8.0 GB | 1080p/300 ppi | 7.8" | 6.88 | 7.7 x 5.5 x 0.3 |
Similarities Between Kobo E-readers
The screen sizes on the Kobo Clara HD, the Kobo Forma, and the Kobo Aura One are different. All three Kobo e-readers provide you with a large display, making it more comfortable to read without having to strain your eyes.
They each boast a high-resolution screen, which makes everything that you read crisp and clear.
Additionally, you'll love being able to carry around thousands of books on one device without it affecting the performance of the device. These three e-readers come with the same storage size, which makes that a natural choice when picking between these three Kobo e-readers.
All three of these Kobo e-readers boast a long battery life, so you can enjoy reading for hours without having to charge your e-reader.
Plus, on every Kobo e-reader, you can access a library with millions of books available for you to choose from. This feature is something that not every e-reader offers.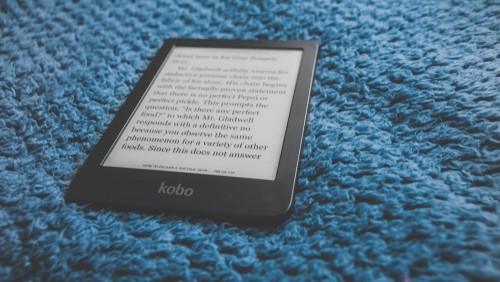 With most e-readers you have to go to the e-bookstore and purchase a book before you can read it, but not with Kobo.
Instead, Kobo allows you to access your local library to rent books and read them without having to purchase anything.
All Kobo e-readers have a unique pagination system that gives users the ability to count and reference pages separately within each chapter as opposed to the book as a whole.
All Kobo e-readers require internet connection during the initial setup phase and won't work until it has been connected to a Kobo server. Kobo e-readers support viewing HTML, plain text, Adobe PDF, and Epub e-books.
Now that you've been able to see the similarities between the Kobo Clara HD, the Kobo Forma, and the Kobo Aura One, let's take a look and see what makes each of them unique.
---
If you're searching for an e-reader that isn't made by Amazon, the next best choice for you would be the Kobo Clara HD.
It's designed with a similar 300 PPI screen, features adaptive backlighting, and the hardware feels and looks as good as an Amazon Kindle Paperwhite.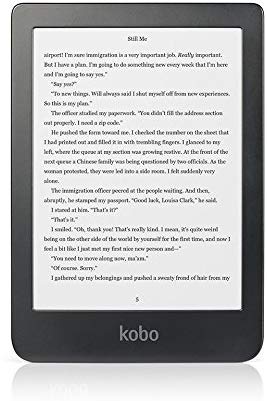 It also features a plastic body that is light but not cheap. The significant difference between the Kobo Clara HD and the Amazon Kindle is that it lacks Amazon's tightly integrated ecosystem, which means that you're unable to (for example) toggle between listening to and reading your books.
The Kobo Clara HD also isn't waterproof and doesn't have Bluetooth connectivity. Other than that, this Kobo e-reader is nearly identical to an Amazon Kindle.
Pros:
Nearly identical layout as an Amazon Kindle
Touchscreen
Easily adjusted light that won't hurt your eyes or light up the room
You can get the Overdrive app on this device so you can borrow books from your local library with ease
Cons:
Indirect sunlight there is a glare
Not water resistant
No Bluetooth connectivity
---
The Kobo Forma has an 8-inch touch screen that offers 300 PPI resolution, which makes it, so everything that you read is high quality and clear. This e-reader comes with a 1,200 mAh battery, meaning that you can read for hours without having to charge the device for up to three weeks. You can easily store around 8,000 books on this device with its 8GB of storage.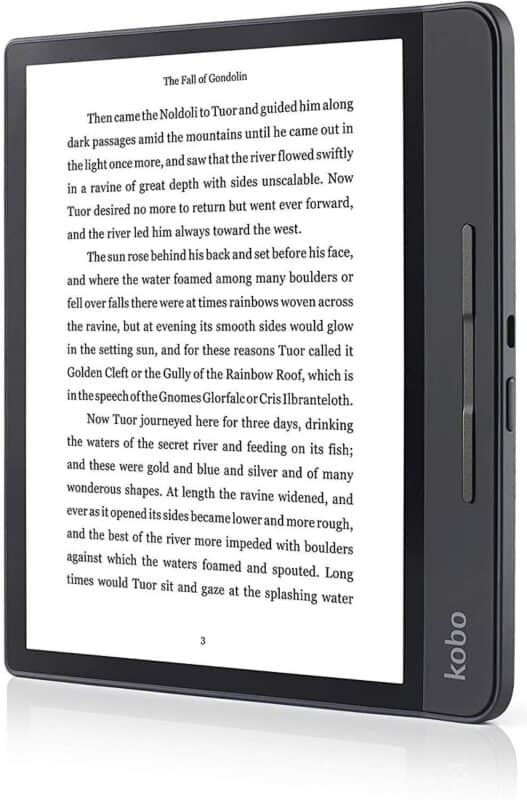 Another great thing about this e-reader is that it features an ergonomic handle and a flat back – this makes it more comfortable to hold the device when you're reading. The ergonomic handle has buttons on it that allow you to browse your books faster without having to use the touchscreen.
You can use the page-turning buttons regardless if your right or left-handed, and you can read in landscape or portrait mode or set the text to automatically change orientation depending on how you hold your e-reader. The Kobo Forma is also fully-waterproof from the inside out and is safe to use to soak in the tub, at the pool, or at the beach.
Pros:
High-resolution screen
Large internal storage
Long battery life
Large display
Fast operating speed
Comfortable to read in daylight and at night
Cons:
It won't fit into your pocket, which can make it difficult to carry around if you don't have a bag
---
With the Kobo Aura One, you get a 7.80-inch touchscreen, so you'll have a big screen to view all of your books with – it's the largest e-book reader that's ever been made. This device also has adaptive screen brightness and a Comfortlight Pro feature, which makes it easier for you to read in the sun and the dark. Plus, the night mode this e-reader has diminishes the amount of blue light that the screen emits, so you can easily relax with a book in bed without the sleep-disrupting effect of normal screens.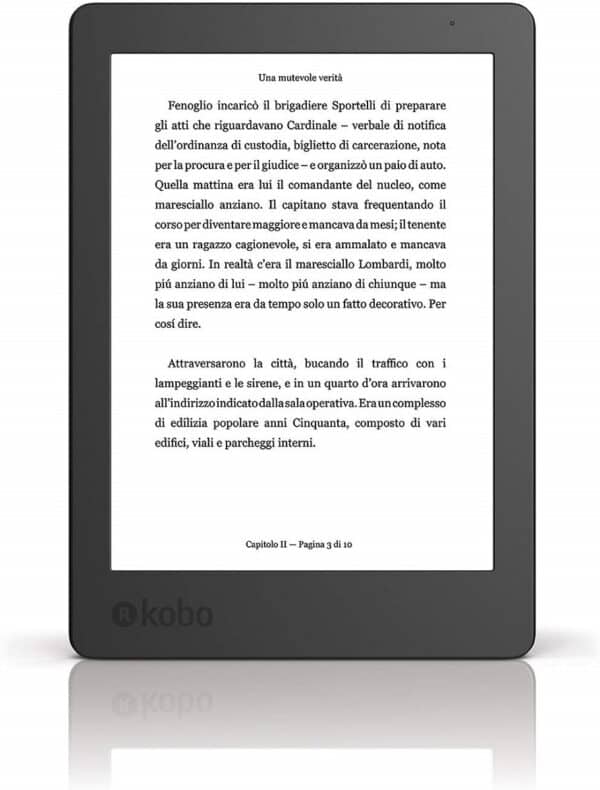 The Kobo Aura One has an extraordinary battery life of up to two months when fully charged. If you're looking for an e-reader with a large screen that allows you to read thousands of books with a single charge.
It features a waterproof design that allows it to go under six feet of water for up to 60 minutes. This means that you can use it in the tub, at the beach, or at the pool without the fear of running the device.
Pros:
Adaptive brightness
Large internal storage capacity
Wide display
Supports a variety of book formats
Water-resistant
Cons:
Too big to put into a pocket
It's hard to comfortable hold this Kobo e-reader with one hand because of how large it is
---
Kobo E-readers: Final Verdict
E-readers are life-changing. They make it easier to read when you're on the go and keeps you from having overflowing bookshelves in your home because they can hold thousands of books and can last for weeks on one charge.
When it comes to Kobo E-readers, the final verdict is that the Kobo Forma is the best e-reader for the money that you're spending.
This is because the Kobo Forma comes with a larger screen, and with the ergonomic handle, it's still easy to hold in one hand. The ergonomic handle also makes it easier to browse your books without having to use the touchscreen all the time.
It also comes with adjustable lights that always provide you with a good reading experience, even at night, and it has an antiglare display.
You can also access millions of books through a local library on your Kobo e-reader, making it so you can read thousands of different books without having to purchase every single book you want to read.

There are so many great e-readers in 2021, so don't be afraid to take a look around and see what else you can find, but know that some of the best ones are on this list.
You might have to try a few different brands before you find the best one, and that's okay. Don't be afraid of different brands, and make sure to do your research before you choose one to go with.