At A Glance: Our Top 5 Picks for Book Bags:
Book bags have come a long way since they started as just a couple of straps that you tie around your books and sling on your shoulder.
Even more so, nowadays, book bags have evolved drastically from the ones that I used to carry to school. And that wasn't even that long ago!
In this article, I'll review 9 of the best book bags at hand, highlighting the good, the bad, and the fabulous.
The Top 9 Book Bags Reviews
Book bags now function on a much wider scale than just carrying books. They're an essential part of your daily life whether you're a student or a professional.
We've become fundamentally more demanding of our book bags!
I've put my list with just that in mind, bringing together what I see as the best for your individual needs and demands.
This bag from Matein is in my opinion, simply amazing. Like I said, book bags have come a long way, and this one from Matein shows just how much.
To start, this versatile bag is extremely sturdy with more than 20 separate compartments, including one for your laptop. This particular style can accommodate a device up to 17".
There's also a slightly smaller, but equally great model that can accommodate a device up to 15".
This bag comes in many colors and has an external charging USB port. It's your perfect companion on a trip: the multiple compartments make it easy to organize and fit all your belongings, notes, and, yes, books.
The bag has a breathable padded back panel and shoulder straps, making it relatively comfortable to carry. Moreover, its size makes it suitable as a carry-on, so it's ideal if you're taking a plane trip.
The only downside to this book bag is the fact that it lacks theft protection, which is a bit of a disappointment given the relatively high price tag.
Specs
Dimensions: 19″ x 13.8″ x 7.8″
Weight: 2.05 lbs
Capacity: 50 liter
Pros
● External USB port
● Sturdy
● Multiple compartments
● Breathable padded back and straps
Cons
● No theft protection technology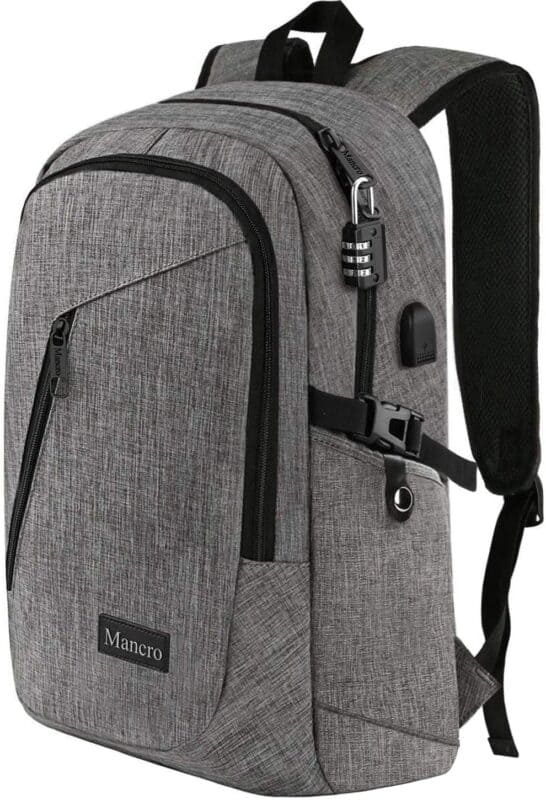 This Mancro high-tech model comes equipped with a built-in USB port and an anti-theft lock.
It's designed with multiple compartments, including one for your laptop. This model can fit a 15.6" laptop, but there's also a larger model that can fit a 17.3" laptop.
It's a water-resistant and sturdy bag that's perfect for school, work, or travel. This reasonably-priced bag might just become an indispensable part of your wardrobe.
Be warned that there are some reviews of the zippers breaking or malfunctioning. Moreover, although the straps are padded, they aren't intended to provide support for large loads.
Specs
Dimensions: 20″ x 12.2″ x 5.7″
Weight: 1.5 lbs
Capacity: 40 liter
Pros
● Built-in USB Port
● Anti-theft lock
● 12+ compartments
Cons
● Subpar zipper quality
● Straps aren't sufficiently padded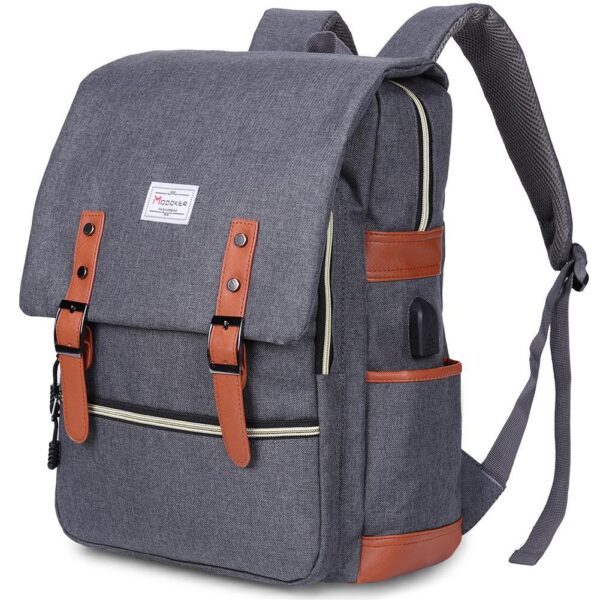 The Modoker bag has a vintage design that gives you the nostalgic feel of the old book bags alongside the perks of recent technology.
That's why I always recommend it to students and travelers who're keen on making a fashion statement.
This book bag comes with an external USB charging port with six large compartments.
It's made of high-quality 600D nylon material that makes it both durable and lightweight, perfect for carrying around.
It's big enough to comfortably fit a couple of books, an e-reader or laptop, while not being too bulky.
The downside is the fact that the shoulder straps are a bit short, so it might be a too tight fit for some.
Specs
Dimensions: 11.8″ x 16.5″ x 5.1″
Weight: N/A
Capacity: 25 liter
Pros
● Stylish vintage design
● USB charging port
● Robust fabric
Cons
● Tight shoulder straps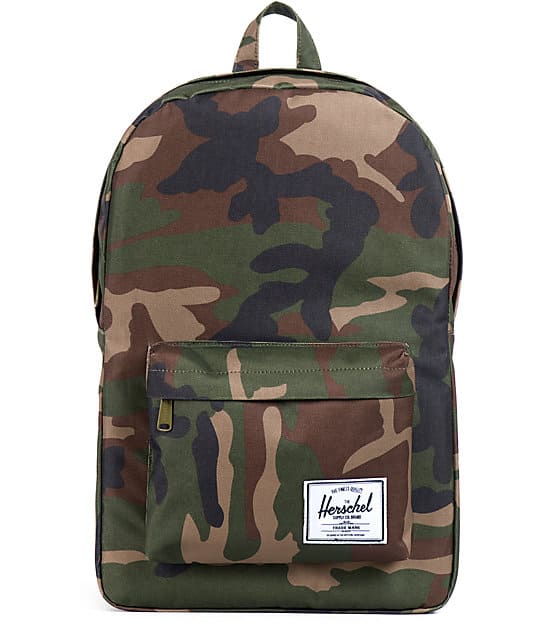 The Herschel Heritage is a classic from Herschel Supply Co. This bag, which is available in a seemingly infinite variety of color combinations and patterns, is the choice of the minimalist. You can choose from 4 different sizes to perfectly match your needs.
It has one internal compartment to fit your books or laptop, alongside an external zipper pocket. Do note that, compared to others, this is a fairly small bag.
This bag is made of Herschel Supply's signature quality coated polyester fabric with padded shoulder straps.
The laptop compartment isn't padded, though. Make sure to get a protective cover for your device.
Specs
Dimensions: 17.75″ x 11.75″ x 5″
Weight: 1.1 lbs
Capacity: 21.5 liter
Pros
● Comfortable shoulder straps
● Sturdy materials
● Wide color variety
Cons
● The laptop compartment isn't padded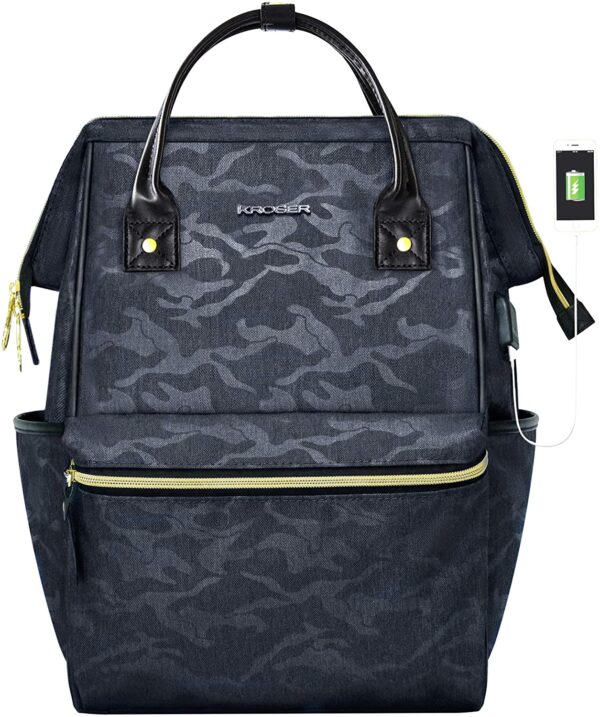 This uniquely designed bag from Kroser comes in 2 sizes and is available in 8 color options. This "doctor style" bag design also has a built-in USB port.
It's a fairly big bag with room for your books, a laptop, and a tablet/e-reader. It doesn't have many separate compartments, but the ones included are sufficient to organize and easily access your belongings.
This canvas bag is made of environmentally-friendly fabric which is also water-repellent. The edges are reinforced, making it quite durable.
This bag is designed in a way that makes it open wide, which gives it the edge of allowing easy access to all the items in your bag. As a result, this multi-purpose bag is ideal to use for school, work, or even trips thanks to the additional luggage strap.
Make sure not to overstuff it, though. This might make it hard to close and may cause the zippers to break.
Specs
Dimensions: 16.9″ x 11.15″ x 7.5″
Weight: 1.82 lbs
Capacity: N/A
Pros
● USB charging port
● Wide opening allows for easy access
● Reinforced edges
Cons
● Zipper may break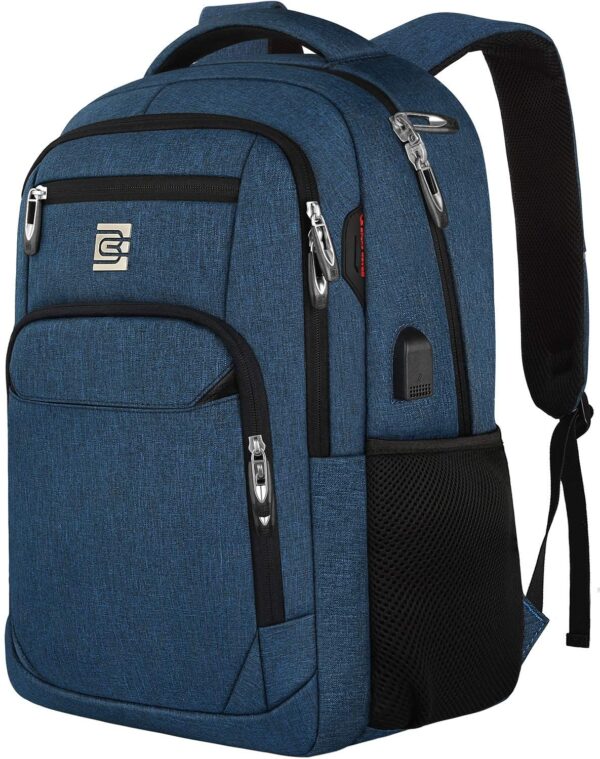 The Volher bag is available in one size and 4 color options. It comes equipped with a USB charging port and an anti-theft back pocket.
This multi-pocket bag is roomy and can fit a 15.6" laptop in the designated compartment. However, some customers found the pocket to be too tight.
The mesh padded back is breathable which is super comfy and gives great support to your back. It also has a luggage strap that can be a handy tool on a trip.
Specs
Dimensions: 18″ x 13″ x 8″
Weight: 2.2 lbs
Capacity: N/A
Pros
● Sturdy and heavy-duty
● Anti-theft back pocket
● Roomy
Cons
● Tight laptop compartment
● The USB charging port doesn't always work properly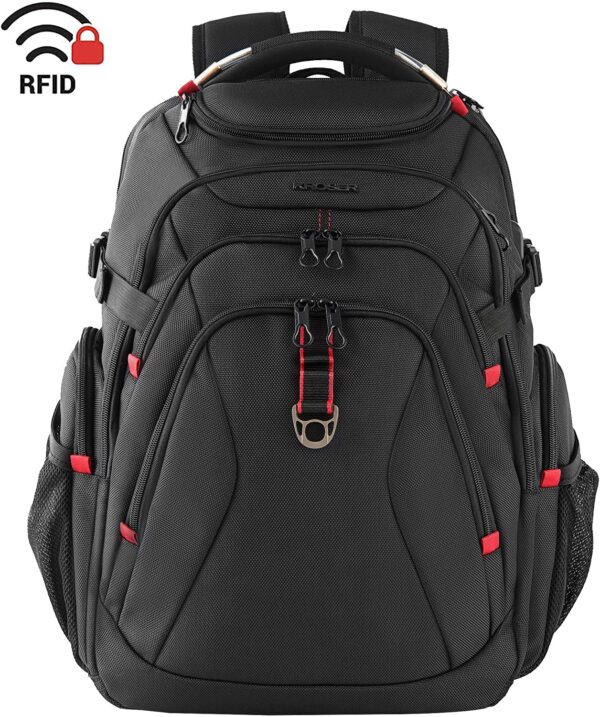 This bag from Kroser is a truly ingenious product. For starters, it's equipped with RFID-shielded pockets that protect your credit cards and IDs from being virtually scanned or stolen. It also comes with a built-in USB port.
This bag is intended for heavy-duty use with a hard shell protective pocket to protect any enclosed items from any bumps to the bag.
This is an ideal one to take while traveling due to its large size. It can accommodate all your essentials, and more, with its 3 large zippered compartments and multiple pockets.
The back panel and shoulder straps of the bag are heavily padded for your comfort. This bag also comes with a chest and luggage strap.
Do note, though, that it has been reported that the stitching and zippers aren't as durable as they're expected to be.
Specs
Dimensions: 18.6″ x 13.5″ x 10.8″
Weight: 3.08 lbs
Capacity: N/A
Pros
● Built for heavy-duty
● RFID protection
● Large capacity
Cons
● Poor quality stitching and zippers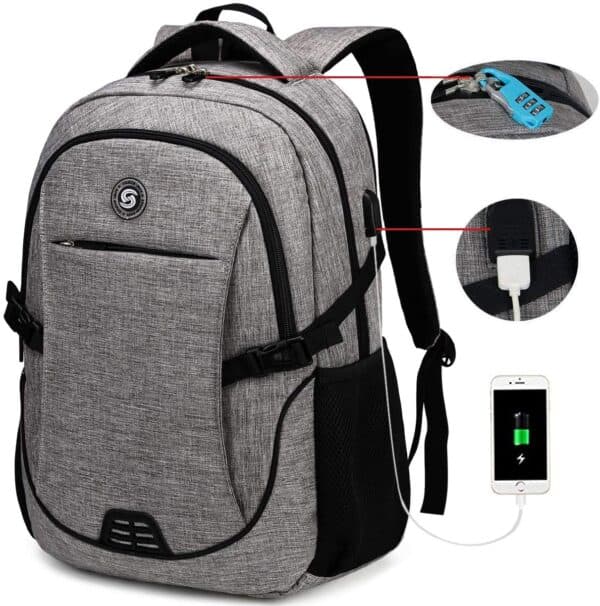 This waterproof bag comes in 6 color variations. This one is great for use in any weather, as the waterproof material protects your books and other bag contents from getting wet or ruined.
It also has a fixed protected password lock, an anti-theft pocket, a built-in USB charging port, and multiple pockets and compartments to easily organize and access all your belongings.
Moreover, the back panel and shoulder straps are padded so you can comfortably carry the bag on your back.
Not only that, but this bookbag has a luggage strap and a sturdy top handle, so you have multiple ways of carrying it to match different situations.
One of the main drawbacks of this bag is quality. It has multiple reports of not being the best, with complaints that zippers might break.
Specs
Dimensions: 13.6″ x 9.3″ x 2.7″
Weight: 1.8 lbs
Capacity: N/A
Pros
● Waterproof construction
● Anti-theft lock
● Built-in USB charging port
Cons
● Low-quality zippers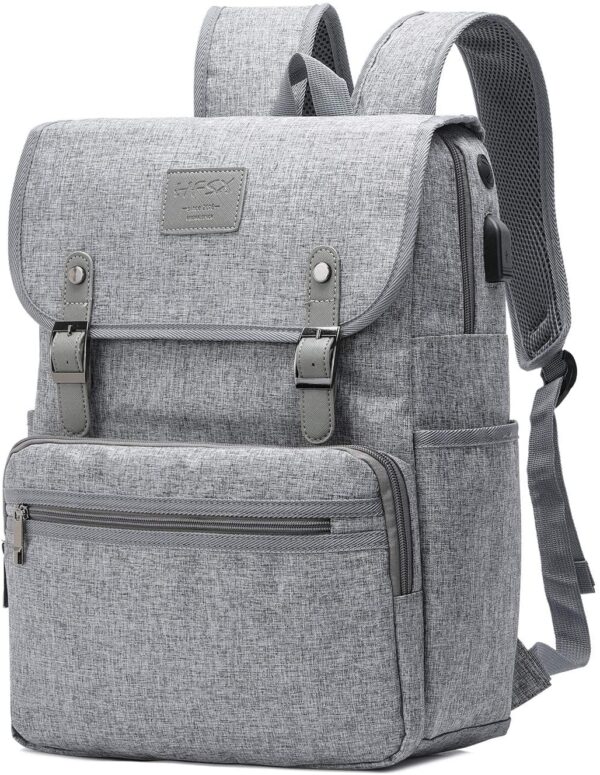 This fashionable bag from HFSX comes in 6 color variations. But don't think it's just pretty to look at. It's made of high-quality nylon material which makes it scratch, water and tear-resistant.
Moreover, it comes with a headphone port, which is ideal if you want to listen to your music while reading a book. This bag also comes with a built-in USB charging port that will make your life easier.
In terms of comfort, the padded shoulder straps are adjustable to fit you perfectly. It's also lightweight and super comfy to carry.
It has multiple compartments for storing your books and other belongings, including 2 side pockets where you can keep your water bottle or even a mini umbrella.
It's worth mentioning that putting too much strain on our bag may cause the shoulder straps to snap or break.
Specs
Dimensions: 17.7″ x 13.8″ x 7.1″
Weight: 1.65 lbs
Capacity: N/A
Pros
● Headphones port
● Built-in USB port
● Adjustable shoulder straps
Cons
● Shoulder straps may tear or snap
Top Factors To Consider When Choosing Your Book Bag
When deciding which book back to buy, the endless products out there may be a bit overwhelming. To help you choose, here are the top factors to consider.
Size
Many brands offer more than one size for the same model. For example, Matein has two: one that fits a 15" laptop, and another that fits a 17" one.
Always check the specs of the bag to avoid getting disappointed by receiving something that's too big or too small.
Quality of Material
The quality and type of material used in the manufacturing of the bag are important to consider if you care about durability.
It affects the sturdiness of the bag, its weight, and its protective level. For example, you'll find that Soldierknife is made of special waterproof material to protect your belongings.
Safety Features
Many of the models available offer some sort of safety. Depending on your own preferences, you get to decide on the level of security you'll need.
Some brands, such as Mancro, come with an anti-theft lock. Others, including Kroser, offer RFID protection.
Price
How much you're actually willing to spend on the bag will play a part in your choice. Book bags usually range around $15, but some can go well over the $100 mark.
So, maybe it's a good idea to set your budget beforehand and search for suitable options within that estimate.
Additional Features
You may also want to consider additional perks that some bag manufacturers offer. Things like a USB port and multiple specialized compartments will definitely make your bag more valuable.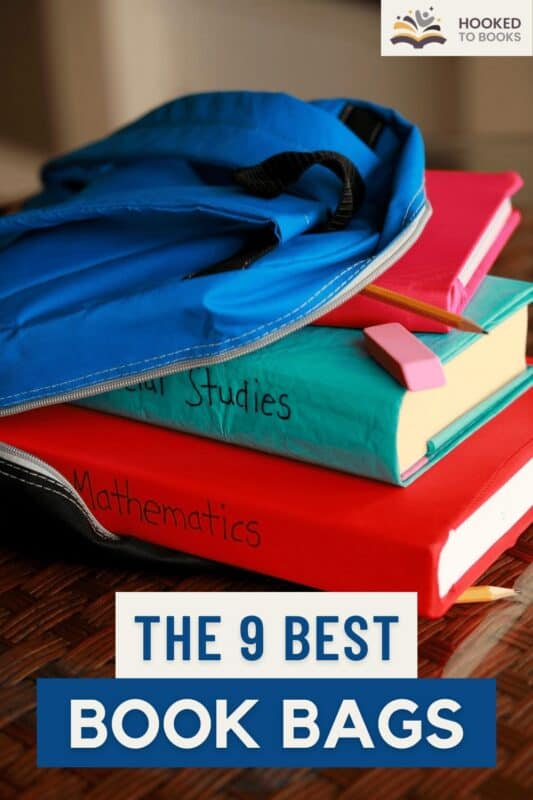 Final Thoughts
Book bags function as a useful accessory that doesn't only carry your books, but also keep your belongings protected against theft.
Nowadays, despite being blessed with compact devices, we still have a lot of accessories that we carry around. Surely, we're always looking for a means of charging those devices on-the-go. And that's where the USB ports of these bags come in handy.
Although the perfect book bag choice will most probably differ from one person to the next, I think that the one from Modoker Vintage is overall my top choice.
It brings the best of both worlds; it has a stylish, sturdy design, alongside an up-to-date technology with a built-in USB port. The best part is that this bag comes at a pretty reasonable price compared to its competitors.