While all you really need to read is a good book, there's no question that reading gadgets can instantly elevate your reading experience. We're big fans of reading in bed and reading at night, and with that comes the need for the perfect reading light.
There are a couple of things to consider when you're picking the best reading light for your bedroom: from the size to the brightness to the design.
For the nighttime and in-the-dark readers among us, we've compiled a list of the best wall-mounted reading lights for bed so that you can seamlessly integrate your reading experience into your bedroom.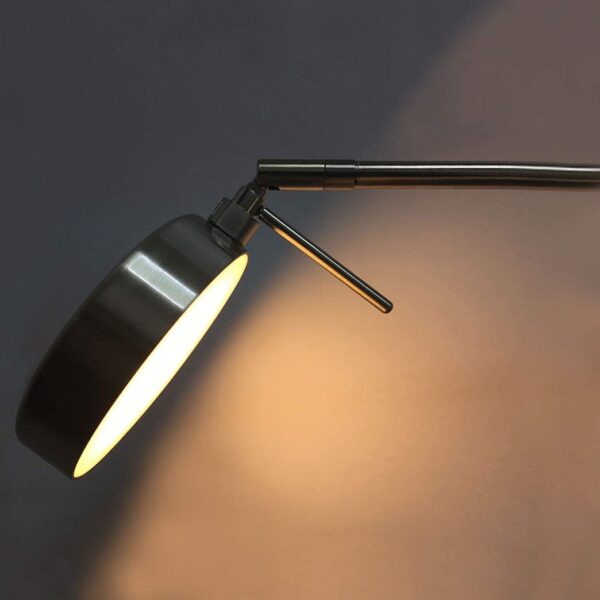 HomeFocus USB LED Reading Swing Arm Wall Lamp Light
Our #1 Recommended Wall-Mounted Reading Light
This HomeFocus swing wall reading light can be adjusted to any angle to cast a warm, ambient glow in multiple directions. It features a handy USB charging port, and energy-saving LED bulbs. Simply plug it in, or hardwire this lamp into the wall.
*We earn a commission if you make a purchase, at no additional cost to you.
What to Look For In a Wall-Mounted Reading Light?
A reading light can extend your reading life deep into the night, making it easier to flip through mountains of chapters without straining your eyes.
When you're scrolling through page after page online looking for the perfect wall mounted reading light to add to your bedroom décor, it's helpful to consider some things.
Here's what you should look for:
Does the reading light fit with your bedroom style, or at least complement it? You're the expert on your own bedroom décor, and you're the one who knows what you like. However, it's important to search a little longer for a reading light that you enjoy the look of. There are so many wall-mounted reading light options to choose from, so be sure you pick one that you think is beautiful.
What mood does the reading light add to your room? Certain shades of light can add to or detract from your reading experience, so be sure to choose a reading light with the correct level of light for your needs. A good reading light can make the difference between a sterile, brightly lit environment and a cozy, homey one.
Are you able to use the reading light to customize your reading experience? If you're going to mount a reading light onto your wall, it's important to make sure that you like the way it works. Are you able to swivel it or easily move it? Comfort is key in reading, so these are important factors to consider in choosing the perfect wall mounted reading light.
How about the reading light levels? For instance, does your typical reading environment tend to give you a headache? What light can you use to alleviate that? Pick a lamp that is suitable with your favorite kind of reading light, whether you prefer a cooler shade or a warmer glow.
11 of the Best Wall-Mounted Reading Lights
Whether you want something completely practical or something that adds a beautiful touch to your décor, you'll find it with these ten best wall-mounted reading lights for bed.
1. HomeFocus USB LED Reading Swing Arm Wall Lamp Light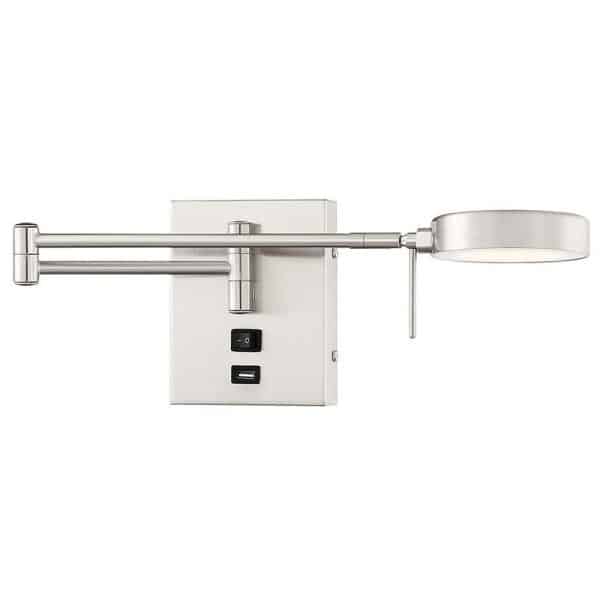 The swing-arm design on this wall light lets you customize your reading experience to your own comfort. And the included USB port makes it so you can even charge your electronics.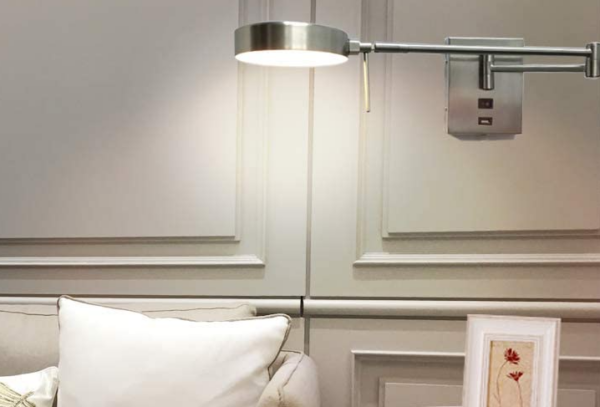 Brushed in silver, this reading light is modern and clean and holds a lifespan of 30,000 – 50,000 hours of use.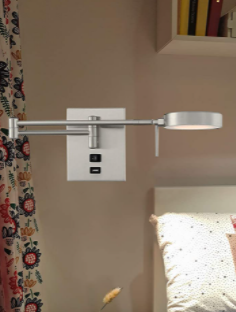 2. Tausende Plug-In Wall Sconce Lamps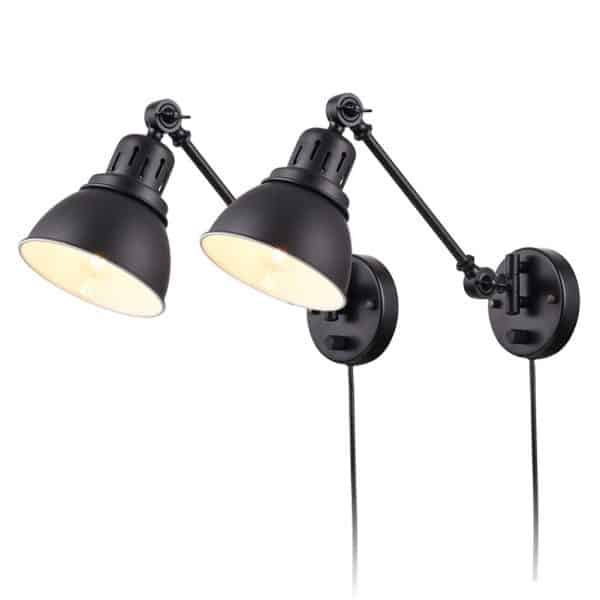 These modern black reading lights can be easily mounted on the wall, but also come with a 59-inch long cord if you'd like to plug them in and move them around more easily.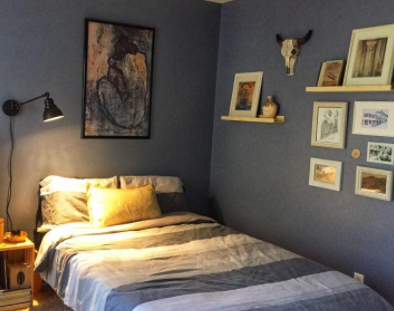 The wall sconce lamps can swing around and move up and down, allowing you to adjust them to your liking, and the simple on and off switch makes them simple for your wall or your headboard.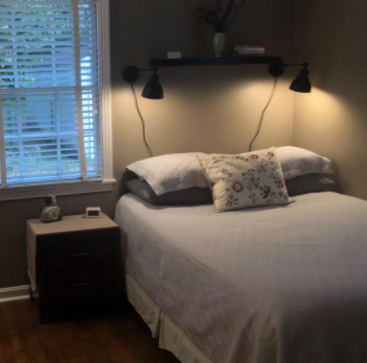 3. QUANS 3 Color Changeable 10 Level Dimmable Flexible Gooseneck Wall Mount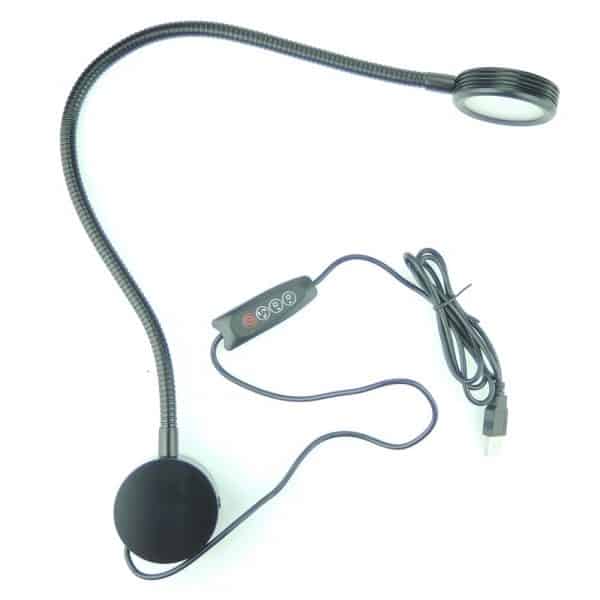 With this gooseneck reading light, you can choose between 10 levels of lighting depending on your mood.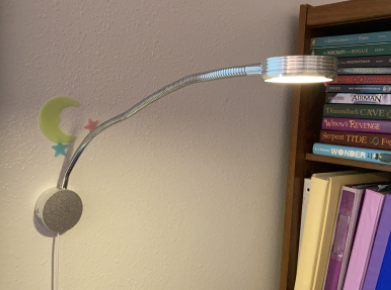 Whether you're wanting a bright white setting in the middle of the night or a dimmer, softer glow while you read on your e-reader, this light has the option to change levels and even switch between cool white, warm white, or cool and warm white.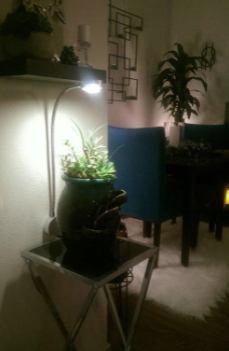 4. HomeFocus Bedside Wall Lamp Light
With a white fabric shade and a satin nickel finish, this bedside wall lamp light is stylish and functional.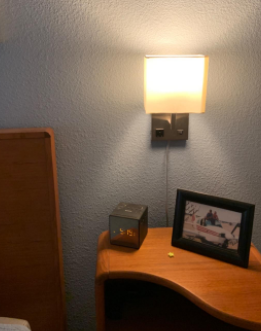 While it's not as customizable as some of our other picks – this one is static, and doesn't swing around – it's beautiful and practical enough to be worth it.
5. Sluce Bedside Reading Wall Lamp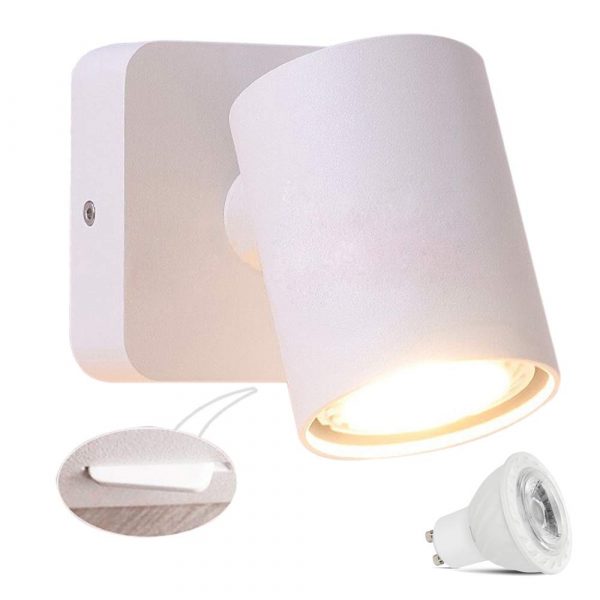 This spotlight lamp mounts directly onto your wall, providing a bright light and eco-friendly (no mercury!) addition to your bedroom.
It's eye-catching and easy to install, making the rotating light a great option for bedtime reading.
6. Noble Wooden Magnetic Dimmable Battery Powered Lamp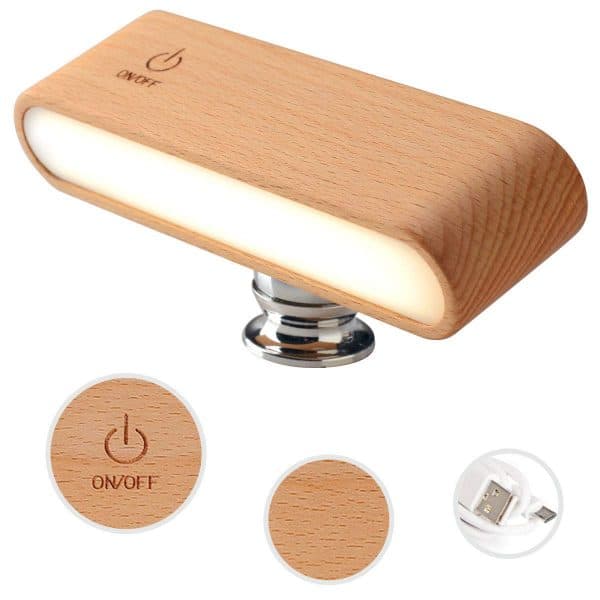 Constructed of beech wood, this magnetic lamp is portable and wireless for the perfect reading experience wherever you may go.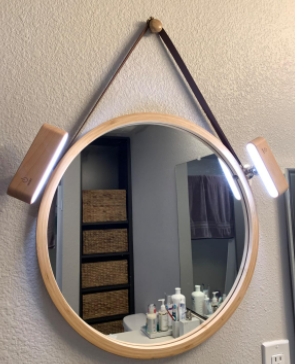 The universal balls inside of the light allow for adjustment and customization of your reading experience. And being able to move the light around allows for a seamless reading environment, from the baby's nursery to the master bedroom.
7. Globe Electric Berkeley Swing Arm Wall Sconce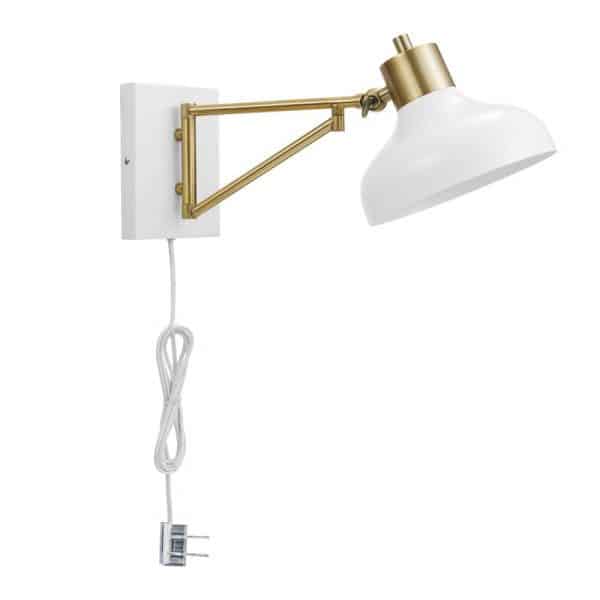 This easy-to-install wall-mounted reading light is modern and stunning. With the choice between several finishes, the design of this reading light fits with any type of home décor.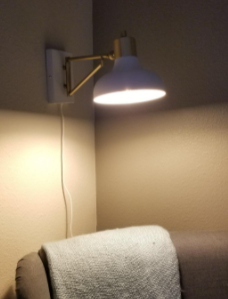 With an included swinging arm and pivoting head, this wall light goes where your book does, too.
8. Eyocean LED Reading Light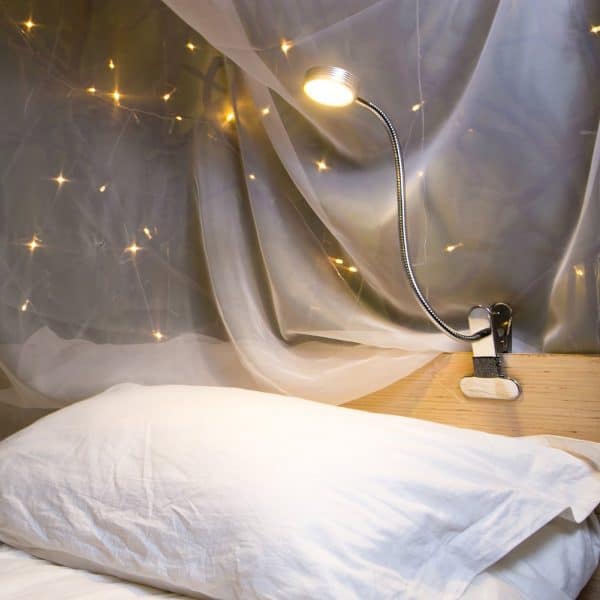 This LED lamp does away with the need for light bulb replacements. And the memory function ensures that you're not blinded by a bright light every time you flip the switch.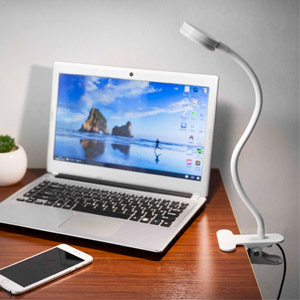 The LED light allows for prolonged reading without eye fatigue. And it clips directly onto your headboard, making it ideal for rentals, apartments, or freshly painted walls.
9. MOTINI Modern Wall Sconce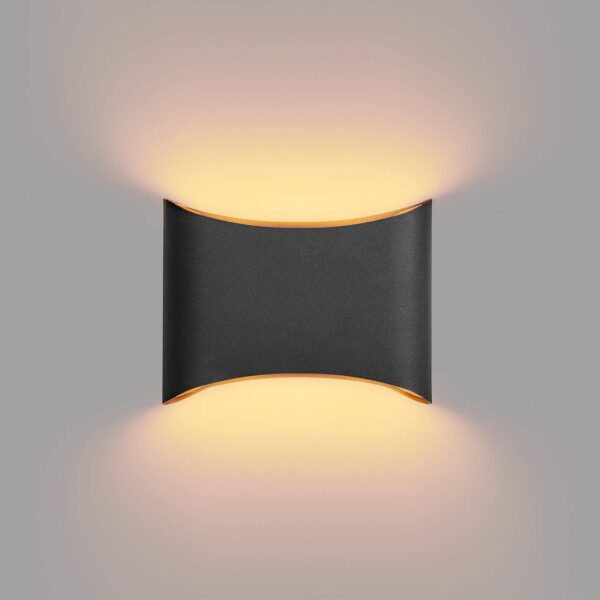 These MOTINI wall mounted LED fixtures send soft beams of light in an upwards and downwards direction, adding an ambient glow to any room.
You can also install these lights outdoors to give a soft glow to read by on your patio, porch, or pool area.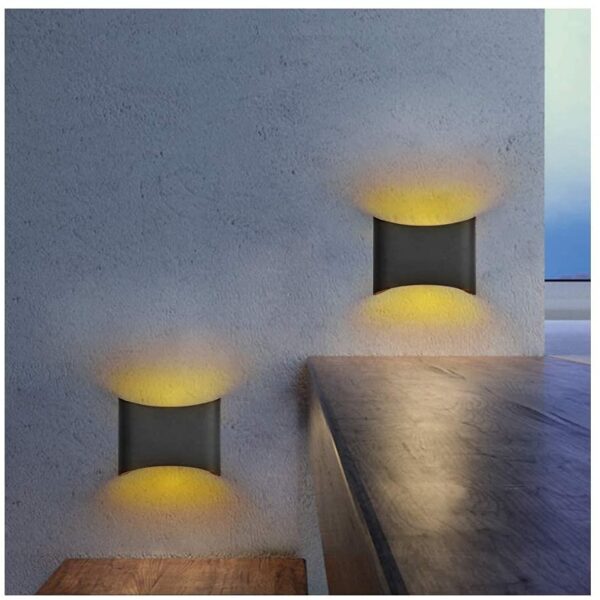 There's no need to change the bulbs; the LED lamps provide up to 50,000 hours of 3000K warm light, plus, they're dustproof and weather-resistant too.
10. Kingmi Wire Cage Industrial Wall Sconce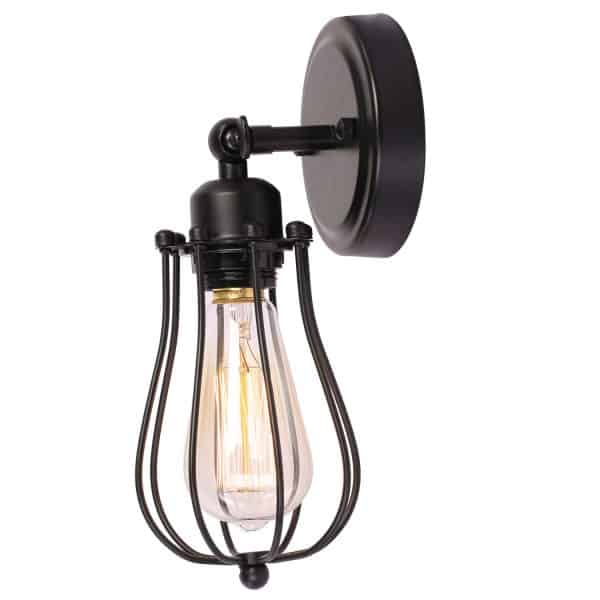 These Edison bulbs add a touch of industrial décor to your bedroom wall for a reading enhancer that doesn't take away from the style of your home.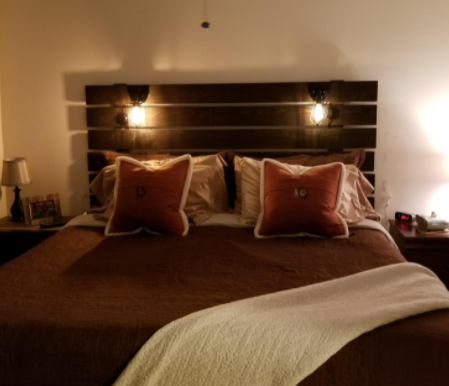 With 240-degrees of rotation adjustability, these pretty lights fulfill a purpose.
11. Chiynght Swing Arm LED Wall Sconce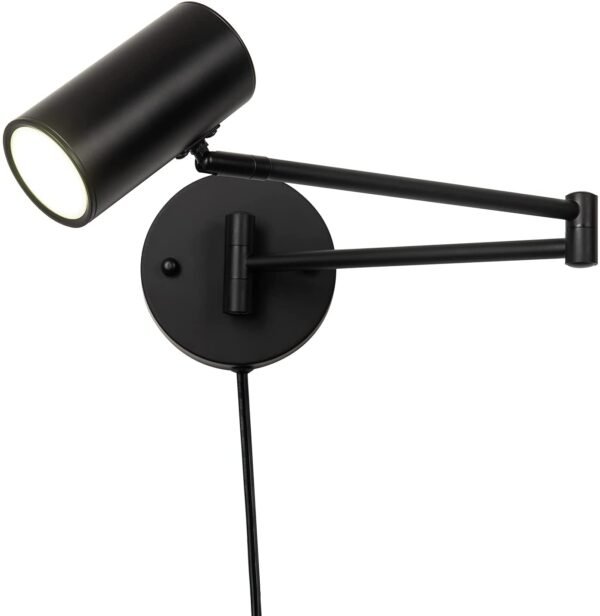 These modern and sleek LED wall lamps look chic and sophisticated, and the classic black finish works with any décor.
The swingarm is adjustable and flexible, so you cast light in multiple directions around the room, depending on your needs.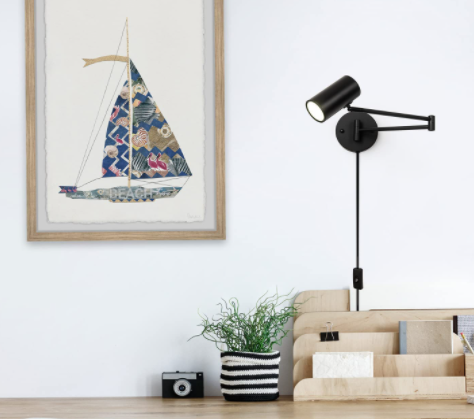 There's a plug cord with a subtle switch to easily turn these lights on and off. Plus, you can remove the cord so the fixtures can be hardwired into the wall.
The neutral white LED bulbs provide a comfortable glow and last for much longer than a regular bulb. And when they do run out, you can easily replace them too.
Wall-Mounted Reading Lights Make Reading In Bed More Fun
At Hooked to Books, we want you to read as many books as possible.
When you have the perfect wall-mounted reading light, bedtime reading is just that much easier to come by.
Are you in a rental situation or heading on a trip where mounting a light into the wall isn't an option? We also have a great guide to the best portable book lights.
Whichever wall-mounted reading light option you choose, we'd love to see it! Tag us on social with #hookedtobooks on Instagram or Twitter. Let us know what you're reading with your new light!
Make sure to check out our book reviews! And if you're in the market for some new reading gadgets, take a look at our gadget review guides.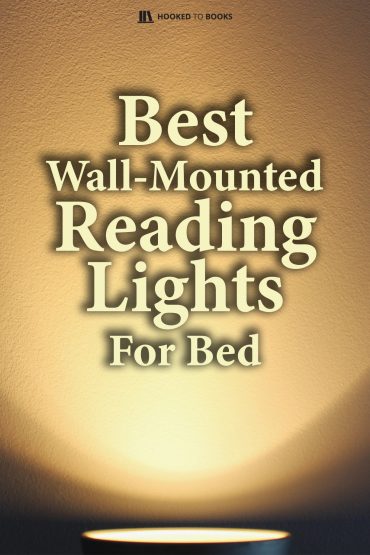 About the Author
At the ripe old age of 3, Susannah decided that life was just a blank canvas and took Magic Marker to the newly installed carpet in her room just to "see what happened." She's taken that approach to life since, curious about pretty much everything.
She earned a journalism degree from Texas A&M University with the mission of making asking questions and telling stories her life, and since then has done everything from social media strategizing and content creation on the national level to writing a career column for USA TODAY.
Susannah is a high school teacher and yearbook adviser with a huge passion for reading (Harry Potter is her absolute favorite) and is excited to bring another book-loving voice to Hooked to Books.