Amazon Kindle Fire tablets (now known as simply Amazon Fire tablets) are a range of awesomely affordable yet high-quality tablets.
They are a great accessory for book lovers since they can act as both a regular e-reader (like the traditional Amazon Kindle), as well as a fully functioning tablet. So you can read all of your favorite titles from Amazon's extensive library, as well as browse the internet, take photos and videos, play games, and much much more.
Amazon released the first Fire tablet in 2011, and nowadays, there's an extensive range of different models to choose from.
To help you select the right one for you, I've reviewed the three most popular Amazon Fire tablets available on the market today.
The 2020 version of the Amazon Fire HD 8 is a refreshed version of the original 2016 version. It's one of the top-selling Amazon Fire models, and it's also up there in offering the best all-round value for money of any tablet in the range.
The screen is large enough to enjoy watching movies, videos, and TV shows, but it still offers more portability than its larger and more powerful sister, the Fire HD 10.
The Amazon Fire HD 8 has a surprising amount of features for such a budget buy. There are built-in stereo speakers, an impressive 12-hour battery life, and it uses a USB-C type charger.
It also features a hands-free Alexa, which works even when your tablet is in standby mode. This means that for all practical purposes, it acts in the same way as an Echo Dot. If you're an audiobook fan, this is a great feature. Simply ask Alexa to load your favorite titles, and you'll be listen-reading in seconds.
The Amazon Fire HD 8 also has a Plus model available. This version costs a bit extra and includes wireless charging features.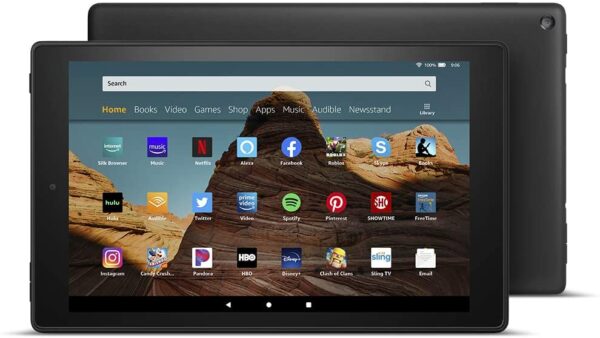 The Amazon Fire HD10 is considerably pricier than it's HD8 counterpart, but it's still pretty affordable compared with android tablets of similar specifications.
You'll immediately notice the size difference with the HD10; at 10.1 inches, the screen is much larger. While this does make it a little clunkier to transport around, it gives a much better viewing experience when watching movies, videos, and TV shows.
The Fire HD10 also has a better screen resolution and higher pixel density than the HD8, making playback and images appear much sharper, and colors seem more vibrant.
One of the other significant benefits of the HD10 is the storage capacity. Just like with the HD8, a standard model comes with 32GB of memory, and there's also a 64 GB option, but the difference with the HD 10 is the additional SD card slot. This allows you to boost your device's storage to a whopping 512GB…enough to download all of your favorite books and leave plenty of space for movies, photos, music, and more.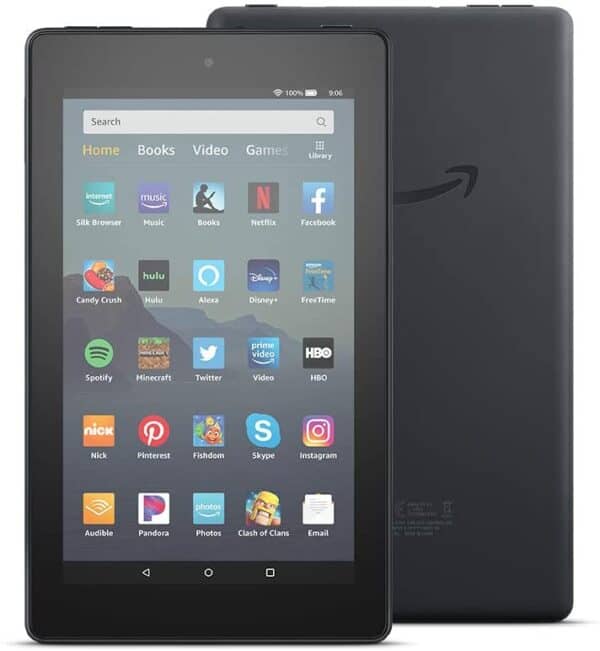 The Amazon Fire 7 is the smallest and most affordable tablet in the Fire range. I's specs are lower than both the Fire HD8 and the Fire HD10, but it's still a surprisingly capable device for such a bargain price.
The screen is, you guessed it, 7 inches in diameter. It has a screen resolution of 1024X600, which is considerably lower than its more expensive counterparts. Still, you're unlikely to notice too much of a difference if you're planning on using it solely as an e-reader.
That being said, if you're hoping to use your device for watching movies or TV shows, think again before purchasing the Fire 7- the screen size and resolution will quickly get frustrating, especially if you're used to a more powerful, bigger device.
Like all the tablets in Amazon's Fire range, it has a built-in camera for photos and recording video, but the 2MP camera on the Fire 7 is basic at best.
One surprising feature of the Amazon Fire 7 is the built-in Alexa, which also operates in hands-free mode.
Overall this model is a stripped-back, miniature version of the more powerful Fire tablets. If you're looking for a regular use, all-round device, I think it's worth spending a little extra for the HD8 or the HD10. That being said, if you're just looking for an e-reader with internet browsing capabilities for occasional use, then it's a great, pocket-friendly option.
The Pros of All Amazon Fire Tablets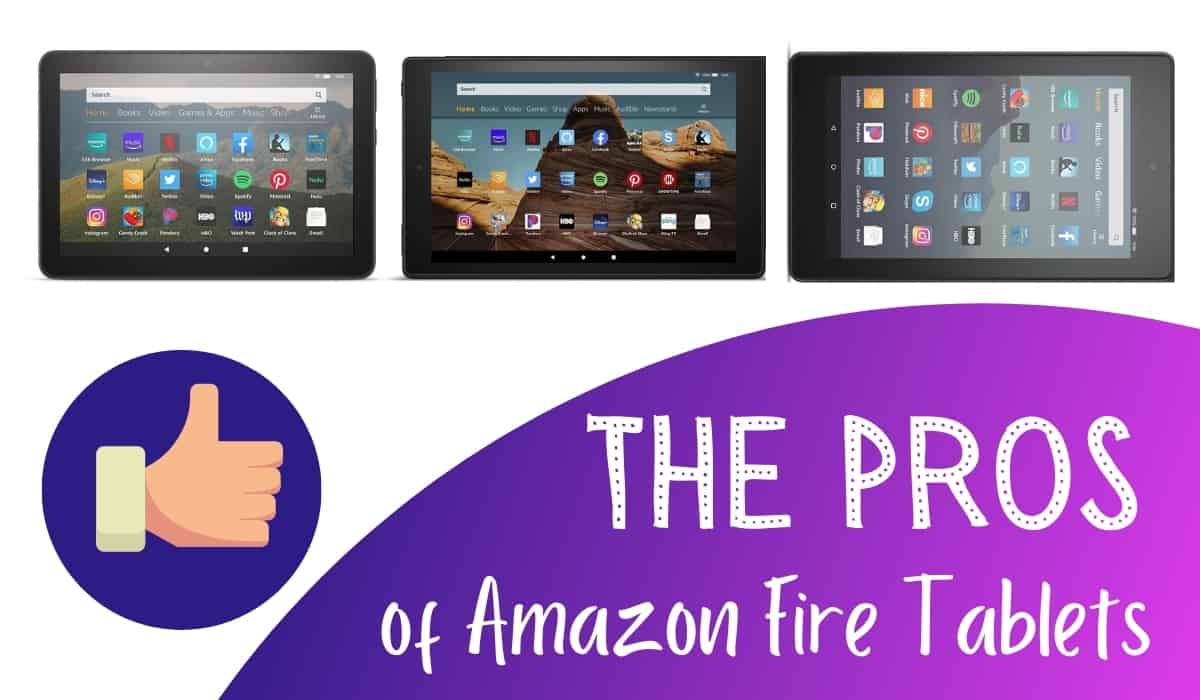 While each of the three major Amazon Fire tablets listed above offers its own unique selling points, they all have certain things in common. When you're buying any Amazon Fire tablet, you can expect:
If you sign up for a paid Amazon Prime service, you'll get access to a huge selection of e-books, audiobooks, movies, TV shows, and other cool content. (Don't forget, with Prime,
you'll also get free 2-day shipping with any eligible order)
Durable Design and Construction
All of the Amazon Fire tablets are made from relatively inexpensive plastic, but that being said, they're still designed to be pretty durable. Amazon Fire tablets are definitely some of the best-designed tablets in the budget tablet range (yes, even the super-cheap Amazon Fire 7).
Every Amazon Fire Tablet on the market right now is pretty affordable. Yes, there are a lot of additional products you can choose to add, like Amazon Prime subscriptions, Audible subscriptions, a case, and wireless charging ports, but for a standalone tablet, you can't beat Amazon Fire for value for money.
The Cons of All Amazon Fire Tablets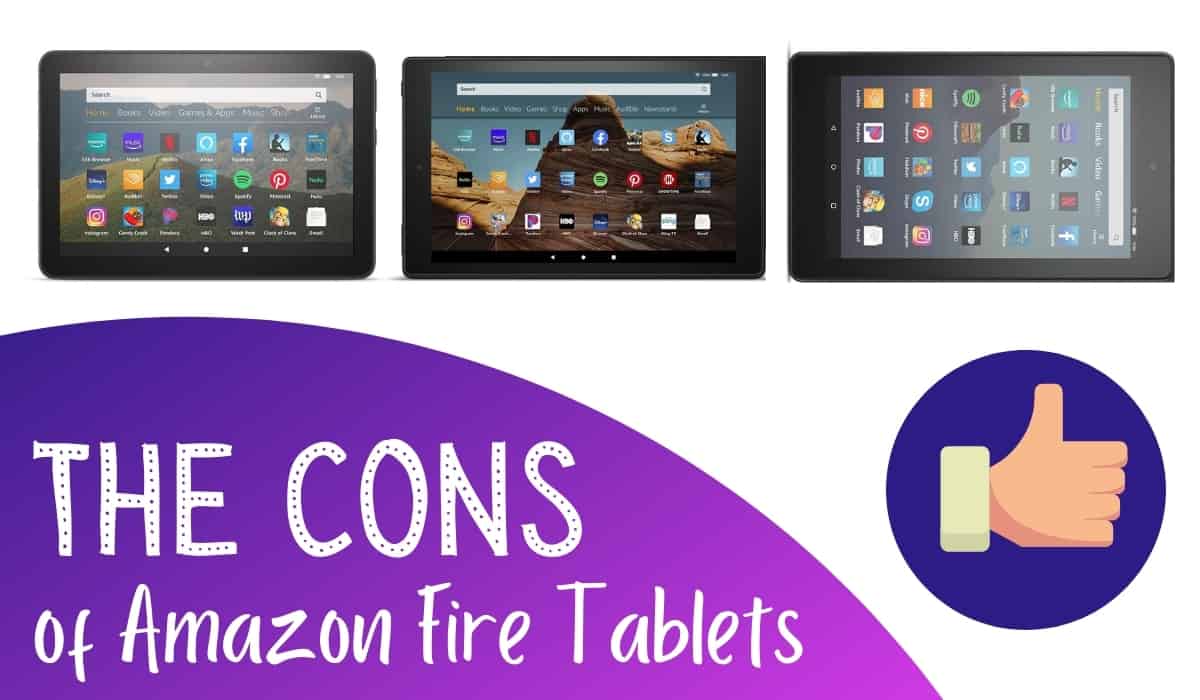 They're Dependant on Amazon Content
If you don't plan on subscribing to Amazon Prime or accessing your apps and other content through Amazon's own content library, then you might find the Amazon Fire range quite limiting.
You can still browse the web and use all the base features of the tablet, but when it comes to downloading apps, it's a different story. Sure, you can still download third-party apps like Netflix or Youtube on the Amazon Appstore, but the selection is more limited compared with Android's Google Play Store or Apple's Appstore.
That being said, booklovers don't need to worry. If you're using your Amazon Fire Tablet to access e-books and audiobooks, Amazon has still got the best library by a long shot.
In a nutshell, if you already use Amazon content on your current device, you won't have a problem using any Amazon Fire devices. If not, it's worth researching all of your options before deciding on an Amazon Fire tablet.
Since they're so affordable, it's no surprise that Amazon Fire Tablets are hardly the most powerful and lighting fast devices on the market. Most of the hardware inside is slightly dated, meaning they lack overall power and tend to lag when loading apps. This is particularly evident on the Amazon Fire 7, but even the HD8 and the HD10 are prone to occasional over buffering and slightly slower loading speeds.
It all comes down to what you're used to. If you're a relatively low tech person or you only want to browse the internet, an Amazon Fire tablet is a great investment. If you're used to the latest Apple iPad, you might find Amazon Fire's range to be frustrating and outdated.
With Amazon Fire products, you'll have no access to Google Chrome, as well as Google apps like Maps and Gmail (although you can still access these through the web browser).
Instead, Amazon has its own versions of each of these apps and services, all designed to tempt you into buying more Amazon products, be it books from the Kindle store, apps in the Amazon Appstore, or even actual products from the main Amazon website. They've basically taken the same approach to in-service product purchasing as Apple has done, albeit at a more affordable price)
Conclusion
If you're a book lover looking for an affordable device that lets you read e-books, listen to audiobooks, and so much more, then an Amazon Fire device could be a great option for you.
If you already shop on Amazon and plan on using big-name apps like YouTube and Netflix, then you won't even notice Amazon Fire's non-Google limitations.
On the other hand, if using Google or Apple apps is important to you, then it's worth shopping around for another option.
Check out these other great posts!
E-Reader vs. Tablet: Which One Should You Buy?
5 Best Tablets for Note Taking
The Best Waterproof Tablet – Kobo Forma Review
Top 9 Best E-Readers – Buyer's Guide and Reviews