At A Glance: Our Top 5 Picks for Tablets for Note Taking:
Everyone needs to take notes from time to time. From writers to students to stay at home moms; we often need to jot down ideas and important information quickly before it leaves out heads. And for some of us, note taking is also an integral part of our work.
That's where a tablet with great note taking features comes in. Nowadays, many people are accustomed to typing up their notes. This shorthand method is especially helpful when you're in a hurry or recording what someone is saying verbatim.
But others prefer the good old fashioned way of taking notes in longhand, with a pen. In fact, experts believe that this type of note taking helps you retain information easier and for longer.
Whichever method you prefer, there's a tablet out there to suit your note taking needs. Here are my top 5 picks.
IMAGE
PRODUCT
FEATURES
PRICE
Microsoft Surface Go 2

• Laptop and tablet combined
• Lightweight and easy to carry
• 10.5" touchscreen
Amazon Fire HD 10

• Battery life up to 12 hours
• Good value for money
• Excellent storage capabilities
Apple iPad Mini


• Compact and easy to carry
• 7.9-inch Retina Display
• Up to 10 hours of battery life
Lenovo Tab M8

• The stunning 8" HD display
• Affordable price
• Good battery life
Royole RoWrite Smart Writing Digital Pad
• Converts handwritten notes into editable text
• Lets you write with a real pen, directly onto real paper
• An affordable price compared to traditional tablets
1. Microsoft Surface Go 2 – The Best Notetaking Tablet/ Laptop Hybrid
The 10.5 inch Surface Go 2 offers the best of both worlds. It's a compact tablet that fits easily into a purse or backpack, and once the optional keyboard is attached, it becomes a high performance, compact laptop. This makes it a good choice for jotting down quick ideas and information, as well as for longer notetaking sessions or long-form writing projects.
Without the keyboard, this tablet weighs in at only 1.2lbs, so it's easy to keep it discreetly with you throughout the day.
It also has an impressive 10-hour battery life, so you won't need to carry a charger around with you if you're out of the house all day.
There are all the usual Windows 10 apps to help with your note taking, such as classic Microsoft Word and OneNote, but those that love writing with a pen are in for a real treat with the Surface Go 2. The Surface Pen, which can be purchased separately, has a whopping 4,096 different sensitivity levels, making it one of the most accurate and detailed stylus pens in its price range. Its pressure responsiveness also makes this an excellent option for sketching and drawing too.
---
2. Amazon Fire HD 10 – The Best Amazon Notetaking Tablet
The largest tablet in Amazon's Fire range offers an impressive number of features, all for less than $150. The dual-band wifi lets you access the internet in more locations and also lets you upload your work directly onto the cloud, wherever you are.
It's also perfect for notetaking. You can type up notes using the on-screen keyboard or connect via Bluetooth to a wireless keyboard. It's also easy to pair to a wide variety of smart styluses and digital pens, so you can write your notes directly onto the screen.
Another particularly handy note taking feature is the built in Alexa, which lets you record information, set reminders, and send messages via voice control, all without lifting a finger.
The Amazon Fire HD 10 is also a good option for visually impaired users or anyone who struggles to read text on a regular tablet or laptop. Innovative visual aid features, like the built in braille display software and an intuitive screen reader, make this tablet accessible to all. You can even adjust the contrast on fonts as you read or enter your notes for extra visibility.
The Amazon Fire HD 10 comes with either 32GB or 64GB storage capabilities, which is pretty generous for a tablet in this price range. And the built in SD slot allows you to boost your storage capabilities by over 500GB.
---
3. Apple iPad Mini – The Best Notetaking Tablet for Travel
Measuring just 8 x 5.3 inches, with a 7.9-inch display, the Apple iPad mini is small enough to carry in any bag and even fits inside roomy pockets! It's the perfect notetaking tablet if you're traveling or on the go.
The screen can be brightened or dimmed depending on your environment, and there's also an adjustable blue light setting to protect your eyes and help regulate your circadian rhythm.
Like the full size iPad, the iPad Mini boasts Bluetooth connectivity so you can sync up all of your favorite Apple products, including wireless keyboards for typing out notes and Apple styluses for longhand notetaking.
Another great feature is the TouchID fingerprint reader, which means only you can access your device, making this the most secure tablet on our list.
As well as being great for notetaking, this mini tablet is also a great all-rounder if you're looking to invest in a multipurpose device. You can even access websites and cloud storage systems without a direct internet connection, thanks to the built in dual-band wifi and LTE technology.
This model has some of the best storage on the market right now. Choose between 64GB, or a whopping 256 GB of memory, plenty of room for all your note taking needs!
---
4. Lenovo Tab M8 – The Best Notetaking Tablet for Small Budgets
This basic yet high performing tablet from Lenovo will set you back less than $100, but it still offers all of the note taking capabilities you'll need and more.
For starters, the quad-core processor makes this device much quicker and more responsive than the majority of its sub $100 competitors.
It's also Bluetooth compatible, so it's easy to connect your favorite stylus pen or a wireless keyboard to take notes whenever you need it.
The on-screen keyboard is also surprisingly responsive for a tablet in this price range, so it's perfect for taking quick notes when you have no time to spare.
The Lenovo Tab M8 also has excellent battery life. Once fully charged, you can record notes on this tablet all day without needing to recharge.
It also looks refreshingly chic; the full brushed metal cover and clean, curved lines make it a much more stylish option than its competitors.
---
Rather than a traditional tablet, how about a digital writing pad? This handy e-pad from Royole lets you write your notes down on actual paper and then capture it digitally to share with any device, including your tablet.
It's the perfect option for those who prefer the traditional pen and paper method of note taking, or those that can't get used to a stylus on a regular tablet. This device also lets you take notes anywhere and everywhere, no matter if you have an internet connection or not.
With the RoWrite, you get a sleek pressure sensitive pen with two ink refills, as well as a sturdy folio and two notepads. You can write and draw as much as you like, then upload your notes at the touch of a button to your phone, laptop, or tablet. The Convert To Text feature also allows you to convert your notes into editable, typed text. This makes it a really popular choice with students who prefer the traditional pen and paper form of note-taking.
---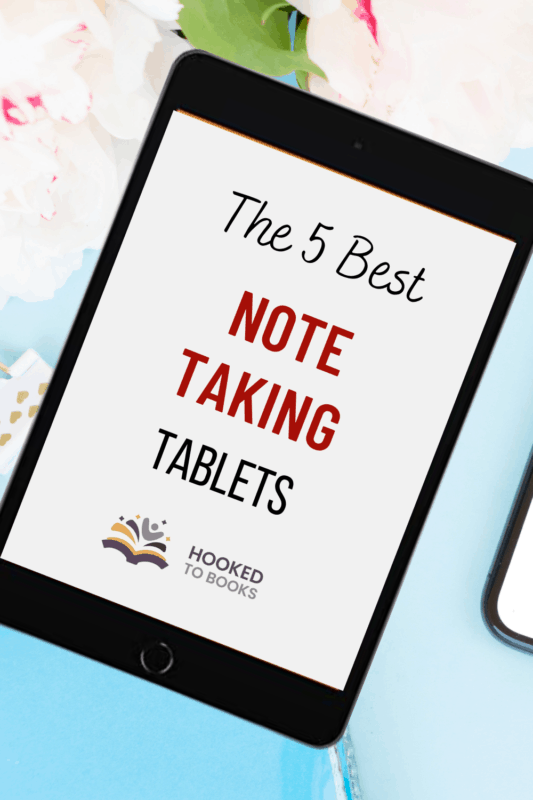 Why Use a Tablet For Notetaking?
Some people swear by taking notes with a pen and paper. And while I also love writing my notes in the old fashioned way, I'm forever losing scraps of paper. Whether it's ideas for an article or blog post or just a shopping list, I find it all too easy to lose track of my important notes. 
That's just one reason why so many people turn to their tablets to support them in their notetaking. And thanks to the advances in modern technology, we no longer have to settle for typing out notes into a word document or online notepad. There are tons of great stylus pens that work alongside a laptop, allowing you to handwrite your notes rather than type them. And some tablets even support voice to text notetaking too.
Making and storing notes on a tablet makes it easy to collect, organize, and look after all of your important notes.
It's also a useful way to visualize and flesh out ideas that are written down in note form. The ability to delete certain words and sections and rearrange your thoughts and ideas is not as easy with an old fashioned notebook and pen.
What To Consider Before Choosing a Notetaking Tablet?
If you're looking for a tablet geared explicitly towards notetaking, it's helpful to consider your specific requirements before you decide on the right model for you. Here are a few critical features to look out for.
Tablets come in a wide variety of sizes, from the super-compact, like the iPad Mini, to the larger screens that are approaching the size of a standard laptop. But overall, tablet screens generally range from 7 to 12 inches in diameter.
Which one you choose will depend on how you plan on using your tablet from day to day. If you're only looking for an easy to transport device for jotting down quick notes throughout your day, then a smaller screen will likely be your best option. You can pack it away easily, and some models will even fit into your pocket.
But those who plan on using a tablet for more long-form or detailed notetaking, or for reading books and articles, will benefit from a larger screen which is easier to work with.
If you have good eyesight and you're just looking for a basic notetaking tablet, then a standard or even lower resolution tablet will do the trick. The standard resolution size is generally agreed to be 1920X 1080, so look out for this when you're checking out specs.
But if you struggle with your eyesight or plan on using the tablet to watch movies and TV shows, it might be worth investing in a higher screen resolution. Text, pictures, and graphics will all appear sharper and clearer, and reading at length will create less strain on your eyes.
Instead of the basic LCD and IPS displays, look out for tablets with HD, FHD, or WQHID displays as these tend to be much higher quality.
Suppose you're looking for a multipurpose tablet that not only performs well for note taking, but also allows you to use more heavy duty applications. In that case, you're going to want a superior processor.
But those who are looking for a basic tablet to take notes and surf the internet don't need to shell out on an expensive model with a lightning-fast processor.
Take a look at these processor types to see which will suit your needs:
Dual Core: the slowest processor on the market, but still performs at a reasonable standard for average note taking, word processing, and web browsing.
Quad Core: this is the standard processor type found in most mid-range tablets. It allows you to work on several tasks simultaneously without slowing down your device and is a better option for those who want video as well as notetaking capabilities.
Octa Core: this is the big daddy of processors, which allows you to work on multiple tasks at once, play videos, and even use your tablet for gaming. It's a great option if you want a robust all-around tablet for multiple purposes, but it's unnecessary for regular note taking purposes.
Tablets for note taking don't require much memory at all. Today, most tablets on the market come with a minimum of 16GB of storage, which is more than enough for notetaking, word processing, and web browsing.
Consider investing in more internal memory if you plan to store things like pictures, music, and video.
Make sure you choose a tablet with a good battery life, and always read the reviews to see how the battery performs after a month or two out of the box.
If you plan on using your tablet to take notes on the go, then a decent battery life is especially important. Look out for models that give 8 hours or more so you won't have to worry about recharging it during the day.
Some tablets come with a removable keyboard, which allows you to type your notes out wherever you are, but many require you to purchase a plug-in or wireless keyboard separately.
Whatever device you choose, make sure it's Bluetooth enabled so that you can easily connect wireless devices, including stylus pens for longhand notetaking.
Conclusion
The right tablet can change the way you write and record notes. It can speed up the process of recording information, make it much easier to share ideas with your colleagues, friends, and family, and it can also help you to transform your notes into fully fleshed out ideas. Thanks to the digital stylus, even many traditionalists who love handwriting their notes reap the benefits of this modern method of recording information. And with so many tablets on the market today, there's something to suit every type of note taker.