Finding an e-reader that does all you want it to do can be tricky, but it can be really rewarding and gratifying as well when you find it.
At Hooked to Books, we love e-readers and tablets that can stand up to our beloved paperbacks and hardbacks, and we're constantly testing and reviewing reading gadgets to see how they work.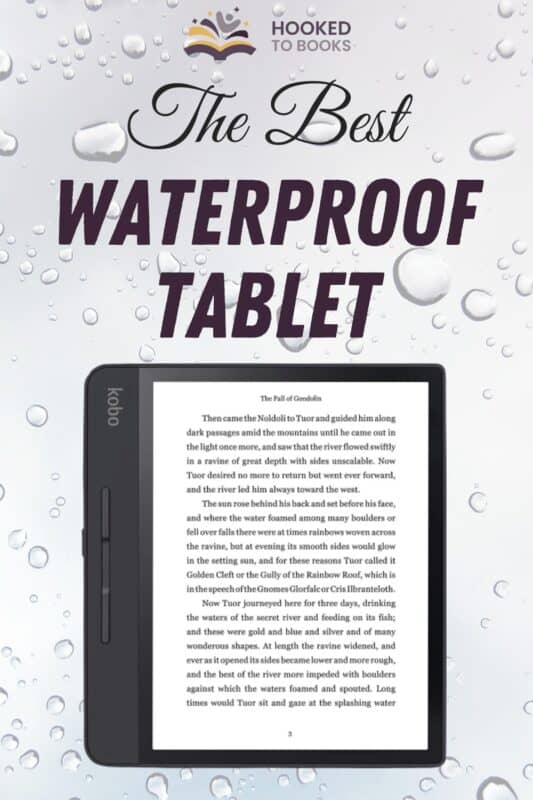 With the Kobo Forma tablet, we've finally found an e-reader and tablet that provides an excellent reading experience — all the while remaining waterproof and perfect for everything from the tub to the pool to the beach.
Meet the best waterproof tablet –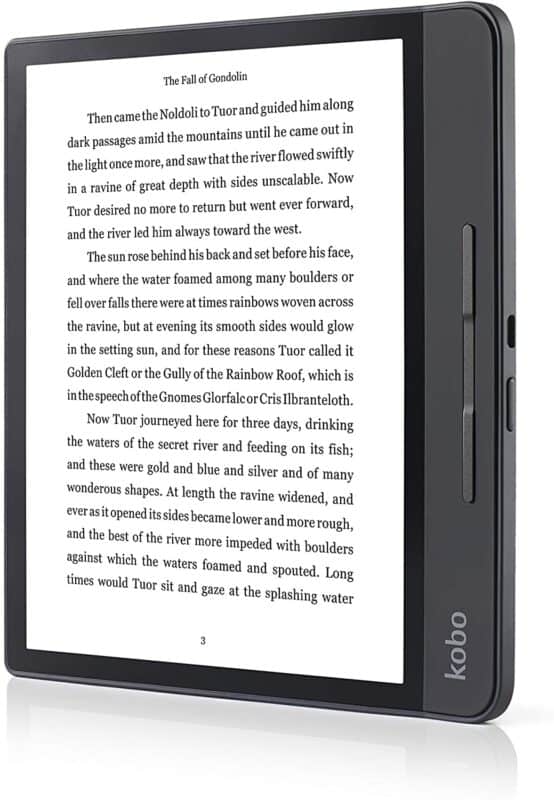 With the Kobo Forma's handy size and long battery life, it's a great choice for a waterproof e-reader. We've rounded up everything you need to know about the Kobo Forma, from the specs and the pros to the cons and the technology.
What is the best waterproof e-reader?
We are quite the e-reader and tablet experts over here at Hooked to Books, as we're always looking for ways to elevate our reading experiences with some technology.
Waterproof tablets and e-readers are necessary for any avid reader, making them a great choice for everything from reading in the bathtub to reading on a beach vacation.
The best waterproof tablet on the market is the Kobo Forma, which features HZO Protection Technology and a great reading experience to boot!
What are the Pros and Cons of the Kobo Forma?
Pros of the Kobo Forma:
Automatic blue light reduction (great for nighttime reading!)
It's large, with an 8-inch touchscreen
Long battery life
A lot of storage space
Lightweight (packs a lot of punch without a lot of weight!)
Waterproof (wahoo!) AND dustproof
Cons of the Kobo Forma:
Compared to other Kobos, this one is more expensive
Not quite as easy to maneuver as the Kindles
What are the Kobo Forma specs?
Along with a waterproof feature (this one lasts up to 60 minutes in 2 meters of water) and a lightweight, the specs on the Kobo Forma are great. Here they are:
| | |
| --- | --- |
| Features: | Waterproof IPX8 – up to 60 mins in 2 meters of water |
| Screen: | 8.0″ 300 PPI E Ink Carta display, 1440 × 1920 resolution |
| Weight: | 197 g |
| Size: | 160 x 177.7 x 8.5 (thickness at gripping area) & 4.2 (thickness at the thinner side) |
| Storage: | 8 GB – 32 GB |
| Front-light: | ComfortLight PRO – Adjustable color temperature |
| Customizability: | TypeGenius: 11 different fonts and over 50 font styles exclusive font weight and sharpness settings |
| Supported formats: | 14 file formats supported natively (EPUB, EPUB3, PDF, MOBI, JPEG, GIF, PNG, BMP, TIFF, TXT, HTML, RTF, CBZ, CBR) |
| Connectivity: | Wi-Fi 802.11 b/g/n, Micro USB |
| Battery Life: | 1200 mAh, weeks of battery life* |
| Languages: | English, French, German, Spanish, Dutch, Italian, Brazilian, Portuguese, Japanese, Turkish |
| Other: | No advertising, no interruptions |
How does the Waterproofing Rechnology on the Kobo Forma Work?
Kobo Forma is completely waterproof, with HZO Protection Technology that allows for water protection for up to 60 minutes in 2 meters of water.
This means that the Kobo Forma is simply the best pick for anyone who loves reading because you won't have to worry about anything from a water spill to a bubble bath gone wrong when you're reading with your Kobo Forma.
The Kobo Forma is lightly coated with a material that makes it waterproof, which means you can wave goodbye to the smeared ink and wet pages that normally follow a bathtub reading session or a nice day by the pool.
Plus, its 300 PPI screen is the same as the Kindle Paperwhite — which means you'll be enjoying a crisp, page-centric reading experience.
What Makes the Kobo Forma the Best Waterproof Tablet for 2023?
While many e-readers and tablets come with waterproofing technology, the level of waterproofing on the Kobo Forma is much greater than its other counterparts.
We've rounded up all of the e-readers we love the most in 2023 to see how their waterproofing stands up to the Kobo Forma:
How does the Kobo Forma stack up to other e-readers?
The Kobo Forma is a great choice for e-readers, whether or not you need one that's waterproof! While the waterproofing is a great addition, it's not the only thing that makes the Kobo Forma a favorite of ours.
We — and tons of other readers — like the Kobo Forma for a ton of different reasons, from its screen size to its waterproof technology to its long battery life.
With an 8 inch screen, the Kobo Forma really does feel like you're reading a real-life paperback, which is always nice to add to a technological experience.
The Kobo Forma has a glare-free screen — 300 PPI — which makes it a great tablet to read outside, similar to the Kindle Paperwhite.
The Kobo Forma comes with anywhere from 8 GB to 32 GB of storage, which is a ton of storage! In fact, 32 GB of storage would hold over 20,000 ebooks. Wow!
The Kobo Forma is also great for making your reading experience your own, as it allows you to deeply customize your reading experience. With 11 font types and 50 font sizes, you can adjust your book to fit exactly what you like.
How much does the Kobo Forma Cost?
The Kobo Forma is a nice e-reader, meaning that it really can be more expensive than other similar e-readers. The 8 GB Kobo Forma is $249.99, while the 32 GB Kobo Forma is $299.99. With only a $50 price jump between the 8 and 32, we'd recommend splurging for the 32 GB reader.
When it comes to e-readers and tablets, it's easy to feel overwhelmed. After all, there are so many specs to look at and so many options to consider! With the Kobo Forma, you'll know that you're in for a delightful reading experience (and a waterproof one, too!)
Do you have and love the Kobo Forma? Let us know in the comments what you think of it.
Check out these other great posts!