Is your reading habit getting expensive? I can relate; when I browse through the Kindle store, I feel like a kid in a candy shop, but if I'm not careful, it can end up leaving a pretty deep hole in my pocket. 
But luckily, some awesome free resources allow you to access e-books without spending a dime. You don't even need to take a trip to the library! Here are the best 14 places to download and read books online for free.
1. GoogleBooks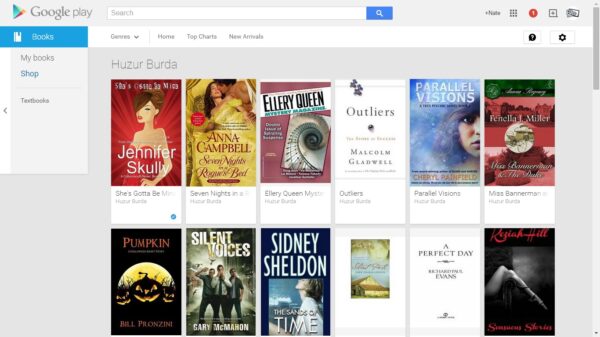 GoogleBooks is the big daddy of all free online book collections. But reader beware, not all the books on GoogleBooks are free. If you use their regular search tool to find a particular title, you'll find every listing under the sun; some are free, but most will cost at least a small fee.
To access their free collection, use this link and type your title in the search bar towards the bottom of the page. You can browse over 10 million free books that you can read and/or download, plus they're adding more all the time.
Many of the books are public domain, with plenty of older titles that have since come out of copyright. There are also tons of books made free by request of the owner or publisher.
If you're looking for inspiration, GoogleBooks has a great sampling of books on the free books homepage to get you started, or you can use the search bar to explore.
2. Smashwords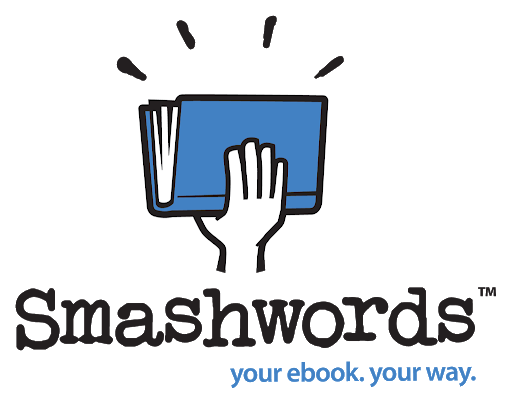 Smashwords is a free to join, e-book publishing and distribution platform that allows existing and new authors to share their work with readers worldwide.
Whether you're looking for a specific title or you're in the mood to try something new, the built-in search tool is easy to use. Right now, there are over 500,000 e-books written by 135,000 authors in the catalog, and that number is growing higher every day. Some of the books come with a small fee to read and download, but there's also a relatively good selection of over 70,000 free books too.
Overall, even the paid e-books are cheaper than buying from Amazon. Plus, Smashword authors have full control over how their work is published, sampled, priced, and sold.
There are tons of e-book formats available; many titles are available to download directly to your Kindle or other e-readers, or you can read them from your laptop, tablet, or phone.
3. Project Gutenberg
Project Gutenberg was founded way back in 1971, making it the oldest collection of e-books anywhere on the web. It's run by a team of thousands of volunteers who create, digitize, proofread and share free e-books on the massive online database.
There are over 60,000 free e-books in Project Gutenberg's extensive library, including Kindle eBooks and free epub files, all available to download or read online on your phone, tablet, e-reader, or PC.
Like many sources on this list, many of Project Gutenberg's collection consists of older titles that have aged out of their copyright and entered the public domain, including many of the world's most celebrated classics. But there's also an impressive selection of newer titles to explore too. Plus, fans of audiobooks can link directly from Gutenberg to LibriVox to get their free audiobook fix.
4. The Library of Congress
The Library of Congress has more than 60 million classics to choose from on their website, plus, there's also one of the best selections of free classic children's literature anywhere in the world.
All the online access library books were published before the year 1924, so they're out of copyright and in the public domain. This means that you can read, download, share and use them however you'd like to.
Their website has countless scanned copies of classic antique books for adults and children, many featuring original illustrations. The search tool is easy to use and intuitive, with options to browse by category. You can also easily find a specific classic by typing the title or author into the search bar. Plus, there's a great selection of free audiobooks for kids too.
5. Open Library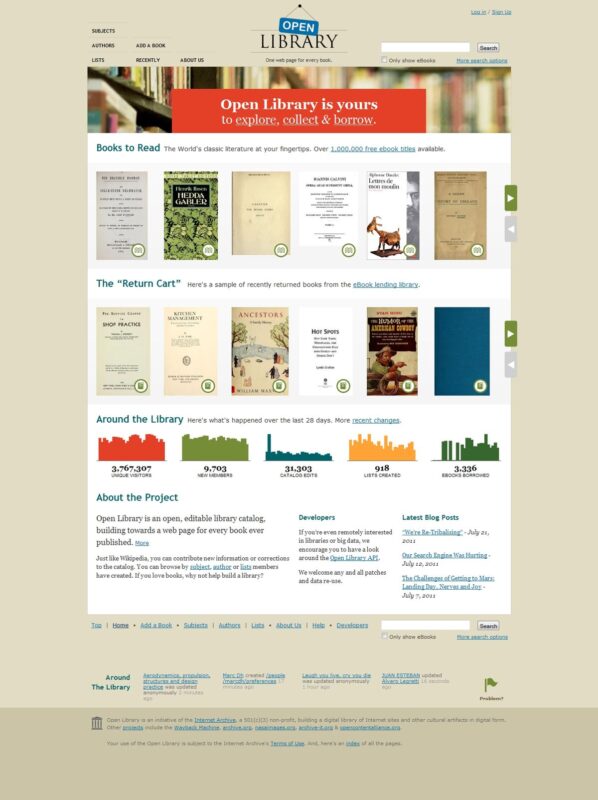 Open Library is on a mission to build a webpage for every published work of humankind and make it available to everyone and anyone in the world. They believe in making information accessible to all types of people, whether you're a budding scientist in a remote rural region or an elderly person requiring large print editions of any book. And just like with Wikipedia, all readers are welcome to contribute information, edit, or make corrections in the catalog as they see fit.
This fast-growing, volunteer-led online library already has more than 1 million books free to borrow. It's been collated and curated with the help of scholars, librarians, technologists, authors, government officials, as well as regular, everyday people like me and you.
You can browse the already humungous collection, or if you believe in the cause, why not consider helping to edit their current catalog by improving their records for the books you love. Simply click the edit button on the publication page and enter your updates. If you notice there is no record for a book you love, then you can create one. By becoming part of this amazing collective, we can help ensure that everyone worldwide has access to knowledge and education.
6. The Internet Archive
The Internet Archive has a similar ethos to The Open Library; it's on a mission to provide "universal access to all knowledge" by digitizing and distributing millions of e-books for free to readers anywhere in the world.
If you're already sure of the book you'd like to read or download, you can search by title or author. There's also the option to search by genre and subgenre and by year and by language, or you can browse through 'collections' to find similar works that might interest you.
Just like a paper library, The Internet Archive specializes in books. Still, they also provide free access to all kinds of digitized materials, including movies, videos, games, music, software applications, and websites, to name a few. They're used by scholars, historians, researchers, students, and of course, the general public.
7. 24Symbols
24Symbols invites you to "subscribe to emotion and knowledge, to balance and critical thinking, to the pleasure that only reading can provide."
So yes, it is a subscription service. If you want to gain access to their entire library of over a million titles, you'll have to pay a small monthly fee. Still, there are also plenty of fantastic free books to read online too.
Head over to the "Books" tab on the main page, and you can browse their free selection. There's everything from contemporary fiction and children's books to textbooks and case studies.
Another great thing about 24Symbols is that you can link to libraries across several platforms once you create an account, expanding your access to free books. There's the option to browse alphabetically, by author, by language, genre, or category. Plus, there are tons of audiobooks to download or listen to online too.
8. BookRix
BookRix works in a similar format to Smashwords. It's a free self-publishing platform that distributes e-books by independent writers to readers around the world, at no cost to either party. It's an easy way for up-and-coming authors to get their work seen by millions of readers. For us readers, it's a great way to discover new authors and stories that might get diluted on some of the bigger platforms out there.
As well as titles from self-published authors, there are also thousands of public domain books to browse and download for free. The homepage is easy to navigate with an intuitive search tool that lets you browse by category and genre. There's also a bestseller section and a self-published section; plus, there are endless groups you can join to chat and share books and ideas with like-minded people from around the world.
9. Authorama
When you first visit Authorama.com, it feels like going back to some early version of the internet, with its Times New Roman text and 90's style layout. But don't be fooled; this site is an awesome, free resource featuring countless public domain books. You can find the world's most beloved classics here, like Lewis Carroll's Alice in Wonderland and Charles Dickens' A Christmas Carol, as well as more obscure, lesser-known works.
One key difference with Authorama compared to other sites like Project Gutenberg is that this site has transferred the files into an easy-to-read HTML version instead of plain text.
Unlike many sites on this list, Authorama doesn't allow you to download a book onto a device. Instead, you read it directly from the website on the device you use to browse. Simply click on the title to launch the book. It's particularly handy when you're in a remote location where your internet isn't as strong. Even with a slow connection, you can load books quickly and easily and get reading straight away.
10. Wattpad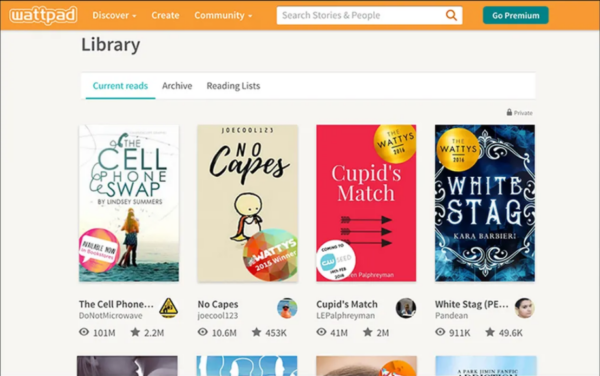 Wattpad has a huge library of e-books, and while some require you to pay a fee, there are plenty of free options too.
It's a particularly good resource for people who don't consider themselves very tech-savvy and just want easy access to great books that they can read right away. You can either download the app or browse via the Wattpad website, both of which are super simple and intuitive to use. Signing up for a free account only takes a second, then you can browse by genre, category, author, or title. Once you find the book, you'd like to read, simply click the orange 'read' button, and you're away.
Wattpad also has a strong creative community focus. Up and coming authors are invited to share their own content on the site, making it a great platform for those who can't afford to go the traditional publishing route. Plus, there are discussion groups that act like book clubs, allowing readers to talk about their favorite and current reads with other bibliophiles worldwide.
11. Bookboon
You won't find much in the way of classic fiction at Bookboon, but if you're looking to access free educational textbooks and business books, then this is your go-to resource.
This Danish site was founded way back in 1988 under its previous name, Ventus. Since then has built upon its ethos of providing invaluable study materials to students and businesses to become one of the top online publishers of student literature today.
Students sign up for free and can access a pool of thousands of the best and most cited textbooks in academia, many of which are written by ivy league university professors. There's a particular focus on IT, engineering, and business. Still, the scope is wide, so if you're looking for any kind of educational resource, then I highly recommend you browse through their catalog.
12. The International Children's Digital Library
Originally developed at the University of Maryland, the International Children's Digital Library's mission is to "promote tolerance and respect for diverse cultures by providing access to the best of children's literature from around the world."
But in April of 2021, the ICDL posted some sad news on their website; due to lack of funding and licensing issues, they were to shut down after more than 20 years of service.
Yet thankfully, just a month later, there was some good news; thanks to the University of Maryland Computer Science Department, there will now be a static version of the site. This has allowed them to resuscitate around a quarter of their previous book collection in PDF form. Unfortunately, it's still a fraction of the old collection. Many of the previous search features, such as translations, etc., are no longer accessible. But,
The International Children's Digital Library still has a large collection of digitized kid's books, all available for free, and that's certainly something to celebrate. When children are exposed to other cultures and ways of life, it opens their minds and lets them see the world in a whole new way. That's what makes this resource so special; there are books in 59 different languages written by authors from all four corners of the globe. It allows kids to travel the world at a young age without ever needing to set foot on an airplane.
All the books are free, and you can search alphabetically, or by genre, but also by shape, character, format, color, and more. All books come in PDF format and are free for personal use; however, they are not licensed for further distribution.
13. HathiTrust Digital Library
The HathiTrust Digital Library is a huge collaborative repository that collates digital content, including millions of e-books, from the biggest research libraries around the world, including The Internet Archives, GoogleBooks, and the Library of Congress. It also pulls content from local libraries worldwide, making it one of the most varied resources for free books on the internet.
Regular users are limited to online reading only. Still, suppose your university, school, college, or other institution is a member. In that case, you can log in to access downloadable versions of most titles.
You can browse by author or title, or if you're unsure what you'd like to read next, take a look through their collections to get inspired.
14. ManyBooks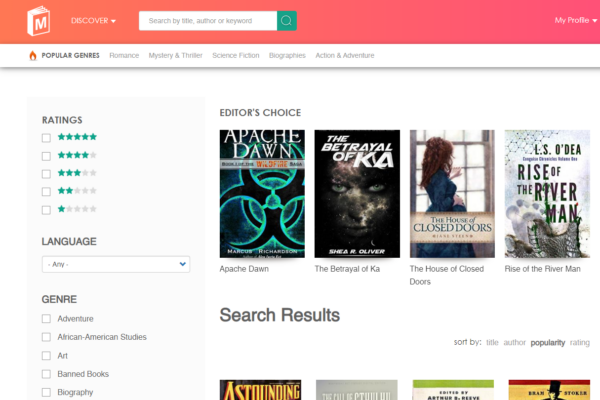 Manybooks.net has over 50,000 e-books available to download. A huge chunk, almost 30,000 of them, are completely free, while some of them are available to buy at a discounted price. In their free selection, you'll find all of the classics out of copyright titles that you'd expect, plus a large selection of contemporary works from famous and up-and-coming authors.
The website is one of the simplest and most intuitive on our list. There are no complicated extra steps to take to find the books you need. You can easily browse by author, title, genre, and language, or you can check out the best-reviewed books and the most popular titles of the moment.
Plus, most books are listed by their title, the author name. They show a thumbnail of the book cover, making it a more easy-to-navigate and visual browsing experience.
All the e-books on this site are compatible with Android and IoS devices and Kindles, and other brands of e-readers.
Conclusion
Reading e-books online or even download them onto your tablet, Kindle, or other e-reader doesn't have to cost you money. As you can see, there are tons of amazing free resources out there where you can find some of the world's best books to read, entirely for free.
Do you know of any other ways to download or read books online for free? If so, please let me know; the more access we all have to incredible literature for free, the better. Drop a comment in the box below!