Tim Dorsey has created what some people would call a "chaotic masterpiece" with his bizarrely made acid-trip of a book series of Serge A. Storms.
A maniacal, deranged, and unhinged serial killer who is also a historian and loves Florida like no one else. The entire book series is about his shenanigans and adventures, and what a laugh riot the whole book series is.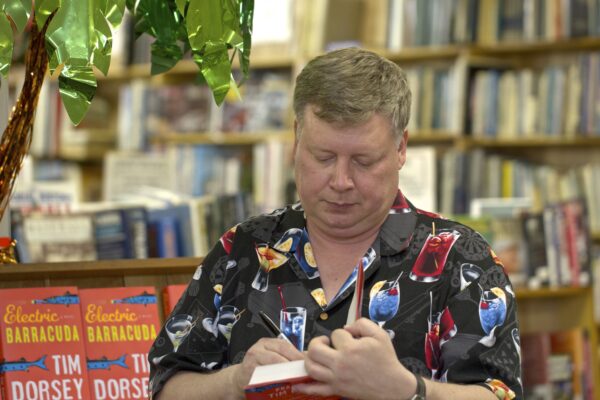 But with over twenty books, knowing where to start could not be easy. Please do not fret, as we present the complete list of all the books by Tim Dorsey arranged in reading order. Take a look:
| Sr. No. | Title | Publication Date | Print Length | Publisher | Where to Buy |
| --- | --- | --- | --- | --- | --- |
| 1 | Florida Roadkill | February 28, 2006 | 288 pages | William Morrow Paperbacks | Amazon |
| 2 | Hammerhead Ranch Motel | May 29, 2001 | 384 pages | William Morrow | Amazon |
| 3 | Orange Crush | July 3, 2001 | 304 pages | William Morrow | Amazon |
| 4 | Triggerfish Twist | May 7, 2002 | 320 pages | William Morrow | Amazon |
| 5 | The Stingray Shuffle | February 4, 2003 | 320 pages | William Morrow | Amazon |
| 6 | Cadillac Beach | February 3, 2004 | 352 pages | William Morrow | Amazon |
| 7 | Torpedo Juice | January 18, 2005 | 336 pages | William Morrow | Amazon |
| 8 | The Big Bamboo | March 28, 2006 | 352 pages | William Morrow | Amazon |
| 9 | Hurricane Punch | May 8, 2007 | 516 pages | HarperLuxe | Amazon |
| 10 | Atomic Lobster | January 1, 2009 | 382 pages | Harpercollins | Amazon |
| 11 | Nuclear Jellyfish | January 27, 2009 | 320 pages | William Morrow | Amazon |
| 12 | Gator A-Go-Go | January 26, 2010 | 352 pages | William Morrow | Amazon |
| 13 | Electric Barracuda | January 25, 2011 | 368 pages | William Morrow | Amazon |
| 14 | When Elves Attack | October 25, 2011 | 208 pages | William Morrow | Amazon |
| 15 | Pineapple Grenade | January 24, 2012 | 352 pages | William Morrow | Amazon |
1. Florida Roadkill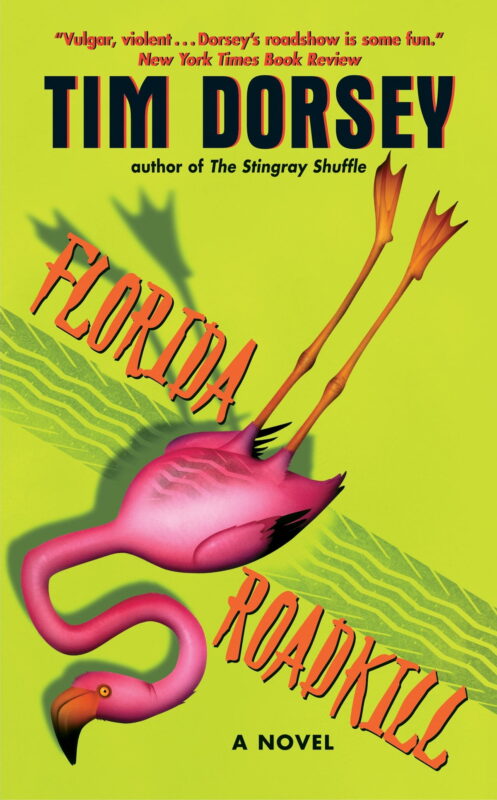 A book with a plot that feels like the hot summer sun, salty wind, and a violent acid trip, all at once. "Florida Roadkill" is the first book in the Serge A. Storms series, and what a peculiar yet fun experience it is to read this book.
It's difficult to put this book in a genre as it dabbles in dark humor, comedy, thriller, murder mystery, crime, etc. It is not for everyone, that's for sure. You might not like the humor, the crass language, or the intense high-paced story.
But for people looking to read something unique and exciting with hilarious characters and a lot of deaths, this book is the one for them. Serge Storms is a ruthless criminal who is not going to stop at any cost. The story is criminals vs. criminals.
2. Hammerhead Ranch Motel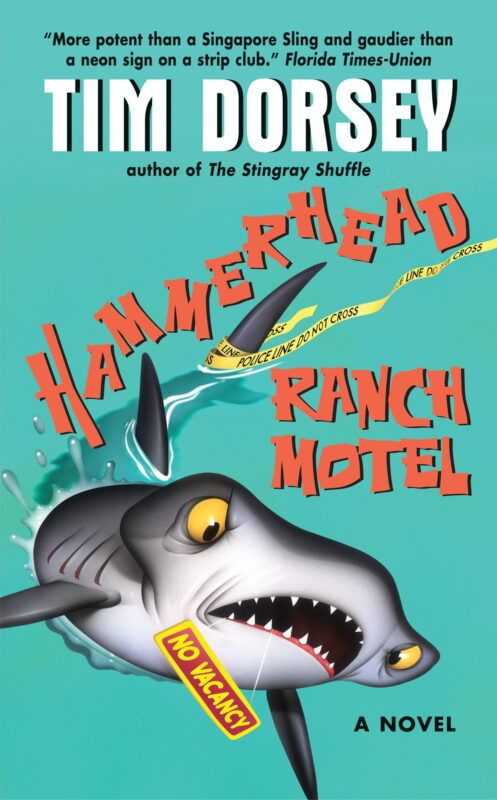 The story continues from the first book, and this time, the characters are more vibrant (acid-high vibrant), and the plot is more chaotic but in a good and entertaining way.
Hammerhead Ranch Motel has thousands of things happening, and that is the great thing about the writing of Tim Dorsey; even those thousand things make sense, somehow!
If you like stories like this, then pick this book because it is going to send you on a laugh riot. Everyone is mad in this story, and that's the fun of it.
3. Orange Crush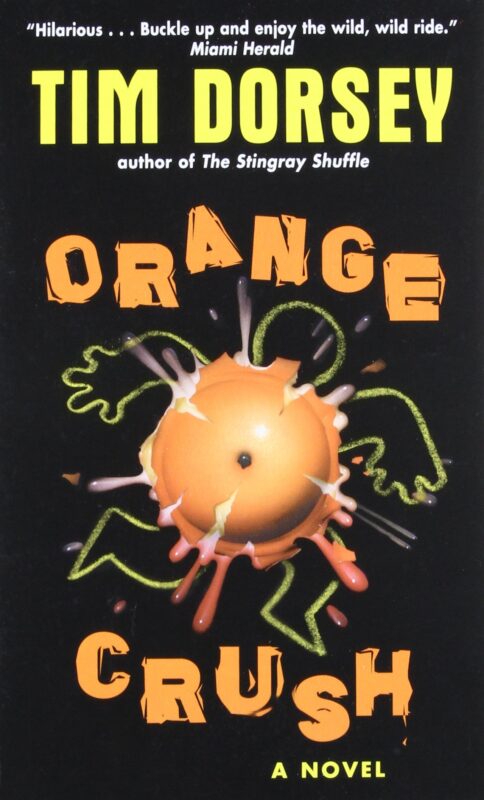 It is tough to describe the plot of Orange Crush but think of it as a political drama with the characteristic style of Tim Dorsey.
The plot is about political chicanery at its finest (and weirdest). The lead in the story is Marlon Conrad, the Lt. Governor of Florida. He is rich and handsome and could not give a damn about his job.
But things take a turn when he is sent to Kosovo, where he looks at the horrors of battle and finds his friend dead. And then, the story switches to fifth gear, and the pace picks up.
This book will take you into the weirdest and most exciting parts of politics with some of the most interesting characters you have ever read.
4. Triggerfish Twist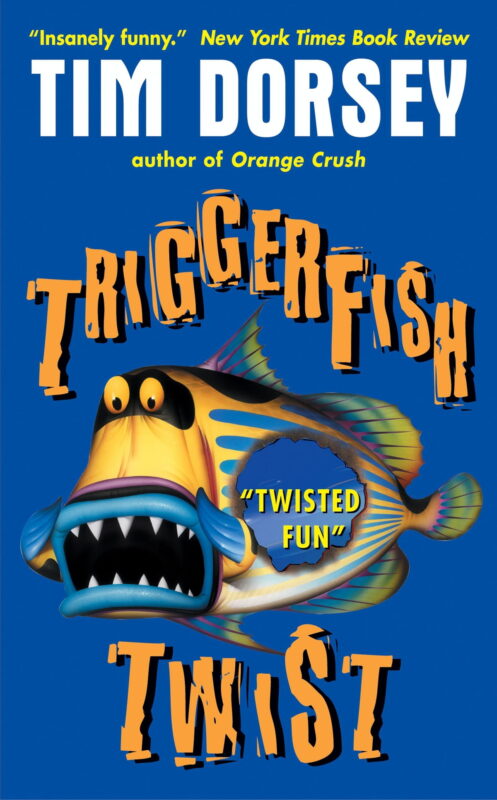 The fourth book in the series, "Triggerfish Twist," takes everything that worked in the previous books and makes things even more, weirder and sillier. This book is filled with moments that would make you laugh out loud.
Craziest adventures in Tampa is one the mildest ways of explaining what happens in the book. The best way to experience this is by getting into the complete lunatic world created by Dorsey and experiencing Florida yourself.
5. The Stingray Shuffle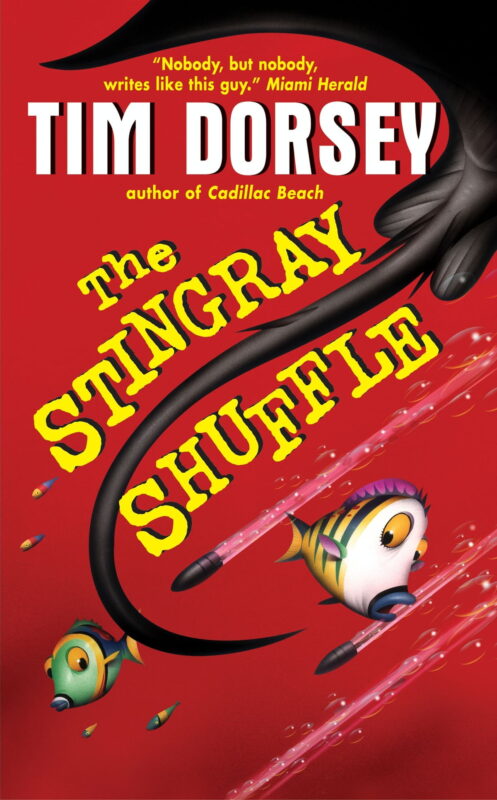 Apart from the hilarious title, "Stingray Shuffle" brings back the beloved lunatic murderer Serge A. Storms back into the spotlight. And this time, he is off his meds, making him even more erratic and unpredictable.
What does this mean for everyone else? No one is safe when Serge is out of control. Mobsters, drug dealers, gang members, frat boys, etc. Serge does not discriminate when it comes to beating the life out of criminals.
6. Cadillac Beach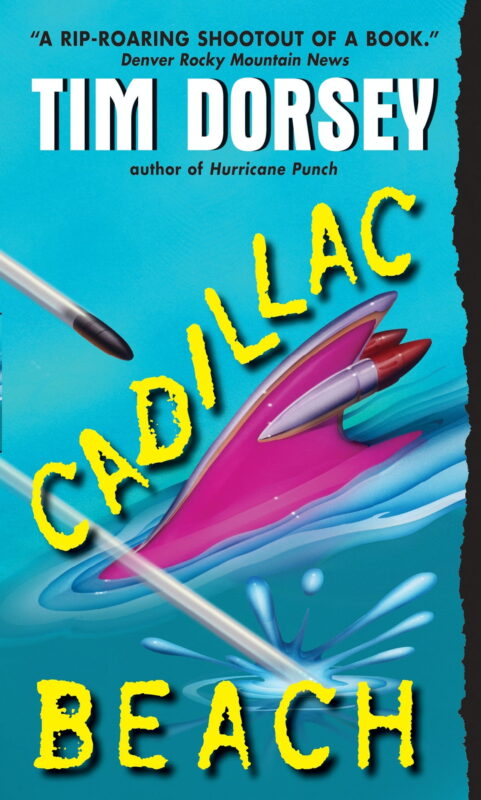 What happens when a crazy lunatic murderer is off his meds and thinks about investigating the decade-old murder mystery of his grandfather? Hilarious chaos and a story that will keep you entertained.
Catch the adventure of Serge and his brain-dead friend Lenny as they go through their bizarre adventures and cause mayhem in the town.
7. Torpedo Juice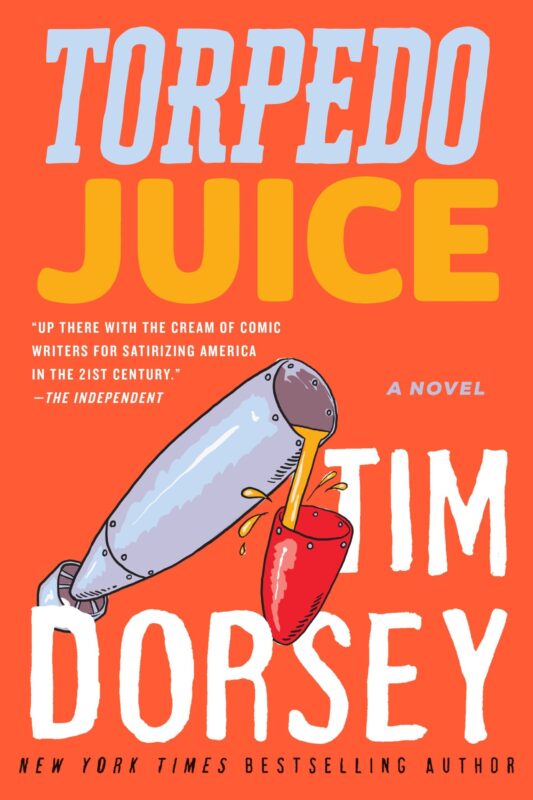 Serge has had enough of his mind-numbing adventures and has gotten away from all the chaos in Sunshine State. He finally decides to settle down after finding the perfect woman for him.
But nothing is simple or easy in the crazy life of Serge A. Storm. Read this hilarious adventure-filled tale of misfortune and craziness in the extraordinary life of Serge.
8. The Big Bamboo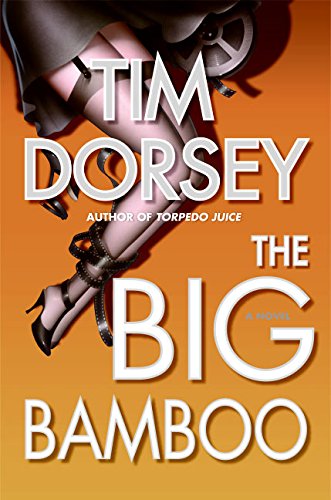 Florida was not enough for the shenanigans of the crazy Serge A. Storms. Things are not working out for him, in life and in love. So he decides to convince the folks at Hollywood to come and do their business in his time, Sunshine State.
The adventure then begins and will leave readers in hysterics. Read to find out the troubles Serge gets in and creates in the eighth book in the series.
9. Hurricane Punch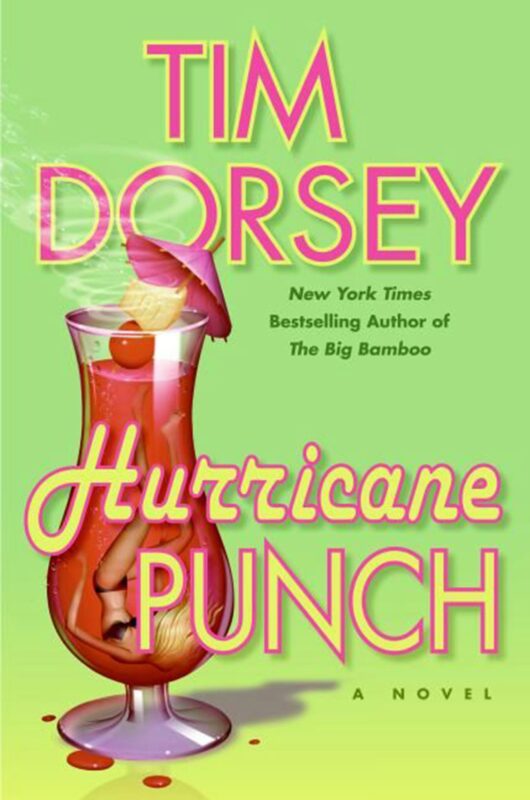 The beautiful and crazy town of Sunshine State is about to feel the wrath of God. A stormy storm is coming towards the coast. But things are getting difficult for Serge as Agent Mahoney is back at tracking Serge down.
This book's plot is one of the most bizarre plots you'll ever read. There are a hundred things happening, and reading this book will feel like a good acid trip.
10. Atomic Lobster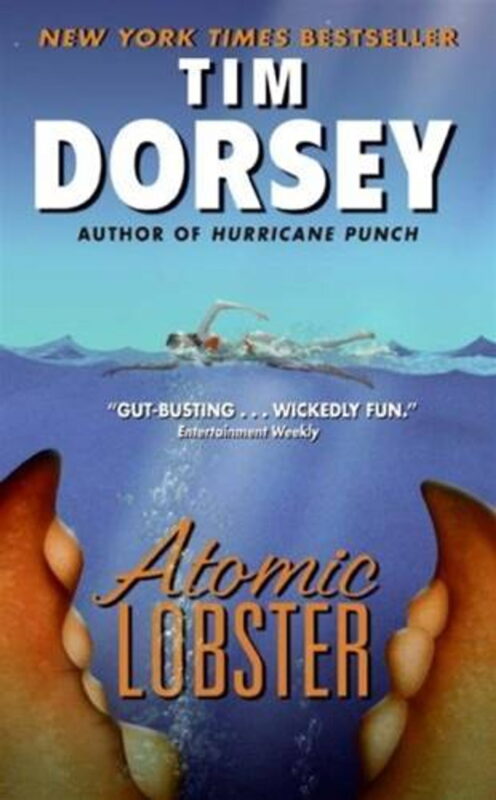 Atomic Lobster brings a crazy reunion, bringing some great characters back into the spotlight. But amidst the craziness, laughter, and a lot of drugs, an oddly familiar woman named Rachel comes into the crazy life of Serge.
Who is this woman, and what is going to happen next? Pick the book and read it for yourself to go on this journey of drugs, guns, and madness.
11. Nuclear Jellyfish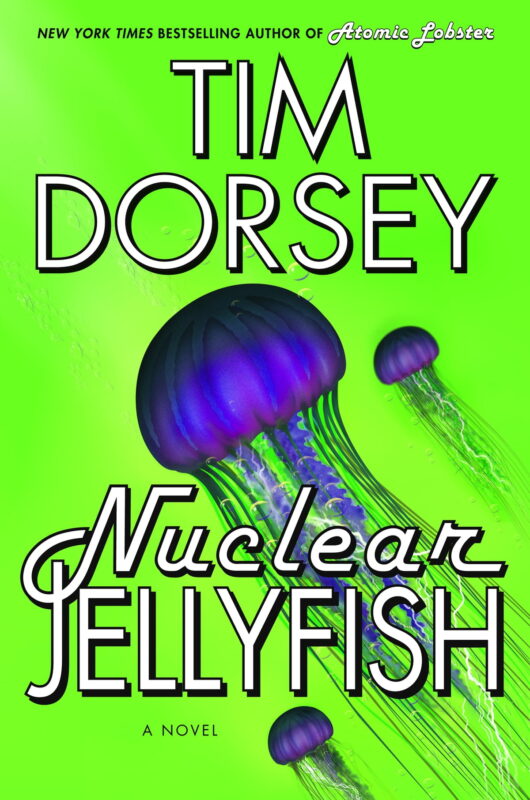 Serge has some priorities in his life, and one of his biggest priorities is making sure that his town gets the attention it deserves. But the ways he tries to achieve it are not very ethical or harmless.
So what happens when he decides to go on the internet and start his own blog to promote the city? Well, a lot of things. Read this laugh riot and find yourself in a world of hilariously great events and characters.
12. Gator A-Go-Go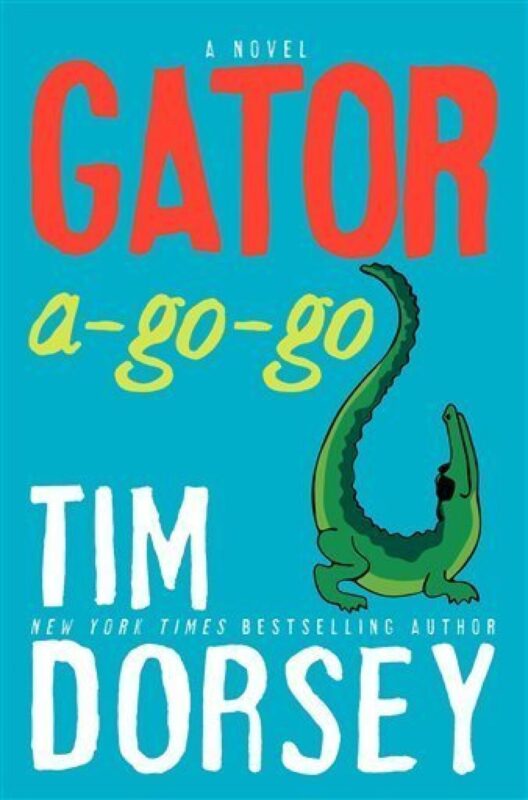 Historian and a Floridian at heart, Serge is ready for his next bizarre adventure. This time, the adventure is during Spring break, and he is about to crash a big beach party in his style.
This is a really interesting book in the series as some old and loved characters are coming back, such as Johnny Vegas and Agent Mahoney, and Serge is as brilliant as before.
13. Electric Barracuda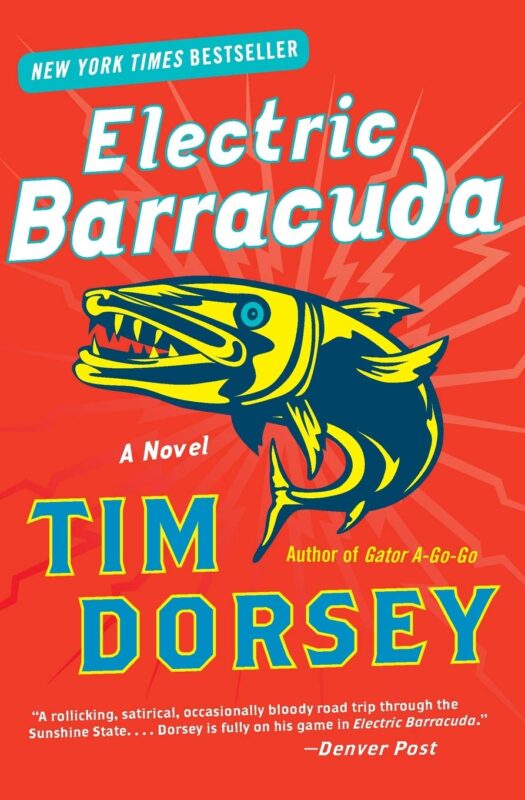 Things are getting serious in the thirteenth novel of the series as the authorities are getting close to catching this crazy son-of-a-gun killer, all thanks to the persistent agent Mahoney. Will Serge get caught?
Other problems mount up as Serge feels the heat, and that makes the story even more interesting and fun to read.
14. When Elves Attack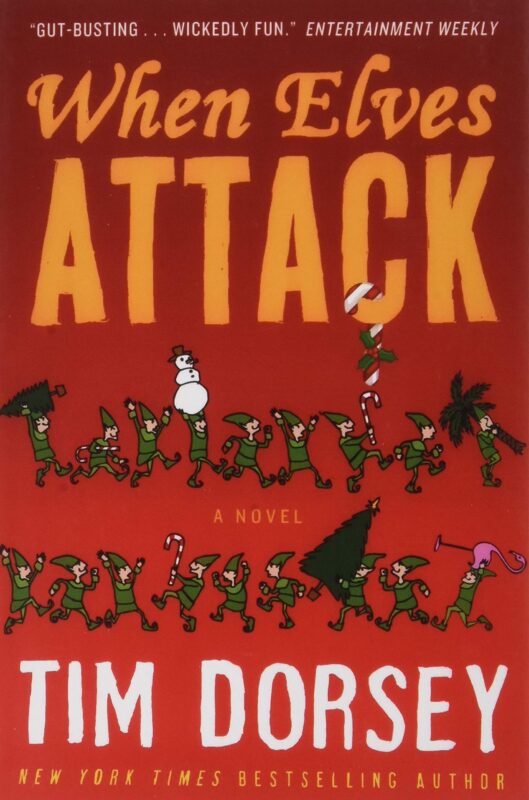 This book is just as hilarious as the title. The perfect time of Christmas is here, and our deranged serial killer is about to show the way he celebrates Christmas. "When Elves Attack" is a hilarious dark comedy with great elements of a thriller.
A complete package to keep you hooked to the story. Strong and violent elements of the story give this book its characteristic charm (in a very dark way.)
15. Pineapple Grenade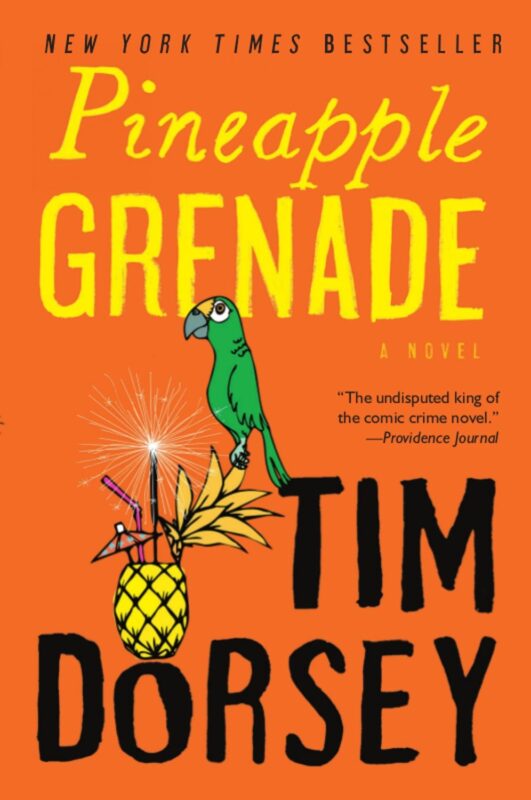 Serge's adventure does not stop, and this time it has become quite a series. He has gotten into becoming a secret agent in Miami. He takes up the task of spying on the President of a Latin American country.
But things are about to get convoluted as the CIA gets involved. This story may be too complicated for the fans of the series. But it is enjoyable nevertheless.
16. The Riptide Ultra-Glide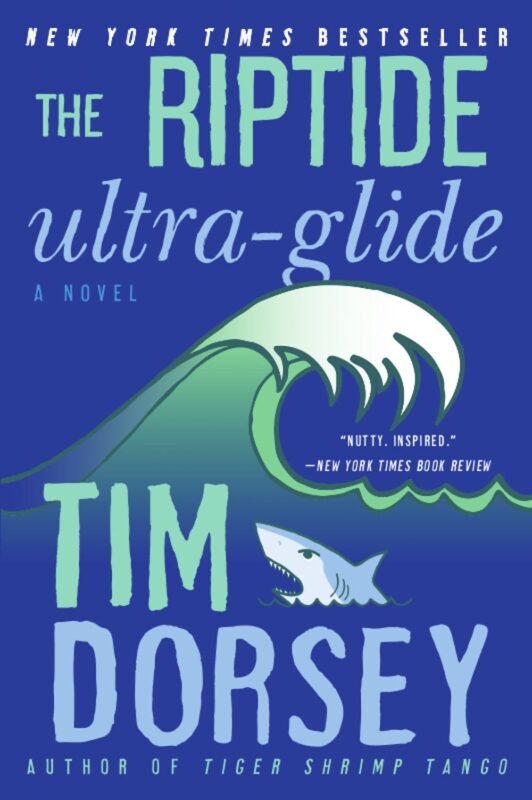 Serge might be a ruthless, deranged killer, but he has a big heart. So what happens when a nice couple is stuck in the middle of the city with all their belongings stolen? There is the only person who will come and save them, as the hospitality of Florida is on the line.
17. Tropical Warning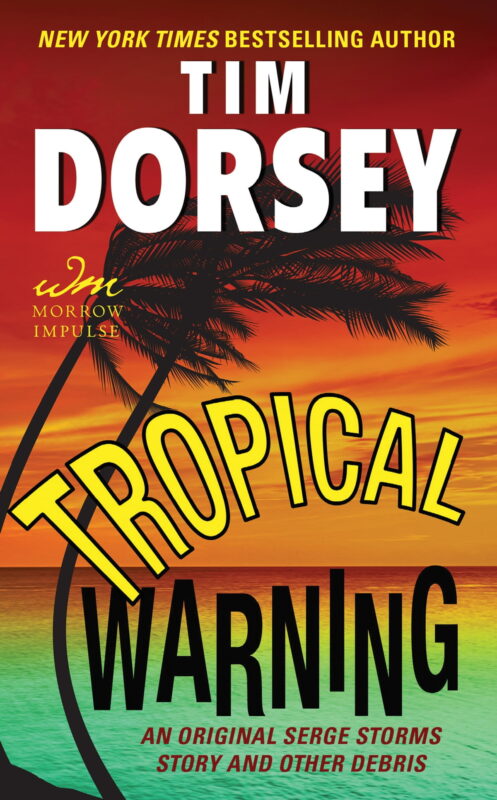 Tropical Warning is a short story addition to the series that takes the readers to some unknown and smaller parts of Florida. Who is their travel guide? The lovable, big-hearted deranged lunatic murderer Serge Storms. What could be better?
18. Tiger Shrimp Tango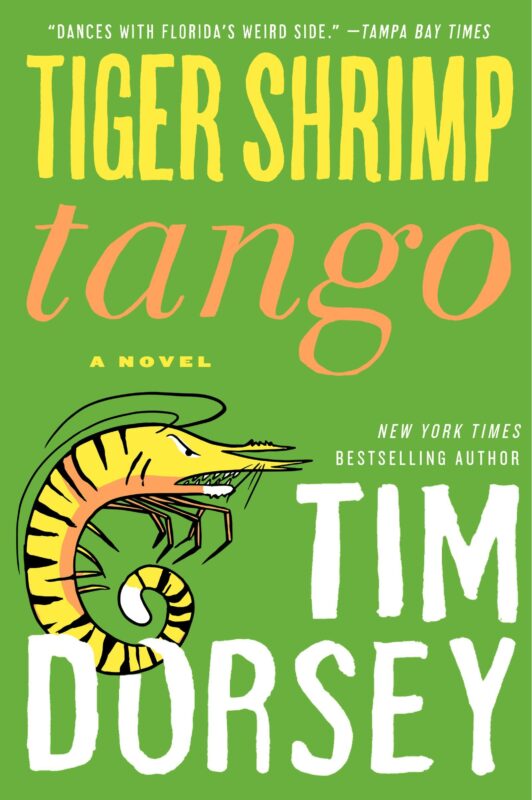 "Tiger Shrimp Tange" is the seventeenth book in the series, and this time Serge needs to save the reputation of his state Florida by taking out all the ruthless scam artists on the internet. And there is no one who can stop this maniacal murderer.
19. Shark Skin Suite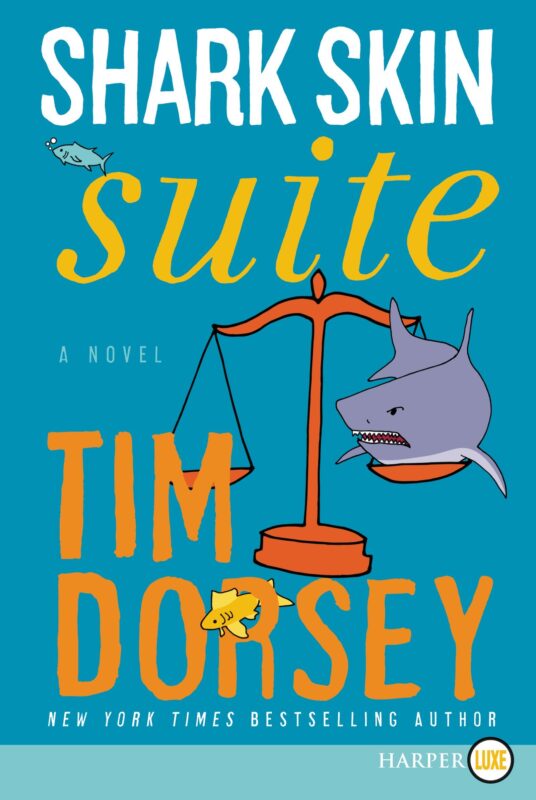 It is almost like the entire fictional world in the Serge A. Storms series is Serge's world, and everyone else is just living in it. He decides to do whatever he wants, and he does that. No thinking is involved.
In Shark Skin Suit, Serge has decided to become the protector of the law by becoming a dashing attorney after watching multiple legal movies. Chaos ensues next, and that's what makes the story even more fun.
20. Coconut Cowboy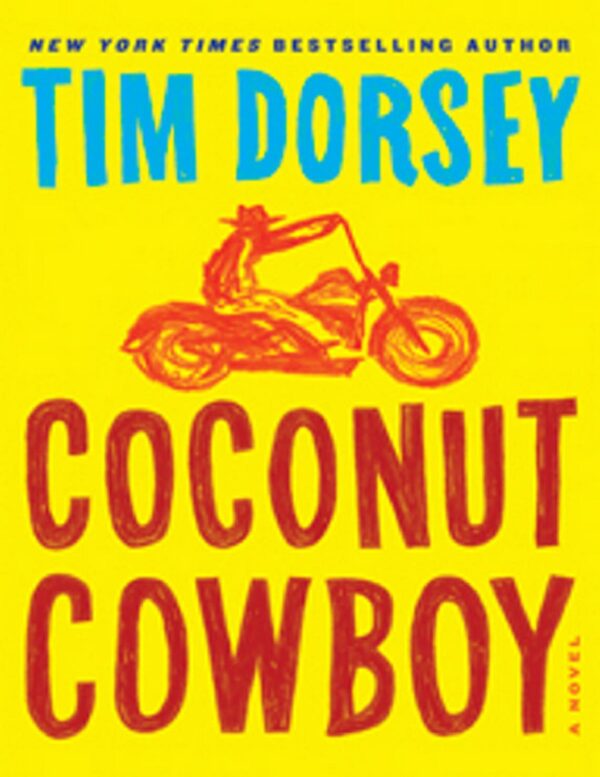 Serge gets influenced very easily. In the previous book, a couple of legal movies convinced him to become an attorney. This time, he saw a biker movie Easy Rider, and that was all to get him on a motorcycle and travel from state to state.
As always, he is accompanied by his friend Coleman, and when these two are together on an adventure, hilarious things start popping up from all corners.
21. Clownfish Blues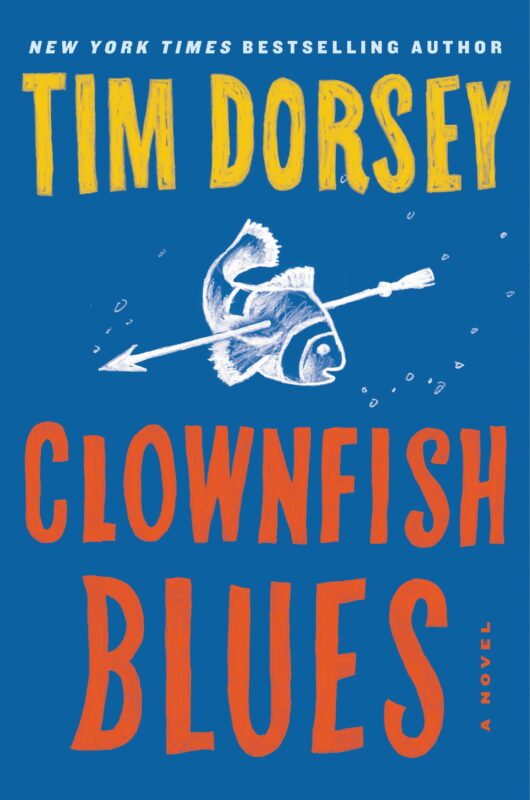 The adventure of the insane bike ride from the previous book continues in "Clownfish Blues," the twentieth novel in the book series. A lottery scam is underway, and the protagonists of this story are about to meet some very shady and even dangerous characters: a proper adventure and a great story to read.
22. The Pope of Palm Beach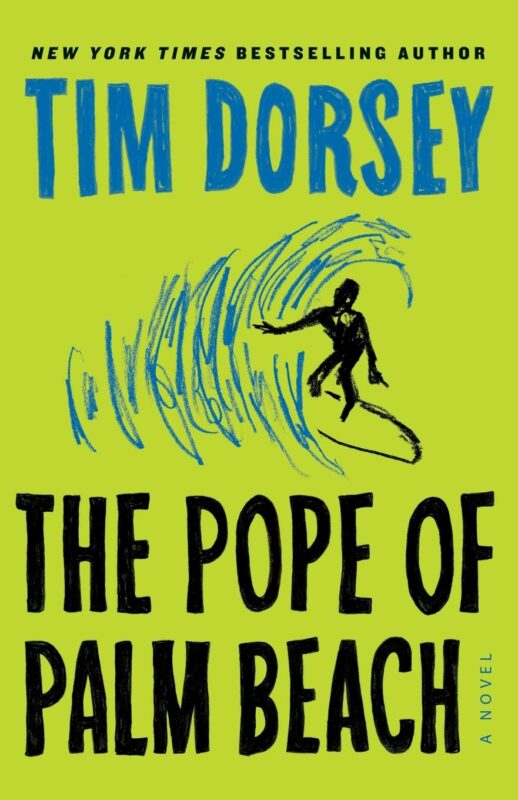 After taking on the asphalt with their biking adventure, Serge and his friend Coleman decide to ride the waves. They are back in Riviera beach, where they spent most of their childhood.
Serge and Coleman are on a mission to find the Legend of Riviera Beach. Who is this mysterious person? Read this insanely interesting book to find out.
23. No Sunscreen for the Dead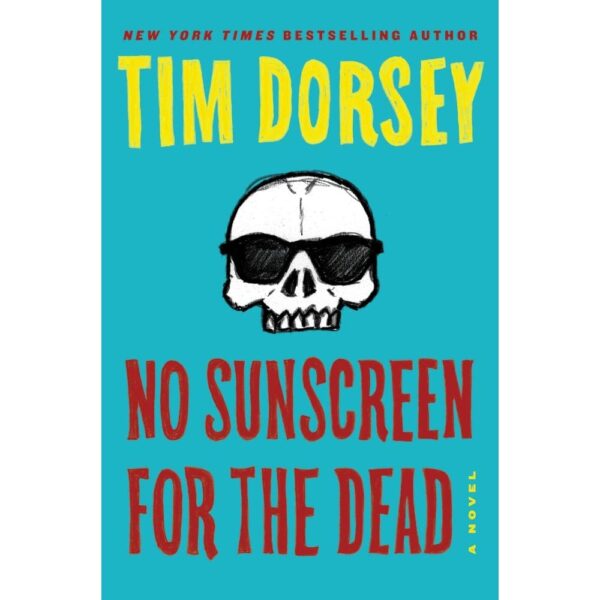 Another book, another adventure of the maniac killer out on a journey. This time, they are arriving at a large retirement home. But this retirement home has its dark and dirty secret. Chaos ensues as our anti-heroes uncover these secrets.
24. Naked Came the Florida Man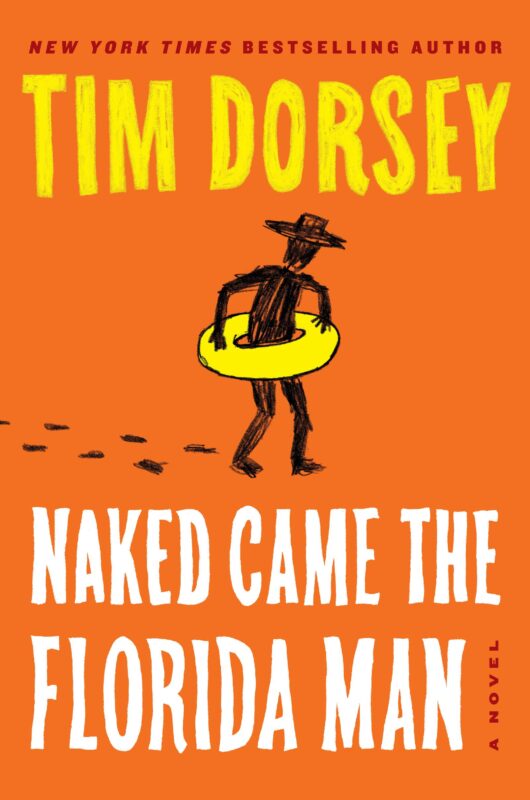 Sergey and Coleman continue their adventure in their classic Plymouth Satellite, and they come across a cemetery with a rich history. With another hurricane closing in on Florida and causing devastation, Serge discovers the story of a bogeyman near the cemetery. Read the book to know what happens next.
25. Tropic of Stupid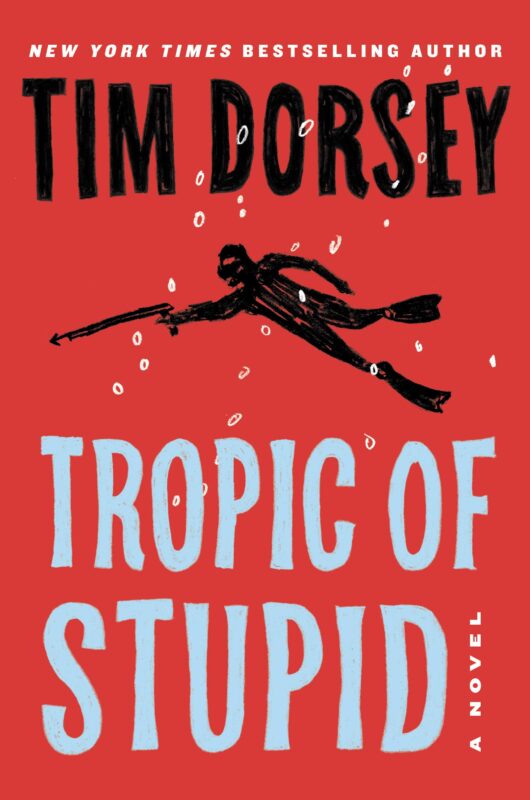 The ability to get your DNA tested and find your lineage excites Serge, and he decides to go for it to hide his family. But as he is traveling and exploring the places, he discovers that he might be related to a notorious serial killer that was never caught.
Read the book to know if the saying "like father, like son" is true or not.
26. Mermaid Confidential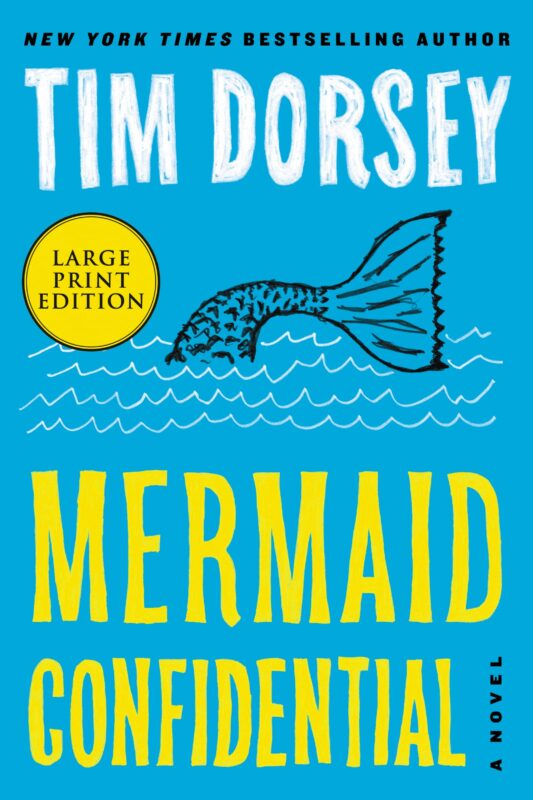 After having multiple adventures on the road, Serge and his friend decide to take a breather and relax in the Florida Keys. But it seems that some adventure always awaits the maniac murderer.
With new challenges at the condo complex, read how Serge tackles and solves the issues of Pelican Bay.
27. The Maltese Iguana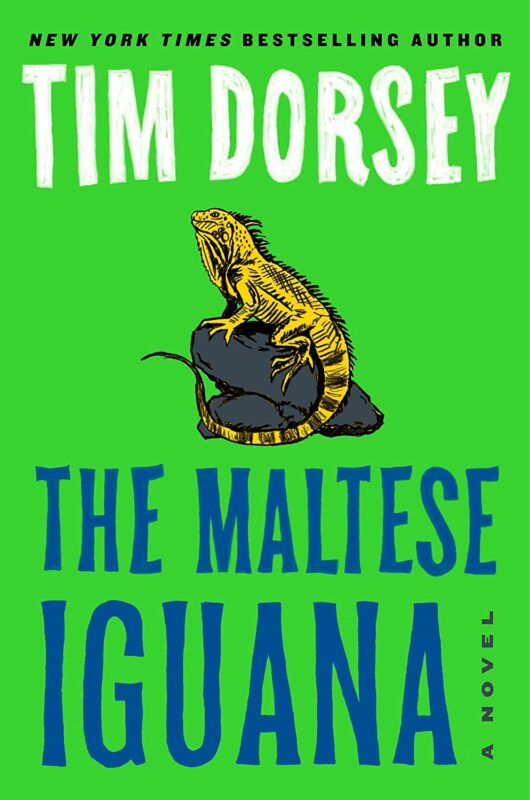 Get ready for the latest installment in the Serge A. Storms series with the twenty-sixth book, "The Maltese Iguana." This book is scheduled for release on February 28, 2023. With the reputation Tim Dorsey has, we have no doubt this book is also going to be a banger.
Conclusion
So that was the entire book series of Serge A Storm by Tim Dorsey. Start the series and get a thrill of a lifetime with these bizarrely entertaining and intriguing books.