The world can be a dark and scary place, but that doesn't stop us from being fascinated by what lurks in the shadows. Over the past few years, our interest in serial killers as a nation has gone mainstream, becoming the focus of many Netflix shows, podcasts, and most importantly, books.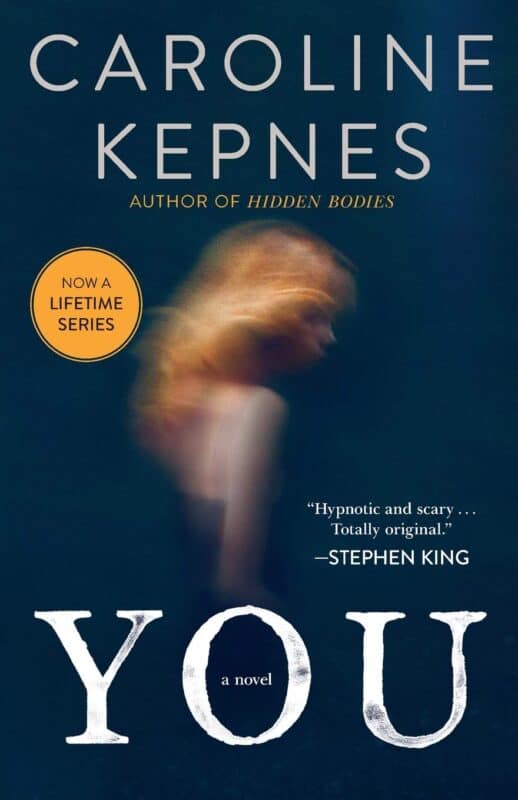 Our Top Recommendation for Serial Killer Book
Caroline Kepnes's terrifyingly hypnotic novel is filled with suspense from the word go. It follows the story of Joe Goldberg, who, after a chance encounter with a beautiful young writer, begins a dark journey into the depths of obsession.
*We earn a commission if you make a purchase, at no additional cost to you.
That's why we've compiled a list of the best books on serial killers.
Best Books on Serial Killers
Some of these books straight up explore the lives of serial killers, delving into their minds and their habits, while others are about characters with similar psychopathic behaviors. Either way, these books will allow you to delve into the dark minds of some of the scariest people alive, fictional or not.
| Sr. No. | Title | Publication Date | Print Length | Author | Publisher | Where to Buy |
| --- | --- | --- | --- | --- | --- | --- |
| 1 | You by Caroline Kepnes | September 30, 2014 | 432 pages | Caroline Kepnes | Atria/Emily Bestler Books | Amazon |
| 2 | The Lovely Bones | June 2, 2002 | 328 pages | Alice Sebold | Little, Brown and Company | Amazon |
| 3 | My Sister, the Serial Killer | July 30, 2019 | 240 pages | Oyinkan Braithwaite | Anchor Books | Book Shop |
| 4 | The Silent Patient | February 5, 2019 | 336 pages | Alex Michaelides | Celadon Books | Amazon |
| 5 | Helter Skelter | September 17, 1994 | 608 pages | Vincent Bugliosi | W. W. Norton & Company | Amazon |
| 6 | In Cold Blood | February 19, 2013 | 396 pages | Truman Capote | Modern Library | Book Shop |
| 7 | American Psycho | January 1, 1998 | 416 pages | Bret Easton Ellis | Picador | Amazon |
| 8 | The Silence of the Lambs | September 15, 1998 | 352 pages | Thomas Harris | St. Martin's Griffin; 1st edition | Amazon |
| 9 | Hannibal Rising | January 1, 2006 | 400 pages | Thomas Harris | Arrow Books | Amazon |
| 10 | American Predator | June 09, 2020 | 304 pages | Maureen Callahan | Penguin Books | Book Shop |
1. You by Caroline Kepnes
On the surface, Joe Goldberg seems kind of perfect. He's handsome, intelligent, charismatic and an all-round catch. The only problem? He's also an obsessive man who is willing to kill to get what he wants.
When he meets Beck, he's willing to do anything to get her to fall in love with him. He transforms himself into her ideal lover and takes care of any obstacles that come his way. But is he smart enough to keep up the facade forever?
2. The Lovely Bones by Alice Sebold
Susie Salmon is only fourteen years old when she's murdered in a cornfield. When she wakes up in a purgatory-like land, she is forced to watch as her father falls apart and her killer walks free. But Susie isn't the only victim of her killer, and as she watches her father piece together what happened to her, she considers the possibility that there might be justice for what happened to her and many other young girls.
3. My Sister, the Serial Killer by Oyinkan Braithwaite
Korede has always lived in the shadow of her young, beautiful sister, Ayoola. But her sister has a dark secret – she has now killed three of her boyfriends. At first, it seemed that Ayoola might be a victim who has fallen prey to angry, abusive men, but Korede begins to sense a pattern that might suggest that Ayoola is more cunning than she lets on.
Then the worst happens; the doctor who Korede has fallen in love with begins to date Ayoola. Knowing where her exes tend to end up, Korede is on a mission to ensure the handsome doctor doesn't end up six feet under.
4. The Silent Patient by Alex Michaelides
Theo Faber is starting anew at his new job as a psychologist. He just so happens to be in the same ward as the notorious Alicia Berenson – a young woman who shot her husband out of the blue and had the whole town talking about the suspicious act.
Theo is determined to get to the bottom of why she did what she did. The only problem? Alicia hasn't spoken a word since the night she killed her husband. Still, Theo believes that he has what it takes to get her talking. After all, it's his job to get into the mind of a psychopath…
5. Helter Skelter: The True Story of the Manson Murders by Vincent Bugliosi and Curt Gentry
Charles Manson was the infamous leader of a cult who managed to get his 'family' to kill seven people in cold blood. No one truly knows how Manson managed to turn ordinary people into murders. No one knows how he found such an influence over them. But in this book, his story is explored, leaving questions about why he did those things, and why people followed his every command.
6. In Cold Blood by Truman Capote
A horrific murder takes place in the town of Holcomb, leaving an entire family dead, but no apparent motive for a killer. Based on the true story of the event, Capote delves into how the murder unfolded and why, creating both tension and true understanding of the events that happened.
7. American Psycho by Bret Easton Ellis
Patrick Bateman is a seemingly harmless guy – he's made his fortune on Wall Street and he's got through life using his incredible charm and wit to support himself.
But at night, he's a man that nobody in his world knows for real. At night, he has a hobby of his own. In 1980s Manhattan, he's the Devil in disguise, indulging in murderous tendencies each day after dark. As he falls deeper into his dark desires, it will become harder for him to keep his true self a secret.
8. The Silence of the Lambs by Thomas Harris
In fiction, Hannibal Lecter may be one of the most famous serial killers ever to exist. In this groundbreaking novel, a young FBI agent is forced to work with him to try and solve a serial killer case about 'Buffalo Bill,' a man who is starving and skinning women.
But Hannibal is a clever and evil man, and he wants something in exchange for his compliance on the case. While he helps Clarice understand the mind of a serial killer, he delves into her own dark past and makes her face up to the life she's led
9. Hannibal Rising by Thomas Harris
The origin story of the infamous Hannibal Lecter begins here. After being rescued from an orphanage by his uncle, Hannibal is taken to France for a fresh beginning. But Hannibal can't let the horrors of his past go, and even as he begins to heal, he knows that he can't truly escape the things he endured.
And so, a killer is born.
10. American Predator: The Hunt for the Most Meticulous Serial Killer of the 21st Century by Maureen Callahan
Many of the most notorious serial killers in history have become household names, but that's not the case for Israel Keyes. Yet despite his low profile, this relatively unknown man is one of the most dangerous and prolific serial killers in modern US history.
Over the course of many months, he buried a series of 'kill kits' all over the United States, each one filled with weapons and cash to help him carry out his heinous crimes. And the next fourteen years: he'd routinely visit these sites, dig up his kits, and use them to abduct and murder his victims, all strangers, and all innocent in the face of what can only be described as pure evil.
11. The Wasp Factory by Iain Banks
Sixteen-year-old Frank is no stranger to killing. He's already got three killings under his belt, but he's not concerned. He's just a normal teenager. He won't be doing it again.
Or so he chooses to believe.
12. Mindhunter: Inside the FBI's Elite Serial Crime Unit by John E.Douglas and Mark Olshaker
This book inspired the Netflix series of Mindhunter, exploring the 25-year career or John E.Douglas. He spent his time in the FBI building an understanding of psychopaths, interviewing some of the scariest and most notorious serial killers ever to live.
13. Zodiac: The Shocking True Story of the Hunt for the Nation's Most Elusive Serial Killer by Robert Graysmith
Graysmith himself lived through the time of the Zodiac killer, a man who took great pleasure in murdering people and using them for sexual gratification. But he was also cocky – he played a game of cat and mouse with America, teasing details of his killings and enthralling the world with his gross tactics. Graysmith reveals details never before known about the man that he learned from his time as a reporter.
14. Death Note by Tsugumi Ohba
For those who like fantasy, this is the perfect book on serial killers for you. When Light Yagami receives a book that kills anyone whose name is written within, he becomes a new type of serial killer. He decides to rid the world of evil by killing notorious criminals, but he soon gets caught up in a maze of morals and a dangerous chase as the police try to hunt down the man responsible for all the deaths.
15. I Am Not a Serial Killer by Dan Wells
John Cleaver knows he's different. He has the urge to kill, but not the will. He's done a good job so far of keeping it that way, but a murder investigation in his home town will make him face his curiosity with the dead – and more specifically, the murdered.
16. Final-Girls by Riley Sager
The lone survivor of a mass killing is forced to relive her past when she discovers that there is a new murderer on the loose who is targeting survivors of serial killers.
17. Dark Places by Gillian Flynn
Years after blaming her brother for the murder of her entire family, Libby is back in her hometown to uncover the truth. When a group reaches out to her to let her know of new evidence, she, of course, wants to know what's happening. But once again, returning home is going to land her in hot water; on the run from a killer.
18. Darkly Dreaming Dexter by Jeff Lindsay
Dexter sees himself as a kind of loveable serial killer – after all, he only kills bad people. But his job in the Miami police is about to put him right in the center of an investigation that makes him take a long, hard look at himself. Because it turns out the new killer on the loose is his copycat.
19. Psycho by Robert Bloch
You can't have a list of the best books on serial killers without mentioning Norman Bates. Inspired by the killer Ed Gein, the story tells of a man whose personality is split in half between Norman and his own mother. But a mother's instincts are always to protect their children. Even if that means murder.
20. The Girls He Adored by Jonathon Nasaw
There's a serial killer on the loose with a preference for strawberry-blonde women. Now, the killer has a captive – a psychiatrist, Irene, who is desperate to get to the bottom of what drives the multi-personality killer, Max.
21. The Phantom Prince: My Life with Ted Bundy by Elizabeth Kendall
Anyone who is fascinated by serial killers knows about Ted Bundy. Elizabeth Kendall knows him better than anyone; she was in a relationship with him for six years, unaware of his murderous streak until it was too late. She has a true insight into the life of Ted Bundy, making this one of the best books on serial killers out there.