Technology has come a long way in recent years, and rather than carrying around heavy hardcover books that take up space and weigh us down, more and more of us are reading books digitally.
Amazon's e-book superstore, Kindle, has more than 10 million titles to choose from; that's more than any of us could ever read during a lifetime! There's pretty much every popular book you could think of, from new releases to historical classics, and they're all available in e-book format.
And now, thanks to recent technological advancements, there's no longer the need to shell out extra cash on a brand new Kindle or other e-reading devices to enjoy reading digitally. Sure, many e-book fans still use an e-reader, but did you know that you can read Kindle books on all kinds of different devices, even on a Mac computer?
There are a few ways you can read Kindle books on your Mac. The easiest and most popular method is to download the Kindle app for Mac. It's quick, free, and easy and allows you to explore and download thousands of titles from Kindle's mammoth selection and read them directly from your MacBook or other Mac computer.
And for those who can't or don't want to download the Kindle app, there's also another way you can still enjoy Kindle e-books on your Mac computer using the Kindle Cloud Reader.
In this article, I'll break down these two methods into a series of simple step-by-step instructions, so you can open up a whole new world of Kindle e-books on your Mac without ever needing an e-reader.
Method #1: Read Kindle Books with the Kindle App for Mac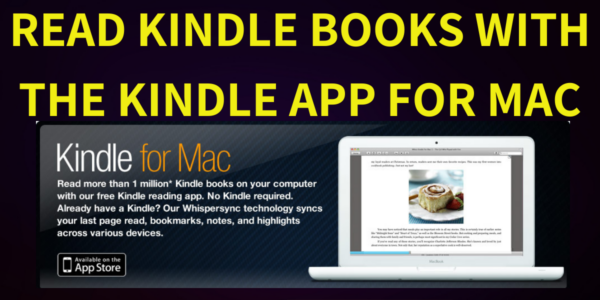 Load up your Mac, open up the App Store, and type "Kindle" into the search bar. Select the app compatible with your Mac device from the list at the top of the page (beware of scam applications that mimic the real thing. The official Kindle app will always be the first one on the list) and then press download.
You can also download the Kindle app for Mac directly from the Amazon.com homepage. On the left-hand side of the screen, select "Kindle menu" and scroll through to select "Free Kindle Reading Apps." Locate the app which is compatible with your device, and click to download.
When the app has fully downloaded, open it up on your Mac (it may even load automatically depending on your settings).
A pop-up window will appear asking you to enter your Amazon account information. Sign in, and you'll be directed to the Kindle app homepage.
Note: If you don't already have an Amazon account, click to be automatically transferred to a new window where you can sign up for one for free.
If you already have the Kindle app on other devices (for example, your iPad or your iPhone), or if you've purchased Kindle books through your Amazon account before, the app will automatically begin syncing your library and other saved information.
Once the sync is complete, you should have your whole Kindle library right there at your fingertips on your library home screen. The default "All" setting will show your entire library. To find a particular book or to organize your library into categories, you can browse through the options in the window in the top left-hand corner.
Click the "Downloaded" icon to see the books you've already downloaded to your computer or another device. And select the "PDFs" menu to see any content in your library that isn't in the regular e-book format.
Pro Tip: If you're going to be using the Kindle app regularly, it's a good idea to create a shortcut so you can access your e-books quickly and easily. Simply drag and drop the Kindle app icon into the Application shortcut folder using the Finder.
Open and Read Kindle e-Books from Your Library.
Your previously purchased e-books will now be listed in your Kindle library. To read an e-book directly from your Mac computer, double click on the book's front cover icon to open it up and begin reading immediately.
To access the table of contents, or skip forward or backward between chapters, click on the icon with three short horizontal lines in the top left-hand corner. To close this menu, click the icon again.
Download New Kindle e-Books
If you're new to Kindle and you don't already have an established library of e-books, or you just want some new titles, you can browse through Amazon's collection of thousands of e-books by using the main menu on the app's home screen.
There's an endless selection of e-books in the Kindle library. Many of them are paid for, but some of them are even available for free. Most titles also offer a preview chapter for free, so you can see if it's the right choice for you.
Right now, while you can browse and explore titles through the search function, Kindle doesn't provide a way to purchase books directly through the app. Instead, when you're ready to buy an e-book, you'll need to head to the Amazon Kindle webpage using your regular web browser.
To select a book for purchase, click the "buy now with 1-click" icon. The book will be automatically transferred into your library, and you can begin reading immediately.
Pro Tip: If your newly downloaded book doesn't appear in the menu on your Kindle app, press the sync icon to refresh the page, and it should appear right away.
Find Free Kindle e-Books.
To search for exclusively free e-books, include the search term "free" next to the book's title or author name. You can also browse the "Free Kindle e-Books" section on the Amazon webpage, where you'll find all kinds of classics in the public domain.
For more information on free e-books from Kindle, check out my recent post for an overview of the best free Kindle books available right now.
You might also enjoy my in-depth guide to the best ways to download and read books online for free, which includes tips and tricks for Kindle and a whole host of other services.
Method #2: Read Kindle Books with the Kindle Cloud Reader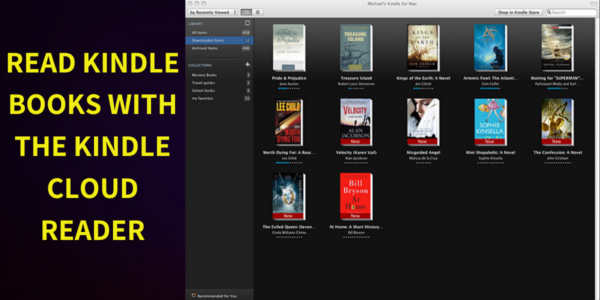 If you prefer not to clutter up your Mac with extra apps, or if your device isn't compatible with the Kindle app, don't worry. You can still enjoy Kindle e-books using the Kindle Cloud Reader. Here's how…
Sign in on the Kindle Cloud Reader Website
Use your web browser to head over to the Kindle Cloud Reader website, and from the homepage, enter your regular Amazon account details to log in. If you've entered your details correctly, you'll be prompted to click the "Get Started Now" button.
Just like with Method #1, if you don't have an Amazon account, you can sign up for one for free. Click the "create your Amazon account" button at the bottom of the pop-up box, and you'll be redirected to the first-time sign-up page.
Browse Your Kindle Library
Assuming you already have e-books in your Kindle library, you'll now be able to browse through your entire collection of titles. Recent titles will be automatically displayed, but you can change the selection of books that appear by using the dropdown menu in the top left-hand corner of the screen.
Now you can open any book in your library to read directly from the Kindle Cloud Reader website by double-clicking the book cover thumbnail.
Download your Kindle e-Books for Offline Reading
The Kindle Cloud Reader also allows you to download any e-book in your library to read offline.
Simply right-click the book cover icon, and click the "Download and Pin" option from the dropdown menu. You can now read this book any time directly from your Kindle Cloud Reader, even if you don't have an internet connection. You can also read it in offline mode using any Kindle e-reader or any device with the Kindle reading app.
Conclusion
Up until just a few years ago, if you wanted to enjoy the millions of Kindle e-books on offer at Amazon, you'd have to purchase a Kindle device or other e-reader. And while many people still love these dedicated e-readers, it's no longer an essential component of digital reading.
Now, you can read e-books pretty much anywhere using a phone, a tablet, or even a MacBook or other Mac computer. By following the simple steps outlined in this article, Mac users are able to enjoy a world of e-books right away.
On a final note, if you do decide to take the plunge and buy a dedicated e-reader, you might want to check out my comprehensive buyers guide to the best e-book readers of 2022 to help you find the best device for your needs.