These days, many people are taking up new hobbies from home, and a popular choice is learning to play the piano.
If you or your child wants to learn a new instrument, the piano is a fantastic option. There's no complicated regular tuning to worry about, and it's easy to dive straight in and create beautiful melodies with little to no experience. Plus, the piano is also the perfect starter instrument for anyone who has an interest in learning music theory or songwriting.
Learning to play the piano doesn't have to be an expensive investment; after all, you don't even need a piano to learn the piano! A keyboard has the exact same layout as a piano, so the scales, chords, and songs that you learn to play can be directly transferred onto a real piano at any time.
There's also no need to spend money on expensive lessons; there are so many great books for kids and adults that help you master the basics and become proficient.
So if you're looking for a great beginner-friendly book to teach you or your child how to play the piano, you've come to the right place. I've put together a list of 10 amazing piano books, five for children and five for adults, which are all designed to teach you to the basics in a simple, fun, and intuitive way.
The Best Beginner Piano Books for Kids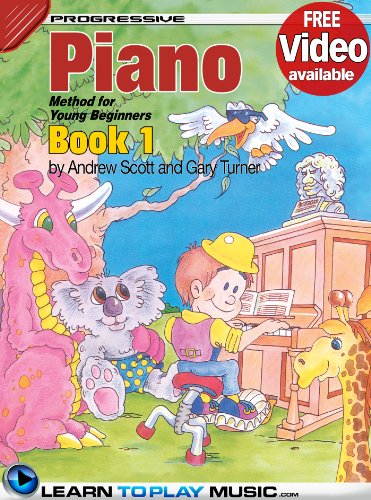 This beautifully illustrated interactive beginners guide will teach your child all the fundamental techniques and skills they need to gain confidence and enjoy their musical journey.
Written by a professional children's piano teacher, the book begins by tackling the basics, such as hand positions, fingering techniques, and correct posture. It then introduces some simple piano theory, including reading easy sheet music and recognizing simple notes, time signatures, and rests.
Unlike some books on the market, the information isn't presented in a way that will bore or overwhelm kids; it's fun and engaging, focusing more on "doing" than reading. This all-in-one beginner course is packed full of exercises to practice notes, scales, and popular songs that will give your child instant gratification and keep them excited about learning piano.
It's a particularly good book for visual learners since it comes with free online access to videos with audio. Each one demonstrates a new concept in the book, so children can see and hear how a piece is played and then play along at home against a backing track.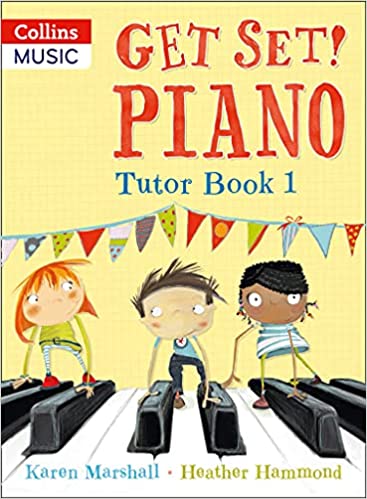 The Get Set! Piano Tutor Book 1 takes a classic piano instruction method from the UK and tailors it to suit modern, twenty-first-century kids all over the world.
This easy-to-follow comprehensive course guides children from their very first lesson as a complete beginner, all the way through to Prep test level. The Get Set! method is a holistic approach that allows kids to play along while simultaneously reading the notes and listening to the music. They'll learn aural, theory, and composing skills in a way that boosts their confidence and keeps them loving their musical journey.
This all-in-one coursebook includes well-known/' classic tunes, as well as more contemporary songs that are all fun, easy, and rewarding to play. It can be used as an in-depth full piano education or simply for fun play-along musical enjoyment.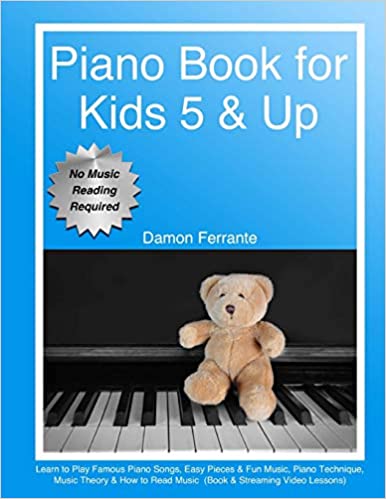 This interactive foundational course is a set of lessons in both book and video streaming format, designed to introduce children to the basics of music theory and practical play.
Tailored to students aged five and up, each section is presented in an upbeat format which keeps kids engaged. The pages are packed with colorful illustrations, fun characters, and plenty of humor. Plus, the videos have a game-like quality to them, making learning feel less like hard work and more like a fun musical adventure.
There's a varied song selection, with plenty of classics that children already know, interspersed with contemporary tunes, all designed to make your child feel like a piano rock star, even as a beginner. Songs include Amazing Grace, Yankee Doodle, Jingle Bells, House of the Rising Sun, This Little Light of Mine, Home on the Range, and Shenandoah.
This book is one of the most popular kid's beginner piano books on the market, and it's used by thousands of students and teachers worldwide. In fact, Rolling Stone Magazine recommends Ferrante's entire range of piano and guitar books as the best resource for any beginner, not just kids.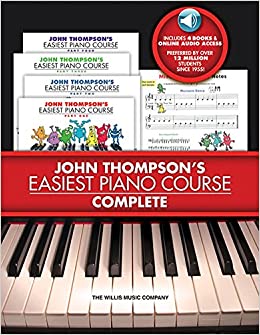 This super colorful book teaches little ones the fundamentals of the piano using beautifully illustrated characters that guide children through each lesson.
The course uses a combination of play-along exercises, writing exercises, and reading drills, so there is an approach to suit every learning style and keep kids engaged. Plus, there are fun worksheets and read-aloud exercises to help them progress even faster on their piano journey. There are also handy accompaniments for parents and teachers that help you to instruct children even if you have no prior knowledge of music at all.
This book is tailored to kindergarten-aged children, but it's a great beginner piano learning resource for any age group, even adults!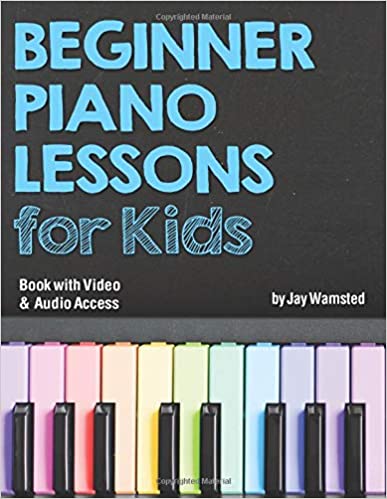 Designed for children aged 5-11 years, this step-by-step course uses popular songs that every kid knows and loves to transform them from complete beginners into competent piano players.
To keep it simple, children begin by playing with keys with just one hand. As they progress, they are invited to add the thumb of the other hand, and eventually, both hands are fully in play. The song selection begins at the most basic level and slowly builds up to more interesting and challenging musical arrangements.
Wamsted's book comes with a supporting online video and audio supplement, which shows the piano, the hands, and the sheet music simultaneously so your child can visualize, hear and comprehend the music as it plays. The audio is adjustable to two different speeds, so kids can begin with a slowed-down version and challenge themselves to the faster version as they grow in confidence.
This easy-to-understand piano course includes classic songs such as Mary Had a Little Lamb, Jingle Bells, Twinkle Twinkle, Yankee Doodle, and many more.
The Best Beginner Piano Books for Adults
At a Glance: The best piano books for adults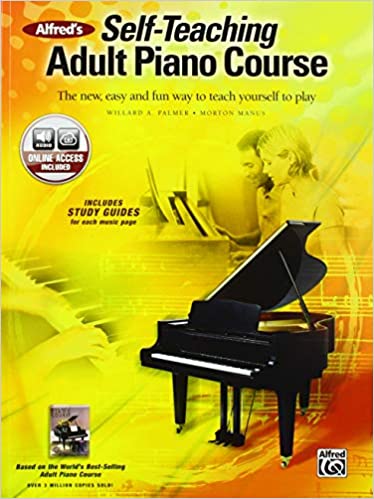 Alfred's Line of piano courses is among the most respected home music learning courses in the world. The majority of their collection is designed to be used alongside an instructor, but this Self Teaching version is tailored specifically to people going it alone.
The book includes a comprehensive study guide that takes you on a lesson by lesson journey, which feels almost like having an instructor right there with you. You'll cover the basics of musical theory, including notation and chord theory, as well as all the technical skills you need to become a proficient piano player. There are also plenty of extra exercises such as isometric hand practice and finger strengthening drills. All this is combined into an all-in-one format that gives you almost instant satisfaction of being able to play a new song in just a couple of days.
Rather than cheesy nursery rhymes, the song selection is packed full of classics like Over the Rainbow and At Last, as well as some more modern melodies from contemporary pop. There are 65 musical examples in total, and each one includes a recording of the piano part alongside the musical arrangement.
If sheet music looks like gobbledygook to you, and the idea of learning music theory fills you with dread, then The Complete Idiot's Guide to Music Theory is the perfect book for you. The author assumes the student has no prior musical knowledge whatsoever and breaks down complicated concepts into digestible, clear, and concise language.
This book is designed to give you the foundational basis you need to embark on your piano learning adventure, and it's a great resource to help underpin the theory side of things before you progress to a full course.
The book includes a CD with a wide selection of musical examples, such as scales, chords, rhythms, and intervals that you can follow along with to gain a greater understanding. Plus, as you progress through the course and begin to feel more confident, there are tons of aural exercises that help you to test your transcription and ear training skills.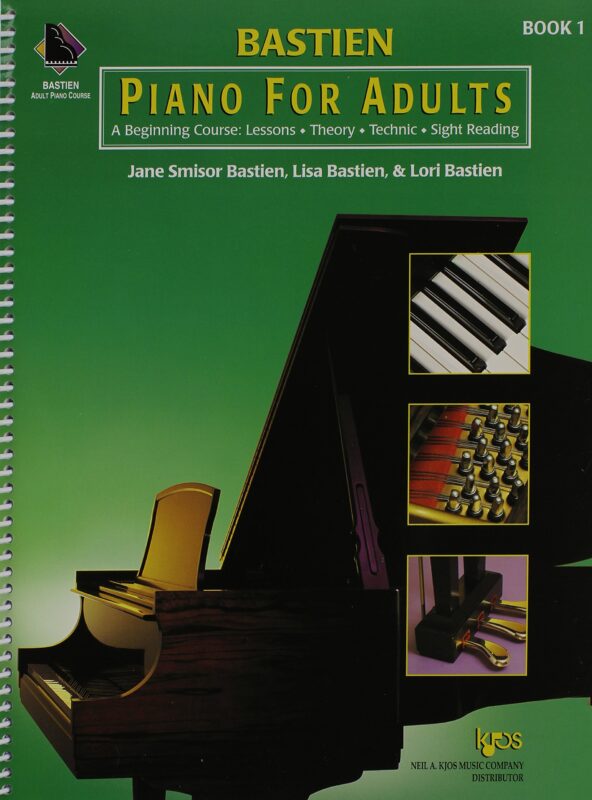 Bastien's beginner's piano course breaks down musical theory, sight-reading, and technical piano skills into engaging easy to follow lessons you can work through by yourself at home.
The course starts with the very basics of musical theory and gradually builds up to introduce you to more complex concepts. This slow approach makes sure that you never feel overwhelmed by new information. The pace of the course is designed to keep confidence levels high and ensure success, even for people who consider themselves to be tone-deaf.
The song selection in this book is one of the best of all the beginner-level options on the market. There are representations from all kinds of genres, including blues, jazz, folk, ragtime, and some of Bastien's own original compositions too.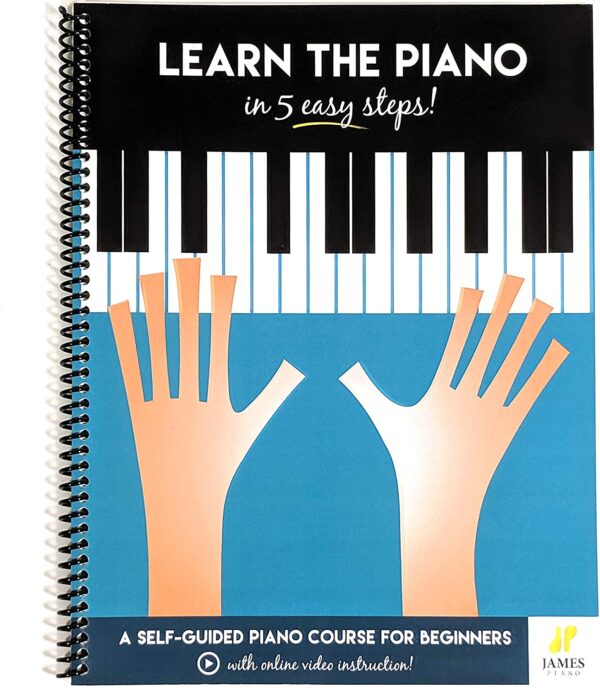 This beginner-level self-guided piano course claims to be one of the easiest piano learning methods out there, thanks to its practical, no-nonsense, 5 step approach.
It's a fast progressing learning journey that introduces you to more complex songs and exercises each lesson, but that doesn't mean it's overwhelming or complicated; quite the opposite! Many people who have never played piano in their lives before are bashing out beginner-level songs with two hands by day 2. This almost immediate sense of accomplishment helps to encourage beginners to keep going, day after day, until they finish the book.
Like many beginner piano books, this guide comes accompanied by online video tutorials from master pianist Mary James. The videos give you a visual and audible example of proper play style and finger techniques.
When you've finished this 5-step beginner's guide, you can move up to Book 2, which will allow you to further build upon your new skills.
If you took lessons as a kid, but haven't been anywhere near a piano in years, then this book is the perfect reintroduction to help you dive back into the world of music.
Rather than delving into the ins and outs of musical theory, Stevens' book is more of a songbook packed with easy-to-follow, confidence-boosting melodies that will help you rediscover your inner pianist.
Even though it's a refresher book, you don't have to have been an elite-style pianist in your past; there are tons of songs suited to a variety of levels. There are 44 tunes in total, and each one comes accompanied by an audio file and a backing track that you can play along with. Each file also features a PLAYBACK+audioplayer, allowing you to slow down or speed up the song without affecting the pitch. You can also adjust the track to change the key, pan to the left or the right, and create loop points.
Song choices include 20th-century classics such as Stand by Me, Sweet Home Alabama, I walk the Line and Let it Be.
Conclusion
You don't have to spend money on expensive lessons to learn the piano. There are so many fantastic books out there that are tailored to beginners, both young and old. So if you're interested in finally learning to play the piano, give one of these highly-rated books a try and see what you can achieve.