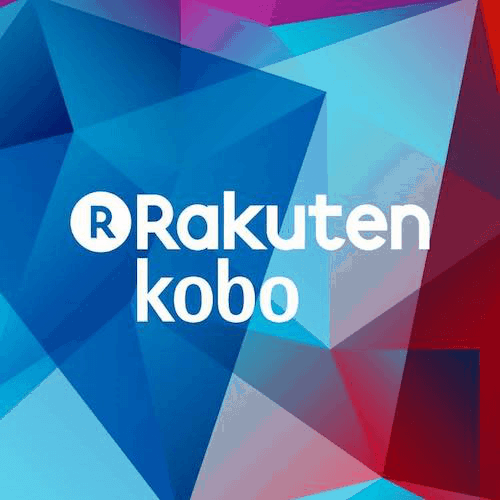 £6.99/month
30-day free trial
The app is easy to use
Perfect for both occasional and avid listeners
Cheapest audiobook membership on the market
Purchase 3 additional credits for £19.99
Kobo Audiobooks Review
Kobo audiobooks offering is new on the market, they actually only went live with their audiobook subscription in late 2017. Kobo is better known for their ebooks, e-readers and tablet devices. The original company was called 'Shortcovers' that offered a cloud-based e-reading service. They are a Canadian company and they rebranded to Kobo Inc in 2009. If you trying to work out the name Kobo, it is actually an anagram of 'book'. You may have already heard of Rakuten, Kobo is now one of their many subsidiaries after being acquired in 2012. More recently in 2016, Rakuten Kobo acquired Waterstones ebook business. All old customers of the British book retailers ebook service now need to use Kobo's website or app.
Although being famous for their tablets and ebooks we are going to focus our review on Kobo audiobooks offering. Will they be able to take on the audiobook giants, Audible? Keep reading to find out what we thought of the new cheapest audiobook service on the market.
URL – https://www.kobo.com
Device Compatibility – iOS, Android
Support for Offline Listening – Yes
Free Trial – Yes
Keep Books After Cancelling – Yes
Monthly Cost – £6.99
Contact – Contact form on their website
Kobo Free Trial
As most of their competitors offer a free trial, Kobo audiobooks had to do the same. Especially if they want to make a dent on the competition. Therefore, why not sign-up with them and take advantage of a free audiobook that you can keep forever. Even if you cancel during your Kobo free trial period you can still keep your first title pick. Make sure that it's a good one!
You will have to add your billing details when signing up for the free trial. However, don't threat they won't take the payment until your 30-day free trial has ended. They need your billing details to authorise the card that you plan to use. Benefit from the Kobo free trial here.
Subscription Plans
Kobo's membership is one of the cheapest on the market, at £6.99 per month they are clearly trying to undercut the other credit-based services, Downpour, Audible, and Audiobooks.com. Does this low monthly cost make it one of the best audiobook services around though?
For £6.99 a month you will receive one Kobo credit every month that can then be exchanged for any audiobook in their extensive library. If you are the type of listener who gets through multiple audiobooks a month then you can purchase extra credits at any time. This is a great feature that Audible doesn't offer, in fact, you will pay the full title price if you run out of credits early. At Kobo 3 extra credits will cost you £19.99 and can be exchanged for any audiobooks that take your fancy. If you don't want 3 extra credits then, of course, you can purchase the audiobook outright. This way should expect to pay more though.
Below you can see the full membership plans that Kobo audiobooks have to offer. If you are a speedy listener then why not take full advantage of their package savings by getting 24 credits for £109.99.
| | | |
| --- | --- | --- |
| Subscription Plan | Cost | Audible Credits |
| 1 Audiobook Per Month Plan | £6.99/month | 1 credit a month |
| 2 Audiobooks Per Month Plan | £12.99/month | 2 credits a month |
| 12 Audiobooks Per Year Plan | £59.99/year | 12 credits package |
| 24 Audiobooks Per Year Plan | £109.99/year | 24 credits package |
Gift Cards
Kobo gift cards can be bought both online and in selected stores. Kobo's eGift cards can be bought for as little as £10, the maximum is £100. These are a perfect present for both book lovers and none book lovers. Listening to audiobooks is a great way to relax, as well as being ideal for people that have long daily commutes.
All you have to do is enter the full details of the person you want to give this amazing gift to. Write a nice message of up to 150 characters if you want, then set the date that you want the gift card to be delivered to the recipient's email.
Store
Time to take a look at the offering from the Kobo store! You'd expect them to have a good range due to their vast quantity of ebooks. Kobo's audiobook library offers slightly over 100,000 titles. For an audiobook service that hasn't even been around for a year yet that is a really good amount. This is a sign that they are going to try to take on the category leader, Audible.
We didn't find the Kobo audiobooks store very easy to use. Yes, you have the search bar which can make things simpler. However, when searching results for both audiobooks and ebooks appear. After you've searched you then get the audiobooks or ebooks option. Maybe there is somewhere to set your preferences that we can't find. If you know of a fix please let us know in the comments section.
On top of that, you can't purchase audiobooks through the Kobo app. This is a big disappointment for us, as Audiobooks.com makes it super simple to purchase whilst on-the-go with their Instacredit system. Due to being so new on the audiobooks scene we hope that they have planned to add these small benefits at a later date.
Genres/Categories
Biography & Memoir
Business & Finance
Comics & Graphic Novels
Fiction & Literature
Fiction YA
Kids
Mystery & Suspense
Non-fiction
Romance
Science Fiction & Fantasy
You might be thinking that there aren't that many genres offered at Kobo. It's not the case they have just divided them into smaller subcategories. In fact, they have over 100 sub-categories so you can deep dive into each one to find the next audiobook on your list.
There are also five quick links available to help you browse which are:
Trending Now
Audiobook Deals
Read by the Author
Full Cast Recordings
From Screen to Audio
Device compatibility
Kobo audiobooks can be used on all iOS and Android devices. Annoyingly it can't be used on their own e-readers yet, hopefully, something they will add to the new model. You also aren't able to stream or download audiobooks on your desktop using the browser. I for one like to listen on both my mobile and laptop, so not having this option is quite disappointing.
A way around this is to pair your smartphone or tablet device to a bluetooth speaker or your laptop and then listen that way.
Kobo App
Clearly, the team behind Kobo audiobooks believe that it's customers are more than happy only listening via their mobile or tablet devices. The Kobo app is easy to use, however, not being able to purchase items through the app is a real shame. There also isn't the option to search through categories to find your next pick. You can search using the search bar, however, that doesn't allow the curious listener to find a new title. In the Kobo app, you can listen to samples of the audiobooks offered and read the synopsis. If you then want to purchase it though you will have to go to your preferred desktop or mobile browser and buy it there.
Help & Support
Due to offering more than just audiobooks, Kobo's help center can be slightly difficult to navigate. At least there is a section specifically for FAQs about Kobo audiobooks. In this section you will find 5 subheadings which are:
Cancelling your audiobook subscription
General audiobook questions
About audiobook subscriptions
Account and billing
Listening to audiobooks
You can also get in contact with the Kobo customer support team via their live chat on your desktop, or find the link in the Kobo app. As well as their live chat, they have a contact form that has a dropdown of issues that you may be experiencing. When using this contact form you should give as much detail as possible and provide your personal account details for the support team to get back to you with a resolution.
Kobo audiobooks review summary
That's the end of our Kobo audiobooks review then. We hope that this has helped you with deciding which is the best audiobook app for you.
At just £6.99 a month for one audiobook we see Kobo as being one of the best options on the market. It doesn't have the excellent usability that some of its competitors has though. You can only listen via the mobile or tablet app, but you can't purchase audiobooks through the app. Mobile browsers can be used, of course, it just feels like they haven't fully dedicated enough time to the user experience.
With the competitive pricing and being able to keep all of your audiobooks after cancelling it is a great alternative to Audible. You may want to revert back to Audiobooks.com or Audible in the future. Remember that you can get 3 audiobooks for £19.99 with Kobo which is a big saving when compared to these other big names. Sign Up for your Kobo free credit now, and make sure you pick one of the best audiobooks around!
FAQs
How can I cancel my Kobo membership
If you aren't fully satisfied with the Kobo audiobooks service then you can cancel at any time. All you have to do is sign-in go to 'My Account' then 'My Subscriptions'. You will see a button there that you can use to cancel your Kobo membership.