Listening to audiobooks is entertaining, educational and fun. They also shouldn't be expensive! That's why we wanted to show you how you can get free audiobooks with your library card.
The first question now then, are you currently registered with your local library? If yes, great you can start accessing free audiobooks online! You can then download one of these free audiobook apps and listen offline, wherever you are!
For all the people that answered no to having a library card, we will detail how you can get one too. That way you can join the rest of us in listening to free audiobooks. These free additions will complement your existing audiobook membership. Or better yet end your monthly subscription.
OverDrive Audiobooks
OverDrive was set up by the Rakuten company, the owners of Kobo. But, it is completely free to use. OverDrive and your local library have teamed up to make all types of media available online. This includes audiobooks, eBooks and more. This is a great way to save money on an audiobook membership. OverDrive has paired with more than 30,000 libraries in over 40 countries. So, you should be able to find a library close to you using OverDrive.

How to use OverDrive?
There are three ways to get started with OverDrive. These are by using your library card, Facebook or your email address. We recommend that you register with your email as this will give you access to everything. If you use one of the other ways you won't get to use Adobe Digital Editions on a computer. But don't worry, every other function at OverDrive will be available.
Once you have registered click on the 'find a library' option. This will bring you to a page with a map and all your local libraries. Click on the library where you are a member. There you will see a link to that library's website. This will bring you to the homepage of what your library has in stock.

You can now search for your next audiobook. Depending on your library, the selection on offer will vary. Libraries add new audiobooks and ebooks all the time though.
Once you have found a title to listen to you can start borrowing it. If all the copies are already borrowed then you will have to join the waiting list. You might be waiting a while for top audiobooks like Harry Potter. But at least it saves you money in your wallet.

Libby App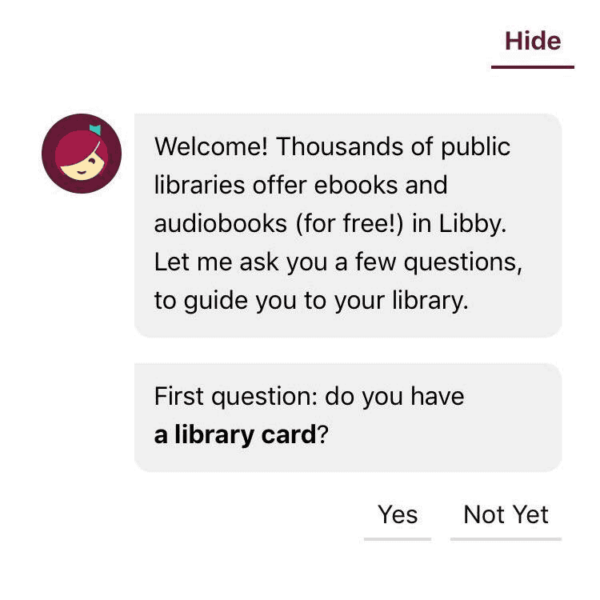 Libby is a new mobile app from OverDrive. You can use Libby to listen to audiobooks or read eBooks. The app is available for iOS, Android and Windows devices. If you have more than one device you can sign in on each one. This will allow you to listen wherever and whenever.
If you already have an account with OverDrive then you can start listening straight away! Log in using the OverDrive option and your local libraries will already sync to your account.
If you do not have OverDrive then you can register through the Libby app using your library card. As library cards are free you can add as many as you have to your Libby account. The design and layout of the app are up there with the best audiobook apps on the market. What is great about Libby though is that it's completely free!
Sora App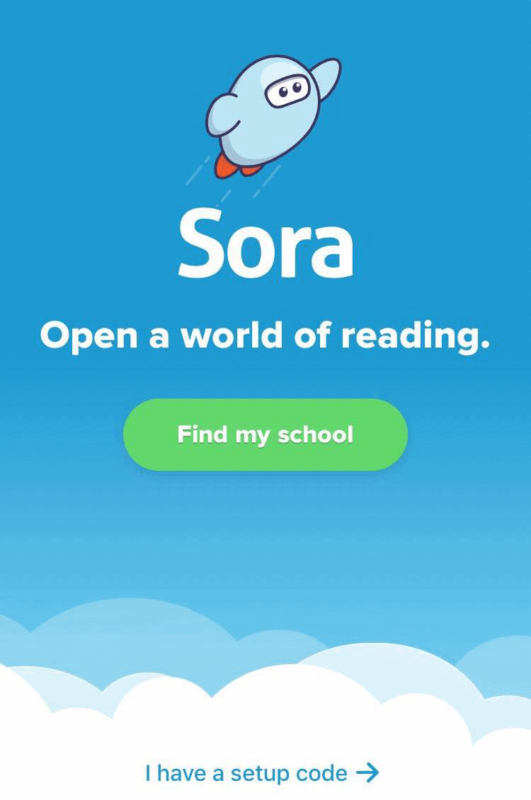 Sora is another app developed by the team at OverDrive. The Sora app is an audiobook & ebook app that is available for kids. Schools have partnered with OverDrive so that their students can access books online.
To get started you will need your school's setup code handy. Let Sora find your school using your location or enter the school's setup code where it appears on the app.
Parents can feel secure as no adult books or audiobooks will appear on this app. You can download Sora for your kids to listen to audiobooks on a family device, and it's free!
BorrowBox
BorrowBox is like OverDrive and Libby, however, it focuses on the U.K. population. BorrowBox has been set up by Bolinda Digital.
To start you will need to download the app on your chosen device. Unfortunately, it isn't available for Windows devices yet, only iOS and Android. Find for your local library using the search bar. Select it and then sign in using your library ID and pin.
You will now be able to browse the titles on offer from your library. Annoyingly BorrowBox only allows you to sign in with one library at a time through the app. Unlike with Libby in which you can add more than one. BorrowBox hasn't teamed up with as many libraries as OverDrive which is a shame. So, if you can't find your library on BorrowBox then try OverDrive or Libby.
Getting a library card for audiobooks
If you don't already have a library card then you will need to do so to enjoy these free audiobooks. Keep reading to find out how you can get a free library card whether you are based in the U.K. or America.
United Kingdom
If you live in the United Kingdom then getting a library card is simple. You can even register online. Find your local library's website, the easiest way is by doing a Google search.
Once there you will see the option to join online or join at the library. If you choose online you will need to fill in your personal details. Which includes your full name, a 4+ digit pin, your address, contact details, date of birth and ethnic diversity. After this, you will receive a temporary ID.
To be able to use OverDrive, Libby and BorrowBox you will need to pick up the library card from your local library. This is because the ID number is on the back of it. Once you retrieve your card you can start listening to OverDrive audiobooks.
United States
Some libraries in America are starting to accept online registration. The ones that do need you to collect your library card within two weeks of the sign-up date. Check your library's website to see if they offer to register online.
If your local library doesn't allow this then you will have to go there to register. It doesn't take long at all so don't see it as a turnoff. After all, once you have it you can then download as many free audiobooks as you like!
Enjoy free audiobooks with your local library
So, there we have it, ways to gain access to free audiobooks using your library card. Who would have thought it was that easy? Well, we have the people at OverDrive, BorrowBox and every library registered to thank! Below are some frequently asked questions. If you still have a query that isn't answered please reply in the comments section. If not happy FREE listening and reading!
FAQs
How long can I borrow an audiobook for?
When using OverDrive or Libby you can borrow titles for 7, 14 or 21 days.
Can I extend my borrow period?
Some libraries don't give you this option on OverDrive. If they do you will see a renew button 3 days before the end of your borrow period. Click this and follow the process for the title to automatically renew.
What is the difference between OverDrive and Libby?
There isn't much difference between the OverDrive and Libby app. They both hold the same collection of titles. The main difference is the layout and usability of the new Libby mobile and tablet app.
How do I return titles that I have borrowed?
If you are finished with an audiobook you don't have to worry about returning it. No matter which website or app you are using your rentals will be returned automatically! That's one less headache.