If you love fantasy books, then you probably love fantasy book series even more. Series are the reading gift that keeps on giving, and that is why I've compiled this list of nine captivating fantasy series to add to your collection.
The Best Fantasy Book Series
IMAGE
PRODUCT
FEATURES
PRICE
The Chronicles of Prydain by Lloyd Alexander
• Number of books: 5
• Genres: High fantasy, Children's literature

View on Amazon

The Dresden Files by Jim Butcher
• Genres: Detective novel, Contemporary fantasy, Urban fantasy
• Number of books: 17

View on Amazon

The Kingkiller Chronicle by Patrick Rothfuss
• Genre: Heroic fantasy
• Number of books: 2

View on Amazon

The Dark Tower by Stephen King
• Genres: Dark fantasy, Science Fiction, Horror fiction, Western fiction
• Number of books: 8

View on Amazon

Dragonriders of Pern by Anne McCaffrey
• Genre: Science Fiction
• Number of books: 23

View on Amazon

The Chronicles of The Black Company by Glen Cook
• Genres: High fantasy, Dark fantasy, Adventure fiction, Hard fantasy
• Number of books: 4

View on Amazon

The Wheel of Time by Robert Jordan
• Genre: Fantasy
• Number of books: 14

View on Amazon

Discworld by Terry Pratchett
• Genre: -
• Number of books: 41

View on Amazon

The Magicians Trilogy by Lev Grossman
• Genre: Fantasy
• Number of books:

View on Amazon

The Farseer Trilogy by Robin Hobb
• Genre: -
• Number of books: 3

View on Amazon

The Earthsea Cycle by Ursula K. Le Guin
• Genre: -
• Number of books: 6

View on Amazon

His Dark Materials by Philip Pullmane
• Genres: High fantasy, Science fantasy


View on Amazon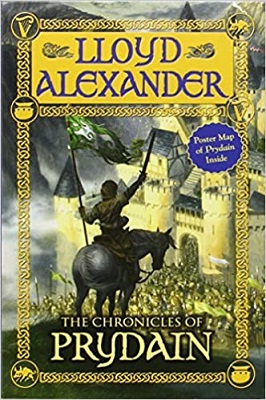 This coming of age fantasy tale is split into five captivating books, starting with the 1964 publication, 'The Book of Three.'
It follows an Assistant Pig-Keeper, Taran, who has always dreamed of being a hero. His wish comes true when his oracular pig, Hen Wren, mysteriously disappears, leading Taran on an enchanting yet perilous quest to find him. Pursued by the evil Horned King and his Cauldron-Born, he and his band of loyal followers must use their wit, strength, and determination in order to survive.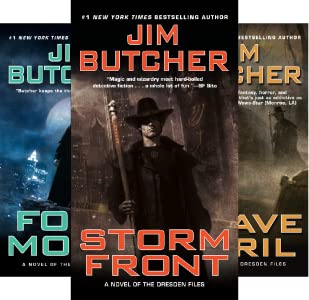 This gripping bestselling series by Jim Butcher begins with Storm Front, published in 2000. In this first book, we're introduced to Harry Dresden, the only professional wizard PI in Chicago. His paranormal investigation skills aren't exactly in high demand, but when the Chicago police department stumbles upon a case that transcends the mortal realm, they know he's the man for the job.
Dresden leaps at the chance to finally make a dollar, but there's trouble ahead. There are dark forces at work who want to stop Dresden in his tracks at all costs.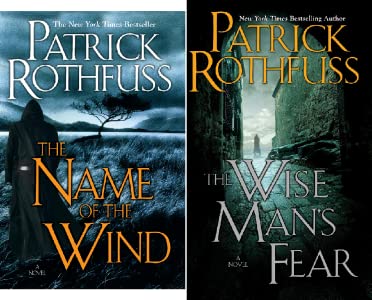 This short but incredibly captivating fantasy series is told not as a heroic tale of bravery but as an autobiographical account of a wizard's life, filled with magic, adventure, love, and regret.
The first book, The Name of the Wind, published in 2007, introduces the main character Kvothe, a gifted young wizard who grows up an orphan in a gritty, crime-ridden metropolis. Despite his early setbacks in life, he bravely enrolls and is accepted into a legendary magic school. What follows is an action-packed series that takes the reader on a wild ride into the unique and captivating world of a very unorthodox wizard.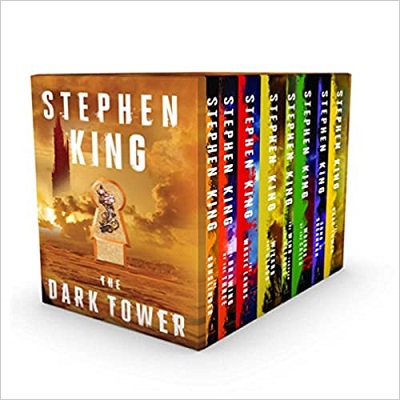 The Master of Horror Stephen King uses his spine-tingling prowess to create this dark fantasy masterpiece. Published in 1982, the first book, The Gunslinger, introduces the reader to Roland of Gilead; a strange, lonely man who embarks on an epic journey to track down The Man in Black.
Traveling through a desolate world that shares eerie similarities with our own, he meets a whole host of fascinating characters along the way.
5. Dragonriders of Pern by Anne McCaffrey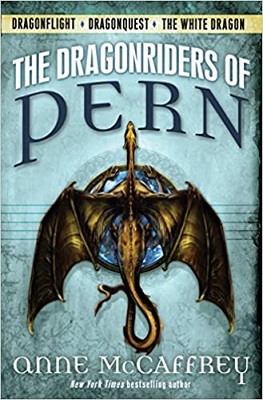 Anne McCaffrey takes us on a spellbinding journey into the land of dragons with this epic fantasy series. Beginning with Dragonflight, published back in 1968, the story follows a kitchen maid called Lessa, who has spent most of her life serving those who stole her once-powerful father's lands.
But when an evil substance called Thread falls from the sky like rain, destroying everything it touches, it's time for her to take off her disguise and step into her power once more. Now, Lessa and her faithful dragon must risk their lives to save their precious world before it's too late.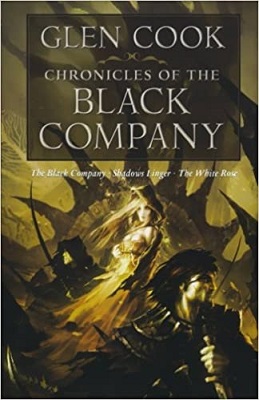 Over the course of 10 books, Glen Cook builds a spell-binding multidimensional world spanning more than 400 years of rich history.
The first book in the series, The Black Company, was published in 1984. It tells of a prophecy of The White Rose, a benign figure who has been reborn to embody good and conquer evil once more. The world-weary men who work for the elite mercenary unit, 'The Black Company,' set out on a quest to find her and lift the curse of darkness they have lived under for centuries.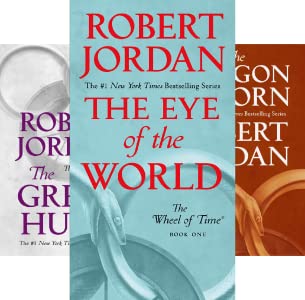 The Wheel of Time is a staggering epic of magic, myth, and legend. The series begins with The Eye of The World, first published in 1990.
At the outset of the story, there's a brutal attack on The Two Rivers region by a tribe of Trollocs. Half man and half-beast, these savage beings show no mercy. The story follows five unsuspecting villagers who are forced to abandon their homes in the night and head out into a dark and desolate world full of danger.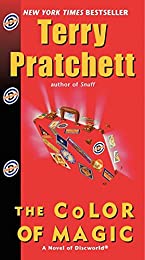 Terry Pratchett's Discworld is an epic, sprawling mythology series depicting a flat planet that sits atop four gigantic elephants, which stand on the back of a mammoth turtle named Great A'Tuin.
The first book, The Color of Magic, introduces us to a hapless wizard named Rincewind and a naive tourist named Twoflower. The pair embark on an eccentric and extravagant expedition to the very edge of this strange and fantastical land.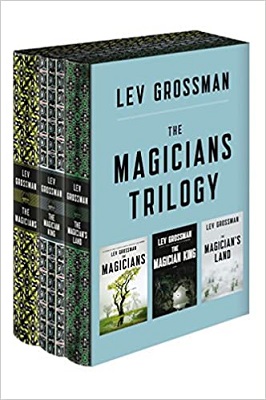 Lev Grossman's thrilling coming of age trilogy has been dubbed as "Harry Potter for Adults." It tells the tale of a young man named Quentin Coldwater, a senior in High School who has no time for the real world. Instead, he's preoccupied with a magical, mythical land named Fillory that he read about as a child. He dreams of studying magic and living out his childhood literary fantasies, so when he's accepted into an exclusive and secretive college of magic in upstate New York, he jumps at the opportunity.
There, he studies the craft of sorcery under the strict and careful supervision of some of the most powerful wizards in America. He also discovers the things that come with any college education; sex, booze, parties, and new friends. But something is missing inside Quentin, and when he and his friends discover that Fillory is a real place, his childhood dreams slowly turn into a nightmare.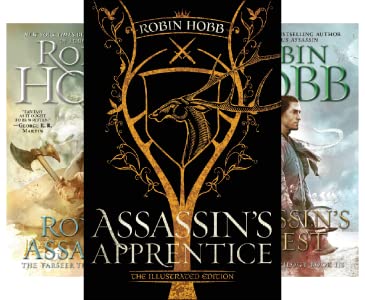 This fantasy trilogy follows the extraordinary life of an assassin named FitzChivalry Farseer, or Fitz for short. Fitz was born into the royal family, but he is cast out to live a lonely life away from regal splendor thanks to his parent's illegitimate affair.
Luckily, Fitz has a magical power that helps him overcome his loneliness. The old art of Wit is a mysterious force that links him to animals, enabling him to telepathically communicate with them. But Wit must be used in moderation. If he practices too often, he could put himself in terrible danger. Plus, his royal bloodline despises it.
So when Fitz is finally accepted back into the royal household after years of solitude, he doesn't find it easy to change his ways. He must leave Wit behind and practice the arts of scribing, weaponry, and royal etiquette. And, most importantly of all, how to kill a man without leaving a single trace.
Now, he finds himself fighting for the crown that once cast him aside, using his old and new powers in battle against the dark forces of evil that threaten to destroy him and his family.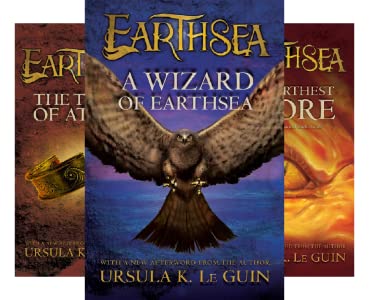 The Earthsea Cycle, often referred to simply as Earthsea, is a fascinating high fantasy series of three novels and several short stories by American author Ursula K. Le Guin.
The first book, A Wizard of Earthsea, was published in 1968. It follows the story of a great sorcerer named Ged, whose magic was hailed as the most powerful in all of the islands of Earthsea. But back in his younger years, Ged had a different name. He was known as Sparrowhawk, and he was reckless with his power.
In his thirst for knowledge, domination, and control, Sparrowhawk unlocked an ancient secret that wreaked havoc across the Earthsea, and the repercussions still remain to this day. This first book is the tale of his reckoning. Now, he must master his mighty power and cross the dark threshold of death to restore harmony to the land once more.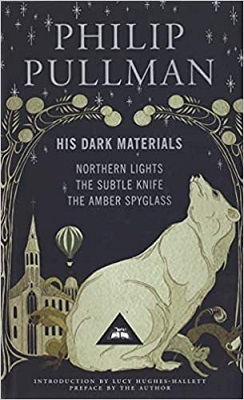 Recently re-made into a smash-hit BBC and HBO series, His Dark Materials is one of the most well-loved fantasy trilogies of all time. It follows the lives of two young children, Lyra Belacqua and Will Parry, and their extraordinary journeys between a bizarre series of parallel universes.
The first book, The Golden Compass (known as Northern Lights outside of the US), was published in 1995. At the start of the tale, Lyra's friend Roger vanishes, and she's determined to find him.
Along with her dæmon, Pantalaimon, she embarks on a terrifying and electrifying quest that takes her into the heart of the bleak North. She's armed with a magical, truth telling compass, but here in this land of ice, truth is stranger and more terrifying than fiction. Witch queens rule the frozen skies, and armored bears patrol the bitterly cold landscape below. And to make matters worse, there's a team of scientists who are experimenting on living beings in unthinkable ways. And now, something even more dangerous lies in wait for her.
Conclusion
Some of these fantasy series are chart-topping bestsellers, while others are lesser-known hidden gems of the literary world. Still, all of them will take you on epic adventures into the most mystifying and fantastical worlds imaginable. Did I miss any of your favorite fantasy series? Let me know in the comments below.
Check out these other great posts!
The 10 Best Book Series for Adults
Top 9 Best E-Readers – Buyer's Guide and Reviews
9 Interesting Alternate History Books