The iPad Mini has all of the benefits of a standard iPad but in a more convenient, portable size. And if you're an ebook fan, then this powerful little device also doubles up as one of the best e-readers on the market.
At A Glance: Our Top 5 Picks for iPad Mini Stands
If you have an iPad Mini, you can make it even more convenient for reading by purchasing a stand that allows you to sit back, relax and flick through the pages of an ebook in comfort and ease. Plus, an iPad Mini stand is also perfect for watching movies and TV shows too.
Here are my top 7 picks for the very best iPad Mini stands for book lovers on the market right now.
Top-Rated iPad Mini Stands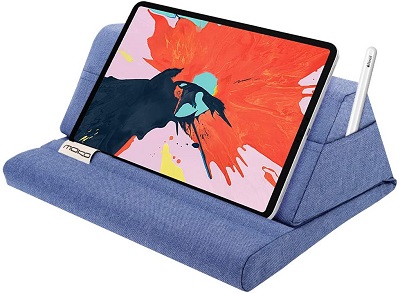 If you love reading in bed or while lounging on the sofa, this iPad Mini pillow stand is a great option. Made from a linen and cotton blend with a super soft body pillow, this is one of the most comfortable stands on the market. Plus, the weighted base keeps your device safe and secure at all times. It can be used on any solid surface such as a desk, a kitchen countertop, or even in the car for instant entertainment for your little ones.
If you have an Apple Pen, there's a handy little side storage pocket, where you can also store charging cables or other small objects.
And like all the iPad Mini stands on this list, it fits multiple devices; anything under 11 inches, including your phone, or even a hard copy book, magazine, or recipe book.
Pros
Soft pillow design is perfect for reading in bed
Weighted base gives extra sturdiness
Apple Pen storage pocket
Affordable price
Cons
Linen/ cotton cover is harder to clean
Less compact than other options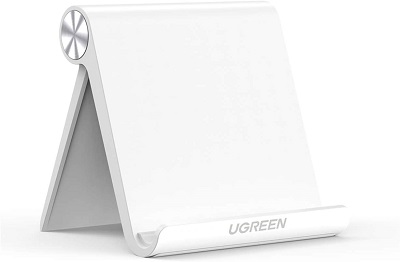 This sleek and sturdy stand is one of the most portable and compact stands on the market. At just 4.7" x 4.2" and super lightweight, this is a great travel companion and can easily be transported with you to work and back home again.
It remains solid and secure on any flat surface, and the silicone pads at the base make sure it grips firmly to the surface and won't slip or scratch.
You can adjust this stand to be viewed from multiple angles, from 15° to 100°, which is great for not only reading ebooks but also watching movies, face timing, or browsing the internet too.
The UGREEN stand is suitable for a whole range of devices, anything from 4 – 12 inches and up to 0.55 inches in diameter.
Pros
Compact and portable
Non slip silicone pads
Multiple viewing angles
Affordable price
Cons
Not ideal for reading in bed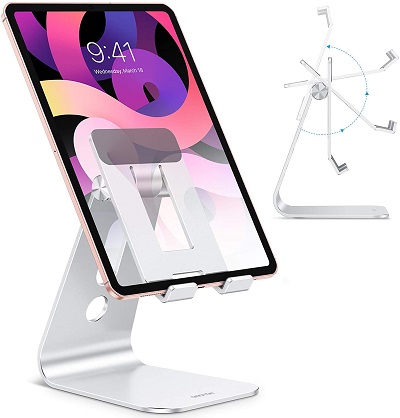 This affordable, practical rotating stand has an innovative hollowed design that keeps your device as cool as possible, allowing air to flow from every angle.
Made from premium reinforced aluminum alloy and featuring a weighted base, this stand is sturdy and secure on any surface. Plus, the non slip silicone pads protect your desk or table from scratches and ensure that the stand doesn't slip out of place.
This is one of the most versatile stands on the market right now; the screen can be rotated up to 270 degrees, making it adaptable to pretty much any space.
The stand fits any tablet up to a maximum size of 12.9 inches, and the long arms allow room for tablets with an extra thick case too.
Pros
Hollow design for maximum airflow
Non slip silicone pads
Versatile 270 degree rotation
Great for extra thick tablets or cases
Cons
Not ideal for reading in bed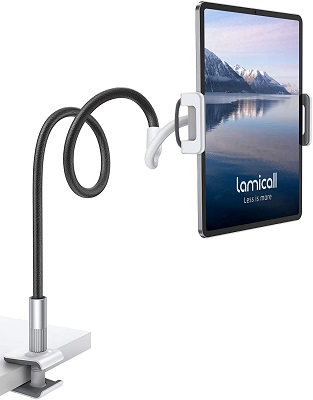 This ergonomically designed gooseneck stand is tailored specifically to reading, face timing, and viewing videos and movies. It's also ideal for viewing recipes in the kitchen while you cook.
The gooseneck design means that you can manipulate your iPad Mini, or any device from 4.7 inches to 10.5 inches, to any angle you wish. Plus, the clamp-style base firmly attaches to any surface, like a countertop or table, proving 100% security and protection from falls.
If you love reading in bed, then this tablet stand is a particularly good choice. Simply clamp the base onto the headboard, and can you read your ebooks in extreme comfort, with no wrist strain.
Pros
Gooseneck design adjusts to any angle
Super secure clamp base
Great for attaching to the headboard and reading in bed
Cons
Designed for reading and viewing only; wobbles slightly when touched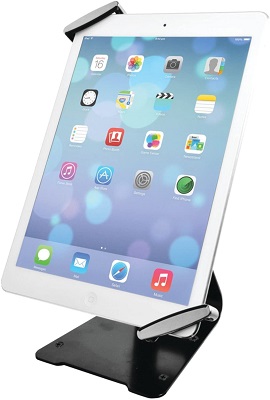 The CTA Digital stand is one of the most secure and heavy duty stands on the market. The anti-theft locking mechanism with cable lock and keys included mean that you can confidently leave your iPad Mini unattended without worry. It's a great choice for a sturdy, permanent stand both at home or at the office.
The stand can be manipulated to various horizontal and vertical angles, making it easy to read and watch movies, play videos, or facetime. And the diagonal corner clamps adjust to fit the majority of phones and tablets, from 7 to 12 inches.
Pros
Super secure, anti-theft design
Can be positioned in multiple angles
Diagonal corner clamps fit most devices
Cons
Not portable, designed to be installed in a fixed position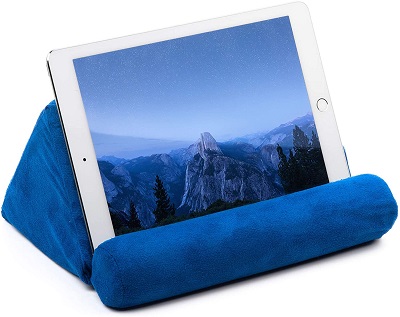 This is another comfortable pillow-style stand that's perfect for reading ebooks or watching movies on the couch, on your lap, or in bed.
The wedge shaped holder is lightweight and compact to transport but also bottom-heavy, making it secure and easy to use hands-free. It's also sturdy and stable on any flat surface, such as a desk or countertop.
This pillow stand has the added benefit of a hidden zipper which means you can remove and wash the cover to keep it clean.
Pros
Soft pillow design is perfect for reading in bed
Bottom heavy study design
Removable, washable cover
Cons
No additional viewing angles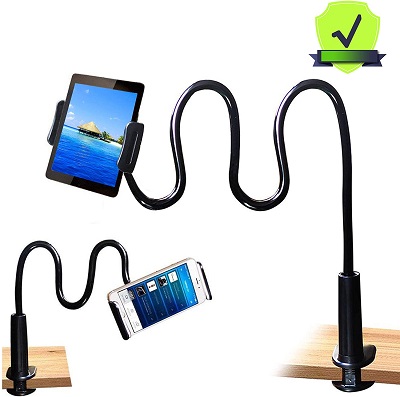 This is another fun, flexible gooseneck stand option that adjusts to pretty much any angle. The clamp mechanism on the base can be attached to a headboard for reading in bed, a countertop for viewing recipes while you cook, or any flat surface such as a desk or table for general everyday use. It's also easy to screw and unscrew, meaning you can move this stand around with ease.
It fits a wide variety of phones and tablets, even heavier models, and the super secure and durable gooseneck offers 100% protection from drops and falls.
Pros
Perfect for reading in bed
Gooseneck design adjusts to any angle
Easy to unscrew and move around
Super secure clamp base
Cons
The sturdy arm takes some muscle to move
Conclusion
These convenient stands will transform your iPad Mini into the perfect hands-free e-reader. Plus, each one is designed to fit multiple devices, including additional tablets, phones, or even your Kindle.