I don't know about you, but I can't help myself when it comes to buying new books. Even though I love my Kindle, there's nothing better than a brand new, hard copy of a book. But when you live in a small house or apartment, it's not always easy to fit in a huge book collection. If you're faced with piles of books that no longer fit inside your bookcase, then this article is for you.
Here are 19 genius book storage ideas and hacks that free up extra space in your home, and look great, too!
1. The Closet Under the Stairs Library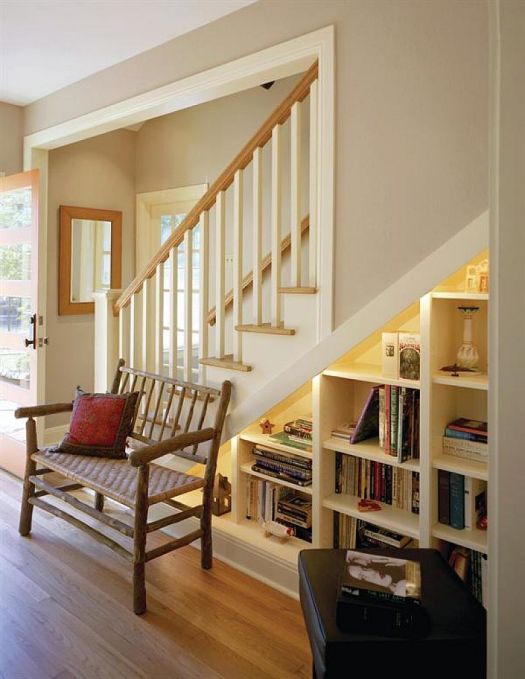 Why not transform your understairs storage closet into a mini library? This often unused room can be the perfect little book nook if you add some sturdy shelves. And if you have space, why not install a light inside, add a beanbag, and create a little reading hideout. If you have kids, they'll love having their own little book fort to hang out in, too.
2. Cubic Bookshelves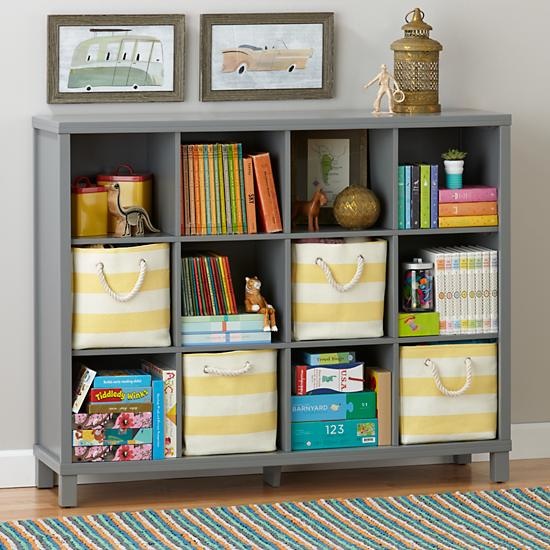 Cubic storage shelves are a contemporary and versatile way to store tons of books without adding unnecessary clutter to a room. Most cubic shelving units are super deep and spacious, so you can fit a surprising amount of books in each one while still creating an organized and streamlined look.
3. The Hallway Library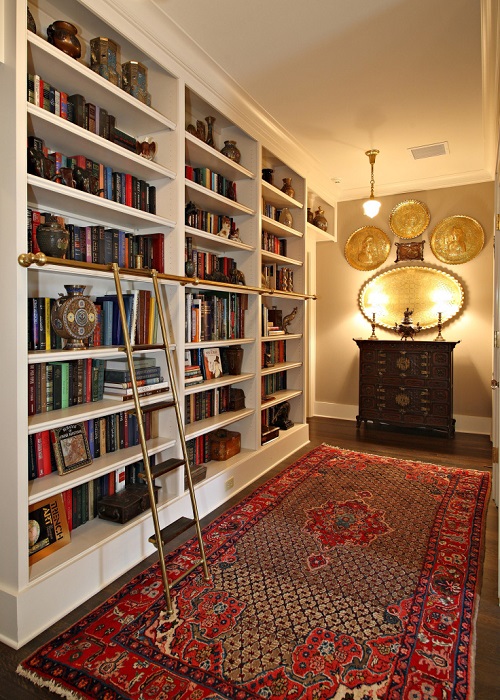 Hallways take us from one room to another, but they're often a forgotten part of the house. There's actually tons of wall space in most hallways, so why not take advantage and transform a corridor into a walk-through library? You can save on space and also show off your book collection at the same time.
4. The Headboard Library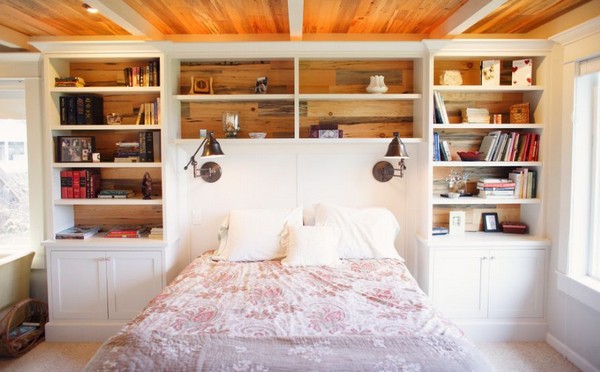 This genius book storage hack creates a unique and eye-catching feature in your bedroom and allows you to store a large number of books in a small area. Plus, turning your headboard, or your baseboard, of your bed into bookshelves means that your library is in the most convenient possible location for a bedtime or Sunday morning reading session.
5. Picture Ledge Display Shelves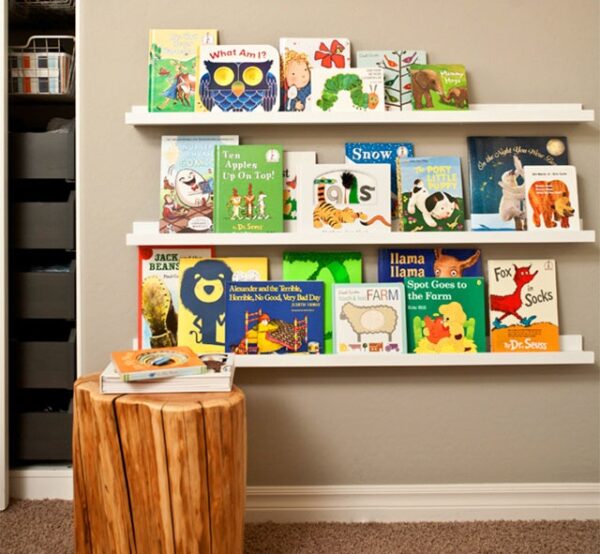 Picture ledges and shallow display shelves might not automatically spring to mind as the perfect book storage solution. But, by facing the front cover outwards and leaning your books against the wall, you can create a really beautiful display that can be tweaked to match your decor and color scheme. But remember, this is no place for your old scruffy paperbacks; you're going to want to use your very best coffee table books for this display. 
To create an even more attractive focal point in any room, try painting the picture ledges to the same color as the wall, and choose books that have bright, vibrant covers that really pop.
6. Wire Book Cubbies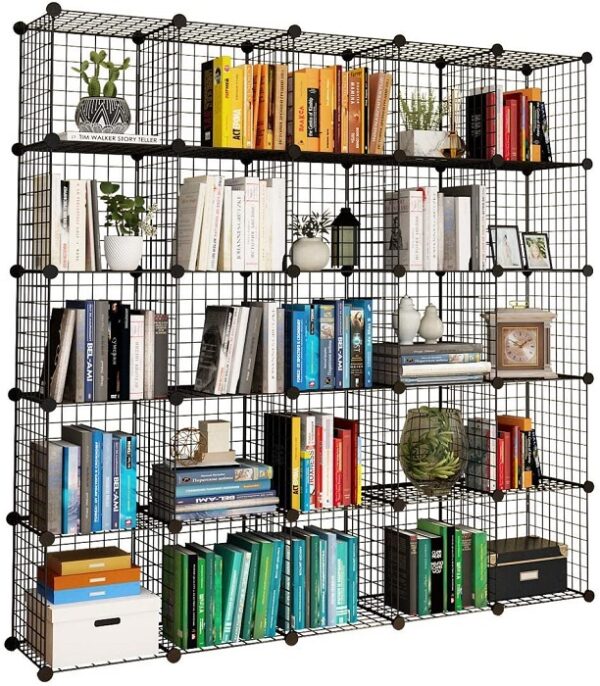 You know those wire storage baskets often found in kitchen units? They make the perfect little book storage cubbies. They can look stylish and add a little quirk to your decor in any room, but they work especially well when used in the kitchen. And the best bit is they're super easy to put up! Just flip the basket on its side, screw it into the wall, and voila, you've got yourself an instant, unique book storage wall display that's affordable and looks great too.
Wire wall cubbies are perfect for books, but they can also be great for storing all kinds of kitchen accessories if you're short on space.
7. The Color Coordinated Library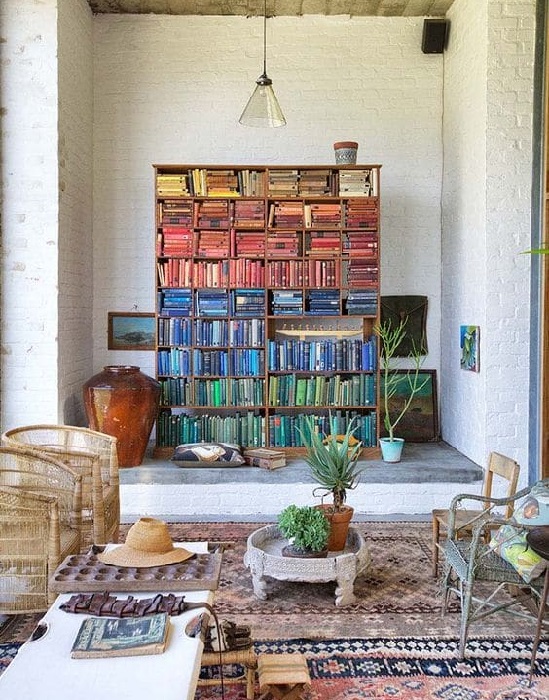 This hack won't necessarily help you save on space, but it will transform the way your books look on your already existing shelves. By paying attention to the colors of your books, particularly the spine, you can curate them in a way that transforms them into a work of art.
If you have a large bookcase or shelving unit with enough brightly colored books to fill it with, you may even be able to replicate the entire spectrum of the rainbow.
Or alternatively, you could separate your collection into various color schemes that match different rooms in your house.
8. The Bathroom Library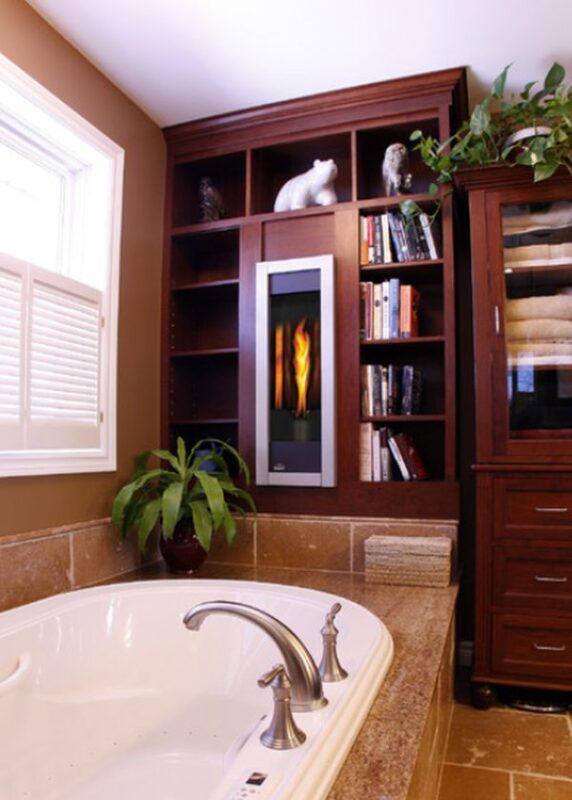 Who doesn't love to read in the bathroom? It's a great way to pass the time while you're soaking in the tub (or doing whatever else it is people do in there!). Most people have some unused wall space in their bathroom that's just crying out for some shelves or a bookcase.
You can fill your bathroom bookshelves with any type of books you like, but I recommend including a good selection of books that are easy to flick through. Short story collections, travel guides, books with either humorous and educational quotes, and art books are all a great choice.
9. Ladder Book Shelves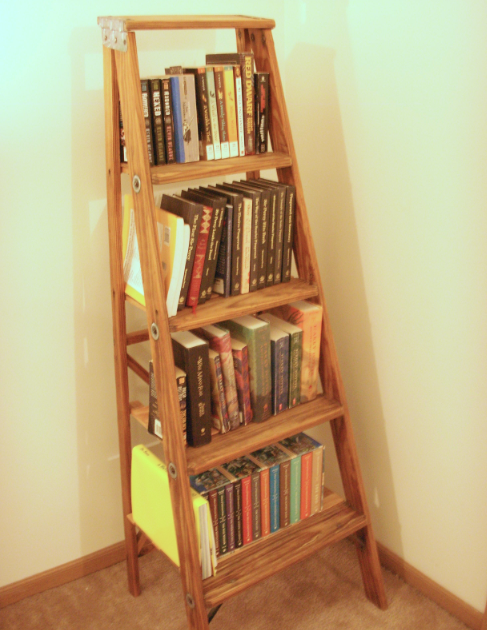 A deep wooden or metal ladder leaned against a wall is an easy and attractive way to store books without having to install shelves. It gives a creative and vintage aesthetic; plus, the steps of the ladder draw the eyes upwards, which adds the illusion of space to even the smallest rooms.
10. The On the Stairs Library
If you have an open staircase, then why not utilize the edges of each step to display some of your favorite books? Steps are almost always dead space in any house, and this handy book storage hack makes the most of this forgotten surface area. For extra aesthetic points, try color-coding the collection on each step.
11. Upcycled Crates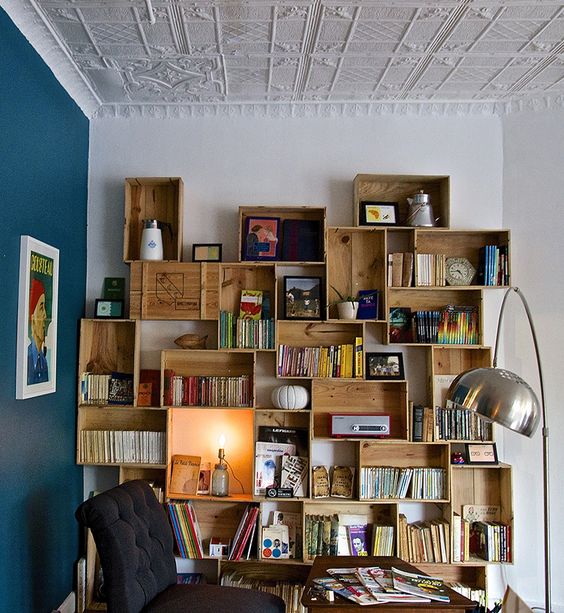 Wall-mounted wooden fruit crates can make the perfect book storage solution. If you're lucky, you can even pick up wooden crates up for free on craigslist or neighborhood swap sites. Use them as they are, or sand them back and add a deep wood stain or varnish for a more polished finish.
12. The Closest Library
Similar to the understairs library, the closet library creates your own cozy little walk-in reading nook. Simply install wall-to-ceiling shelves in an unused closet in your home, and voila, a brand new teeny tiny book storage room that you can head to whenever you need some reading inspiration.
You could even go one step further and by adding a glass panel to the door and installing a light inside to create an eye-catching visual feature.
13. The Fireplace Book Nook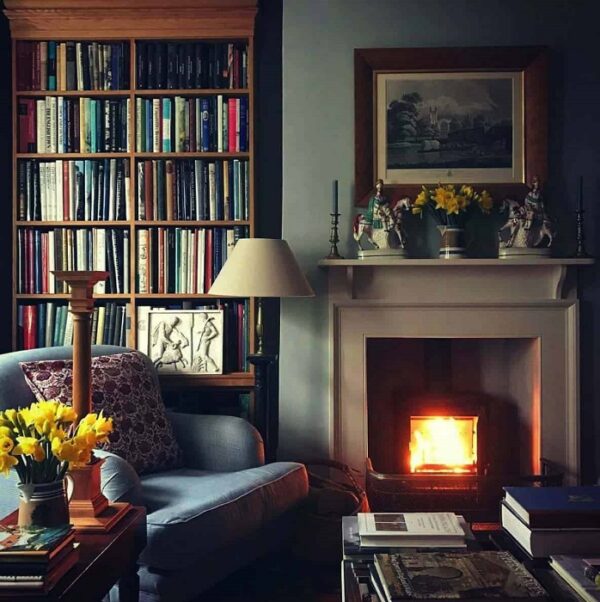 If you're lucky enough to have an original fireplace in your home that you don't use, then why not fill it with some of your favorite books? This hack requires absolutely no shelving and makes your favorite reads easily accessible at all times. Plus, it brings a whole new meaning to the term 'feature fireplace.'
14. The Reading Window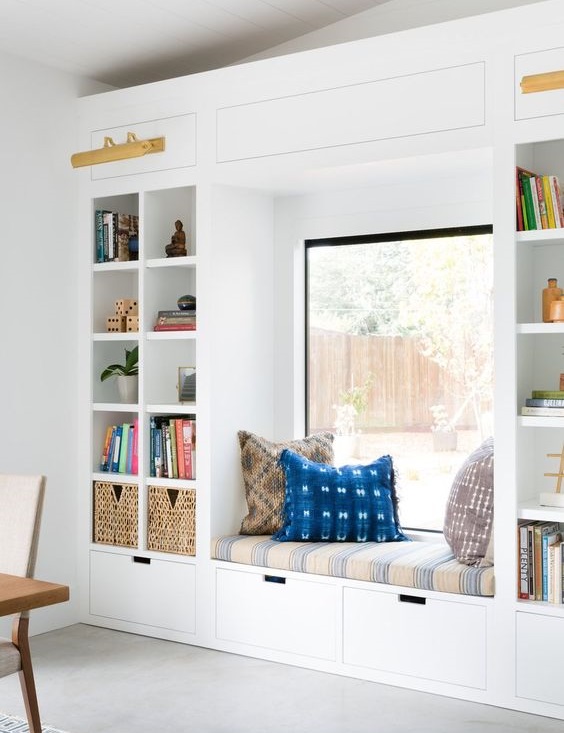 A reading window seat with built-in bookshelves is a bucket list home improvement project for many bibliophiles. It looks amazing and creates the ultimate little reading nook to while away a sunny Sunday afternoon.
15. Baskets of Books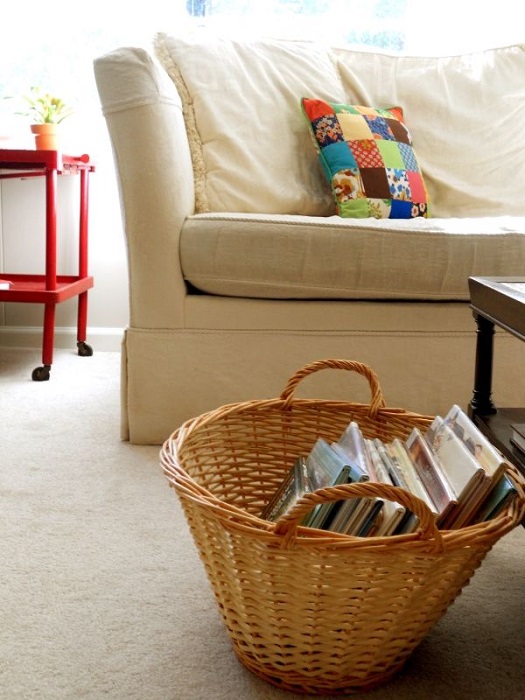 Traditional or vintage style wicker baskets are a beautiful way to display and store your current reads around your home. This is one of the easiest book storage hacks out there, and it also looks fantastic with almost any type of home décor. Simply place some book-filled baskets on your window sills and shelves next to decorative objects like plants or flowers to add some serious literary style to your home in an instant.
16. The Wagon Library
Building or reusing an old vintage wagon on wheels is a wonderfully inventive and portable book storage solution, perfect for a kid's bedroom. Plus, it's bound to encourage young readers to pick up a book more often!
17. The Armchair Library
Armchairs that double up as bookshelves are the ultimate talking point and look amazing in any room, no matter the type of décor. Make it super comfy with some extra cushions, and enjoy the ultimate convenience of having your books right there with you, in your chair.
18. Under The Bed Book Storage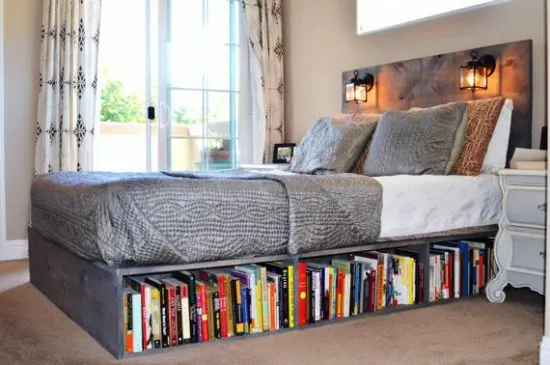 Using a hollowed-out bed base as a mini library is the perfect solution for bedroom book storage and can work particularly well in a cluttered kid's bedroom. It keeps books neat and tidy and out of the way while adding plenty of visual appeal.
19. The Floor-to-Ceiling Library
If you have a mammoth book collection, you're going to need a pretty serious book storage solution. That's where the floor-to-ceiling library comes in. Most bibliophiles have already spent years dreaming of a floor-to-ceiling library, the kind that has ladders on a runner and takes up the entire wall. Well, maybe it's time to make that dream a reality.
Conclusion
These creative book storage solutions and handy hacks will help you save space in your home and display your books in a unique, eye-catching way. I'm always looking to free up space in my home for my ever-growing book collection, so if you have any book storage ideas, I'd love to hear about them! Let me know your ideas in the comments below.