Tom Clancy, known for his espionage-themed books, has over 40 books to his nam e, selling millions of copies worldwide. His work of both fiction and nonfiction is a library staple to any true spy-thriller fan.
After his demise at the age of 66 in 2013, the Tom Clancy franchise stopped, but not for long. Years later, new books penned by several of his co-authors surfaced, hitting the book market.
Much to the surprise, and delight, of fans, the books were as good as the Tom Clancy originals, with no distinct difference in the writing styles. This spurred some wild speculations, making his legacy as interesting as his books.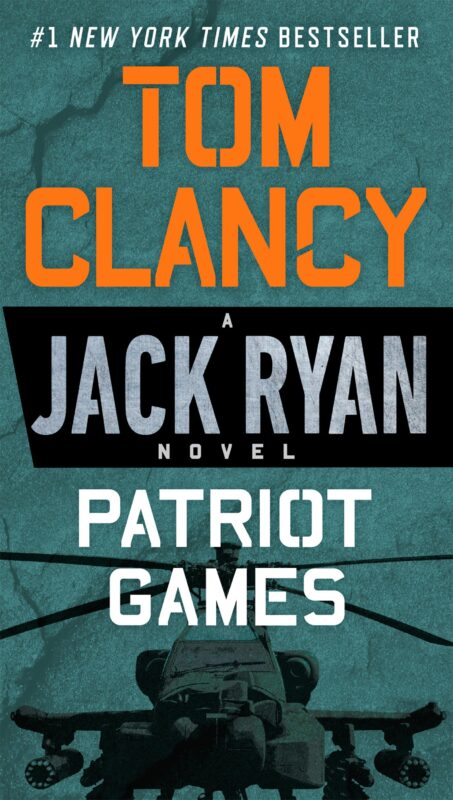 Our #1 Recommendation for Book by Tom Clancy
Tom Clancy's 1987 smash hit thriller Patriot Games tells the tale of Jack Ryan, a man whose bravery in protecting the Prince and Princess of Wales gets him in hot water with an Irish terrorist organization.
*We earn a commission if you make a purchase, at no additional cost to you.
In this article, I'll look at 16 of the best Tom Clancy books, penned before his death. Many have been made into hit movies, and even some video games! It also birthed the Amazon Original series, Jack Ryan, in 2018, named after the protagonist.
Best Tom Clancy Novels
| Sr. No. | Title | Publication Date | Print Length | Publisher | Where to Buy |
| --- | --- | --- | --- | --- | --- |
| 1 | Patriot Games (1987) | August 4, 1987 | 540 pages | G P Putnam's Sons | Amazon |
| 2 | Red Rabbit (2002) | December 5, 2013 | 944 pages | Penguin | Amazon |
| 3 | The Hunt for Red October (1984) | October 1, 1984 | 296 pages | Naval Institute Press | Amazon |
| 4 | The Cardinal of the Kremlin (1988) | July 26, 1988 | 543 pages | G. P. Putnam Son's | Amazon |
| 5 | Clear and Present Danger (1989) | August 17, 1989 | 656 pages | G. P. Putnam's Sons | Amazon |
| 6 | The Sum of All Fears (1991) | October 2, 2018 | 1216 pages | Berkley | Amazon |
| 7 | Debt of Honor (1994) | January 1, 1994 | | Putnam | Amazon |
| 8 | Executive Orders (1996) | January 1, 1996 | | Putnam Adult | Amazon |
| 9 | Rainbow Six (1998) | January 1, 1855 | 798 pages | G.P. Putnam's Sons | Amazon |
| 10 | The Bear and Dragon (2000) | August 1, 2000 | 1028 pages | Putnam | Amazon |
Most of Clancy's books revolve around Jack Ryan, a character who is an ex-marine CIA analyst. Though most of his novels are works of fiction, there have been some theories about the authenticity of events inspiring some of his books.
It's been argued that to get the best experience in the Ryanverse, as the fandom aptly refers to the setting of the Jack Ryan books, you should read the books in chronological order.
In our list, we've done just that, but also included the publishing year for those who prefer to read them according to when they came out.
1. Patriot Games (1987)
The inspiration behind the 1992 movie of the same name starring Harrison Ford, this book illustrates the beginning of the Jack Ryan saga. Set in London, ex-marine Jack Ryan, now a family man, is vacationing with his family when he finds himself in the middle of an IRA terrorist attack.
Working to disrupt the terrorists' plans and save the British royal family, Jack Ryan finds himself in imminent danger.
In an effort to keep his pregnant wife and daughter safe, he agrees to join the CIA as an analyst to stop the Ulster Liberation Army and, above all, protect his family.
2. Red Rabbit (2002)
This book takes place in the 1980s, and is another one of Jack Ryan's early days before *spoiler alert!* heading the CIA or becoming President of the USA in the Ryanverse.
In this book, the 2nd in the series, teacher and historian Jack Ryan, has just joined the CIA as an analyst.
Still in London, Ryan's first day is an interesting one, as he inadvertently comes across a document that leaves him in the middle of conspiracies and intrigue.
From trying to foil an assassination attempt on Pope John Paul II to coming head-to-head with the KGB, Ryan's first official operation is one he won't forget.
3. The Hunt for Red October (1984)
Tom Clancy's debut novel isn't #1 on the list, but it would've been if it wasn't for the chronological order. A phenomenal piece of literature that quickly launched his career at the age of 37 and made it to multiple bestsellers lists including the New York Times.
If that isn't enough, the book was made into a box office hit in 1990 starring Sean Connery and Alec Baldwin.
Clancy's first book and, the 3rd installment in the Jack Ryan series, is set during the Cold War. It narrates the events surrounding a Soviet nuclear submarine sought after by both the Russians and the US government.
Jack Ryan wasn't looking to be a field operative, but he just couldn't resist chasing the submarine when its documents came across his London desk. Fighting danger and the threat of war, Ryan must locate the sub in a race against time.
4. The Cardinal of the Kremlin (1988)
After losing a target in the South American seas, CIA analyst Jack Ryan finds himself in a race to develop the "Star Wars" missile.
This time pitted against Colonel Mikhail Filitov of the Soviet Union, Jack Ryan needs to be first to crack the technology.
But when the colonel beats him to the punch, all havoc breaks loose. Secrets are leaked, and double agents exposed. And with a potential World War III on the horizon, both men are left fighting for their lives in the ultimate game of hunter and prey.
5. Clear and Present Danger (1989)
Another Clancy novel that inspired a movie, Clear and Present Danger finds Jack Ryan in the middle of a drug war between the Colombians and the United States.
Recently named CIA Deputy Director, Ryan must fight his way into this high-risk operation after being left in the dark about the details. He seeks the help of a mystery field officer and soon becomes certain that the real threat is from someone much closer than they originally thought.
With twists and turns that will leave your head spinning, this is truly one of Clancy's best.
6. The Sum of All Fears (1991)
Another Clancy classic that was made into a movie, and was on the New York Bestsellers list.
It's the late 1990s and it seems that all's right with the world. Yet, one nuclear bombing at the super bowl and Jack Ryan is thrown into a whirlwind of tension and conflict.
This incident instigates conflicts between the United States, the Russians, East Germany, and Palestinians. It seems that everyone is involved with the bombing.
In this highly intriguing novel, Ryan must quickly get to the bottom of the incident before heads of the state start losing their heads and everything crumbles down around him.
7. Debt of Honor (1994)
Three incidents worlds apart culminate to give us the explosive events of Debt of Honor. After retiring from the CIA, the United States government again seeks Jack Ryan's help, but this time in the White House.
A Japanese businessman has devised the perfect plan to bring down the United States.
Old friends are enemies, enemies are now friends, and you can't trust anyone! In this nail-biter, Ryan, with the help of CIA friends, needs to quickly assess and dismantle the horrific plans that have been set in motion.
8. Executive Orders (1996)
After shocking events, the nation is left without a president, without a congress, and essentially without a government. This finds Jack Ryan in a position he never dreamed of or wanted; President of the United States of America.
And if that isn't enough, he has enemies gunning for him left and right. But with the responsibility falling to him, he must rise to the occasion.
Executive Orders marks one of Clancy's most enthralling works, you'll feel for Ryan and hold your breath with every turn of the page.
9. Rainbow Six (1998)
This is one of the few Clancy novels that doesn't star Jack Ryan. Rainbow Six instead tells the story with a different protagonist, John Clark.
CIA operative Jack Clark is a recurring character in the Jack Ryan books ever since his debut appearance in Clancy's Without Remorse. In this novel, the ex-Navy Seal heads a secret unit organized by some NATO countries and codenamed Rainbow.
When several seemingly unrelated incidents take place in a suspicious manner, Clark seeks the help of some of his trusted associates. They set out to prove the link and stop some horrific terrorist attacks to save the world from shock and devastation.
10. The Bear and Dragon (2000)
In The Bear and The Dragon, Jack Ryan is the newly elected President of the United States. And his job hasn't gotten the least bit easier.
Still, he's faced with world-shattering events from revolutions to economic downfalls. But all this doesn't compare to the biggest challenge he has yet to face.
The assassination of the SVR chairman, previously the KGB, the Russian Intelligence Agency, leaves him in a tough position. Who could have done it? With a suspect pool including the Russian mob, defect KGB agents, and an endless list of political enemies, finding out isn't going to be easy.
With the help of his trusted associate, John Clark, Ryan has to quickly find the truth before everything shatters.
11. The Teeth of the Tiger (2003)
An undercover company in Maryland is a front for recruiting agents to fight terrorism. The Campus, as it's covertly called, has zeroed in on 3 potential recruits.
An amateur FBI agent, his twin brother who's a Marine captain just back from deployment, and Jack Ryan Jr.! Yes, the Ryanverse also includes President Ryan's son.
Wanting to follow in his father's footsteps, Jack Jr. heads to The Campus. With the aim to help serve his country with the fight against terrorism, there he learns that nothing is ever as it seems.
12. Dead or Alive (2010)
In Dead or Alive, it's years later after Jack Ryan Jr. joins The Campus. He's now an expert operative facing one of the deadliest enemies referred to as "The Emir."
Orchestrating many terrorist attacks, no one man or country has been successful in capturing him. Fueled by a sense of duty and aided by his dad's trusted associates, Jack Jr. will embark on a mission to catch "The Emir." Dead or Alive.
It's far from an easy mission though, as Jack Jr. and his team have to find him before he can unleash his diabolical plan to bring the nation to its knees.
13. Locked On (2011)
Locked On gives us many of our favorite Ryanverse characters. President Jack Ryan has decided to run for another presidency term instead of opting for early retirement. But his sense of duty has created havoc for one of his closest friends and associates, John Clark.
President Ryan's opponent will stop at nothing to win, going as far as slandering John Clark's good reputation. Now President Ryan and Clark are on a mission to clear his name.
On another mission, Jack Jr. and his fellow Campus operatives have to find out why the Dagestani terrorists are meeting with Pakistani officials.
Time is running out on both Jack Sr., and Jr., and they need to figure out what's going on fast before all hell breaks loose.
14. Threat Vector (2012)
The Chinese president is under pressure from General Su Ke Qiang to invade Taiwan. Just another day at the office for Jack Ryan. The only difference is that it's the oval office.
Now President Ryan has to find a way to stop the Chinese plan. But, with Chinese anti-missile ships and cyberattacks, he has his work cut out for him.
And if that isn't enough, President Jack's only salvation is The Campus, but even that isn't working out in his favor, as it seems there's a spy among them and he's about to blow all their covers!
15. Command Authority (2013)
As a rookie CIA analyst, Jack Ryan has unsuccessfully hunted a notorious KGB assassin by the codename Zenith. Now 30 years Jack Jr., might get a chance to finish what his father started.
A new leader with a mysterious past has risen in Russia. No one really knows where President Valeri Volodon comes from, but what everyone is sure of is that he has plans to bring Russia to its former glory.
Meanwhile, after a radioactive poisoning, Jack Jr. and his fellow Campus associates are now following a trail that's leading them straight to Russia.
With both Ryans fighting for their lives, this is one of Clancy's classic thrillers.
16. Support and Defend (2015)
After his passing in 2013, Tom Clancy's co-author Mark Greaney stepped in to take the reins. And so far, he's done an incredible job of emulating Clancy's trademark style and continuing his world of action and adventure.
It was published two years after Clancy's death. Mark Greaney's Support and Defend follows undercover FBI agent Dominic Caruso as he's faced with the most dangerous challenge of his eventful career so far.
And this time, without the aid of his colleagues from The Campus, he'll have to face the enemy alone.
17. Red Storm Rising (1986)
This book is a story about a war between NATO and the Soviet Union.
At the beginning of the story, three Muslim terrorists blow up a key Soviet oil refinery. To seize all the oil resources in the Persian Gulf, the Politburo members devise a plan against NATO, a calculative move to distract them.
The book is well-researched and written, a fictitious story about international and global conflicts.
18. Without Remorse (1993)
The former Navy SEAL and Vietnam Veteran John Kelly's wife accidentally died six months before, from which he still hasn't moved on. After befriending a woman with a tragic past, he vows to take revenge for her.
On the other hand, the Pentagon is planning a rescue operation and needs help from John Kelly to make the mission successful.
Kelly (code name: Mr. Clark) needs to juggle both tasks, ensuring the safety of others and his own.
 The book Without Remorse is full of twists, turns, and suspense.
19. Special Forces: A Guided Tour of U.S. Army Special Forces (2001)
This story is about the US military special forces. It describes their struggles and journeys when they are sent on missions filled with dangers, fighting physically and mentally.
Tom Clancy gives an in-depth tour of the military, including the recruitment, training, deployment exercises, weapons, missions, etc.
The author also covers an interview with General Hugh Shelton, Chairman of the Joint Chiefs of Staff.
20. Carrier: A Guided Tour of an Aircraft Carrier (1999)
Tom Clancy provides a detailed guide on naval combat strategy through this book. He explains the importance of naval carriers in a region and the threat they convey to the enemies.
The book talks about the concepts of aircraft range, weaponry, carrier role, and more. It also covers an interview with the U.S. Navy's Chief of Naval Operations, Admiral Jay Johnson.
21. Net Force (Tom Clancy's Net Force, #1) (1999)
The book takes us to the year 2010 when Congress created a computer security agency called Net Force to track cyberterrorists. But the agency's director is killed, which creates chaos in the place.
Deputy Director Alex Michaels becomes the commanding authority. Soon enough, the whole team is up against 'The Selkie,' a new Mafia and an Irish assassin.
It is an interesting thriller novel that hooks the readers.
Final Thoughts
Tom Clancy, in my opinion, is undoubtedly a master of the spy-thriller genre. His books captivate you and have you turning page after page with excitement!
Regardless of some theories about the extent of the involvement of his co-authors in the writing process, the Clancy touch is undeniable.
The Ryanverse fandom is quite loyal. In our opinion, this is due to the fact that Clancy has managed to create an intriguing yet realistic alternate universe for his characters.
The Jack Ryan series as well as all other books and novels penned under his name can easily be purchased in a variety of formats including paperback, e-books, and audiobooks!
If you love reading this article you'll surely enjoy other best book posts