Have you made the switch to digital reading yet? While I love the feeling of reading a real, traditional book, it's not always practical. If you're taking a trip or you enjoy reading on the move, lugging books around in your bag isn't ideal.
That's why more and more readers are switching to electronic reading these days. There's no limit to the number of e-books you can store on one device. And if you choose to read on a standard tablet, you also have the ability to browse the internet, use apps, play games, and use a whole host of other features.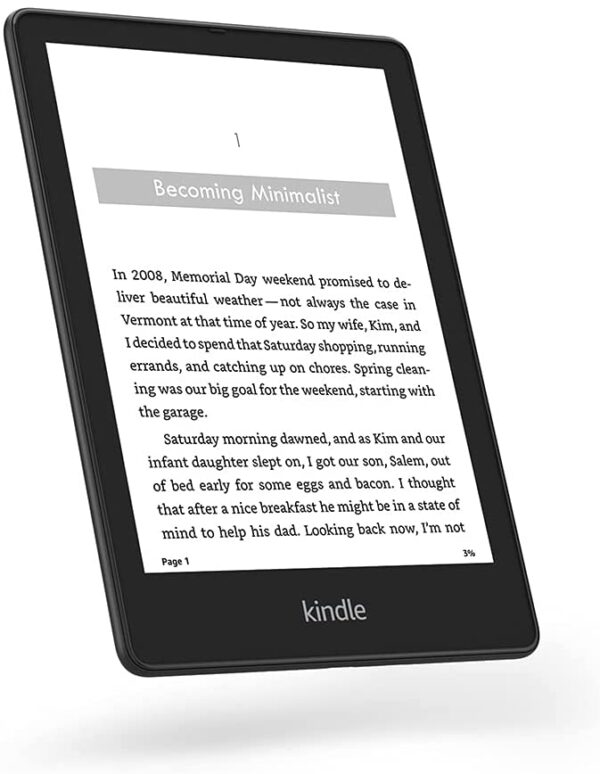 Kindle Paperwhite Signature Edition
Our #1 Recommended Tablet For Reading
The all-new Signature Edition Paperwhite boasts all the same features as the latest standard Paperwhite, plus a whopping 32 GB of storage, wireless charging, and an auto-adjusting front light.
*We earn a commission if you make a purchase, at no additional cost to you.
There are countless tablets on the market today, all claiming to offer the best user experience. But if your primary concern is reading e-books, then you're going to want to look for some specific features to find the best tablet for you.
In this article, I'll give you my top 10 recommendations for the best models on the market, and I'll also discuss what to look for when you're shopping for a tablet with reading in mind.
Best Tablets for Reading
1. The Samsung Galaxy Tab A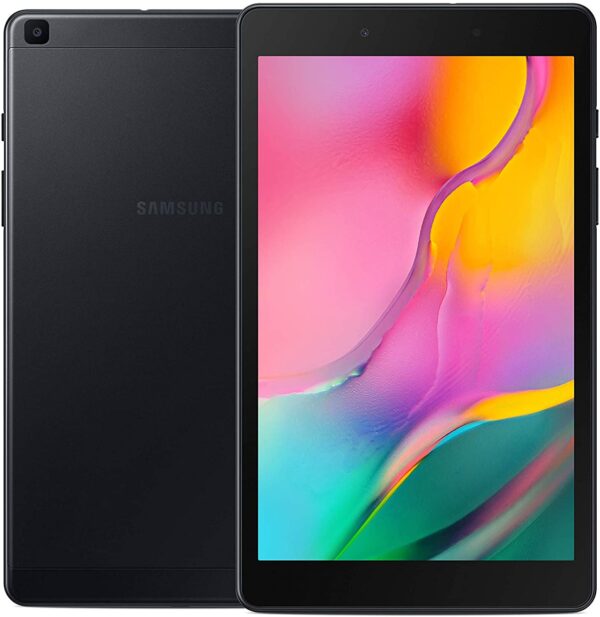 The 8″ Samsung Galaxy Tab A is a great all-rounder that ticks all the boxes for reading, browsing, and more.
It has a 1280 X 800 screen resolution and a full HD display, which provides for a sharper, clearer viewing experience.
The built-in storage capacity is a roomy 64 GB, but if you're looking for something even more substantial, you can expand it with an SD card up to a whopping 512 GB. That way, you can download e-books to your heart's content without ever worrying about hitting your storage quota.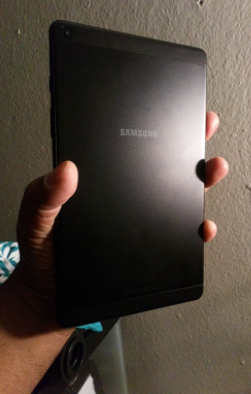 It also comes with 2 GB of RAM and a dual-core 2 GHz processor, which is powerful enough to ensure a super smooth and responsive reading experience.
The battery life on the 8″ Samsung Galaxy Tab A is pretty impressive for the price point, lasting up to 13 hours on a single charge. While that might not be a lot compared to some of the dedicated e-readers out there, for an all-in-one tablet, it's substantial. You can easily go a whole day without worrying about plugging in and recharging when you're out and about.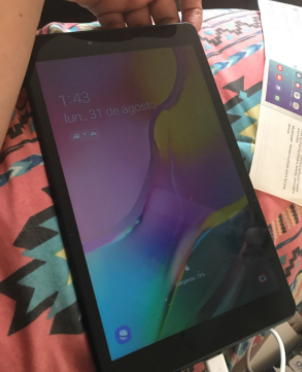 Plus, at just over 0.76lbs, this is a feather-light tablet and one of the most portable and pocket-friendly devices on this list.
All in all, the 8″ Samsung Galaxy Tab A is a reasonably priced tablet that's suited to much more than just reading. If you're looking for an affordable all-around performer that will also double up as an e-reader, then this device is a great choice.
Pros
64 GB built-in storage
SD slot for larger storage capacity
Good battery life for a standard tablet
Lightweight
Minimized bezel for a roomier display
Cons
Less battery life than dedicated e-readers
Wi-Fi connectivity only
2. Fire HD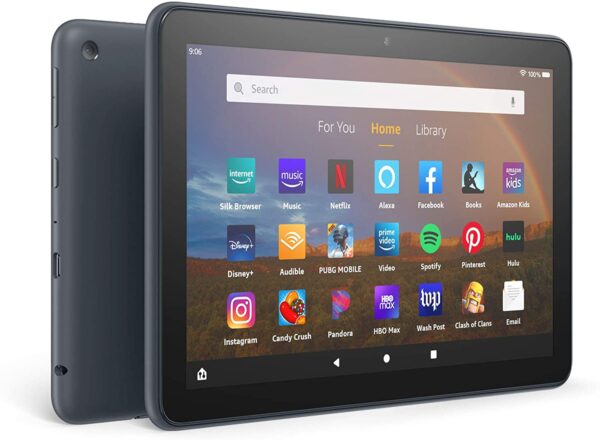 This is the latest offering from Amazon's celebrated Fire series that's already proving incredibly popular in 2023.
Its antiglare screen makes it particularly suited to reading in bright sunlight, so you can take this tablet with you to the beach and read your favorite titles on the sand without worrying about straining your eyes. And at 189 PPI, the screen also has a good resolution, so words and images appear crisp and sharp.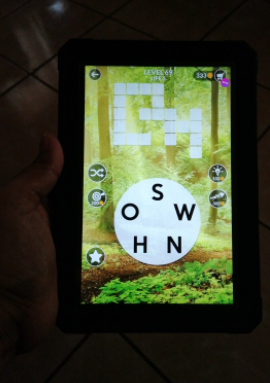 Like the Galaxy Tab A, the standard Fire HD 8 Plus has a 32 GB of storage. There's a slightly more expensive 64 GB model available too, and both can be expanded up to a terabyte using the SD card slot.
The battery life on this tablet is also pretty good; it's more or less comparable with the Galaxy Tab A. It supports wireless charging, which is super convenient if you're using it on the move, or taking it with you on a trip.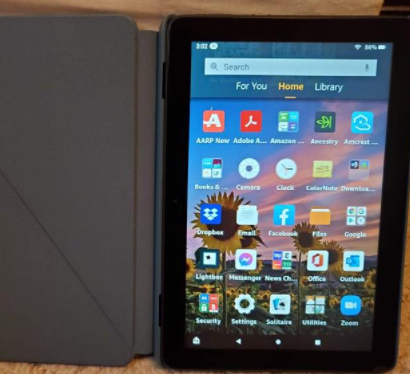 All in all, this is another excellent, albeit basic device for a very reasonable price. It's perfect not just for reading but also for everything a regular tablet can provide.
Pros
Antiglare screen for reading in sunlight
Great storage capacity
Affordable price
3. New Apple iPad Pro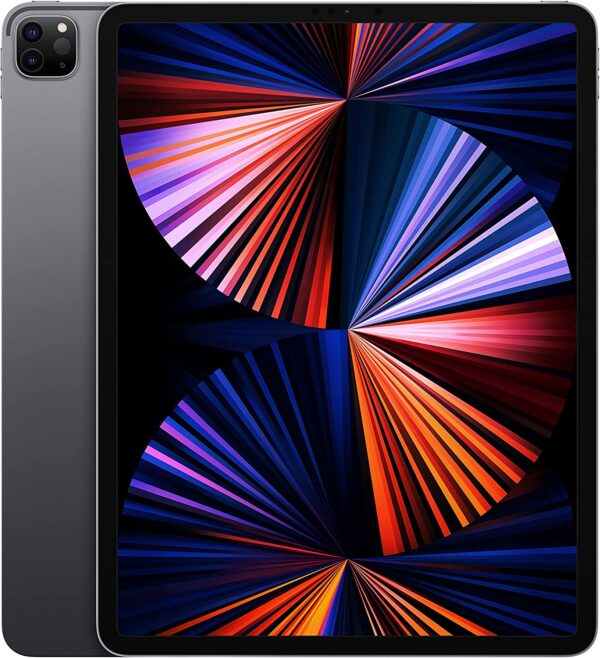 We can't have a list of top tablets without including the big daddy of them all, the Apple iPad Pro.
The latest 5th generation 2021 version is one of the best and most powerful tablets on the market these days. Sure, it's considerably more expensive than many of its competitors, but it lives up to every expectation. So, if you have a bigger budget to play with, the iPad Pro's versatility and impressive performance make this device a very worthwhile investment.
The latest incarnation of the iPad Pro features a roomy 12.9 inch liquid retina touchscreen display. And unlike many cheaper all-in-one tablets, it boasts an impressive anti-glare feature, which is kind to the eyes and perfect for reading e-books, even in bright sunlight.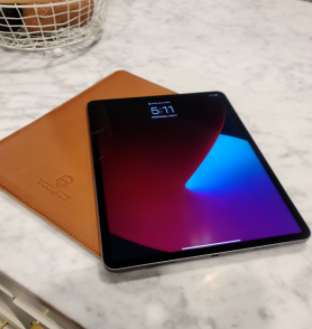 The built-in Apple M1 chip is Apple's fastest ever tablet technology, designed for smooth and seamless browsing, watching, and of course, reading.
The standard iPad Pro comes with an impressive 128GB of storage, but if you're willing to spend a little extra, the top-end device comes with a mammoth 512GB. That's enough to fit the entirety of Amazon's e-book catalog on here and still have a little room leftover!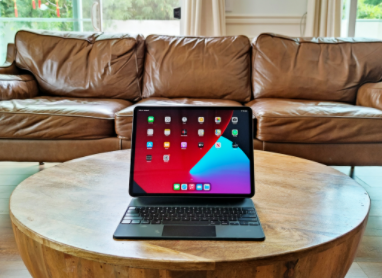 The general rule is the more powerful the machine, the shorter the battery life. But even though the iPad Pro packs a serious punch, it still has an impressive battery life of up to 10 hours when used for tasks like surfing the web and watching videos via Wi-Fi, and even more if you're simply reading e-books.
That being said, if you're looking for a tablet exclusively to read e-books, then it's probably not worth your while to invest in an iPad Pro. But, if you're looking for an all-around, powerful machine that will stand the test of time, then this device is well worth the money.
Pros
Fastest ever performance with the Apple M1 chip
12.9-inch Liquid Retina XDR display
Supports Apple Pencil, Magic Keyboard, and the Smart Keyboard Folio
Built-in 12MP Cameras
Four audio speakers and five studio-quality microphones built-in
Ultrafast Wi-Fi connectivity
Cons
Expensive
Shorter battery life than dedicated e-readers
4. The Lenovo Yoga Book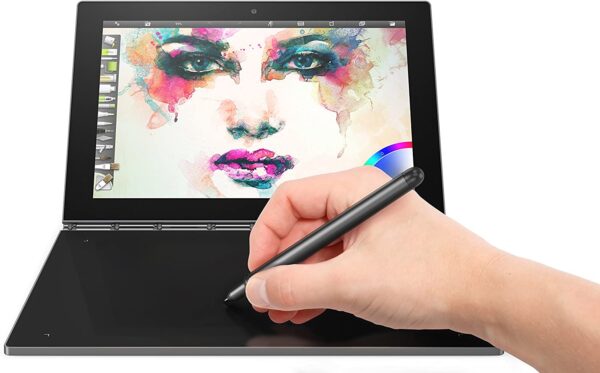 This super slim tablet slips easily into a backpack or briefcase, and at less than 2lbs, it's lightweight too. But its compactness doesn't mean a sacrifice on screen size; the Lenovo Yoga Book has a 10.1 inch screen, which also boasts an HD display and a 1920x 1200 pixels resolution, making for a super sharp reading experience.
This tablet also has some of the highest built-in memory on our list; an impressive 64 GB. All the e-books you could buy would never fill this tablet up, but it's just as well, as you'll have plenty of space for storing extras such as videos, pictures, and games.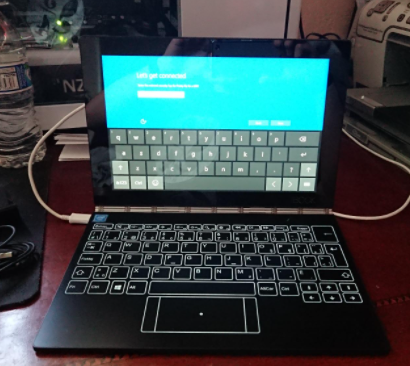 The Yoga Book isn't just a tablet; it also comes with a detachable Halo keyboard, which snaps easily on and off. It allows you to take notes and even sketch out diagrams and drawings, which makes it an excellent tool for artists or students.
This model is a great choice if you're looking for an all-around device that supports not just reading but also notetaking, sketching, and long-form writing. And needless to say, it has all the usual web browsing and app storing features you'd expect in a tablet.
Pros
Large storage capacity
Detachable keyboard for notetaking and sketching
Slim and lightweight
5. The Kindle Oasis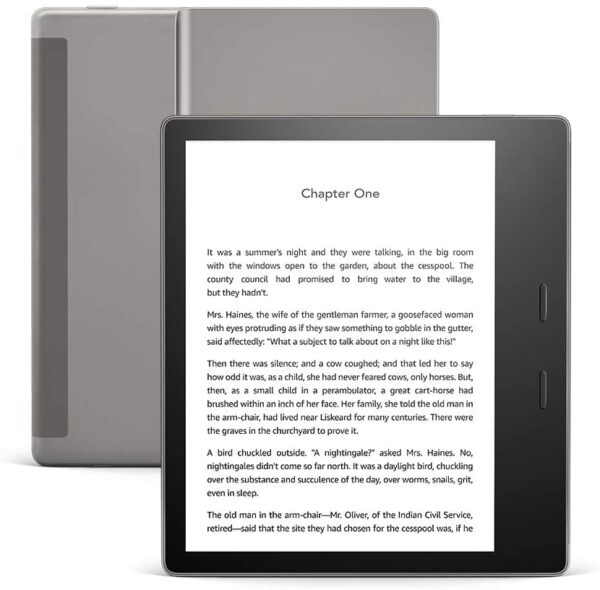 The Kindle Oasis is a dedicated e-reader, which means it's designed specifically for reading e-books. It's also one of the very best of its kind on the market today. As far as a great reading experience goes, the Kindle Oasis is pretty hard to beat.
The antiglare screen is unbeatable, making it effortless to read in even the brightest sunlight. The matt, paper-like screen is always easy on your eyes, whether your reading indoors or outdoors. You can also adjust the side and backlights to suit the time of day. For example, when reading at night, there's the option to change to a softer, orange hue that will avoid any eye strain and block out harmful blue rays.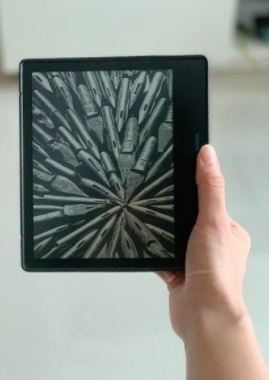 Since it's a dedicated e-reader, the Kindle Oasis has less storage than many regular tablets on this list, but it's 8GB memory is more than substations for storing e-books. No matter how many books you read, you're highly unlikely to exceed the maximum capacity.
Another massive benefit of the Kindle Oasis is its battery life. It can literally go for days on a single charge. Oh, and did I mention it's waterproof? You can read it in the bath or at the pool!
If you're looking for a tablet to use exclusively for reading, then a Kindle Oasis is a top-notch choice.
Pros
Anti-glare, anti-eye-strain screen
Waterproof
Great battery life
Cons
More expensive

Less non-reading features compared with a regular tablet
6. Kindle Paperwhite Signature Edition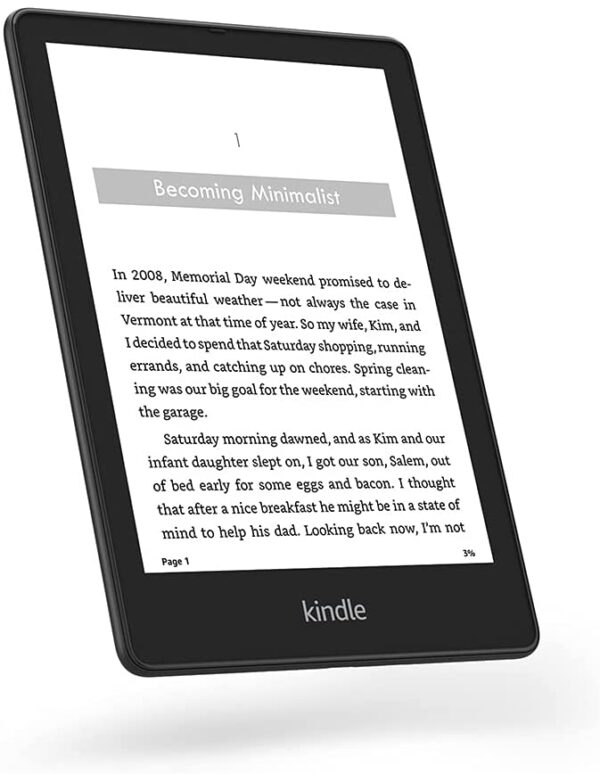 If you're already a Kindle Paperwhite fan, then the latest Signature Edition is an ideal way to upgrade your reading experience while enjoying all the same features you know and love.
For an extra $50, the Signature Edition Paperwhite offers a whopping 32GB of storage, an impressive leap from the standard model's 8GB. You also receive free cloud storage for all Amazon content, so you can pack this device with all of your favorite e-books without ever having to worry about reaching capacity.
Unlike the standard Paperwhite, the Signature Edition has a built-in adjusting backlight, which automatically switches from a warm amber glow to cool white light to optimize visibility in any environment. You can also manually adjust the warm/cool settings for an even more personalized reading experience.
Plus, for the first time, the Signature Edition also has wireless charging capabilities using the compatible Qi charging pad. However, you'll have to shell out a little extra for this as it doesn't come included in the price.
All these added features, plus the fact that there are no annoying ads on the lock screen, make the Kindle Paperwhite Signature Edition a worthy upgrade. Plus, you'll still get all the benefits of the latest Paperwhite thrown in too.
It's still waterproof, and it still boasts an unbeatable ten weeks of battery life, 40% more than the previous Paperwhite generation. And if you don't want to use the wireless Qi pad to juice up your device, you can also charge using the USB-C port, letting you use one cable for all of your compatible devices.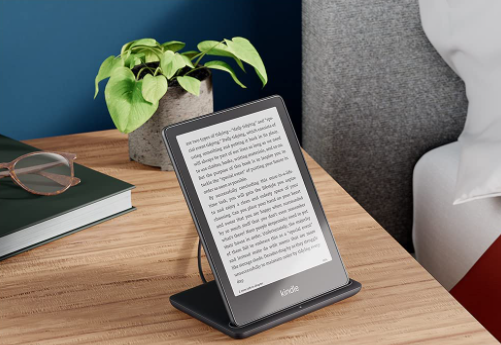 Just like the standard Paperwhite, the Signature Edition features a 300 PPI glare-free display that mimics the look and feel of real paper, even while reading on the beach in full sunlight.
And now, thanks to the thinner and streamlined borders, you gain almost an inch of the extra display. Moreover, without needing to zoom in and out, it enables reading e-books, PDFs, and other documents easily. Plus, there are 16- levels of grayscale settings to choose from, so you can adjust the text display for any reading environment.
The Signature Edition Paperwhite is a fantastic option for Paperwhite fans and anyone looking for a purpose-built device for reading. It's a little more expensive than the standard model, but the additional features make it well worth the price.
Pros
Wireless charging
32 GB storage
Up to 10 weeks of battery life
Auto-adjusting warm/cool light
6.8 inch, 300ppi display
Cons
More expensive than the standard Paperwhite
7. The Amazon Fire 7 Tablet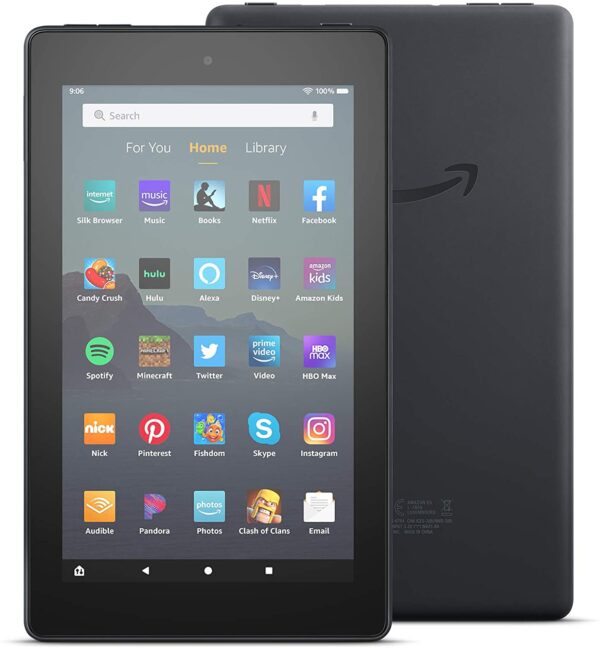 This compact 7 inch tablet is a great affordable option from Amazon, with fantastic e-reader capabilities and all the basic additional features of a tablet combined. And at just over half a pound in weight, it won't feel like lugging a brick around.
The screen resolution is a decent 1024×600, so words appear crisp and clear, and the 1.3 GHz Quad-Core processor is powerful enough to make reading and browsing the internet seamlessly smooth.
The least expensive option has a storage capacity of 16GB, or you can pay a little extra for the extended 32GB version. There's also a MicroSD slot, so it's easy to expand the storage capabilities of both models.
The battery life on the Fire 7 is a relatively decent 8 hours, and it's quick to charge up. From completely empty to a full charge, it takes less than 2 hours.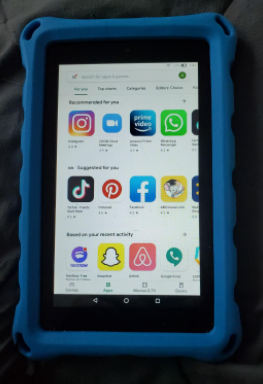 Since this is an Amazon product, you've got built-in access to the Kindle Store, so you can start downloading and reading books straight away.
As an added bonus, this tablet comes in a variety of different colors to suit everyone's taste. All in all, the Amazon Fire 7 is a great choice for those on a budget who want all the benefits of an e-reader, along with the bonus of web browsing and other tablet features you'd expect.
Pros
Expandable storage
Quick charging capabilities
It comes in various colors
Cons
Smaller screen for general tablet use
8. Likebook P10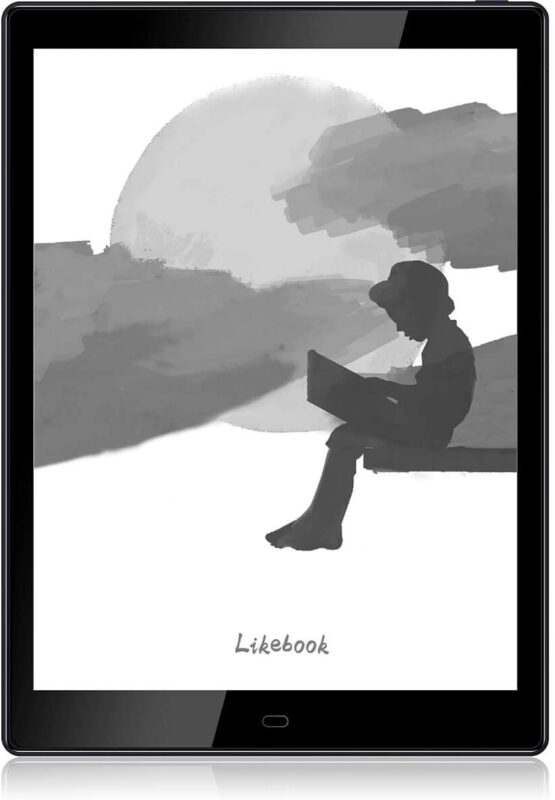 The LikebookP10 might not be a conventional tablet, but it's still got tons of fantastic features that make this a multi-functional device that excels as an e-reader.
The generous 10-inch screen is ideal for reading PDFs, newspapers, and any other e-books or documents that you'd normally need to zoom in and out to read.
The larger dimensions also mean that you can turn the page much less frequently since more words are displayed on the screen at any one time.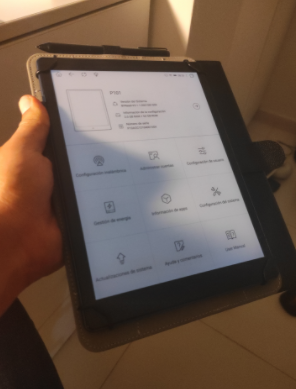 If you view and edit PDFs regularly, then the P10 is one of the best options on the market right now, and that's not just down to the large-scale display. There are multiple built-in PDF optimization programs to choose from, which allow you to make notes and annotations, rearrange layouts, and change formats quickly and easily.
Plus, the P10 has a hyper pressure-sensitive screen that's compatible with the Boyue electromagnetic stylus. Now you can make notes, markups, and annotations just like you would on a regular pen and paper.
Those who love flexibility will be pleased to know that this e-reader accepts all the major file types, and because it runs on an Android operating system, you can download pretty much any app you choose without restrictions. This makes switching to the Likebook P10 seamless and easy. For example, if you already own a Kindle, simply install the Kindle reading app, use your account as normal; and enjoy reading your favorite books straight away.
The P10 features E INK Carta HD e-paper technology to combat any unnecessary eye strain, which is the gold standard in e-readers across the board. Plus, you can choose between warm and cool light modes, depending on your surroundings.
Unlike some other e-readers on this list, the Likebook P10's screen isn't WACOM compatible. Still, this mid-range device stands up to its pricier competition while being kinder to your pocket, too.
Pros
Built-in warm/cool light
Large 10″ touchscreen
Professional PDF reader
Compatible Boyue Stylus for notetaking and PDF editing
9. Microsoft Surface Pro 7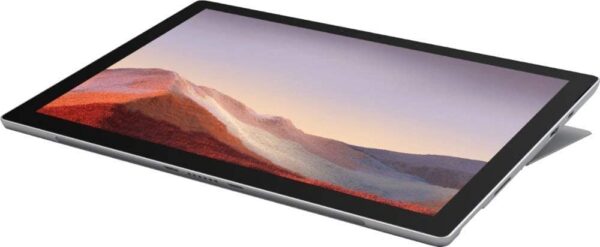 The Microsoft Surface Pro 7 is a high end tablet which is extremely versatile; you can read, type, touch, draw, and write with ease. This model is a great choice if you're looking for a device that can act as both an e-reader, a tablet, and a laptop, all in one.
The first thing you'll notice about the Surface Pro 7 is the super-thin, streamlined, and lightweight design. For such a powerful machine, it's incredibly portable. And at 12.3 inches, the screen is more generous than most on our list, which makes it great for reading novels, but also PDF documents, e-magazines and newspapers too.
There's a built-in 10th generation Intel core processor, which makes every operation smooth and seamfree. It also has a full Windows 10 operating system, a rarity in a regular tablet, so it's capabilities extend far more than just reading e-books and browsing the internet.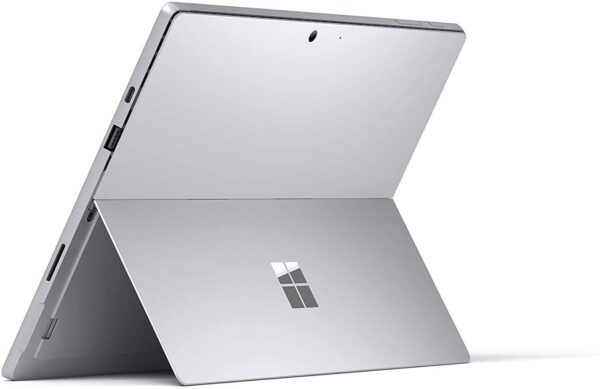 This all-round machine is a great device for work projects. There's a detachable keyboard to adapt it to laptop mode, as well as USB-c and USB-a ports, so connecting to pretty much any external device is easy.
The battery life is a respectable 10.5 hours, even with heavy use, and charging this model is super quick; it goes from 0 to 80% in just over one hour.
Pros
Powerful machine
Lightweight and easy to transport
Windows 10 operating system
Multi-use
Cons
Much more expensive than other tablets
10. Apple iPad Mini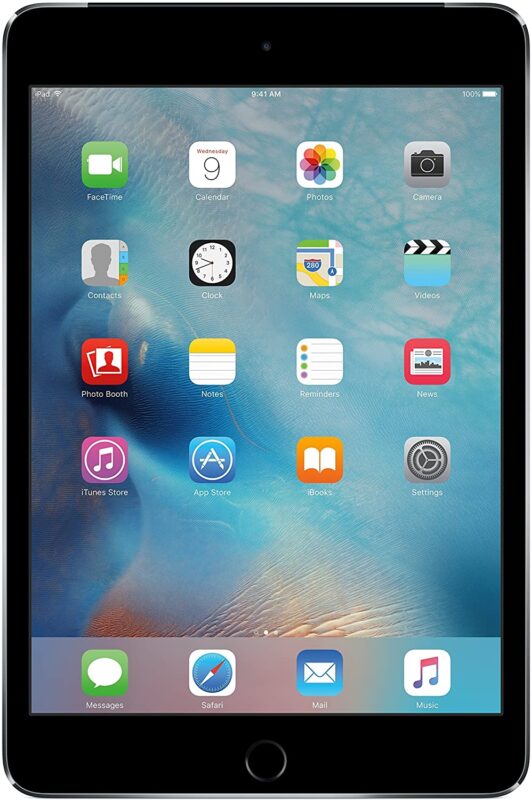 If you're looking for a powerful machine that fits into a small bag or even a pocket, then the Apple iPad Mini worth considering. This is essentially a smaller, more compact version of Apple's iPad, with all the great Apple design features you'd expect, in a smaller package.
The screen measures 7.9 inches in diameter, which is a nice size for reading e-books, and at around 10 ounces, it's also lightweight.
The iPad Mini really stands out when it comes to screen resolution and picture quality. The high-quality retina display and 2048×1536 PPI mean words, pictures, and videos are crisp, clear, and sharp.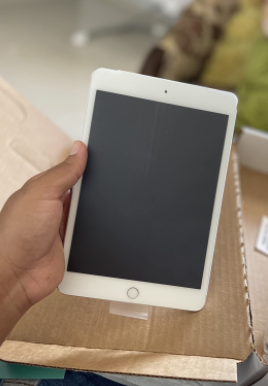 Another major bonus of this model is the massive storage capabilities. It comes with a built-in 64GB memory, which can be expanded to 256GB. This means you can store a whole lot more than just e-books on this device. It's a great all-around tool for reading, surfing the internet, video calling, gaming, and so much more.
This powerful little machine will go for 10 hours on a single charge and takes just 2 hours to go from 0 to 100 percent.
Pros
Great screen resolution
Plenty of storage capacity
Small, lightweight, and portable
Cons
Smaller screen size
More expensive
Things to Consider Before Purchasing a Tablet for Reading
There are so many e-readers and tablets on the market these days that shopping for the right one can feel a little overwhelming. With so many stats, specs, and features to consider, it can be hard to know if you're making the right decision.
The best way to narrow it down is to ask yourself a few key questions. Consider the following before you buy a new tablet for reading.
Is it exclusively for reading?
Are you looking for an all-purpose machine that will allow you to read e-books and also do things like browse the internet, watch videos, take photos or play games? Or do you simply want an e-reader; a place to read and store a library of e-books that you can read anytime, anywhere.
Standard tablets allow multipurpose use, and you can do much more than just read, but a dedicated e-reader usually has fewer additional features, if any at all.
What screen size are you looking for?
Do you want a device that's small enough to slip into a purse, pocket, or a small bag? Or are you looking for a larger screen that will be suited to watching movies and TV shows or doing work projects?
Most screens under around 6 inches are too small for comfortable reading, so make sure you look for something this size or larger. If you struggle to read smaller text, make sure you either opt for a larger screen or choose a model where you can adjust the font size (most dedicated e-readers have this option built-in).
Do you need a long battery life?
E-readers tend to have a much better battery life than multipurpose tablets. If you're planning on reading e-books in the comfort of your own home, then battery life may not be such an important consideration, as you can always plug it in while you're reading or browsing the internet. But if you plan on using your tablet or e-reader on the move, then you'll want to consider how long the battery will last, as well as how quickly it can charge.
Do you need an antiglare display?
If you're reading inside, then an antiglare display isn't quite so important. But if you're using your device outside in bright sunlight, it's well worth investing in a model with this feature. Most dedicated e-readers have a paper-like, antiglare display, whereas tablets tend not to.
Also, look out for adjustable front lights, so you can save your eyes from any unnecessary strain, especially when reading at night.
Conclusion
When shopping for a tablet for reading, there's a lot to consider. Knowing what you want out of your device before you head online to make a purchase will help you make the right decision.
I hope this guide helps you find the perfect tablet for reading, so you can get stuck into more books in 2023. Happy reading!
Check out these other great posts!