The All-New Kindle Kids Edition is a great value for little readers for several reasons. Read on to find out what we love about this new ebook reader for kids.
When I was a kid, I would spend hours under the covers after lights-out, with nothing but a book light and one of my favorite chapter books.
Skimming the pages of Little Women, A Wrinkle in Time, and Charlotte's Web brought younger me nothing but pure joy. Those late nights of reading made me into the book lover I am today.
Today's young readers have many more options than I did as a kid. In addition to paperbacks and hardcovers, e-readers are becoming increasingly popular for all age groups.
Amazon recently released the All-New Kindle Kids Edition, one of the first ereaders designed specifically for kids.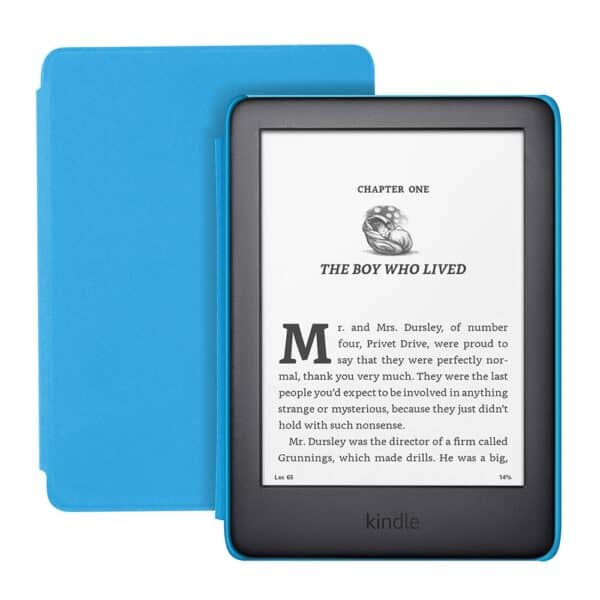 Pros
Lightweight
Kid-friendly, hardshell case with magnetic clasp
Comes with 1 free year of FreeTime Unlimited
Two-year warranty
Protects privacy, no ads
Cons
Not waterproof
Not the ideal reader for picture books
---
Kindle for Kids: What We Love
What we love the most about the Kindle Kids Edition is the value you get for the price.
For $110, you get a basic 10th-generation Kindle (without ads), your choice of one of 4 kid-friendly e-reader cases, a two-year warranty, and one free year of FreeTime Unlimited.
Sure, you could just buy a basic Kindle for your kids for the same price, but you'd end up paying extra for a hard-shell case, the warranty, and FreeTime Unlimited, so the Kindle Kids is hands-down the best value.
According to Amazon, this ereader is "Ideal for both beginner and experienced chapter book readers."
And the Kindle Kids Edition is designed solely for reading, meaning the kids won't be distracted by apps, games, videos, or anything else that comes along with most smart devices.
Like other Kindle devices, the Kindle Kids Edition is easy-to-use and has kid-friendly features, like pressing on words to view dictionary definitions and easy-to-manage parental controls.
The magnetic cover keeps the screen scratch-free and puts the Kindle to sleep when your child closes it, to save battery life.
Little readers can also enjoy listening to audiobooks from their Kindle via Bluetooth-enabled speakers or headphones.
Amazon's FreeTime Unlimited comes with a library of popular children's books, including the complete Harry Potter series, and classics like The Boxcar Children and The Chronicles of Narnia.
The FreeTime library is expansive enough for most child chapter-book readers. And, additional books can always be purchased from the Kindle store.
Privacy is a common concern with any kid-friendly electronic device. Fortunately, Amazon says it won't share reading data with advertisers or third parties.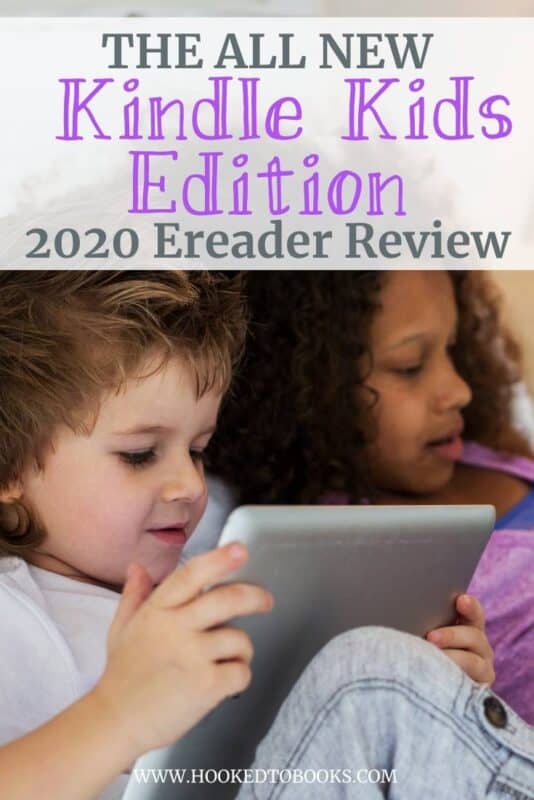 So, what's the catch?
The Kindle Kids Edition is great, but it may not be the ideal device for every child.
For one, this e-reader is primarily for kids who read chapter books. It's not an ideal reader for picture books or comics. Although FreeTime Unlimited does offer picture books, they're not ideal to read on the small, black-and-white screen.
Another con is that the device isn't waterproof. I probably wouldn't pack the Kindle in your kid's bag for camp or a beach vacation.
It's surprising that Kindle doesn't offer a waterproof version considering the Paperwhite is now waterproof. Fortunately, the two-year, worry-free warranty largely makes up for this concern.
The FreeTime Unlimited membership is only free for one year. After that, you'll be charged $2.99/month. And if your child wants any book outside of the library, like the His Dark Materials series, you'll have to purchase it for regular price in the Kindle store.
Is the Kindle Kids Edition worth it?
If you're looking for a simple, easy-to-use ereader for kids, the Kindle Kids Edition is absolutely worth the price.
The benefits and value of the Kindle for kids far outweigh the cons. And it's likely that Amazon will continue to add to the features and offerings available with this device like they do for their other ereaders.
Do you have a Kindle Kids Edition? What do you like/not like about it? Share your thoughts in the comments!