As voracious readers, we're big fans of anything related to e-readers at Hooked to Books. While reading paper books is awesome, sometimes it's hard to have a space to store them, a place to hold them, or even have an environment in which to read them.
By using an e-reader like the Kindle Paperwhite, you are able to read anywhere and at any time. From reading on the beach to reading on the subway, having a Kindle Paperwhite makes it easy to read in a compact, light, and portable way.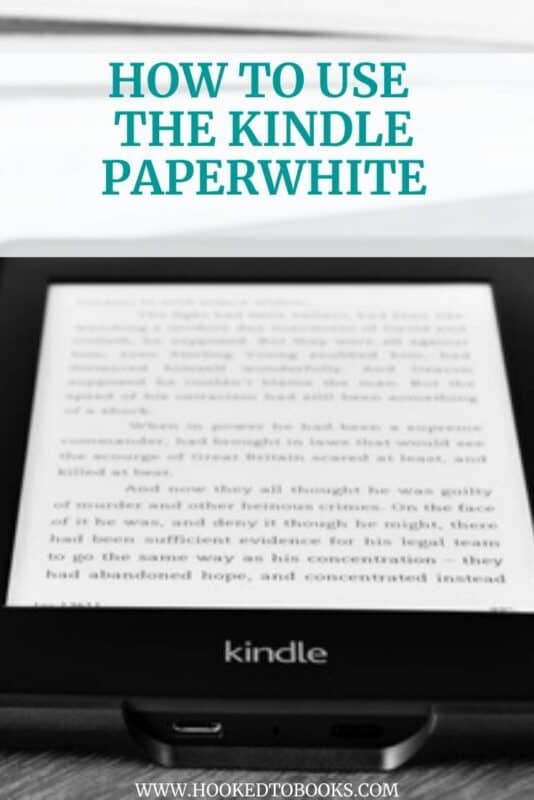 While there is a mountain of possible e-readers to buy, the Kindle Paperwhite is a great, popular, and affordable e-reader choice.
The simply designed e-reader allows for an electronic reading experience that still feels like you're looking at an actual page.
Without glaring, harsh blue lights, the Paperwhite provides a way to read simply and with function.
Since trying any new piece of technology can always be a challenge, it's important to know how to use it. Here's a little more about the Kindle Paperwhite, and here's how to use the e-reader itself:
What is the Kindle Paperwhite?
The Kindle Paperwhite is one of the biggest stars of the show in Amazon's lineup of e-readers. The e-reader comes equipped with a 6-inch screen, making the Paperwhite the perfect, compact size for reading on the go.
The Paperwhite comes with a crazy high resolution of 300 dpi – the same as the top-of-the-line Kindle Oasis – and has the option for storage of 8 gigabytes or 32 gigabytes.
The waterproof, flush-front design holds weeks of battery life and is compatible with Audible through Bluetooth. The screen also includes 5 LEDs, making the screen quite similar to the page of an actual book.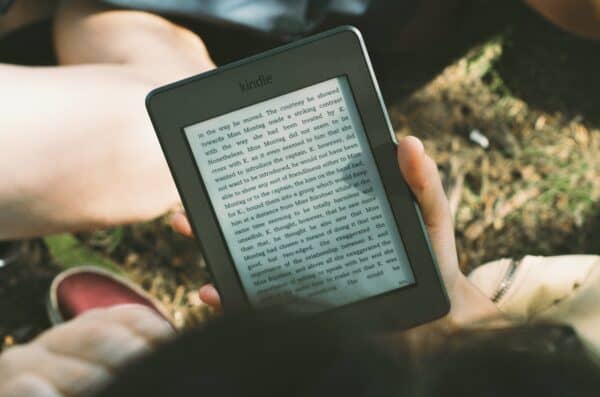 With the Kindle Paperwhite, you can have a customized reading experience.
With fonts that are designed to ensure the ideal readability level and sizing and boldness that is changeable, reading with the Paperwhite is a great way to ensure a comfortable reading experience as well.
You can also choose from Wi-Fi-enabled or free cellular connectivity Paperwhites, and your place will always be saved when reading on Kindle. The glare-free display is great for reading outside in the sun and is also perfect for late-night reading that doesn't disrupt your sleep cycle.
While the Paperwhite isn't the cheapest or most basic option in Kindle's line-up, it's the best choice for most people.
You're able to read everything from audiobooks and novels to magazines and graphic novels, and you're able to do so in an affordable, effective, and customizable way.
With the high battery life, a large amount of available storage, and durable design, the Kindle Paperwhite is a great addition to your reading experience.
How to Use the Kindle Paperwhite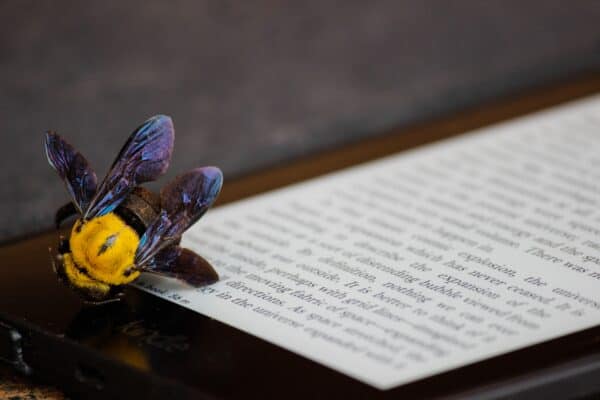 If you're at all familiar with e-readers, the Kindle Paperwhite is an easy one to use. The e-reader is meant to mirror a typical reading experience, making it intuitive and simple.
The Paperwhite doesn't include too many bells and whistles, which makes it easier to figure out the device than something like the Kindle Fire.
Setting Up Your Paperwhite
When you first open up your Kindle Paperwhite package, you'll be led through a series of screens that allow you to connect your account, choose your language, and connect to the nearest Wi-Fi network. When it comes to actually using the device, the minimalism of the Paperwhite makes it pretty easy to do.
You'll find a power button that allows you to switch the device on and off, and you'll see a port where you plug in your charger.
Once you familiarize yourself with the device, you'll be surprised at how simple it really is to connect and get to reading on your Paperwhite.
Learning Your Way Around the Paperwhite
The Kindle Paperwhite uses a touch screen system on the device that allows for intuitive, easy management and reading. However, it's always a little tricky to find your way around a new device.
On the home screen of your Paperwhite, you'll see sections that show your reading lists, your recently accessed items, and your recommended reads. You can also find your own library of books by touching the top left corner of the screen and finding Your Library.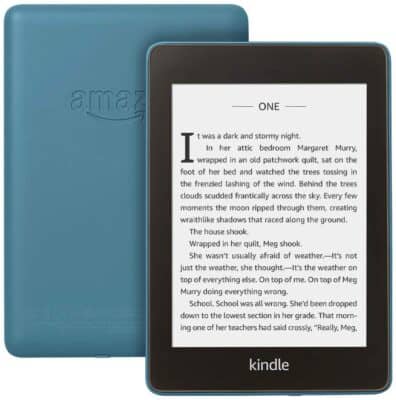 As you use your Paperwhite, there are a series of indicators at the top of the screen that will allow you to keep a close eye on your device functions, from wireless connectivity to battery charge percentage. The Paperwhite shows you everything in one place, so you'll not know when you need a charge or to connect to a new network.
The EasyReach toolbar at the top of your screen gives you easy access to your Home screen, your Goodreads account, your settings, and the Kindle store.
Just by navigating through the top toolbar on your device, you'll be able to do everything from leave reviews to buy new books. 
While you're reading your book on the Paperwhite, you can highlight pieces of the book you want to remember, you can change your display settings, and you can add bookmarks.
You can also use the X-Ray feature on many books on the Paperwhite to explore more about the book you're reading.
Finding Content For Your Paperwhite
Once you've begun to learn your way around your new Paperwhite, it's time to load it up with all kinds of things to read. With the Kindle store and Audible store living right on your device, it's never been simpler to find things to add to your library.
Simply navigate to the store of your choice, and scroll up and down to find your desired read. You can download samples of anything you'd like, and you'll also be able to filter through the store with categories like novels and best sellers.
You can purchase or rent a book with a simple tap, which uses your Amazon login to quickly and securely pay for your title.
Kindle Paperwhite users can also use Kindle Unlimited, which is a great way to find new titles and interesting authors. With Whispersync technology, you'll be able to find your rented and downloaded titles on all of your Amazon devices.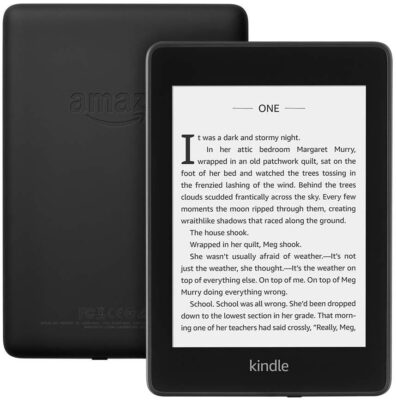 Organizing Your Paperwhite Library
While your Kindle library may not be quite as satisfying to look at as a perfectly color-coded bookshelf, there are plenty of ways to organize it to your satisfaction.
Toggle between Grid view and List view to see all of the books in your collection, and sort them by anything from author name to title name. You can also filter through your library to differentiate between books, periodicals, and Audible titles.
If you decide that you no longer want a title on your Kindle shelf, you can remove it from your library by tapping the menu item on the cover and selecting to remove it from your device.
You can also archive titles to free up space on your actual device, and they'll still be able to download through the Amazon Cloud.
At Hooked to Books, we want everyone to be able to read as much as humanly possible.
By adding an e-reader like the Kindle Paperwhite to your collection, you'll have a portable library that can come with you to work, to bed, and on vacation.
The Paperwhite is easy to use and smart to read from, making it the absolute perfect choice for your reading experiences.
Have you learned any tips or tricks on your Kindle Paperwhite that you'd like to share? Let us know! We love hearing from you. Happy Kindling!
About the Author
At the ripe old age of 3, Susannah decided that life was just a blank canvas and took Magic Marker to the newly installed carpet in her room just to "see what happened."
She's taken that approach to life since, curious about pretty much everything. She earned a journalism degree from Texas A&M University with the mission of making asking questions and telling stories her life, and since then has done everything from social media strategizing and content creation on the national level to writing a career column for USA TODAY.
Susannah is a high school teacher and yearbook adviser with a huge passion for reading (Harry Potter is her absolute favorite) and is excited to bring another book-loving voice to Hooked to Books.