Do you want to know an author with a vast collection of books under her name and is still ongoing with new releases?
Yes, the author I'm talking about is none other than Kat Martin. Since her career started in 1988, she hasn't looked back once and has continued delivering hit novels one after the other. Written in various genres, she knows how to make the readers happy and keep them satisfied throughout the read.
This article will focus on the complete list of Kat Martin books in order, listing all the books separately according to their series titles, along with the standalones and novellas. If you want to have the full list of books divided into separate sections so you can understand the sequence order without any extra hassle, then stay with me throughout.
Without further ado, let's dive in, shall we?
Who is Kat Martin?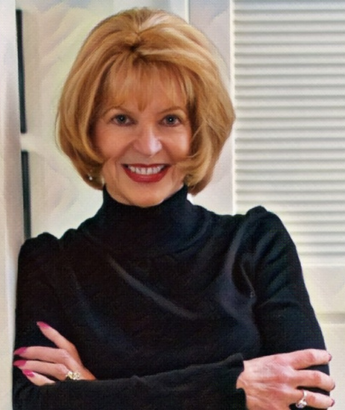 Kat Martin, or Kathleen Kelly, was born in the Central Valley of California, USA, on July 14, 1947. She received her degree in Anthropology from the University of California in Santa Barbara and also studied History. She worked as a real estate broker and, during that time, met Larry Jay Martin. They quickly became acquainted with each other.
One day, Larry asked Kat to read an unpublished manuscript of a historical western written by him. She loved the manuscript and decided to try her own hands in writing. Soon, she switched to becoming a full-time writer.
Her debut novel was published in 1988, and since then, she has written more than sixty-five novels and is still ongoing. Kat has written romantic suspense, contemporary romance, and historical romance books. With over seventeen million copies of her books, this best-selling author has stolen the hearts of many readers.
Apart from Kat Martin, the author has used two other pseudonyms: Kathy Lawrence and Kasey Mars.
Kat Martin Books in Order
Lord's Trilogy Series in Reading and Publication Order
The Lord's Trilogy, or the Garrick Series' first book, was released in 1992 by Kat Martin. The trilogy books are based on the historical era. They are of the romance genre, narrating stories filled with love, passion, hope, betrayal, and much more. Let's look at the reading order of this beautiful series.
As it is a trilogy, it has three books under its title and can be read as standalones. However, following the reading and publication order ensures that you get to know all the small details in between (if any), hence having a full understanding of the series.
I will provide the reading and publication order of the trilogy, along with briefly describing the first released book. Have a look!
Gypsy Lord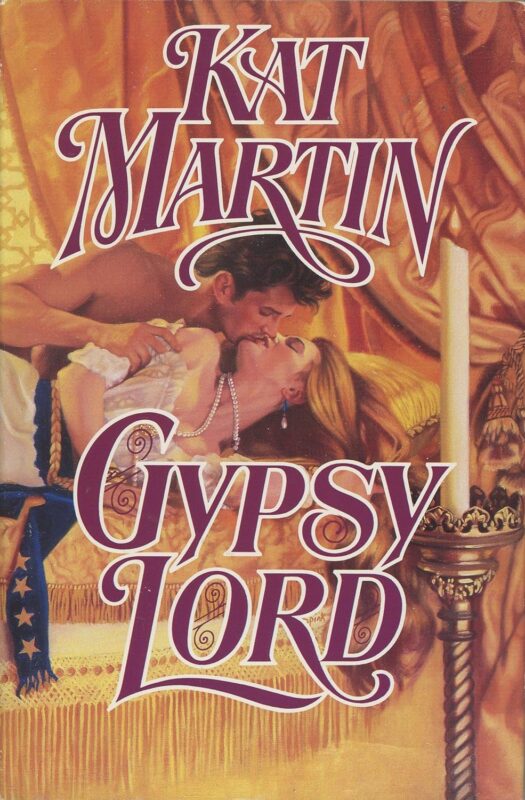 Dominic Edgemont, Lord Nightwyck, is a half-gypsy, a bastard. He is the heir to the Marquis of Gavenwold and gained his title of Lord after his father's death. He had an estranged relationship with his father and vowed to destroy everything his father created and valued.
He will be spending the last summer with his mother and gypsy friends, the people he loves and respects so much, before taking over the responsibility as a successor. Dominic has decided he will never marry or beget an heir, hence a way to end his father's line.
Catrina is a pampered English Heiress who is kidnapped and brought miles away by the gypsies. She has been sold into slavery but has managed to survive the ill-treatment.
When Dominic sees the pretty, flame-haired captive being tortured and beaten, he saves her from the misery. Both are instantly attracted to each other but do not show their feelings upfront. Dominic intends to make her his lover, but Catrina has no intention of getting involved and is trying to escape to revenge them.
With many things happening in between, will they both accept their newfound feelings, or will Catrina's urge for revenge overpower everything?
Southern Series in Reading and Publication Order
The series is a historical romance where the author has portrayed emotions such as love, hate, fury, hope, and more. Throughout the Southern series, different love stories are narrated, igniting a sense of passion within the readers.
The series has a total of three books, which I will be listing in their reading and publication order. You can either read them as standalones or follow the order. Have a look at the list provided below!
Creole Fires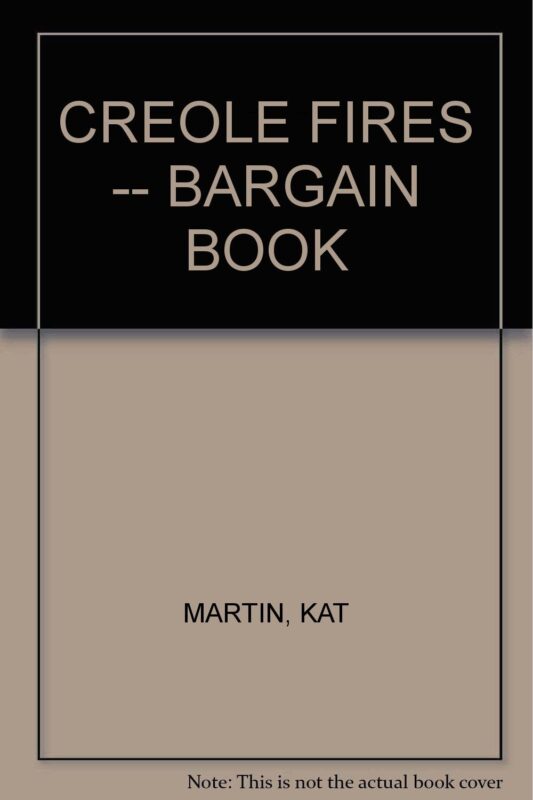 Nicole St. Claire is a wealthy and flirtatious woman whose life suddenly turns upside down. Nicole's merciless fate brought her to the auction block, where she is being auctioned to be sold as a servant. Situations have changed her appearance; standing on the auction ground, she looks like a waif with messy hair and a thin, trembling body.
The owner of plantation Belle Chene, Alex Du Villier, the idol of her childhood dreams, was the highest bidder. The man bought her out of pity, but he was definitely attracted to Nicole. Alex is getting married to a cold, haughty heiress, and he believes Nicole will be the perfect mistress to make him forget about his marriage.
But soon, both become really close, and the burning desires will ignite their heart with passion and love.
Litchfield Series in Reading and Publication Order
It's another historical romance series by Kat Martin. Historical romances are interesting to read because of the whole setup of that era and the profound love that prevails at the end. Litchfield series also narrates love stories filled with desire and passion.
The series has two books under its title. Readers can read them in order or simply pick them as standalone. I will list both books in their reading and publication order. Have a look!
Nothing But Velvet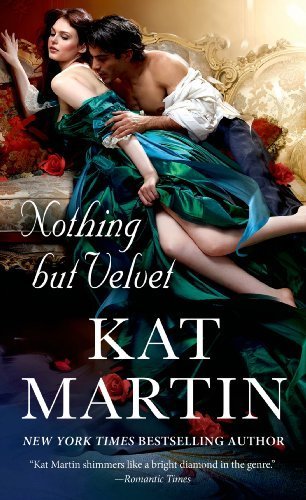 Nothing But Velvet is the first published book of the series. It can be read as a standalone and features Velvet Moran as the story's main protagonist.
Velvet Moran has denied all thoughts and wishes related to love from her life. She is determined to save her family from ruin. The only way to protect her family is to wed the Duke of Carlyle, and with no other option left, Velvet agrees to wed the hard-faced Duke.
Jason Sinclair has been falsely accused as a murderer. He has returned secretly to prove his innocence and clear his name. He is also determined to stop the wedding to preserve his stolen dukedom. Jason plans to kidnap the bride and detain her as long as necessary, but will he be able to control the desire igniting from within?
Kingsland Series in Reading and Publication Order
The series has two books under its title and can be read as standalones. However, if you prefer reading books in order, check the list below, where I have listed them in their reading and publication order. Scroll down!
Innocence Undone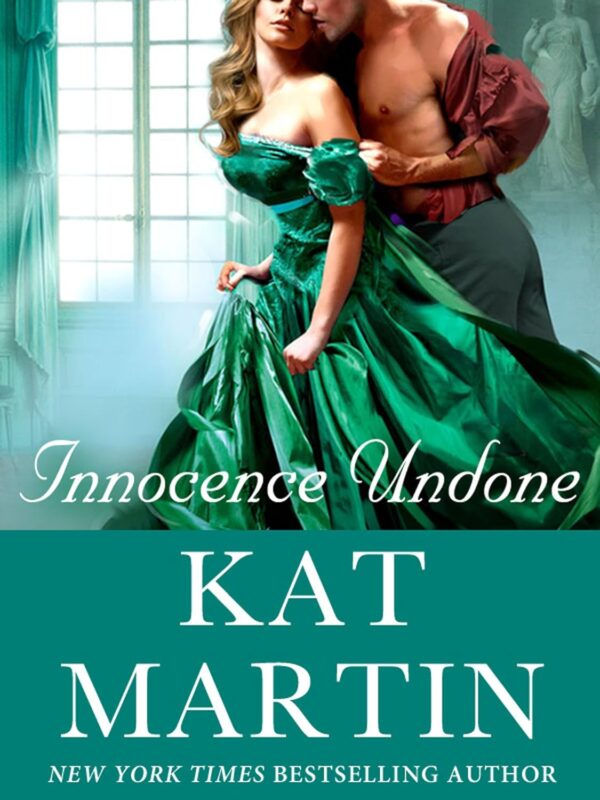 This book tells the story of Jessica Fox, who was born in poverty and used to wander the streets. But Jessica's fate helped to bring her life back together. The aging Marquess of Belmore takes her in and becomes her guardian. While Jessica considers herself fortunate to get the luxury she never imagined she could get, the entry of a particular someone might ruin everything.
The Marquess's son, Captain Mathew Seaton, has returned from the sea. He is skeptical of this new lady, thinking she might be after the Belmore title. But he has to greet and confront her unwillingly.
However, he cannot deny his lingering desire for Jessica. On the other hand, Jessica is definitely attracted to Mathew and can do anything for his love. But when her childhood incidents come crashing down, things start to get complicated.
Clayton Series in Reading and Publication Order
The series has two books and can be read as standalones. However, I will still list the books in their reading and publication order with a brief description of the first one, so keep scrolling.
Wicked Promise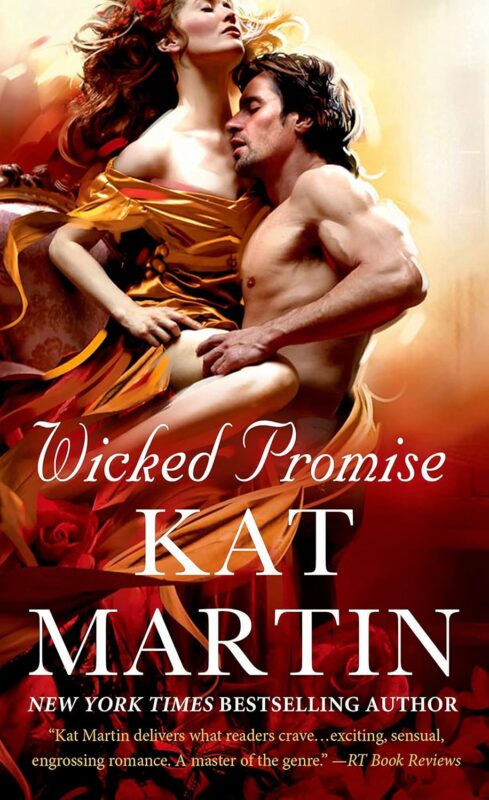 The beautiful Elizabeth Woolcut is being forced into marriage. Lord Bascomb is trying to marry Elizabeth forcefully, and she is considering her options to appeal to her influential guardian, Nicholas Warring, a handsome and charismatic man, for rescue.
Nicholas, also known as the Wicked Earl, is a ruthless womanizer, accused of murder and barely escaped hanging for his actions. Elizabeth knows he can save her, but the reputation Nicholas holds can put her honor at risk.
Elizabeth is attracted to Nicholas and can also feel his desire for her. But nothing romantic can ever happen between them because he appears to be a married man. A sudden crime where Nicholas is the prime suspect makes Elizabeth question her trust in him, and the fact that he was accused as a murderer before doesn't help the situation.
Heartless Series in Reading and Publication Order
Kat Martin's Heartless series is also a historical romance fiction, with enough drama to keep the readers interested and invest their time in the entire series.
There are three books in the series, which can be read either as standalones or in order; you can choose according to your preference. Below, I will share the book list, have a look!
Heartless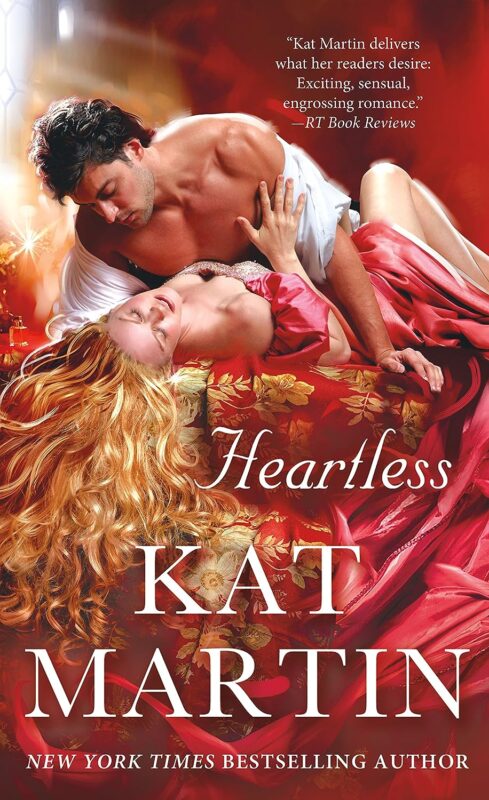 One of the main protagonists of this story is Ariel Summers, the daughter of a poor farmer. Her father does farming on rented land, and they are somewhat surviving their poverty-stricken life. Another main protagonist of the story is Justin Ross, the bastard son of an Earl on the estate.
Ariel does not want this life, so in exchange for becoming the mistress of the Earl of Greville, who is also Justin's father, she bargains for better schooling and refinements of a lady.
Unfortunately, Ariel cannot have predicted the untimely death of the Earl, which puts her in a difficult situation. The hard-hearted man, Justin, never wants to get involved in something called love. But he struggles to resist the allure of the beautiful lady, Ariel. His only plan is seduction, but things start escalating quickly, and Ariel also realizes her attraction toward the heir of the Earl.
Sinclair Sisters Series in Reading and Publication Order
Sinclair Sisters is a romantic suspense trilogy by Kat Martin. This gripping series will keep you on the edge of your seat, a good choice if you want a combination of romance and suspense.
The series has a total of three books under its title and can be read as standalones. Each book features the story of different Sinclair sisters.
So, you can read them according to your choice without following any reading order. Have a look at the book list I am going to provide below.
Midnight Sun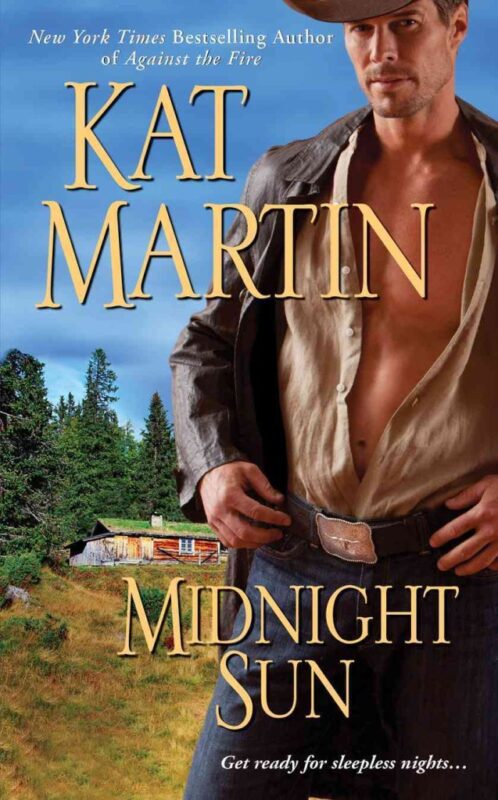 Charity Sinclair is the first Sinclair sister featured in this book. She is a 28-year-old woman working as an editor in New York City. She has been obsessed with Yukon for a very long time, and finally, when Charity gets the chance, she immediately quits her job to move there.
Call Hawkins is a billionaire running from his past life and is seeking complete isolation. But when Charity Sinclair arrives in the neighborhood, his plans to be left alone fail miserably. The beautiful lady Charity does not have any idea of the wilderness, and her hostile neighbor, Call, grudgingly tries to help.
But an unexpected, unforeseen situation denotes that one of them is the target of a killer, and they must protect each other to survive the dangers.
Necklace Trilogy Series in Reading and Publication Order
This series by Kat Martin is a historical romance fiction narrating the adventures filled with love, hope, betrayal, jealousy, etc., in connection with a powerful necklace.
As a trilogy, it has three books under its title, which can be read as standalones because the novels narrate different stories with only a few common people throughout. However, if you want a thorough understanding of the series, I recommend reading according to the order.
Check out the book list and a short description of the first book.
The Bride's Necklace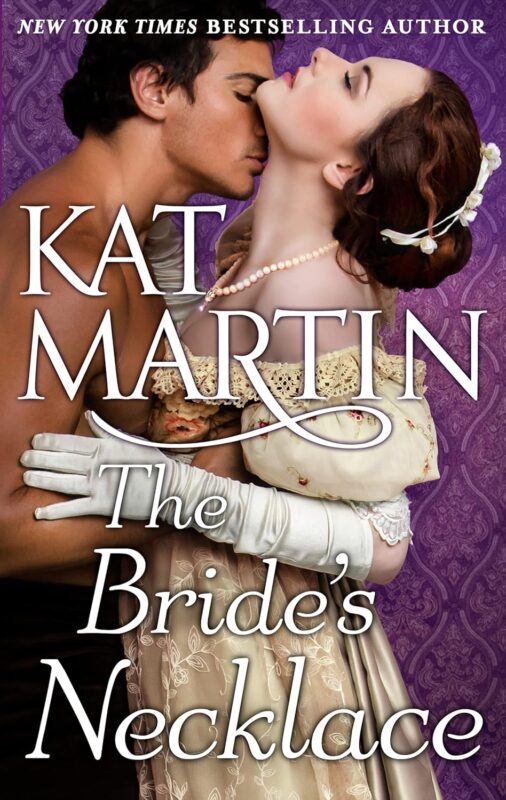 Victoria Temple Whiting, the stepdaughter of evil Baron Harwood, escapes with her younger sister for protection. She steals the family heirloom necklace to pay for the expenses throughout their journey to London. The powerful necklace is cursed and can either bring happiness or tragedy.
Victoria conceals her identity with the name Tory Temple and finds shelter with her sister as servants in the house of the scandalous Earl of Brant, Cordell Easton.
By then, Cordell was already bored with his mistress and turned his attention to Tory after the arrival. But soon, Baron learns about both his daughter's whereabouts, which leads to the revelation of Tory's identity to Cordell, which angers him greatly.
Unable to bear the drastic situation, Cord marries Tory, with the rest of the story narrating many good and bad incidents.
Paranormal Series I in Reading and Publication Order
This series is of romantic suspense and paranormal romance genre, with engaging plots written by the author.
This series has a total of three books and can be read as standalones. There is no need to read them in order; however, if you prefer reading in sequence, you can most definitely start that way.
The list I've provided will help you to know the reading and publication order of the books in the series.
The Silent Rose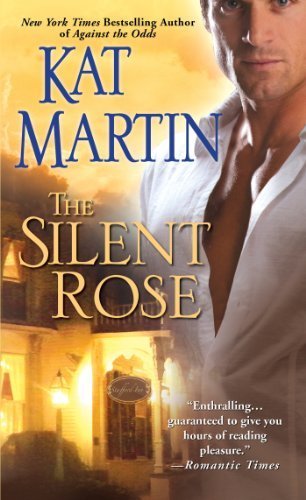 Devon James, the best-selling author, has rented a room in the Stafford Inn in Connecticut and is determined to improve her relationship with her fiance. But her focus wavers due to the secrets lurking around the Inn. One particular night, a very frightening but intriguing vision is experienced by the author, and she is adamant it's not just a mere illusion.
She believes something terrible has happened in the place, and she must find out the hidden story. Her curiosity is understandable as an author, and she starts digging into the Inn's past.
The owner, Jonathan Stafford, the wealthy and attractive owner, does not want Devon to research and purposefully plans to seduce her for distraction. Soon, their attraction becomes something else, but the question is, will Devon be able to find out the truth? And what supernatural being is roaming around the Inn?
Paranormal Series II in Reading and Publication Order
This is the second paranormal series by the author with a romantic and paranormal suspense genre.
The series is a trilogy and can be read as standalones. I've listed all the books under the title, along with a brief description of the first one, have a look!
Scent of Roses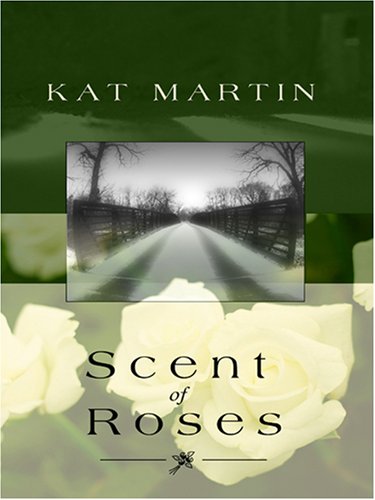 Elizabeth Conner, the family counselor, does not believe in ghosts. She is divorced and has returned to San Pico, California, living a not-so-happening life.
Maria Santiago, a pregnant woman, claims that each night, a ghost of a little girl visits her. She has informed her husband, Miguel, about this frightening experience, but he dismisses her cries as hormonal changes. Maria asks Elizabeth for help, and seeing the condition of the terrified woman, she agrees.
The young couple lives in the cottage owned by the employers of Miguel, the Harcourt brothers. Elizabeth contacts the brothers regarding the situation and discovers the two brothers have an estranged relationship. Carson runs the estate, whereas Zack is the family's black sheep. Among both the brothers, Zack comes forward to help Elizabeth, and they start digging into the house's history.
The investigation might bring both of them together; however, they feel the presence of something evil and disturbing in the house. What is it, though?
Heart Trilogy Series in Reading and Publication Order
The series is of the historical romance genre and carries one common thing that links the entire series, "The Weekly London Ladies' Gazette Heart to Heart," to which all the main protagonists of each book are associated.
There are a total of three books in the series, and you can read each part individually. All the books have a few common connections; however, each part narrates a different story altogether. Take a look at the book list provided.
Heart of Honor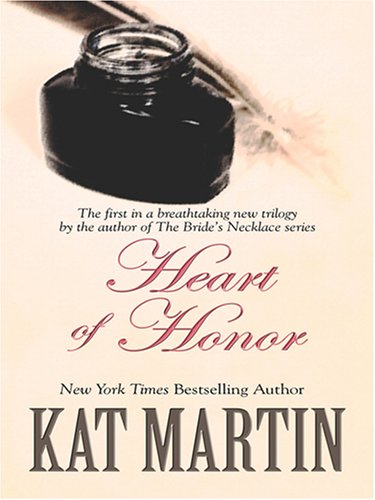 One of the main protagonists, Krista Hart, is the publisher of the weekly London ladies' gazette Heart to Heart. She is a confident and outspoken lady who is not afraid to speak her mind. Sometimes, her upfront nature makes her the target of the opposition. But Krista is not the one to get intimidated by them.
A powerful and fierce Viking descendant is captured as a local sideshow attraction. Krista, unable to bear the injustice, asks for his release. Although deep down Krista knows about her attraction to the Viking, she still convinces herself that she is helping Leif Draugr because of righteousness.
When threats against Krista increase daily, Leif is ready to face all the enemies and protect her at all costs.
Bride's Trilogy Series in Reading and Publication Order
This is also a historical romance series featuring Royal, Reese, and Rule Dewar and their beautiful love stories in each book.
With a total of three books present in this series, readers can pick them as standalones without worrying about the sequence order. Check out the book list in order and pick the one that piques your interest.
Royal's Bride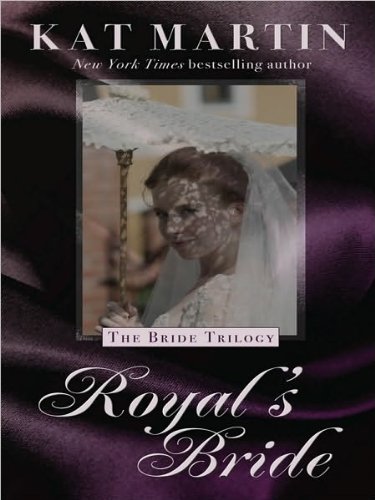 After living for years abroad, Royal Dewar has finally returned to Bransford Castle, his home. But the scene at his place has been unpleasant since the arrival. With his father dying and the family treasure nearly empty, the situation is worse than ever.
While his father was taking his last breath, he took a few promises from his guilt-stricken son. The first promise is that Royal must marry heiress Jocelyn Caulfield, and the second is to restore the estate's financial glory. But Royal is not attracted to Jocelyn because his heart beats for his cousin Lily Moran.
Poor Lily knows that nothing romantically can ever happen between the two; however, she tries to help Royal to bring the estate's position back to normal. But they both face real challenges while doing so.
Dreyerville, Michigan Series in Reading and Publication Order
The stories in this series are based on a place called Dreyerville, Michigan. It comprises heart-touching stories filled with love and hope and will make the readers cry and smile throughout the read.
It has two books under its title and can be read as standalones. Check out the book list provided below!
The Christmas Clock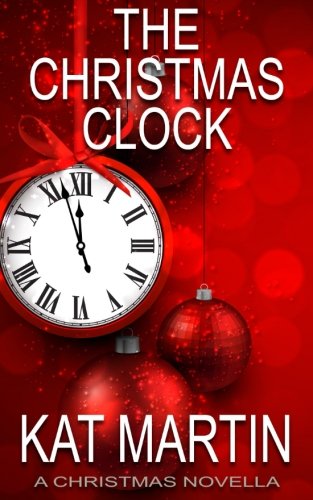 Lottie Sparks lives in Dreyerville, Michigan, and since her daughter died in a car accident, she has been the guardian of her eight-year-old grandson, Teddy Winters. Lottie has advanced Alzheimer's disease. Teddy loves her a lot and takes a job in an auto body shop to help her and save enough money. He wants to gift his grandmother a Victorian Clock, which reminds Lottie of her childhood.
Eight years ago, Sylvia Winters left Dreyerville, Michigan, and moved to Chicago for her treatment of cervical cancer. Sylvia lied to her fiance, Joe Dixon, about her condition and dumped him, saying small-town living does not suit her. Joe was devastated after the break-up and took refuge in drinking, resulting in him accidentally killing a man and serving in jail for three years. Now Sylvia has found a job in Dreyerville, and Joe has also been released from prison and back in the town.
In the story, the characters' paths cross, leading to a full-packed drama full of love, hope, and more. What does this Christmas behold for them?
Raines of Wind Canyon Series in Reading and Publication Order
This series is for those who love reading romance with some action and thriller aspects. All the books are engaging, and you will not regret investing your time in reading them.
The series has a total of nine books and must be read in order to follow the whole story. The first three books in the series are a trilogy; after that, few are standalones.
So, read according to the sequence to ensure you get all the crucial details. I've provided the full book list below; have a look.
Against the Wind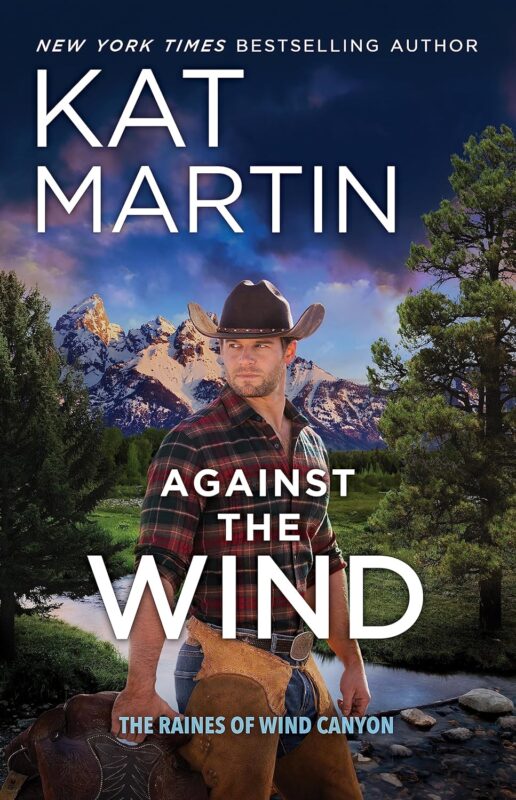 Sarah Allen has a well-known history in her hometown, Wind Canyon, Wyoming. Sarah's husband is murdered, and his associates search for his wife and daughter. She has no place to go and is desperate for help from someone. Nowhere else to go, Sarah returns to Wind Canyon to escape.
Sarah crosses paths with Jackson, the high schoolmate she spurned, which ultimately turns out to be a fortunate event. He is a successful ranch owner, and she expected anger but got mercy from him.
Seeing Sarah and her daughter, Holly, in trouble, Jackson cannot turn them away. Another reason is his deep-buried feelings for her, so when the enemies attack, Jackson comes forward to protect them at all costs.
Brodies of Alaska Series in Reading and Publication Order
The Brodies of Alaska series is about three brothers, Dylan, Nick, and Rafe Brodie, based on Alaska. The first book features their cousin Ian Brodie, who has his security firm in Washington.
The series has four books, each featuring one particular brother. They can be read as standalones; however, I suggest you read them to follow the connection throughout without missing out on the details in between.
Against the Heart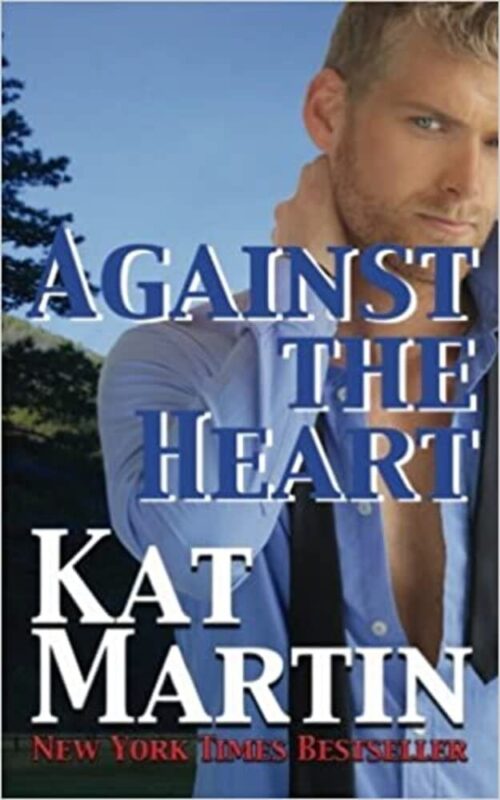 After Meriwether Jones' parents' death, she was used to transferring from one foster home to another until one woman helped her complete her schooling and college. But a single one-night stand was enough to bring more struggles in Meriwether's life. She becomes pregnant, and the man who is the father is a drug addict. She is blessed with a daughter, but the father is still an addict and only wants money from Meriwether.
With no money left to offer, Meriwether flees with her daughter and ends up in a small town in Washington with no money and gas.
Ian Brodie left home when his mother died and now has his own security firm in Seattle. His father has become a shell of a man after his mother's death and has almost ruined the farmhouse and his life.
Ian is back after so long to help his father become stable again. There, he meets Meriwether and gives her a job. She might be the answer to all his questions, but what about the threat and danger she is carrying with her?
Boss Inc. Series in Reading and Publication Order
The series Boss Inc. comes under the romantic suspense genre. Ian Brodie's security firm, known as Brodie Operations Security Service, takes various cases to help people in need. The agents working in the security firm are assigned several tasks. The series follows the story of the particular agents in the books and their romantic aspects.
It has three books under its title and should be read in order to ensure you get all the crucial details in between. I will provide the book list and describe the first book, so stay with me.
Into the Fury
This book features the cousin of Ian Brodie, agent Ethan Brodie, a former military who now works in Boss Inc. Another story protagonist is Valentine Hart, a beautiful lady studying to become a veterinarian. She needed extra money to finish her degree and took the opportunity to model for La Belle Lingerie.
The top 10 models of the La Belle Lingerie are receiving threatening letters from an anonymous stalker, including Valentine Hart. Ethan Brodie is assigned the job to find the stalker. During the investigation, Ethan and Valentine become closer than they expected. When one of the models is murdered, the agent is determined to find the culprit to protect Valentine.
Texas Trilogy Series in Reading and Publication Order
This is a general fiction genre series by Kat Martin. The stories are engaging and interesting to read.
It's a trilogy, so it comprises three books in total. They can be read as standalones as well as in order. Check out the book list in the order I've given below.
Beyond Reason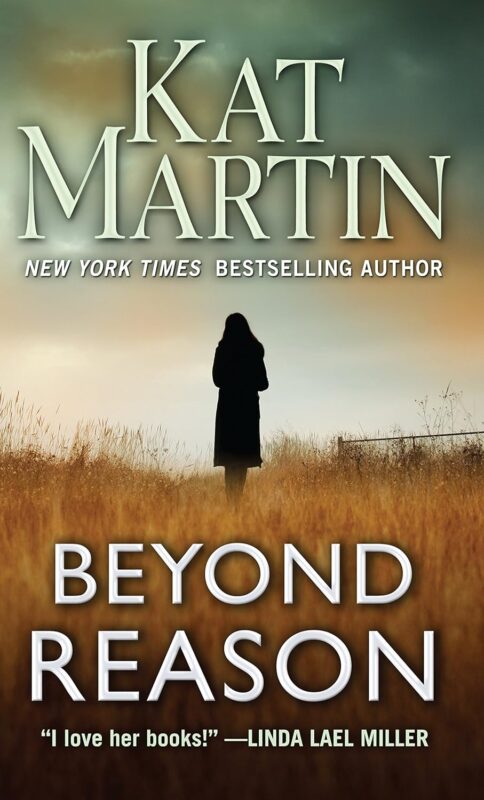 It's been five weeks since Carly Drake's grandfather, Joe Drake, died. She feels guilty for not being able to be with him when it was needed, so she is determined to bring the company Drake Trucking back to its former glory. But when one of the company's top drivers is shot and hijacked, and the police are not invested enough to find out why, Carly seems to be in trouble.
Lincoln Cain is rich and successful only because of Joe's help and blessings. Joe gave him a chance, which led him to where he is now. Lincoln's deathbed promise to Joe was that he would always protect Carly.
He planned to buy the company to give Carly good financial stability to live a happy life. But Carly denied the offer straightforwardly. In between, Lincoln finds himself attracted to Carly. He makes it his mission to protect her at all costs due to his promise and his personal interest.
Maximum Security Series in Reading and Publication Order
The Maximum Security series by Kat Martin is of the contemporary romance suspense genre.
The agency that is featured in the entire series is known as Maximum Security, and it provides services such as detective work, bodyguard duties, dangerous mob business activities, etc. The writer maintains the balance between the twists and turns in all the thriller books under the title to keep the readers engaged throughout.
The series has four main books and five extra books, including the prequel and novellas. So, the series has nine books under its title, and I recommend you read them in their reading and publication order to follow the whole story.
Check out the book list I've provided below, along with a brief description of the prequel novel of the series.
Wait Until Dark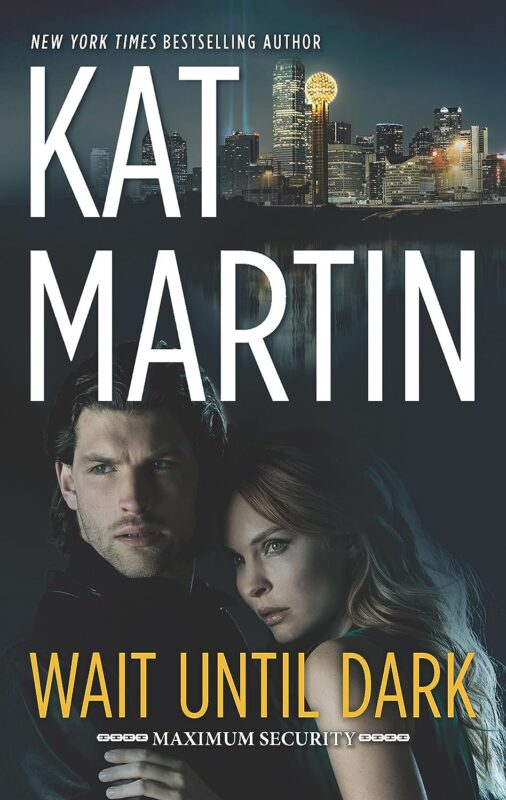 April Vale wakes when the police bang on the hotel room door, only to find out that she is lying beside the dead body of her coworker with a hole in his chest and blood soaking the sheets. Perplexed, April has no memory regarding the whole situation, and all the clues pointing toward her make her the prime suspect in the case. But deep down, April knows she is being framed and must find that person to protect herself.
She storms into the office of Maximum Security and asks for help from the private investigator, Jonah Wolfe. Jonah puts all his efforts into finding the actual culprit. With the growing attraction between them, will Jonah be able to find the killer and protect April?
Blood Ties, The Logans Series in Reading and Publication Order
This series is of the romantic suspense genre and narrates the stories of three Logan brothers individually in each book. All the books take us on a ride filled with adventure, affection, and betrayal.
There are a total of five books in the series, with three main books and two short novellas. The first and last books published in the order are novellas, and the three in between are the major books in the series.
You can read these books as standalones as well as in order. Have a look at the book list in order to understand the sequence.
One Last Kiss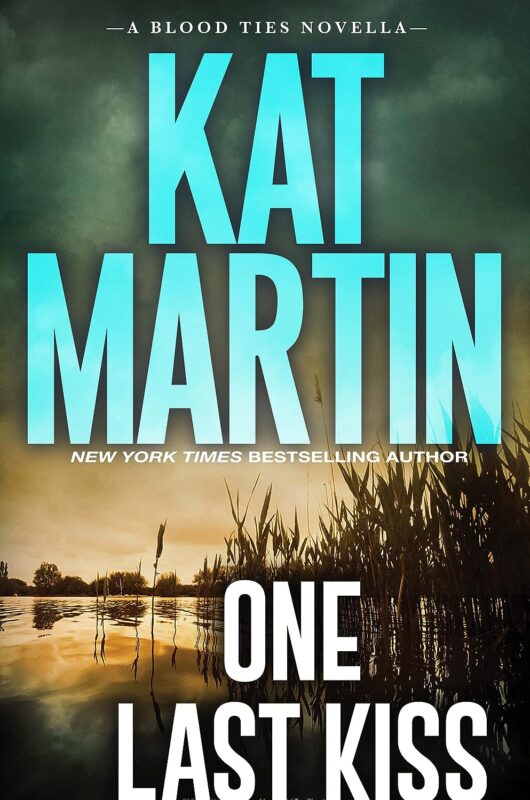 The story features Liberty Hale, a girl who lived in Kansas with her parents until age twelve, when her parents died in a car accident. After the tragedy, her uncle Marty took care of her, and now she is a successful model in New York.
Recently, her uncle also dies, and Liberty is informed that to receive her inheritance, she must work at a ranch in Colorado. The ranch's owner, Sam Bridger, is Marty's friend and accepts Liberty's stay.
Initially, Sam thinks of Liberty as a spoiled brat, but with time, he learns the other side of her, and their attraction to each other grows stronger. But a ranch guest is threatening Liberty's life, and Sam, with his friends, must protect her from the dangers.
Standalone Books
Apart from many book series, Kat Martin has also written standalone books during her career and is still ongoing. I will list all her eleven standalone books according to the publishing order, so have a look.
Brief Description of "Magnificent Passage"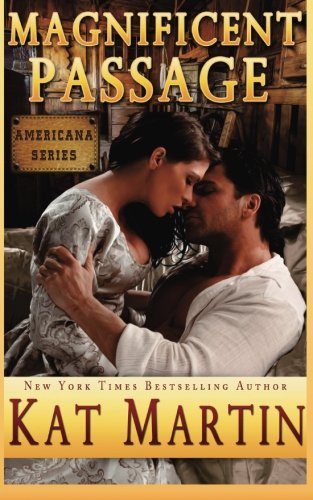 The character, Mandy, is fed up with her father's way of always wanting to guard her; she feels secluded and wishes to run away to explore the world that exists outside Fort Laramie.
Mandy's cousin Julia, the governor's daughter, has fallen in love with an army man at Fort Laramie. Julia's father has ordered her to return to Sacramento City, California. But she wants to live at Fort Laramie and wed him. So, both sisters secretly plan to switch places, and Mandy goes in place of Julia to California.
Hawk and James are responsible for taking Mandy (disguised as Julia) to Sacramento City, and the journey becomes a lot more interesting with never-ending banters of Hawk and Mandy and their growing attraction to each other.
Novellas/Short Stories
Kat Martin has also written a few novellas. Below, I will list the two novellas by her so far. Take a look!
Brief Description of "Christmas Angel"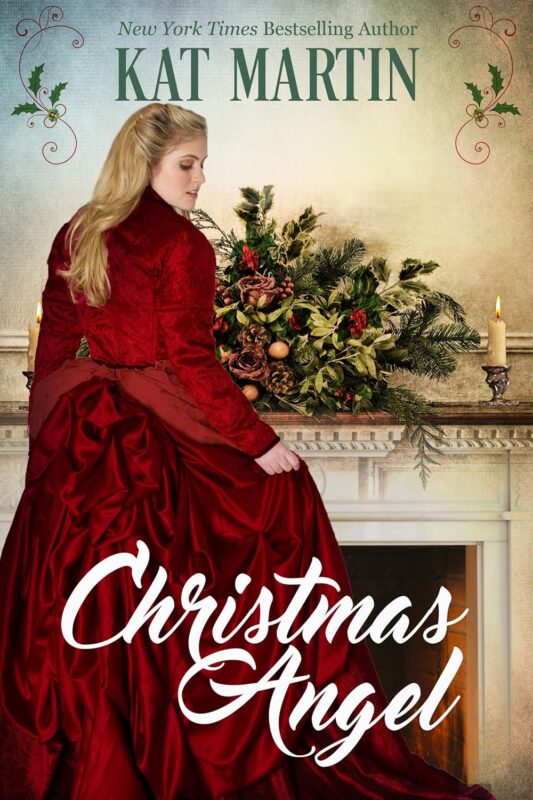 Angel is from the South and is devastated by the impacts of the civil war, including the death of her parents. Josh Coltrane left everything behind in the South to fight for the North and became a doctor during the period. After the war is over, the return to his Southern hometown is not appreciated by his friends and especially not by his former lover, Angel Summers.
The novella narrates the passion still buried inside the two lovers after being separated for years and how it needs a little push to ignite again.
Conclusion
Kat Martin has written many books throughout her career and is still ongoing. I know this article is a lengthy read due to the vast collection of book series and standalones; however, I hope the article will provide you with all insights regarding the Kat Martin books in order so you can choose the one that piqued your interest the most.
Have you read any of Kat Martin's books? Are you her fan? If yes, tell me your favorite books written by her. I would love to read about your experiences!