Jane Austen is one of the most acknowledged novelists in English literature. Her works are among the timeless classics. They are continuously discussed and interpreted and offering new areas of discussion and discovery.
As a female writer who gained wild popularity after her death, there are lots of questions about who she is, and how she became one of England's best authors.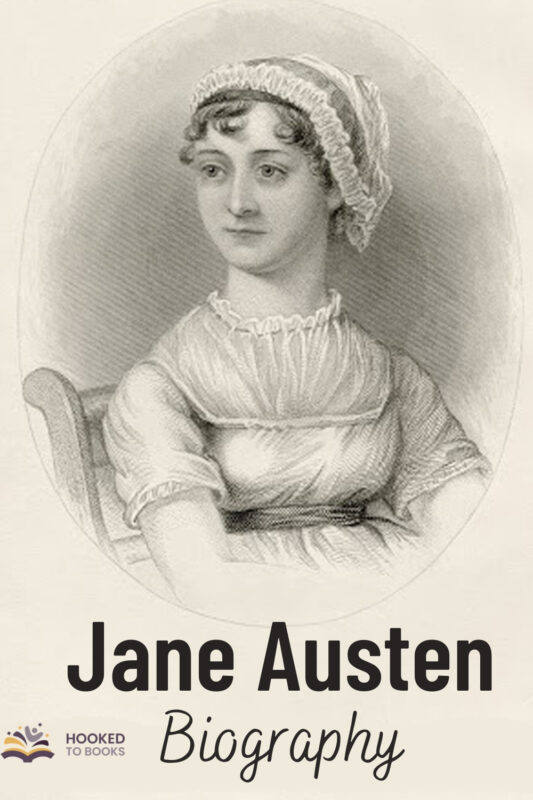 It's also important to consider how her childhood and education affected her journey as a writer and how she became an established published author.
Personal Life
Details about Jane Austen's personal life are known through some of her letters written to her older sister Cassandra and her family's biographical notes. It's claimed that Austen has written around 3 thousand letters during her lifetime but only a few of them survived.
The Burned Letters
Most of these letters were burned and destroyed by family members, mainly her sister Cassandra. It's believed that this was done for the sake of omitting and protecting personal family details and Austen's opinions of its members and their characters.
Though, some sources describe her family as an open-minded one where opinions were discussed freely within the household.
Her Love Life
It's known that both Jane and Cassandra didn't get married. However, details about Austen's love life and relationships are almost non-existent due to the loss of the letters.
Still, in her novels, Austen's characters just like herself believe in marriage based on love and not social and financial support.
One of the known stories concerning this matter is the marriage proposal she accepted then refused the next day. It was Harris Bigg-Wither an heir of a Hampshire family who proposed to her.
It's believed that her acceptance was based on a quick decision to help her family financially.
Childhood
Jane Austen was born on 16 December 1775 in Hampshire, England in a modest family. Her father George Austen was a rector at their nearby Stevenson church while her mother Cassandra Leigh was from a prominent family.
Austen was the 7th child and the youngest girl among 8 children. She has an older sister called Casandra, five older brothers, and one younger. Jane was said to be closest to Cassandra, as they were the only girls, and to her brother Henry, who was four years older than her, and supported her in her writing career.
As a child, Jane spent her time in the church, or with friends and neighbors in her village. She also loved reading and dancing. It's said that she would write stories from a young age and read them to her family for entertainment. She also used to attend the balls held in her town hall and was an excellent dancer according to her brother Henry.
Her Education
Jane Austen's education was not a stable journey. She was first sent with her sister to be educated in Oxford by a tutor in 1783. A short time later, both of the girls caught typhus and were sent home.
Jane was then home educated for a while until she went with her sister to a boarding school in Reading in 1785. By the end of 1786, both girls were back home due to the school's high fees that the family couldn't afford any longer
Home Schooling
Her access to books at home was through her father's and his friend's libraries. That gave her a good amount of variety to discover. It's also known that there were theatrical activities in the family.
The Austen family and some of their friends used to stage plays in which Jane and her siblings would take part. With such surroundings, she started writing plays, poems, and stories by the age of 12. They were mainly for her amusement and to enjoy sharing them with the family.
Her early writings were mostly satirical and sometimes mocking popular sensibility novels. She started writing more, though some of her writings were left unfinished.
The early writings that survived were in three large notebooks titled Volume The First, Volume The Second, and Volume The Third.
Becoming a Writer
By the age of 18, Austen started considering writing seriously to become a professional writer.
In 1793 Austen wrote her epistolary novel Lady Susan, a novel with a smart, charming, and manipulative female heroine.
She also wrote short pieces to her new-born niece Anna about the conduct of young women. It's said that she continued to add to them throughout her life as well as her niece and nephew in 1814.
First Full-Length Novel
She finished her first full-length novel, Elinor and Marianne, before 1796. The novel original draft didn't survive.
However, it's believed lots of it may have turned into what was later Titled Sense and Sensibility with Elinor and Marianne as its heroines. She began her second novel in 1796. The novel was first titled First Impressions but later published as Pride and Prejudice.
First Publishing Attempt
Afterward, Her father attempted to help her by offering her novel First Impressions to a publisher but it was rejected. She continued working by revising her first novel and then started the third one.
Her third novel Northanger Abbey (then titled Susan) was a satire of the gothic novel. In 1803, her third novel was offered and sold to a publisher in London. Yet, the novel remained unpublished for so long that Austen bought it again years later.
Moving to Bath
The Austen family moved from Stevenson to Bath in 1800. It's during her life in Bath that Jane's writing was much affected. However, there are different interpretations of the reasons why. Some biographers claimed that Austen's moving to Bath was a source of sadness to her and stopped her from writing as she preferred her past lifestyle.
Some others claimed that what stopped her was her busier social life in Bath than in Stevenson. While other biographers argued that she spent her time there revising old works but didn't get much time to write new novels.
Her Father's Death
The time between 1801 and 1804 is considered a blank space in Austen's writing journey. The year 1805 marked the death of her father in Bath. The family consisting of Jane, her mother, and her sister kept moving between several rented houses in Bath.
The family eventually settled in the cottage of her brother Edward in Chawton. That's where she started working again on her works by her brother Henry's encouragement and for her family's need for financial support.
Getting Published
During her stay at Chawton cottage, Austen has started taking serious steps towards publishing. Her brother Henry was mostly the go-between with publishers as women weren't allowed to sign contracts during these times.
The First Novel
In 1811, the publisher Thomas Egerton agreed to publish her novel Sense and Sensibility. The novel was published anonymously as women writers were looked down upon back then. However, it was well-received by a few reviewers.
More Published Novels
In this same year, Austen started her novel Mansfield Park and published it in 1814. Pride and Prejudice was published in 1813, and by then, Austen had started to gain readership and favorable reviews.
The second editions of her novels were being published and provided her with an almost stable income. By 1815, she had written and published another novel, Emma, which was published by John Murray, Lord Byron's publisher.
The Last Novel
The last novel Austen has written was Persuasion in 1816. However, it was published after her death along with Northanger Abbey in 1817.
Both her brother Henry and her sister Cassandra arranged with Murray to publish them as a set. It was also when her brother announced that Jane Austen is the author of all these novels in a biographical note.
Austen's Last Years
In 1816 Austen's health started to deteriorate gradually. She didn't realize from early symptoms that her illness was fatal and so didn't give it much consideration.
Austen considered her symptoms to be due to bile and rheumatism. Yet, It's argued that her illness was due to Addison Disease, Hodgkin's lymphoma, or even arsenic poisoning.
Her uncle's death followed by disinheriting her and her relatives from his wealth badly affected her mental and physical state. When her condition was so serious she moved to Winchester by her sibling to receive treatment.
Still, her condition didn't get better and she died on July 18, 1817, and was buried in Winchester Cathedral.
After Her Death
Austen's authorship was announced after her death. Although she has witnessed the publishing of her novels and how they gained popularity, it was nothing compared to how her work was received years later.
Family's Contributions
Her novels started gaining fame in 1833 when they were published, illustrated, and sold as full sets. They were first published in a series called Richard Bentley's Standard Novels and started gaining readership since then.
Later in 1869, her nephew published A Memoir of Jane Austen. This book revealed a lot about her life and writing career to her readers and the world of literature through her brother's eyes.
Criticism
During the 19th century, her work was criticized by some authors and ignored by others. Some critics considered her work an imitation of previous writers while others have called her a literary genius.
In 1899, Austen's novel Northanger Abbey was translated into French. Later, her work started being recognized gradually outside of England.
Since the 20th century, Austen has been the subject of many studies and dissertations. The argument around the quality and depth of her works is still a subject of discussion. Her novels are considered works of classics and are among the most read books in English literature.
Her Work
Austen's work is considered a realistic criticism, and a commentary on the English society in the 18th century.
It's social criticism presented through humor, love relations, and family. Her work has tackled several social, moral, and gender-related topics. They're all prominent through her different novels.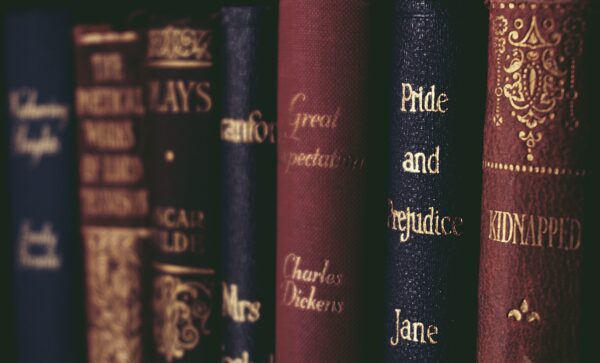 Topics
In her novels, Austen disregarded epic heroes and focused on everyday people and their lives. The middle class in relation to the gentry class was the main topic in her fiction. She also focused on gender relations and women's dependency on marriage for social and financial security.
Themes
There are several themes that were tackled in Austen's novel. These themes are often repeated in her work, but, in different contexts. Some of these themes are:
Social hierarchies
Love and marriage
Gender relations
Women individualism
Morality
Settings and Characters
Lots of Austen's work can be considered biographical fiction. The settings in many of her novels include places she has visited and stayed at. Her characters can also be seen in the light of real family members, friends, and the circumstances they have been through.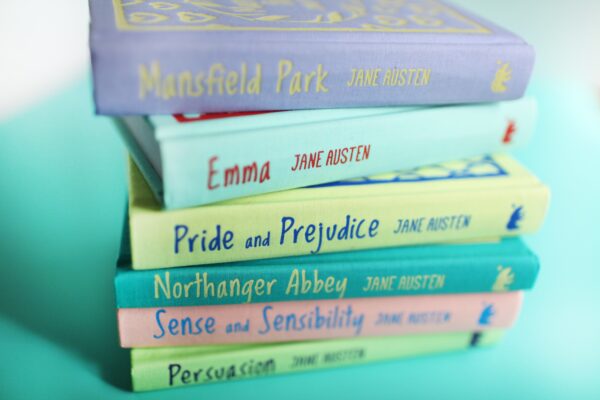 Books and Adaptations
Austen's main work is her six famous published novels. All of them have been adapted into movies or series over the years:
Sense and Sensibility (a 1995 movie adaptation )
Pride and Prejudice (2 movies productions in 1995 and in 2005)
Mansfield Park (a movie in 1999)
Emma (2 movie adaptations 1996 and 2020)
Northanger Abbey (a 2007 movie adaptation)
Persuasion ( a 1995 movie adaptation)
Moreover, much of Austen's unfinished work remains until our present time. They're called her juvenile writings. These writings include some of the Volume the First, Volume the Second, and Volume the Third. It's worth noting, that they were written in manuscript notebooks.
The writings also include her epistolary novel, Lady Susan that was published in 1871. It's known as the work which inspired the 2016 movie adaptation Love & Friendship.
Conclusion
Jane Austen is a novelist that challenged the social norms both in real life and in her literature. She has written and published realistic modern works that were later considered with depth after she passed away.
Though there are lots of controversial parts concerning her life, Austen's literature stands to speak for itself. What was first considered less of literature for being written "by a lady" has turned to be among the most read novels in the history of English literature.
Enjoy this article? You may also like: