Bibliophiles are quick to describe books in language similar to the ways you would describe a trusted friend, and no doubt there are many classics we return to time and again, like a trusted confidant.
But these same favorite works can also give us the language to use in (gasp!) real life to express our love for friends and the joy they bring to our lives.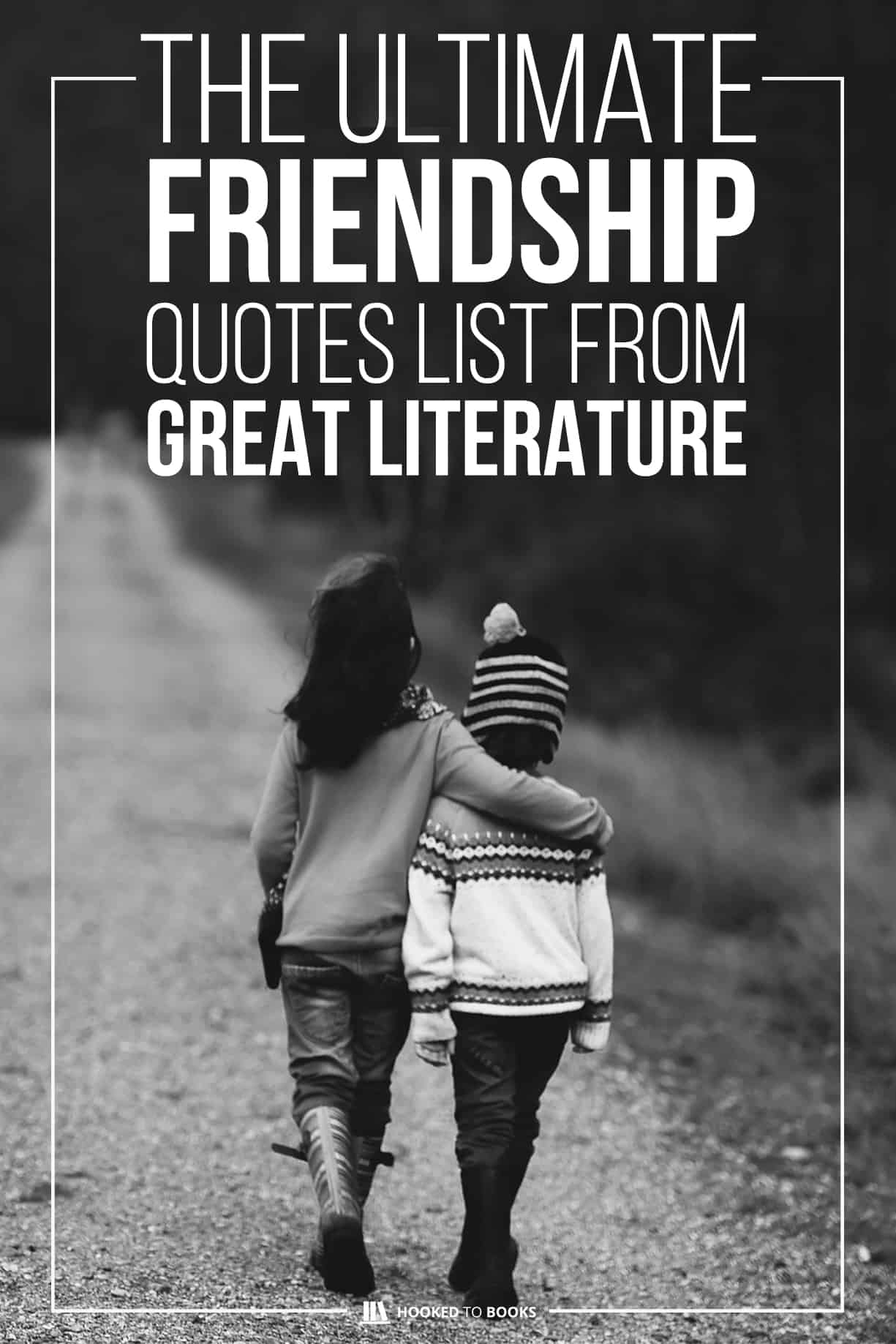 34+ Friendship Quotes to Help Express Gratitude
The next time you struggle to find the words of appreciation, admiration, love, and respect you want to share with a dear friend, just think back to many of the classics you have read.
And allow these authors to do the talking for you with some amazing book quotes!
Friendship is one of the most prevailing themes in literature, and history is also filled with examples of deep and abiding friendships between authors: J.R.R. Tolkien and C.S. Lewis; Ernest Hemingway and F. Scott Fitzgerald; and James Baldwin and Toni Morrison.
Writers have given us incredible and moving stories of true friendship, whether between everyday folks like ourselves or characters beyond anything our wildest imaginations could conceive.
At the heart of these stories, there is always a glimpse of something we long for in our own lives. When it is found, these inspiring quotes may help us express our gratitude for those friends who consistently lift us up and make our worlds brighter by being in them.
Following are some of the most classic quotes for friendship from literature.
Quick Navigation:
Literary Quotes about Friendship
(Note: Some of these quotes are not directly from literature)
Beautiful Friendship Quotes
"We cannot tell the precise moment when friendship is formed. As in filling a vessel drop by drop, there is, at last, a drop which makes it run over; so, in a series of kindnesses there is at last one which makes the heart run over." – Ray Bradbury, Fahrenheit 451
"Friendship is everything. Friendship is more than talent. It is more than the government. It is almost the equal of family." – Mario Puzo, The Godfather
"There is nothing I would not do for those who are really my friends. I have no notion of loving people by halves, it is not my nature." – Jane Austen, Northanger Abbey
"Not a word passes between us, not because we have nothing to say, but because we don't have to say anything." – Khaled Hosseini, The Kite Runner
"It takes a great deal of bravery to stand up to our enemies, but just as much to stand up to our friends." – J.K Rowling, Harry Potter and the Sorcerer's Stone
"It's all very well to tell us to forgive our enemies; our enemies can never hurt us very much. But oh, what about forgiving our friends?" – Willa Cather, My Mortal Enemy
"No friendship is an accident." – O. Henry, Heart of the West
Friendship Quotes About Love
"A friend may be waiting behind a stranger's face." – Maya Angelou, Letter to My Daughter
"We sometimes encounter people, even perfect strangers, who begin to interest us at first sight, somehow suddenly, all at once, before a word has been spoken." – Fyodor Dostoyevsky, Crime and Punishment
"I got you to look after me, and you got me to look after you, and that's why." – John Steinbeck, Of Mice and Men
"If you have but one friend, make sure you choose her well." – Muriel Barbery, The Elegance of the Hedgehog
Sweet Friendship Quotes
"She is a friend of my mind. She gather me, man. The pieces I am, she gather them and give them back to me in all the right order." – Toni Morrison, Belov ed
"Wasn't friendship its own miracle, the finding of another person who made the entire lonely world seem somehow less lonely?" – Hanya Yanagihara, A Little Life
"I am glad you are here with me. Here at the end of all things, Sam." – J.R.R. Tolkien, The Return of the King
"His friendship alone has strengthened me in a way that no one else's ever has. He swept me from my room and showed me independence. In other words, he was exactly what I needed. I won't forget it. And I certainly don't want to lose it." – Stephanie Perkins, Anna and the French Kiss
"She thought of how precious it was to be able to know another person over many years. There was incomparable richness in it." – Alice Walker, The Way Forward Is with a Broken Heart
Friendship Quotes about Respect
"Why did you do all this for me?" he asked. "I don't deserve it. I've never done anything for you." "You have been my friend," replied Charlotte. "That in itself is a tremendous thing." – E.B. White, Charlotte's Web
"Friendship–my definition–is built on two things. Respect and trust. Both elements have to be there. And it has to be mutual. You can have respect for someone, but if you don't have trust, the friendship will crumble." – Stieg Larsson, The Girl with the Dragon Tattoo
Most Famous Friendship Quotes
"We didn't talk about anything heavy or light. We were just there together. And that was enough." – Stephen Chbosky, The Perks of Being a Wallflower
"Without friends, no one would want to live, even if he had all other goods." – Aristotle, The Nicomachean Ethics
"There are a lot of people who will give money or materials, but very few who will give time and affection." – Daniel Keyes, Algernon, Charlie, and I: A Writer's Journey
Cute Friendship Quotes
"I knew when I met you an adventure was going to happen." – A.A. Milne, Winnie-the-Pooh
Friendship is born at that moment when one person says to another: 'What! You too? I thought that no one but myself…'

C.S. Lewis
There's something about childhood friends that you just can't replace.
–  Lisa Whelchel
A friend is someone who knows all about you and still loves you.

Elbert Hubbard
Short Friendship Quotes
"The language of Friendship is not words, but meanings." – Henry David Thoreau, A Week on the Concord and Merrimack Rivers
"They were not perfect, but they were my friends." – Susanna Kaysen, Girl, Interrupted
"It's not enough to be friendly. You have to be a friend." – R.J. Palacio, Wonder
Funny Friendship Quotes
"A snowball in the face is surely the perfect beginning to a lasting friendship." – Markus Zusak, The Book Thief
"If I send you my ugly selfies, our friendship is real." – Trish Payt
"Friendship is so weird…you just pick a human you've met and you're like 'Yep, I like this one' and you just do stuff with them." – Derek J
"It's hard to find a friend who's cute, loving, generous, , caring, and smart. My advice to y'all is, don't lose me."
You don't have to be crazy to be my friend. I'll train you." – Kentry d
Conclusion
Many of our readers use these friendship quotes for their Instagram profiles– and that is 100% fine! We don't mind you sharing them, in fact that's partly what they are here for.
Most of these are famous friendship quotes anyways– which means, we don't own them. 
Just spread the love, people.