Do you have a stash of old comic books lying around gathering dust?
If so, rather than letting them turn to ruin and clutter up your home, why not see if they could be worth some money? You never know; you could be sitting on a comic book gold mine without even realizing it!
How to Get Started Selling Comic Books Online?
In this post, I'll cover the essential things you need to know before selling your comic books online.
I'll give you some useful tips on maintaining, grading, and evaluating your comics in order to generate the highest possible price.
Plus, I'll also include some suggestions for the best places to sell them online so that you can quickly turn your old comics into cold, hard cash.
How Much are My Comic Books Worth?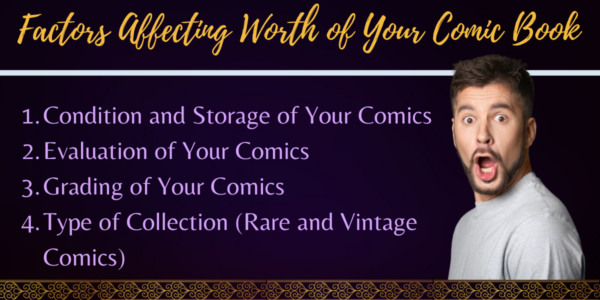 Some comics sell for eye-wateringly obscene sums of money, while others are barely worth the paper they're printed on.
Below, I'll explain some key things to consider when evaluating your comics before listing them for sale.
Read More: How to Sell Used Books on Amazon
1. Condition and Storage
Some mint condition comics can fetch a huge sum, but collectors and vendors are pretty particular. Even the slightest tear or stain can lower the value significantly.
That's why it's so important to store your collection carefully. Always keep them in a cool, dark, and dry place, preferably wrapped in protective plastic.
If your comics show any signs of damage, no matter how minor, it's important to include this in your listings. Eagle-eyed buyers will detect even the more subtle signs of wear and tear, so always be honest about the condition.
2. Evaluating Your Comics
Before you begin listing online, inspect your comic books carefully.
Start by gently opening it at the centerfold without bending or flattening the pages or the spine. Ensure the staples are fully intact and free of rust and that no pages are loose or missing. Then, inspect each page for tears, marks, scratches, or stains while examining the edges for fraying and discoloration.
To check for sun staining, compare the color quality of the inside pages against the front and back cover. If the centerfold is noticeably brighter and more vivid, then sun bleaching has likely occurred, and your comic's value will take a hit.
3. Comic Book Grading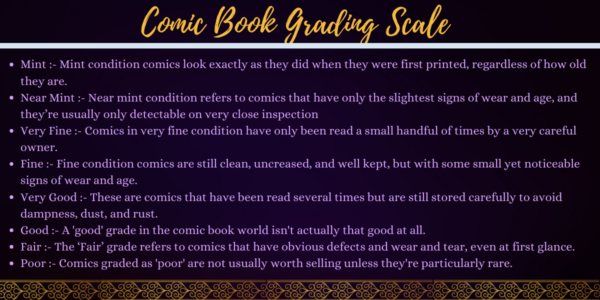 Once you've thoroughly inspected your comic, it's time to assign it a grade.
While it's best to get a grading evaluation done by a professional, you can get a good idea of how your comic scores using the information below.
Mint condition comics look exactly as they did when they were first printed, regardless of how old they are.
The cover will retain all of its original vibrancy and gloss, and the white pages will be crisp and bright. If whites appear even slightly creamy or yellowly, it's not a mint condition comic.
The comic will look as if it's never been opened, with absolutely no stress signs along the spine. And, of course, there will be no marks, stains, tears, rips, or folds of any kind, and the staples will be shiny and rust-free.
Truly mint condition comics are a pretty rare find. Generally speaking, they have never been opened and read and have usually remained in their original packaging since the day they were manufactured.
Near mint condition refers to comics that have only the slightest signs of wear and age, and they're usually only detectable on very close inspection.
For example, the comic might be free of any tears, stains, or blemishes, but the white pages may have taken on a slight cream tinge due to age.
The colors must be uniform and retain their original vibrancy, with no signs of rust on the staples and no stress around the binding.
Even one very careful reader will leave slight but noticeable stress points around the stapled area, and if these are present, your comic is unlikely to pass for 'near mint' in the hands of an expert.
Comics in very fine condition have only been read a small handful of times by a very careful owner.
A few small stress marks or slight creases around the spine and staples are acceptable, but there should still be no detectable tears or stains.
If the cover was originally glossy, it would still retain most of its original luster. And while white pages may have turned to a light cream shade, there will be no signs of yellowing and no darkening around the edges of the pages.
Fine condition comics are still clean, uncreased, and well kept, but with some small yet noticeable signs of wear and age.
Whites may have turned a pale shade of yellow, and colors might have been slightly faded. A few minor curls around the page corners may also be present, but if that's the case, the rest of the comic should be intact.
The pages also need to be largely crease-free (a couple of millimeters here and there is passable) with no tears.
'Fine' comics tend to be the minimum condition grade that a serious collector will consider, but some will make an exception for rare or vintage editions.
These are comics that have been read several times but are still stored carefully to avoid dampness, dust, and rust.
There might be a few small marks or minor defects, and the staples may have come partially loose, but all the pages should be present and remain in their correct place.
For comics that originally had glossy covers, the luster might have completely faded away, and the overall vibrancy of the colors is likely to be muted.
But there are still no major stains or tears and no signs of home repairs such as tape or extra staples.
A 'good' grade in the comic book world isn't actually that good at all.
These are comics that have been well-read and contain a number of small tears, creases, marks, and stains, and often the staples will be loose and show some signs of rust. The spine might also be frayed, and some small tape repairs could be present.
But despite these obvious flaws, comics with a 'good' grade should still be fully readable, with no marks or soiling obscuring text or artwork.
You May Also Read: The 8 Best Ways to Buy Used Books Online
The 'Fair' grade refers to comics that have obvious defects and wear and tear, even at first glance. Usually, the pages are heavily creased, and there are numerous stains and tears both on the cover and the inner pages.
Whites will likely have faded to yellow or even brown, and the vibrancy of the original colors may be completely gone.
Often, comics listed as 'fair' will also have coupons cut out of the pages, especially if they're vintage comics from the 1980s or earlier.
The comic will still be largely readable, but staining may obscure some sections, and signs of dampness may be present.
Comics graded as 'poor' are not usually worth selling unless they're particularly rare, as any money you make is unlikely to cover the time it takes to make a listing.
Pages might be missing, and the entire cover could be gone. The remaining pages may also fall loose of the staples, if there are any staples left at all.
4. Rare and Vintage Comics
If you have vintage comics in your collection, especially ones considered 'very good' or better on the grading scale listed above, there's a chance they could be valuable.
Rare editions printed in the Golden, Silver, and Bronze eras of comics fetch a particularly high price.
To see if your comic falls under that category, it's worth typing in the details, such as the title, issue number, and date of publication, into your search engine to gather as much information as you can about its history. Then, run a search on sites like eBay to see if any other copies are on sale and what price they're listed at.
Also, take a look at this list of rare and sought-after vintage comics. If you have one of these in your collection, you could be on to a real winner.
But remember, a comic doesn't have to be considered vintage to be valuable. Many newer comics can demand a high price tag, too, providing they're in good condition. Signed copies, in particular, can be worth a small fortune if you find the right buyer.
Where to Sell Your Comic Books Online?
Now that you know more about how to discern a valuable comic book from a worthless one, it's time to look into the best places to sell them online.
Here are some of the most popular suggestions below. Which one you choose will depend on your collection, the condition, and the amount of time and money you're willing to spend on listing them.
1. Online Comic Book Stores
Search for reputable online comic book stores and reach out to each one to see if they would be interested in making you an offer.
Many stores trade, buy and sell, and if you have a particularly rare edition, they'll probably be keen to take it off your hands.
But be careful; comic book stores are often run by experts who are extremely particular when it comes to condition. If you overstate it, they'll most likely mail it straight back to you at your own expense.
Also Read: 5 Favourite Sites To Read Comic Books Online
2. eBay

eBay is a great place to sell most things, and comic books are no exception.
One major benefit to eBay compared to other selling platforms is that your listings will be seen by the maximum number of potential buyers.
But downsides include high selling fees, no comic-specific listing structure, and a time-consuming process that might not be worth it for lower value comics.
3. Craigslist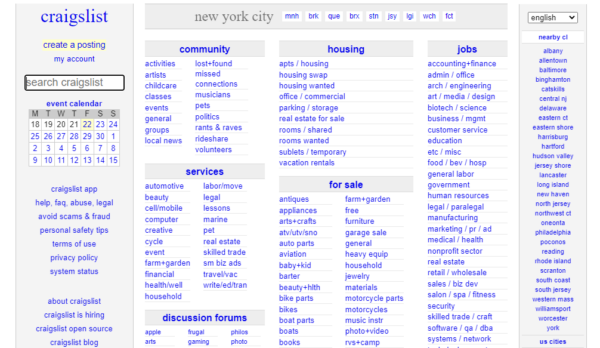 Craigslist is no longer just a local buy and sell site. You can find potential buyers from all over the country and beyond and arrange to ship your comic books to them from wherever you live.
Plus, Craigslist is free, and it's pretty quick and straightforward to make a listing, too.
That being said, Craigslist's reach is nothing compared to the likes of eBay, so fewer people are likely to see your ad.
4. Social Media
If you have a large collection of comic books, consider creating a dedicated social media account on Instagram, Twitter, or Facebook, where you can share photos and details of each one.
Then, you can invite your own network of friends and family to follow your posts, and with a little luck and some word-of-mouth magic, the right buyer will find you.
Unless you're a celebrity, selling via social media may not have quite the same reach as listing on a site like eBay, but it's free, and you can arrange any payment method you choose.
Conclusion
Some comic books sell for a small fortune, especially if they're rare and in great condition.
Hopefully, this article has helped you figure out what your comic books might be worth and how to get started listing and selling them online.
Have you ever made money from your old comic books, and if so, do you have good tips to share with our readers? Let me know in the comments below!