If you love reading, you're likely to have a pretty large collection of books at home. And if like me, you struggle to find space to cram them all in, you might be in the market for some new bookshelves.
There's a seemingly endless array of book storage solutions to choose from these days; from classic solid wood shelving units to industrial metal racks, not to mention super stylish bookcases made from repurposed materials like scaffolding board and ladders.
At A Glance: Our Top 5 Picks for Cheap Bookshelves
But a lot of these bookshelves have an eye-watering price tag. If you're looking for a cheaper solution that's still functional and looks fantastic, then you've come to the right place.
I've scoured the internet to find 8 of the best bookshelves for rock bottom prices. Every item on this list comes in at less than $230, so it won't break the bank. And don't worry, just because these bookshelves are super affordable doesn't mean you have to sacrifice on quality and style. I've picked the most durable, functional, and best looking book storage solutions, so you can have your cake and eat it too.
Awesome and Cheap Bookshelves
Pros
Spacious shelves suitable for larger books
Strong and sturdy design
Suitable for uneven floors
Cons
Wood can split if screwed together too tight- be sure to follow the assembly instructions correctly.
This Haton 5-Tier industrial style bookcase is great for modern interiors, giving your book collection a fresh, sleek, and streamlined look. The 5 tier shelves are deep and wide so that you can store larger books too. I love the combination of industrial and functional design features alongside a modern, minimalist finish.
You can tell just by looking at these bookshelves that they're strong and sturdy. The frame comprises solid metal x-bracing along the back for extra stability and reinforced iron brackets that keep it firmly attached to the wall. There are also non-slip, adjustable footpads that can be altered to fit uneven floor surfaces, so you can be sure the bookcase is secure.
When it comes to assembly, these Haton bookshelves are pretty hassle-free. All the hardware pieces come bagged separately, and there are easy to follow step by step instructions, so putting it together is relatively quick and easy.
Pros
Unique design
Adaptable to smaller or larger home libraries
Accommodates larger books
The first thing you'll notice about the IRONCK S-Shaped bookcase is the unusual a-symmetric design that adds a modern twist to usual book storage solutions. This is a great option for those who love expressive interiors and adding a little personality to their book collection.
These bookshelves can be adapted to suit your book storing needs. If you're looking for more space from your shelving unit, these s-shaped bookshelves come in a larger 5 tier or a smaller 3 tier design too. You can slot them together to make one large wall unit for your entire home library or stick to a simple 4 tier stand alone book display.
Just like the Haton 5-Tier, these bookshelves are large enough to accommodate taller books. Each unit also comes with a wall anchor kit included, so it can be firmly attached to the wall with no worries of it tipping over.
Pros
Collapsible frame for easy storage when not in use
Sturdy frame
Super quick and easy to assemble
Cons
Shelves are coated with vinyl laminate giving it an unrealistic wood effect
This Coavas folding bookshelf is the perfect blend of practicality and style. When it's not in use, the whole unit collapses down to sit flush against the wall, which is awesome if you're short on space.
The frame itself is made from reinforced iron with oblique side and back bars, making it sturdy and solid, even when it's full. There's also a full 12 inches of space between each tier, so storing tall books isn't a problem.
My favorite feature of these Coavas bookshelves is the super-easy assembly. There are absolutely no tools required. Simply open up the black frame and snap on the shelves, and viola- set up is complete. The process takes less than one minute.
Pros
Unique, stylish design
Perfect for smaller spaces
Sturdy and stable
Cons
It can take up to 1 hour to assemble
This BATHWA tree style bookshelf is another unique and eye-catching book storage solution that's bound to receive tons of compliments.
It's a great bookshelf if you're short on space and just need a little extra storage for your home library. Each of the nine branches can hold five to fifteen books, depending on their size. As well as books, you can also store DVDs and CDs, and the two spacious base shelves at the bottom of the unit can be used for decorative items like ornaments or houseplants.
These shelves are constructed from high-quality particle board coated with a realistic wood-like veneer. To the untrained eye, they look as if they've been carved from solid wood.
The unit itself is also super sturdy, thanks to its broad, solid base. For even more stability, there's an anti-tip device included so you can secure it to the wall and be extra confident it can never tip over.
I love the elegant design of this Atlantic Drawbridge bookcase. Its classic style and varying shelf heights make it look almost like an antique piece, yet without the super high price tag.
There are two fixed shelves and four adjustable ones, so you can tailor each tier to suit your own book collection. And since this bookcase is so customizable, you can also easily break up your book displays with art and ornaments or use it to store other items like DVDs or CDs.
It's a relatively compact piece, so it won't take up a huge amount of floor space. And despite being made from composite wood rather than solid wood, these shelves are super durable. The Atlantic Drawbridge may be one of the cheapest bookshelves on our list, but it still offers great quality for the price.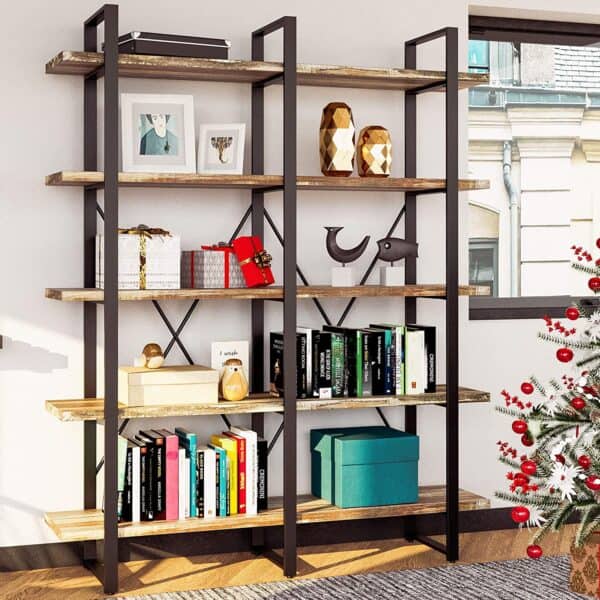 Pros
Vintage repurposed look
Plenty of storage space for larger book collections
Solid, secure, and can hold a lot of weight
Cons
Not suitable for small rooms or apartments
I love the vintage, repurposed look of these IRONCK bookshelves. They're super stylish, yet really practical, especially if you have a lot of books to display. The double-wide 5-tier design means you can fit tons of books on here without the need to pile them on top of each other. Each self has over a foot clearance to the next one, so tall books aren't a problem either. And thanks to the sturdy frame and durable composite wood material, each shelf can store up to 130lbs.
Despite being a taller, wider unit, you can rest assured that this bookcase will be secure. It comes with two anti-topple metal brackets that can be easily fixed to the wall, and there are also six nonslip protective floor pads for each foot.
Even though there are a lot of components to this bookcase, it's still relatively easy to assemble. There are step by step instructions, and the parts are packaged separately and clearly labeled with an intuitive numbering system.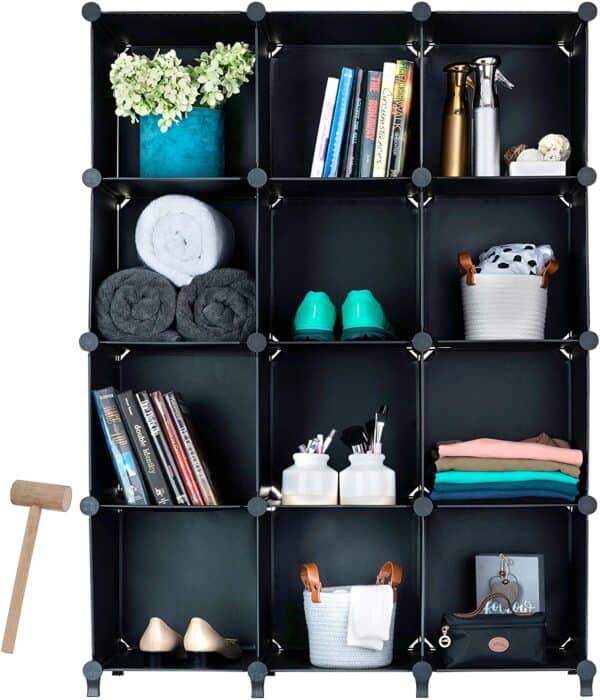 Pros
Modular design is customizable to any space
Plenty of shelf space once assembled
Very affordable price
Cons
Constructed from plastic rather than wood
Here's another super affordable space-saving solution for those with a lot of books to display. This Homeries shelving unit is all about the number 12: Each cube measures 12 x 12 x 12 inches, and you guessed it, there are 12 of them altogether.
I love how you can create your own shape and assemble them in any format you choose. There's no need to even measure your space before you purchase this unit, as you can adjust it to fit almost anywhere. Whether it's flat against one wall in a step formation or in a tower construction spanning the corner of the room, pretty much anything is possible.
Since each modular cube is relatively deep, you can store all types of books, large, small, or even super tall. And of course, there's plenty of additional space for things like trinkets and house plants.
The set up is relatively quick and straightforward too. You simply need a hammer and the easy to follow instruction booklet.
Pros
Stylish, minimalistic design
Very secure and sturdy
Takes up very little space
Cons
More complex assembly than some other bookcases on this list
This is a great bookcase for all the minimalists out there. With its sleek singular steel pole design and beautiful wood effect finish, there's no fuss involved here… it's all about functionality and clean lines. In fact, it's one of the most stylish bookshelves on our list.
This 5-tier wall mounted bookcase attaches straight to the wall. There's no bulky frame jutting out into the room and taking up precious floor space. Instead, these shelves blend into the wall behind and create a ladder effect.
The grab wall design also makes these shelves extra study and stable, so you can pack them with plenty of books and other items, knowing it's super secure. Each shelf can hold an impressive 66lbs.
What to Consider Before Buying Bookshelves?
Whether you're a book lover or not, having bookshelves in your home is a pretty essential item of furniture for most people. And if you do happen to have a big collection of books, then it's even more important that you find the right storage solutions for them.
But a quick scroll through the furniture section of Amazon reveals that many of these bookshelves and bookcases can leave a large dent in your wallet.
Luckily, there are still plenty of bargains to be had out there. While you might not find a solid hand-carved hardwood set for under $230, there are plenty of less expensive alternatives that are still super functional and look beautiful in any room.
But with so many options on the market, it can be hard to know where to begin. To make sure you choose the right bookshelves for you, ask yourself the following questions before you dive in and make a purchase.
How Many Books Do You Have?
The number of books you have will determine how big your bookshelves need to be. Do you have hundreds of books in boxes, all without a home? Or are you simply looking for a little extra storage space for a few paperbacks that don't quite fit on your existing bookshelves?
Take stock of your book collection, and look out for information in the product description when you're shopping online; they often give you an idea of how many books you can store on each shelf, as well as weight limits.
How Much Space Do You Have?
Is your bookshelf going in a large room with plenty of floor space? Or do you live in a small apartment or only have a small room to play with? If you have plenty of surface area, you can choose from larger units with a wider footprint. Your shelves can be deeper and stick out further from the wall without sacrificing on floor space.
But if you're working with a smaller room, you'll want to choose bookshelves that go up rather than out. Opt for a taller bookcase or unit that makes the most of the height of the room. Some bookshelves even have a wall mounted display that can free up much-needed floor space and still give you plenty of book storing surface to play with.
Make sure you measure the space before you head online to shop. Figure out the maximum dimensions that your bookshelves can take up and use these as your search parameters.
How Accessible Should Your Bookshelves Be?
Do you have little ones running around? If so, you might want to go for bookshelves that are higher from the ground to prevent any accidents from happening.
On the other hand, you might want a bookshelf for your child or toddler's room that allows them to pick a book off the shelves safely by themselves. In this case, look for shorter, squat design bookshelves that can easily be accessed by little hands. Also, make sure that whatever bookshelf you choose comes with fixtures so it can be safely screwed into the wall.
Bear in mind the height of the bookshelf for grownups too. Some bookshelves are so high that anyone under 5ft4 will struggle to reach the top shelves. If you or your family members are shorter, make sure to bear this in mind when you're shopping and go for something that can accommodate everyone.
What Style Do You Want Your Bookshelves to Be?
There are so many different styles and finishes on the market these days. Even if you're on a strict budget, there are still plenty of unique and exciting designs, as well as classic looks that will complement any room.
Take stock of your existing décor and color scheme, and try to find something that will tie in well. While solid wood might be out of your price range, there are still plenty of wood composite options with super convincing veneers that look almost as good as the real thing.
Likewise, there are plenty of industrial and repurposed style bookshelves out there, many for less than $100.
What Design Should Your Bookshelves Be?
Are you looking for a functional open shelves design that will allow you to store shorter and taller books, as well as trinkets and nicknacks? If so, then most of the standard design bookshelves with four or more tiers should do the job. Just remember to check out the depth of the shelves to make sure you can store as much as you'd like to before you make a purchase.
If your looking for a little more versatility, then cube style storage solutions can be a great addition to any room. Many modular cube shelves can be arranged in different configurations, so you can adapt them to suit any room. You can even fill them with decorative storage baskets that can hide a multitude of clutter and give the impression of a more minimalist space.
Conclusion
Bookshelves are an essential addition to any book lover's home. But don't worry, finding a functional and stylish set of shelves doesn't have to break the bank. With so many options on the market today, you'll be spoilt for choice.
Check out these other great posts!