Whether you identify as a bookworm, collector and connoisseur of literary fiction or simply have the ambition to own your own private library one day, there is one thing we can all agree upon:
Books, especially the hardback and special edition collector kind of books, they take up a whole lot of space.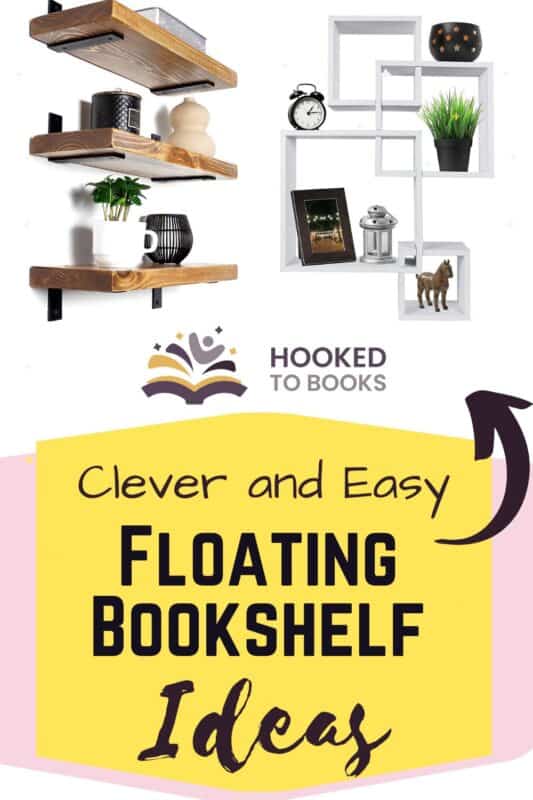 This often leads to bookshelves overflowing, floor space evaporating, and the next thing you know, stacks of books scattered randomly throughout your home.
Or perhaps floorspace was already limited so you couldn't have as many bookcases as you intended. As readers, we enjoy displaying our prized possessions and having them on show.
But when you're faced with not being able to add another bookcase to your cohort, you're faced with a few impossible choices.
Do you get rid of some books to make space or do you try these clever and easy floating bookshelf ideas that we've found for you?
What are Floating Bookshelf and Why are they so Popular?
Floating bookshelves are shelves that are wall-mounted and give the appearance of holding themselves up with no support as often the bracket is normally concealed. The result is clean and beautiful wall fixtures that can be used to store and display items.
Due to their attractive fitting, floating bookshelves have become a popular trend and feature to have in your home when it comes to displaying your treasured possessions.
Moreover, they are entirely customizable and can be created with a range of materials from traditional flat-packed wood, metals, steel or even solid oak. Meaning that you can easily tailor them to your own tastes.
It's no surprise that floating bookshelves have become a popular feature for us to use for booklovers when displaying our growing libraries. After all, aren't books our most treasured possessions?
With the opportunities to free up some floor space and store books that are normally found stacked in various locations around your home, floating bookshelves not only offer an opportunity for an exciting wall feature but a unique and creative way to display our treasured books.
Within today's post, we wanted to exhibit some of the most clever and easy floating bookshelf ideas that we found that you may want to try yourself!
Floating Bookshelf Ideas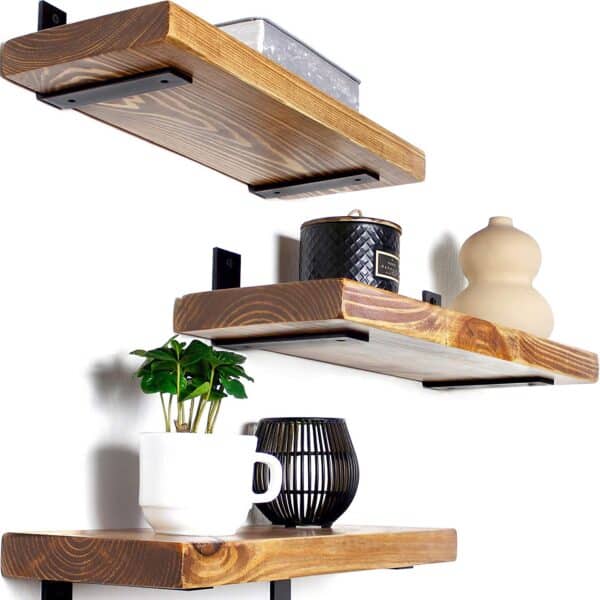 One of the easiest ways that you can replicate and create your own floating bookshelves is by using reclaimed or repurposed wood that would otherwise go to waste.
Meaning that while creating a simplistic shelf area to display your books, you can always upcycle some wood and know that you are promoting sustainability when all your friends ask where you got your shelves from.
However, whether you upcycle or purchase some wood, one thing that makes a simple wooden shelf a stand out choice for your first attempt at floating bookshelves is the flexibility and customization that it offers.
With a simple wooden shelf, they can be easily shortened when necessary to fit any space whether that be kitchen, living room, bathroom or bedroom.
They also offer a more rustic feel if left bare and natural, meaning that if you want to replicate the feeling of a library in the middle of a forest, you're well on your way to that aesthetic.
Or if you want to make them pop, you can easily sand them down and add some paint to brighten up the room and even make it so that the color matches the books that will be resting there.
One of the easiest ways that you can replicate and create your own floating shelves is by using reclaimed or repurposed wood that would otherwise go to waste.
By upcycling the wood, you can take pride in knowing that you are promoting eco-friendliness and sustainability while creating your own beautiful feature piece for yourself.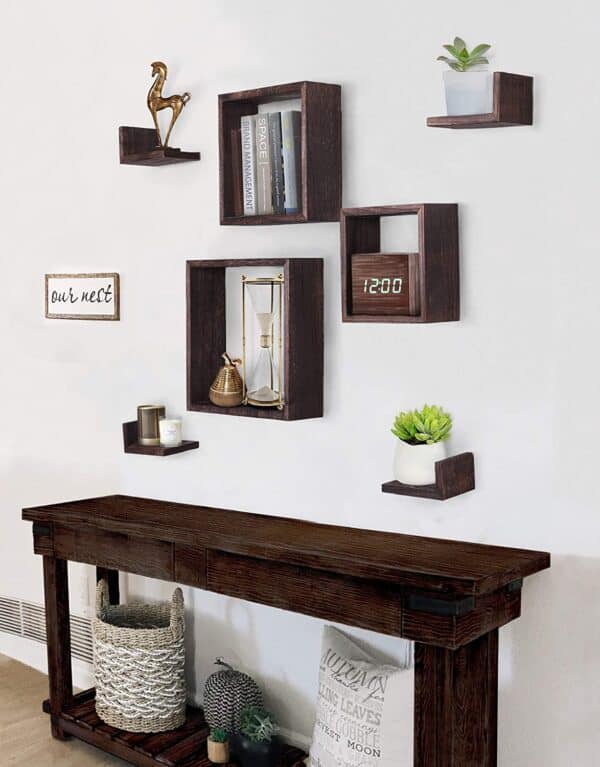 Another clever and easy floating bookshelves idea is the box-shaped shelving that you can find advertised on the likes of Amazon.
Now, these don't necessarily need square boxes but you can have rectangle-shaped, hexagon and octagon-shaped ones too.
Whichever shape you choose, the box-shaped floating bookshelves offer many opportunities for ways to display and showcase your books.
This is due to the creative arrangements that box-shaped shelves offer, with the option for displaying your books not only by genre and author but special editions and series together too.
And, if you have plenty of bookish merchandise and pop figures then you can have them proudly displayed with their counterparts.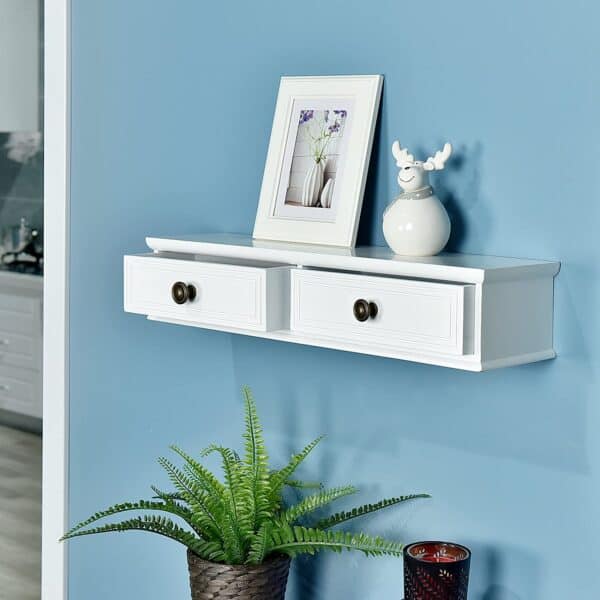 Now a clever and easy idea for readers who are also writers and creatives themselves. Floating bookshelves with storage can often be found with hanging baskets or drawers that are integrated within the shelf itself.
Whether you intend to put your pens and paper, journals or trinkets that you don't want on display just yet the idea of having a drawer and shelf combination means even more space is saved. With books being proudly displayed on top and all the other little items stored beneath.
However, a unique and clever aspect of this type of floating bookshelf is that the storage element can be concealed.
Meaning if you're a reader and a creative, and you have a manuscript you're working on yourself or a new piece of artwork, you don't want anyone to see. You now have a handy hiding place for your own creations too.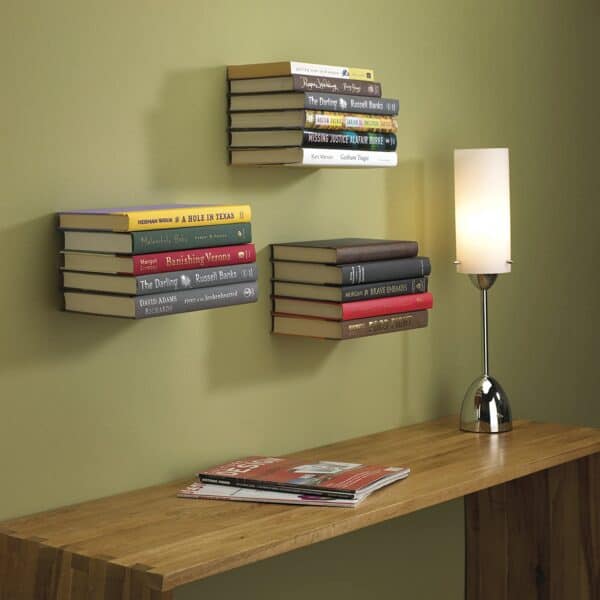 The classic floating bookshelf, which appears almost entirely invisible, gives the appearance that your books are floating against the wall entirely unaided.
All you need to recreate your own Invisible Floating bookshelf is a sturdy wall, an L-shaped bracket and a stack of books – preferably at least one hardback to complete the illusion.
This is one of the easiest floating bookshelves that you could try but be careful not to attempt to stack too many books in case they topple over or break the bracket they are resting on.
We suggest to effectively keep the illusion to keep to smaller stacks of books and decorate your wall with multiple shelves.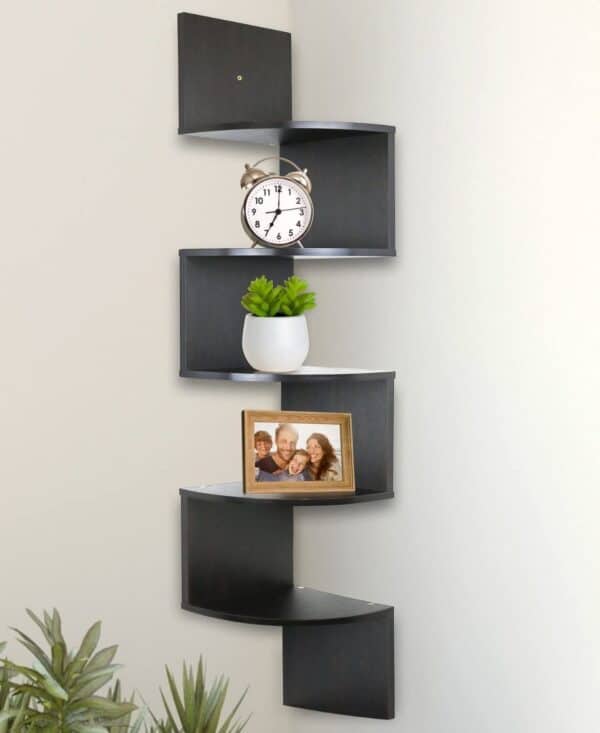 A corner floating bookshelf should always be considered if you are tight on space but have the desire to have your own reading corner too.
Use the corner of the room and install these shelves, fill with books and grab a cozy armchair, a blanket and a cup of tea and you're set to go.
Even if floor space is limited, there is no reason not to have a reading corner in your life, whether it be big or small.
Having the corner floating bookshelves provide so many options in how you display your books and is a great way to get creative in a limited space.
Imagine one side of your corner can be dedicated to all the books you have but haven't read and the other side be contributions to your life library and books that you will never part with.
Or perhaps you want to have your books displayed as a rainbow so as your reading it feels like a rainbow is hugging you. Or perhaps you won't have any organization at all but have books all over the place with potted plants and flowers strewn in between.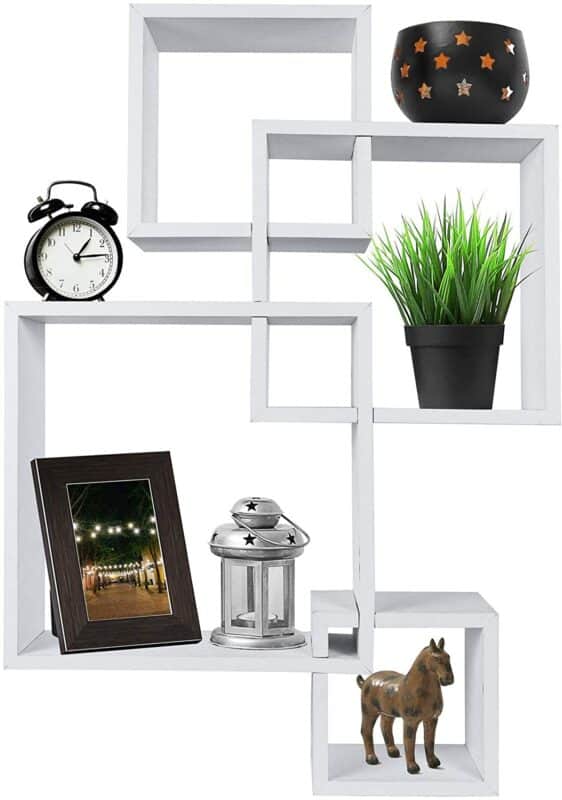 Perhaps the most creative of all our previous floating bookshelf ideas but that's because a floating bookcase incorporates them all! After all, if you can create your floating bookshelves why not bring the styles that you like most and create the ultimate floating bookcase for your own.
Imagine having your own floating bookcase built from various floating shelves and the opportunities that present.
Certain types of shelves could mean certain genres, authors or special editions. You could even continue to color code your books to individual shelves or even have those shelves match the colour they are holding.
Using a mixture or even the same types of floating bookshelves and placing them together gives you the bookcase of your dreams and a stunning feature that will not go unnoticed when friends come around. And like the Venus flytrap, you have them in your grasp to talk and recommend plenty of books from your bookcase now.
There you have it! Our top 6 clever and easy floating bookshelf ideas that you can now try yourself at home.
Whether you decide to use the classic invisible floating bookshelf, create one with a hidden compartment for your own manuscript or decide to push yourself ultimately and design the ultimate floating bookcase!