We all want to encourage our kids to love reading, but it's not always easy. Children can have a notoriously short attention span, and in a world where screen time is considered more appealing than picking up a book, it can feel like you're fighting a losing battle.
Graphic novels and comics can act like a 'gateway drug' for reluctant young readers, drawing them in with vibrant, eye-catching illustrations and fast-paced storylines. But there is another way. Rather than endless pages of text, this accessible medium relies on words and visual elements that help keep kids engaged.
So, suppose you're struggling to inspire your kids to get into reading. In that case, I highly recommend giving some graphic novels and comics a try. Here are some suggestions that will leave your kids begging for more.
1. Hilda and the Troll by Luke Pearson 
Curious, Hilda has a thirst for adventure, and she loves exploring the mountains around her home. But these aren't just regular old mountains; they're filled with magical creatures like towering giants, spritely elves, talking animals, and the ugliest trolls.
In this first installment of Luke Pearson's popular graphic novel series, Hilda sets out on a special mission with her trusty deerfox, Twig, to sketch and record some of these fantastical creatures.
But while Hilda is no stranger to adventure and intrigue, this particular quest takes the most unexpected twists and turns, even by her standards. Will this blue-haired explorer's curiosity finally get the better of her?
2. Mighty Jack by Ben Hatke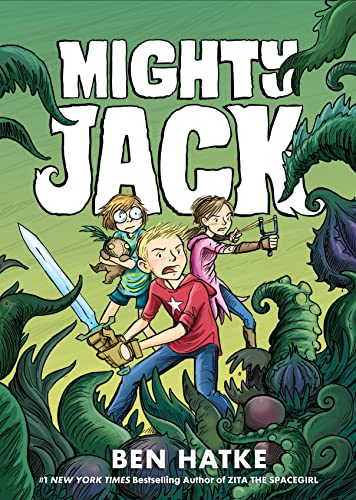 Instead of spending the summer outside having fun with his friends, Jack has been tasked with looking after his autistic sister Maddy while his mom takes on a second job.
And despite the fact that he loves his sister very much, spending day in and day out with her is boring, especially because she doesn't talk.
But one day that summer, Maddy does talk for the first and only time in her life. She tells Jack to buy a mysterious box of seeds they find at a market, even if it means trading in their mom's car to pay for them. And, so, against his better judgment, Jack decides to do just that.
But these are no regular seeds, and within no time at all, a wild, magical jungle has sprung to life in their own backyard. And that's not all; it's filled with a whole host of extraordinary creatures, from carnivorous pink pumpkins to little onion babies and even a real-life dragon.
Perhaps Jack's summer won't be so boring, after all.
3. Smile by Raina Telgemeier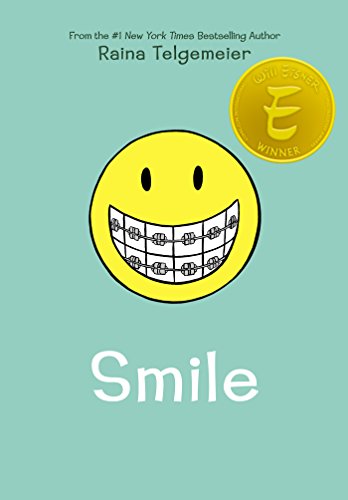 In this true-life graphic novel memoir, author Raina Telgemeier takes the reader through her childhood journey.
Just like any other middle schooler, all Raina wants is to fit in with her peers. But her social life takes a turn for the worst when an accident leaves her with two busted front teeth, and she's forced to endure a long and frustrating dental nightmare.
Now, her life is made up of never-ending trips to the orthodontist to be fitted with various types of ugly braces, embarrassing headgear, cumbersome retainers, and even fake teeth.
And if that wasn't bad enough, she also has to deal with all of the typical pitfalls of being a sixth grader, like boy trouble and backstabbing so-called friends. Oh, and not to mention, a major earthquake.
But Raina is a survivor, and though these setbacks once seemed like too much bear, they've made her the strong and resilient person she is today.
Bonus Read: 9 Ways to Celebrate Free Comic Book Day
4. El Deafo by Cece Bell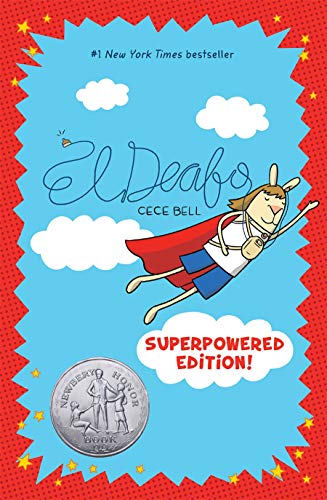 Everyone at Cece's old school was deaf, but now, she's the odd one out. And being the new kid is scary enough without sporting a gigantic hearing aid attached to your chest.
While her Phonic Ear might help her hear her teacher in class, it's certainly not helping her make new friends. That is until she makes an incredible discovery; her Phonic Ear doesn't just amplify her teacher in the classroom; it does it everywhere, including the faculty lounge and even the bathroom!
Now, she can hear her teacher's secrets, giving her a whole new power, maybe even a superpower! But can Cece use her discovery to find the one thing she really wants; friends?
5. Diary of a Wimpy Kid by Jeff Kinney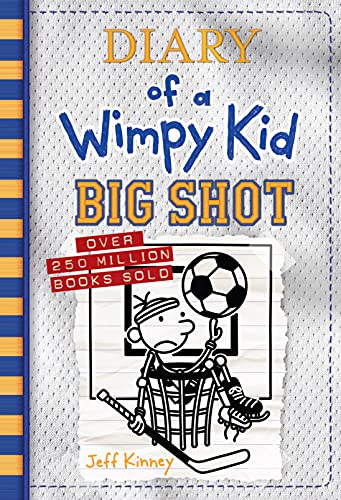 In the first installment of this smash-hit graphic novel series, Greg Heffley has finally entered middle school, and he's feeling pretty grown up. That is until he realizes he's no longer one of the big kids anymore.
Now, roaming these brand new halls, he's surrounded by boys who are much taller and much meaner than him; some of them have even started shaving!
But Rowley is determined to make it in the dog-eat-dog world of middle school, even if it means taking his nerdy, unpopular best friend Rowley along for the ride.
Yet against all odds, it's Rowley who suddenly rises through the ranks to become the cool kid in school, and Greg is left to ride on his coattails. Can their friendship survive this ultimate test, and will Greg survive the gauntlet of the middle school hierarchy of popularity?
6. The Adventures of Captain Underpants by Dav Pilkey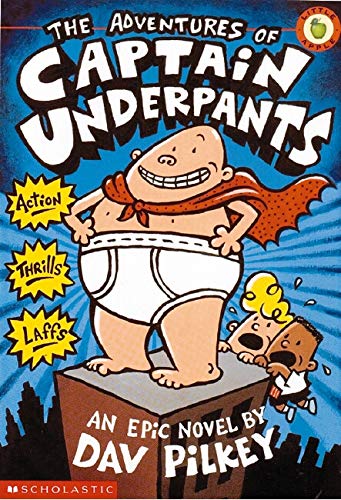 George and Harold are a couple of fourth-grade pranksters with a well-earned reputation for getting into trouble. They're also the creators of a series of homemade comic books, "The Amazing Captain Underpants," about a crime-fighting superhero who saves the world in his skivvies.
Yet, not everyone appreciates their creative appetite for mischief, especially not their school principal, Mr. Krupp. And now that Krupp has the boys' antics caught on camera, he's determined to get the better of them once and for all.
But the mean-spirited principle is in for a shock when the duo uses a 3-D Hypno-Ring to hypnotize Krupp and turn him into a real-life version of their underdressed superhero creation.
And while this pair of pranksters are always coming up with some kind of scheme, this latest one might be their most adventurous and misguided one yet.
7. Pumpkinheads by Rainbow Rowell and Faith Erin Hicks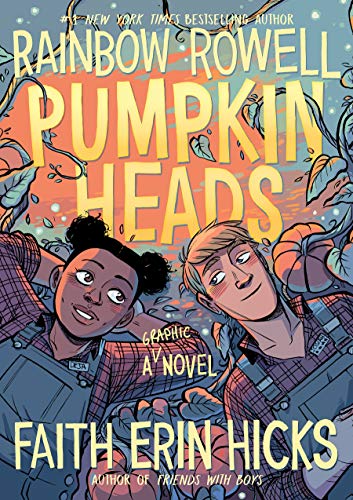 Every year, from September 1st until Halloween, Deja and Josiah become seasonal best friends, working together on the pumpkin patch in their home of Omaha, Nebraska. And every year, after the spooky season is behind them, they part ways until they're reunited the following fall.
But this year is different; they're seniors now, and they both know that this will be the last time they'll ever get to work together. Yet as sad as it is, the teens are determined to make the most of their final shift together; after all, their friendship deserves one last hurrah before they go their separate ways.
And so, instead of moping around the pumpkin patch, they decide to do all the things they never had the chance to do before; try all the tasty snacks, see all the sights, and go out with a bang.
8. New Kid by Jerry Craft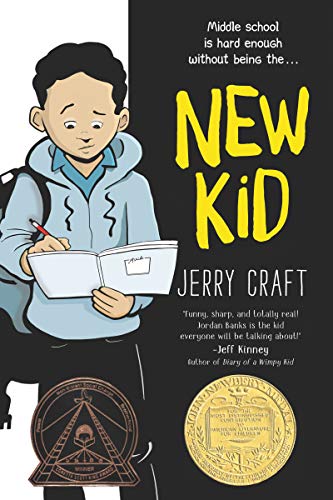 Seventh-grader Jordan Banks is a talented young artist who loves to create cartoons about his life. But while he'd love to go to art school, his parents have other ideas for his future. Instead, they enroll him in the competitive Riverdale Academy Day School, where academics is the only thing that matters, and art is nothing more than a silly little hobby.
Jordan knows he won't fit in at Riverdale, and to make matters worse, he finds himself as one of the only kids of color in the entire school. His only comfort is his neighborhood friends back in Washington Heights; at least they understand him.
But now, Jordan begins to find himself torn between these two very different worlds, and he begins to wonder if he'll ever really fit in in either of them. Can he learn to survive and thrive in his brand new school and still stay true to his roots?
9. Roller Girl by Victoria Jamieson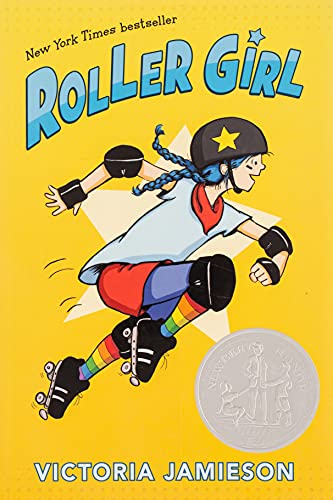 Twelve-year-old Astrid has always done everything with her best friend Nicole, but suddenly, all that has changed. Astrid's new favorite hobby is roller derby, but Nicole isn't interested, and she's decided to opt for dance camp instead. So for the first time in their long friendship, the pair are drifting in different directions.
And so, this summer, Astrid must go it alone without Nicole and try to make a brand new set of friends at Roller Derby Camp. But what feels like a terrifying leap into the unknown becomes one of her life's greatest lessons.
By the end of the summer, she sees just how capable she really is. And although it's hard leaving a friendship behind, she has a whole new set of friends waiting for her on the other side.
Conclusion
These nine action-packed graphic novels and comics books are full of excitement and adventure that will have young readers hooked. They also feature relatable themes that most kids can identify with, like friendship, family, and the everyday struggles of growing up in a changing world.
What are your favorite graphic novels and comics for kids? Let me know in the comments below!