I have to admit that I was a traditionalist when it came to books for a long time, and it took me a while to join the e-reading brigade. But now, I'm not sure how I'd live without my Kindle. I love the fact that I can store thousands of books on one little device and take it with me in my pocket. And as someone who often has several books on the go at once, it's an absolute lifesaver on trips away.
But recently, I've been 'pimping my Kindle,' so to speak, with some added extras. I treated myself to a brand new leather-bound case and a nighttime reading stand, and I invested in a screen protector too.
All this shopping online got me thinking about the vast array of Kindle accessories out there. So I've put together this handy little guide for anyone else who wants to level up their device and maximize its potential.
So, whether you own a classic Kindle, a Paperwhite, the Kindle Voyage, the Oasis, or even the all-in-one multifunctional Kindle Fire tablet, there's an e-reading accessory on this list for you.
Many of these products are also compatible with other devices, so even if you own a different brand of e-reader, stick with me as you're likely to find a useful accessory here that works for your needs too.
What are the Most Popular Types of Kindle Accessories on the Market Right Now?
There's a massive array of Kindle accessories to choose from, and admittedly, I've come across a few that seem pretty unnecessary for most e-book fans. But there are also tonsof great, affordable extras that can transform the way you read e-books and listen to audiobooks.
Here's a list of my personal favorites…
Protective Cases and Covers
A cover or case is usually the first (and sometimes the only) accessory people buy when they become the proud new owner of a Kindle.
Just like smartphones and tablets, most Kindle devices can easily break if they're dropped on a hard surface, and so protecting it from bumps, cracks, and scratches, as well as regular, daily wear and tear, is essential.
The case you choose will depend on how, when, and where you use your Kindle. I'm pretty accident-prone, and so for my Kindle Fire, I've opted for this full-coverage MoKo Case that protects as much of my device as possible. And thank goodness I did, as I've already dropped it a couple of times, and it's still intact!
1. The Vintage Style MoKo Case for the All-New Amazon Fire HD 10 Tablet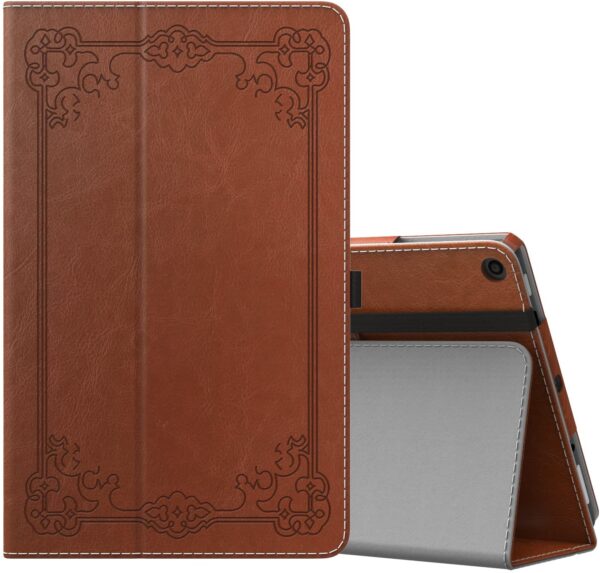 Compatible with 7th Generation and 9th Generation Kindle Fire tablets
The front cover converts to an adjustable multi-angle stand
Automatically wakes your tablet on opening and sends it to sleep on closing
Built-in hand strap for one-handed reading
If you're a Paperwhite owner, then this CoBak case/stand combo is a good compromise on style, functionality, and durability. You'd have to drop your Kindle from a pretty significant height to break this bad boy!
2. The CoBak Kindle Paperwhite Case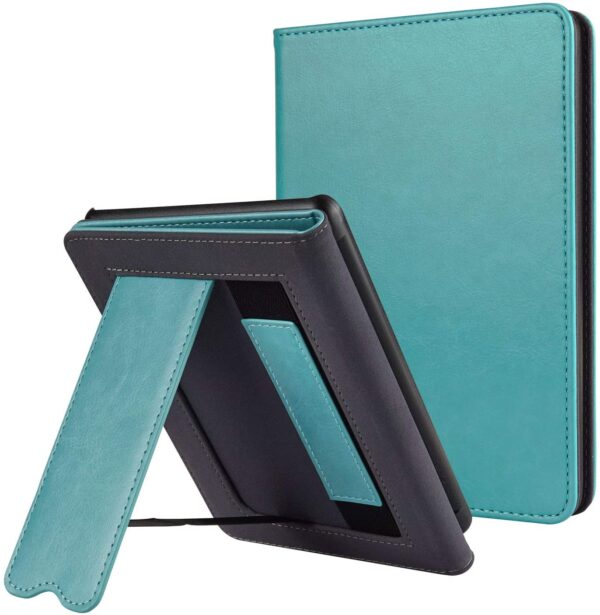 Compatible with all Amazon Kindle Paperwhite 10th Generation models
A built-in kickstand and hand strap for hands-free reading
Automatically wakes your Kindle on opening and sends it to sleep on closing
Anti-scratch, easy clean surface
It comes in a wide variety of colors and designs
And if you're a Kindle Oasis owner, then this official premium leather cover from Amazon is worth a look. Yes, it's pretty expensive compared to a lot of options out there, but if your budget can stretch to it, it's well worth the investment. It provides superior protection, quality, and style; plus, the finish will become even more distinguished over time as the leather develops a unique natural patina.
3. The Kindle Oasis Premium Leather Cover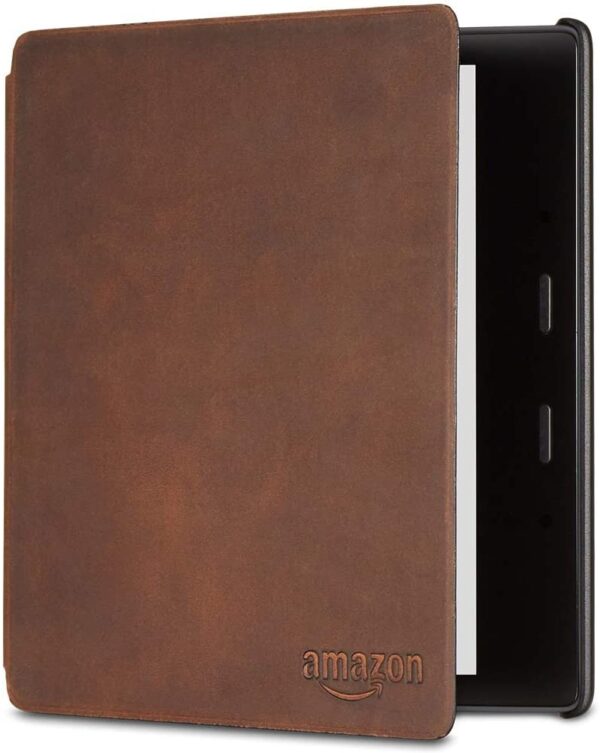 Compatible with Kindle Oasis 9th & 10th Generation models
It opens and closes like a book
Automatically wakes your Kindle on opening and sends it to sleep on closing.
Thin, soft, and lightweight, yet sturdy and protective
Strong magnetic attachment for extra secure closing
Waterproof Protective Covers
Suppose you're the outdoorsy type that likes to take your Kindle hiking, camping, or sailing. In that case, a waterproof case or cover is essential.
There are tons to choose from out there. Still, if you're looking for a quick and easy option that fits all Kindle devices, including Kindle Fire, then you can't go wrong with this cheap and cheerful Walnew case below. Plus, it's also compatible with all other types of e-readers, as well as your smartphone and most tablets too.
1. The Walnew Universal Waterproof eReader Case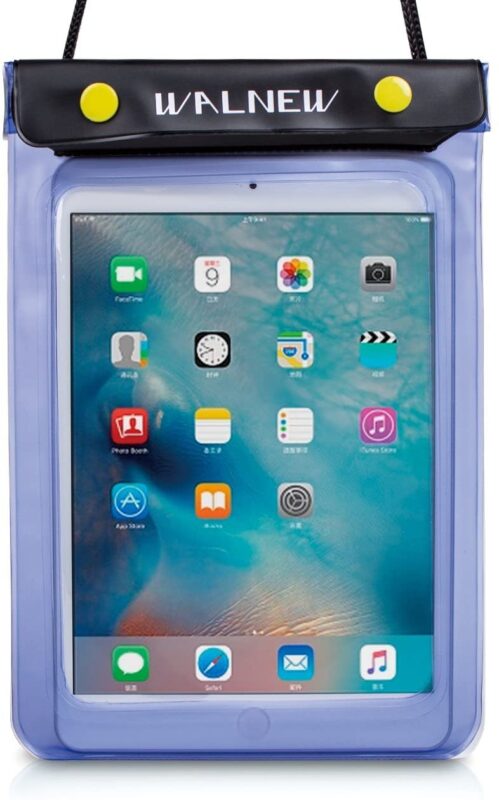 Compatible with any e-reader, smartphone, or tablet up to 9.2 x 6.1 inches
Transparent, durable PVC protection
Triple zip lock function creates a secure seal and ensures complete dryness inside.
It also protects against mud, sand, grit, and dirt
Built-in lanyard for hands-free carrying
Charging Cables
Of course, all Kindle devices come with a charger as standard. But sometimes, one just isn't enough, especially if you regularly use your e-reader in different locations. Plus, they're easy to lose or leave behind, so having a backup is always a good idea.
Personally, I prefer an extra-long charging cable, like this one from Taple below. That way, I can still read my Kindle in bed while it's plugged into the wall.
1. The Taple Kindle 6.6ft Extra Long Charger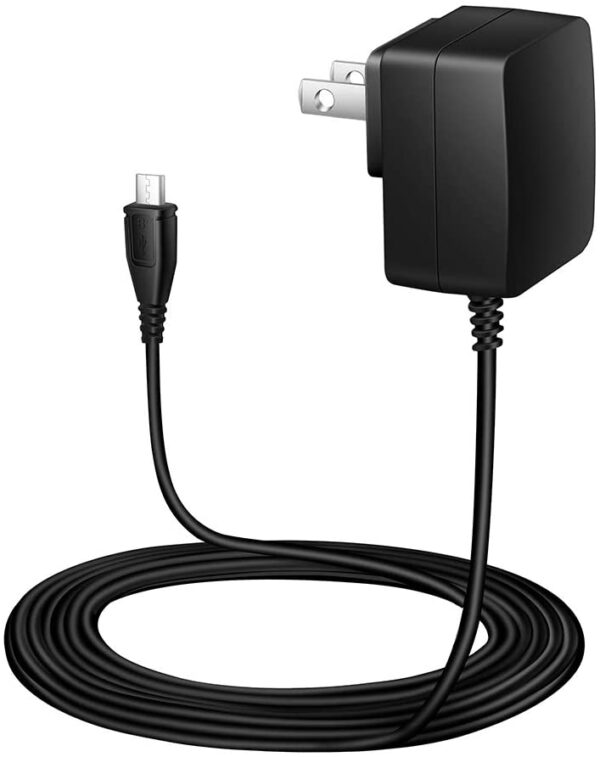 Compatible with Amazon Kindle 3.4.5.7.8.10.11, Kindle Paperwhite, Oasis, Voyage, Kindle DX, Kindle DX international, Kindle DX Graphite, Kindle Keyboard, and Kindle Touch
Micro USB connector
Not Compatible for Kindle First Generation E-reader
For even more versatility, this extra-long Fotbor charger offers the same extra-long lead, plus it works with even more devices, including Kindle Fire.
2. The Fotbor 6.6ft Extra Long Charger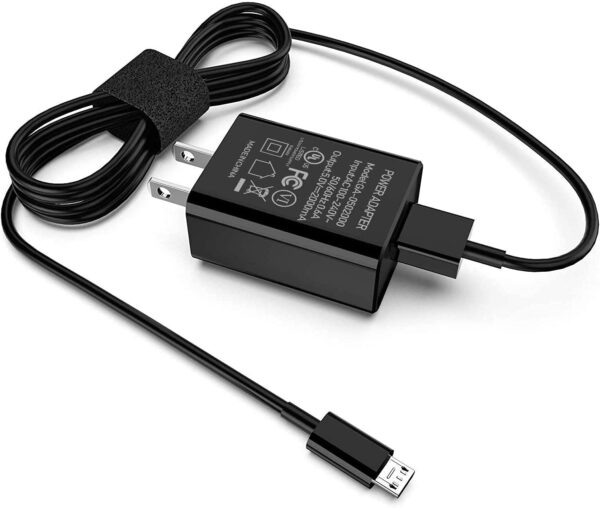 Compatible with Amazon Kindle Fire 2021 and 2022 releases, plus the Fire HD 8, Fire 7, Fire HD 10, Kindle Fire HDX, Fire Kids Edition, Kindle Paperwhite, Voyage, and Oasis e-readers.
Two in One USB-C and Micro USB connector
Screen Protectors
While a good cover or case safeguards your whole device, it might not provide complete protection for the most crucial element; the screen.
No matter how much you look after your Kindle, the screen is bound to pick up a few scratches, smudges, and chips eventually, and this is especially true if you're a fan of reading on the beach. After all, it only takes a single grain of sand to get inside your Kindle case for your screen to become damaged.
But screen protectors do more than just prevent wear and tear; they can also help to reduce screen glare. Yes, most Kindle e-readers already do an awesome job of reducing glare. Still, with a good screen protector, you can pretty much eliminate it entirely.
And thankfully, screen protectors are one of the most affordable Kindle accessories out there. This pack of three, designed for Kindle Paperwhite, is under $10!
1. Supershieldz 3 x Kindle Paperwhite Screen Protectors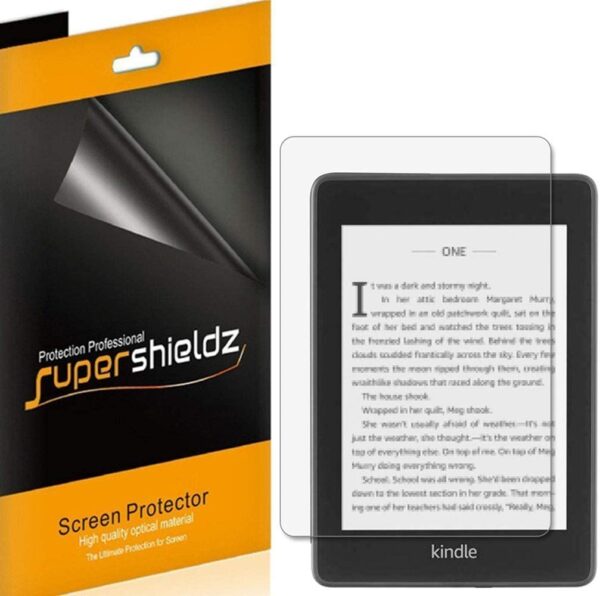 Matte finish anti-glare film designed to mask fingerprints, prevent scratches and eliminate screen glare.
Easy to install and leaves no residue when removed
Real touch, natural feel sensitivity for flawless screen accuracy
And if Paperwhite isn't your jam, Supershieldz also has the same screen protector technology (available in packs of 3) for Kindle Oasis, Kindle Fire, and the latest 10th Generation Kindle too.
Kindle Stands
A good Kindle stand has all kinds of uses, whether you're following recipes in the kitchen, reading in bed, or watching a movie in the living room on your Kindle Fire. When flying, they're also a great traveling companion, letting you enjoy hands-free entertainment on your tray table without accidentally elbowing your neighbor.
Plus, there are a ton of universal options out there that work not just with Kindles but any type of e-reader and most tablets too.
This budget-friendly stand from Lamicall covers all those bases and more. The soft yet sturdy pillow design works on uneven surfaces like your lap or in bed and regular desks or any other flat surface.
1. The Lamicall Tablet Pillow Stand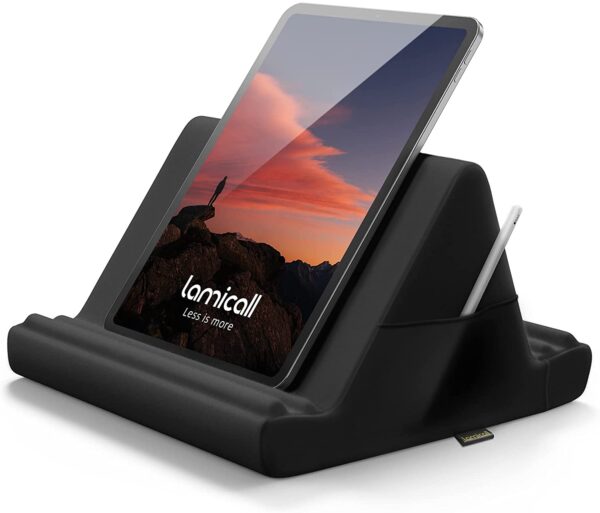 Compatible with all Kindle models, plus any other e-readers, tablets, and smartphones between 4.7 and 13 inches
Adjusts to 4 different angles, including vertical and horizontal viewing
The double-sided triangle pillow supports two devices at the same time
Removable and washable pillowcase
Side pockets for storing small objects like stylus pens, memory sticks, credit cards, and more.
Kindle Hand Straps
Hand straps are a helpful addition to any e-reader for two reasons.
The first (and most obvious) is to make one-handed reading as easy as possible. This is especially useful if you have a larger Kindle e-reader or a Kindle Fire tablet that doesn't fit quite as easily into one hand. You can simultaneously enjoy an e-book while drinking coffee or eating a snack without needing to worry about keeping a tight grip on your device.
But another lesser-known benefit to a hand strap is that many of them also double up as a small stand, letting you mount your Kindle in either portrait or landscape mode quickly and easily for total hands-free use. This makes these versatile attachments one of the unsung heroes of the Kindle accessories world, as you're effectively getting two products for the price of one!
Plus, just like many of the traditional full-size Kindle stands I mentioned above, some hand straps are designed to fit all kinds of devices, not just Kindles and e-readers, like this one from Fintie…
1. The Fintie Universal Hand Strap Holder
Compatible with all e-readers, tablets, iPads, and smartphones between 7-11 inches
All in one hand strap and stand combined
Choose between portrait and landscape mode
360-degree strap placement makes it easy to attach and reattach at any angle
Clip-on Reading Lights
These days, many Kindles come with additional built-in lighting, but if you're still working with one without, then a clip-on reading light can be a handy extra tool to have.
They're perfect for late-night readers who want to avoid waking their partners, and they're also a handy little travel companion for those situations where you might not have a lamp at your bedside.
Plus, most clip-on reading lights designed for e-readers double up as a traditional reading light for regular books, too, like this one from Energizer.
1. The Energizer Clip-on Reading Light for Books and Kindles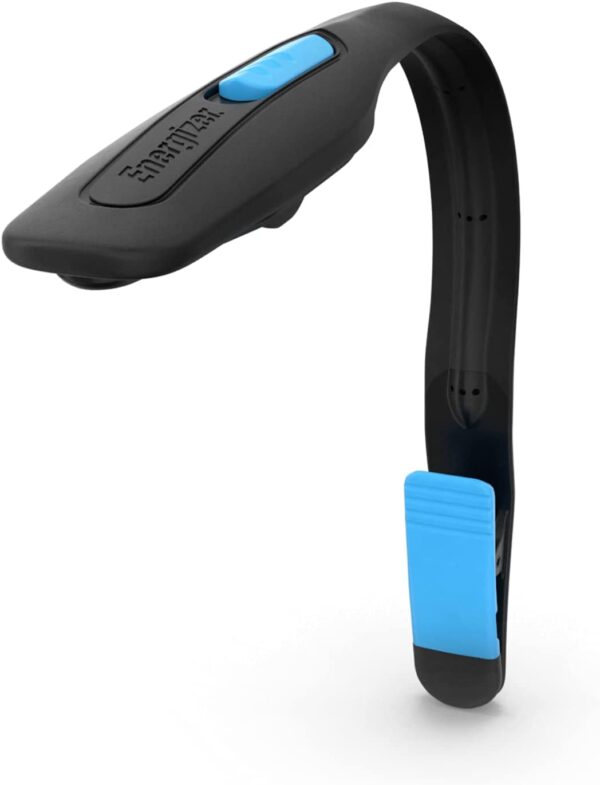 Battery-powered LED technology lasts up to 25 hours
2 x batteries included
Soft, gentle lighting for night time reading
Flexible and collapsible neck with a built-in spring clip to fit all types of books and e-readers
Headphones
If you're an audiobook book fan, then a good pair of headphones is one of the most useful accessories you can buy for your Kindle.
But beware; many Kindles don't have a headphone jack, so instead, you'll need Bluetooth headphones that let you connect wirelessly with your e-reader.
These days, wireless Bluetooth headphones are taking over their traditional plug-in counterparts across all devices, not just e-readers, so you have plenty of options to choose from.
If you're looking for something small and subtle that can be stored away in your pocket when they're not in use, then Bluetooth earbuds like these from Baseus are a solid option.
1. Baseus Wireless Bluetooth Earbuds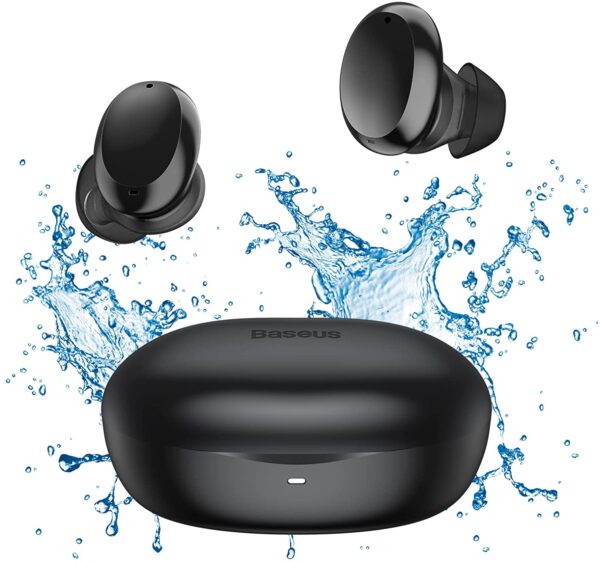 Compatible with all Kindle devices plus a wide range of tablets, smartphones, and other e-readers
Comfortable fit with outside noise-canceling technology
Flash charging technology: 4 hours use with 10 minutes charge time
Portable magnetic battery charging case included
15 hours of use from a single full charge
But suppose you're more of a traditionalist and you prefer your headphones to be a little more substantial. In that case, these over-ear Bluetooth stereo headphones from POP might be more your style.
2. POP Over-Ear Wireless Bluetooth Stereo Headphones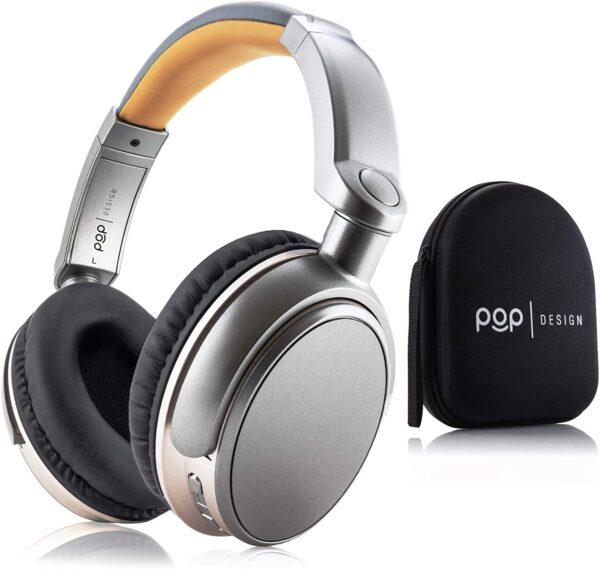 Compatible with all Kindle devices plus a wide range of tablets, smartphones, and other e-readers
Built-in Kindle Audible and Audible Audiobooks App controls
16 hours of battery life
Headphones fold down flat while not in use
Premium hard-shell carry case included
Micro SD Cards
If you have a standard Kindle, then you're unlikely to need any extra storage; even the most prolific reader would struggle to collect enough books in a lifetime to fill up their device.
But suppose you're a Kindle Fire owner and you plan on using your tablet for more than just reading e-books and listening to audiobooks. In that case, you can definitely benefit from a Micro SD card.
There are tons of options out there with varying storage capacity. Still, it's best to go with a certified Kindle Fire compatible brand, like this one from SanDisk.
1. SanDisk 128GB 'Made for Amazon' microSD Memory Card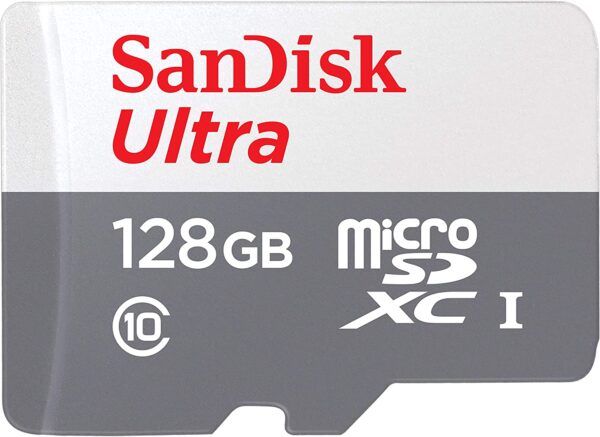 The only SD cards tested and certified for Kindle Fire tablets and Fire TV
128 GB of memory
Class 10 Full HD performance for high-quality video playback and recording
Conclusion
Kindles are a game-changer for us bibliophiles, and even without the extras listed above, they've transformed the way many of us read for the better.
Yet, with so many affordable and intuitive accessories on the market these days, it's easier than ever to upgrade your Kindle and maximize its potential without having to shell out for a newer model.
Do you have any Kindle accessories you'd like to recommend to your fellow digital readers? Drop a comment in the box below!