It is often said that we can learn so much about ourselves as we read. I think this is so true. There is something about reading and finding ourselves and discovering who we really are. These book quotes about life have not only helped me better understand myself as a person, but also helped me in my life.
I hope as you read these book quotes about life can help inspire you in all things!
To be inspired, even more, be sure to check out the inspiring writing quotes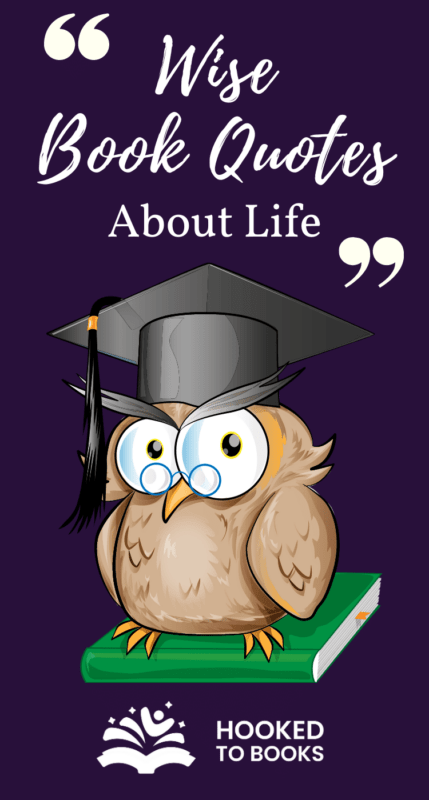 Inspiring Book Quotes about Life
"There is some good in this world, and it's worth fighting for. "

— J.R.R. Tolkien, The Two Towers
"As he read, I fell in love the way you fall asleep: slowly, and then all at once."

— John Green, The Fault In Our Stars
"No one can make you feel inferior without your consent."

— Eleanor Roosevelt, This is My Story
" Twenty years from now you will be more disappointed by the things that you didn't do than by the ones you did do. "

— H.Jackson Brown Jr., P.S. I Love You
"They say you really appreciate a garden only once you reach a certain age … There seems to be something miraculous about seeing the relentless optimism of new growth after the bleakness of winter, a kind of joy in the difference every year."

— Jojo Moyes, Me Before You
"Darkness cannot drive out darkness: only light can do that. Hate cannot drive out hate: only love can do that."

— Martin Luther King Jr., A Testament of Hope: The Essential Writings and Speeches
"Well-behaved women seldom make history."

— Laurel Thatcher Ulrich, Well-Behaved Women Seldom Make History
"You call yourself a free spirit, a 'wild thing,' and you're terrified somebody's gonna stick you in a cage. Well baby, you're already in that cage. You built it yourself. And it's not bounded in the west by Tulip, Texas, or in the east by Somali-land. It's wherever you go. Because no matter where you run, you just end up running into yourself."

— Truman Capote, Breakfast at Tiffany's
"Without music, life would be a mistake."

— Friedrich Nietzsche, Twilight of the Idols
"There is nothing sweeter in this sad world than the sound of someone you love calling your name."

— Kate DiCamillo, The Tale of Despereaux
" It is better to be hated for what you are than to be loved for what you are not. "

— André Gide, Autumn Leaves
"We accept the love we think we deserve."

— Stephen Chbosky, The Perks of Being a Wallflower
"It was times like these when I thought my father, who hated guns and had never been to any wars, was the bravest man who ever lived."

— Harper Lee, To Kill A Mockingbird
" Who, being loved, is poor? "

— Oscar Wilde, A Woman of No Importance
"We are all in the gutter, but some of us are looking at the stars."

— Oscar Wilde, Lady Windermere's Fan
Every human life is worth the same, and worth saving."

— J.K. Rowling, Harry Potter and the Deathly Hallows
"Fairy tales are more than true: not because they tell us that dragons exist, but because they tell us that dragons can be beaten."

— Neil Gaiman, Coraline
"I don't understand it any more than you do, but one thing I've learned is that you don't have to understand things for them to be."

— Madeleine L'Engle, A Wrinkle in Time
"Memories warm you up from the inside. But they also tear you apart."

— Haruki Murakami, Kafka on the Shore
"The goal isn't to live forever, the goal is to create something that will."

— Chuck Palahniuk, Diary
"You have brains in your head. You have feet in your shoes. You can steer yourself any direction you choose. You're on your own. And you know what you know. And YOU are the one who'll decide where to go…"

— Dr. Seuss, Oh, the Places You'll Go!
" Travel far enough, you meet yourself."

— David Mitchell, Cloud Atlas
"My advice is, never do tomorrow what you can do today. Procrastination is the thief of time."

— Charles Dickens, David Copperfield
"There is no greater agony than bearing an untold story inside you."

— Maya Angelou, I Know Why the Caged Bird Sings
" None of us really changes over time. We only become more fully what we are."

— Anne Rice, The Vampire Lestat
"There are darknesses in life and there are lights, and you are one of the lights, the light of all lights."

— Bram Stroker, Dracula
"Those who don't believe in magic will never find it."

— Roald Dahl, The Minpins
"All endings are also beginnings. We just don't know it at the time. "

— Mitch Albom, The Five People You Meet In Heaven
"Be yourself and people will like you."

— Jeff Kinney, Diary of a Wimpy Kid
"People think a soul mate is your perfect fit, and that's what everyone wants. But a true soul mate is a mirror, the person who shows you everything that is holding you back, the person who brings you to your own attention so you can change your life."

— Elizabeth Gilbert, Eat, Pray, Love
" When someone leaves, it's because someone else is about to arrive. "

— Paulo Coelho, The Zahir
"Sometimes weak and wan, sometimes strong and full of light. The moon understands what it means to be human."

— Tahereh Mafi, Shatter Me
" It's no use going back to yesterday, because I was a different person then."

— Lewis Carroll, Alice's Adventures in Wonderland
"Beautiful means 'full of beauty.' Beautiful is not about how you look on the outside, beautiful is about what you're made of. Beautiful people spend time discovering what their idea of beauty on this earth is. They know themselves well enough to know what they love, and they love themselves enough to fill up with a little of their particular kind of beauty each day."

— Glennon Doyle Melton, Love Warrior
"The moment you doubt whether you can fly, you cease forever to be able to do it."

— J.M. Barrie, Peter Pan
" The only limits for tomorrow are the doubts we have today."

ù Pittacus Lore, The Power of Six
"It cannot be doubted that each of us can only see part of the picture. The doctor sees one, the patient another, the engineer a third, the economist a fourth, the pearl diver a fifth, the alcoholic a sixth, the cable guy a seventh, the sheep farmer an eighth, the Indian beggar a ninth, the pastor a tenth. Human knowledge is never contained in one person. It grows from the relationships we create between each other and the world, and still, it is never complete."

— Paul Kalanithi, When Breath Becomes Air
"When you can't find someone to follow, you have to find a way to lead by example."

Roxane Gay, Bad Feminist
" If we wait until we're ready, we'll be waiting for the rest of our lives."

— Lemony Snicket, The Ersatz Elevator
"It is only with the heart that one can see rightly; what is essential is invisible to the eye."

— Antoine de Saint-Exupéry, The Little Prince
" Fear doesn't shut you down; it wakes you up."

— Veronica Roth, Divergent
"It is a curious thought, but it is only when you see people looking ridiculous that you realize just how much you love them."

— Agatha Christie, An Autobiography
"Nothing in life is as important as you think it is, while you are thinking about it."

— Daniel Kahneman, Thinking, Fast and Slow
" When you are imagining, you might as well imagine something worth while."

— Lucy Maud Montgomery, Anne of Green Gables
"Even the darkest night will end and the sun will rise."

— Victor Hugo, Les Misérables
"When you make loving others the story of your life, there's never a final chapter, because the legacy continues. You lend your light to one person, and he or she shines it on another and another and another."

— Oprah Winfrey, What I Know for Sure
" The worst enemy to creativity is self-doubt."

— Sylvia Plath, The Unabridged Journals of Sylvia Plath
"Just because your version of normal isn't the same as someone else's version doesn't mean that there's anything wrong with you. "

— John Boyne, The Terrible Thing That Happened to Barnaby Brocket
" Yes: I am a dreamer. For a dreamer is one who can only find his way by moonlight, and his punishment is that he sees the dawn before the rest of the world."

— Oscar Wilde, The Critic as Artist
"Open your eyes and see what you can with them before they close forever."

— Anthony Doerr, All the Light We Cannot
There you have it! Our favorite book quotes about life. Was your favorite on the list? Share it in the comments below so we can add it to the list!
Check out these other posts!