There are arguably more books written about World War II than any other period in recent history. This worldwide conflict raged for more than six years and brought unthinkable horrors to much of the world. Even after it was over, the scars of war took generations to heal, and some remain to this day.
World War II is a challenging topic to delve into, but it's an incredibly important one too. By understanding the history that has shaped our world today, we can strive to build a brighter future for everyone on the planet and avoid reliving the grave mistakes of the past.
These compelling, fascinating, and eye-opening books give us a fresh perspective of the events that unfolded during World War II. Some are biographies and works of fiction that tell the stories of the victims, and others are factual analyses of the political events that unfolded during those dark years.
1. All the Light We Cannot See by Anthony Doerr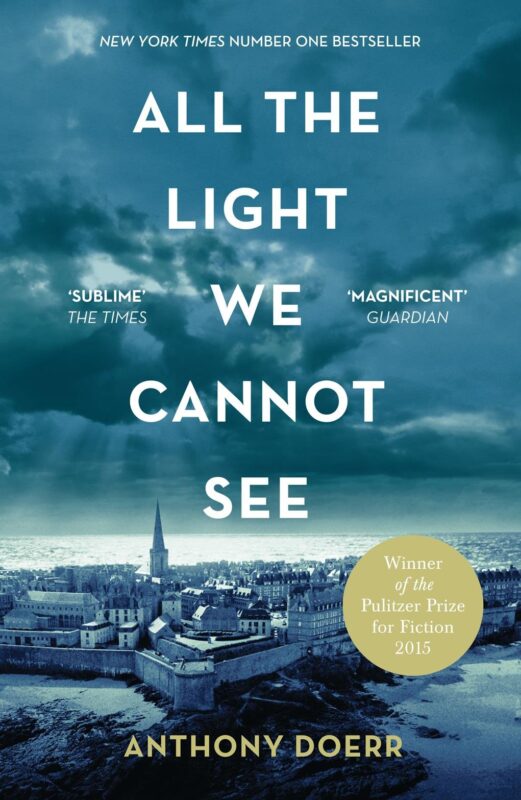 This Pulitzer Prize-winning novel by American author Anthony Doerr is a work of fiction, but it nevertheless gives the reader an astonishing insight into what life was like for children growing up in occupied Europe at the time.
The story follows a young blind girl named Marie-Laure, who lives with her father, a locksmith for the Museum of Natural History, in Paris.
In June 1940, when Marie-Laure is twelve years old, the German threat of occupation finally becomes a reality, and she and her father are forced to flee the city and seek refuge in the walled coastal citadel of Saint-Malo. But unbeknownst to Marie-Laure, her father has brought along an important artifact from the museum, a precious yet dangerous jewel.
Meanwhile, hundreds of miles away, an orphan boy named Werner Pfennig is living with his younger sister in the German mining town of Zollverein. Every day, the two of them sit huddled around a busted-up radio they found, listening to captivating news stories from around the world. Werner has a head for science, and he becomes incredibly skilled at repairing and building these novel machines. His talents earn him a place at a Natzi-run state boarding school, where he begins to use his skills to identify and trace members of the resistance. But when he sees the devastation and suffering brought about by his new role, he begins to realize his true allegiances.
These two children exist on opposite sides of a cruel war, but when their paths unexpectedly cross, they discover that even a great war can't extinguish the goodness of a human heart.
2. The Book Thief by Markus Zusak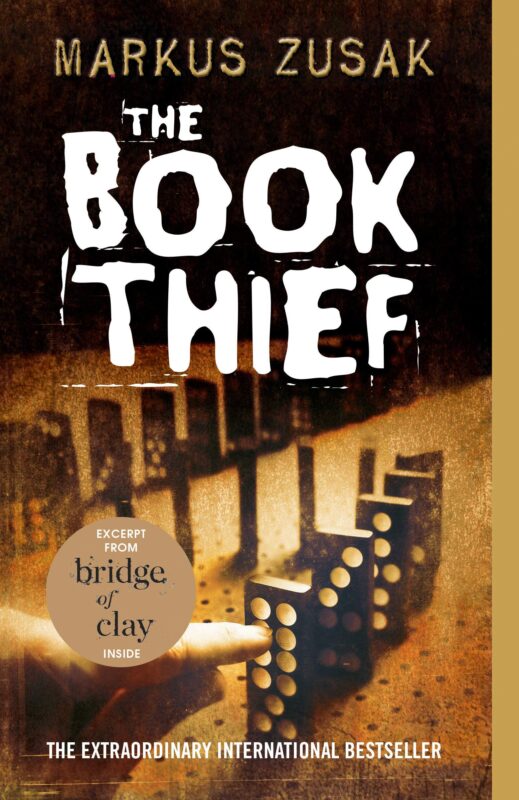 This bestselling historical novel by the Australian author Markus Zusak was published in 2005 and has since become a global phenomenon.
Set in Nazi Germany in 1939, a young girl named Liesel makes a life-changing discovery at her brother's graveside. There, half-buried under the snow, is The Gravedigger's Handbook, a technical manual dropped by one of the workers at the funeral.
Leisel takes the book home, and with the help of her new foster father, she learns to read. She finds herself captivated by every word, and her love affair with the written word begins. But books are hard to come by, and her newfound obsession compels her to steal them wherever she can, even from notorious Nazi book burning ceremonies.
Meanwhile, as Hitler's regime extends its evil grip across the country, her foster family conceals a Jewish man inside the basement of their home. Leila shares her newfound love of words with him, and through this, they develop a lasting bond. But in these dark and dangerous times, her childhood innocence quickly becomes replaced by the unimaginable horrors of war.
3. The Diary of a Young Girl by Anne Frank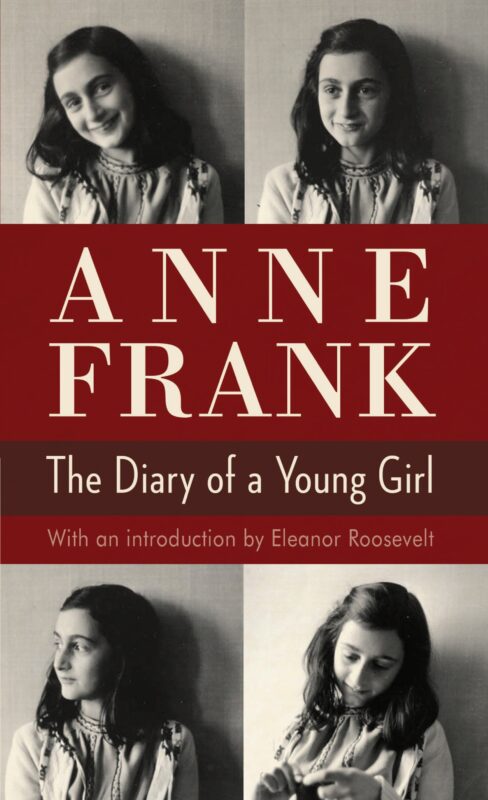 Anne Frank's remarkable diary is perhaps the most famous World War II book of all. Told by one of the war's most unlikely heroes, this is a poignant account of the atrocities that took place during that time.
Anne's story begins in 1942 when she is just thirteen years old. As the Nazis begin to occupy Holland, Jewish families everywhere are forced to flee their homes and go into hiding. Anne's family finds shelter in a forgotten annex above an old office, a tiny space that they share with another family.
For two long, agonizing years, they live in secrecy, cut off from the outside world in constant fear of being discovered. Every day, they struggle against the weight of captivity and starvation until they're eventually found by the Gestapo.
This heart-wrenching book gives us a unique perspective of history, told through the eyes of an innocent young girl. Though she never got to see it herself, Anne Frank's diary has had an immeasurable influence on the world. It's an everlasting reminder of the horrors of the Nazi regime, but it's also a story of incredible courage, endurance, and the strength of the human spirit.
In Anne's own remarkable words, 'In spite of everything, I still believe that people are really good at heart …'
4. Unbroken: A World War II Story of Survival, Resilience, and Redemption by Laura Hillenbrand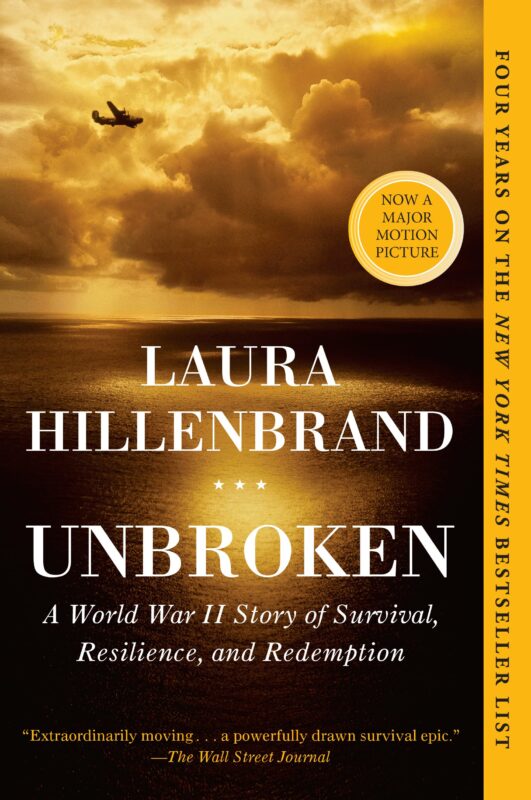 Hillenbrand's 2010 book is the true story of former Olympic track star and World War II veteran Louis Zamperini. One of the most successful non-fiction books of all time, it spent over four years on the New York Time's best sellers list.
Zamperini's story begins in 1943 while serving as a lieutenant in the American military. One afternoon in the spring of that year, an Airforce Bomber rescue mission carrying Zamperini and ten other men crash-landed into the Pacific. Against all odds, Zamperini and two others, Russell Allen Phillips and Francis McNamara, survived.
They spent the next 47 days drifting across an endless expanse of ocean, contending with thirst, starvation, sharks, storms, and enemy aircraft attacks. On their 33rd day at sea, McNamara tragically died, leaving Zamperini and his crewmate Phillips to continue their battle for survival alone.
Finally, on their 47th day floating on the open ocean, their raft reached land. There ahead of them were the shores of the Marshall Islands, but their harrowing ordeal had only just begun. The Japanese Navy laid in wait on the beaches, and the pair were immediately captured and taken prisoner.
For the next two and a half years, Zamperini was moved between Prisoner of War camps, enduring constant mental and physical torture. Despite his harrowing ordeal, by sheer will and determination, he managed to survive there until the end of the war, when he was finally released and allowed to return home.
But Zamperini had been declared killed-in-action after the plane crash almost three years earlier, and nobody had expected him to return. Nevertheless, the incredible news of his survival quickly spread, and when he finally landed home on US soil after his unthinkable ordeal, he received a hero's welcome.
5. The Nightingale by Kristin Hannah
This historical fiction novel by Kristin Hannah has become a global bestseller, translated into 45 languages, selling more than 4.5 million copies worldwide.
It tells the story of two sisters, Vianne and Isabelle, in 1939 France. Vianne lived with her husband in the small rural village of Carriveau until he was summoned to join the soldiers on the front line. Shortly after, the Nazis invaded, brandishing deadly weapons on foot, in tanks, and from the skies above.
Vianne and her daughter find themselves alone, in a seemingly hopeless existence. And so, when a German captain invades their home, they're forced to live among their enemies in order to survive.
Meanwhile, Vianne's younger sister Isabelle is embarking on a very different path. The determined and rebellious 18-year-old meets a young, handsome freedom fighter named Gaëtan and falls head over heels in love. She joins the resistance and risks her life over and over again to save others, eventually earning her code name, Nightingale.
Though both sister's stories are fictional, The Nightingale is inspired by the life of Andrée de Jongh, a Belgian woman who also worked for the resistance. Over a two-year period, Andrée escorted 118 military personnel from Belgium into neutral Spain to safety. She was eventually arrested by the Nazis and incarcerated until the end of the war.
6. Rise And Fall Of The Third Reich by William L Shirer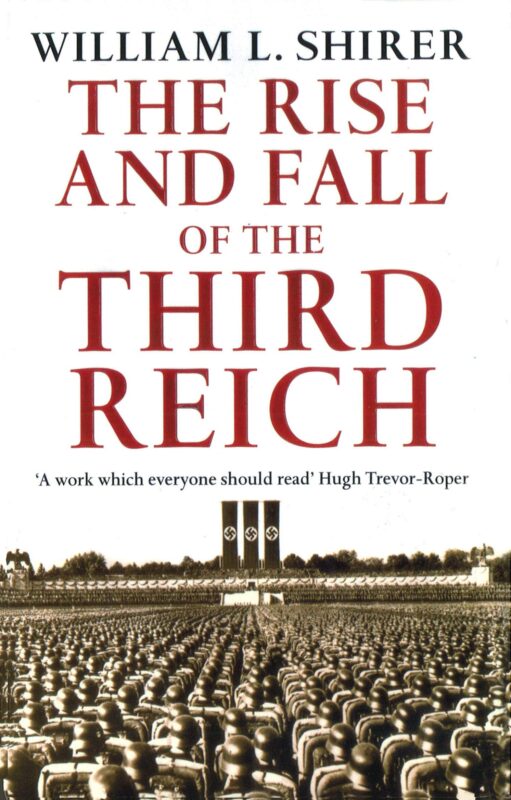 This bestselling book by journalist and historian William L. Shirer chronicles the rise and fall of the German Nazi party, from Adolf Hitler's birth in 1889 to the end of World War II in 1945.
Despite Hitler's boastful claims that the Third Reigh would withstand a thousand years of rule, it only lasted for twelve. Even so, in just over a decade, the Nazi regime brought unimaginable terror and darkness to the world.
This book explores how the Nazis rose to power to become the driving force behind the evilest and inhuman event of modern history; the Holocaust.
Shirer's book was first published 60 years ago when the memories of the war were still fresh in the public's mind. It's an amalgamation of stolen Nazi documents, diary entries from Hitler's government aides, evidence given in the Nuremberg trials, British Foreign Office reports, and Shirer's own first-hand experiences working as a journalist in Nazi Germany.
The book was an immediate bestseller in both the United States and Europe and went on to win the National Book Award for non-fiction. Today, it's considered one of the most comprehensive records of the events that took place in Germany between 1930 ad 1945. Moreover, it serves as a critical reminder of how a fascist regime can quite easily snowball itself into existence, despite the best intentions of the majority.
7. Code Name Verity by Elizabeth Wein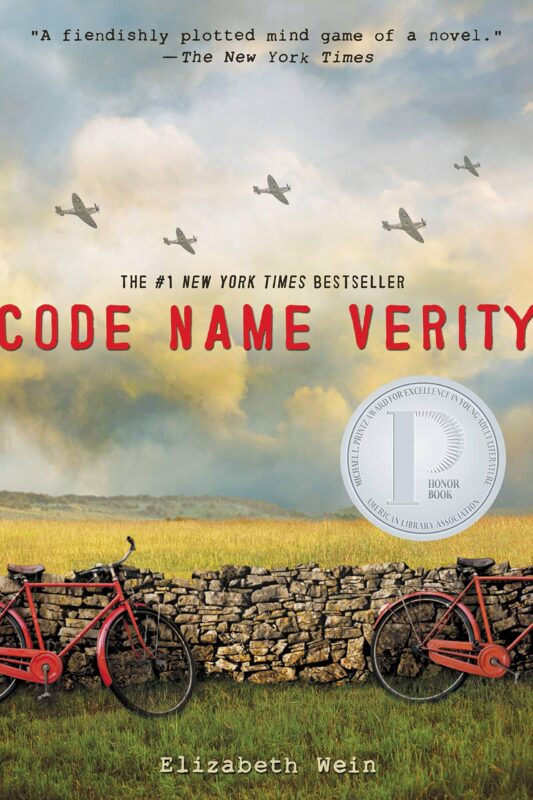 Elizabeth Wein's young adult historical fiction novel follows two young British women, who are the best of friends. Julie, code name Verity, is a spy, and Maddie, code name Kittyhawk, is a pilot.
Set against the backdrop of 1943 warn town Europe, the two women are flying over Nazi-occupied France when their plane is hit by antiaircraft fire, crash-landing in the town of Ormaie.
Julie is immediately captured by the Nazi authorities, who give her a simple choice; reveal the details of her secret mission, or face unthinkable torture and, ultimately, execution. Her forced confession from her prison cell forms the first half of this gripping novel. She begins by telling the story of her friendship with Maddie and the events that led up to their arrival in France. On each scrap of paper, she reveals secrets that she hopes will be enough to save her from the wrath of the Nazis.
Later in the book, we hear pilot Maddie's side of the tale and uncover what happens to her after Julie is captured, and she's left alone for dead. Maddie embarks on a risky mission to find Julie and rescue her from the Nazi guards. But there is danger everywhere, and happy endings don't come easy in a country ravaged by war.
Conclusion
It's not always easy to read about the atrocities that happened during World War II, but it's essential that we understand and remember this dark time in our history and learn from the mistakes of the past.
These seven books are some of the very best fiction, and non-fiction works written about World War II. They help us understand the war from the perspective of people on both sides of the conflict, and they remind us of the horrors suffered at the hands of the Nazis.
Do you have any recommendations for great books about World War II? Drop me a comment in the box below.