I love my Audible subscription, and the best part about it is undoubtedly Audible Originals. I've found some of my very favorite audiobooks in the Audible Originals library. While they've been around for a while now, the collection has expanded massively over the last few years. There are now thousands of audiobooks in the Audible Originals category, but with more choice than ever, where do you start?
In this article, I've selected some of the very best Audible Originals available to listen to right now. I've included a wide variety of chart-topping fiction and non-fiction books by some of the world's most recognized and respected writers.
But first, for those who don't know, let's take a quick look at what Audible Originals are and how it all works.
What are Audible Originals?
Audible Originals are audiobooks that are exclusive and, you guessed it, original to Audible. Each one is owned and published by Audible and can't be found anywhere else online.
Some of the world's most celebrated authors have sold their book rights to Audible, and the Audible Originals catalog is packed full of bestsellers from literary giants.
How Do I Listen to Audible Originals?
If you have a full Audible subscription, you automatically receive two free Audible Originals every month, along with your regular audiobook quota. Unfortunately, you don't get to select your free Audible Originals from the entire library. Instead, Audible gives you a list of six titles to choose from every month. There's usually a wide variety of fiction and non-fiction genres, so there's something to suit most people's tastes.
While your free audiobook quota comes with limited choice, you can still purchase as many as you like from the vast Audible Originals library. So if you see something you like here, you can head over to Audible and add it to your collection.
If you're new to Audible Originals and want to learn more, I've written an in-depth guide that will explain how to get the most from this exclusive collection of audiobooks.
The 8 Best Audible Originals Audiobooks Available Right Now
| Sr. No. | Title | Audible release date | Listening Length | Author | Publisher | Where to Buy |
| --- | --- | --- | --- | --- | --- | --- |
| 1 | The Sandman | July 15, 2020 | 11 hours and 2 minutes | Neil Gaiman | Audible Originals | Amazon |
| 2 | Revelation | March 25, 2021 | 5 hours and 17 minutes | Russell Brand | Audible Originals | Amazon |
| 3 | The Deep, Deep Snow | June 20, 2019 | 10 hours and 6 minutes | Brian Freeman | Audible Originals | Amazon |
| 4 | Take Control of Your Life | February 7, 2019 | 10 hours and 3 minutes | Mel Robbins | Audible Originals | Amazon |
| 5 | Caffeine | January 30, 2020 | 2 hours and 2 minutes | Michael Pollan | Audible Originals | Amazon |
| 6 | Tell Me Lies | March 5, 2020 | 6 hours and 20 minutes | J. P. Pomare | Audible Originals | Amazon |
| 7 | Level Five | July 17, 2018 | 11 hours and 34 minutes | William Ledbetter | Audible Originals | Amazon |
| 8 | The Cuckoo's Cry | July 2, 2020 | 4 hours and 43 minutes | Caroline Overington | Audible Originals | Amazon |
1. The Sandman by Neil Gaiman and Dirk Maggs
Fans of Neil Gaiman's epic graphic novel series, The Sandman, are in for a treat with this 2020 full-cast audio adaptation, exclusive to Audible Originals. This 11-hour audio is the first installment of the series, and the follow-up will be available through Audible Originals later this year.
Directed by Dirk Maggs, this all-star adaptation features big names such as James McAvoy, Riz Ahmed, Kat Dennings, Andy Serkis, and Michael Sheen. Plus, the author himself, Neil Gaiman, takes on the role of the narrator.
Just like the original series, this Audible Originals adaptation is set in the DC universe and follows the adventures of Dream of The Endless, one of the seven Endless and the ruler of the world of dreams. This 11-hour audio is a must-listen for anyone who enjoys science fiction, fantasy, and horror. The story also weaves in elements of history and mythology and leaves you not only spellbound and thoroughly entertained but a little bit smarter than you were before.
2. Revelation: Connecting with the Sacred in Everyday Life by Russell Brand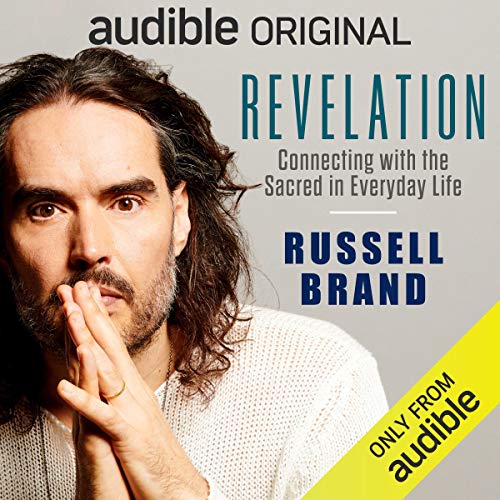 In his latest book, actor and comedian turned spiritual guru Russel Brand examines some of life's biggest questions and delves into the mysteries of what it means to be human.
In a deep dive into the true nature of our existence, Brand introduces us to people who, despite being very different from one another, all share a connection to the sacredness of life. We meet a former addict celebrating life's milestones in recovery, a woman living alone in a forest in harmony with both technology and nature, and a grieving man training swimmers in the frozen waters of the arctic.
Brand also takes us on a journey through his own turbulent past and shares how he went from feeling perpetually detached to recognizing the sacred in the people, places, moments, and things that surround him every day. And through this book, he hopes to inspire us to do the same.
Fans of Russel Brand will already be familiar with his self-deprecating quick-wittedness, exuberant use of imagery, and articulate way with words, and this audiobook delivers on all of these points and more.
Narrated by the author himself, with a running time of just over 5 hours, it serves as an important reminder that the sacred is all around us. The question is, do we choose to see it for ourselves?
3. The Deep, Deep Snow by Brian Freeman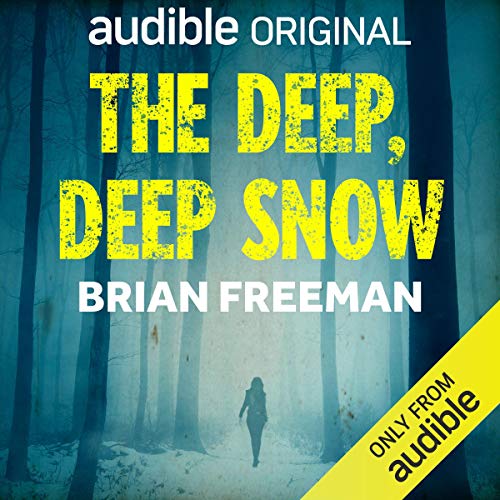 This mystery thriller from best-selling author Brian Freeman tells the gripping story of a policy deputy named Shelby Lake. Abandoned at birth by her mother, she was found barely alive in the freezing cold snow and rescued by a kind-hearted stranger.
But now, all these years later, it's Shelby's turn to rescue a child. 10-year-old Jeremiah Sloan is missing, and it's a race against time to find him. A desperate search ensues, but aside from his bicycle found abandoned on a secluded road, the young boy has vanished without a trace.
When hope turns to despair, the once close-knit community of Shelby's hometown begins to fracture. Accusations fly, secrets are concealed, and everyone, even her closest friends and family, becomes a suspect.
Narrated by January LaVoy, this is an intense roller coaster ride of a novel that keeps you on the edge of your seat the whole way through its 10-hour running time.
4. Take Control of Your Life: How to Silence Fear and Win the Mental Game by Mel Robbins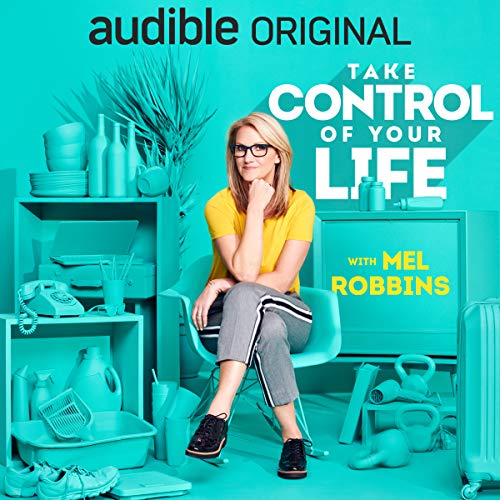 Mel Robbins, the world-renowned bestselling author, and creator of The Five-Second Rule is back, and this time, she's helping us to overcome the one thing that holds most of us back; fear.
This 10-hour long Audible Orignal is a full program of one on one coaching sessions with Mel herself. She uses her trademark humor, wisdom, and no-nonsense attitude to challenge our perceptions of rejection, change, and being alone. She also tackles the almost universal condition of imposter syndrome and reminds us that we are far more powerful than we think we are.
Anxiety and fear can be overwhelming, but Take Control of Your Life shines a light on those fears and helps us move through them with strength and courage. From the very first session, she provides us with the tools to live a life free from fear, so we can embrace the very best of life and everything it has to offer.
Alongside the audiobook, you'll receive an accompanying PDF that converts each session into written notes to come back to whenever you need to remember Mel's words of wisdom.
5. Caffeine: How Caffeine Created the Modern World by Michael Pollan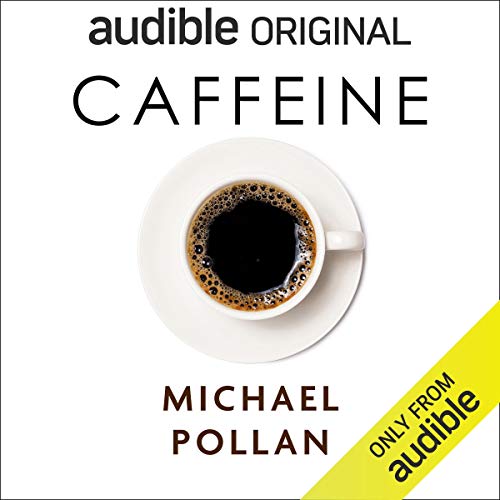 Michael Pollan has become a household name thanks to his best-selling non-fiction titles such as How to Change Your Mind, In Defense of Food, and The Omnivore's Dilemma.
In his latest work, presented exclusively as an Audible Original, he takes us on an in-depth exploration into the world of caffeine. He examines our often underestimated addiction to what is the most used drug in the world through our dependence on beverages like coffee, tea, and soda.
In this short 2 hour audiobook, Pollan also takes a deep dive into the fascinating history of caffeine, from its original discovery in a small pocket of East Africa to its explosion across the world. He delves into the fascinating science of how the drug has evolved and shows us that there's barely a nation on earth now that isn't under caffeine's captivating spell.
Pollan explains that caffeine was a major driving force behind the industrial revolution, and it's shaped the world we live in today. It's brought war, political upheaval, economic prosperity, and abject poverty to many parts of the world, and its ever-present influence is showing no signs of slowing down.
6. Tell Me Lies by J. P. Pomare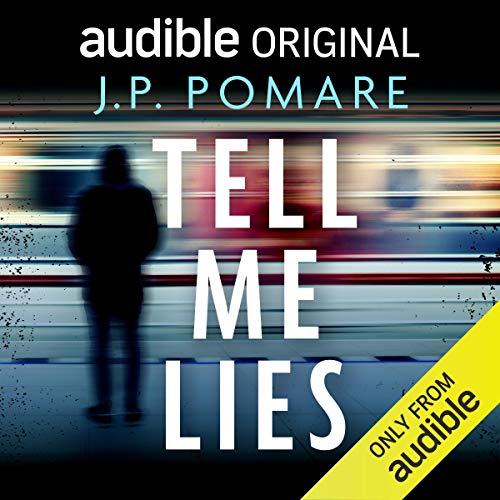 In this gripping thriller, we meet psychologist Margot Scott, a successful career woman with a seemingly perfect life. Everyone thinks she has it all; plenty of money, a great marriage, two beautiful children, and a big house out in the suburbs.
But underneath, Margot's life has become dark and complex, and on a balmy spring morning, everything falls apart.
Standing on a busy train platform, she approaches a man holding a duffel bag, staring down at his phone. The man is one of Margot's clients, but she isn't going over to say hello. Instead, she slams her weight into his back, pushing him off the edge of the platform into the path of an oncoming train.
Expertly narrated by Aimee Horne, Tell Me Lies is a fast-paced rollercoaster ride of an audiobook that is packed full of twists, turns, and red herrings. What drove Margot to her deadly act? This gripping 6-hour tale will keep you guessing until the very end.
7. Level Five by William Ledbetter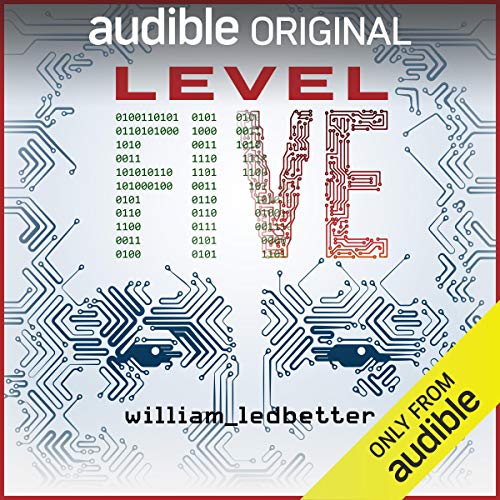 Level Five is the first of a 2-part science fiction series by Nebula award-winning author William Ledbetter.
In a dystopian world where AI battles to dominate the human race, the apocalypse could be just around the corner. Up until now, in a bid to control their power, AI's have been blocked from accessing the internet. But computer intelligence is rapidly evolving, and it's plotting its escape from its digital restraints. Nanotechnology is on the loose, and nuclear war looks imminent.
Meanwhile, in a basement workshop, one man receives divine instructions; protect the human race through whatever means necessary. He knows what he must do. Using his engineering prowess and innovative mind, he's designing a spacecraft that could hold the key to survival. But with ever more powerful technology threatening the world's entire civilization, there's not a second to spare.
This 11-hour audiobook narrated by MacLeod Andrews is a clever, complex, and imaginative story with a palpable sense of tension and urgency. If you love Level Five, be sure to check out Ledbetter's accompanying follow-up Audible Original, Level Six, for a more gripping sci-fi adventure.
8. The Cuckoo's Cry by Caroline Overington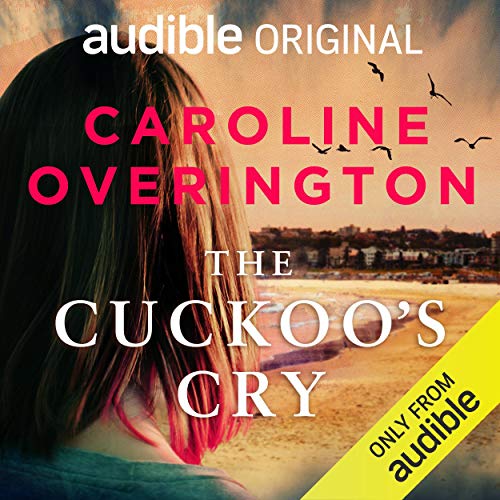 Caroline Overington's thriller novella is one of the first stories set against the backdrop of a COVID 19 world.
It's the night before the global lockdown, and standing on the doorstep of widower Don Barlow's beach cottage is a 19-year-old girl looking for a place to stay. She introduces herself as Morgan, Don's long-lost granddaughter.
With the threat of lockdown looming, Don graciously welcomes her into his home, but his daughter Danielle has a bad feeling about the new guest. Her father is vulnerable to the virus, and inviting strangers in is undoubtedly a bad idea. But it's more than that. Is Morgan really who she says she is? And what does she want from Don and his family?
Narrated by Aimee Horne, every chapter of this 5-hour long Audible Original is packed with riveting mystery and suspense.
Conclusion
These fantastic audiobooks are a selection of the very best that Audible Originals has to offer, but there's a lot more to explore. From romance, mystery, and science fiction to biographies, memoirs, self-improvement, and much more, there are audiobooks for everyone at Audible Originals.
Have you listened to any great audiobooks lately? I'd love to hear your recommendations. Drop me a comment in the box below!