From the drizzly backdrop of Seattle and the loud colors of Austin to the iconic literary settings of London and the never-sleeping New York City, there are certain cities that writers have been drawn to all throughout history. But, you may wonder, what are the best cities for writers?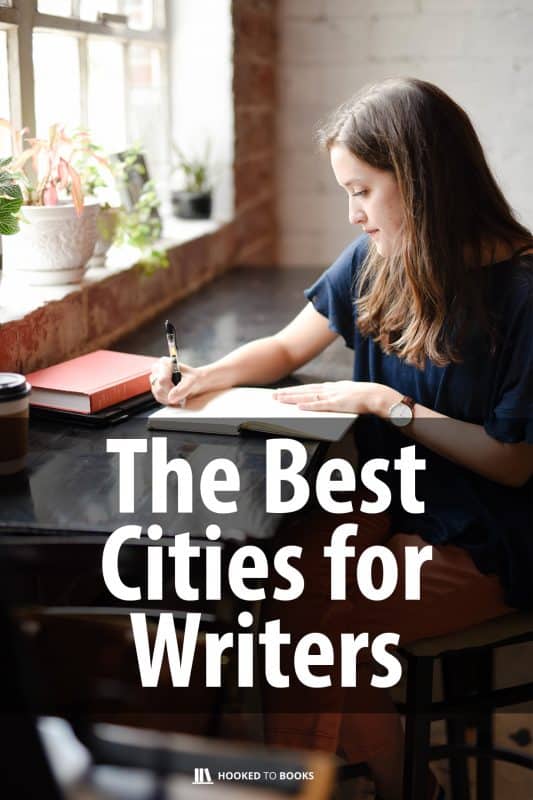 Whether you're looking for more of a big-city vibe or more of an isolated, nature-rich location, there are plenty of places for you to type, write, and live with passion and joy.
13 Of The Best Cities For Writers
These are the best cities for writers in North America and in Europe. Whether you want to make your home in the Pacific Northwest, deep in the heart of Texas, among the deep city lights, or across the pond, you'll find a place to love on this list.
Seattle, Washington
London, England
Austin, Texas
New Orleans, Louisiana
Taos, New Mexico
New York City, New York
San Francisco, California
Portland, Oregon
Oxford, England
Chicago, Illinois
Philadelphia, Pennsylvania
Prague, Czech Republic
Edinburgh, Scotland
#1. Seattle, Washington
Perched inside the Pacific Northwest region, Seattle's rainy drizzle and coastal feel is an excellent home for writers (and readers) alike.
With lower rent than some more urban cities, Seattle is also home to a large number of writer's groups and clubs, and its location makes it an ideal place for everyone from travel writers to medical copywriters.
With an average base pay of $64,000 a year and manageable living expenses, writers can build incredible careers without monetary worries.
#2. London, England
One of the most iconic literary cities in the entire world, London has been home to some of the most prolific and famous writers of our time.
Whether you're cultivating inspiration at one of the city's incredible cafés or soaking up the history of literary icons like Virginia Woolf, London is a delightful place to build a writing career where you'll simply never run out of history and people to follow.
While the salary seems a little lower, a writer in London can easily find their place.
#3. Austin, Texas
Nestled deep in the heart of Texas, Austin is a cultural mecca smack dab in the Southern U.S.
With an open and welcoming community at its core, Austin is a great place for creatives in general. This unique city is also a relatively inexpensive place to build a home and career.
With an average writing salary of $51,000 a year, writers are able to manage expenses alongside career.
#4. New Orleans, Louisiana
A coastal city in the Southern United States, New Orleans' rich history and cultural experiences make it an excellent place for writers.
Chock full of writer's residencies and writing workshops, many an American author has made his or her home in the city of New Orleans.
With an average writing salary range of around $50,000 in a city much lower in living costs than others, it's a perfect place for writers.
#5. Taos, New Mexico
Known for its spirit and culture, Taos, New Mexico, has been a wildly popular destination for creatives for a long time.
In one of the most stunning places on earth, there's simply no shortage of writing inspiration and words to pull from.
In the popular ski town, technical writing salaries average out almost into the six digits, and the location of Taos makes it easy to travel from and write about.
#6. New York City, New York
Perhaps the most iconic city for writers in America – if not the world – it's hard to think of New York City without thinking of glossy magazine covers, high-rise buildings, and the subway.
While the cost of living is incredibly high, cheaper housing isn't impossible to come by and the average salary for writers isn't low.
New York is "the city that never sleeps" for a reason: the sheer amount of opportunity is worth it.
#7. San Francisco, California
With beautiful weather and a location deep in the Bay Area, San Francisco's place in between Tahoe and Los Angeles makes it a stunning place to travel to, live in, and write from.
With an average pay rate of $35/hour, it's highly possible to make writing and living in San Francisco work out.
#8. Portland, Oregon
When the stunning beauty of the Pacific Northwest and calm, hipster vibes collide, you have Portland.
With the massive Powell's Books, a resource center for independent publishers, and literary organizations like the Mountain Writers Series, a home in Portland is an excellent one for anyone building a writing life and a writing career.
With a salary 23 percent higher than the nation's average, Portland is a great place for writers and readers alike.
#9. Oxford, England
Idyllic Oxford has been home to some of the greatest writers of all time at some point in their lives, from the inimitable Oscar Wilde to the wildly famous JRR Tolkien.
The historical and literary city is a hotbed for writers and iconic novels, and is a must-see (and must-live, if possible) for any writer, ever.
Basking in the literary prowess is reason enough, if you ask us.
#10. Chicago, Illinois
With a bustling literary scene and a constant appreciation for the writing culture, Chicago exists as one of the top cities for anyone pursuing a writing career.
From gathering inspiration from historical hotspots to setting up shop at one of the city's many independent coffee shops and bookstores, there's no shortage of imagination in The Windy City.
And, with an hourly rate 30% higher than the nation's average, there's no question that it's a great place for any writer to call home.
#11. Philadelphia, Pennsylvania
The historical Philadelphia has no shortage of cultural hotspots, culinary masterpieces, and famous alumni (Edgar Allen Poe, anyone?)
When paired with writing workshops and conferences galore, the city of Philadelphia stands out as an ideal location for writers to put their roots down.
In addition to its cultural benefits, the average writing salary in Philadelphia — $40.00 an hour — is remarkably higher (63%) than the national average.
#12. Prague, Czech Republic
With stunning architecture and a myriad of history at its heart, the city of Prague exists as one of the most beautiful and most literary cities in the entire world.
A UNESCO City of Literature, Prague also boasts as the birthplace of Franz Kafka and as a city chock full of museums and cultural hotspots.
While Prague has no shortage of inspiration and beauty, it also holds a high salary range for technical writers.
#13. Edinburgh, Scotland
From cultivating inspiration among the stunning architecture and historical buildings to basking in the literary goodness of the first-ever UNESCO City of Literature, many an incredibly famous writer has built their lives and careers in Edinburgh.
In one of the more famous cities for writers in the world, you can follow the footsteps of Robert Louis Stevenson and Arthur Conan Doyle.
With a relatively solid salary to boot, writers will do well in Edinburgh.
What Are Your Favorite Cities For Writers?
The best thing about being a writer is that you can write from anywhere. However, some places are just more conducive to gathering inspiration, composing great works, and cultivating success.
Whether you decide to take your laptop to a UNESCO City of Literature such as Prague and Edinburgh or you put down roots in the City of Brotherly Love or The Windy City, you'll know you're at the right place when you choose from this list of the best cities for writers.
About the Author
At the ripe old age of 3, Susannah decided that life was just a blank canvas and took Magic Marker to the newly installed carpet in her room just to "see what happened." She's taken that approach to life since, curious about pretty much everything.
She earned a journalism degree from Texas A&M University with the mission of making asking questions and telling stories her life, and since then has done everything from social media strategizing and content creation on the national level to writing a career column for USA TODAY.
Susannah is a high school teacher and yearbook adviser with a huge passion for reading (Harry Potter is her absolute favorite) and is excited to bring another book-loving voice to Hooked to Books.