As we talk openly about mental health we begin to understand we are not alone. We all have struggles and experiences at one time or another with anxiety. It's important to have discussions on how we cope.
Living in society right now, it's not surprising that many people are experiencing anxiety. That's why finding the best books for anxiety is so important.
At A Glance: Our Top 5 Picks for Books for Anxiety:
Coping with Anxiety
There are a lot of pressures we each cope with every day. These pressures include everyday life such as work, family, friendships, and productivity. With all this pressure there is no surprise we suffer from anxiety on a daily basis.
By talking about our mental health and having conversations it helps each one of us cope better.
Anxiety is something that everyone experiences at one time or another and to various degrees. And no one experiences it precisely the same way either.
We are all individuals and so all have our unique triggers, coping mechanisms, and ways that we have learned to deal with the anxiety that works best for us.
Some people experience anxiety in everyday challenges. These challenges might include worrying about an appointment or traveling in an airport to name just two. For others, it may be chronic generalized anxiety with no apparent cause.

There isn't one straightforward way or answer to learning to cope with anxiety. Today we are sharing some of the best books for anxiety. We hope that these may help you with your anxiety that you are currently experiencing.

Best Books for Anxiety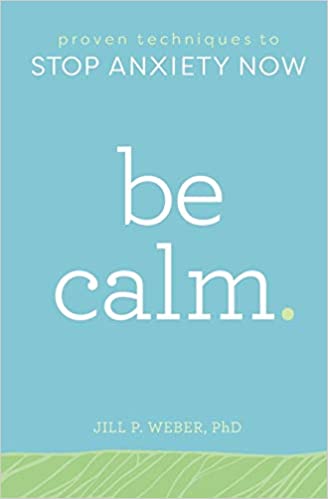 Written by clinical psychologist Jill Weber PhD, Be Calm: Proven Techniques to Stop Anxiety is written with those who struggle to cope with anxiety and equip them with the tools to help combat it.
For some with anxiety, understanding factors that are able to contribute to it is half the battle. Understand why anxiety happens is sometimes the first step in overcoming it. By doing this it helps individuals regain control and the autonomy to stop anxiety from taking over.
Using evidence-based studies, Weber examines anxiety and layouts the various methods and techniques which we can use to identify our own causes as well as understand what measures we can take to stay calm. Weber lays out a wide variety of techniques to use. This provides the perfect opportunity to figure out what works for you when it comes to mastering your own anxiety.
This book is both a technical guide and a thoughtfully written and motivated text to help you. Jill uses her expertise to aid us in putting our minds at rest and taking control back.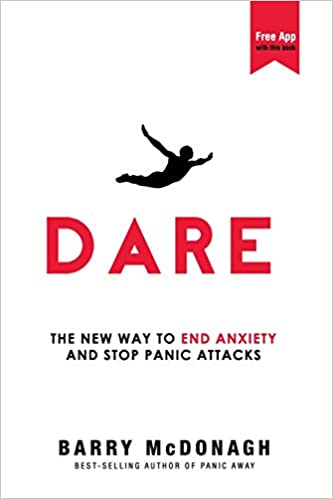 As we've said before, not one way of dealing with anxiety works for everyone. With that being said, if you are someone who feels that they have exhausted all options then this book might be the answer you are searching for.
Many who have lived with constant generalized anxiety have loved this book. He is known for his proven techniques that have worked when hope is lost.
Although unconventional, McDonagh has been writing on anxiety for almost twenty years now. McDonagh's approach is confrontational and meets anxiety head-on. If you're someone who suffers from anxiety physically with multiple panic attacks a day, then Dare might be the book for you as it encourages you to entered anxious situations to aid the easing of the feeling of anxiety and relinquish it.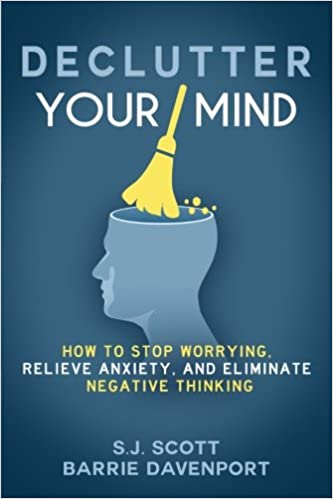 A collaborative effort between writers S.J Scott and Barrie Davenport, two authors who are well versed in their field of understanding the human mind. Their book Declutter Your Mind tackles anxiety induced by the feeling of being overwhelmed.
Concentrating of overwhelmingness and the cluttering of the human mind, Scott and Davenport break down why this happens while laying out the exercises that you can take to tackle this for yourself. By attempting some of the activities and tasks that are laid out in the book this will hopefully lead to a feeling of calmness and relief rather than anxiety and fear.
Within Declutter Your Mind, anxiety is tackled as more of a block to overall mindfulness. It introduces the idea of knowing yourself and your true potential, and by removing its presence this aids you on your journey of self-discovery and understanding.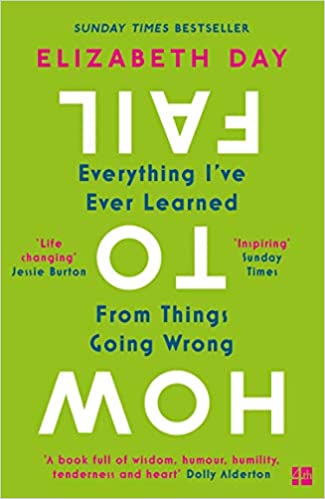 A combination of a memoir and manifesto, Elizabeth Day is one of the most influential writers concerning anxiety through her own personal experiences.
Confronting the idea of failure and anxiety of being out of control, Elizabeth uses her own experiences of how we shouldn't be fearful of failing but use it to our advantage.
It's human nature to want to be in control, whether that be out own autonomy, controlling the environment we are in, and situations too but it is also human nature to fail, and impractical to try and stop it.
Elizabeth Day teaches us to use this to our own advantage and accept that failures happen and learn from them rather than fear them.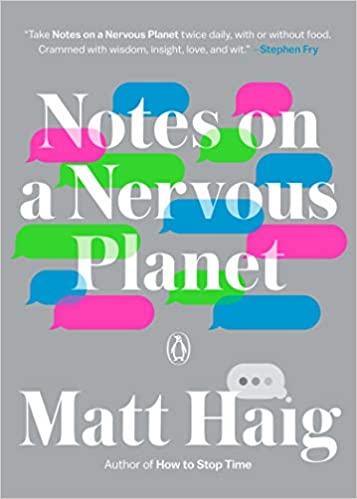 Written by mental health activist and critically acclaimed author, you may know Matt Haig from his poignant book Reasons to Stay Alive. Haig returns to the non-fiction realm with his latest book Notes From An Nervous Planet book being written with the idea of mindfulness and how we consciously spend our time in relation to anxiety.
Haig makes a provoking argument while reflecting again on his own experiences. He encourages us as readers to actively engage and consider how we spend our time. Not only that but what that does to our anxiety.
By doing so, we end up questioning what habits online and in-person contribute to our anxious mind and encourages us to make an active choice in focusing on what we enjoy instead.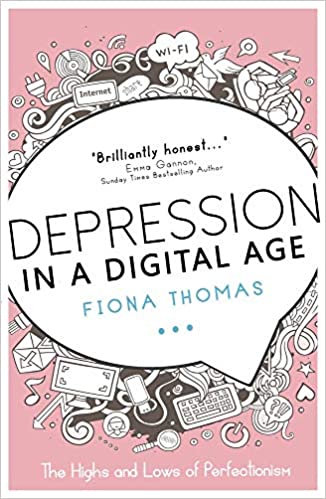 Within Fiona Thomas' Depression in a Digital Age, we are confronted with a different experience of coping with anxiety and the outlook of how social media and our digital lives being a coping mechanism for anxiety.
Often, we can find it easy to dismiss and lay blame for our anxiety at the door of social media.
But within Thomas' book, we see how it isn't always the case. As a teen, Thomas grew up without the likes of Facebook and Twitter but still suffered from anxiety which led to her having a nervous breakdown.
Not only does Thomas talk about her breakdown in a normalized way, but we see how our digital lives can lead to improvements to our mental well-being for the better. This ultimately pushes against the stereotypical assumption that we all hear all the time.
This being that social media is the reason behind anxiety and mental health. This book proves that different people's triggers can be other ways for people to cope.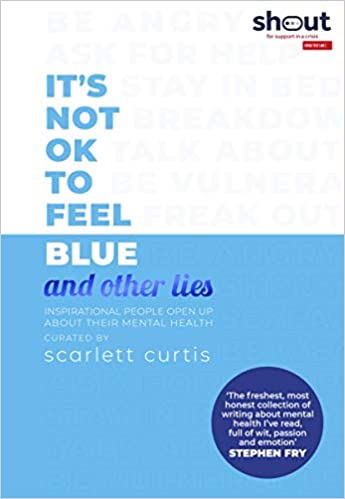 This book is an anthology of personal essays compiled by Scarlett Curtis. The message is clear and straightforward: that it's okay to feel overwhelmed. It's okay not to feel okay. And it's okay to talk about it. It's okay to be who you are.
Dealing with a variety of writers from the likes of Candice Carty-Williams, Matt Haig, Megan Crabbe, and Reggie Yates, all speak from personal experience to aid the normalization of talking about our mental health whether it be the good, the bad, or the ugly.
This book combats one root of anxiety, the fear to say how we feel. This anthology approach encourages open discussions to say how we think and feel. Better than that though it teaches us to not be afraid of it.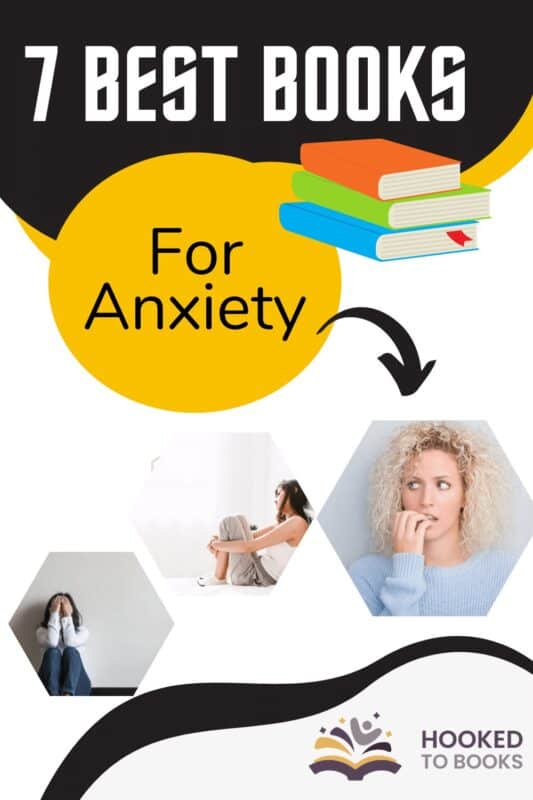 There you have it, the 7 best books for anxiety. Wherever you are on your journey with mental health and battling anxiety these books will help you feel less alone.
Some will teach you the tricks to combat and identify what if triggering your anxiety. Others reflect on personal experiences and act as a guide on your journey. Some simply act as a reminder that you aren't alone. That everyone will feel like this, and that it is okay. Or they will help you understand what a friend or family member is experiencing as your attempt to support them.
What are some of your favorite books for anxiety? Share in the comments!
Check out these other posts!