Are you looking for the best book subscription box for kids? Read on to find out why we recommend Book Roo!
Get 15% off your book subscription box order!
Use coupon code BOOKS2LOVE at checkout!
Do you remember your first book? I do! It was a picture book about a cocker spaniel — and I was OBSESSED. As I grew up, my passion for reading grew, too.
I moved on to Dr. Seuss books, followed by the Baby Sitter's Club, and then Nancy Drew novels.
I eventually graduated to Little Women and the Harry Potter series. And later fell in love with young adult novels like The Hunger Games trilogy.
Reading was such a huge part of my childhood. And it all started with a simple picture book about a puppy!
At Hooked to Books, we believe in fostering the love of reading in children around the world. And while technology makes it easier than ever to get your hands on a good book, there's something about holding a hardcover in your hands as your tucked in bed reading to your child.
Looking for an e-reader for kids? Check out our review of the all-new Kindle Kids Edition!
That's where book subscription boxes come in handy.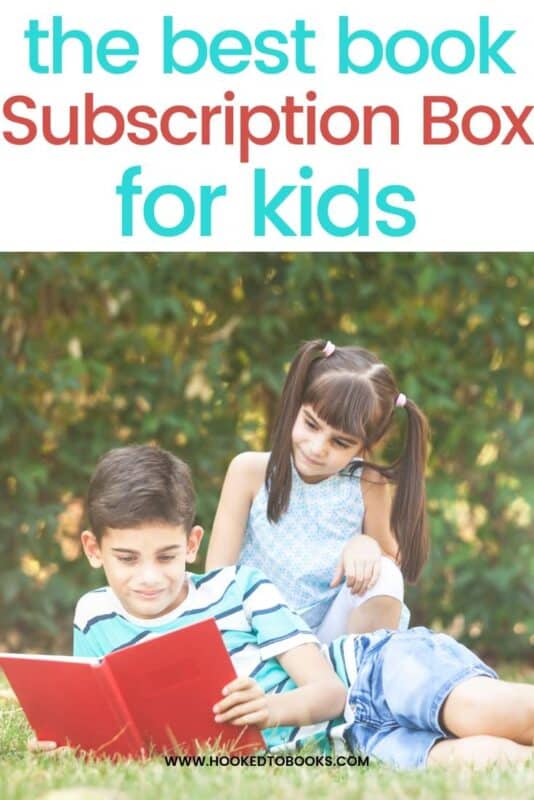 Our Favorite Book Subscription Box for Kids
When it comes to the best book subscription box for kids, Book Roo takes the cake.
Book Roo is a book subscription box for kids ages 0-10. Subscribers get a box each month with 2-3 books in each box. Book selections are based on the age of the reader.
Why We Love Book Roo
There are a million terrific children's books out there, but often when you're searching for a book for kids, the options seem limited. Of course, there are the classics and the most recent top-sellers. But that's a tiny portion of all the great books that are available.
Book Roo is a treasure trove of children's books for all children, regardless of age, gender, culture, or lifestyle.
Through our platform, we have access to thousands and thousands of children's books. We combine this broad reach with in-depth reviews, ratings, and feedback from parents, kids, educators, and experts with decades of experience to finalize each month's book selections.

Book Roo
With Book Roo, your kids feel like they get books hand-picked just for them every month, which makes the reading experience even more exciting.
Plus, the experience of getting books in the mail and opening them together is a fun bonding experience!
How Book Roo Works
Here's how the Book Roo subscription box service works:
Choose your book club. Select the type of books you want to receive based on the age of your child.
Pick your subscription. The most expensive subscription option, month-to-month, is only $25 per month. Or you pay for 12 boxes for the year for $263.
Start getting book deliveries. You'll receive 2-3 books per month, depending on your book club.
Start reading with your child! With the book selection process out of the way, you can focus on spending more time reading with your little one.
Ready to Start Reading?
If you have a special child in your life, what better gift to give to them than the gift of reading?
Sign up for Book Roo using the code BOOKS2LOVE and get 15% off your order!
Get 15% off your book subscription box order!
Use coupon code BOOKS2LOVE at checkout!