If you're an audiobook fan, owning a good Bluetooth earpiece or headset can be a gamechanger. Most Kindle and other brand e-readers don't have a headphone jack, so the only way to listen to audiobooks is through a Bluetooth device. And luckily, there are tons out there that are perfect for book lovers.
At A Glance: Our Top 5 Picks for Bluetooth Earpieces
With a Bluetooth earpiece, you can enjoy audiobooks at the gym, on your daily commute, while out running errands, and you can even safely listen to audiobooks while driving.
Here are our top 8 picks for the best Bluetooth earpieces and headsets on the market for book lovers right now.
Best Bluetooth Earpieces and Headsets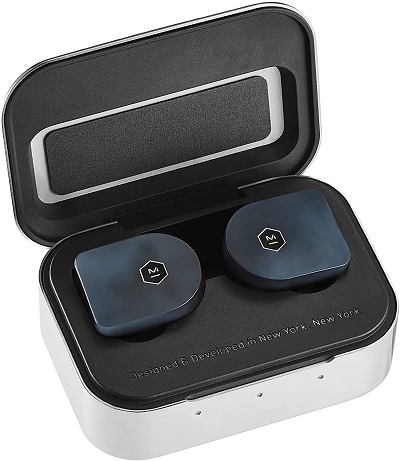 If you intend to wear your earpiece for extended periods of time, these high end Master & Dynamic earphones are definitely worth the higher price tag. Made from lightweight proprietary silicone, they follow the natural contours of both the inner and outer ear. Plus, the silicone Fit Wings allow them to be customized to perfectly match your own measurements.
As well as being supremely comfortable, these earphones are also some of the most effective at canceling out background noise, so you can focus solely on your listening experience. And if you're a music fan as well as a book lover, the MW07 technology ensures exceptional sound quality and defined audio. The battery life is pretty impressive, too; you'll get a continuous 14 hours of listening time from a single charge.
These stylish earbuds come in a handcrafted acetate and stainless steel case, which keeps them safe while recharging them for the next use.
Pros
Extremely comfortable, customizable fit
Effective at canceling out background noise
Stylish stainless steel charging case included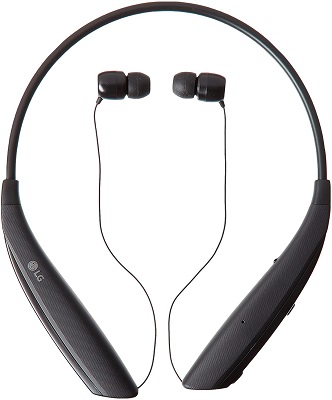 For those who prefer a full headset, these LG all-in-one neckband earbuds are a solid choice. The slim, sleek design features retractable wire management technology, allowing you to extend the length of the wire and retract it when not in use. And since the earbuds are attached to the neckpiece, you never have to worry about misplacing or losing a vital component.
Despite the mid-range price tag, the Advance Quad Layer Speaker Technology means the audio quality is one of the best on the market, rivaling the more expensive models. And if you're planning on using your Bluetooth earpiece for phone calls and video conferencing, the Dual MEMS double microphone delivers crystal clear conversation, even in breezy outdoor environments.
Pros
Full headset and neckpiece
Retractable Wire Technology
Crystal clear conversation
Cons
Slightly shorter battery life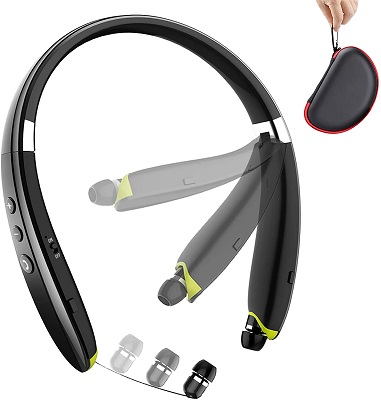 This BEARTWO foldable neckband headset is a cheap and cheerful option for those looking for an easy way to listen to audiobooks on the move. While it might not quite have the audio prowess of some of the more expensive earpieces and headsets on this list, it packs an impressive punch considering its bargain price.
The retractable earbuds come with small, medium, and large gel ear tips, so they sit comfortably in your ear, even if you wear them during a run or at the gym. The sound quality is also surprisingly good, making this headset ideal for listening to music, as well as audiobooks.
The battery life is at the better end of the spectrum, with an impressive 18 hours of talk time and 16 hours of music and/or audiobooks. Plus, this headset comes with a protective case to keep it safe and secure.
Pros
Full headset and neckpiece
Retractable wire technology
Very affordable price
Good battery life
Cons
Noise-canceling is less effective than other models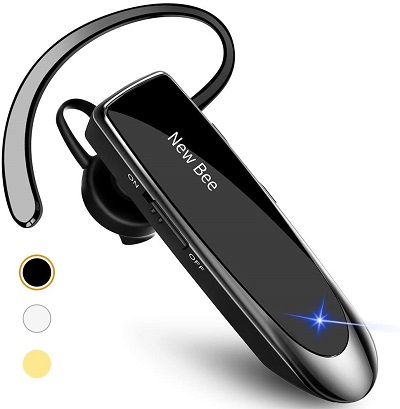 The New Bee earpiece is another super affordable option that offers a good all-around audiobook experience; plus, it can be used for phone calls, music, and more.
The small, medium, and large ear tips are comfortable to wear and can be used in either the left or the right ear. And though it's a single earpiece, if you prefer enjoying audio in both ears, there is an additional earphone option too.
The earpiece is fully charged within 2-3 hours, and the battery life on this model is at the higher end of the scale; it provides 22 hours of music or audiobook time, 24 hours of talk time, and will last an impressive 60 days on standby.
Pros
Very affordable price
Impressive battery life
Additional earphone for audio of desired
Cons
Slightly lower sound quality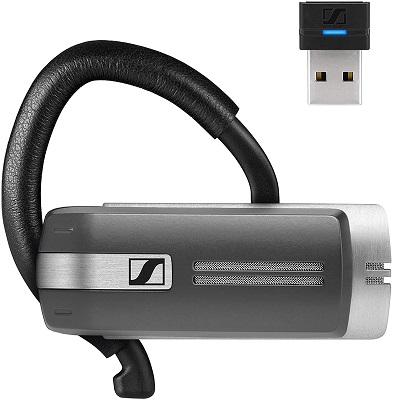 The Sennheiser earpiece is designed for the ultimate audio experience, as well as crystal clear conversation clarity, even in windy weather.
Besides being ideal for listening to audiobooks, music fans will also love this earpiece thanks to the noise-canceling technology and smooth, clear sound. Plus, the patented Activeguard technology protects your ears against hearing loss or damage from acoustic shock due to sudden sound bursts.
This is a powerful earpiece, so the battery life is not as long-lasting as others on this list, however at 10 hours per charge, it still meets all of your audiobook listening needs and more.
Pros
Excellent audio quality
Crystal clear conversation
Very effective at background noise cancellation
Protects from acoustic shock
Cons
Some users say it's not as comfortable for smaller ears
This bargain headset by Heff might not offer the very top of the range quality, but it's ideal if you only need a Bluetooth earpiece for listening to audiobooks on the move. Plus, it's got one of the best battery lives on the market, lasting up to 30 hours of continuous use.
The sound quality is excellent for the price point; the high definition audio driver delivers smooth and clear sound and can handle even the highest resolution audio files.
The magnetic design keeps your earphones stored safely out of the way when not in use and also saves your wires from tangling. Plus, this headset is water resistant, so if you want to use it out on a jog in the rain, go right ahead.
Pros
Very affordable price
Magnetic design keeps wires from tangling
Water-resistant
Cons
Sound quality not ideal for listening to music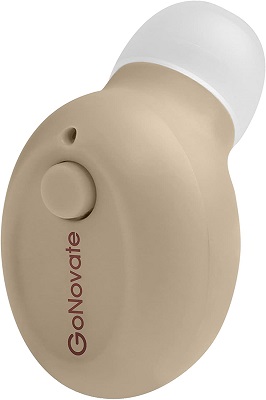 This stylish, contemporary mono earpiece from GoNovate is one of the smallest and most discreet Bluetooth earpieces on the market right now; most people won't even notice that you're wearing it.
The ergonomic design conforms to your unique ear shape, and the interchangeable small, medium, or large ear tips feel super natural and comfortable and stay securely in place in your ear.
The sound is crisp and clear for listening to audiobooks, as well as enjoying music and podcasts too. This earpiece also boasts multipoint Technology, so you can connect devices at the same time. This means you can answer calls in between listening to books on your Kindle!
Pros
Small and discreet design
Ergonomic and comfortable to wear
Connect two devices at the same time
Good sound quality
Cons
No second earphone included, one ear listening only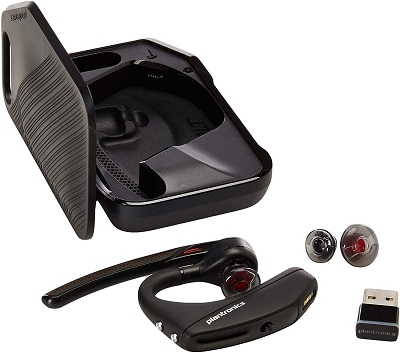 This high end earpiece from Plantronics is one of the most highly-rated Bluetooth earpieces on the market right now. It pairs instantly with pretty much every device you could wish for, including your Kindle or other e-reader, and like the GoNovate, you can connect to multiple devices at the same time.
The audio performance and noise-canceling capabilities are some of the best on our list, bringing your audiobooks to life and providing one of the best music listening experiences of any Bluetooth earpiece. Plus, the conversation quality is top-notch. Thanks to the triple mic active Digital Signal Processing, your voice will be crystal clear, even in high winds and noisy environments.
Since this is such a powerful little machine, the battery life isn't as impressive as some other models, with 7 hours of talk and audio time between charges. But if you're looking for the very best audio capabilities out there, it's worth the sacrifice.
Pros
Fantastic audio performance
Effective noise-canceling technology
Crystal clear conversation
Connect to multiple devices
Cons
Shorter battery life
Higher price tag
Conclusion
These Bluetooth earpieces allow you to listen to audiobooks, podcasts, and music, plus make phone calls and video chat wherever you are. There's something for everyone on this list, from basic budget buys to top-of-the-range earpieces that will bring a whole new dimension to your audiobooks.