Here at Hooked to Books, we know how important it is that kids develop a love of reading from an early age. After all, storytime is a fantastic way to bond with your child. Plus, it aids their social development and language skills and lays the foundations for a lifetime of literary exploration.
Yet while most bibliophile parents love searching for new books for their babies or toddlers, the task of choosing a bookshelf doesn't always have the same appeal. But all those books have to be stored somewhere, so let's dive in…
In this article, I'll cover the ins and outs of choosing bookshelves for your baby's bedroom or nursery. I'll examine the most popular types of shelving and storage options on the market. Most importantly, I'll discuss the safety considerations to keep in mind when choosing the perfect baby bookshelf. Plus, I'll include some of my top baby book storage picks to help you in your search.
Why Do I Need Baby Bookshelves?
The short answer is, you don't! While the bookshelves I'll suggest later in this article are all specially designed for a baby's room, no rule says they have to be. All kinds of shelving solutions can work well for your little ones, as long as they're practical and safe.
But whether you're prepping for the arrival of a brand new baby, upgrading your nursery, or simply looking for more space to store all of those baby books, you're going to need some kind of storage solution. Here are a few things to keep in mind when you're sizing up your options.
The HTB Baby Bookshelves Buyer's Guide
Awesome baby bookshelves at a glance:
Different Types of Baby Bookshelves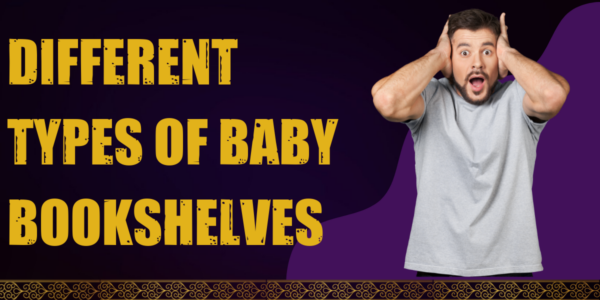 Floor level bookcases are a popular option for a baby's room, as they allow your little one direct, independent access to their book collection as they develop into toddlers. And even though your baby won't be reading by themselves any time soon, allowing them to safely handle and explore their book collection will help create a positive association with reading from the very beginning.
Floor level bookcases come in various styles and designs. Some are fixed to a wall, others can be used anywhere in the room, and some even come on wheels to create a little mobile library. Whichever one you choose, most toddler-friendly bookcases are the perfect height for little bookworms.
Book benches and reading nooks have the same benefits as floor-level bookcases; they allow little ones to browse their own book collection without asking mom or dad for help to select the one they want.
But they also provide a dedicated storytime space and a special little tot-friendly reading nook. Plus, these kinds of book storage solutions often allow space for storing other items, like toys, clothes, and shoes. And not only do they help you keep your baby's room tidy, but they also help teach your youngster how to organize their things from a young age.
The downside of a book bench or reading nook is that they tend to be a little bulkier and take up more space than some other baby book storage solutions out there. And since they're a larger piece of furniture, they also take a little more time and patience to assemble.
Suppose you're looking for something a little more portable. In that case, a baby book rack is a great alternative to a bookcase or shelving unit. Most work in the same way as a floor-level bookcase since they allow your child to reach for any book they choose. Plus, they're a cute way to display all the bright and colorful front covers that capture children's imaginations.
Yet, rather than being a solid piece of furniture, most book racks are lightweight and easy to move around. Some even fold down flat for easy storage and pop back up without the hassle of dealing with screws and tools.
Baby book racks usually have a wooden or metal frame with soft fabric storage sections, and they often feature cute and colorful designs to brighten up your child's bedroom.
Book caddies are another accessible book storage alternative to regular bookshelves and bookcases that let your little ones pick out whichever book they choose.
The most popular book caddies for babies' rooms are the classic wooden X shape models that fold down flat to be easily stored away when they're not in use. Many also feature a shelf underneath where you can store not just books but toys or any other baby-safe items you need a place for.
I particularly love these baby book caddies as they look great in any room and can be used to store all kinds of things, like magazines, the TV remote, blankets, etc. So once your baby is all grown up, you can repurpose this as a stylish piece of living room furniture.
Floating shelves are a popular option for all book lovers, not just the preschooler variety. They're one of the most subtle book storage solutions around, and since they don't require any floor space, they're a great option for smaller nurseries and bedrooms too.
The downside to floating shelves is that unless you mount them low enough so that your little one can reach them, they don't give babies and toddlers the same direct access to their book collection as other book storage solutions on this list.
Baby Bookshelf Safety Tips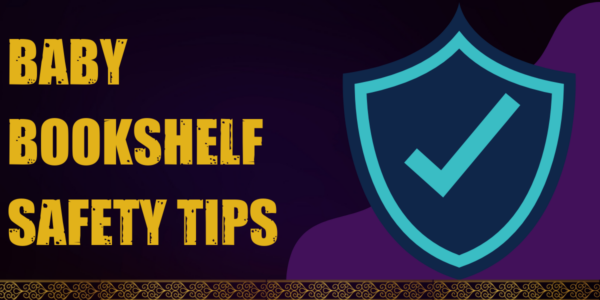 Of course, nothing is more important than your child's safety. The following tips will help you make sure that whatever type of book storage solution you choose for your baby or toddler, you can relax in the knowledge that it's safe.
Book storage units might feel solid and secure enough when they're empty, but will they still stand up to the sturdiness test once they're packed with books?
Whatever type of book storage solution you choose, be sure to check the weight limit so you know how many books it can safely hold.
And remember, if it's at toddler height, your little one will likely use it to support themselves while they're learning to walk, and in true toddler style, they'll probably even try to climb up it at some point. That's why it's so important to make sure it can stand up to some extra pressure without the danger of collapse.
Even if your bookcase or bookshelves are super sturdy, they can still pose a risk unless they're properly secured to the wall. This is especially true with taller bookcases or anything top-heavy. Even though the shelves might seem solid and upright, once they're filled with heavy books, they can easily topple forward, pulling the whole unit down with them.
Luckily, any good bookshelves designed for children come with all the necessary hardware and instructions to easily mount them to the wall.
Babyproof your bookshelves
Not all baby book storage solutions will need baby proofing, but if it has any sharp corners or edges, then be sure to install furniture protectors to prevent any accidents. This is especially true for floating shelves that are within your child's reach.
Check for harmful or toxic materials.
Unfortunately, even some bookshelves and bookcases explicitly designed for little ones can contain harmful chemicals or other toxic products, such as lead or VOCs (volatile organic compounds sometimes found in paint).
And while this is usually only true for cheaply made foreign imports, it's important to know what to look out for, wherever you are ordering from.
When buying baby bookshelves in the US, check for the Greenguard Gold Certification. This guarantees that the product is safe to use inside, with no chemical emissions and no danger of overexposure to harmful materials.
That being said, just because a product doesn't have the Greenguard seal of approval doesn't automatically mean it's not safe. As long as you spend some time reading the reviews and researching the manufacturer before making a purchase, common sense will tell you what's safe and what isn't.
Check for a JPMA Certification
In the US, The Juvenile Products Manufacturers Association, the JMPA, provides safety certifications on most baby products, including bookshelves and other book storage solutions. If an item is JPMA certified, you can be confident that it's passed a whole host of rigorous safety tests.
But again, just like with a Greenguard certification, just because a bookshelf or bookcase doesn't have the JPMA seal of approval doesn't mean it's not safe. Lots of baby furniture manufacturers have chosen not to join the JPMA, and it doesn't mean their products aren't rigorously tested to the same standards.
6 Awesome Baby Bookshelves on the Market Right Now
Here are my top picks for baby book storage solutions in 2021
#1. Main Event Rustic Floating Bookshelves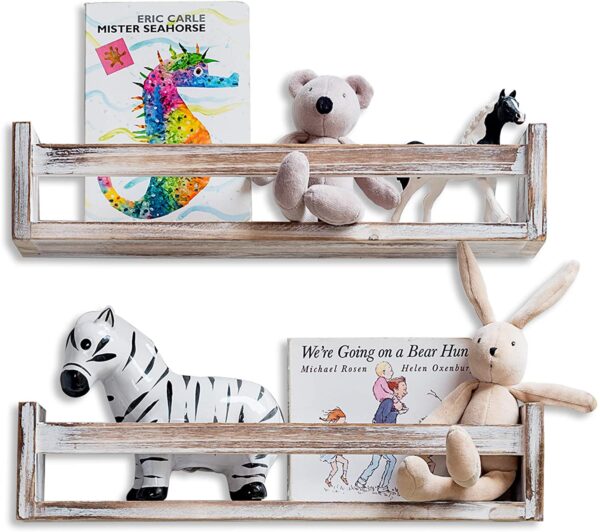 Add a dash of shabby chic to your baby's bedroom with this set of two vintage-style floating bookshelves. They're cheap, cheerful, and easy to install, and they even come with a bubble level to make sure you hang them straight.
Just be aware that they're designed for front-facing books, so while they're a great way to display covers, they don't offer a ton of storage space.
#2. UTEX Book Storage Organizer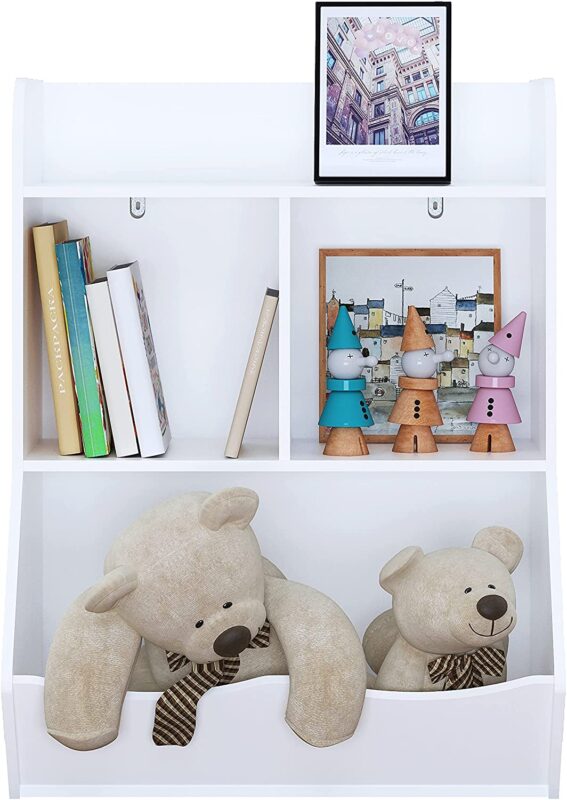 Suppose you're looking for a book storage solution that also has space for toys and other trinkets. In that case, this large-capacity cubby organizer could do the trick. Its low height means little ones can explore their books and toys independently, plus it's solid and sturdy enough to take whatever your toddler can throw at it.
#3. Sprouts Baby Book Rack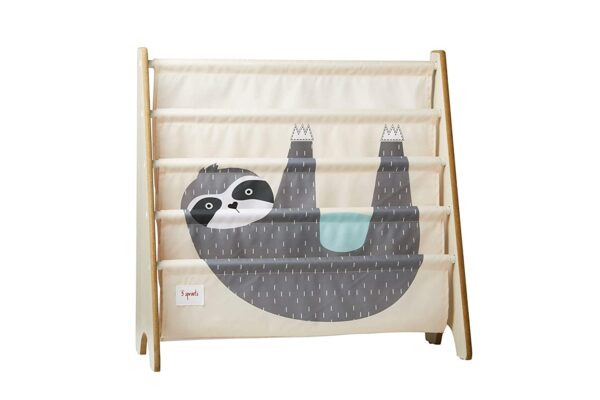 Why not let this sweet little sloth be your baby's book guardian with this front-facing book display rack. At just 2 feet tall, it's accessible to even the smallest bookworms; plus, it's lightweight and easily folds down for storage and transportation.
Just be careful not to overload this book rack with too many books, as the canvas frame isn't designed to take more than 10lbs.
#4. Lipper International Kids Book Caddy
With this caddy's simple and practical X shape design, the spines of each book face your child, creating their own little easy browse the home library. There's also a spacious bottom shelf for toys, games, and other baby-related paraphernalia.
It also folds up for easy transportation, and when your little one is not so little anymore, it will look great in a living room too.
#5. The Honey Joy Reading Nook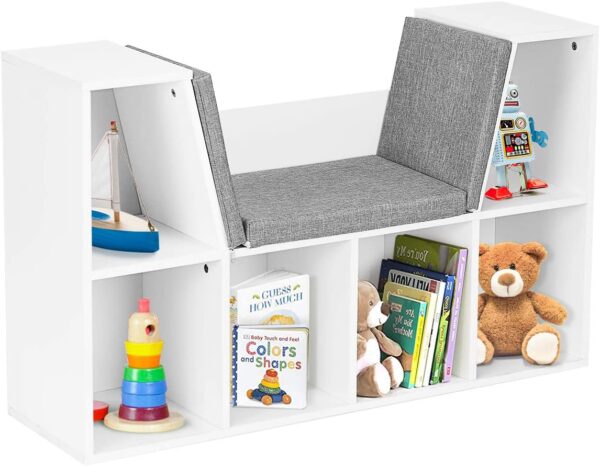 With a maximum weight capacity of 110lbs, this adorable reading nook doesn't just store a lot of books; it doubles up as a cute little seat where your tot can browse through their book collection too.
Plus, once your baby outgrows it, this is another baby book storage solution that will look great in a living room or adult's bedroom too.
#6. Labebe Baby Bookcase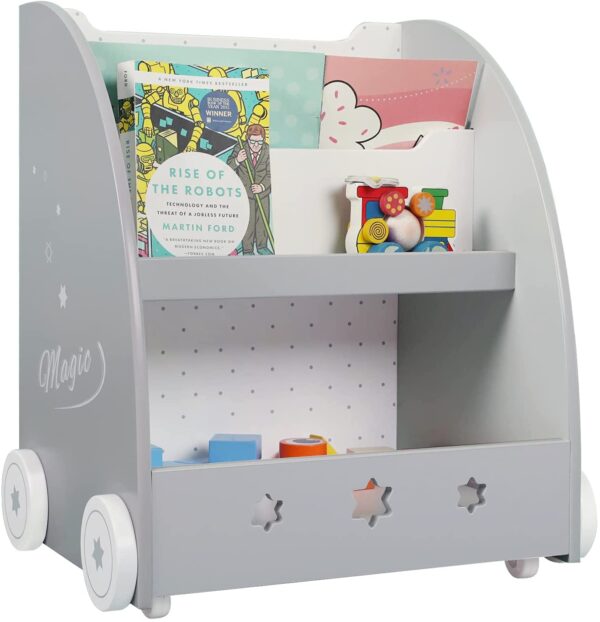 This Labebe bookcase and storage box combined are made from solid wood, so it's extra sturdy and safe.
But if you ask me, the best feature (aside from the super cute cut-out stars) is the option to install wheels, so your little one can trundle it around from room to room like a cute little portable library. Just be sure to wait till your tot is at least 36 months before use.
Conclusion
With any luck, your little ones will love books just as much as you do! But if that's the case, you'll need some great bookshelves to store their baby library in. Hopefully, this guide will help you in your quest to find the perfect baby bookshelves for your needs.
And if you're looking to fill those shelves with some new books that your tot will love, check out my guide to 14 great books for preschoolers.